LG Q6 review: A mid-range phone in an identity crisis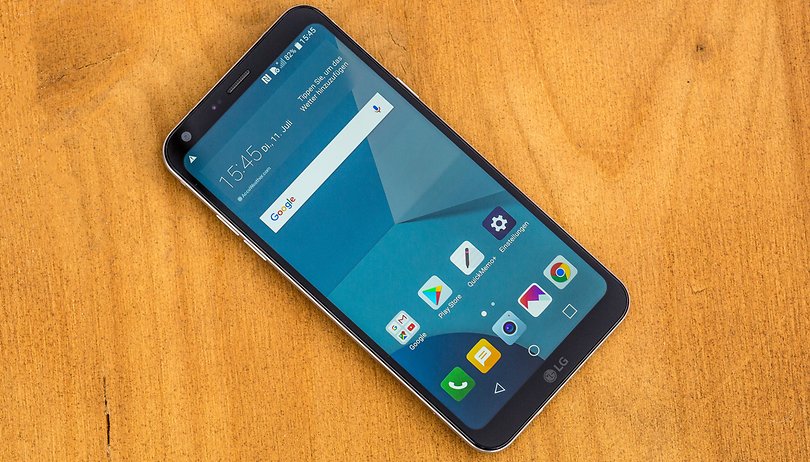 I had the opportunity to use the LG Q6 before it hit the market and have to admit it is a device I was curious to try out. Since I was never able to buy the G6 since its arrival, I sprang to this phone with enthusiasm, although I knew my experience would be somewhat different. I didn't expect to have such a love-hate relationship with the Q6 that would stop me from ditching it altogether, but at the same time I wouldn't recommend it to anyone either, not with the current state of things in the market.
Good
Compact dimensions

FullVision Display

Excellent battery life in standby mode
Bad
Below average performance

Unimpressive camera

Speaker in terrible location
LG Q6 release date and price
LG knows what we're thinking. Due to the phone's resemblance to the older brother G6, it is also referred to as the G6 Mini and the nickname really fits. It was released in August 2017 at a an unsettling price of $389.95.
This Q6 could really turn things around in smartphone sales for the Korean brand, but it's a shame LG isn't considering the state of the competition. I mention this because for the same amount you can get a smartphone with better characteristics from many online stores.
If you take a look at the Q6's data sheet you can easily understand why I find the price disproportionate to the device's performance and how easy it is to find a phone with the same characteristics for a lower price. Is there really someone willing to pay an arm and a leg for a mediocre phone with a nice design? In my opinion a $300 price at the launch would have been more appropriate.
LG Q6 design and build quality
There are a lot of similarities with the LG G6. It feels like a G6 that has done through the washing machine too many times and then shrank, while losing some of the specifications. The fact remains that in terms of design LG has done a really nice job. You don't see medium-range devices that look like this everyday.
I tried out the black version of the Q6. It has a metal frame with a polished finish on the sides and the now ubiquitous diamond cut where the edge joins with the two sides of the smartphone. The plastic breaks for separating the antennas are not hidden at all.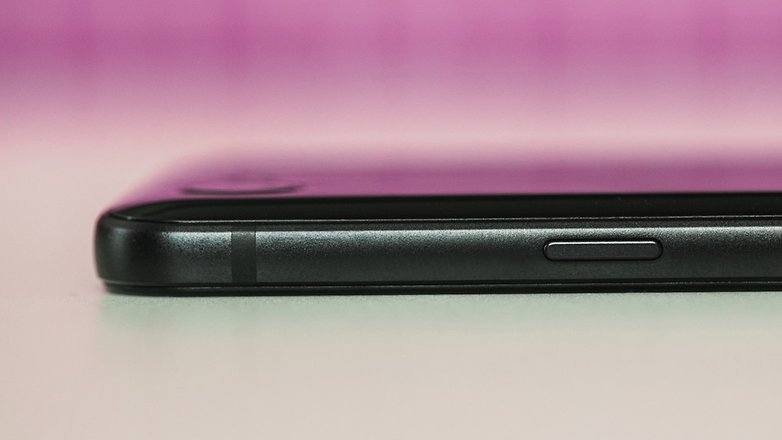 The back of the smartphone is not made of glass, but instead a plastic material that I found to be vulnerable to scratches. After a couple of days of use with the Q6 always in my hand, in my jeans pocket or leaning on the office desk, I found a series of scratches (very faint but still visible) that I would expect from any smartphone after at least a few months use. I have never abused a phone to such an extent that I noticed signs of wear after only a few days of use.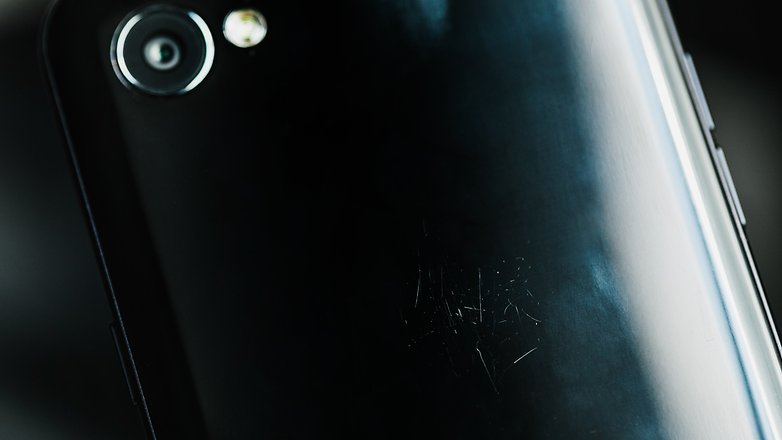 The rest of the assembly is very good. The device has been certified according to the 810G military standard, which means that the construction quality is excellent. In this model LG completely abandoned the key layout that we've grown accustomed to. The volume keys are placed in the frame on the left side, whereas the power button is on the right side. There are no back buttons and the fingerprint reader hasn't been replaced by facial recognition. But I'll address that later.
The only small defect I found is a very slight deformation of the glass in one of the 4 front corners, which is only visible when checking the reflections when the display is off. I'm sure that it's just a defect on my device in particular and not a problem with the entire product line. That sort of thing can sometimes happen in production.
LG Q6 display
Despite the fact that its shape is reminiscent to its older brother, the LG Q6 display is not the same as the G6, but they do both share an 18:9 display format (or 2:1 if you prefer). As far as the size is concerned, it's 5.5" with FullHD+ resolution (equal to 2160 x 1080) with a pixel density of 442 ppi.
The display uses IPS technology, but there's no HDR10 or Dolby Vision certification. This doesn't mean, however, that it's a bad display.
The colors are very natural and aren't overly saturated. Whites tend slightly to light blue, but I find it much less noticeable than a yellowish display. The blacks are deep and the contrast is high, but obviously it doesn't reach the levels of a AMOLED. I've really been enjoying looking at photos and watching videos on this screen because they can faithfully reproduce the original.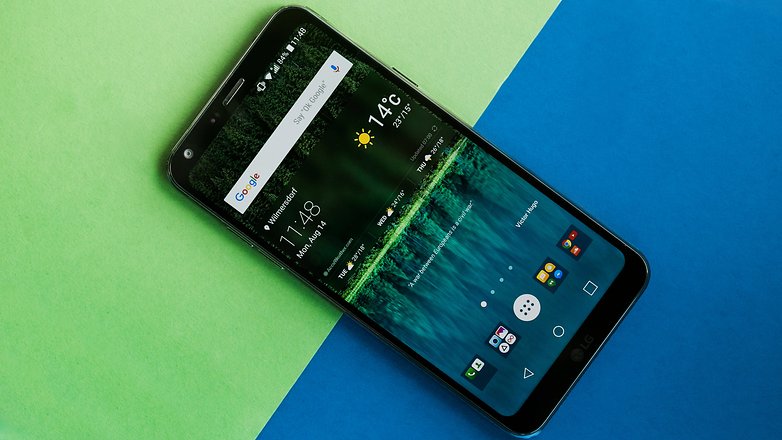 The brightness is high enough not to become unreadable in direct sunlight, but not good enough to make it pleasant to use your smartphone outdoors during sunny days. The minimum brightness is low enough to avoid annoying darkness. There is also a mode called Comfort View, which reduces the blue light to make it easier on your eyes.
The only thing that really annoyed me is the black bands that are obviously displayed on the sides during full-screen video playback. These bands cannot be removed like they can with the Galaxy S8, which allows you to zoom in slightly on the video to fill the voids. The really annoying thing is that you can zoom in on any app that fills the entire display, but you're still stuck with these bands when watching a video. Imagine what it looks like when you watch a movie with bands on the top and bottom.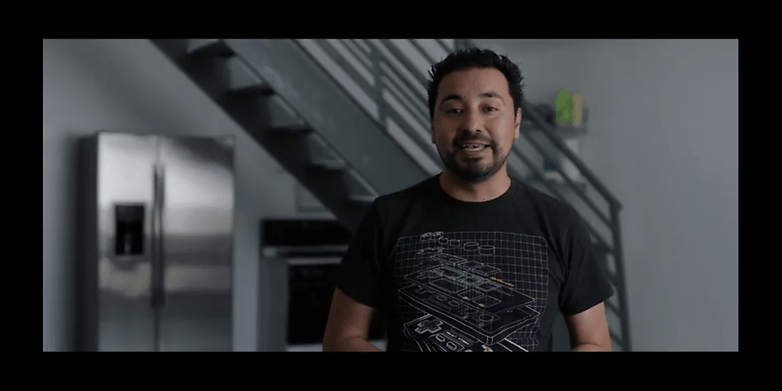 LG Q6 special features
Facial recognition
The Korean company has decided not to implement the fingerprint reader on the LG Q6. In its place it has introduced facial recognition similar to what was already introduced by Google in previous versions of Android, only slightly improved and decidedly more precise and faster. This is not as safe as the iris scan on the Galaxy S8, but it is absolutely faster.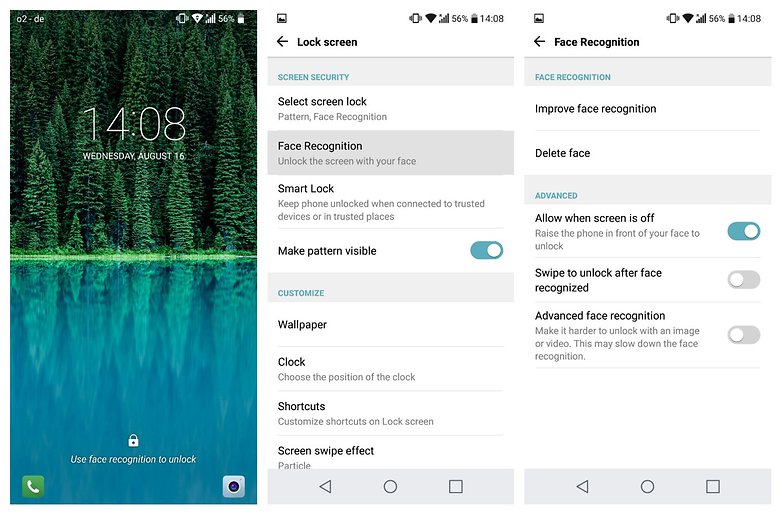 You'll notice the lacking fingerprint reader whenever the facial recognition fails (for example, if you're wearing sunglasses). You have to insert the pin or draw the backup pattern. This becomes frustrating in the long run.
Fortunately, the facial recognition rarely fails. It has been incredibly reliable even in bad lighting. Obviously, in the case of total darkness or when there's only backlighting, it is impossible for the smartphone to recognize you and then unlock autonomously. It is very interesting that when you lift the device from the table, your smartphone automatically activates face recognition and with a positive outcome it will light up and unlock without you having to press a button.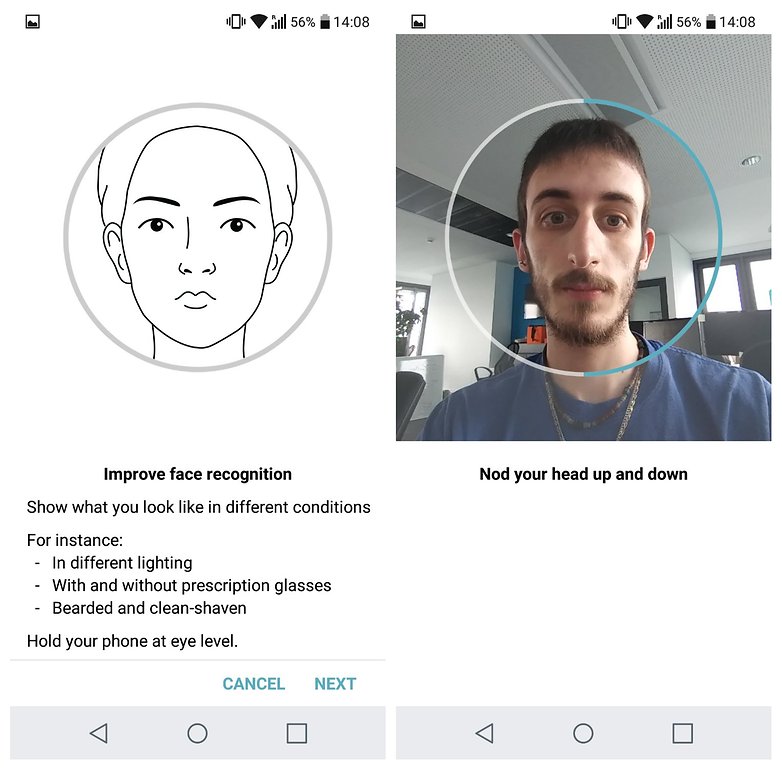 LG Q6 software
The device comes with Android 7.1.1, so the most recently available version of the software. Obviously it doesn't come in the stock version, and it's customized with UX 6.0 that fits perfectly to the 18:9 display, just like it does on the G6.
Despite the fact that the entire user interface has been modified by LG, most of the elements of the Android stock remain and most of the pre-installed apps are from Google or LG. Furthermore, there is still a very careful design that conforms to material design directives.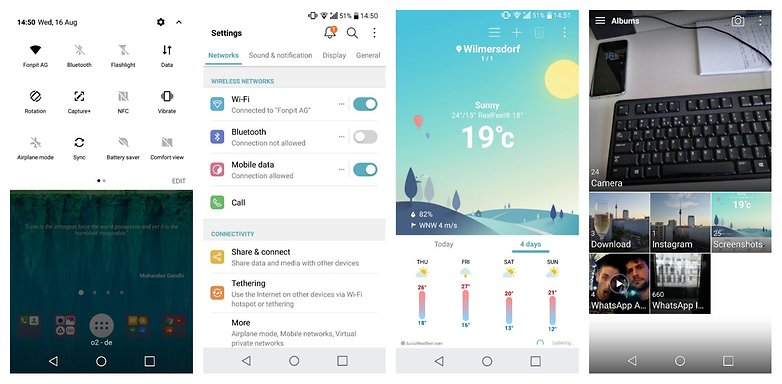 The basic homescreen doesn't show an app drawer, which is instead activated through the settings. The app drawer's appearance is somewhat similar to Android Jelly Bean and still includes a tab for widgets. You can also customize the color of individual folders or change the theme of icons by downloading new ones from the LG Store.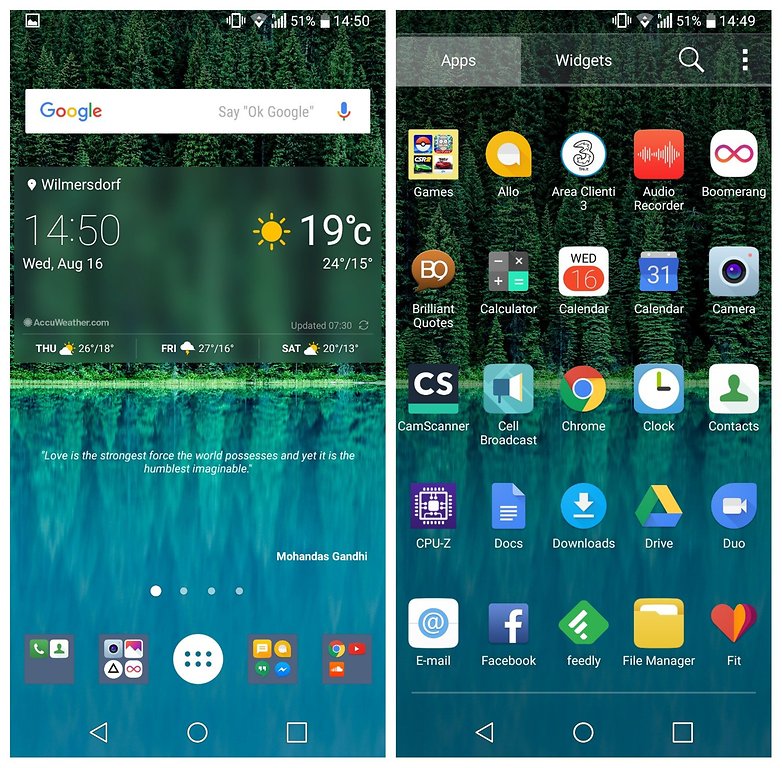 The Q6 features smart doctors that keep the health and cleanliness of the device under control and even offer advice from time to time. They keep the smartphone free of temporary files, provide more space for RAM, enable power saving and test the hardware if any component isn't working properly.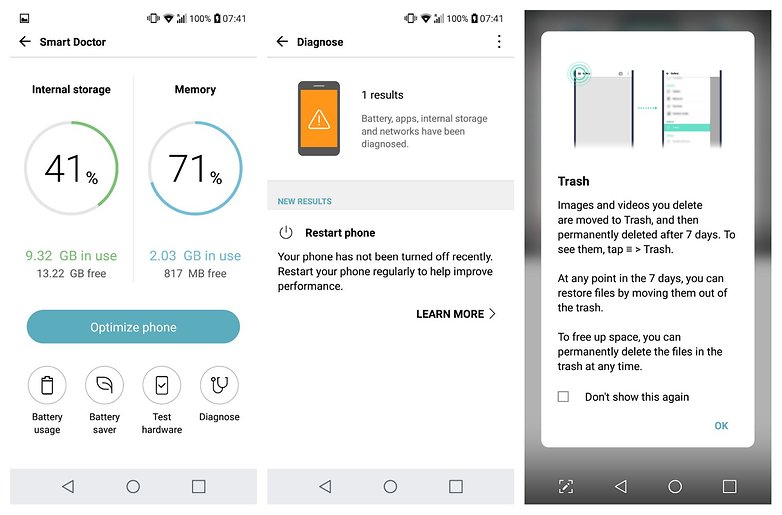 LG offers advice on how to use the device around every corner, but in the long run this can become somewhat irritating. The advice can be helpful for those who aren't accustomed to using a smartphone, but will definitely become annoying for those who know what they're doing. Moreover, some of the warnings are completely meaningless, but I'll go into great detail about this in the battery section.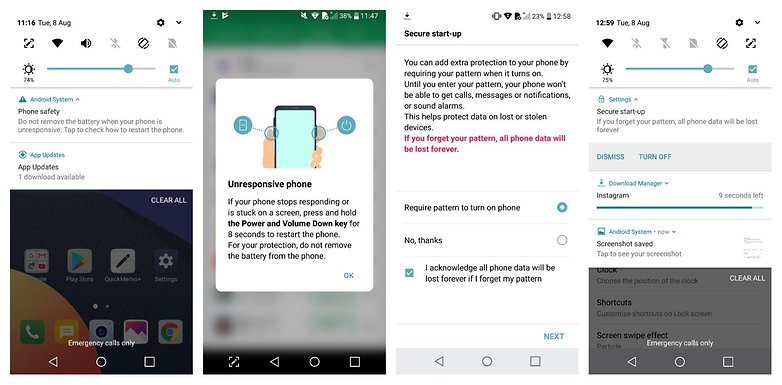 LG Q6 performance
The performance is definitely the greatest weakness of this device. It's not as if the smartphone performs poorly in every situation, but the larger issue is that its performance should be much better when you consider the price tag. This is a smartphone with a truly competitive design, display and very well maintained software. Why would you ruin this all with an inadequate hardware configuration? This Q6 really disappointed me here.
The Q6 comes with a SoC Qualcomm Snapdragon 435 processor with an 8-core CPU that has a maximum frequency of 1.4GHz and an Adreno 505 GPU. Don't be fooled by the number of computing units because the power here is far inferior to the chips that competitors offer, which in the same price range come with the most powerful SoC from Qualcomm's Snapdragon 600 series. The 3GB of RAM is sufficient for most applications, multitasking works well and applications are kept long enough in the background before they are terminated automatically.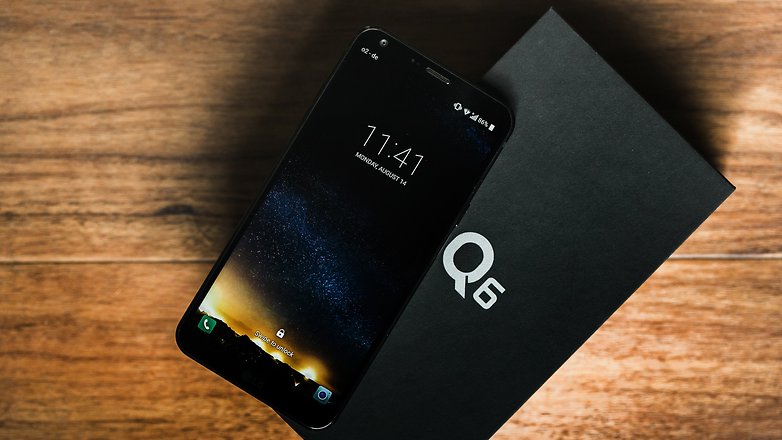 Fortunately, as you'll see from the results of the benchmarks, the internal memory is somewhat faster than average, which allows Q6 to remain quite responsive when you switch between various open applications, open new apps or browse the various files in the internal storage.
But you can feel the slowness of the SoC in all other situations such as applications with animation (even very simple ones such as Google Keep or Youtube) or games that are not very demanding. Don't even think about downloading games that require good performance with 3D graphics such as Need for Speed Rivals or CSR2. Even simple tasks such as online browsing or writing long messages slow down the user experience.
LG Q6: Benchmark results
| | 3D Mark Sling Shot ES 3.1 | 3D Mark Sling Shot ES 3.0 | 3D Mark Ice Storm Unlimited ES 2.0 | Geekbench CPU - single core | Geekbench CPU - multicore | PC Mark Work Performance | PC Mark Storage |
| --- | --- | --- | --- | --- | --- | --- | --- |
| Nokia 5 | 289 | 580 | 9500 | 659 | 2788 | 3692 | 2797 |
| BQ Aquaris X | 465 | 845 | 14014 | 914 | 4559 | 5426 | 4311 |
| LG Q6 | 230 | 470 | 7764 | 637 | 2119 | 3611 | 4045 |
There are some moments when you forget that this smartphone is not the G6 because you can open the app and move files really quickly. There are other moments, however, when you just want to throw the Q6 out the window because of the obvious slowdowns that prevent you from doing what you want. Again, there would be no reason to complain if the smartphone had a list price of $100 or lower, but since it's meant to compete with other mid-range devices I wouldn't recommend it at this time. As I said at the beginning of the review, if the price were to drop, it could be a decent purchase.
LG Q6 audio
The audio quality from the jack output is generally okay. It's nothing special, there is no DAC dedicated to HIFI audio and the chipset used by LG doesn't have the necessary power to guarantee high volumes. The headphones in the package are classic cheap headphones in rigid plastic that can slip out of your ear at any moment. I would have expected at least some low-end in-ear headphones. I had no problem with the use of Bluetooth headphones with the device: there was more or less a quick connection and standard quality that you would expect from cabled headphones.
The main speaker is the real problem here. LG placed this phone's speaker in the rear where it easily gets covered up. There is also a kind of cavity near the holes dedicated to the audio output. In the middle there's a small relief that is meant to prevent the sound from being muffled when the device is placed on a flat surface. It's just a a pity that the relief isn't large enough, and the result is a choppy and low-quality sound.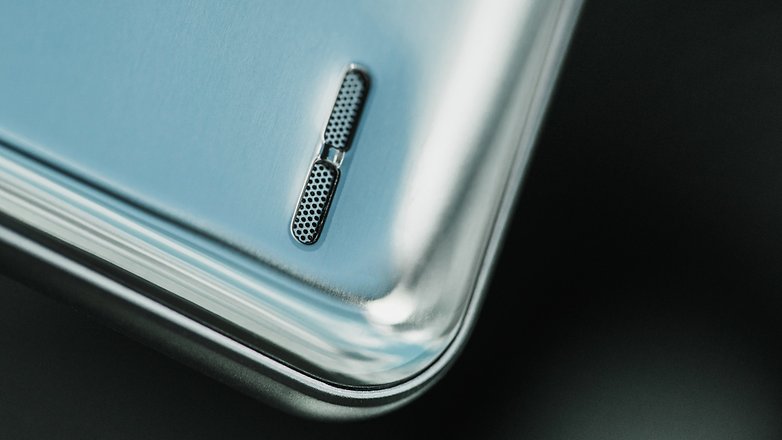 Even while the Q6 was sitting on my desk, I missed several messages because the device couldn't produce sound loud enough. In this case as well, it's clear LG thought about the problem and even conceived of a solution, but the solution was poorly executed. Under 'normal' conditions (such as placing the phone face down), the speaker has sufficiently high volume of a good quality. But don't expect the quality to be on par with front and stereo speakers.
LG Q6 camera
On paper the two cameras are similar to those used in the G6, at least in terms of their features. The back has a 13 MP camera with a pixel size of 1.12 µm. The focal aperture of f/2.2 deviates slightly from the G6's (which is f/1.7). Without an optical stabilizer, the Q6 is unable to take quality photos at night.
On the front there is a 5MP camera with 1.12 µm pixels, a 100° viewing angle and f/2.2: the exact same specs you'll find on the G6. It is likely, however, that different lenses or even different sensors were used on the two models (despite similar characteristics). There is otherwise no explanation as to why the two devices take pictures of drastically different quality, as you can see in my test below.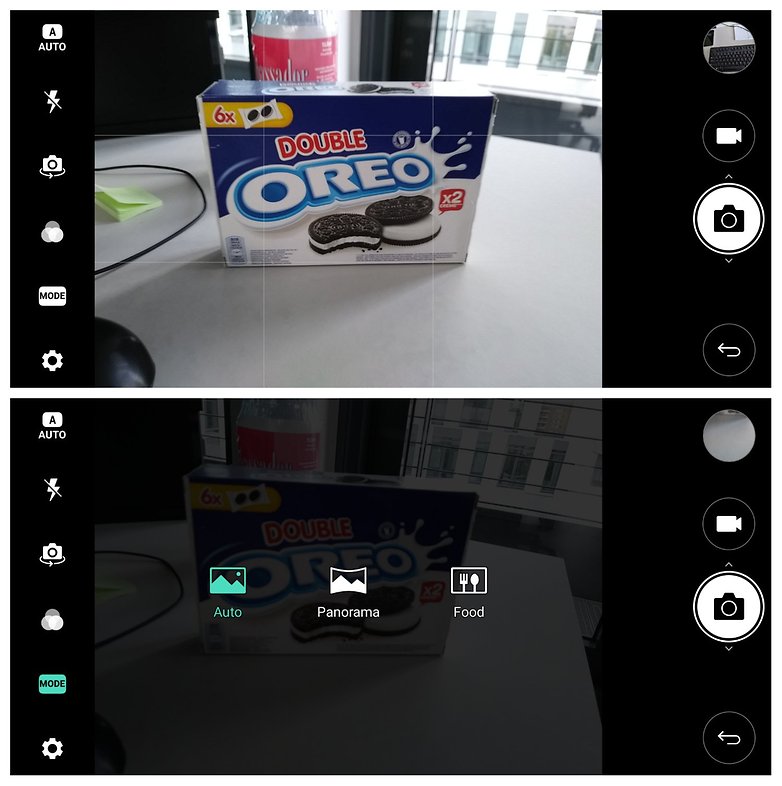 The camera application is simple and gets straight to the point. There are no frills and only a few settings, but they are well-conceived. There is no manual mode and there are only 3 shooting modes. You'll find a few color filters to change the tones in shots. The only real feature I found out of place and uncomfortable to use was the HDR Mode, which is hidden in the settings.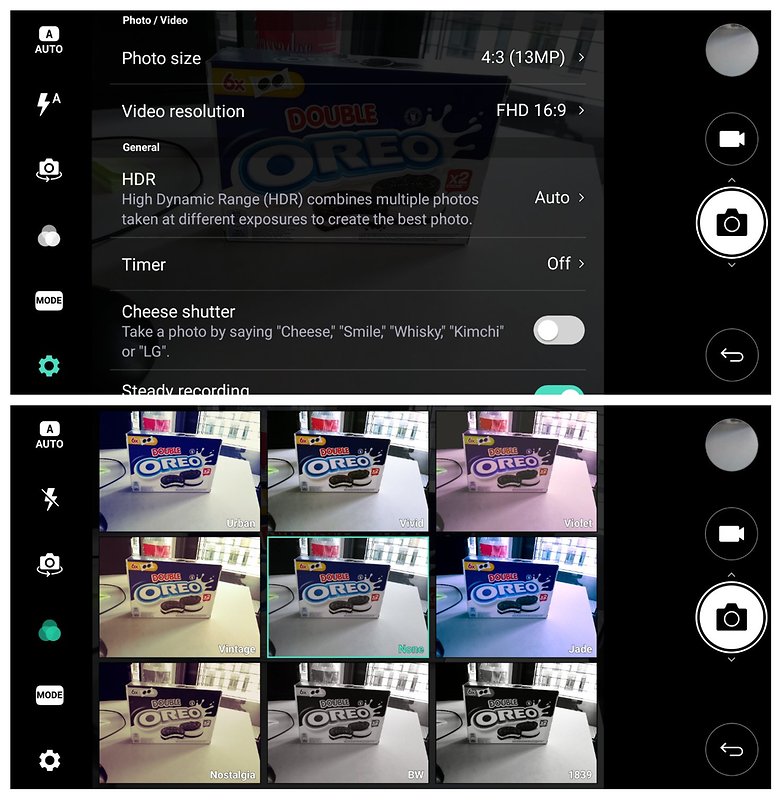 This combination of hardware and software isn't too reliable. There are situations where you can render perfect photos and other situations where you'll just have to give up.
LG Q6 battery
The LG Q6's battery fortunately doesn't disappoint. Since the hardware has reduced performance, the battery has an excellent lifespan and doesn't drain in standby. You'll lose hardly any charge at all if you leave your smartphone idle on your desk connected to a stable Wi-Fi network.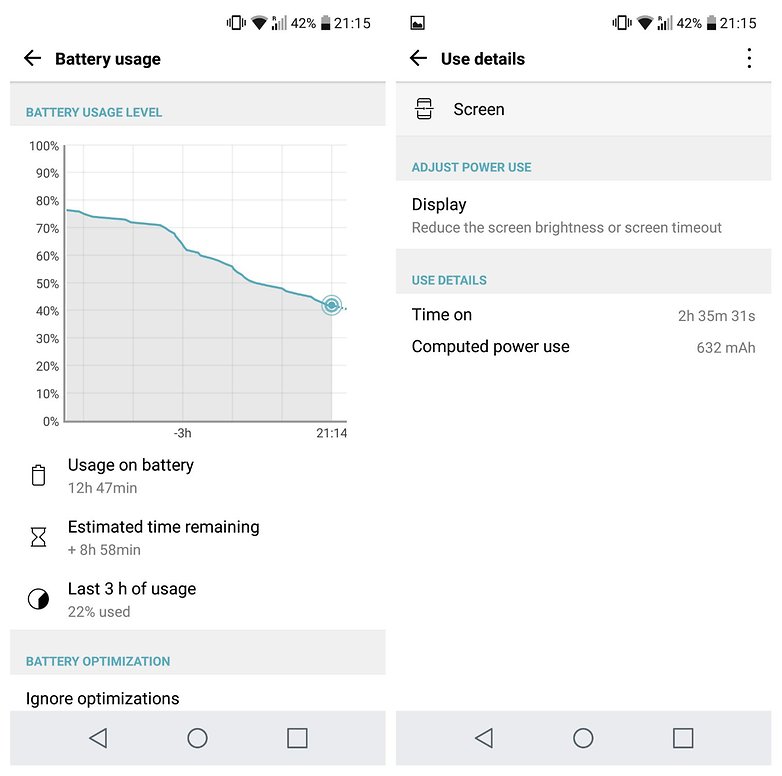 During normal use, the smartphone still maintains decent battery life and exceeds that of many other models I've tried. With normal usage that includes messaging, always synchronized accounts, social networking apps, internet browsing, your location set to High accuracy, more than an hour of Spotify and a few minutes of YouTube, I always managed to exceed 4 hours of screen time without using the power saving functions.
Unfortunately, the Q6 sill uses a micro USB for charging and data exchange, so the charging isn't very fast. I can't say, however, that it's any slower to other smartphones with similar features.
LG Q6 technical specifications
| | |
| --- | --- |
| Dimensions: | 142.5 x 69.3 x 8.1 mm |
| Weight: | 149 g |
| Battery size: | 3000 mAh |
| Screen size: | 5.5 in |
| Display technology: | LCD |
| Screen: | 2160 x 1080 pixels (442 ppi) |
| Front camera: | 5 megapixels |
| Rear camera: | 13 megapixels |
| Flashlight: | LED |
| Android version: | 7.1.1 - Nougat |
| User interface: | LG UX |
| RAM: | 3 GB |
| Internal storage: | 32 GB |
| Removable storage: | microSD |
| Chipset: | Qualcomm Snapdragon 435 |
| Number of cores: | 8 |
| Max. clock speed: | 1.4 GHz |
| Connectivity: | HSPA, LTE, NFC, Dual-SIM , Bluetooth 4.2 |
Final verdict
The idea behind this smartphone is really a good one: an aesthetically similar smartphone with slightly diminished features to keep the price lower than G6. This device is for those people who want a smartphone with a beautiful FullVision display without the need to buy a flagship.
Something, however, has gone terribly wrong in the execution of this idea. It almost seems as if LG was undecided as to who this device is meant for. It isn't for any user seeking competitive performance (even if not top-range performance). It doesn't even come close in this regard. It's not an entry level smartphone because the price is really too high. It doesn't have a competitive position in the current market, which could make for a real fiasco for the Korean brand. Overall, it's a real pity because I do actually find the concept behind the device to be quite convincing.
Are you impressed with this stylish device despite its poor performance? What does this product make you think about LG? Let us know in the comments below!