JBL Link 10 and 20: Google Home goes mobile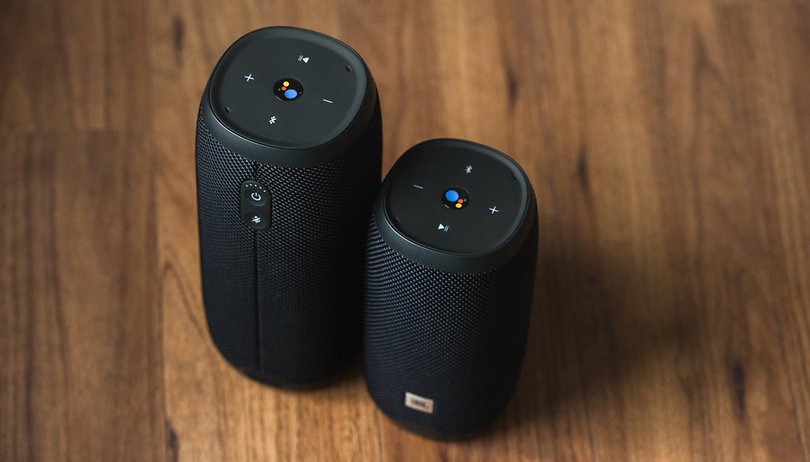 The Harman brand JBL has joined Google and introduced the Link series, a series of Wi-Fi speakers compatible with Google Assistant. They might be the perfect alternative to the Google Home speaker-assistant. They are integrated with Google Assistant and thanks to their connection with Bluetooth and rechargeable batteries, they can also be used portably if necessary.
Good
IPX7-certified waterproof

Bluetooth-enabled

Several hours of battery operation

Multi-room operation with speakers from other manufacturers

5 GHz Wi-Fi
Bad
No stereo or surround sound function

Long start time
Release date and price
The JBL Link models, available in black and white, became available in the UK and some other European countries in December 2017. They are expected to hit the US market this summer and the retail prices are yet to be announced. The speakers are currently selling for the following retail prices in the UK, so something similar should be expected once they make it stateside:
JBL Link 10: 149.99 GBP (around $210)
JBL Link 20: 179.99 GBP (around $255)
JBL Link 300: 249.99 GBP (around $355)
A fourth model called the Link 500 will follow soon. To complement the Link 300 'kitchen radio speaker', the Link 500 will be a larger stationary edition with high stereo output and bass reflex. It was presented at CES 2018 and will hit the market quickly. If everything is on schedule, it might be on display at the MWC in February.
Only the JBL Link 20 comes with a charging cable. The Link 10 comes with a one-meter long USB cable.
Design and build quality
After the release event in Berlin, JBL immediately gave us two of the speakers to test out. The small JBL Link 10 has dimensions of 3.39 x 6.65 inches and weighs 1.57 pounds. The larger, but otherwise similarly designed Link 20 measures 3.66 x 8.27 inches and weighs 2.09 pounds.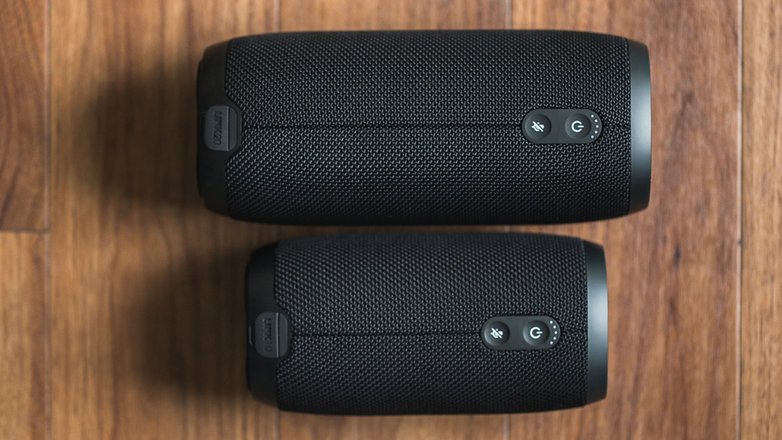 Both the JBL Link 10 and Link 20 are perfectly waterproof. A bath can't do them harm and it's okay if you leave them overnight in the rain. If they get dirty, you can wash them. When cleaning the speakers, just avoid soap and disconnect the USB cable.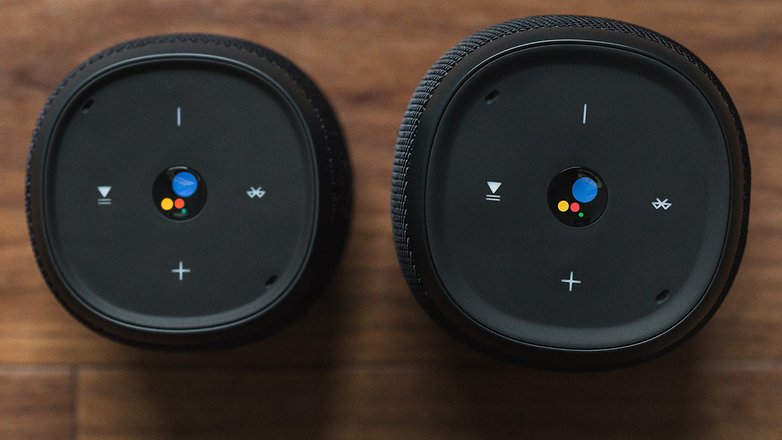 The speakers can be operated with the buttons on the top, so JBL doesn't have a touchpad. The Assistant logo is in the middle. This button is dedicated to activating the AI-supported voice assistant. Of course, the button only works when the speaker is connected via Wi-Fi or Bluetooth to a smartphone with Google Assistant.
On the back there's the on/off switch with a five-stage charge indicator. Underneath there's a microphone button that mutes the two microphones on top. Four status LEDs on the front light up white when the volume is adjusted, when Assistant is turned on, and when Assistant is listening. They light up orange when the microphones are muted.
Software
JBL doesn't have its own app for the Link series' smart Wi-Fi speakers. Instead, the Harman subsidiary relies entirely on their cooperation partner Google and its home app. Compared to other multi-room and smart home solutions, Google Home does offer a handful of benefits. You can read about Google Home and its competitors in this separate article:
Setting up the home app from the Play Store is quite easy. The JBL Link connects via the Wi-Fi, makes software updates if necessary and is then available a few minutes later. Music streams can be started on command. You can also give each speaker a name and group them, even with Google Cast speakers from other manufacturers or Chromecast Audio.
Google Assistant comes in a hurry if you say OK Google. It understands new voice commands every day and learns to better understand your pronunciation. It gives the weather forecast, reads messages, plays music from most streaming services and can control compatible devices in your smart home. This means you can operate the speaker independently of your smartphone. In short, the JBL Link is a legitimate smart device.
Due to the large software overhead it takes a while to turn on a JBL Link. About a minute goes by before the Assistant reacts. The speakers are designed for continuous operation and go into an energy-saving standby mode when you're not streaming. At three in the morning the devices searches for updates while you're asleep, which are then installed without user intervention.
Audio
As you might already assume with the standard cylinder format, JBL had to come up with something for good stereo sound. Harman's home system specialist Jurjen Amsterdam explained to me that the two drivers in the body are oriented in a slight twist toward one another. In the JBL Link 10 I could hear how this detracted from the sound, but in the larger Link 20, the JBL series really comes into its own.
In a direct comparison, the Link 10 seems to be rather center-heavy, which is excellent for voice control. But for true musical enjoyment I would strongly advise paying the extra 45 dollars for the Link 20. You'll get sound that is audibly richer and stereo quality that otherwise you could only get with two speakers.
Since the Link series can be grouped into a multi-room team thanks to Google Home, you can use several speakers at the same time. In our tests with a Fritzbox 7590, Google Wifi and a Fritzbox 7490, the combination was latency-free. In the previous version of Google Home it still wasn't possible to turn two identical loudspeakers into a stereo pair. But this could in theory arrive soon with an update.
Battery
The battery of the JBL Link 10, like the entire device, is smaller than the Link 20's and lasts only half as long at around five hours. Thanks to the 2.4 ampere charger that comes with the Link 20, it can charge completely in 4.5 hours, compared to a charging time of 4 hours for the Link 10.
The JBL Link 300 and Link 500 don't have batteries. It's a shame because you can't easily move them to other rooms in your house.
Technical specifications
JBL Link 10/20
| | Link 10 | Link 20 |
| --- | --- | --- |
| Speaker | 2 x 45 mm | 2 x 50 mm |
| Output power | 2 x 8 W | 2 x 10 W |
| Frequency response | 65 Hz - 20 kHz | 65 Hz - 20 kHz |
| Signal-to-noise ratio | > 80 dB | > 80 dB |
| Battery | 4.000 mAh, 5 hours | 6.000 mAh, 10 hours |
| Wi-Fi | 802.11b/g/n/ac (2.4/5 GHz) | 802.11b/g/n/ac (2.4/5 GHz) |
| Bluetooth | 4.2 | 4.2 |
| Dimensions | 86 x 169 mm | 93 x 210 mm |
| Weight | 710 g | 950 g |
| Special features | IPX7 | IPX7 |
Final verdict
The JBL Link 10 is a very good product at an affordable price: the sound quality is good and the speaker is loud. It has a battery, is waterproof and can be used as a Bluetooth speaker. If you spend another 45 dollars, which I strongly advise you to do, you will get an even better speaker with the Link 20.
The Link series still isn't finished. After all, we still haven't seen the 'the kitchen radio' Link 300 and 'the stereo system' Link 500, but with the portable Link 10 and 20 we already have the impression that JBL takes multi-room audio seriously and that Google Home offers a more than appropriate platform for it.
What do you think of the Link 10 and 20? Are you excited about what these devices can bring to your smart home? Let us know in the comments!