Jabra Elite 7 Pro Review: The Best Wireless Earbuds for Making Calls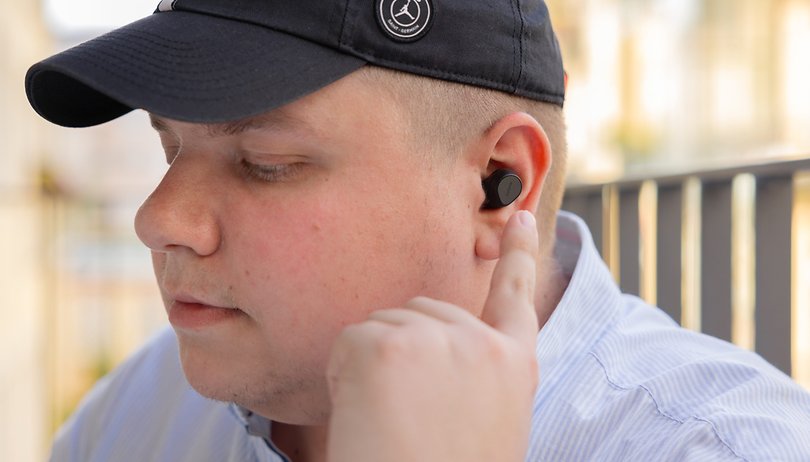 The Jabra Elite 7 Pro is the manufacturer's latest high-end wireless earbuds. These true wireless earbuds with active noise cancellation cost $199 a pop. In this comprehensive review of the Jabra Elite 7 Pro, I will let you know whether these wireless earbuds with their excellent microphone quality are worth your hard-earned money or not.
Good
Excellent microphone quality for calls

Very good battery life

Good sound quality (midrange and treble by default)

Comprehensive Jabra Sound+ application

IP57 certification

Multipoint Bluetooth connectivity
Bad
No HD codecs supported

Not the best active noise cancellation on the market

No volume control on the earbuds
Jabra Elite 7 Pro: All deals
In a nutshell
The Jabra Elite 7 Pro was released a couple of years ago for $199.99 a pop. The price has naturally dropped since and can be picked up cheaper from other online retailers.
These wireless earbuds feature active noise cancellation (ANC) and are Jabra's current flagship. The manufacturer is renowned for the quality of the microphones in its audio products, with a generally well-balanced audio signature.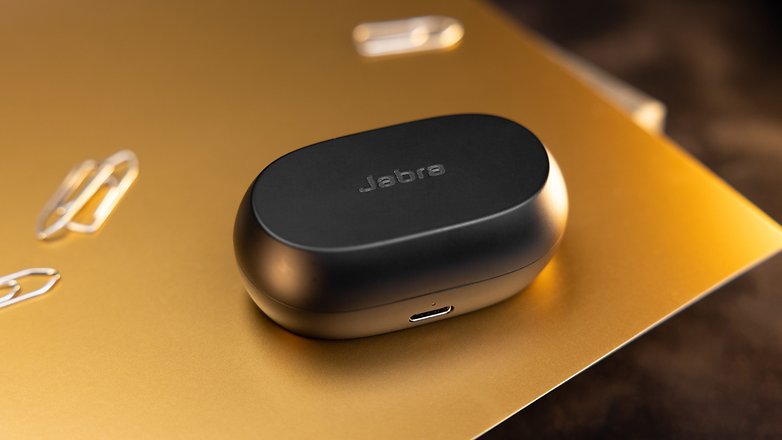 However, how does the Jabra Elite 7 Pro stack up against the Sony WF-1000XM5, Sennheiser Momentum TW3, Bose QC Earbuds II, or Apple AirPods Pro 2?
Jabra Elite 7 Pro design and build quality
The Jabra Elite 7 Pro are wireless earbuds whose form factor makes them quite discreet when worn. The wireless earbuds with ANC are IP57 certified for water and dust resistance, stored in a fairly compact case. The overall finish of the Jabra Elite 7 Pro is rather muted and minimalist in nature.
---
Pros:
Lightweight and compact, just like the case.
Simple, minimalist design.
IP57 certification.
Port sensor.
Physical buttons.
Cons:
No volume control on the earbuds.
---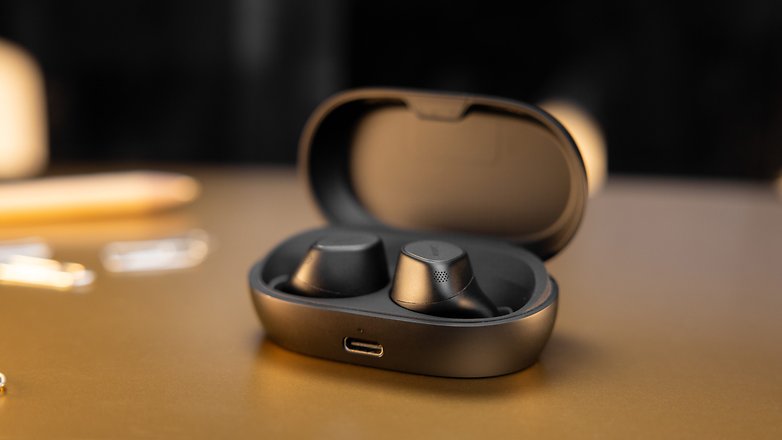 The Jabra Elite 7 Pro's form factor takes on the traditional shape merging a circle and a triangle, making it somewhat reminiscent of a pick. The earbuds follow an in-ear format, allowing them to fit snugly into your ear canal.
You can choose from three different ear tip sizes. They're made of silicone, so be careful if you're allergic to this material. I found the fit to be quite stable. The earbuds didn't pop out by themselves when I was chewing, and I didn't need to readjust them too often.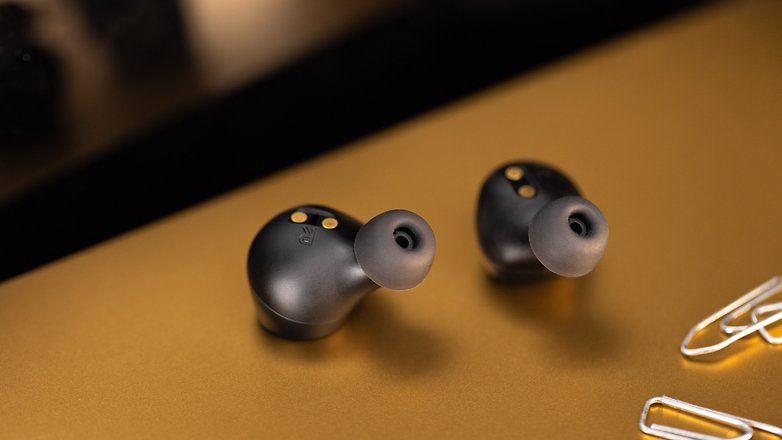 Each earbud tips the scales at 5.4 g, while the charging case weighs 44 g. It's quite compact, and I like its matte coating, although it is a fingerprint magnet. The case's hinge doesn't strike me as the most solid, but the magnetic closure works smoothly.
The Jabra Elite 7 Pro is IP57 certified, being dust and water-resistant (up to 1 meter deep for up to 30 minutes in fresh water). You can totally consider using them for sports as they'll resist sweat without any issues problem.
The Jabra Elite 7 Pro also features a port sensor that works very well and is highly responsive.
Audio & microphone quality
The Jabra Elite 7 Pro feature 6 mm drivers that are capable of reproducing a frequency range from 20 to 20,000 Hz, and support SBC and AAC codecs. This is pretty much the standard recipe and is a little disappointing for high-end headphones.
---
Pros:
Well-flattering mids and highs by default.
Good audio spatialization.
Excellent microphone quality for calls.
Comprehensive equalizer in the application.
Cons:
Only AAC and SBC codecs are supported.
Bass is a little weak by default.
---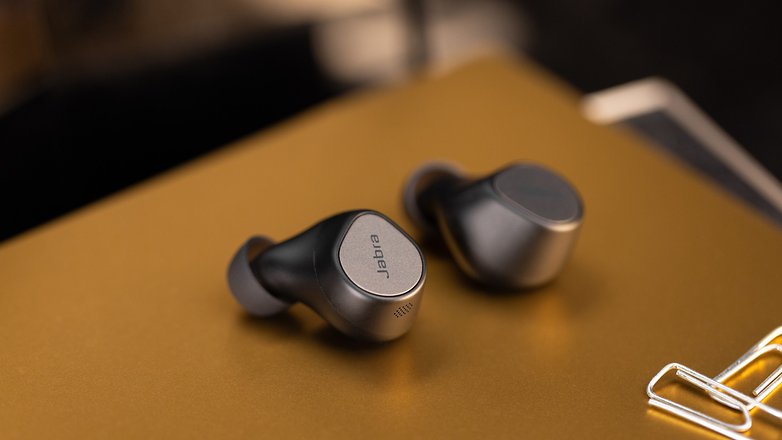 Audio quality
The Jabra Elite 7 Pro incorporated a 6 mm diameter driver in each earphone. By default, the audio signature is fairly high in the frequency range. The midrange and treble are very much at the forefront, which is a little too much to the detriment of bass for my preference.
Of course, you can adjust all this via the equalizer that is available in the Jabra Sound+ application. Personally, I opted to boost the bass a little bit more and attenuate the treble, which sometimes bordered on sibilance (whistling on "S", "F" or "CH" sounds). However, if you were to primarily listen to classical music or jazz, among other genres, the default profile should suit you perfectly.
The frequency range of 20 to 20,000 Hz is pretty standard. I found the spatialization to be very good, with the sound being all-encompassing while various elements in a stereophonic setting are clearly distinguishable.
By default, voices and instruments will sound very clear and precise. The slightly sluggish bass will give the impression of a slightly rounded sound, and not as punchy as it should be. Then again, this is a matter of personal taste, and is by no means a benchmark.
I simply think it's a shame that Jabra was contented to include just the basic SBC and AAC audio codecs, without offering support for additional HD codecs like LDAC or, at the very least, aptX HD. This is a real shame for high-end headphones.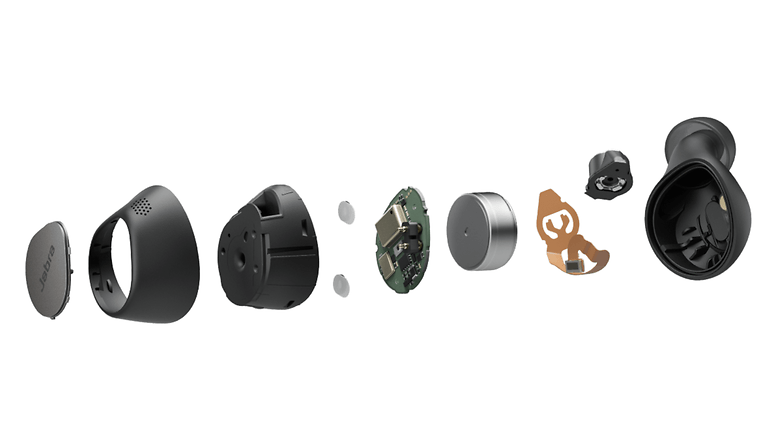 Microphone quality
The Jabra Elite 7 Pro incorporated two microphones in each earpiece, with a grand total of four in all. One focuses on capturing your voice, while the other analyzes outside noise to cancel it out.
Each earpiece is also equipped with a VPU (voice pick-up) bone conduction sensor. These sensors detect when you speak via the movements of your mouth.
When combined, these two technologies are supposed to adapt the intensity with which your voice is reproduced, as well as that with which ambient noise is attenuated, according to your sound environment.
That's what Jabra claims. Personally, I have always found microphone quality to be disappointing on wireless earbuds. It's almost invariably far inferior to that of smartphone microphones. In fact, I've done a number of microphone quality tests in this article, if you're interested. The Jabra Elite 7 Pro has obviously been added to this comparison.
| | |
| --- | --- |
| Indoor | Outdoor |
| | |
| Indoor - Ambient noise | Indoor - Wind noise |
| | |
| Sound in P | Sound in S |
| | |
Active Noise Cancellation (ANC)
The Jabra Elite 7 Pro features active noise cancellation (ANC). Although the first reviews I read were not very complimentary, I found the quality of the noise reduction to be quite good.
---
Pros:
Very good passive noise isolation.
Good attenuation of structure-borne noise.
Cons:
Human voices are not handled well enough.
Transparency mode lacks naturalness.
---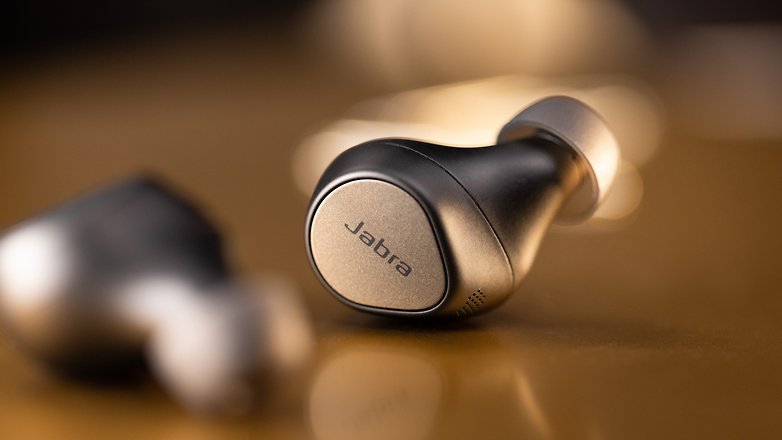 "What the hell are you talking about Antoine, I read The Verge 's review and they said the Jabra Elite 7 Pro's active noise cancellation sucked." Well yes, but actually no. First of all, The Verge never said that and I'm exaggerating such a response for the sake of my argument. Secondly, my review came out much later than the others.
Since the device was released, there have been firmware updates from Jabra. Personally, I found Jabra's active noise cancellation to be inferior to that of Sony and especially Apple, which has mastered this aspect in my opinion.
But Jabra's advantage is that its earbuds offer excellent passive noise isolation. We're just talking about external noise attenuated by the simple design of the earphones. They're earbuds, and they seal your ear canal very well. Even without ANC, ambient noise is already quite attenuated.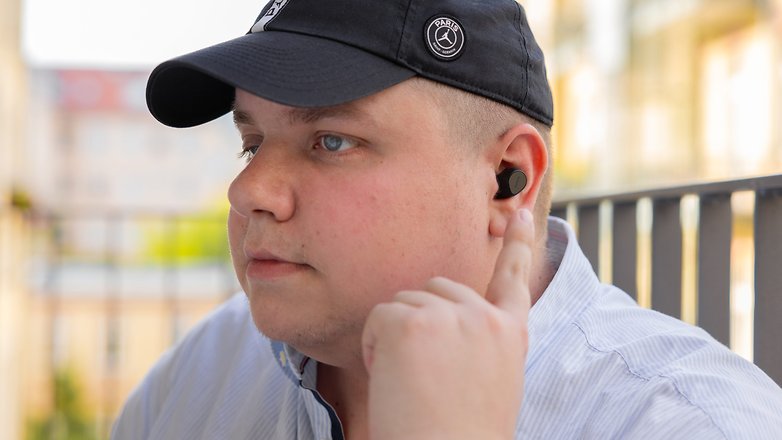 With ANC activated, most constant structure-borne noise (resulting from contact between two surfaces, vibrations, shocks) was "cancelled" well. Car noise, computer keyboard noise, footsteps, fan noise, the list goes on.
As always, it's the more windy and, above all, more irregular noise, such as human voices and sudden noises, that the earbuds have trouble tuning out.
However, they're still effective enough for this price range. I also like the fact that the Jabra Sound+ app lets you choose from 5 levels of active noise cancellation.
As for the transparency mode, I was a little disappointed. Sounds did not seem very natural, and once again, it's not as good as what other high-end manufacturers offer.
Application & features
The Jabra Elite 7 Pro can be operated with a companion app called Jabra Sound+, which is available as a free download Android and iOS. The earbuds also feature port detection, an equalizer, and, last but not least, multipoint Bluetooth support.
---
Pros:
Multipoint Bluetooth connectivity.
Port detection.
Use of a single earphone in mono mode.
5-band equalizer.
Application available on Android and iOS.
Physical buttons, not tactile ones.
Adjustable ANC and transparency mode.
Cons:
No direct volume control on the earbuds.
---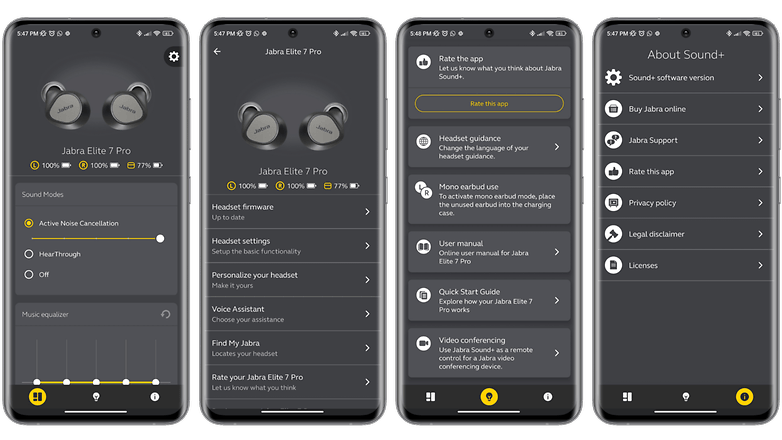 I really like the Jabra Sound+ application. There aren't as many settings in there as with Sony's app, but the user interface is super clear and all the essentials are there.
Yes, even Bluetooth multipoint connectivity which was absent at launch. However, with the latest firmware version, you can indeed pair your Jabra Elite 7 Pro to two devices simultaneously via Bluetooth 5.2.
Jabra also plays the audio scientist with numerous tests to personalize your experience. You can test whether your earbuds are correctly positioned in your ears. You can test the right level of active noise cancellation for your listening environment. You can also test your hearing to see which frequencies the equalizer should emphasize more than others.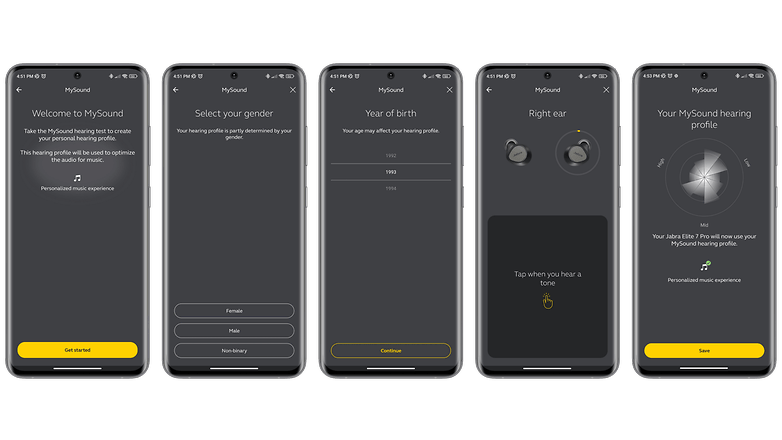 This last feature reminds me a little of the Nothing Ear (2) I reviewed. It comes in the form of a hearing test. You press a button as soon as you hear a sound. This allows the earbuds to understand which frequencies you hear more or less well within the auditory spectrum.
It also allows you to understand how to adjust the equalizer and how your ears perceive the music reproduced by the earbuds. If you see that you're totally lacking in terms of bass, you know which side of the frequency range to boost in the application.
Otherwise, you can manage the intensity of active noise cancellation AND transparency mode. I really appreciate this degree of freedom, with the possibility of choosing from five intensity levels for each of the two functions.
The five-band equalizer is also included, with numerous available presets. I also appreciate the possibility of using a single earphone in mono mode.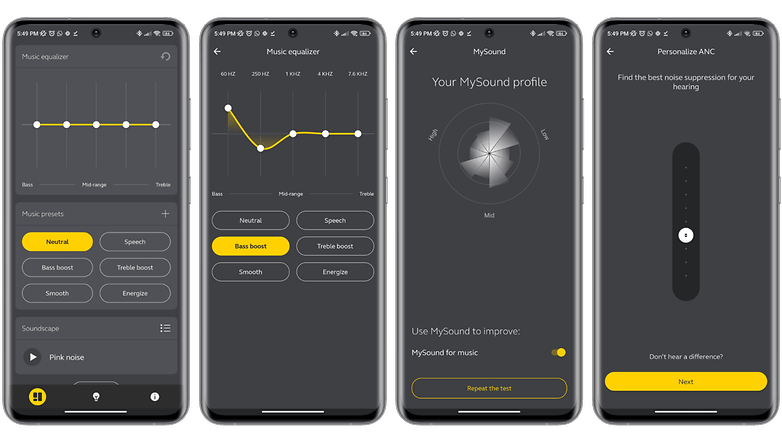 There are no touch-sensitive controls here since commands are performed via physical buttons. This means there are no issues with accidental presses when adjusting one of the earpieces. However, I do regret not having volume controls that can be assigned to the buttons. Here's the full list of controls you can assign.
There are three controls per earbud, utilizing a single press, a double press, and a triple press.
Left earbud
Right earbud
Controls

Play/Pause
Next track
Repeat track
Voice assistant
ANC/Off/Transparency
Battery life & charging
The Jabra Elite 7 Pro is rated for 8 hours of listening time. The charging case can recharge the earbuds anywhere between four to five times on a single charge. It accepts USB-C wired charging as well as wireless charging.
---
Pros:
Excellent battery life of 8 hours with ANC.
Wireless charging supported.
Cons:
Very slow to achieve a full recharge from 0 to 100%.
---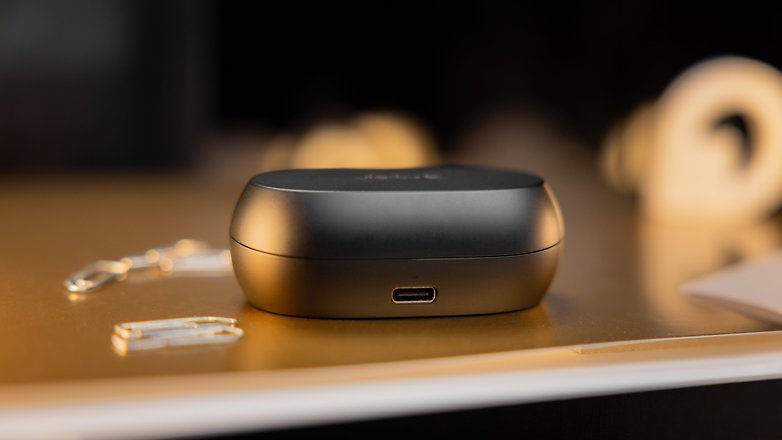 With the active noise cancellation permanently enabled and set to the highest level, I often lasted over 8 hours with the Jabra Elite 7 Pro easily.
This places the earbuds' battery life at the top end range for this price category. Recharging is a very slow matter, however. You can count on more than 2 hours for a full recharge from 0 to 100% via the USB-C case.
The case is compatible with Qi wireless charging. You will be able to recharge the earbuds at least four times before needing to recharge the case itself. Once again, it is pretty impressive.
According to Jabra, 5 minutes of recharging will net you the equivalent of 1 hour of listening time. 30 minutes of recharging should restore 50% of battery life.
Jabra Elite 7 Pro technical specifications
Technical specifications
Device

Jabra Elite 7 Pro

Image
Design

Format: In-ear | Port detection | Physical buttons | IP57 certification

Weight per earbud: 5.4 g | Housing weight: 44 g
Case dimensions: 40.3 x 25.3 x 69.6 mm
Audio
6 mm driver | 360° audio
Frequency response
20 - 20,000 Hz
ANC

Yes, manual
2 microphones
Transparency mode

Bluetooth

Bluetooth 5.2

SBC and AAC codecs
Multipoint
Battery life

8h listening time with ANC

30h listening time with recharging box
5 minutes recharging = 1h listening time

Price
$199.99
Final verdict
At the time of their launch with a $199 price tag, the Jabra Elite 7 Pro already offered excellent value for money. However, with its current price of approximately $160, these earbuds are easily one of the best choices when it comes to wireless earbuds with active noise cancellation.
The audio quality is very good, even if the default profile, which is not very bassy, does not suit my musical preference. The quality of the microphones is exceptional for wireless earbuds. Jabra is undoubtedly the best student in this respect. If you're looking for earbuds for phone calls or video conferencing, this is clearly a better choice than the AirPods Pro 2.
Battery life is also excellent. The only real shortcoming of the Jabra Elite 7 Pro is the active noise cancellation, which isn't as effective as on the Sony WF-1000XM4/5, Bose QC Earbuds II, or Apple AirPods Pro 2.
What do you think of the Jabra Elite 7 Pro after reading this review? Have you been able to test these earbuds yourself? If so, what's your overall impression? Is microphone quality, however good, a decisive purchasing criterion for you?
To find out more, take a look at our full Apple AirPods Pro 2 review which offers the best ANC on the market, and our review of the Nothing Ear (2), the coolest earbuds on the market.