Huawei FreeBuds 5i review: Cheap ANC in-ear headphones that are big on sound!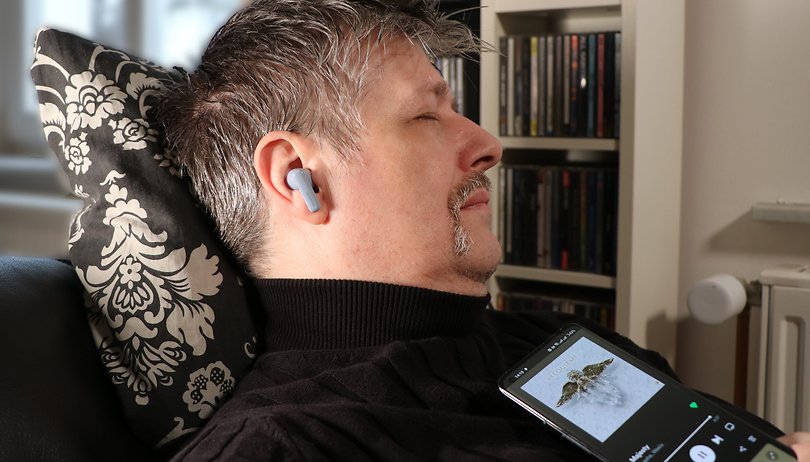 Huawei has added the FreeBuds 5i to its in-ear headphones range. The active noise-canceling headphones (ANC) are now available in Europe at a price of just under 100 Euros (~$100), thus placing them in the lower mid-range market. Don't waste your time searching for more information about these earbuds elsewhere: Here is a detailed review of the Huawei FreeBuds 5i!
Good
Good battery life

Good price-to-performance ratio

Above-average sound quality

Good operation

Dual Connect

IP54 certification
Bad
Equalizer is missing

ANC could be better

No wireless charging

Poor sound quality without the AI Life app
Huawei FreeBuds 5i: All deals
The Huawei FreeBuds 5i in a nutshell
I did review the Oppo Enco X2 and was surprised by the excellent sound quality, and that made me look forward to the detailed review of the Huawei FreeBuds 5i, which costs only half the price. My biggest surprise with the Freebuds 5i was the difference in sound quality when using the Huawei in-ear headphones with and without the in-house "AI Life" app. However, more on that in the "Software" category.
The Huawei FreeBuds 5i are the successors of the FreeBuds 4i and actually bring some improvements that our colleague Antoine criticized in his detailed review of the Huawei FreeBuds 4i. These primarily include an IP54 certification, support for new audio codecs like LDAC (990 kbps at 24 bit/96 kHz), a stronger ANC, and almost double the charging case's battery capacity.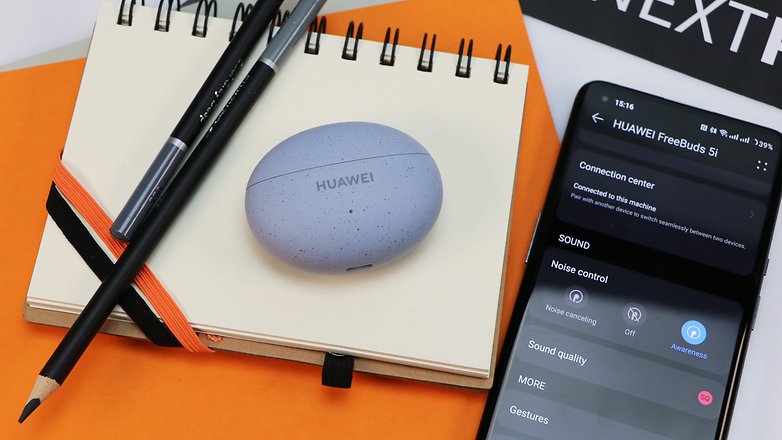 The price, on the other hand, has remained the same at €99.99. You will be able to choose between Ceramic White, Nebula Black, and Isle Blue (which was what we received for our review unit) when it comes to colors. However, the delayed sales launch in Europe is somewhat incomprehensible.
All in all, the Huawei FreeBuds 5i is a very good choice for the above-mentioned price and will drive the Nothing Ear (1) we reviewed out of the best ANC in-ear headphones list. And as with all of the Chinese brand's products, the FreeBuds 5i are not expected to be sold in the US.
Huawei FreeBuds 5i design and build quality
The Huawei FreeBuds 5i can be seen as a full-fledged update to its predecessors, and they also bring some visual improvements along. For one, they are 11% lighter at 4.9 grams (per earbud) and 7 millimeters shorter. That doesn't sound like much, but it can make a big difference when it comes to wearing comfort. I would like to mention this as positive at this point. Different sizes are included in the box.
What I liked:
Fits securely in the ears.
Good workmanship.
IP54 certification.
What I disliked:
The main material used is polycarbonate, in other words: plastic. While the white variant is very easy to pick up fingerprints, Nebula Black and Isle Blue are the far better choices in this regard. Huawei sent us the Isle Blue variant, but I think it also passes for gray with black dots.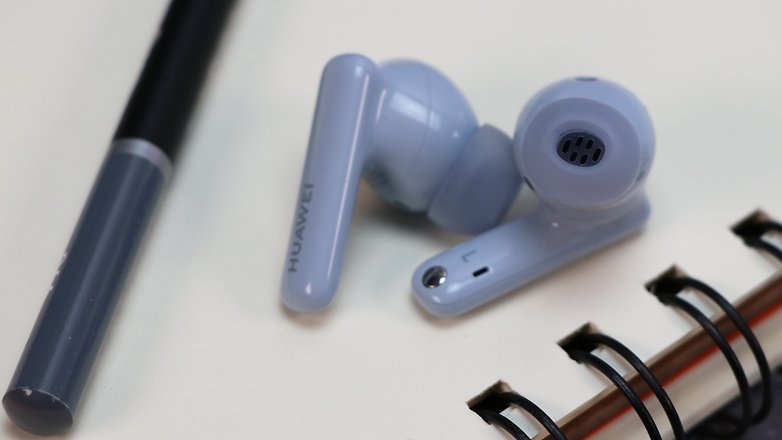 The charging case and in-ear headphones are pleasantly small with dimensions of 48.2 x 61.8 x 26.9 millimeters (case) and 30.9 x 21.7 millimeters (headphones), well-made, and offer IP54 certification that protects against dust and water. The headphones are operated by tapping, swiping, and a long press. When the headphones are removed from the ear, whatever music playback will stop automatically.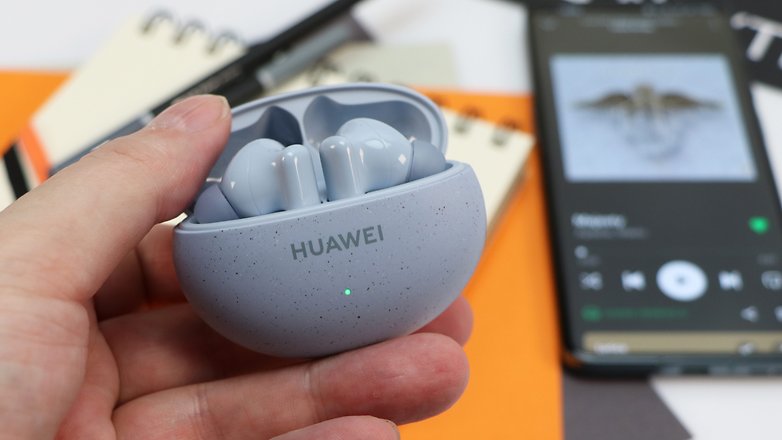 The new hinge of the charging case snaps shut energetically and also stays securely closed. On the right side is the button for connecting, on the front you will find an RGB LED, and at the bottom a USB Type-C port for charging. Wireless charging is not possible via the FreeBuds 5i's case. The headphones also find a secure position in the case thanks to a built-in magnet.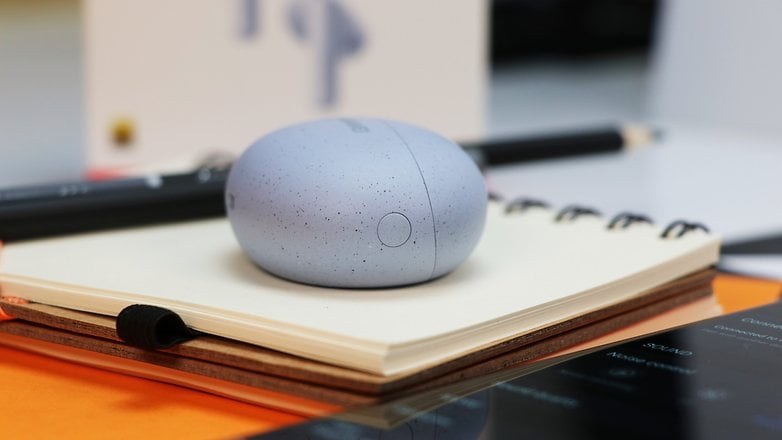 Operation and software
Like probably many of you, I don't spend a lot of time reading instructions for a new product. On the one hand, it is easy to see how self-explanatory the product to be reviewed is, and on the other hand, I am just plain lazy. Thanks to Google Fast Pair via Bluetooth 5.2 on my OnePlus 9 Pro, the in-ear headphones were displayed quickly and paired without any problems. Even the remaining battery capacity of the individual earphones including the charging case was communicated to me on the smartphone.
What I liked:
Not usable without the AI Life app.
Google Fast Pair.
What I disliked:
"AI Life" app is not available in the Google Play Store.
No equalizer available.
During the review, I had a preliminary conclusion in my head: "Here you have your 'cheap' headphones, which are so bad in terms of sound that they probably shouldn't cost more than €100, either". Then I found out that I needed the "AI Life" app for the optimal use of the Active Noise Cancelling (ANC) feature.
However, you cannot get it in the Google Play Store, but via the Huawei AppGallery or at APK-Mirror. The story about US sanctions and Huawei should be common knowledge. And Huawei, who is not stupid, makes a virtue out of necessity and ensures a little traffic on its own app store, never mind that it that leads to complications in the end.
You have to enable "trust unknown sources" in the settings of your smartphone in order to install the APK. And what can users of an Apple iPhone do? They can actually find the "AI Life" application in the Apple App Store, which was not the case with its predecessor. And lo and behold, not only does ANC now works in two different settings, the sound is suddenly completely different. However, I will dive into that more in the sound section.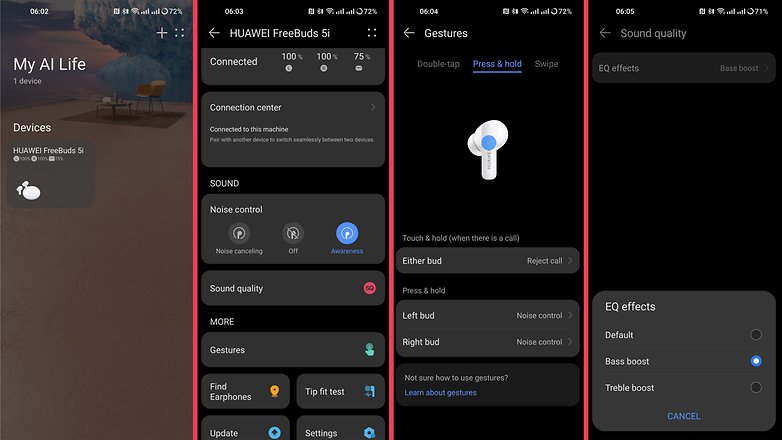 The app is clearly structured, which is very convenient for me personally. Settings for operation and sound can be made. The control options are limited to a double tap, press and hold, and swipe. Both can be set separately for the right and left headphones. Thus, there is no simple tapping option, presumably to rule out any confusion. The operation worked without problems in my review.
There is also an option to locate the headphones, which makes sense to search for them individually. Huawei does not offer a real equalizer in our review sample, but only a general setting to boost the bass or treble.
Sound and Active Noise Cancelling
The compulsion to use the app can definitely lead to frustration. Not only does it affect the different music genres one listens to, but also the user's own listening preferences require different equalizer settings in most cases. However, if you listen to Spotify all day long as I do, the two additional sound settings are perfectly fine.
What I liked:
Good sound quality for the price range.
LDAC is on board.
ANC now offers 42 dB.
What I disliked:
Huawei offers a frequency response of 20 to 40,000 hertz for its two 10-millimeter dynamic drivers and now supports Sony's LDAC codec in addition to AAC and SBC. If you want to know more about audio codecs, you can read more about them here. Antoine also criticized the lack of an HD audio decoder in his review of its predecessor, which Huawei has now addressed that. Thanks to Hi-Res certification, the Bluetooth audio stream delivers up to 990 kilobits per second at 24 bits/96 kilohertz.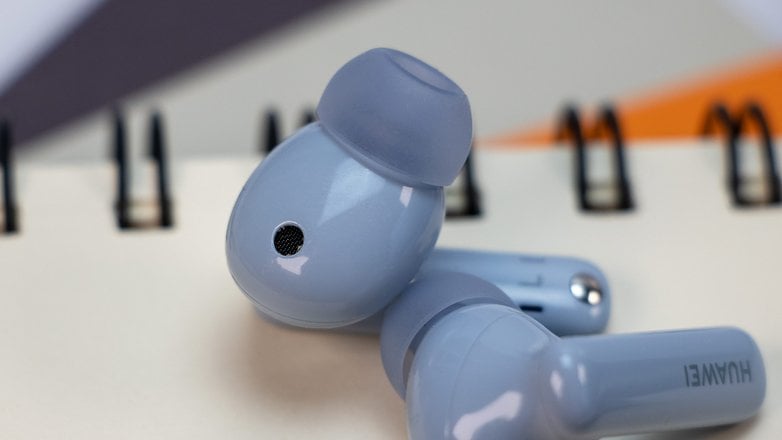 Personally, I increased the low-frequency range a bit, since this was not apparent while wearing the FreeBuds 5i as in-ear headphones tend to not shield outside noise 100 percent. Generally speaking, the sound quality is perfectly okay, as the sound image is balanced, which I rate a tad above average.
Even though I am not personally convinced by AEM (Adaptive Ear Matching)—that is, adaptive sound optimization by "measuring" the auditory canal, the Huawei FreeBuds 5i also offer that. The advertised algorithm optimization, which is supposed to offer lower gaming latency, also falls under the same, hard-to-measure class.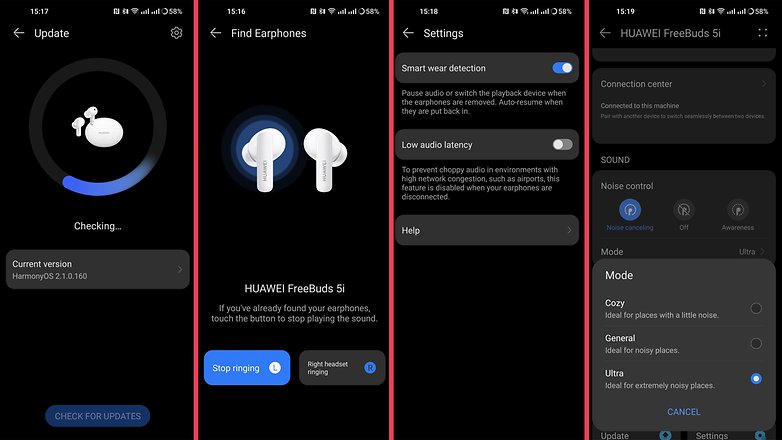 When it comes to the ANC, they have also improved the FreeBuds 5i. In the segment about software, I talked about two basic settings: one is noise cancellation and the other is the so-called "attention mode". ANC can be further divided into three levels, "Low" (25 dB), "Balanced" (30 dB), and "Ultra" (42 dB).
That is almost twice as many decibels as its predecessors. Even though Huawei has made significant improvements, there is still room for improvement. Here is a logical thought: the Huawei FreeBuds 5i does not yet represent the premium segment of the Chinese manufacturer.
Huawei FreeBuds 5i battery
Last but not least, here are one or two sentences about the battery, which is an important point for wireless in-ear headphones. Here, too, Huawei has clearly improved with a 410 mAh charging case compared with its predecessor that carries "only" 215 mAh. The headphones themselves each have a battery capacity of 55 mAh.
What I liked:
Charging case now with 410 mAh.
Up to 28 hours of music playback.
What I disliked:
Huawei advertised a total of 28 hours of music playback, which is of course, only achieved together with the charging case and ANC disabled, but this figure is nevertheless not far-fetched. However, I have not yet managed to bring the Huawei Freebuds 5i to its knees during an office day with a single charge and ANC enabled. A proud six to seven hours are easily possible, which is a really good result.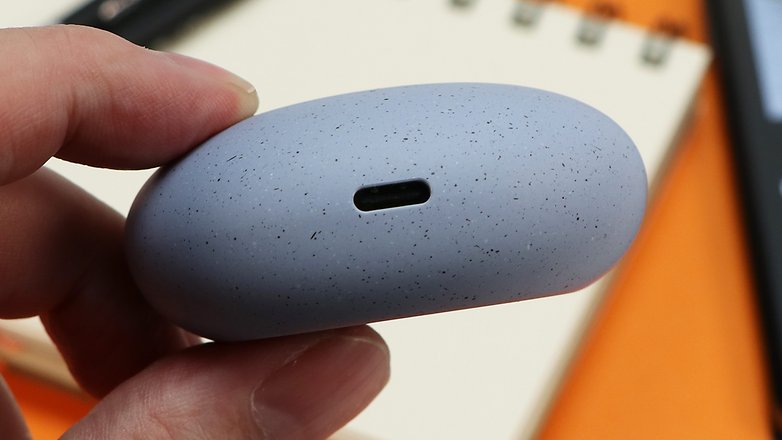 However, phone calls consume more energy, and I would calculate four to five hours of runtime on a single battery charge. A complete charging process of the case takes less than two hours.
Final verdict
Huawei proved that its FreeBuds 5i ANC in-ear headphones, which cost just under €100, you do not necessarily have to spend a fortune to get good sound in your ears. The ANC in-ear headphones have improved in almost all aspects compared to its predecessor. Nevertheless, I "only" give them four stars here as well. Why?
Well, there is clearly still room for improvement, be it the sound quality in general or the active noise cancellation. Don't get me wrong: For just under €100, the Huawei FreeBuds 5i is probably one of the best in-ear headphones you can currently purchase. However, I do not want to make any false promises here, especially after I was able to review the Oppo Enco X2, which impressed me a lot and I had to part with a heavy heart.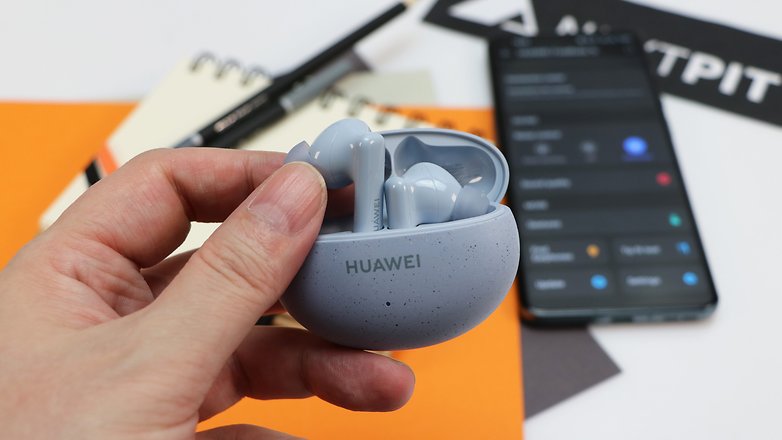 Still, for half the price of the Enco X2, Huawei offers what I think is the best value in the field, Provided you submit to the complicated method of installing the "AI Life" app from the Huawei AppGallery for Android users. Apple iPhone users can easily access the same app on the Apple App Store.