How to easily share Wi-Fi passwords on Android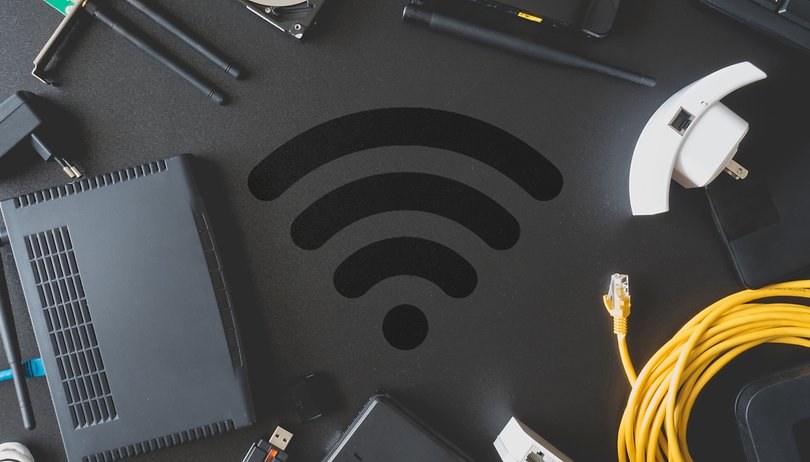 Android didn't use to let you see saved Wi-Fi passwords, but with Android 10 that all changed. Now you can easily see saved Wi-Fi passwords on Android in just a few simple steps. You can also share them via QR code. Here's how to do it. NEXTPITTV
How to share saved Wi-Fi passwords on Android 10
With the launch of Android 10, Google added one of the most sought-after features to its Android operating system. Finding out a Wi-Fi password you had already saved on your smartphone used to be an absolute pain - not anymore! You can now easily see the Wi-Fi password for any network you have previously connected to, as well as share the password via QR code. This comes in very handy for those long, complicated passwords that can be slow or troublesome to type in manually. Here's how to do it.
Go to Settings and then Network and Internet.
Tap on Wi-Fi at the top of the menu.
Select the Wi-Fi network you want to see the password for.
You will see two main options in blue, Forget and Share. Tap Share.
You will need to verify your identity with either facial recognition, fingerprint sensor, PIN or password.
You can now see a QR code for sharing the password, plus the password in plain text written under the code.
Note: we have edited the screenshot below to hide the password for obvious reasons.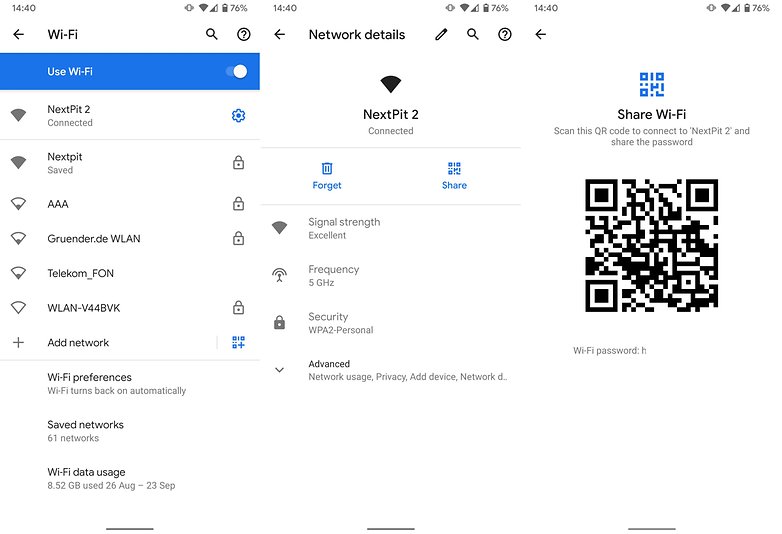 If you are using Android 9 Pie or older:
If you are still using Android 9 or older, you may find yourself feeling stuck if you forget your network password and don't have it written down or on the back of your router. Don't worry: with root access to your device, you can use an app to see the passwords or access the unencrypted conf- file that contains the Wi-Fi codes. We'll take you through how get your phone to show the Wi-Fi password step-by-step.
Step 1: Root your phone
The file with the Wi-Fi access code is located in an area of ​​the file system that is only accessible on a rooted Android device. Rooting is for more advanced Android users, and there are some disadvantages to be aware of. To find out if rooting is right for you, check out this article. If you decide you're ready to root, you can find out how in the following article:
Step 2: There are two ways to see your Wi-Fi password
Once you've rooted your device, you have two options. You can download an app to view your Wi-Fi password, or you can go digging in the root directory. Using an app is the quicker, more straight-forward option, but advanced users may enjoy finding the plain text passwords manually using a file manager that is capable of displaying root content..
Use an app to see the Wi-Fi password
There are apps can display your stored wireless passwords available on the Play Store, but keep in mind that these still need root privileges to function. Wifi Password Show is a free app that does exactly what you'd expect it to. The Play Store rating is only 3.5, but most of the bad reviews are because people don't understand that it requires root. It has no ads and works with Android Pie. What more could you ask for?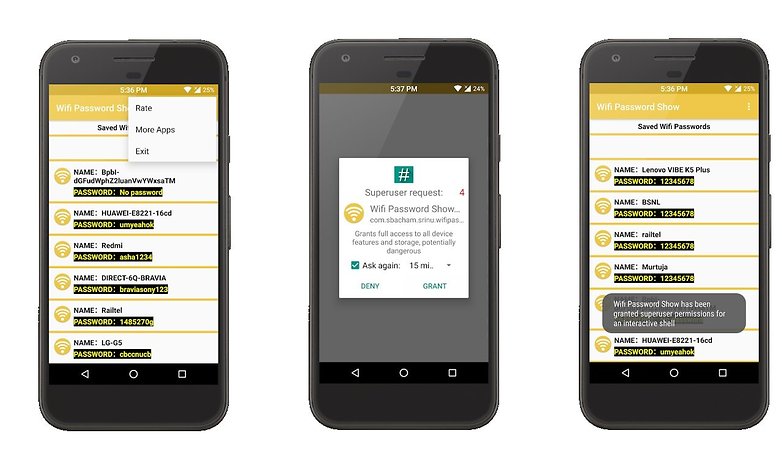 Find the Wi-Fi passwords in the root directory manually
Find a file manager that displays root content. For this example, we used Amaze. The preinstalled CyanogenMod file explorer we tried couldn't open the conf- file as a text file and was thus unsuitable.
First, you must authorize the file explorer to open the root directory. The option is at the bottom of the app settings. Next, go into the directory tree following the path: data > misc > wifi. In this folder, find the file named wpa_supplicant.conf. This file contains all the networks in the plain text. The Wi-Fi passwords are also displayed here.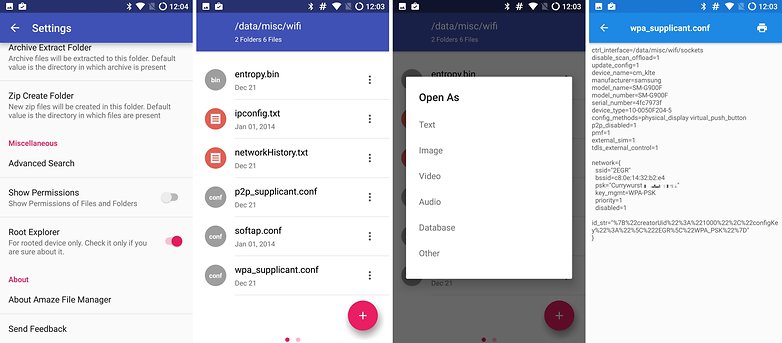 Have you rooted your phone to find your lost network passwords before? Let us know in the comments below. Also, check out how to use your smartphone as a Wi-Fi hotspot or how to get free Wi-Fi anywhere!