Govee AI Gaming Sync Box Review: The Alternative for Ambilight Orphans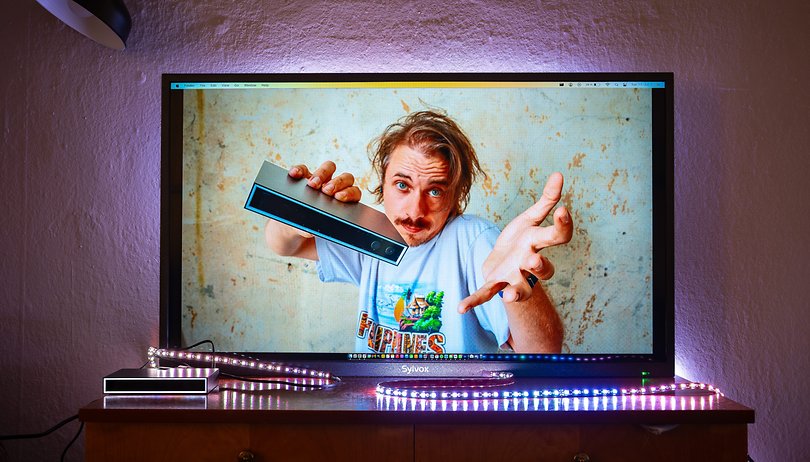 After Govee launched an awesome backlight solution for gaming monitors, the entire experience is now available for home cinema buffs! The Govee AI Gaming Sync Box is suitable for TVs that measure between 55-inches and 65-inches, where it works simply through a plug-and-play format. However, does the Ambilight alternative impress gamers in this review? nextpit decided to take up the challenge for you!
Good
0 ms delay despite 4K resolution

High luminosity

Easy installation with the adhesive strips

Extensive smart home functions
Bad
Supports only Wi-Fi networks with 2.4 GHz

Supports Alexa and Google Assistant only

Accepts only HDMI input

App contains ads
Govee AI Gaming Sync Box: All deals
The Govee AI Gaming Sync Box in a nutshell
With an asking price of $179.99, the AI Gaming Sync Box from Govee is not exactly cheap if you are thinking about sprucing up your gaming area. However, it offers a really impressive backlight to accompany content up to 4K resolution in this review—without any lag. Hence, if you are looking out for an Ambilight replacement, this is a particularly good choice.
Apart from the new variant for TVs, Govee also sells the AI Gaming Sync Box for gaming monitors. You can find the store links to both variants above. Also, Govee has further, similar products to the AI Gaming Sync Box in its portfolio.
---
This article is a collaboration between nextpit and Govee. The company, however, had no editorial input on nextpit's opinion.
Design
The AI Gaming Sync Box from Govee comes with the black-colored "Sync Box", a long light strip with three links, two HDMI cables, and clips for mounting. The light strips feature 3M adhesive tape at the back to let you get started right away. In order to use it, you will have to install an app in order to control basic functions using the two buttons in the front of the box.
---
Pros:
Wonderfully simple setup.
Two HDMI cables are included.
AI Gaming Sync Box looks discreet.
Cons:
Setup only works with 2.4 GHz WiFi networks.
Only HDMI inputs and outputs supported.
No remote control.
---
There isn't really much to talk about the design of the Govee AI Gaming Sync Box. Within the box itself, you will find the actual sync box, the LED light strips, two HDMI cables, and some brackets that will let you have a tidier setup when you arrange the connecting cables between the light strips. In other words, Govee packs everything you need to get started in the box without any unnecessary clutter.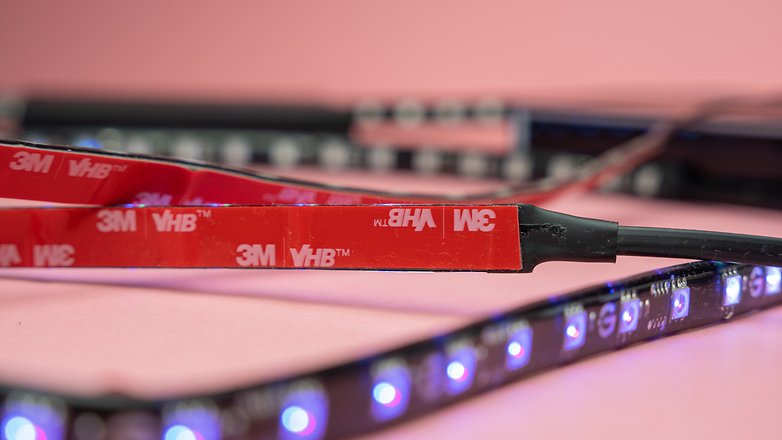 What does this mean? You connect the Sync Box to a power outlet, hook up the TV and game console via the included HDMI cable (which is of very high quality, by the way), and then connect the LED light strip via USB-C. Before you do that, however, you should glue it to the TV. Govee has thought of everything here as well. For those who are averse to sticking anything on their TVs, live a little, I say!
The light strips are equipped with 3M adhesive strips at the back and can be attached to the back of your TV without the need for any additional tools. For my review, I only had a loaner unit which was a bit too small at 42-inches. Needless to say, the individual LED elements were a bit too large, so I was only able to place them around the TV.
As you will learn later, this is not a big deal. However, it is very clever of Govee to provide cable holders for the points where your TV bends at the corners. You can use these to organize the cables at these points so that everything remains tidy behind the TV. After setting up the hardware, there is still some work left that needs to be done by setting up the rest of the Govee app.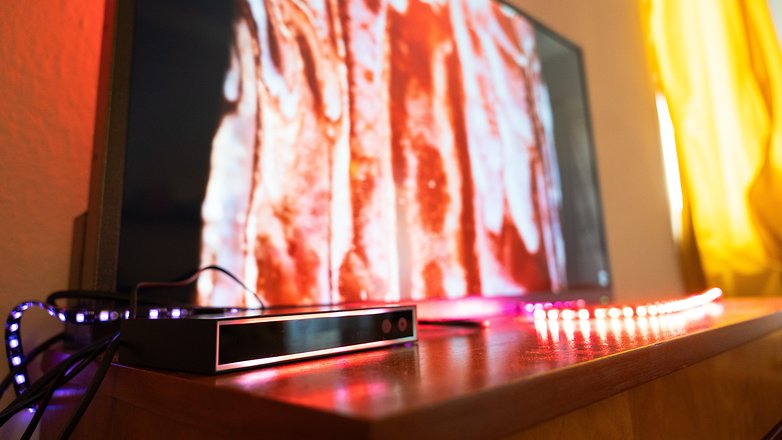 Here, the AI Gaming Sync Box will be able to recognize my iPhone 13 mini via a wireless connection. What I found to be annoying is Govee's Wi-Fi module in the Sync Box being compatible only with 2.4 GHz networks. If your wireless router is not dual-band (which is very rare these days), you will face some problems here.
If the router is compatible, you key in your network password and determine just in which direction you have glued the LED strips behind. The process is very simple and is accompanied by an illustration for a more dummy-proof affair. Once you are done, the AI Gaming Sync Box is fully set up.
Performance and technology
The main feature of the Govee AI Gaming Sync Box is how it reproduces screen content with 99% color accuracy and, above all, without any lag. What happens on your screen is immediately reflected in the colors behind your TV. At the same time, the Sync Box reacts intelligently to in-game events thanks to Govee's CogniGLow algorithm.
---
Pros:
Lag-free color reproduction.
Good brightness levels.
Cons:
Game compatibility is still very limited.
Works only with HDMI devices.
---
Govee tailored the features of its Sync Box to meet the needs of gamers. Therefore, Govee managed to reduce the latency to 0 ms despite having to handle 4K resolution content. The on-screen action is actually mirrored on the wall behind the TV without any noticeable lag in reality. It is like magic, so how does the whole thing work?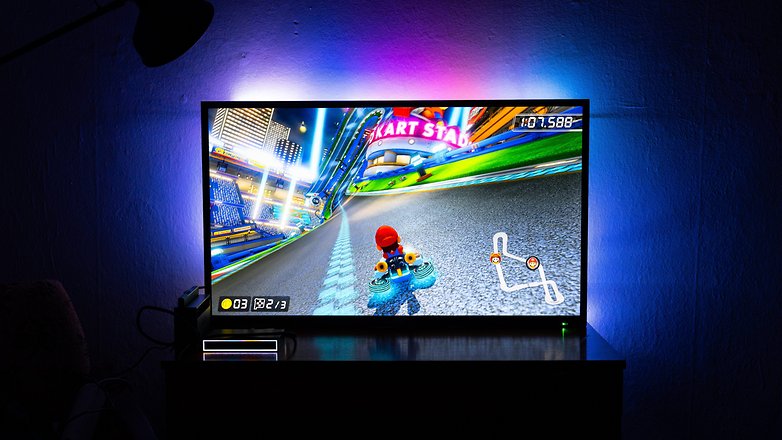 Fortunately, you don't have to install any drivers or software when using the AI Gaming Sync Box. Instead, the box is smart enough to orient itself to the HDMI signal whenever you connect it to a particular device, be it the computer or console. A trio of HDMI inputs are available for this purpose, and the box will automatically recognize which signal it should process. The fact that there is no DisplayPort input is a minor drawback—but that will not bother most gamers as much.
It is more annoying Govee only offers its CogniGLow technology for a few games. No thanks to this, the gaming box reacts to in-game events and displays certain colors when you celebrate a certain point of progress in the game. With Apex Legends, Valorant, Overwatch, and League of Legends, all the popular games are covered albeit with still a very limited selection.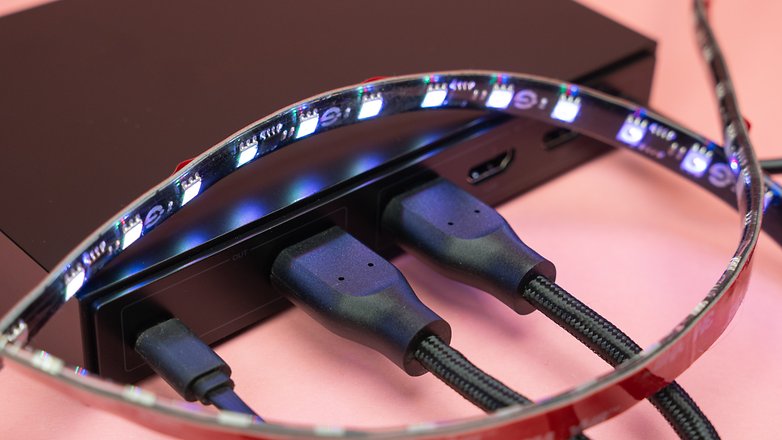 Apart from processing HDMI signals, the AI Gaming Sync Box offers numerous other features via the app. The selection of predefined scenes, such as rain showers or a virtual fireplace, is enormous and can be expanded with your own DIY scenes if necessary. I also found it very clever that Govee has also equipped its Sync Box with a microphone.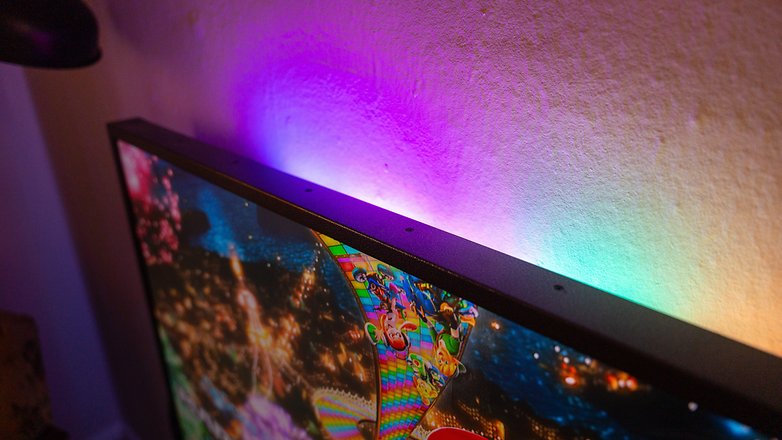 By the way, the brightness level of the connected LED strip can also be adjusted via the app. I did not measure the maximum brightness, but it is sufficient to see a slight shimmer around the TV even during the day. If it is dark in the room, however, the maximum brightness is almost too high. More is not needed for a good degree of immersion.
Smart functions
The Govee AI Gaming Sync Box can not only process wired signals, but you can also integrate it into your Wi-Fi network and by default, into your smart home setup. With that, the manufacturer enables a rudimentary form of voice control. At the same time, you can connect other Govee devices and thus make your entire room bathe in light.
---
Pros:
Comprehensive yet easy-to-use app.
Compatible with Alexa and Google Assistant.
Can be combined with other Govee products.
Cons:
HomeKit is left out.
App displays ads.
App contains translation errors.
---
Govee touts compatibility with Alexa, Google Assistant, Siri, IFTTT, and Razer Chroma on its homepage. However, only Alexa and Google Assistant can be used in the AI Gaming Sync Box companion app as of July 2023. You can use voice control on smart speakers to turn the lights on and off via these voice assistants. In addition, you can integrate the light strip behind your TV into your smart home automation.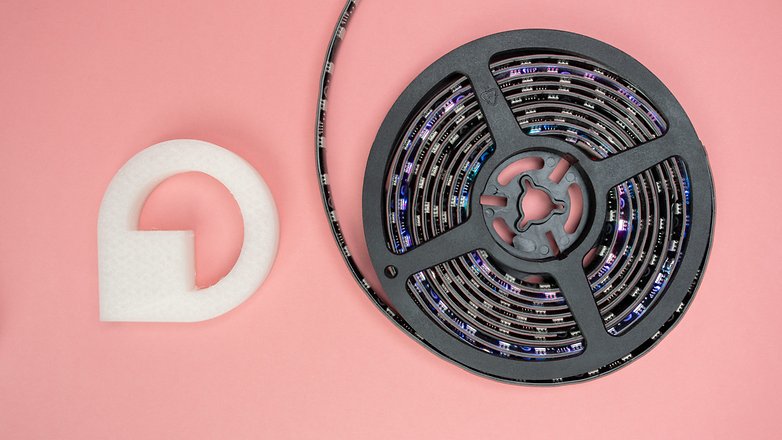 This allows you to control the AI Gaming Sync Box via a smart light switch, or perhaps to have it turn red when the surrounding temperature exceeds a critical value. Since Govee itself offers many functions for automation, many exciting features are available to you to play with here.
In order to use them, however, you first have to learn to understand Govee's companion app. It functions as a combination of a control center, advertising platform, social media platform, and online store. In other words, it can get quite overwhelming at first. I was particularly annoyed by the number of advertisements shown. In addition, there are some translation errors, but their actual meaning can be deduced from the context.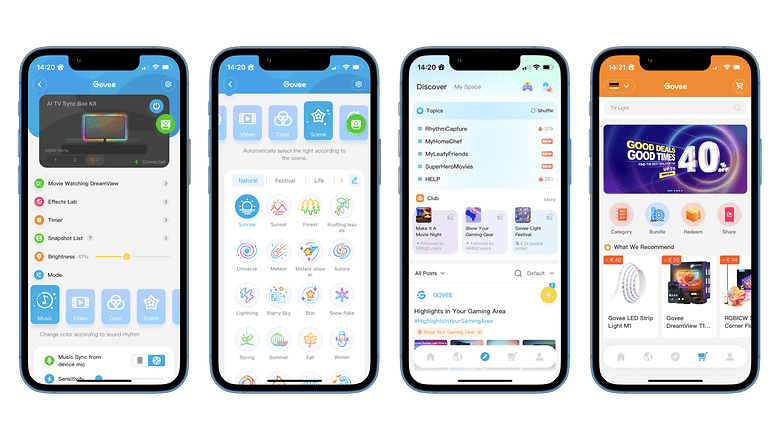 Last but not least, the integration of an online store into the Govee app is not impractical at all. This is because Govee ensures compatibility between different lighting products, which also allows the lamps in your room to react to the screen content on your TV. In other words, the AI Gaming Sync Box can also be seen as an extension of your existing smart home setup.
Conclusion
The AI Gaming Sync Box from Govee is supposed to provide a deeper level of immersion when gaming on the TV. In reality, it really does that impeccably thanks to 4K support and the insanely low latency of 0 ms. For gamers, I hope the manufacturer makes its CogniGLow technology compatible with more games, as the idea of seeing a light show during certain in-game events is really exciting.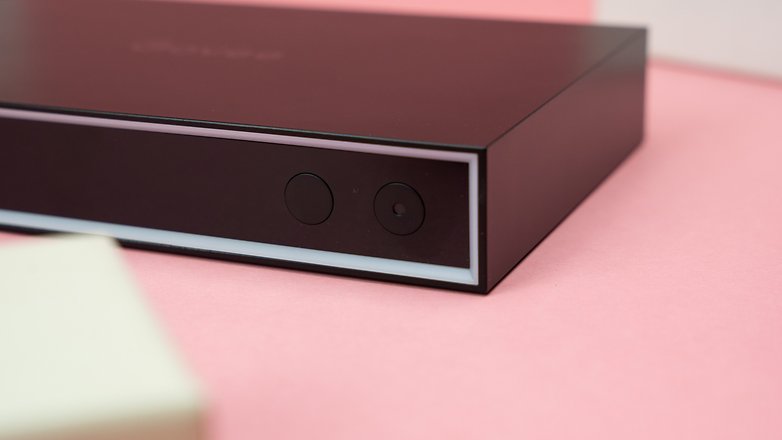 The only technical drawback I could remember after a few days into the review is the restriction of having to connect the AI Gaming Sync Box to a 2.4 GHz Wi-Fi network. Apart from that, it is mainly the app that is a bit too messy with the primary disadvantage of not supporting Apple's HomeKit for now.
If that doesn't bother you, I can really recommend the AI Gaming Sync Box to fans of RGB LEDs. The review unit for your TV costs $239.99, but it is available on sale for $179.99 for a limited time only. Alternatively, there are two other solutions from the manufacturer to create an Ambilight-like lighting atmosphere around TVs and monitors.
The Envisual TV background lighting TV uses a camera that is placed above the TV. It is also suitable for sizes between 55" and 65 ", but is more affordable at $139.99 a pop. If you need the variant for a 75-inch TV or larger, you will have to fork out $159.99 If you don't want to upgrade your TV, but prefer to adorn your monitor with LED strips instead, we recommend buying the Govee Gaming Lightstrip G1. It is even more affordable at $69.99 and is suitable for monitor sizes between 24-inches and 34-inches.