Google Pixel 8 Pro vs. Samsung Galaxy S23 Ultra: Comparing Costs for Your Budget
Two of the major devices currently available on the market are the Google Pixel 8 Pro and the Samsung Galaxy S23 Ultra. If you are searching for a new smartphone, take a look at our comparison of these two exceptional Android phones to determine which one you should buy and why.
Google Pixel 8 Pro vs Samsung Galaxy S23 Ultra: Key features compared
Google Pixel 8 Pro vs Samsung Galaxy S23 Ultra
Product
Image
Review

Review: Samsung Galaxy S23 Ultra

Review: Google Pixel 8 Pro

Price
Display

6.8-inch AMOLED |
3,088 x 1,440 pixels |
120 Hz refresh rate

6.7-inch LTPO OLED |
2,992 x 1,334 pixels |
120 Hz refresh rate

SoC

Snapdragon 8 Gen 2 for Galaxy

RAM
Memory
OS

One UI 5.1 | Android 13
Four Android upgrades
Five years of security updates

Android 14
Seven years of system upgrades
Seven years of security updates

Camera

Main: 200 MP, f/1.7, OIS
Ultra-wide angle: 12 MP, f/2.2
Telephoto 1: 10 MP, f/2.4
Telephoto 2: 10 MP, f/4.9

Main: 50 MP, f/1.68
Ultra-wide angle: 48 MP, f/1.95
Telephoto: 48 MP, f/2.8

Front-camera
Battery
Connectivity

eSIM | 5G | LTE | Wi-Fi 6E | Bluetooth 5.3 | UWB | NFC

eSIM | 5G | LTE | Wi-Fi 7 | Wi-Fi Direct | Bluetooth 5.3 | NFC

IP Certification
Dimensions and weight

163.4 x 78.1 x 8.9 mm
233 g

162.6 × 76.5 × 8.8 mm
213 g

Offer*
Google Pixel 8 Pro vs Samsung Galaxy S23 Ultra: Design and display
The Pixel 8 Pro and Galaxy S23 Ultra embody the apex of smartphone design, each with distinctive features catering to their loyal user bases. Google's Pixel 8 Pro introduces a matte glass back resistant to fingerprints and a unified camera bar design, signaling a careful evolution that maintains its high build quality with minor ergonomic adjustments.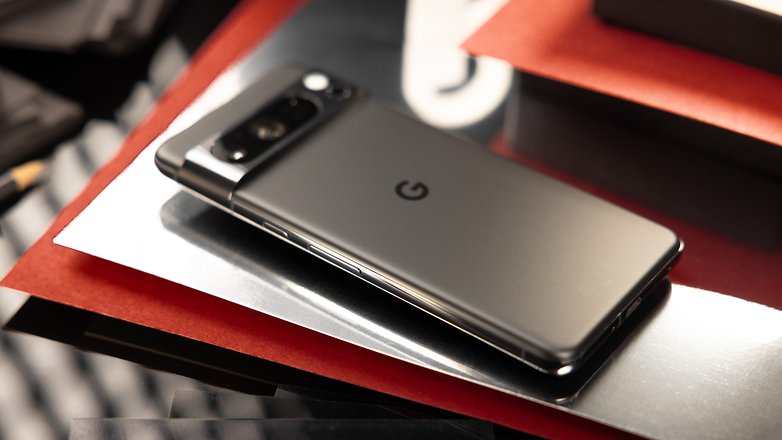 On the other hand, the Galaxy S23 Ultra conserves its predecessor's design to the tee, with its signature S Pen still in place, indicating Samsung's trust in its well-established design.
Both phones boast the latest Gorilla Glass Victus 2 and IP68 certification, mirroring industry standards for durability. Yet, they diverge in their approach to design innovation: the Pixel subtly refines its usability, while the Galaxy remains steadfast, perhaps to a fault for those seeking novelty.
Ultimately, the Pixel nudges toward the new with incremental design changes, whereas the Galaxy reinforces its commitment to a successful formula, prioritizing familiarity over innovation.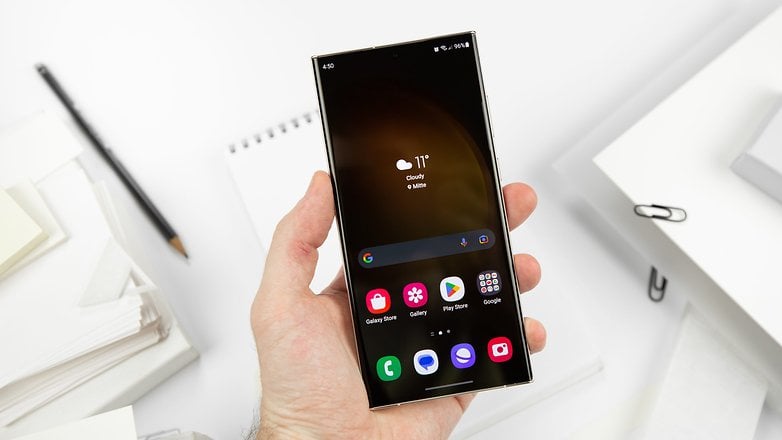 The Galaxy S23 Ultra and Pixel 8 Pro displays exhibit evolutionary rather than revolutionary updates. Samsung's S23 Ultra retains its 6.8-inch AMOLED and QHD+ resolution with a less pronounced curve, catering to a flat-screen preference.
The Pixel 8 Pro, with its 6.7-inch OLED, lowers the resolution slightly from its predecessor but compensates with an impressive peak brightness and a completely flat display, ditching the curves altogether.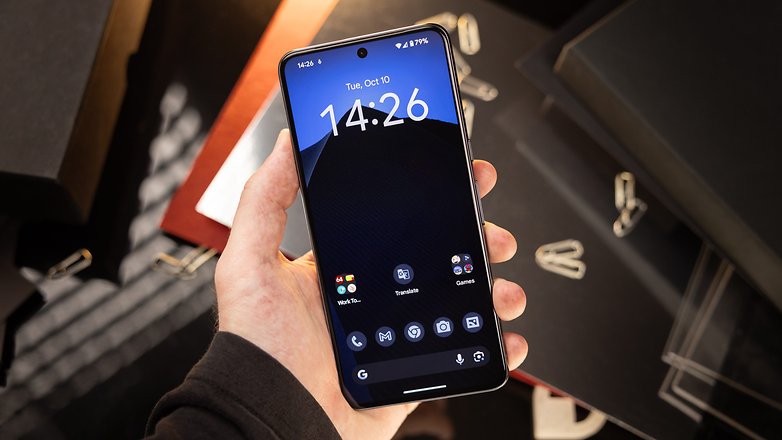 Both phones employ LTPO technology for dynamic refresh rates up to 120 Hz, ensuring fluid visual performance. Samsung's subtle screen curvature reduction reflects a cautious design iteration, while Google's high-brightness display with a new "Super Actua Display" moniker indicates a focus on visibility and brand differentiation.
Overall, both brands maintain their high standards in display quality while fine-tuning features to enhance user experience subtly.
Google Pixel 8 Pro vs Samsung Galaxy S23 Ultra: Interface/OS
The Google Pixel 8 Pro breaks new ground with a promise of seven years of updates, beginning with Android 14, signaling a shift towards longer device longevity. However, not all cutting-edge features, like AI-based photo editing, are available from the get-go.
Conversely, Samsung's Galaxy S23 Ultra, running on the sleek One UI 6 based on Android 14, impresses with smooth animations and practical features like enhanced multitasking and custom routines, though it commits to a shorter span of four Android and five security updates.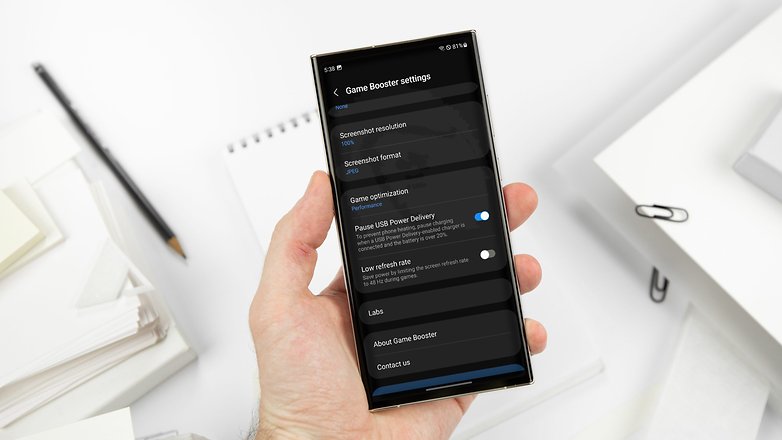 In essence, the Pixel 8 Pro's software strategy is about long-term stability and the potential for future enhancements, while the S23 Ultra focuses on providing a polished and user-friendly interface with immediate benefits.
Both smartphones display impressive AI photography capabilities, yet Google distinguishes itself with the promise of prolonged updates, whereas Samsung stands out by providing a dense, feature-laden experience right out of the box.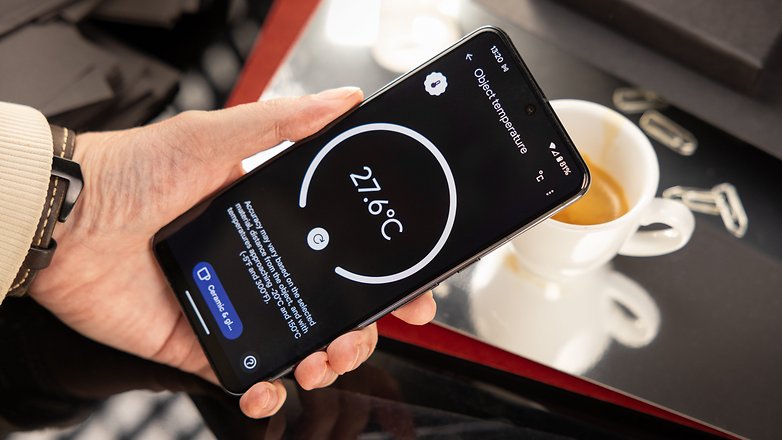 For a more in-depth understanding of the features offered on both devices, explore our guide on Android 14 features. Additionally, for an in-depth look at Samsung's top features, check out our One UI 6 first impressions and our guide to the Galaxy experience.
Google Pixel 8 Pro vs Samsung Galaxy S23 Ultra: Performance
The Google Pixel 8 Pro, powered by the Tensor G3 chip, aims for flagship performance but falls short in high-demand gaming, as it cannot match the Snapdragon 8 Gen 2 found in its rival, the Galaxy S23 Ultra.
The Pixel's strengths in AI and security features, courtesy of the Titan M2 chip, do not fully compensate for its performance shortcomings, especially when it comes to future-proofing against more advanced chips with capabilities like ray tracing.
In contrast, the Samsung Galaxy S23 Ultra exhibits a significant performance enhancement thanks to Qualcomm's chipset, achieving excellent thermal management. It smoothly processes even the most demanding graphic-intensive games and maintains a cool temperature during operation, demonstrating its advanced thermal throttling capabilities and strong storage and memory configurations.
Google Pixel 8 Pro
(Tensor G3)
Samsung Galaxy S23 Ultra
(Snapdragon 8 gen 2)
3DMark Wild Life stress test

Worst: 7,386
Best: 12,278

3DMark Wild Life Extreme Stress Test
3DMark Solar Bay Stress Test
Geekbench 6

Single: 1,756
Multi: 3,630

Single: 2,066
Multi: 5,510
To sum up, the S23 Ultra takes the lead in high-performance delivery and efficient thermal control, setting it apart from the Pixel 8 Pro, which despite its potential, does not quite fulfill the expectations of a flagship device.
While both aim for the top, the Galaxy S23 Ultra is evidently the superior choice for individuals who place a premium on optimal performance and gaming excellence.
Google Pixel 8 Pro vs Samsung Galaxy S23 Ultra: Camera
The Google Pixel 8 Pro continues to lead with its software-driven camera superior skills, featuring a 50 MP main shooter and two 48 MP lenses for ultra-wide and telephoto shots, excelling in zoom and low-light capabilities.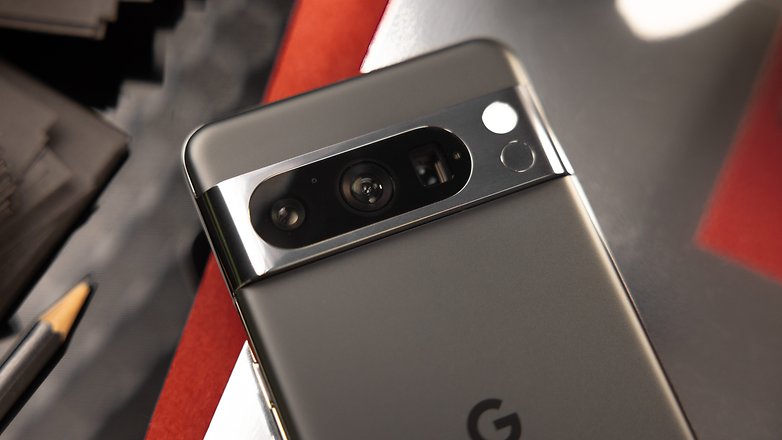 On the other hand, the Samsung Galaxy S23 Ultra packs a hardware punch with a new 200 MP main sensor and a versatile camera system that includes a 12 MP ultra-wide and two 10 MP telephotos, offering impressive detail and dynamic range, especially in daylight and low-light conditions.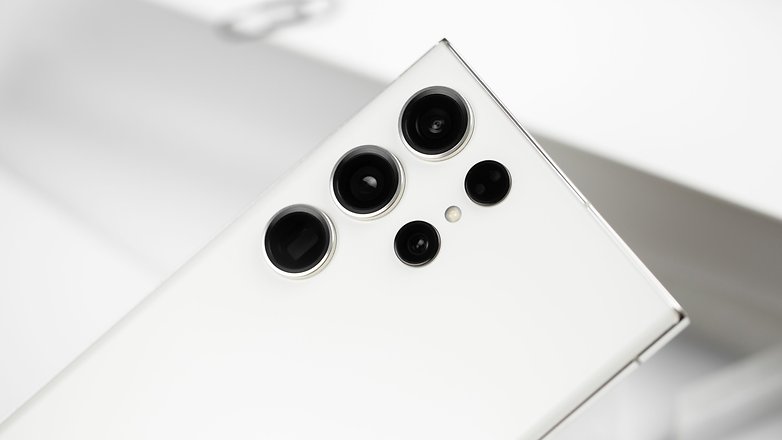 While the Pixel 8 Pro focuses on computational photography to enhance images, the S23 Ultra relies on its advanced sensor array and versatile lens options to deliver a broad shooting experience. Both excel in their respective niches, with the Pixel providing exceptional post-shot editing and the S23 Ultra offering a multitude of shooting possibilities straight from the camera app.
Nonetheless, in our recent blind test comparing camera quality, the Google Pixel 8 Pro emerged as the top smartphone for photography according to our chosen points-based evaluation method, with the Galaxy S23 following in second position. Yet, when considering the total number of votes received, the rankings shift, propelling the Samsung Galaxy S23 Ultra into the lead, relegating the Pixel 8 Pro to the runner-up spot.
Google Pixel 8 Pro: Photo gallery
Samsung Galaxy S23 Ultra: Photo gallery
Google Pixel 8 Pro vs Samsung Galaxy S23 Ultra: Battery life
The Google Pixel 8 Pro nudges its battery capacity slightly over its predecessor to 5,050 mAh, ensuring a full day of average use. It lags behind in charging technology, offering 30W wired and 23W on its Pixel Stand, with standard Qi chargers limited to 12W.
Conversely, the Samsung Galaxy S23 Ultra maintains its 5,000 mAh battery, which outperforms the Pixel with over 13 hours of life in high-demand settings and offers a higher 45W wired charging rate.
Both phones forgo including a charger, citing environmental reasons, and support the flexible USB PD 3.0 standard for compatibility with third-party chargers. While both provide commendable battery life, the S23 Ultra demonstrates a slight edge in endurance, which may tip the scales for users seeking longer use between charges.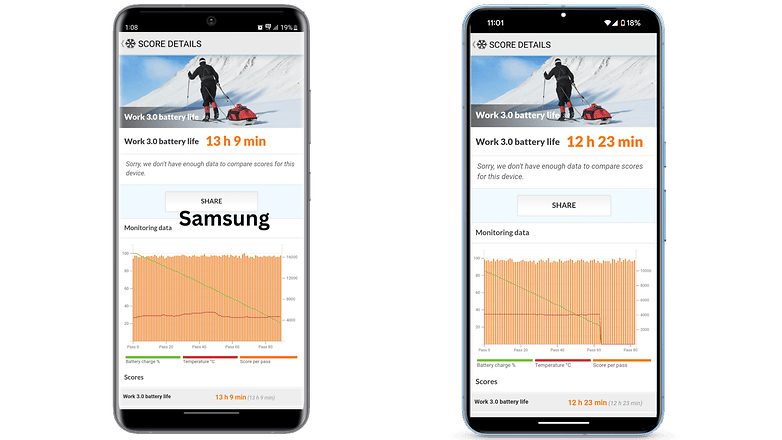 Google Pixel 8 Pro vs Samsung Galaxy S23 Ultra: Price and availability
The Google Pixel 8 Pro is the latest flagship from Google, with pricing starting at $999, a bump up from its predecessor's $899 starting price. It comes in three colors: Bay, Obsidian, and Porcelain, and has configurations with 12 GB of RAM and options of 128 GB, 256 GB, or 512 GB of non-expandable storage, priced at $999, $1,159, and $1,179 respectively.
The Samsung Galaxy S23 Ultra has been on sale since February 17, 2023, in three variants: 8/256 GB for $1,199.99, 12/512 GB for $1,379.99, and 12 GB/1 TB for $1,619.99.
Conclusion
In the realm of flagship smartphones, the Google Pixel 8 Pro and Samsung Galaxy S23 Ultra present divergent appeals. The Pixel 8 Pro, while praised for its display, build quality, and superlative camera, carries the shadow of a $100 price increase and potentially underwhelming battery charging. The seven-year update promise is ambitious, yet we still have some concerns over Google's capability to deliver on this commitment.
In contrast, the Galaxy S23 Ultra is praised for its significant upgrades. It stands out with better battery life and superior camera capabilities, although its higher price may make it less accessible for some. However, we see the Ultra as a strong long-term option, suggesting that its higher initial cost could be worth it over time, especially when compared to its now less expensive predecessor.
Drawing parallels and pointing out disparities, both devices seem to grapple with premium pricing amidst their advancements. The Pixel 8 Pro's photographic excellence and build quality are mirrored in the S23 Ultra's versatile camera module and notable performance improvements.
Google may lag with slower charging speeds and a noticeable price increase, while Samsung advances with improved battery efficiency and a processor enhancement that lifts the overall user experience. In the end, the high costs are a contentious point. Although each phone has its compromises, they are both moving towards establishing standards in their own fields for quality and innovation.
In conclusion, your budget will ultimately determine your options.