Google Pixel 7 review: A great camera phone that doesn't cost a thousand bucks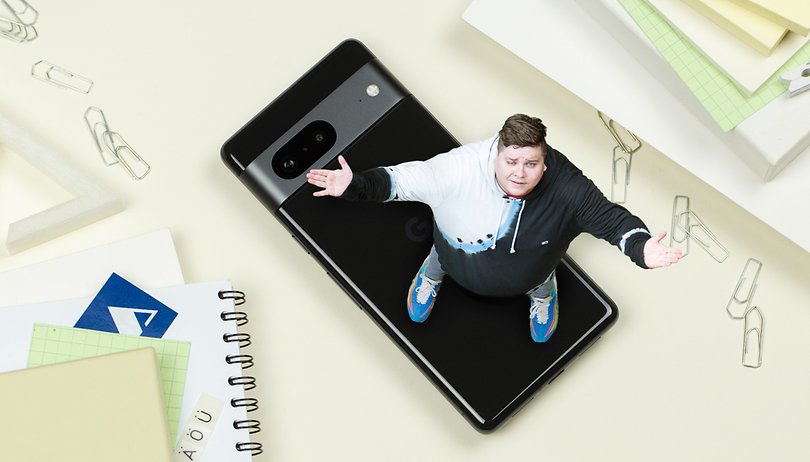 The Google Pixel 7 is a high-end camera smartphone for less than $600 with Android 13 in its purest and most complete version. In this Pixel 7 review, I share my full review of the new flagship from Google.
Good
Well-calibrated 90Hz Full HD+ OLED display

Premium design (Gorilla Glass Victus, aluminum frame, IP68)

Efficient dual camera module

Android 13 with lots of exclusive features

Excellent battery life

Competitive price
Bad
No 120 Hz refresh rate

20W wired charging is too slow

Back design is less beautiful than last year

No significant performance gain between the Tensor G1 and G2
The Google Pixel 7 in a nutshell
The Google Pixel 7 is available for purchase in the U.S. from this October 6, 2022, starting at $599. If you purchase the Pixel 7 Pro by October 17, Google is offering a credit amounting to $200 for the Pixel 7 Pro.
The Pixel 7 falls under the category of affordable high-end smartphones. And, as always with Google's smartphones, it is a camera smartphone and a showcase for Android 13, above all. Its major advantages are Google's image processing software features and the user experience of Android 13 in its purest, yet most complete version (the famous Pixel-exclusive features).
Design
The Pixel 7 uses the same design language of the Pixel 6 with some changes to the camera bar which houses the rear camera module.
---
What I liked:
Aluminum frame and Gorilla Glass Victus in the front and at the back.
IP68 rating.
Form factor is not too imposing (but it is not compact, either).
What I disliked:
The uninspired colors and the really weird Lemongrass version.
No microSD or 3.5mm jack.
The design of the camera bar is less cool than last year.
---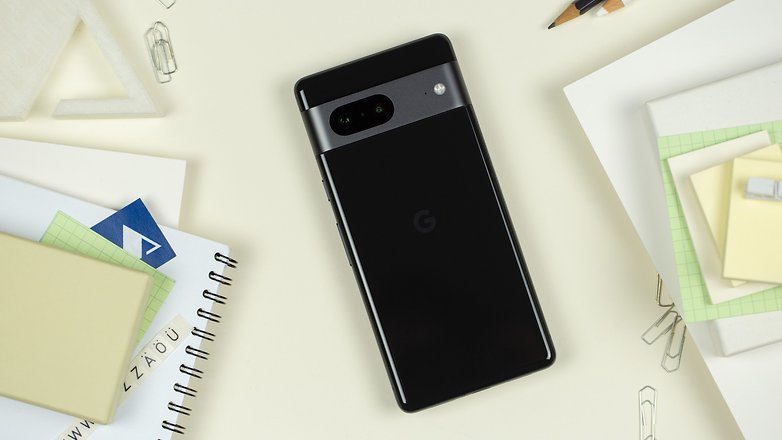 The Pixel 7 ticks all the boxes of a premium smartphone in terms of design. We've got an aluminum frame and Corning's Gorilla Glass Victus on the front and back. It comes in three colors: Obsidian, Snow, and Lemongrass. It is IP68 certified for water and dust resistance. Storage is not expandable via microSD. The Pixel 7 has two stereo speakers but also skips a 3.5mm jack.
The big visual change is the camera bar. On last year's Pixel 6, it was completely made of glass and black, giving the impression of having a pair of futuristic glasses on the back of the smartphone. On the Pixel 7, Google has chosen an aluminum design that makes the oblong pill-shaped island of the camera module much more visible. We also have a small punch to the right of the camera bar for the LED flash.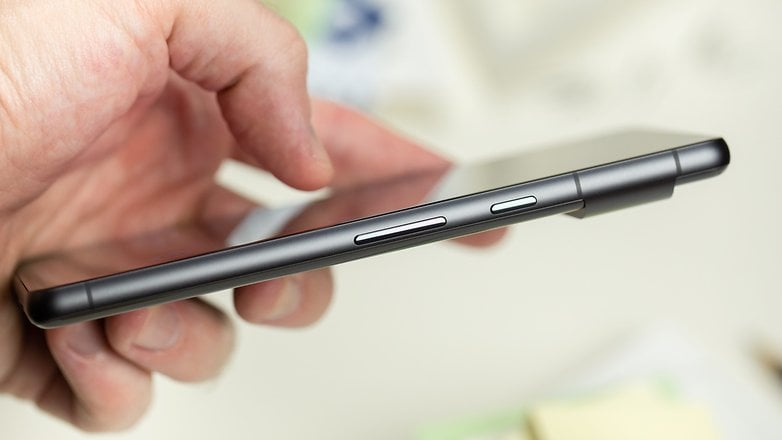 Personally, I'm less fond of this look because it takes away the cyberpunk charm of the camera bar. But we can also say that this choice of Google allows to create a contrast of colors and different coatings to make the back design of the Pixel 7 more complex and interesting.
The Pixel 7's form factor is not exactly compact, with dimensions measuring 155.6 x 73.2 x 8.7 and tipping the scales at 197g. It is quite thick, but its rounded corners and 6.3-inch screen with reduced edges offer a better grip than last year's Pixel 6. By the way, I'm not a big fan of the overly glossy coating on the back, which I would have liked to be more matte.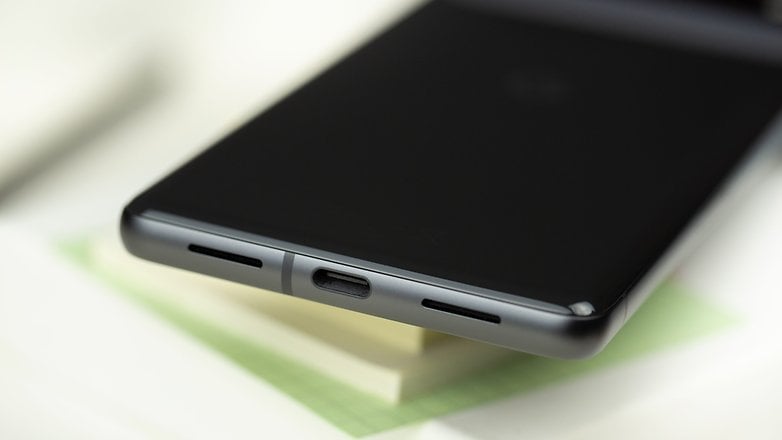 Display
The Pixel 7 features a 6.3-inch OLED display with a Full HD+ resolution of 1080 x 2400p with a 90Hz refresh rate and a maximum brightness of 1,400 nits.
---
What I liked:
Well-calibrated colorimetry.
90 Hz refresh rate (reserving the 120 Hz for the Pixel 7 Pro is petty).
What I disliked:
Bottom bezel is a little too thick at first glance.
Brightness is well below the advertised values (using only the naked eye).
---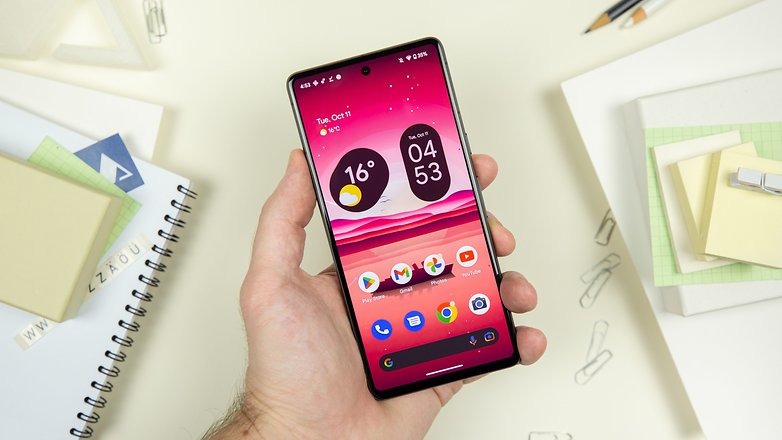 The Pixel 7's display is pretty standard in terms of its specifications, not to mention a bit boring. The 120 Hz refresh rateand the LTPO technology remain exclusive to the Pro model.
The Full HD+ OLED panel is nothing special, and I find it a bit silly not to offer a 120 Hz refresh rate in 2022. But hey, it's mostly psychological. I didn't notice any obvious difference during the entire review duration. Whether for gaming or VOD streaming, I found the image quality to be very good. I only regret the lack of settings for colorimetry.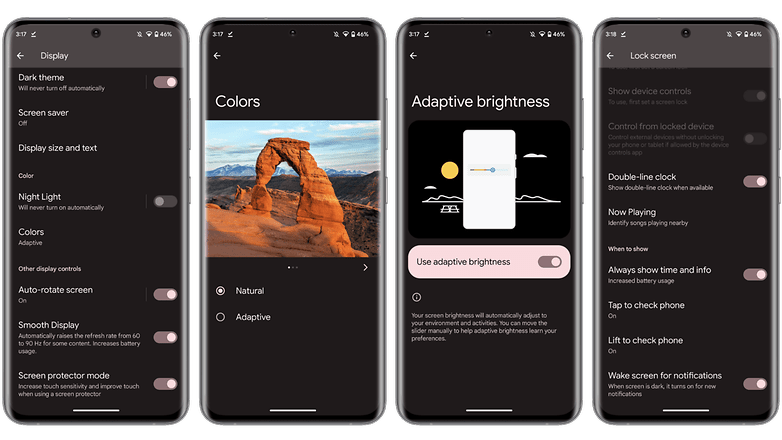 The maximum brightness of 1,400 nits was measured by Google only on 5% of the screen surface, so you'll never get such a measurement on the entire panel of the Pixel 7. The brightness in HDR mode can however go up to 1,000 nits, which appears to be so on paper. In actual use, I had some brightness concerns when I was outdoors in direct sunlight, when I wanted to look at some test photos I had just taken. But do note that I do not have a probe to measure the exact brightness precisely, as my feeling only based on naked eye observations and I may be wrong or biased here.
The Pixel 7's screen is flat, but I find the bottom bezel to be a bit more prominent than the rest. I don't know if it's my imagination, and I haven't done any precise measurements. But in this price range, I want a 100% bezel-free screen. There is also a classic punch centered at the top to accommodate the selfie camera.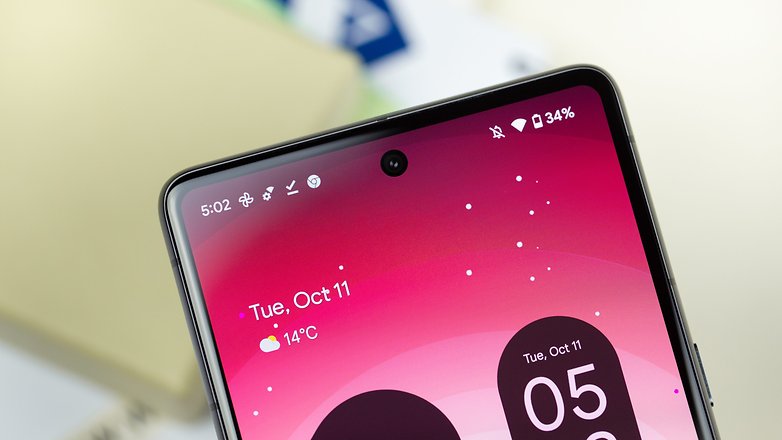 Interface/OS
The Google Pixel 7 runs on Android 13 right out of the box, the latest mobile OS from Google in its purest and most complete version. Google guarantees 3 Android updates and 5 years of security updates.
---
What I liked:
Android 13's uncluttered and with exclusive features.
Adequate update policy (but inferior to Samsung's).
Very nice photo features.
What I disliked:
Google, explain how to use/enable your new features!
---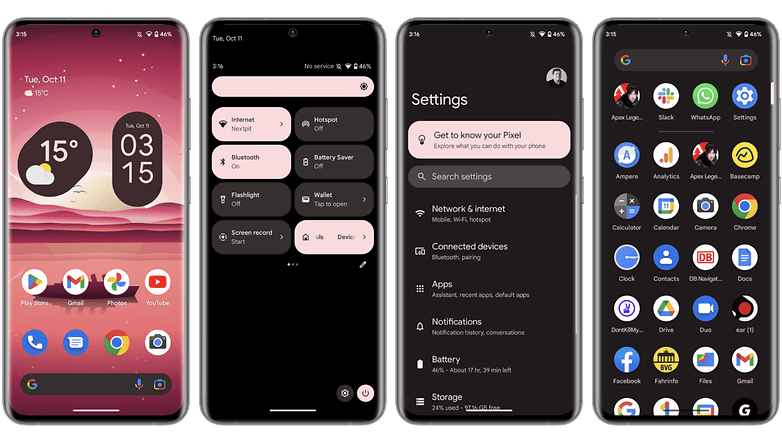 We've already talked at length about Android 13 and you can find all the information about Google's new OS on our dedicated Android 13 page.
Google is essentially repeating the excellent foundations laid by Android 12 in terms of UI design with dynamic themes to adapt the color of the interface to your wallpaper. The Privacy Dashboard, clipboard protection, and mic/camera/position indicators are still part of the package.
The Pixel 7 will also offer exclusive Android 13 features. The most interesting among these would be the voice message transcription feature in the Messages app, which unfortunately didn't work during my review. Google couldn't tell me why. I will dedicate an article about this later.
Another feature is the translation of messages, which still remains within the Google's messaging app. It's really convenient and works quite intuitively.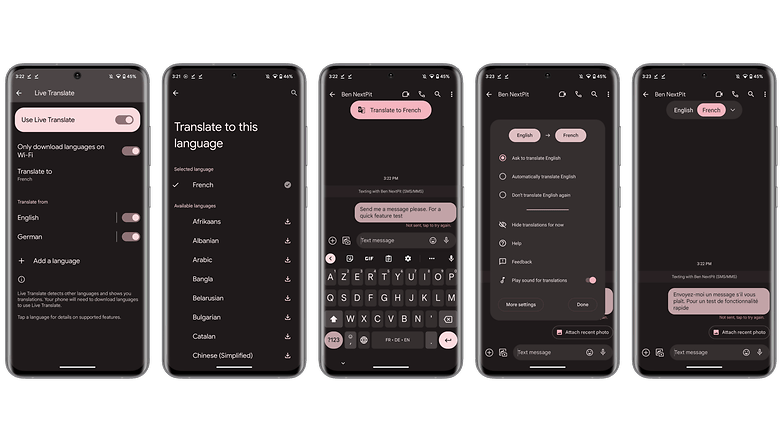 We can also talk about some camera features. In particular, the Pixel 7 allows you to reduce the motion blur of some failed photos. This feature is not limited to photos taken with the Pixel 7, you can also edit any shot taken with any digital camera.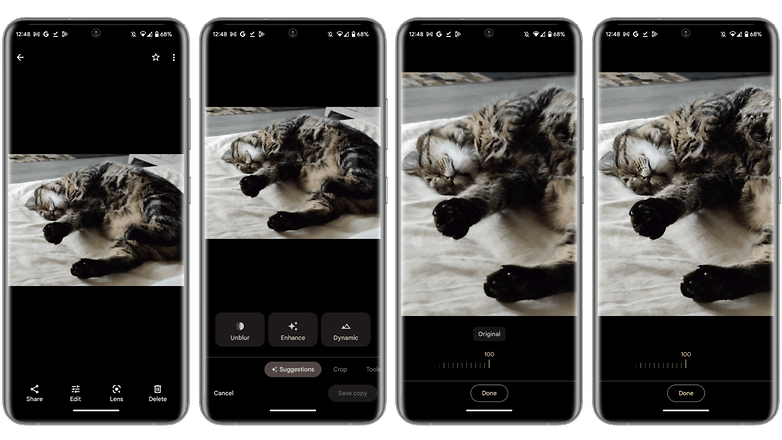 I did the test with an old photo of my adorable cat taken three years ago with the Pixel 4 Pro when I was still living in Paris. The result is not obvious, and you can see the artifacts of digital processing by zooming in. But when seen from afar, the image is indeed a bit sharper as you can see in the video clip below.
Another function of its cameras would be Portrait Light. For portraits, with bokeh or not, you can artificially change the exposure on your face. Basically, you can manually direct the light and choose the lighting that flatters your face the most. I recommend watching this video to see how much exposure can change the shape of your face in a portrait photo.
One last cool option is the ability to apply a background blur or bokeh effect to your portraits/selfies. It's all done from Google Photos in post production, and the post-clipping is pretty clean in my opinion.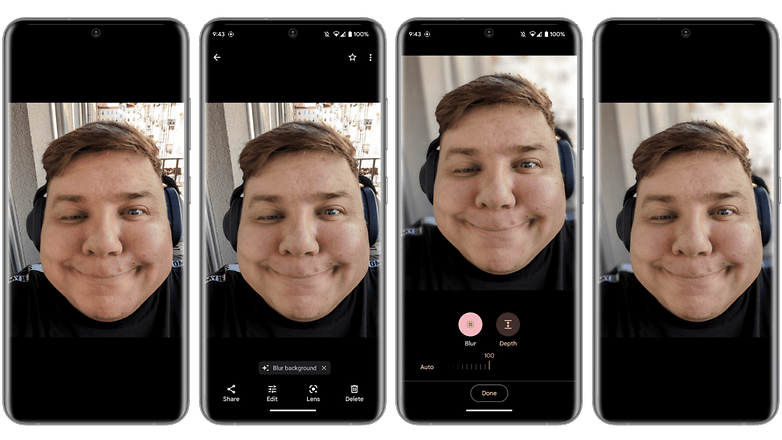 Performance
The Pixel 7 features Google's new SoC known as Tensor G2. It's backed by 128 or 256GB of UFS 3.1 storage and 8GB of LPDDR5 RAM. And in terms of raw performance, there really isn't much of an improvement over last year's Pixel 6.
---
What I liked:
What I disliked:
No noticeable performance gains over the Pixel 6.
Thermal throttling is present and can be seen in benchmarks.
---
The Tensor G2 SoC is a chip manufactured by Samsung using a 4nm process. The Mali-G710 GPU is mated to an octa-core CPU with 2 large ARM Cortex-X1, 2 large Cortex-A76, and four small Cortex-A55. This tri-cluster layout is very similar to the first Tensor SoC that was unveiled by the Pixel 6 and Pixel 6 Pro last year.
The main difference, then, is the CPU frequency, which is faster on the Tensor G2. The Mali-G710 GPU also marks a nice step up from last year's Mali-G78. The good news is that there is virtually no performance gap between the Pixel 7 and the Pixel 7 Pro. The only difference is that the Pro model offered a much more stable framerate in our benchmark (90.5% for the Pixel 7 Pro vs. 72.8% for the Pixel 7 on 3Dmark's Wild Life Stress Test benchmark).
Bad news, there really isn't much difference either compared to the performance of the Pixel 6's Tensor G1 SoC.
Google Pixel 7
Google Pixel 7 Pro
Google Pixel 6
Apple iPhone 14
Samsung Galaxy S22
3D Mark Wild Life
6,581
6,527
6,721
9,541
5,374
3D Mark Wild Life Stress Test
Best loop: 6,559
Worst loop: 4,772
Best loop: 6,492
Worst loop: 5,876
Best loop: 6,707
Worst loop: 3,573
Best loop: 9,761
Worst loop: 8,321
Best loop: 5,581
Worst loop: 3,357
Geekbench 5
Single: 1,042
Multi: 3,196
Single: 1,050
Multi: 3,239
Single: 1,031
Multi: 2,803
Single: 1,699
Multi: 4,817
Single: 1,158
Multi: 3,414
In terms of temperature control, I didn't notice any annoying overheating to the touch after my gaming sessions, but this does not mean I could not feel the temperature rising. When you see the low stability of just over 70% obtained on the Wild Life Stress Test benchmark from 3DMark, you can deduce that the thermal throttling is quite aggressive.
As illustrated below, we can notice a big loss of FPS at the 600th second of the test, which is 10 minutes into the benchmark (the benchmark lasts for 20 minutes in all). And we can see that after this loss, the framerate stabilizes, but gradually drops compared to the first half of the test.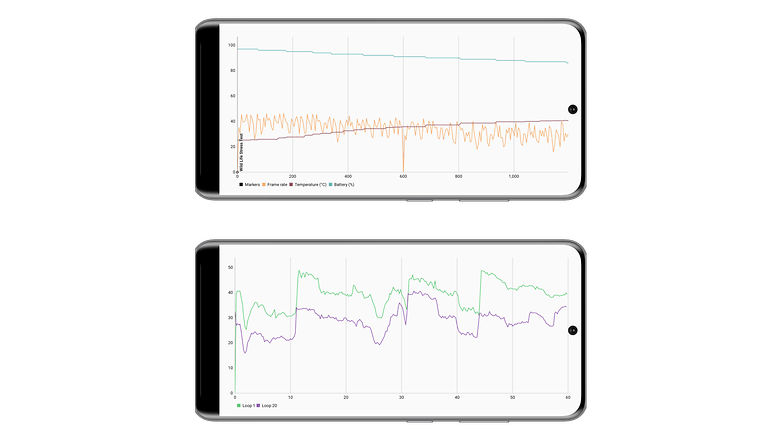 In reality, I was able to run Apex Legends Mobile at 60 FPS with the graphics at max without any problems. You can see what it looks like in the (compressed quality) video clip below. But in an hour-long gaming session, you have to expect some FPS loss unless you lower the graphics settings.
Photo quality
The Pixel 7 packs a dual camera module on the back with a 50 MP wide-angle main lens and a 12 MP ultra-wide angle lens. As for the selfie camera, it offers a 10.8 MP resolution.
---
What I liked:
Consistently good wide-angle photos.
The 2x zoom is effective, especially for the portrait mode.
4K video at 60 FPS with ALL lenses.
The effective night mode for automatic and wide-angle shots.
Very clean portrait shots.
What I disliked:
The ultra-wide angle lens is unusable at night.
Disappointing zoom at night (except in 2x).
Selfies lack sharpness (too much smoothing).
---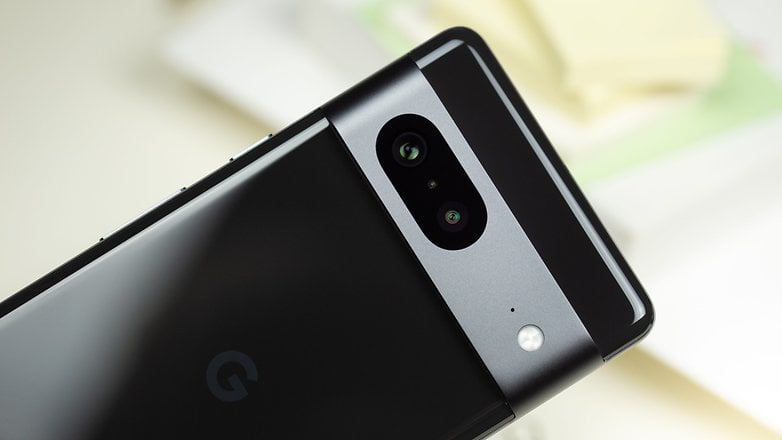 The main camera incorporates a respectable 1/1.33-inch sensor with 1.2 μm pixels and has an aperture of f/1.85. Google explained that the Pixel 7 can operate up to 8x zoom almost without any loss using the Super Resolution Zoom technology. The ultra-wide angle lens has an aperture of f/2.2 and offers a field of view (FOV) of 114°.
The main camera is obviously the one you're going to use in most cases, and that's good because it's very effective, both during the day and at night.
By day, the photos are rich in detail, the sharpness is well-defined, and we perceive lots of textures in the image (the cracks in buildings, pores on the skin, foliage remains well-defined and not a mush of pixels). I find the colorimetry a bit artificial, but the rendering is really beautiful. The Pixel 7 manages the dynamic range particularly well, even with complex scenes. The fact that you can adjust contrast, temperature, and exposure separately when shooting is also a big plus.
The main camera can also simulate a 2x "optical" zoom which I find to be correctly done. The digital magnification of up to 8x, however, is a bit disappointing. You can see the artifacts right away and the 8x rendering is not usable in my opinion. The portrait mode is still as clean with clear clipping. Once again, the 2x zoom allows much better Bokeh shots, regardless of whether it is day or night.
The ultra-wide angle does well in daylight but is catastrophic in low light. And it does not allow one to take real macro shots, with this feature reserved for the Pixel 7 Pro.
At night, the Pixel 7 does really well with the main lens. Even at 2x zoom, photos are sharp and adequately exposed. The night mode is very aggressive and makes the photos look unreal at times. Here, you have the possibility to choose a night mode Auto or Max. In Auto mode, I found most of my shots to be beautiful. The Max level doubles the exposure time on average but night shots are too distorted for my taste.
When it comes to vide, the Pixel 7 can shoot up to 4K at 60 FPS with the rear camera module and the selfie camera, which is a very good thing. Google also offers a cinematic mode similar to Apple's Cinematic Mode, which we will test in more detail in a dedicated article and video.
Battery life
The Pixel 7 has a battery with a charging capacity of between 4,270 and 4,355 mAh (I know, it's weird). The Pixel 7 accepts 20W wired fast charging, Qi wireless charging, and reverse wireless charging.
---
What I liked:
Excellent battery life.
Wireless and reverse wireless charging.
What I disliked:
The 30W charger is not included.
The slow 20 W charging speed.
Google lacks clarity on the power of fast wired charging
---
Google is decidedly even less concerned than Apple in its definition where battery life is concerned. The charger is sold separately and delivers up to 30W of power, but the Pixel 7 can only charge at 20W. In order to know that, you will have to dig into the fine print on Google's official website. This lack of clarity is downright anti-consumer.
Yes, the official charger delivers a power of 30 W. No, you can't charge your Pixel 7 with 30W because it only accepts 20W. And if you don't buy Google's official charger, you might even experience a slower charging speed. As with Samsung or Apple, it's an excruciatingly long time and unworthy of a flagship sold for more than $500 euros.
Fortunately, the manufacturer makes up for this by offering excellent battery life with its Pixel 7. On the PC Mark benchmark, the smartphone took 14h 33m before falling below the 20% remaining battery life mark. That's really good. In concrete terms, we can last a day and a half of use without any problem or even two, with the energy-saving mode enabled.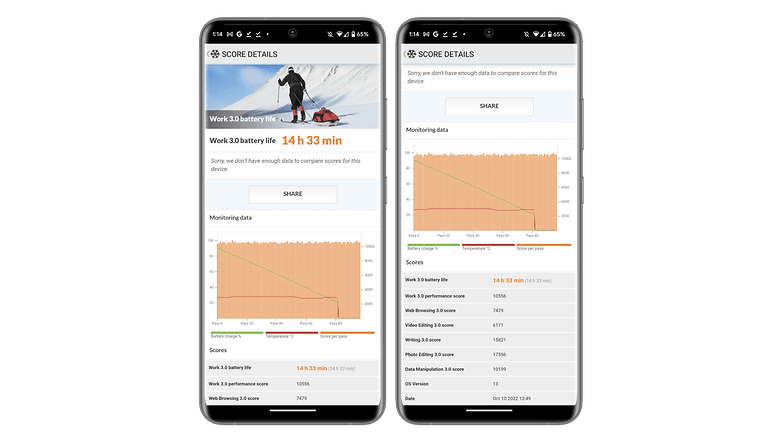 When it comes to charging speed, my observations are of limited interest. I did not have the official 30W charger from Google. With a 65W OnePlus charger, it took me about 1.5 hours for a full charge. That's way too long.
Technical data
| | |
| --- | --- |
| | Technical specifications |
| Device | |
| Image | |
| Screen | 6.3-inch OLED, Full HD+ resolution, 90Hz refresh rate |
| Dimensions & Weight | 155.6 x 73.2 x 8.7 mm | 197 g |
| SoC | Google Tensor G2 |
| Memory | 8/128 GB | 8/256 GB |
| OS | Android 13 Stock |
| Expandable storage | No |
| Main Camera | 50 MP | f/1.85 aperture | 1.2 µm pixel size | PDAF | OIS |
| Ultra-wide angle camera | 12 MP | f/2.2 aperture | 114° FOV |
| Selfie | 10.8 MP | f/2.2 aperture |
| Video | 4K at 60 fps max |
| Audio | 2 stereo speakers |
| Battery | Between 4270 and 4355 mAh |
| Fast charging | 20W wired | wireless QI | wireless reverse |
Conclusion
Google really wants to be the Apple of Android, even if it means emulating the worst aspects of the Apple brand's strategy. As with theiPhone 14, the Pixel 7 doesn't offer much more than its predecessor. However, Google is not Apple, and the Pixel 7 is not an iPhone.
Unlike Apple, Google has not outrageously increased its prices in 2022. $599 for the Pixel 7 is a very competitive price and a very decent price-to-performance ratio. We have a high-flying camera experience with a very versatile dual 50 MP module. The software experience, if Google avoids the setbacks of the Pixel 6 last year, is excellent. Android 13 remains a very complete OS, and the few available Pixel-exclusive features are super nice to use.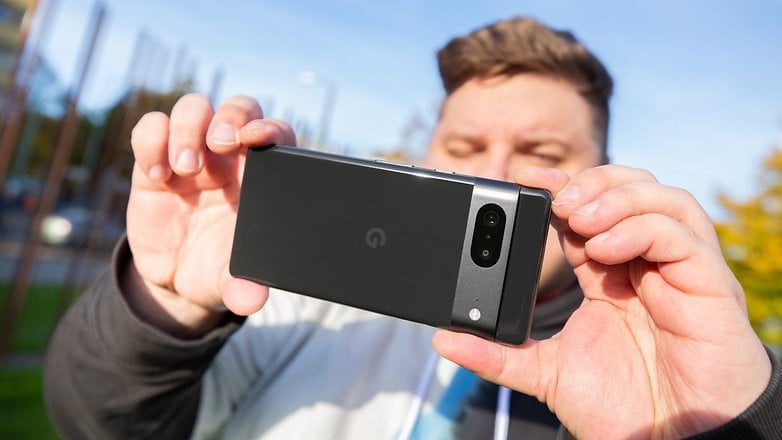 The battery life of the Pixel 7 is among the best on the market today, taking into consideration all the other price ranges. But I'm still waiting for serious efforts when it comes to fast charging. The Tensor G2 SoC could have been called Tensor G1+ given the small gain in performance, but the performance is still consistent for this price range.
In short, between the Pixel 7 and the Pixel 7 Pro, I would pick the Pixel 7 without hesitation. The 120 Hz and the telephoto lens of the Pro model don't really justify the $300 price difference in my opinion. And even if my smartphone of the year, in terms of value for money, is still the Nothing Phone (1), the Pixel 7 is a strong candidate if you want to go a bit higher, especially for photography.
What do you think of the Pixel 7? Does its price/performance ratio seem acceptable to you?