Pixel 2 XL vs LG V30: Which LG should it be?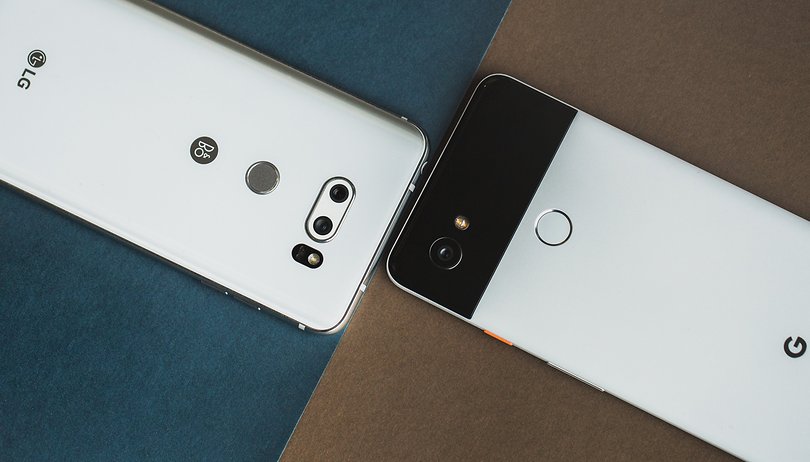 This year LG has IFA all to itself: the LG V30 was undoubtedly the smartphone of IFA 2017. At the same time it was an open secret that LG had a lucrative contract to land: the production of the Pixel 2 XL is now also in the hands of the Koreans. We are now having the two compete against one another.
My personal journey with both smartphones began in early summer with the first signs that my Galaxy S7 was reaching its end. In the fall of 2017 I would need a new smartphone and after some deliberation about my viable options, I came to the conclusion that only the LG V30 or the Pixel 2 XL would probably meet my needs, although at that point all I knew about them amounted to rumors.
The IFA showcased the LG V30 for all to admire, which was the clear star of the conference. After that I used a pre-production model of the V30 for two months, and then a few weeks later I had a standard device. Without a doubt the V30 didn't last a very long time.
How did I end up with the Google Pixel 2 XL? I had my first moment of disillusion with the V30's camera. I wanted to take a picture of my son as we were in the living room. The only thing visible in the picture was a mash of pixels and motion blurs. I thought to myself that the old Pixel could have done a better job. After that the Google Pixel 2 XL was already on its way, since it was the only option aside from the V30.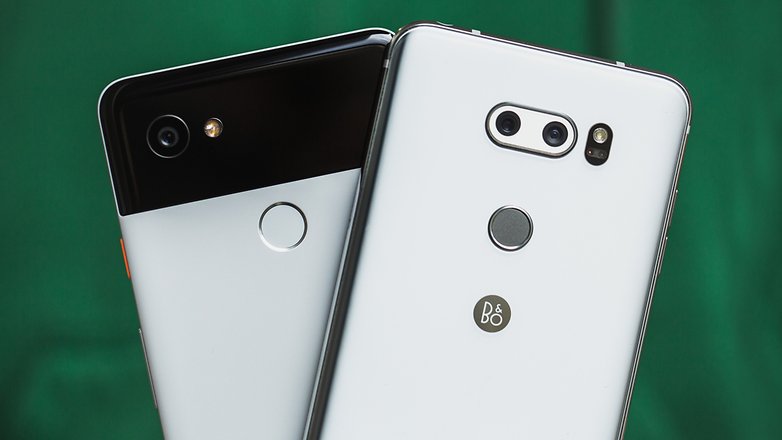 Pixel 2 XL or V30: My small camera shootout
Ever since then I've been wondering if my smartphone photos are really that much better now. My honest answer is mixed. I was already surprised that the V30 did better in our blind test than the Pixel 2 XL. When glancing at the photos, that result seems plausible, but my own experiences are a bit more contradictory. The Pixel 2 XL definitely makes good (although not perfect) photos in less than ideal lighting conditions. This is admittedly not easy to achieve automatically, but in this case the pictures from the Pixel 2 XL are definitely far too warm. Almost every photo needs to be reworked. So much for better indoor performance. When photographed, some objects lead to a pixel mash just like in the V30, but other photos come out very well even in poor lighting conditions. Overall, the photos from the Pixel 2 XL are always slightly darker, but contain so much detail that they can easily be enhanced in an app such as Snapseed, Google Photos or Lightroom.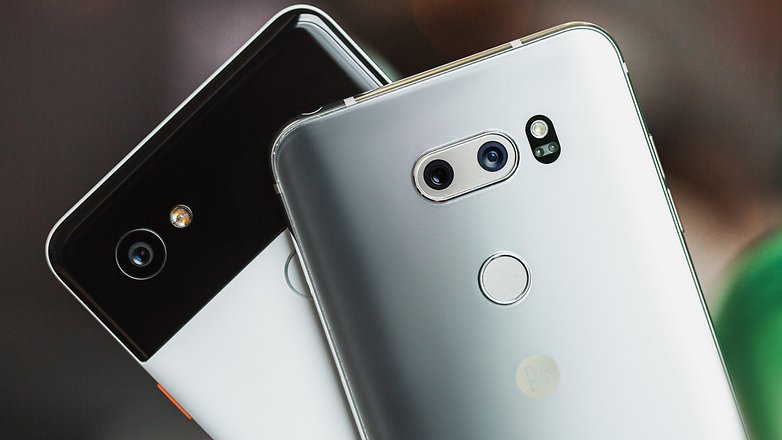 During the day I got to know the Pixel 2 XL a little bit better. Both phones were able to capture Berlin's gray winter excellently— you can't get any grayer than that. In bright environments, the V30 snaps beautifully balanced photos. The only thing is that the HDR function is often too slow. I documented my vacation to Crete with the Galaxy S7 and the V30. The pictures from the V30 are mostly pretty good, but the best pictures are from the S7. The Pixel 2 XL, on the other hand, brings out impressive details for subjects with lots of light and shadow. When I compare it to the LG V30, I especially miss the wide-angle camera in the Pixel 2 XL. This makes great shots possible at perspectives that are otherwise impossible for smartphones.
I did not particularly warm up to the V30's video function. In the first tests with the Google Pixel 2 XL I was at least enthusiastic about the camera stabilization. In any case I'm not going to become a videographer anytime soon.
In my short camera shootout between the Pixel 2 XL and the V30, the Pixel 2 came out on top. But you should see and decide for yourself:
And for the sake of comparison, here are the picture galleries from our two tests:
V30 and Pixel 2 XL: Two smartphones with that special something
Although the technical data of both smartphones are very similar and they hardly differ in terms of performance, their exteriors are quite different.
Both boast narrow edges around the displays, but only the V30 pulls it off gracefully. In contrast, the Google Pixel 2 XL has much more pronounced bezels. The V30 is designed more elegantly with its silver metal frame. The glass back looks really good and the LG has rounded glass on all sides, which creates a great feel.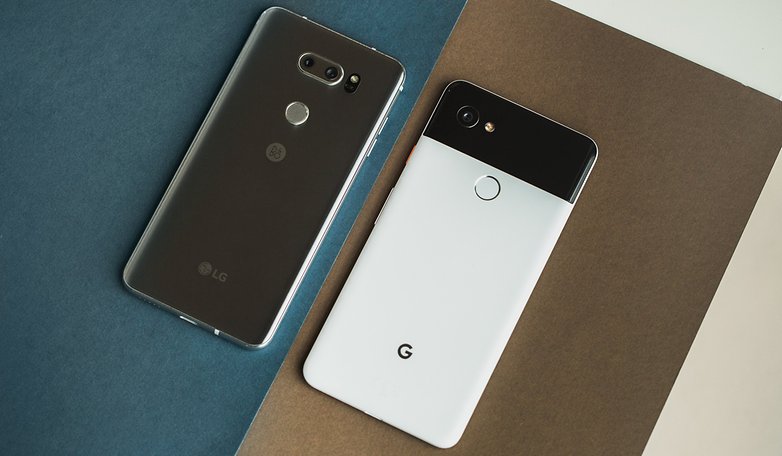 Google does however tend to be extravagant: the black-white version is more well known than the Panda edition and features an orange power button that you don't see everyday. Its fabric comes in the color 'midnight', which really caused a stir. Nevertheless, in comparison to the V30, the Pixel 2 XL looks more stunning.
If you're looking for a handy and still pleasantly large smartphone, you will find the perfect companion in the V30.
Pixel scandal: The LG OLED panels are not optimal
One of the biggest controversies this year was definitely the display of the Pixel 2 XL. We remember it well: a controversial color setting, burn-in effects and poor viewing angles. The Pixel 2 XL display has everything that we already hated in 2010 (but had to tolerate anyway, since there were no alternatives). Tragically, the same panel is also in the V30.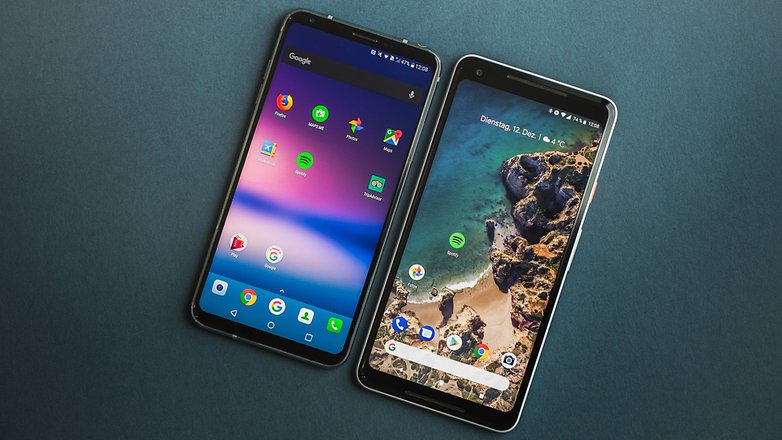 But apart from this theoretical discussion, everyday use also counts. And unfortunately you can see the issues. Colors quickly become bluish with the narrow viewing angles. This can still be seen in the Pixel 2 XL and the LG V30, although that won't bother anyone.
The color issue in the Pixel 2 XL is more of a theoretical problem and only really stands out when it is compared to other smartphones. In everyday use, the color's display is actually more realistic than those of other smartphones. I do find it annoying that the maximum brightness of the Pixel 2 XL is noticeably less than the V30's.
The display of our V30 test device unfortunately has its problems. There are some remnants in the uniform illumination that I have never seen before, at least in OLED panels. On closer inspection, both smartphones tend to display slightly rushing white areas. The effect is more pronounced in the Pixel 2 XL. Both smartphones have the more classical features, such as sharp display, etc.
In short: the LG V30 and Google Pixel 2 XL don't have bad displays, but don't have great displays either. The color display of the Pixel 2 XL is a bit more natural, but the overall impression of the V30's display is somewhat better.
Software: Google is now doing its own thing
I was really astonished when I was setting up my Pixel 2 XL. After the first couple steps only a handful of apps were installed, which took up just one page in the app drawer. That didn't happen with the V30. On our test device various apps like Facebook and WhatsApp were preinstalled.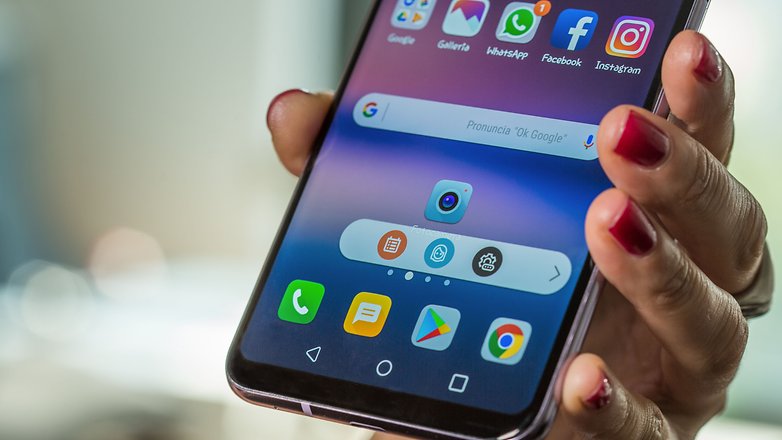 Google's user interface is better with the Pixel 2 XL. The live wallpapers are a great gimmick that Google unfortunately does not provide in the Wallpapers app in the Play Store. The design of the home screen is more well-conceived because it's more cleaned up.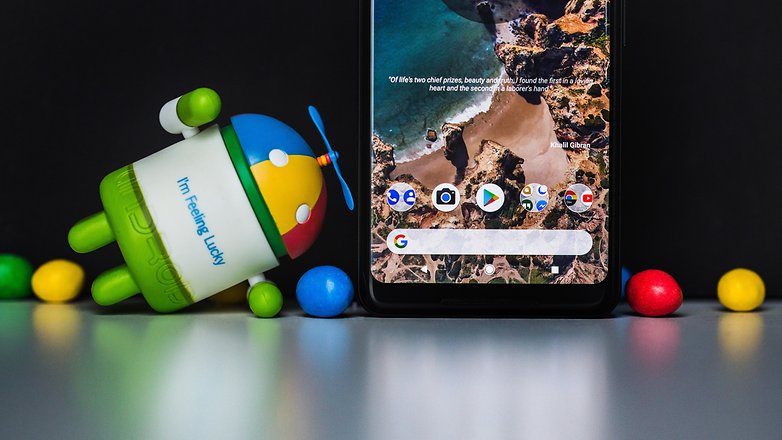 The app drawer first has to be set up with the V30, which results in a more familiar environment. It also has the better always-on display since settings can be changed quickly and the display can also be configured.
Although I haven't done it yet on my Pixel 2 XL, it's probably only a matter of time. It is recommended to install an alternative launcher on practically every smartphone.
A few words about the battery
After a long day, of course, the question always comes up: what about the battery? This is always a crucial question for smartphone users. The Pixel 2 XL has a slightly better capacity: 3,500 mAh vs. 3,300 mAh. In everyday use the difference is barely noticeable. With nearly 130 apps, neither the LG V30 nor the Google Pixel 2 XL are able to carry me through 2 days without being recharged. After one day of use, both are left with about 40 to 50 percent battery, which isn't enough to skip a nightly recharge. With both smartphones I'm able to make it through one day with no problem. That's not so bad, but it's worth mentioning that that's only a minimum requirement.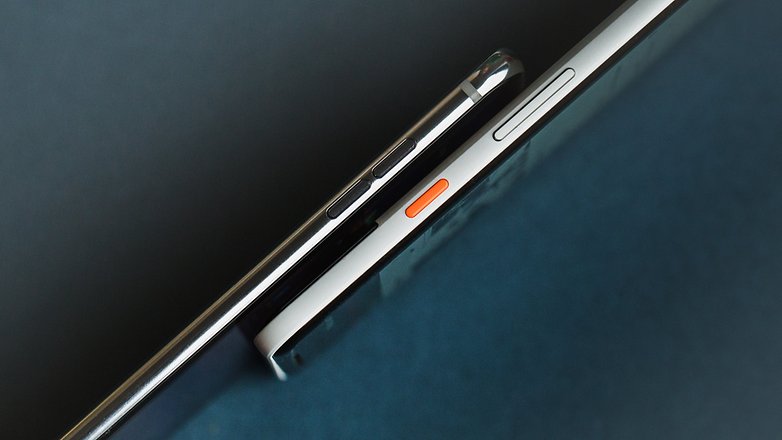 Technical data and performance
The Google Pixel 2 XL and the LG V30 hardly differ on their respective datasheets: Snapdragon 835 for a load of power, 4 GB of RAm, 64 GB of memory, 6-inch OLED display with QHD+ resolution: wherever you look, the technical data is almost identical in principle. And you can feel the enormous power when it comes to everyday use: no stutters, no pauses.
That's true for the LG V30 as well as for the Pixel 2 XL.
Google Pixel 2 XL vs. LG V30 technical specifications
| | Google Pixel 2 XL | LG V30 |
| --- | --- | --- |
| Dimensions: | 157.9 x 76.7 x 7.9 mm | 151.7 x 75.4 x 7.3 mm |
| Weight: | 175 g | 158 g |
| Battery size: | 3520 mAh | 3300 mAh |
| Screen size: | 6 in | 6 in |
| Display technology: | POLED | POLED |
| Screen: | 2880 x 1440 pixels (537 ppi) | 2880 x 1440 pixels (537 ppi) |
| Front camera: | 8 megapixels | 5 megapixels |
| Rear camera: | 12.3 megapixels | 16 megapixels |
| Flashlight: | Dual-LED | LED |
| Android version: | 8.1 - Oreo | 7.1.2 - Nougat |
| User interface: | Stock Android | LG UX |
| RAM: | 4 GB | 4 GB |
| Internal storage: | 64 GB | 64 GB |
| Removable storage: | Not available | microSD |
| Chipset: | Qualcomm Snapdragon 835 | Qualcomm Snapdragon 835 |
| Number of cores: | 8 | 8 |
| Max. clock speed: | 2.45 GHz | 2.45 GHz |
| Connectivity: | HSPA, LTE, NFC, Bluetooth 5.0 | HSPA, LTE, NFC, Bluetooth 5.0 |
There are, however, two glaring differences on two critical points. The LG V30 has a headphone jack and it has a MicroSD slot. The Pixel 2 XL has neither. I saved these last two important issues for the end. Personally, both aspects aren't that important to me. But in some cases they are enormously practical. Although Bluetooth headsets are fine without cables, there's always a fight with the connection and the quality is not always optimal. For fans of wired headphones, the V30 also has a high-quality digital-to-analog converter, the Quad DAC. This guarantees very good sound quality and regulates volume just fine.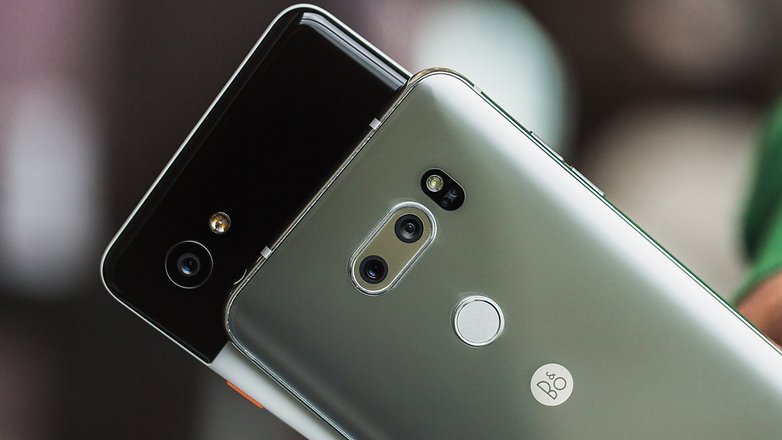 MicroSD cards are very popular with users, but Google's Android developers don't like them. Memory cards are not really considered as a backup medium, even for data exchange and media storage. If you can't live without them, you won't be happy with the Pixel 2 XL.
LG V30 vs. Google Pixel 2 XL: Which is the better buy?
The Google Pixel 2 XL is very expensive at $850. So much money for a smartphone? That doesn't always have to be the case. However, the LG V30 is currently also in this price range, at least for most retailers. Experience has shown that prices for LG smartphones fall considerably and quite quickly. This makes the V30 the winner in terms of price.
LG V30 or Google Pixel 2 XL?
This comparison has one winner: LG. Both smartphones originate from LG's factories. The better smartphone, however, very much depends on personal preferences. I'll try to go into that a little bit.
I like both smartphones a lot. Two aspects, however, make me tend to the Pixel 2 XL. First, there's the camera, which is ultimately better suited for my purposes. Secondly, there's the software, especially since I like using the latest version of Android professionally.
The LG V30 scores points for its complete hardware, since it offers interesting photography options and because its handy. Ultimately, LG has done something with the V30 that seemed almost impossible a year ago: LG has designed a dignified high-end smartphone that can compete well in the high-end sector.
What experiences have you had with these smartphones? Please let us know in the comments.