Fitbit Versa review: the affordable Apple Watch alternative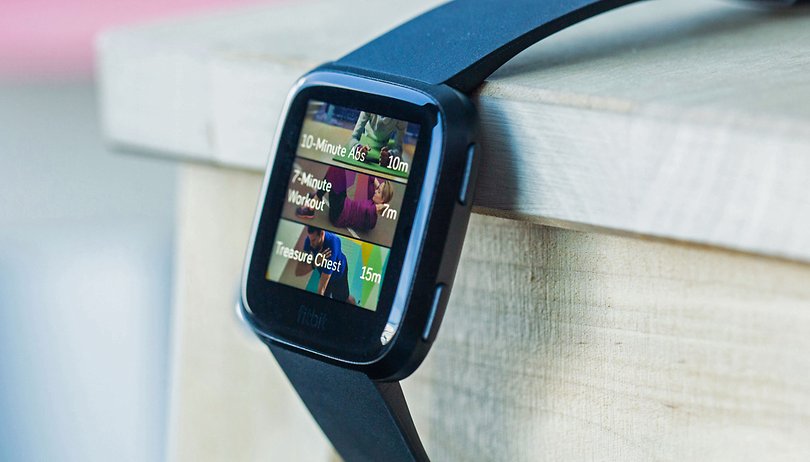 While many people are still skeptical about smartwatches, the market is expected to hit a double-digit growth phase over the next 4 years. Fitbit is aware of this and aims to take advantage of the craze with the Versa. This smartwatch is therefore intended to appeal to the masses with its affordable price. But is it worth it?
Good
Design

Fitbit app

Water resistant to 50m

Battery life
A more affordable price than the Ionic
Although the Ionic was a great device, its price ($300) still frightened away many users. The Versa is therefore more accessible at an official price of $200. For this price, the smartwatch takes all the features of the Ionic but has to make a tradeoff by getting rid of the GPS.
Inside the box, you will find the watch, its charging cable, its dock as well as two bands (small and large).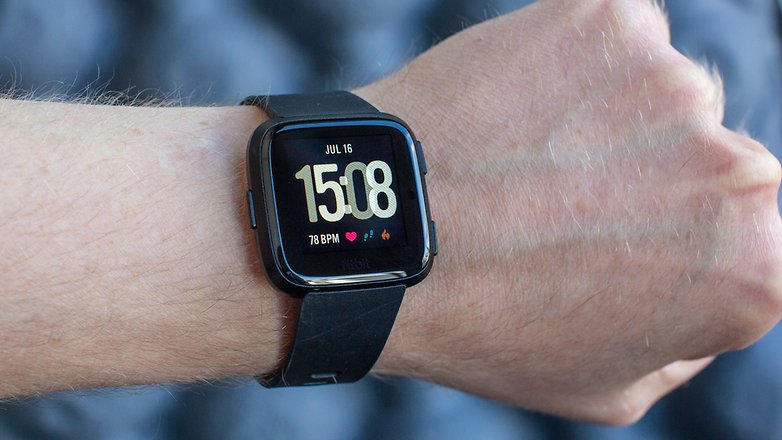 Fitbit Versa design and build quality
The Ionic looked good with its straight and rectangular lines, but the Versa is a bit different, with more rounded lines (despite its square format). The watch is very similar to the Pebble Time 2, which Fitbit bought two years ago, and to the Apple Watch. Compared to the Ionic, the Versa is also lighter (23 grams) and more discreet. Thus, it will suit all wrist sizes. Its serious and elegant style will easily allow it to be worn with any type of outfit.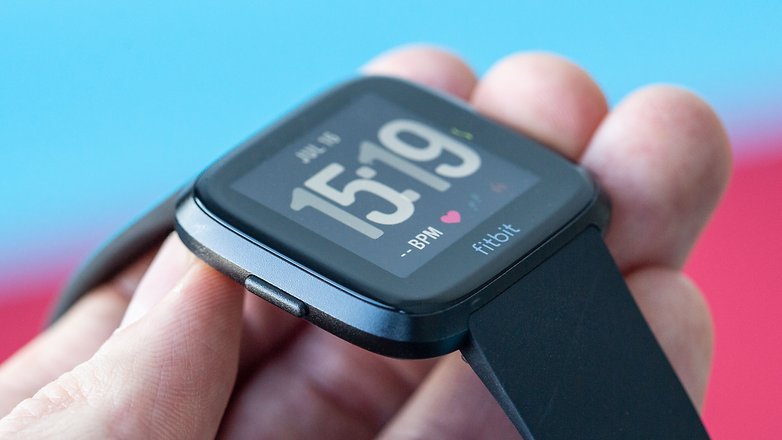 The Series 6000 aluminium frame and the silicone strap (practical for sporting activities) make a good impression, and the thickness of the dial remains quite discreet. At the back, there is the optical heart sensor and the pin connectors for recharging the watch on its dock. The optical heart rate sensor consists of two components: a light source and a light sensor. As always, it will give you a more or less accurate idea of your heart rate so you can monitor your activity.
Optical heart rate sensors aren't always accurate: here's why
On the sides are the classic navigation buttons used by Fitbit: two on the right edge, one on the left edge. Pressing the lower right button displays the statistics for the day, the second button is dedicated to launching the exercises. The left button allows you to go back. Finally, long presses allow access to customized functions. You may still need a few hours to get used to the controls, but the Versa's navigation is quite intuitive. The touch screen is also ideal.
As always with Fitbit, the band is proprietary and you will have to go through the Fitbit store to buy new ones. Metal and leather straps are available. Fortunately, change is very easy.
All in all, the Fitbit Versa is a beautiful product that breathes quality. The connected watch is discreet and comfortable to wear and remains less cumbersome than most smartwatches.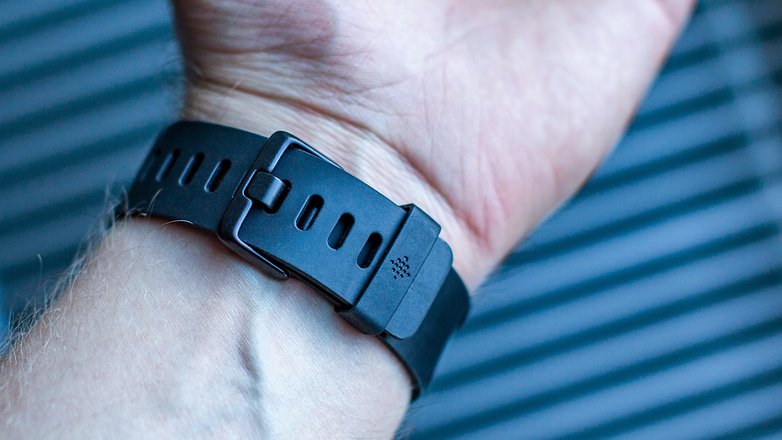 Fitbit Versa display
The Fitbit Versa's backlit LCD screen is about 1.4 inches (24 mm x 24 mm) with a 300 x 300 pixel resolution protected by Gorilla Glass 3 glass. It's a little smaller than the Ionic and not quite as comfortable to read on a daily basis, but nothing prohibitive. For the rest, the display is perfectly legible, whether in dark or bright lighting conditions. It's the same when you swim and want to check the information underwater (because, yes, the Versa is also waterproof to 50 meters).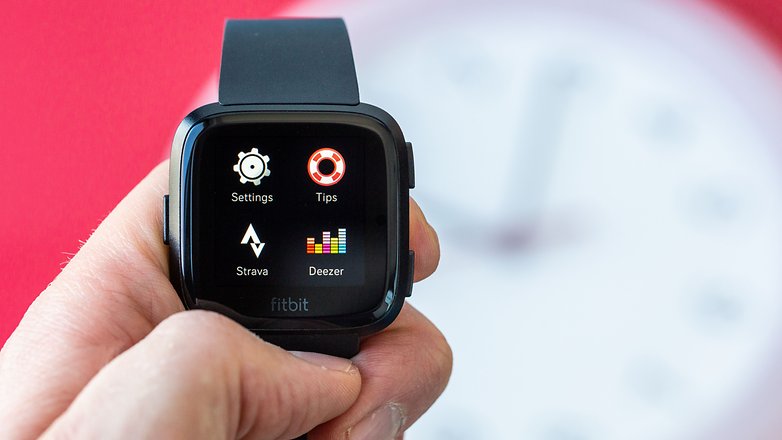 The navigation interface is the same as for the Ionic. The menus are clear and intuitive, with perfect responsiveness. The main dial is also customizable via the app. However, it is regrettable that only a few third party apps offer new wallpapers (and other apps) contrary to what an Apple Watch can offer, for example.
A connected watch more than a smartwatch
Versa wants to be a smartwatch. But you have to admit it right away, it is less intelligent than many of its competitors. Indeed, one of its problems is that it remains rather limited since it only displays notifications from your smartphone (calls, messages, social networks...). It is not possible to answer, connect to the Internet or speak with an assistant (the watch does not have a microphone). Third party apps are also limited, as I have already mentioned.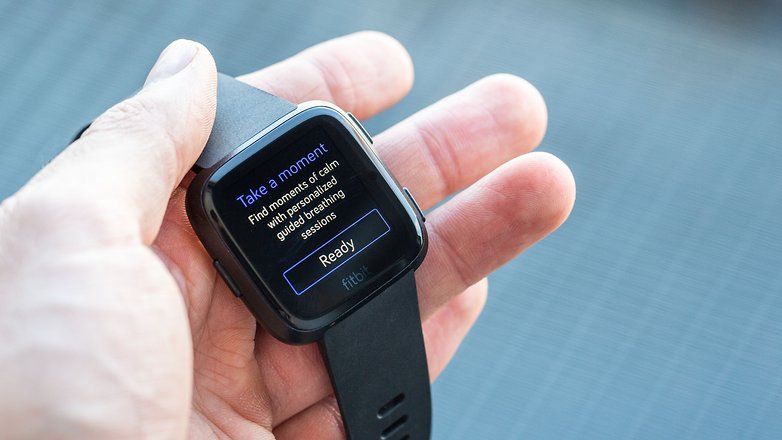 Fortunately, the Fitbit Versa is perfect for monitoring your physical activities and sports. Fitbit has nothing to envy from any product in this respect and the watch is ideal for all fitness functions. As a reminder, the watch is allows you to count steps. Notifications (via vibrations) will notify you when it is necessary to do an exercise and will congratulate you when your number of steps exceeds your objectives (10,000 steps per day by default).
It is also possible to follow your diet (by manually adding your meals in the app), your calorie expenditure and also the follow-up of your activities like running, cycling, swimming, treadmill, weight training... The Versa is also a valuable tool for monitoring your sleep. The watch automatically detects when the user falls asleep and wakes up. The app also shows you your sleep stages, broadly categorized.
A downside is that there is no GPS. To effectively follow your jogging sessions, you must therefore bring a smartphone with you to trace your journey.
Pay with your Versa
Fitbit also signed a partnership with Deezer. Music streaming subscribers can sync their account with the Versa (via an identification code) to download songs to the watch (up to approximately 300 tracks, equivalent to the memory allocated by the Versa (2.5 GB). Fitbit Pay is also part of the package, allowing you to pay with your watch. Check to see if your bank participates here.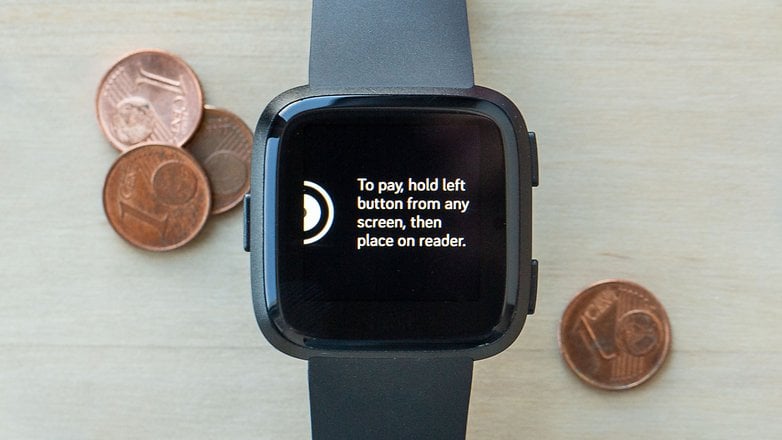 Fitbit Versa software
Like the Ionic, the Fitbit Versa runs the manufacturer's home OS, Fitbit OS . The manufacturer still offers its development kit (SDK) for developers, but so far the Fitbit App Gallery app catalog is relatively empty.
The Fitbit app is also convenient to use, as always. You can easily find all the information you need thanks to its intuitive and modern interface. You can easily find all activities performed and challenge your friends. As usual, it is compatible with a large number of third-party services (Alexa, IFTTT, MyFitness Pal, etc...).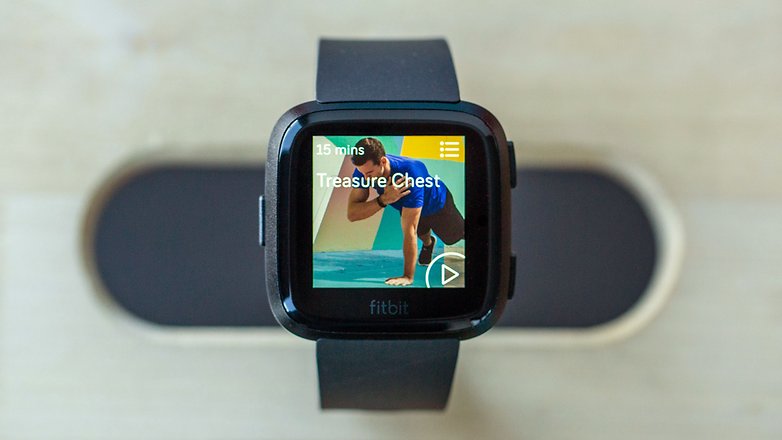 Nothing to say either on the synchronization between the smartwatch and the app. This is done quickly and without worries. Unfortunately, there are several things you need to note before buying. Fitbit is not compatible with all Android smartphones (Honor and Huawei smartphones have a lot of difficulties) and you will have to wait a good hour during the first configuration to download and install the required update to be able to use the Versa.
Fitbit Versa battery
When smartwatches and other fitness trackers were launched, one of the main criticisms from users was the low battery life of these connected accessories. As far as the Versa is concerned, we can see the efforts made in this area in recent years.
Fitbit promised 4 days and this holds true. We have gotten almost 120 hours of life in my testing: it is even more than we hoped. One reason for this is the lack of GPS. You will find it difficult to be disappointed by the watch's long battery life.
The smartwatch also has one last advantage up its sleeve: it has a stronger and more practical charger than the Ionic. If this charger still has a proprietary format, it is easier and more convenient to use. No more magnetic connectors: just clip your Versa inside and charge it whenever you need to. Note: charging is relatively fast. Allow a solid hour and a half for a full charge.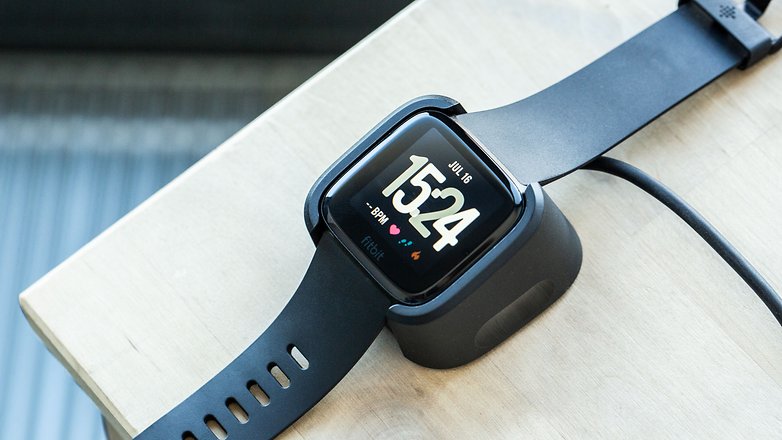 Final verdict: one of the best products of 2018
Apart from the absence of GPS, the Fitbit Versa perfectly fulfils its mission. It will attract an audience looking for a complete and affordable wearable. Its design, battery life and companion app prove invaluable and make the Versa a practical connected watch for everyday use.
Still, not everything is perfect for Fitbit yet. It's not possible to make calls and there's a lack of partners (alternate music streaming services and banks) that would make Versa an ultimate product for day-to-day life. But at this price, concessions had to be made and the most demanding users can always turn to more complete, but also more expensive, alternatives.