Dangbei Neo Review: The Best Projector Ever?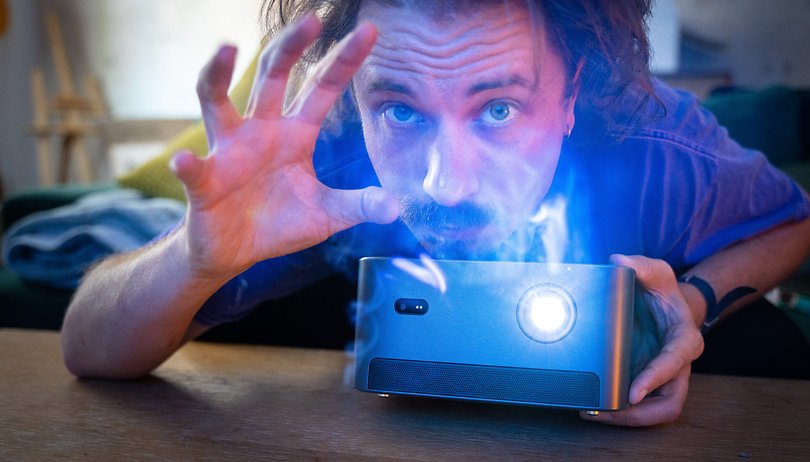 The Dangbei Neo is celebrated as the latest superstar among compact projectors — according to the online community. The DLP projector will feature several smart functions, high-quality speakers, as well as autofocus and auto keystone correction. However, is the Dangbei Neo good enough in everyday use? We find out in our NextPit review.
Good
Good picture quality with auto-lock

Surprisingly good sound

Quiet operation

Many connectivity options
Bad
Important streaming services are missing

No optical zoom

No integrated battery

No 3.5 mm audio jack output
The Dangbei Neo in a nutshell
With an MSRP of $699, the Dangbei Neo is a capable (albeit overpriced according to certain quarters) DLP projector. It offers very good picture quality, solid sound, and smooth performance. Apart from having native Netflix and other apps (Amazon Prime, YouTube, and other streaming providers), there are still other aspects of video streaming that remain missing.
In addition, there are other shortcomings, like being unable to adjust the projector's angle on a flat surface. This is certainly an oversight that should not be found in such an expensive projector.
If you still want to get your hands on the Dangbei Neo, you can also do so via Amazon. You'll find the link above.
Design & Processing
Arriving in a tiny gray box, the Dangbei Neo does not look like much at first glance. However, the DLP projector is surprisingly compact with dimensions measuring 20 x 15.7 x 10 cm and tipping the scales at less than 2 kg. Connectivity options are decent for a compact projector, but the Neo works best via WLAN and Bluetooth. You will also be able to find integrated speakers in the tiny chassis.
---
What I liked:
Compact case.
Surprisingly quiet operation.
Solid connectivity options.
What I disliked:
No way to control the projector directly.
The projector is not height-adjustable.
---
The Dangbei Neo is a particularly inconspicuous projector and appears to be far too much of a Plain Jane at first glance. The manufacturer did not include a manual focus ring and a zoom slider. Instead, you will find only a single button on top. You can turn the projector on and off using this button, and control all other functions via the included remote control or your Smart Home.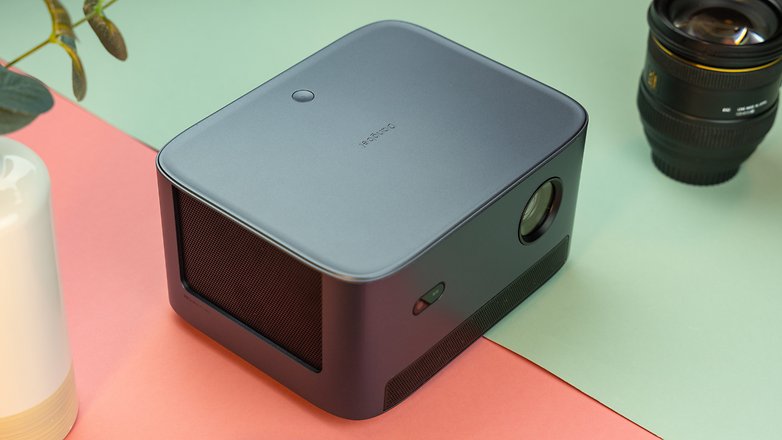 Compared to other compact projectors with DLP technology like the Samsung Freestyle (review) or the Anker Capsule Max, the Dangbei Neo is relatively large.
For a compact projector, the Neo isn't exactly small with its dimensions measuring 20 x 15.7 x 10 cm, but it still fits in a backpack for movie nights out with friends. The fact that the Neo weighs about 2 kg makes it suitable to be placed on tables, even flimsy ones.
After all, many portable projectors tend to be too lightweight to handle more taut cables when connected, making it challenging to obtain a good viewing angle. Dangbei ensures that the projector and video image remains in place with its added heft and non-slip rubber feet.
However, there is criticism in store for the Dangbei as it does not come with retractable feet. While you can unscrew the rubber feet, they go for just a few millimeters before falling out. This is definitely not enough to tilt the projector enough. Alternatively, there is a conventional tripod thread at the bottom of the projector — resulting in me using the projector on a camera tripod in the living room instead.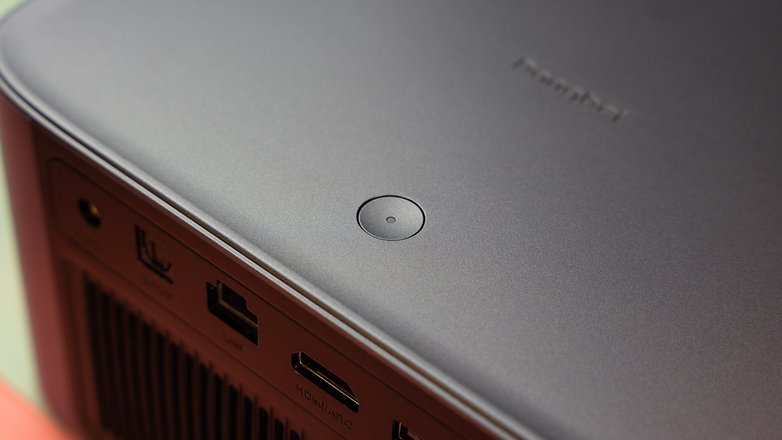 The workmanship of the Dangbei Neo is pretty decent overall. At $699, the portable projector is built solidly, albeit without any metal elements or protective rubber for that upmarket look. The same applies to the remote control, which looks very well put together. More importantly, it works reliably, no matter which direction you point it when using it.
The button assignment is also sensible and well-structured — except for the rather prominent focus button. This is rarely required at all, especially since the projector has excellent focus with each movement.
Image quality and auto-lock
The Dangbei Neo offers a maximum resolution of Full HD. According to the manufacturer, the maximum screen size stands at 120 inches, but individual pixels can be seen at that size. The projector's lifespan is supposed to be up to 30,000 hours, and the integrated DLP projector is also HDR10-certified. What's particularly cool about the Dangbei Neo? It has integrated sensors to make adjustments for the best image quality at all times.
---
What I liked:
Good picture quality at all times.
Reliable auto-lock.
Long service life of 30,000 hours.
What I disliked:
Maximum 1,920 x 1,080 pixel resolution.
No optical zoom...
...and digital zoom is at the expense of resolution.
---
The Dangbei Neo has caused a stir online for having native Netflix preinstalled despite featuring DLP technology. In reality, this translates to advantages like a long 30,000-hour lifespan in the tiny chassis case, although it does come with disadvantages of its own such as having to live without optical zoom. This is not uncommon for DLP projectors, but Dangbei at least made up for this shortcoming with digital zoom capability. You can reduce the image size in the settings, but quality will also decrease by a bit. Basically, you will only reduce the video window size, which means fewer pixels are displayed.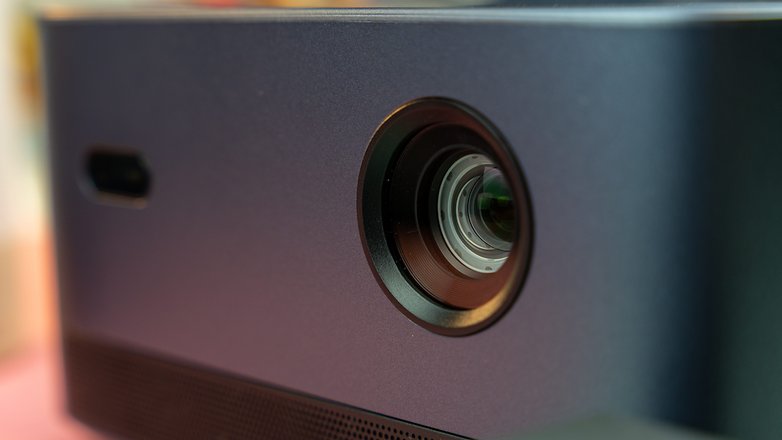 What the Dangbei Neo does automatically, however, is to lock the video image. To do this, Dangbei placed a ToF sensor on the front, among other things, as can be found in many camera smartphones. At the press of a button, the projector measures the angle which it is aligned to the wall, sets the correct (auto)focus, and automatically applies keystone correction. This worked flawlessly within a few seconds of the review. This is where the Dangbei Neo fared well, especially since the picture hardly shows any blurry areas even at oblique angles.
Equally convincing is the video image, which is surprisingly bright at 540 ISO lumens. Although this does not quite make the projector suitable for use during the day, the brightness is sufficient enough for twilight or slightly darkened rooms. However, pictures look best in completely dark rooms — and look great with rich colors, high contrast, and reasonable sharpness despite the less-than-optimal resolution of 1080p.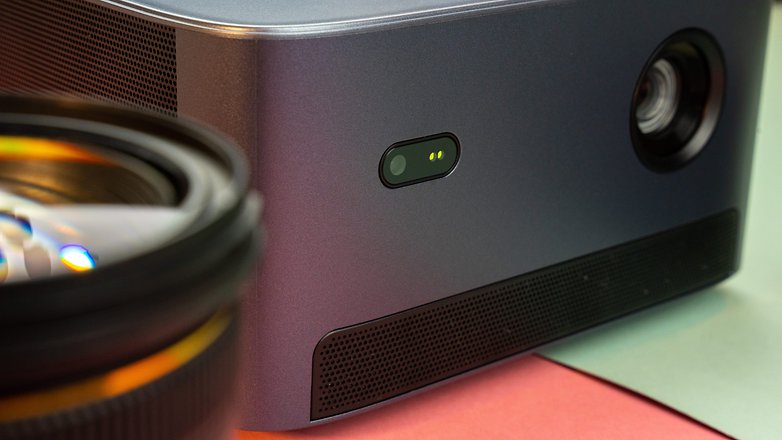 You can adjust the image to your preferences via the numerous settings. You will always be able to see a preview before you decide on an option. Overall, the Dangbei Neo scored particularly well in terms of picture quality despite its Full HD resolution. The device made an excellent case for itself when watching movies in the evening — where even my movie buff group who can be extremely particular approved.
Smart functions & performance
Dangbei does not run on Android for the Neo. Instead, the projector's software is based on Linux. This resulted in very smooth performance, but it also leads to additional restrictions in the available apps. Unlike its numerous competitors, you cannot access the Google Play Store.
---
What I liked:
Very smooth performance.
Netflix, Amazon Prime, and YouTube arrive preinstalled.
Numerous connectivity options (wired and wireless).
What I disliked:
No access to Google Play Store.
Important apps are missing (Spotify, DAZN, Sky, and others).
No AirPlay compatibility.
---
After unpacking comes the setup bit, and it is here where the Dangbei Neo proved to be surprisingly simple. Basically, you connect to your Wi-Fi network before you start to stream the very first content. The reason why this is different from the competition is this: Dangbei relies on Linux and does not require an account to be created before using it. You would have to log in separately for Netflix, Amazon Prime, and the ilk.
Netflix, YouTube, and Amazon Prime arrive preinstalled and can be accessed via separate buttons on the remote. If you want to use another video streaming service, you can access the app store dubbed "Netrange". At first glance, this app store appears to be well-stocked, but take a closer look and you will see its weaknesses.
For people who like to watch soccer will miss DAZN and "Wow", which was once known as Sky. The inclusion of PLEX for streaming video content within your network is a nice touch, but it does not offer too many entertainment options overall. More information about the available apps can be found on Netrange's homepage.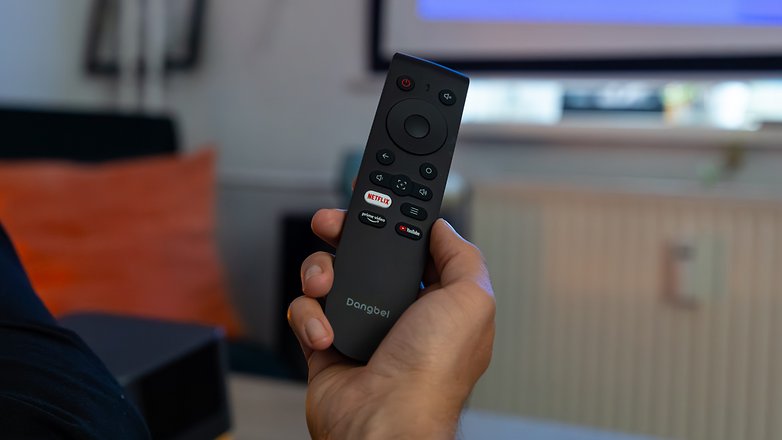 The Dangbei Neo falls behind by a mile compared to its peers in this category. However, it offers the possibility for you to connect external hardware via cable or wirelessly. Notebooks can be connected via HDMI, and there are two USB ports for external storage media or peripherals like a mouse and keyboard. For a more permanent installation, you can even use wired Internet and connect it to your home theater system via S/PDIF.
Furthermore, Dangbei integrated Bluetooth connectivity, including its own Bluetooth speaker mode and WiFi 802.11 a/b/g/n/ac, which works in 2.4 Ghz as well as 5 Ghz spectrums. If you want to pull out your iPad and stream Apple TV Plus, I have bad news for you: Unfortunately, Dangbei relies on the Android app "Screencast" for screen mirroring and streaming. There is an app called "HomeCast" that is supposed to play nice with iOS devices, but I could not locate it on the Mac or iPhone.
You can see that I was very ambivalent about the user interface in the review: While it is great to finally have a portable projector with many ports, you end up missing the advantages found in other operating systems that arrive preinstalled on smart projectors.
Loudspeaker
The Dangbei Neo has two speakers at 6 W of power each, which surprisingly provides good sound in a home theater setting. Although this does not mean mind-blowing audio, the Neo does sound like a solid Bluetooth speaker. That's high praise, especially when it is on a stand in the room and has no real contact with its surroundings. The Neo is also supports Dolby Digital and Dolby Digital Plus standards.
---
What I liked:
Surprisingly good sound quality from the two 6 W speakers.
Numerous personalized options for the sound image.
Bluetooth speaker mode.
What I disliked:
No 3.5 mm audio jack output.
Both speakers are located on one side of the case.
---
As with the image quality, the Dangbei Neo surprised me with solid sound quality when I first tried it out. Taking the speakers into consideration which are not overly powerful at 6 W, voices remain intelligible and music is accompanied by the necessary bass. How exactly do the bass and treble mix? Those can be adjusted via a few button presses in the quick menu.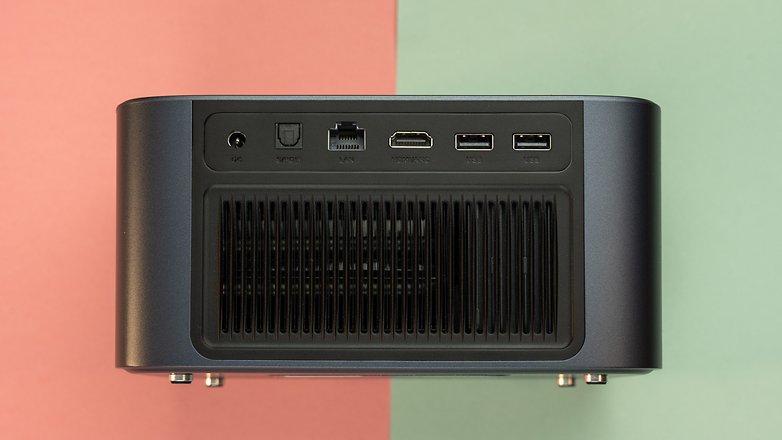 Dangbei certified the Neo with both Dolby Digital and Dolby Digital Plus standards. However, you shouldn't expect surround sound while watching movies. In fact, your expectations should not be that high because Dangbei placed both speakers on one side of the case, translating to a sparsely discernible stereo effect.
If you want to connect the Dangbei Neo to external speakers, you can do so only via S/PDIF. The device regrettably lacks a 3.5 mm jack. Alternatively, you can connect headphones and speakers to it via Bluetooth, but the latencies are less suitable when it comes to watching movies. By the way, the Neo can double up as a Bluetooth speaker if you so desire. This is a practical feature that I enjoyed using in the review due to the solid sound quality.
Battery & power supply
The Dangbei Neo does not have an integrated battery. Instead, you always have to keep it powered via an external power supply.
Conclusion
As mentioned, the Dangbei Neo is showered with praise on the web. It is indeed deserved, as the projector offers decent picture quality, remains surprisingly quiet despite its compact size, and offers plenty of fun sound out of its two 6-watt speakers. However, you will also come across a few quirks when you spend more time with the Dangbei Neo.
This is because many video streaming partners do seem to be missing from the lineup, although the apps offered are specially curated by a company. Here, having Android TV as an alternative to a proprietary Linux distribution would have done the projector a whole world of good. At the same time, there are curious omissions, such as the missing 3.5 mm audio jack and the inability of the projector to adjust its height on a flat surface without external aid.
Considering the rather high entry price of $699.99, the Neo is an exciting, compact smart projector. However, you should definitely also look for alternatives based on your needs. At this price point, there are more powerful alternatives with optical zoom, additional connectivity options, and smart operating systems that are actually compatible with the apps you need.
Last but not least: As with the Samsung Freestyle, the concept of a portable and flexible projector without an integrated battery doesn't quite make sense to me in the review. What are your views on this?