Wi-Fi speakers: Systems for today and the future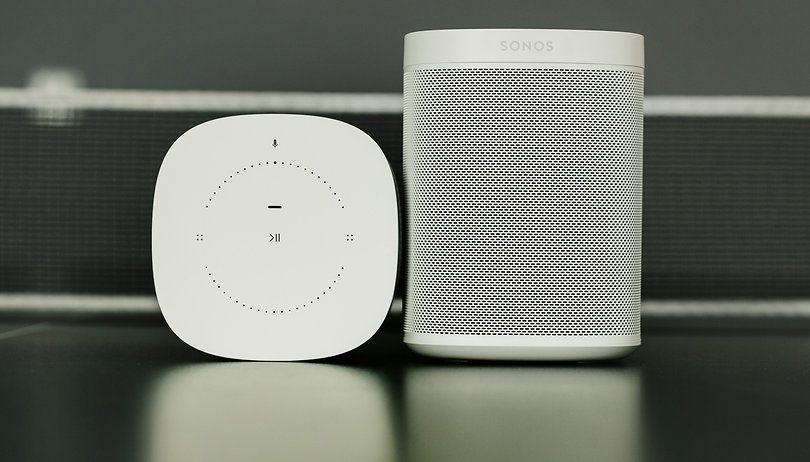 Smart speakers are looking to replace good old stereo systems, and conventional amplifiers are increasingly equipped with Wi-Fi capabilities, which means Google Assistant and Alexa are finding their way into more living rooms. They've also brought multi-room audio, music streaming, smart speaker functions and new possibilities with them. So what's the right system for you? This article will give you some purchasing advice.
Vinyl is experiencing its second heyday, CDs are slowly adopting a similar cult status, music cassettes are fading away, and the internet is gradually establishing itself as the premier distribution platform for music. The Recording Industry Association of America reported that in the first half of 2017, streaming services accounted for 62% of the revenue in the American music industry and digital downloads accounted for another 19%. Physical sales accounted for just 16%.
Along these lines, it's quite logical that speaker systems of the future will be connected to the Internet in order to independently provide access to these digital formats. New speakers are connected to the internet via Wi-Fi, but when happens then?
Many manufacturers provide their own systems and some have even agreed on common systems that can network all speakers and synchronize them for good sound: that includes Google Cast and AirPlay 2, which we'll present later in this article. But first, here's a list of viable candidates for your multi-room Wi-Fi audio setup:
Comparison of smart home speakers
| | Sonos One | Sonos Play:1 | Sony LF-S50G | Riva Arena | JBL Link 10/20 | Google Home | UE Blast / Megablast | Zolo Halo |
| --- | --- | --- | --- | --- | --- | --- | --- | --- |
| Wi-Fi Systems | Google Cast, Spotify Connect, Alexa | Google Cast, Spotify Connect, | Google Cast, Google Assistant | DLNA, DDMS, AirPlay, Google Cast | Google Cast, Google Assistant, Google Home (App) | Google Cast, Google Assistant, Google Home (App) | Alexa, Spotify Connect | Alexa, Spotify Connect |
| Bluetooth | no | no | yes | yes | yes | no | yes | yes |
| Stereo sound option | yes | yes | no | yes | no | no | no | no |
| Battery | no | no | no | optional | yes | no | yes | no |
| Waterproof | no | no | no | no | yes | no | yes | no |
Sonos One and Play:1
Sonos sells two almost identical speaker series, the One and Play:1. If you need the language assistant Alexa at home, you should buy the Sonos One. If you buy Play:1, you'll get the same good sound without voice input and save 50 dollars. Sonos connects with Google Cast, Alexa (only One), Google Home / Assistant (soon), AirPlay 2 (soon) and Spotify Connect. The Sonos app loads music from 56 streaming sources directly to the speakers and solves most of the compatibility problems that competitors' solutions still have.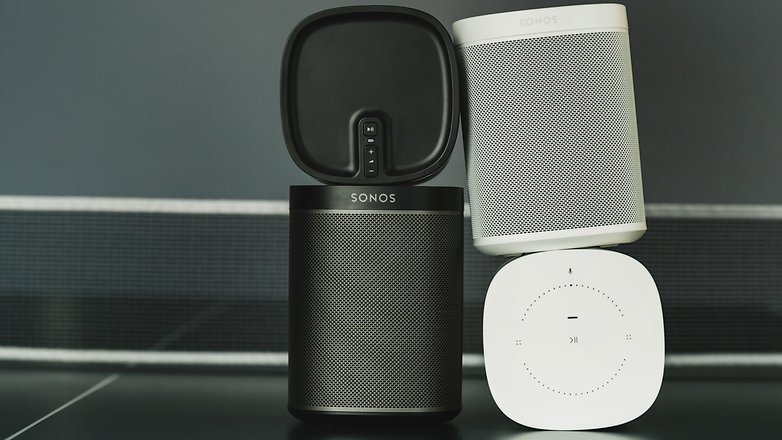 The key feature of Sonos is its modular expandability. The manufacturer is continuously improving software and firmware and enables increasingly complex networking options for the various speakers. You can expand the first speaker to a stereo system and add it to your 5.1 setup a few years later if you want.
Sony LF-S50G
Sony's smarter LF-S50G speaker arrived in our editorial office and is still being tested. From the outside, it appears based on an Apple Homepod. It is controlled by gestures that it senses outside its casing.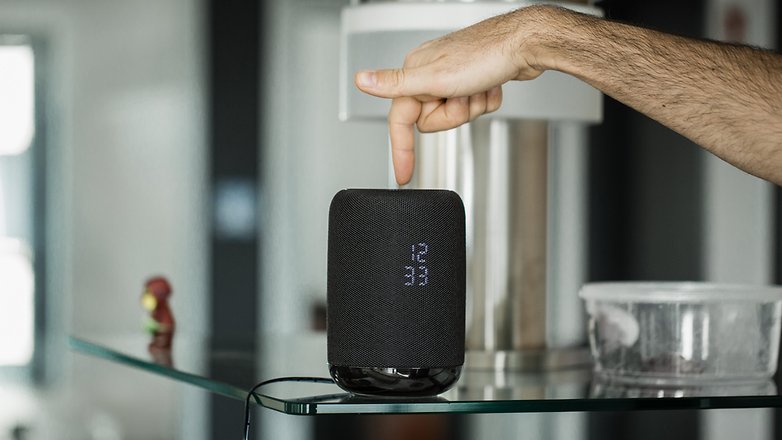 The Sony LF-S50G supports Google Cast, but can also be connected to other speakers through the home app to form multi-room systems, but not to form a stereo system. There's still hope that Google will implement this feature in the Home app.
Sorry, the offer is no longer available. But check Amazon directly for the latest offers on Sony LF-S50G.
Riva Arena
Riva could be an interesting alternative to the Sonos speakers. They can also be coupled into stereo pairs or individually integrated in a multi-room system. They also have 'Google Cast built-in' and can be configured via the Google Home app. The optional battery pack is particularly practical and makes the speakers mobile.
JBL Link
JBL's Link series can be controlled through voice commands via Google Assistant and configured to a multi-room system using the home app. Similar to Sony speakers, they don't allow stereo configuration.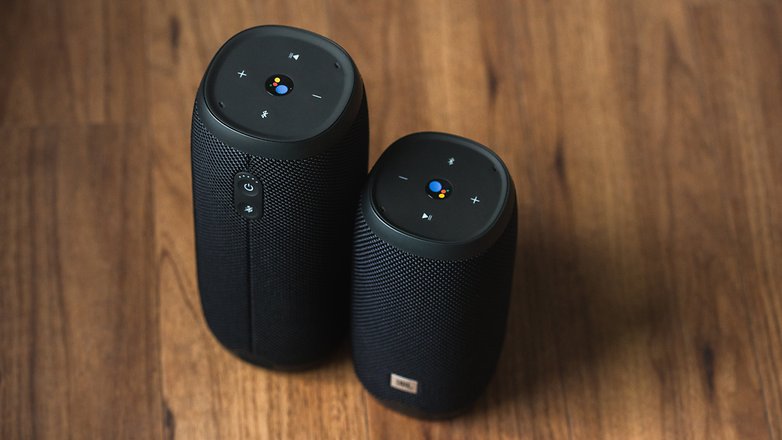 The trick with the Link 10 and 20 is that they can be used as Bluetooth speakers with an integrated battery when you're on the go. This makes them somewhat more versatile than other Wi-Fi speakers. Unfortunately, they don't offer any virtual assistant functions without Wi-Fi.
Sorry, the offer is no longer available. But check Amazon directly for the latest offers on JBL Link 10 Smart.
Sorry, the offer is no longer available. But check Amazon directly for the latest offers on JBL Link 20 Speaker.
Google Home
Since we couldn't buy the supposedly good-sounding Google Home Max, we were forced to go for the relatively small Google Home. Unfortunately, it offers the tin can sound one would expect from the small format.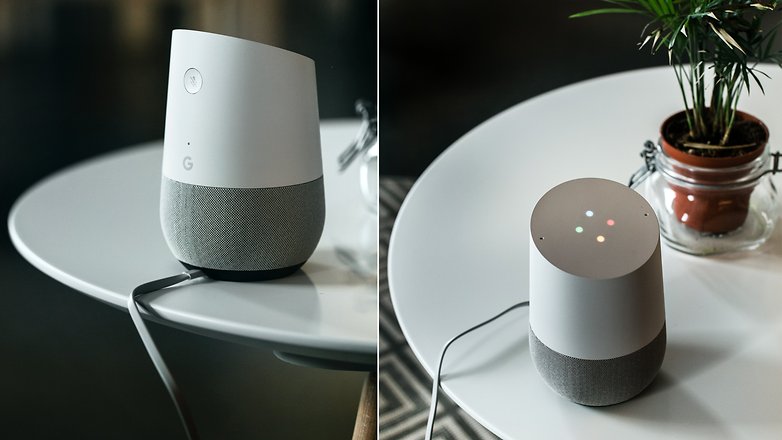 Just like most other cast-enabled speakers, the Google Home speaker in the Google Home app connects to multi-room systems. The Wi-Fi speaker from Google, which has become a bit cheaper, doesn't offer any extras.
Ultimate Ears Blast / Megablast
Ultimate Ears is the Alexa-enabled counterpart to the JBL Link 10 and 20. The colorful speakers are largely identical to the JBL Link series in their key data. The special feature is the party mode, which synchronizes several speakers while you're on the go and doesn't require Wi-Fi. This mode still wasn't available during our test of the devices.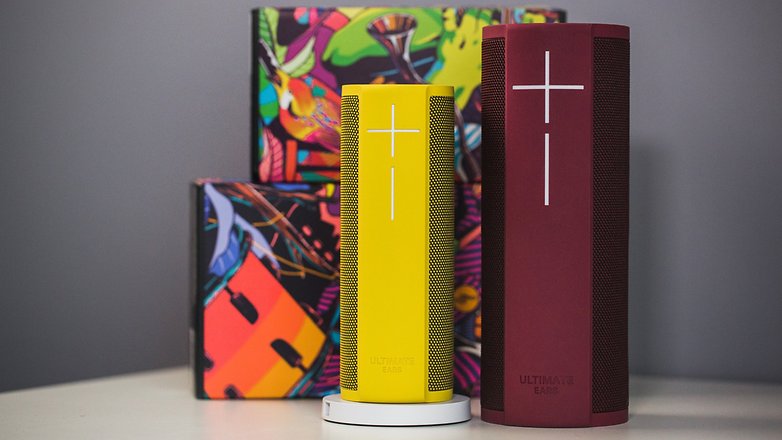 Zolo Halo
The tiny Eco replacement known as the Zolo Halo is still being reviewed. This tiny little device may not sound great, but at least it sounds better than an Echo Dot. If also offers voice control for your smart home thanks to Alexa integration.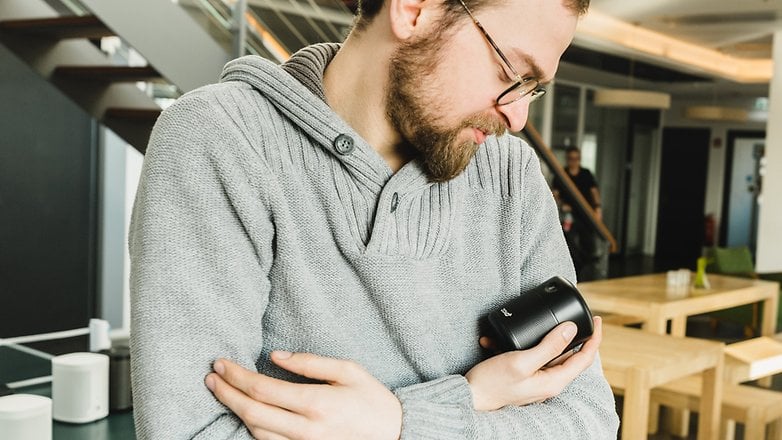 Thanks to the Bluetooth input, you can also play music from other sources besides the few streaming services that Alexa supports. Unlike the real Echo Dot, you can't connect better speakers to the Zolo Halo via Bluetooth.
Multi-room systems are possible with Wi-Fi speakers from different manufacturers
Thanks to Google Cast and Apple AirPlay 2, speakers from different manufacturers can finally be linked to multi-room systems. Amazon's Alexa is yet to master this. Due to the strict licensing conditions, you have to pick a standard and then stick with it. If you choose AirPlay, it's always AirPlay. It's the same with Google Home or Alexa. Google Home speakers in the JBL Link series cannot be retrofitted to Alexa or become Siri-enabled speakers.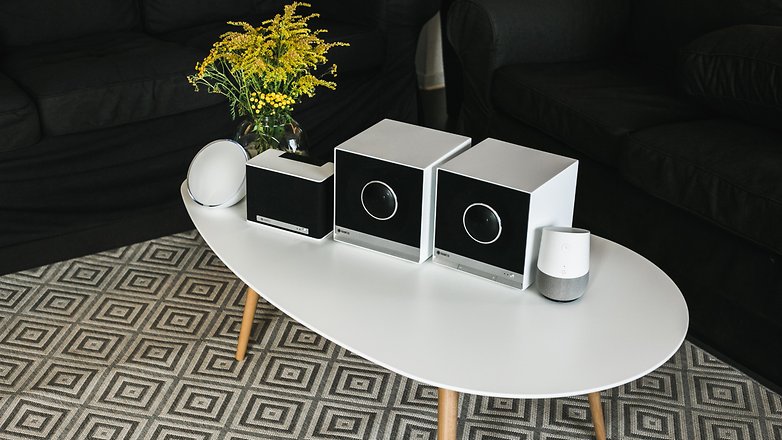 In any case, you can initially configure Wi-Fi speakers via the app. In Google Home, for example, you decide which streaming service you want to use. Speakers made for Google give you more choice than Alexa does. You can also group your speakers from the app so that three speakers in the living room can be controlled simultaneously. A stereo option with two speakers next to each other still isn't possible in Google Home.
Sonos is the best, right?
Sonos was one of the first providers of multi-room systems with Wi-Fi capabilities. Both the sound of the speakers and the low-latency networking of several speakers were achieved by the manufacturer before competitors offered the same feature. Sonos still offers some features missing from Google Home, AirPlay, and other systems. These include stereo or surround sound operation with speakers linked to Wi-Fi or with Wi-Fi Boost, which allows the speakers to set up their own wireless network.
The only problem is its support of digital assistants. Sonos chose Alexa and integrated it into Sonos One. This, however, hasn't developed particularly well. The integration of streaming providers no longer runs smoothly and users have reported problems with its skills.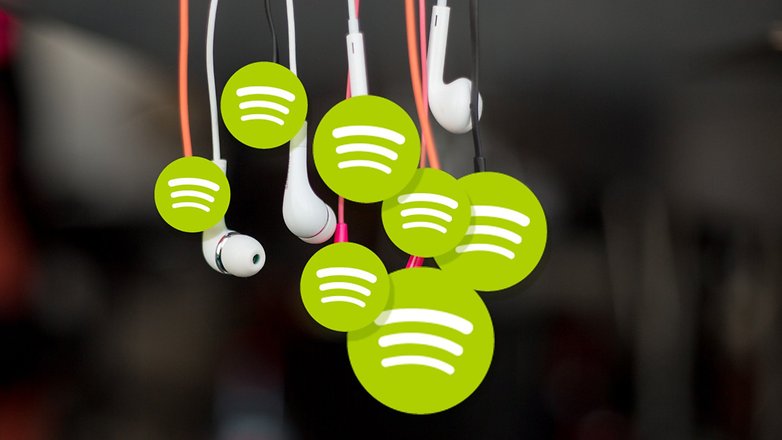 Spotify Connect connects everything
Spotify is the most popular music streaming service. One reason for this is that Spotify works with almost all devices; it is also the only external service provider that Amazon works with in its Echo device.
If you're using Sonos or Google Play, however, your choice of streaming providers is much wider. Deezer, Tidal, and even Apple Music become options. We've prepared an overview of the topic in this article:
Do I still need Bluetooth?
There are numerous advantages of Wi-Fi over Bluetooth. The higher transmission rate allows for more sound quality, and also for more independent phone calls, freedom of movement and more battery life for your smartphone. Once in a Wi-Fi network, you can better network the speakers and control them with other smartphones or a voice assistant in the same Wi-Fi network.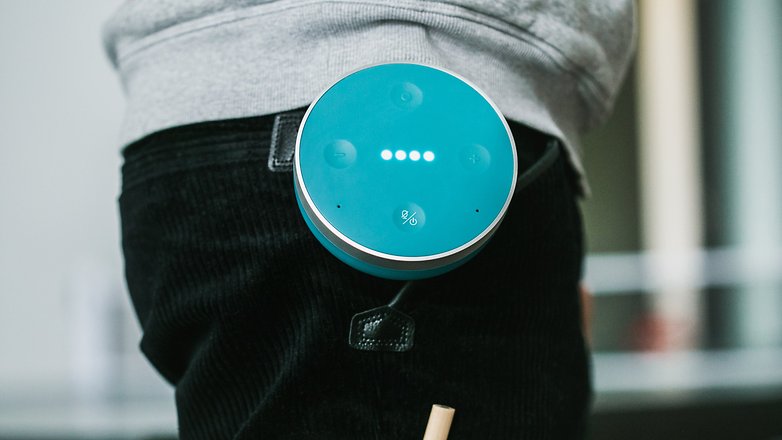 Bluetooth, however, is much easier to use. Smartphone speakers can be connected in seconds, even when you're out and far away from any Wi-Fi network. It therefore makes sense if the mobile Wi-Fi speakers are additionally equipped with Bluetooth. In addition, Bluetooth-enabled speakers can be wirelessly networked with the Amazon Echo Dot and can therefore be upgraded to a smart speaker.
Can I connect my old stereo system to Wi-Fi?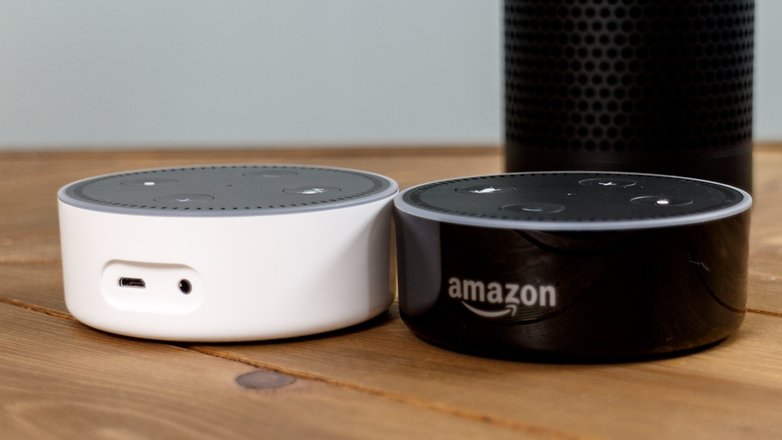 With Amazon's Echo Dot you can connect it to a stereo system via a jack cable. Compared to many third-party adapters, these two systems offer the best long-term prospects for support with other streaming providers and for integrating speakers from other manufacturers.
Can I connect my Wi-Fi speakers to my TV?
Unfortunately, Wi-Fi capable televisions don't automatically network with Wi-Fi speakers, since manufacturers don't want to agree to a common standard. Samsung only networks with its own multi-room system of speakers such as the M7 or M5, while Sonos allows Wi-Fi networking on its Soundbase Playbase, which can be connected to a TV through an HDMI cable and Play:1 speakers, which can then become speakers capable of surround sound.
Google Home is almost there
Google Home is currently best-equipped for connecting Wi-Fi speakers from different brands together with a television to create a complete home cinema system. The only problem is that this is not completely implemented in the software. Although Google Home currently controls both TVs and speakers, and networks speakers in groups, it doesn't allow stereo or surround systems to be grouped together. It also doesn't allow screens and speakers to be grouped together to form a whole home cinema.
Which Wi-Fi speaker system is the best?
Google, Apple, and Amazon are currently establishing an incredible number of partnerships with the hi-fi industry. At the same time, they are expanding their technologies and are constantly adding important features. This is also necessary, since important details have still been overlooked. Google can't make stereo pairs and Alexa doesn't even offer a reasonable multi-room option. To make matters worse, none of the Wi-Fi standard providers cooperate with all streaming services.
If you want the all-inclusive package today, Sonos is the right solution but costs a lot of money. Their speakers can be gradually expanded into larger systems. The app also solves compatibility problems with streaming providers. The only thing is that digital assistant haven't quite arrived for it yet. So it's a question of judgment.