Top 5 Android and iOS Apps of the Week: Queen's Gambit, Fishing, AI, and more!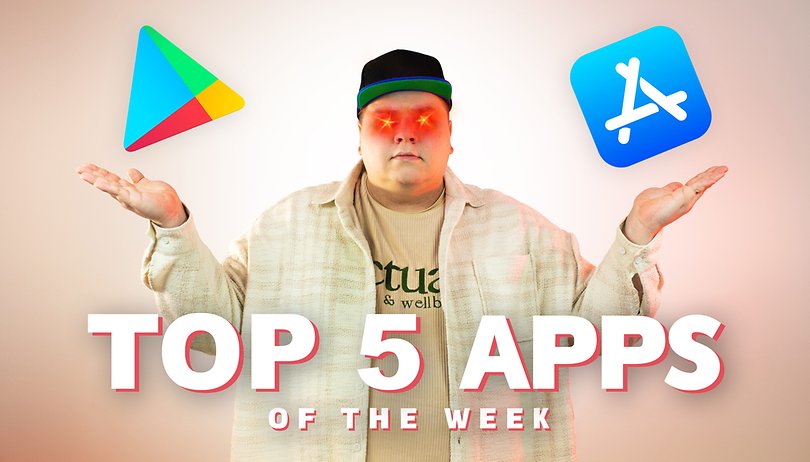 The weekend is already underway, and that means only one thing—nextpit has scoured the Internet to piece together another 5 more app recommendations for both iOS and Android platforms.
We take our responsibility seriously when it comes to curating this list of apps. Our regular readers would be familiar with this exercise that is different from our free app selection that is published twice a week without having tested them because when it comes to our Top 5 Apps of the Week, we install and test them out properly. We personally installed each of these apps to make sure that none of them pose any security risks and are suitable for use.
In addition, we offer additional information about whether you require an account, the presence of advertisements, and screenshots so that you can make a more informed decision before installing them. Without much further ado, check out what we unearthed for you this week!
Vio.com (Android and iOS)
Everyone loves getting the best possible deal. After all, times are hard, and one should always go the extra mile to maximize your hard-earned dollar. Vio.com jumps aboard the travel app bandwagon, where it specifically targets hotel deals. You will be able to check out all the different deals offered on Vio.com by keying in the usual suspects: the travel dates, the number of pax and rooms, and most importantly, the location.
Vio.com is not shy to show off what their competitors offer in a comparison tool, although personally speaking, I would also key in the same details in a competing app just to see whether Vio.com's algorithm did not cut any corners.
Price: Free / Ads: None / In-app purchases: None / Account required: No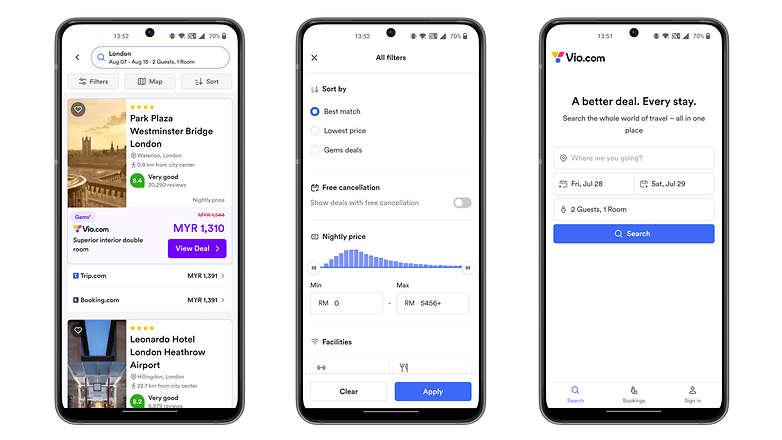 I found the user interface to be clean and free from clutter. In fact, it is so easy to understand, that you should not have any issue trying to find the best bargain for your upcoming holiday. So far, it has remained pretty stable and did not crash at all throughout the time I spent using it.
It would have been nice to see an option to select the currency regardless of your geographical location. After all, some of us might have cash stashed in different currencies and would not want to spend in our local currency. Still, that is a very minor niggle that should not bother anyone. Happy travels!
PDF AI - chat with PDF (Android & iOS)
Is AI really going to take over the world? That really depends on who you talk to and what their stand is. In my books, AI is a neutral tool. It is what we make of it that makes it get labeled 'good' or 'evil'. PDF AI takes advantage of an AI chatbot by letting you import a PDF file. Once that is done, you can talk to the AI chatbot concerning the content.
Price: Free / Ads: None / In-app purchases: Yes / Account required: Yes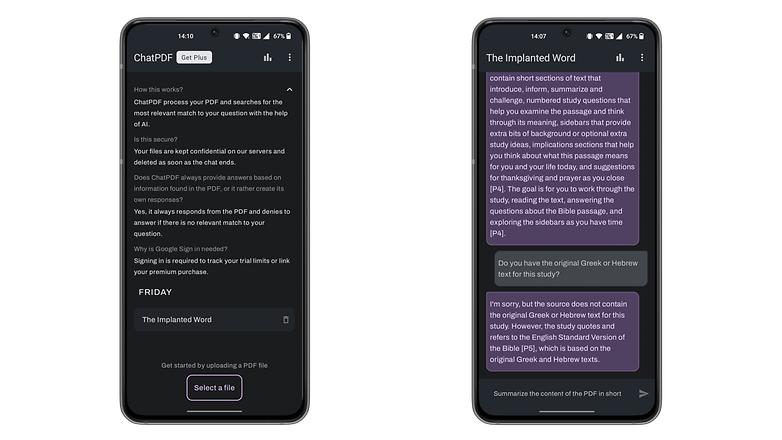 Just what can you ask it? Well, just about everything and anything under the sun. As with any other AI, it gets better and more efficient the more it is used. Do take note that this is not going to become as hot as Threads because it is an extremely niche app. However, office drones and students who tend to use PDFs frequently might find this to be a hidden gem.
If you plan to use this for the long haul, be prepared to fork out $4.99 monthly for it. The trial version of the app offers only 5 uploads per day of 30MB each, with a maximum of 500 questions per day. It is definitely not for everybody, but researchers who want to get to the heart of a PDF file without poring over its contents due to time constraints might find this handy.
Skilldock (Android)
Simple is as simple does. Skilldock is an indie app that was developed to create interactive courses, both online and offline. The developer did mention that you should skip picking up the premium version since there is no special benefit attached to it, and it should be removed from the Play Store soon. It is nice to see that this app helps you add interactive courses to learn from, as well as having others learn from it as well.
Price: Free / Ads: None / In-app purchases: None / Account required: No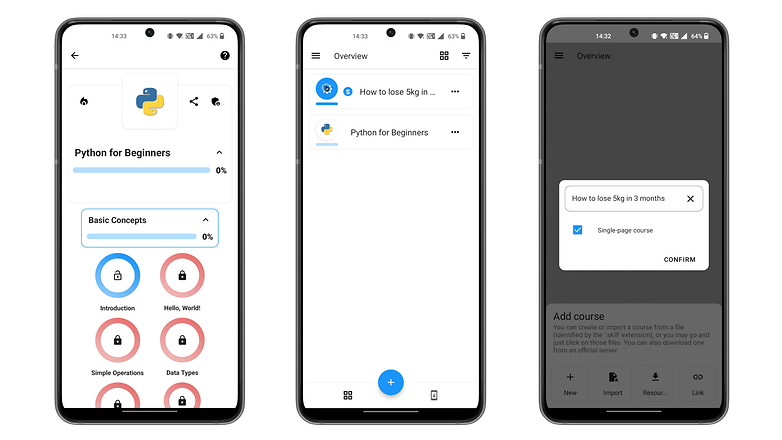 Ultimately, if you are self-driven, this app works better because it looks like there are no more courses available for it, so you would have to do the heavy lifting and craft your own courses. Perhaps through this, you will have a better grasp on creating appealing courses for the masses. It does look as though the developer is about to leave this project to the community to develop further, so take this as an experimental effort compared to the mass-produced, studio-backed projects that tend to be featured each week. Let's give indie developers a hand, shall we?
Ace Fishing: Crew (Android & iOS)
I've always thought of fishing to be a very boring hobby. You just sit around with a fishing rod in tow, and wait for the fish to bite. Of course, I am quite sure that fishing requires far more than patience, and it should teach a fair number of life lessons to the fisherman. However, I am an impatient fellow, so I found Ace Fishing: Crew to be an interesting game to try out.
Price: Free / Ads: Yes / In-app purchases: Yes / Account required: Yes
We deal with deep sea fishing here where the stakes are so much higher, and telling people about 'the one that got away' carries far higher stakes than fishing for salmon at a river or at a pond. The gameplay is simple enough. You cast your line, and doing nothing will net you nothing. Instead, jiggle your line around for a bit to entice whatever is willing to take the bait, and when your bait is taken, an almighty battle will commence.
This is more an arcade-style game compared to a realistic fishing game, so if real-world physics does not translate into this game, you have been forewarned. As usual, what's the point of a game without having the ability to earn your way to equipment upgrades and stages to complete? Best of all is, you do not end up sunburnt but can fish in the comfort of your home.
The Queen's Gambit Chess (Android & iOS)
Three years after the Queen's Gambit miniseries premiered on Netflix, Ripstone Games have come up with a brand new digital board game to keep chess aficionados happy. As you would probably know by now, Netflix subscribers have the benefit of enjoying games on iOS and Android. Just how much different is one chess game from another, you might ask? Well, not much, apart from the fact that the Queen's Gambit Chess game ups the ante by introducing elements from the miniseries.
Price: Netflix subscription / Ads: None / In-App Purchases: None / Account Required: Yes (Netflix)
Well, this is chess. It is as simple as that, and all the standard chess rules apply. There is no other way of putting it, and it should appeal to those who want something more visceral compared to the traditional 2D top-down view board. Purists might beg to differ, but I think this is a good initiative by Netflix to help introduce this cerebral game to the masses in a more fun manner.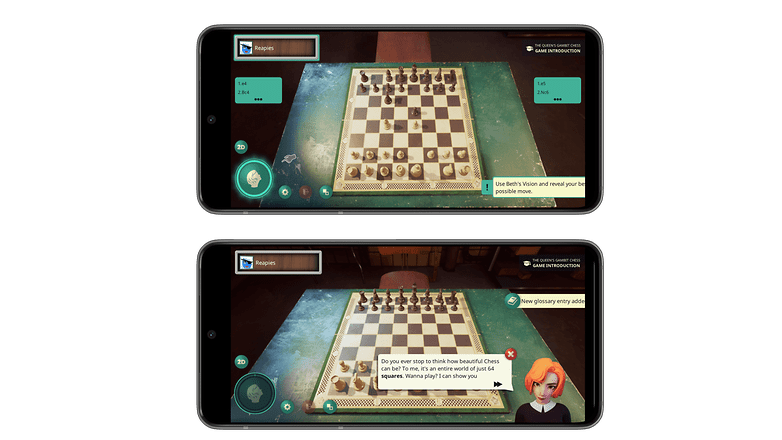 Beth, the miniseries' protagonist, will pop up from time to time, and you will be whisked to different locations that are featured in the miniseries. More importantly, is there multiplayer support? I'm happy to say "Yes!" to that question, where you get online and offline play, with the former offering ranked matches within the suitable Elo rating. Of course, this is where the real acid test lies on just how good you think you are compared to the other chess players around the world.
That is all for this week! Hopefully, you would have found something suitable to tide you over the weekend. Do you have any recommended apps for us that you think ought to have made the list? If so, feel free to share it in the comments. Have a great Sunday and may you have a great new week ahead!