Top 5 Apps of the Week: The Best Apps and Games for Android and iOS!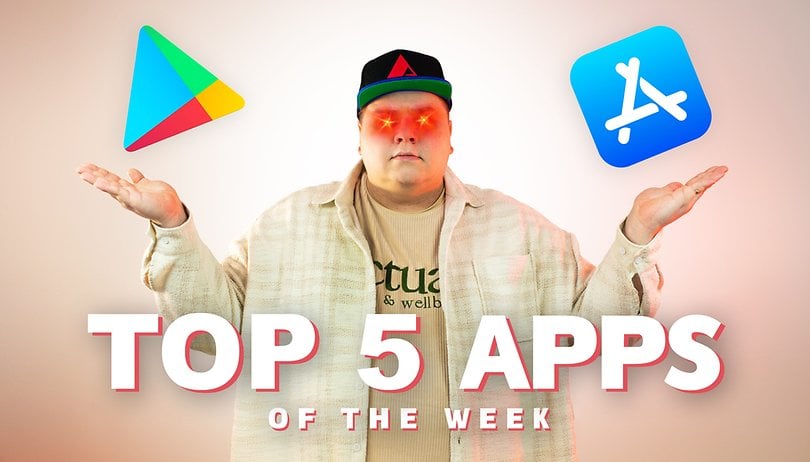 The second week of April brings us lots of exciting apps and games. This week's highlight is a fitness app that uses artificial intelligence to track your body movements and ensure that you really get through all the exercises. What else? There's another fitness app, a photo tool, a local multiplayer game and an app that brings order to your streaming chaos!
By the way, we've tried out every app in this article and tested them for you—unlike our "Free Apps of the Week" format, where we present about 20 to 40 apps twice a week that normally cost money but are currently available for free.
Want more hand-picked app tips? Then you can find the previous edition of the Top 5 Apps of the Week here. Now let's get started with the best apps of calendar week 15!
TV Time (Android & iOS)
TV Time is here to bring order to your series streaming mess. Casi has been swearing by this app for years, which manages your TV series, but also movies. Create collections with all the series you've seen—or make to-do lists for everything you still urgently need to watch. Search for new series yourself, or get recommendations for shows that match your viewing habits. Read episode guides and get notified when the next episode of your favorite show is coming up.
You can also network with friends, rate and comment on series and movies—and of course read the comments of others. Cool: If you want, you can work through the comments without spoilers. With a tap of your finger, you can mark a series episode as watched - so even months later, you'll know at which point you need to continue gawking. With all the series Casi watches at the same time, he would have gone insane long ago without TV Time.
Price: Free / Ads: No / In-App Purchases: No / Account : Yes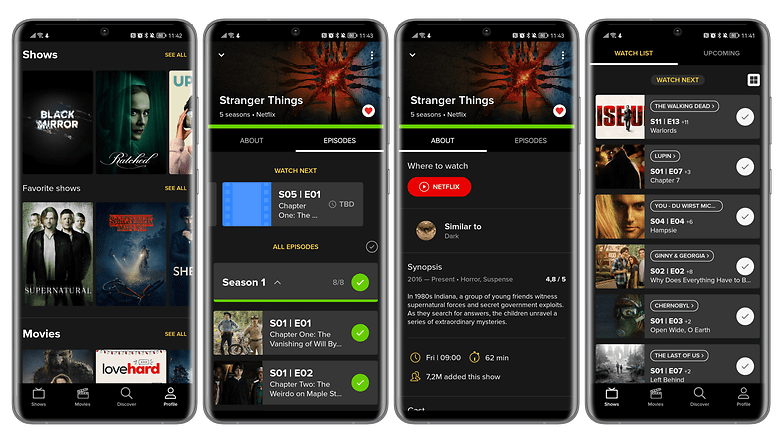 Mini Battle: 2 Player Games (Android)
Looking for another pointless distraction to get your mind off things? Sure, you need a game from the Play Store that requires as little brain power as possible. But why always play alone? The fun is twice as great when there are two of you. Mini Battle from Falcon Games is just what we need. This is a small collection of games that you can play together as a couple on a smartphone screen.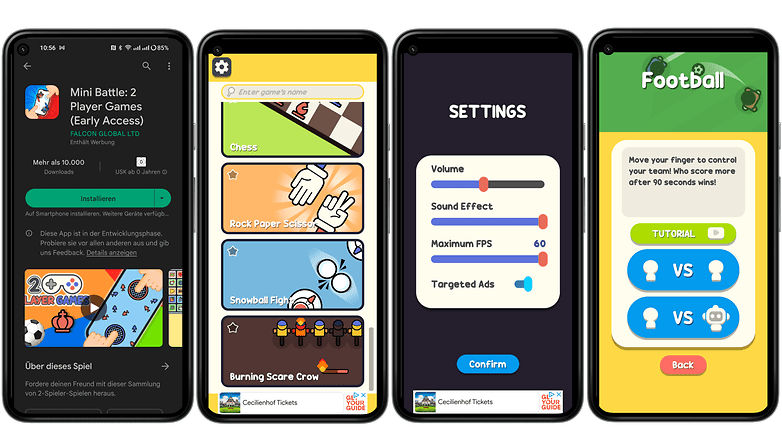 The offer is as versatile as it is varied. Games like Tic Tac Toe, Soccer, Hand Slap, Ping Pong, Snowball Fight, Spin War, Pinball, Billiards, Block Jewel are just a few, which can be played with only one finger per player. The graphics are minimalistic and the games are self-explanatory. And should your fellow player be unable to play, "Mini Battle: 2 Player Games" also offers you an artificial intelligence as an opponent. But be careful! Beating them is not that easy.
Price: Free / Ads: Yes / In-App Purchases: No / Account : No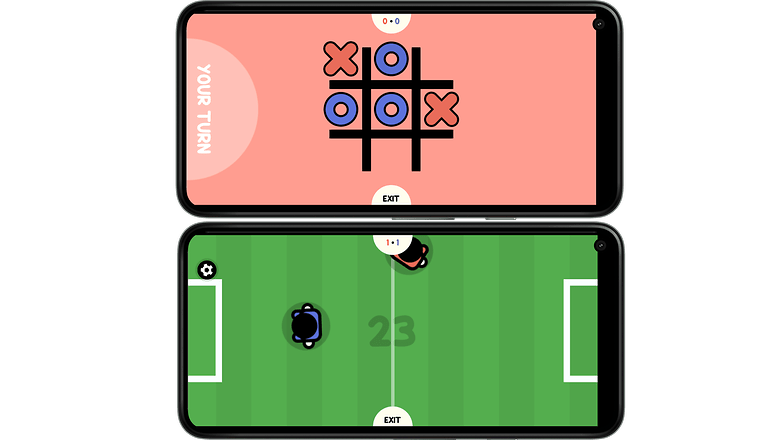 Happy Scale (iOS)
The days are getting warmer, the clothes less and the winter flab all the more recognizable. As in the first weeks of January, the number of visitors to the gym increases, quite surprisingly, even on the first warm days of spring. In addition to an intensive workout and a protein-rich diet, a calorie deficit is the be-all and end-all for successfully losing body weight. If you're looking for an easy-to-use app to track your weight loss process, we have an excellent option for you from the App Store: Happy Scale.
With the app Happy Scale you can keep an eye on your body weight. You enter what your current weight is and what weight you want to reach. The app shows you your progress over the last seven days, the last 30 days and how much body weight you have lost in total. The app also gives you a prediction of when you will reach your goal weight if you maintain your weekly rate.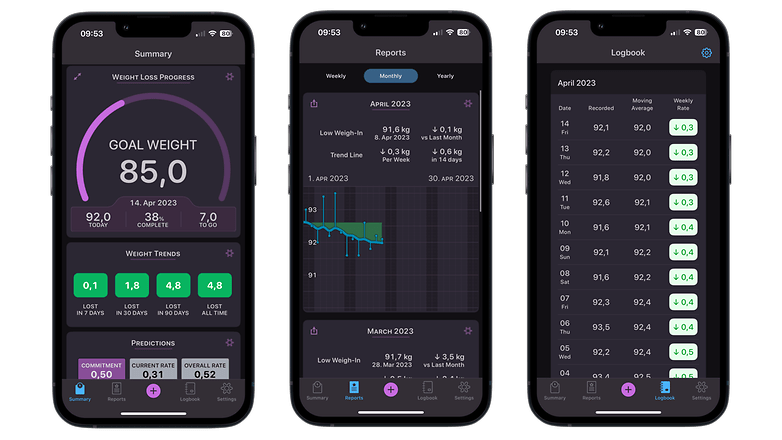 That's also where we come to the best feature of the app. The app not only calculates your daily running average, but also shows you your weekly rate. So if your weight unexpectedly skyrockets one day, you'll see what your average looks like thanks to the weekly rate, which also updates daily with each additional entry, and you won't have to feel bad if your progress stagnates.
Price: Free / Ads: No / In-app purchases: Yes / Account: No
You can download Happy Scale for free from the App Store. All relevant functions in the app are free of charge. You have the option to subscribe to a premium status, which only allows you to look even more accurately into the future and calculate when you will reach your target weight.
JRNY (iOS and Android)
If you still need an app to get enough exercise, then JRNY is the right place for you. The app from fitness manufacturer Bowflex offers countless workouts in video form from various categories - and optionally also works with the manufacturer's accessories—from home trainers to dumbbell systems with variable weights, everything is included.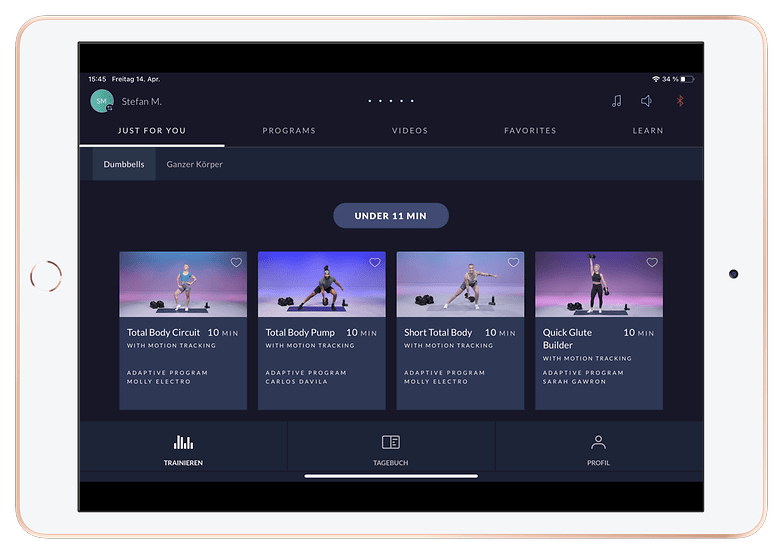 The JRNY app got an extremely exciting update this week, which is especially interesting for tablet users. Using the front camera, the app can track your limbs and recognizes whether you are performing an exercise correctly and automatically counts the repetitions. While the app is available for smartphones and tablets, the motion tracking feature is currently only available on iPads and Android tablets.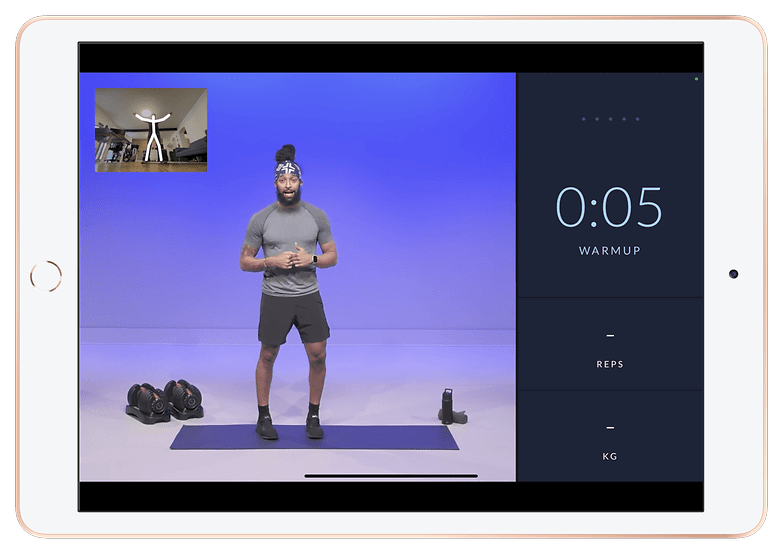 Most of the content in JRNY can only be viewed with a paid subscription. But: Until May 15, you can sign up for a free trial membership for a whole year (!) in the app. After that, the fitness service will cost just under 20 euros a month. Besides a handful of
Price: Free / Ads: No / In-app purchases: Yes / account : Yes
Photo Tools (Android)
Casi has stumbled across a photo app with the unoriginal name "Photo Tools". In the app, which unfortunately comes with ads, you land on an overview page that shows you the different options this app offers you. So you can do the usual nonsense that every other photo app offers: Crop, apply a few unspectacular filters, and similarly rudimentary stuff.
So this app is not for those who really want to edit pictures. It does have a few other fine tricks. You can compress photos, resize them, and even convert them to other image formats if you really need a PNG or WEBP image. In addition—exciting for the graphic designers among you—you can display all colors used in the image including color code—or tap on a certain area of the photo and then have the color named.
I've never seen an app like this before, and I find it extremely practical. If you use it occasionally, you won't be bothered by the ads. Their removal can be unlocked along with bonus features and priority support.
Price: Free / advertising: Yes / in-app purchases: Yes / account : No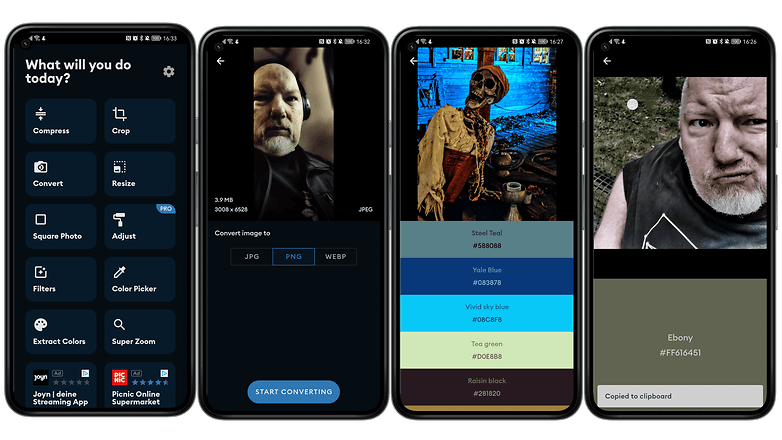 ---
That's it for our recommendations for this week! We hope you were able to discover some exciting new apps for you this week. And feel free to leave us your personal app tips in the comments!