Comparing Apple Watch Series 9 and Series 8: What's New?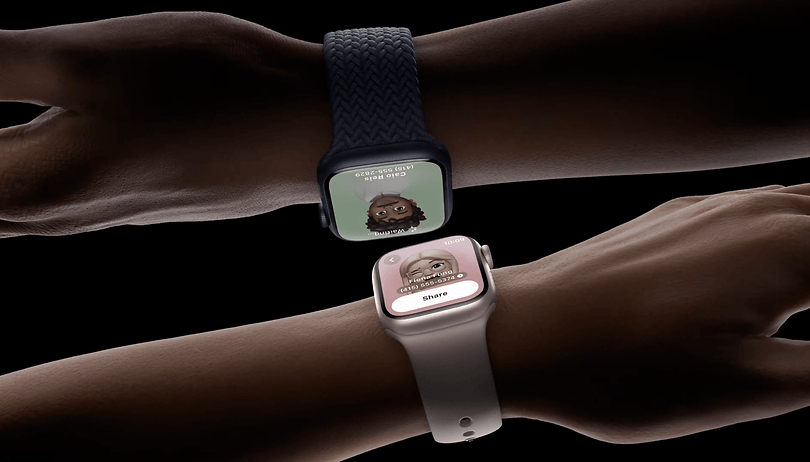 Today, a new iteration of one of the most popular smartwatch series was introduced. As expected, the Apple Watch Series 9 brings a new chip with a few changes, like the double tap gesture. If you're an Apple Watch user, two questions might come to mind: How does it differ from the Watch Series 8, and is the upgrade worth it? Let's delve into this.
Apple Watch Series 9 vs. Apple Watch Series 8: Key characteristics
The 2023 model
The 2022 model
Product
Image
Colors

Aluminum: starlight, midnight, silver, (PRODUCT)RED, and a new pink aluminum case
Stainless steel: gold, silver, and graphite cases

Aluminum: midnight, starlight, silver, red
Stainless steel: silver, graphite, gold, space black

Size
Display

Always-On Retina LTPO OLED display, up to 2000 nits / lower to 1 nit

Always-On Retina LTPO OLED display, up to 1000 nits

Durability

Water resistance (50 meters)
IP6X dust resistance

Processor

Apple S9 + U2 chip (Ultra-Wideband)

Apple S8 + U1 chip (Ultra-Wideband)

Sensors

Temperature, blood oxygen, ECG, heart rate, compass, always-on altimeter, accelerometer, gyroscope, GPS/GNSS, ambient light

Safety features

Crash detection, fall detection, noise monitoring, emergency SOS, international emergency calling

Battery life

Up to 18 hours
36 hours in low-power mode

Storage
Connectivity

Wi-Fi 4 (11n), Bluetooth 5.3, W3 wireless chip, LTE optional

Wi-Fi 4 (11n), Bluetooth 5.3, W3 wireless chip, LTE optional
Before moving forward, I'd like to note that this comparison is based on the information Apple provided at today's September event. We haven't had the chance for a hands-on experience yet. However, if you, like me, have an Apple Watch Series 8 or an older version, I believe this article can help you determine if this device is right for you right now.
Table of Contents: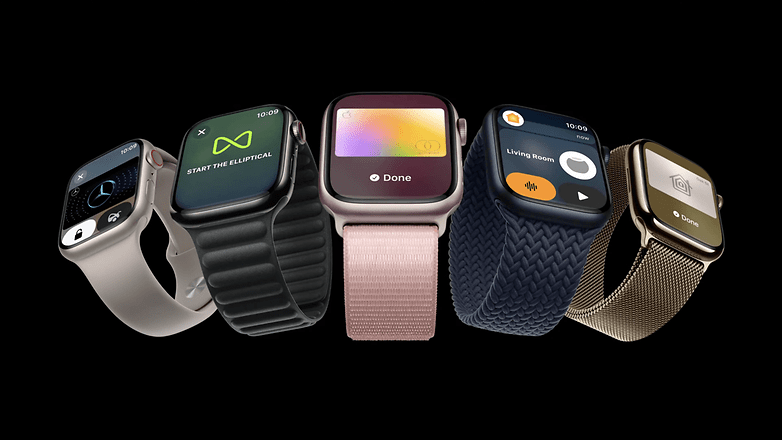 Apple Watch Series 9 vs. Watch Series 8: Prices and availability
As seen in the comparison table above, both the Series 9 and Series 8 are available in 41- or 45-millimeter versions. They are offered in stainless steel and aluminum, with the titanium option exclusive to the second generation of the Apple Watch Ultra.
For the Apple Watch Series 9, preorders begin today. The device will be available in retail locations starting Friday, September 22. Color choices include Midnight, Silver, (PRODUCT)RED, and a new pink aluminum case, with prices starting at $399. The LTE version starts at $499.
The stainless-steel option comes in gold, silver, and graphite cases. For those seeking for a more sustainable choice, any aluminum Apple Watch Series 9 with a new Sport Loop band is carbon-neutral. The Watch Series 8 is behind here.
Following Apple's sales approach, the Series 8 will no longer be available in the Apple Store, making purchases possible only through resellers like Amazon. Consequently, the Series 8's price may fluctuate based on when you buy it.
Currently, some Watch Series 8 models on Amazon are priced lower than the new generation, hitting their 30-day low at $309.
Apple Watch Series 9 vs. Watch Series 8: Design and display
In terms of design, the two generations are very similar. They both offer 45 mm or 41 mm case sizes with an edge-to-edge display. Apple's decision to retain the display size and design suggests that the company believes it has achieved the ideal form factor. Additionally, the watchOS 10 revamp seems to utilize this display size more effectively.
As mentioned above, the Apple Watch Series 9 introduces a pink color option, reminiscent of rose gold. Additionally, the Watch S9 is Apple's first 100% carbon-neutral product.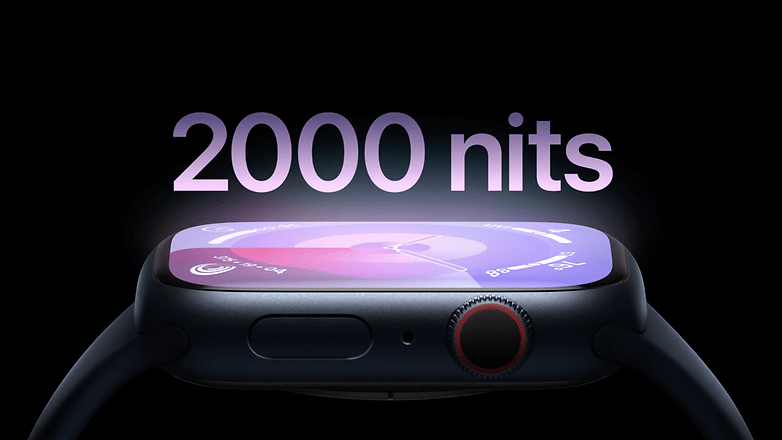 Thanks to the new S9 SiP (System in Package), the Watch S9 doubled its maximum brightness this year, reaching 2,000 nits. Another significant update is that the display can now dim to as low as one nit. This is definitely a welcome change for dark places such as movie theaters. On the other hand, the Watch S8 offers a maximum brightness of 1,000 nits.
The 2023, 41 mm case bands fit 38 mm and 40 mm cases, while the 45 mm bands fit the 42 mm and 44 mm cases. So owners of the Series 8 or even Series 7 can use most wristbands with the Series 9. A new woven fabric band featuring a magnetic buckle has also been introduced.
Regarding durability, the Watch Series 8 is WR50 and IP6X certified and the Watch Series 9 has the same certifications. This means they're suitable for swimming and snorkeling but not for high-speed water sports or diving.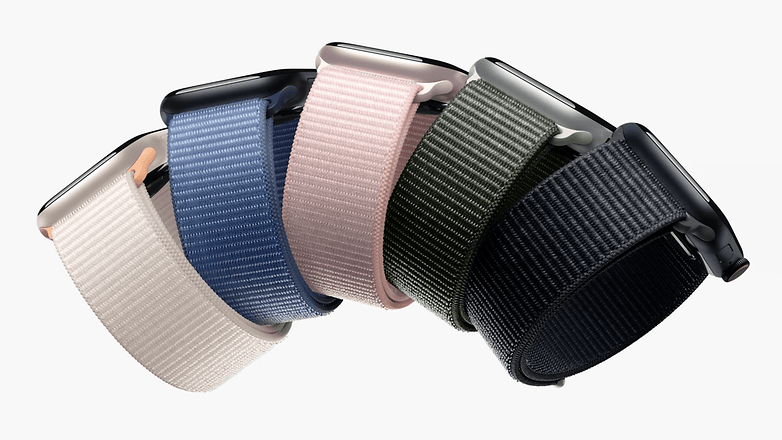 Apple Watch Series 9 vs. Watch Series 8: Performance
A notable distinction between the generations is the transition to the S9 SiP, which allows features like a new double tap gesture and on-device Siri with the ability to access and log health data privately and securely.
According to Apple, the new CPU is 30% faster than the last generation, improving speed, efficiency, extended battery life, and quicker load times. Additionally, the Series 9 is equipped with the U2 ultra-wideband (UWB) chip, enabling Precision Finding which offers guidance through visual, haptic, and audio cues to locate an iPhone 15, even across rooms. Yeah, the Series 8 can't do it since it features the U1 UWB chip.
The S9's new 4-core Neural Engine can handle machine learning tasks at speeds up to two times faster than the Watch Series 8.
Both models operate on the just-released watchOS 10. However, bear in mind that the Watch Series 8 will get the official update on Monday, September 18. For a more in-depth understanding of this new operating system, I recommend checking out our watchOS 10 features guide.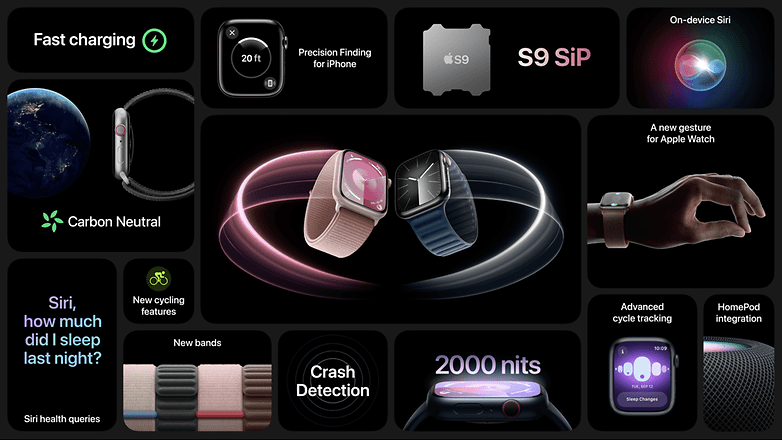 Finally, when it comes to performance, now Siri on the Apple Watch can process requests directly on the device. This means for tasks that don't need internet data, like initiating a workout or setting a timer, Siri operates faster and more reliably without needing Wi-Fi or cellular connections.
Dictation is now up to 25% more precise than on the Series 8. This on-device processing ensures privacy and security and lets Siri access the Health app for health and fitness inquiries. You can also use a Siri command to record health metrics like weight or menstrual cycles with no problem.
Apple Watch Series 9 vs. Watch Series 8: Sensors
The Watch Series 9 didn't introduce any new sensors, at least it wasn't mentioned during its launch. The Series 9 boasts features such as the Digital Crown, Taptic Engine, and intuitive gestures including tap, swipe, and wrist raise.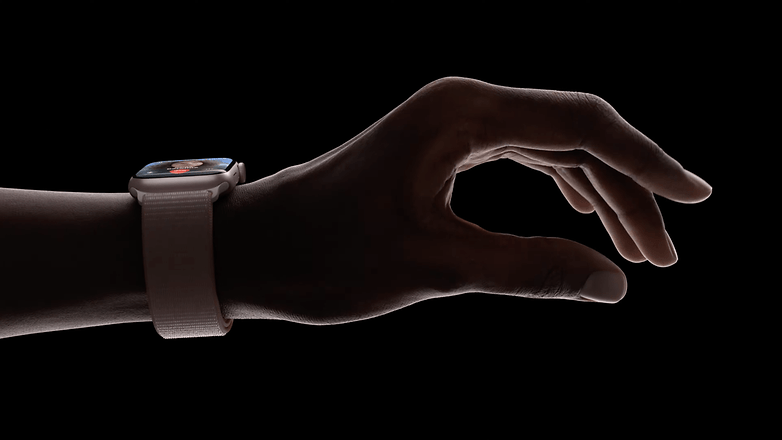 To highlight one, the double tap gesture looks pretty useful. This gesture allows users to control their watch using just one hand without even touching the screen. By simply tapping their thumb and index finger together twice, users can perform primary app actions, control music, manage calls, and even use the Camera Remote.
Powering this feature is the Series 9's advanced Neural Engine, which processes data from multiple sensors and uses a machine learning algorithm to recognize the specific motions and blood flow changes from the double tap.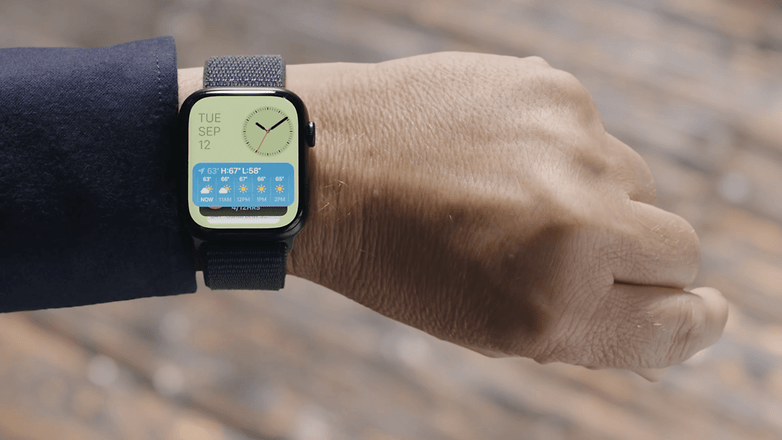 Apple states that this gesture will be made available through a software update in the upcoming month. However, as it appears to be hardware-dependent, I'm uncertain if the Series 8 will also receive it. It seems exclusive to the new series.
That said, both the Series 9 and Series 8 incorporate identical temperature sensors: one positioned near the skin and another within the display. These sensors, primarily designed for menstrual cycle and ovulation tracking, continuously monitor body temperature, offering precise insights into ovulation timing or the forthcoming menstrual phase.
They also share the "Crash Detection" feature introduced last year, which now detects car accidents, enabling it to notify emergency services during severe incidents, as well as alert your emergency contacts.
Apple Watch Series 9 vs. Watch Series 8: Battery and fast charging
In terms of battery performance, even though we had some enhancements in processor efficiency, such as the advantages in the display brightness, Apple claims the battery life is the same as we have in the Series 8. Which means the same all-day 18-hour battery life.
However, both models feature a low-power mode, which Apple states can last up to 36 hours. Bear in mind, though, that this mode limits access to features like WLAN and LTE connections and deactivates sensors such as the PPG sensor for heart rate tracking. It can also curtail some background app functionalities.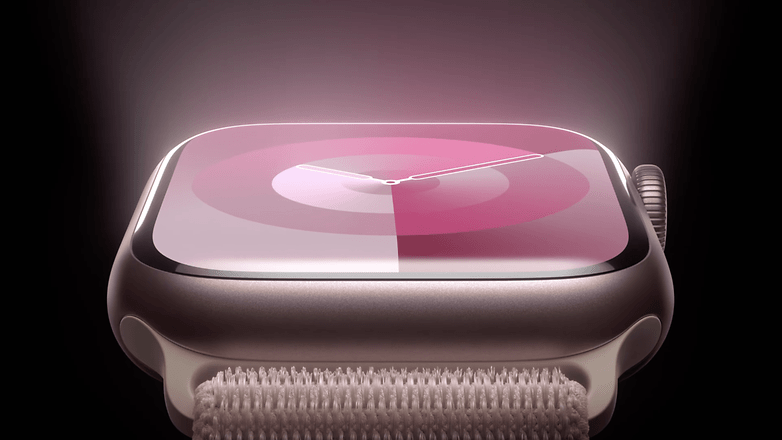 For charging, both series employ a magnetic charger with a USB-C connector.
Conclusion: Is it worth the upgrade?
Without having personally tested the Apple Watch Series 9, my views are based solely on today's presentation. What stood out were some nice new features in this generation, such as the double tap, seemingly inspired by the Apple Vision Pro gesture system. This hints at potential integration with the Mixed Reality device.
The enhanced security and efficiency of Siri is an intriguing addition, though perhaps not essential. A disappointment is the unchanged battery life. However, Apple's push towards sustainability, notably by eliminating leather bands in favor of the new textile called FineWoven, is praiseworthy.
That said, having used the Watch Series 8 for several months, I can attest to its reliability. I especially recommend it to those seeking insights into their menstrual cycle and ovulation. The Series 9 offers this as well, with a few enhancements.
In the end, the narrative remains similar: while the Series 9 is an improvement, upgrading might not be justifiable if you own the Series 8.
However, if you have the Apple Watch Series 7 or an older version, and are undecided about which model to purchase in 2023, I'd suggest the newer variant. The price difference is modest, and you'll benefit from the latest chipset and enhanced sensors. This recommendation also applies to first-time Apple Watch buyers.
For those searching for a more advanced smartwatch, Apple has the Apple Watch Ultra lineup. More information is available in our Apple Watch buying guide.
Lastly, anticipate an update to this article once we've had the chance to review the Apple Watch Series 9. Until then, please share your thoughts on this comparison: Is the new generation the right choice for you at the moment?