Buying the right HomePod: Apple's smart speakers compared
Update:

With HomePod mini review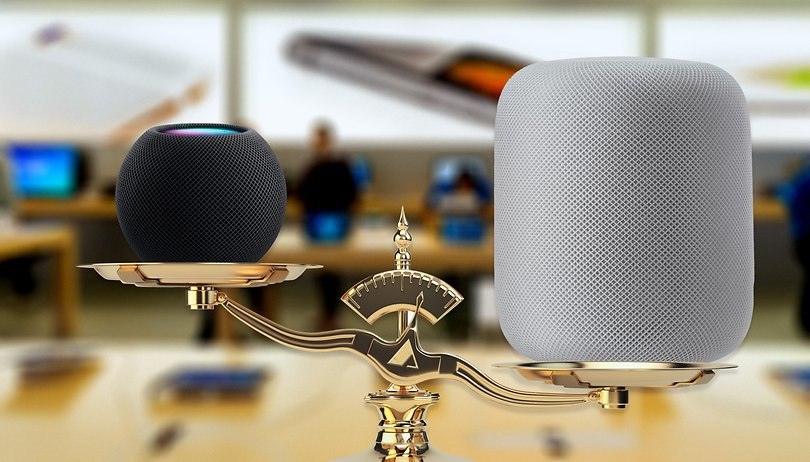 Apple started 2023 with a brand new HomePod 2. This currently poses the question: Is the HomePod mini good enough for you or does it have to be the big HomePod with a richer sound? In addition, what are the differences between the two smart speakers from Apple? In our comparison, we present both models in detail and also give you some alternatives with which you can control Siri in your smart home without an iPhone or iPad.
Standard model
Mini model
The original
Product
Picture

Dimensions

Height: 6.6 in (16.8 cm)
Diameter: 5.6 in (14.2 cm)

Height: 3.3 in (8.43 cm)
Diameter: 3.9 in (9.79 cm)

Height: 6.8 in (17.2 cm)
Diameter: 5.6 in (14.2 cm)

Weight
Loudspeaker

1 High-Excursion woofer
5 tweeters

1 High-Excursion woofer
7 tweeters

Microphones

4 for voice recording
1 for room measurement

6 for voice recording
1 for room measurement

Touch display
Radio standards

802.11ac WLAN
Bluetooth 5.0
Thread
Ultra-wideband chip

802.11ac WLAN
Bluetooth 5.0
Thread
Ultra-wideband chip

802.11n WLAN
Bluetooth 5.0

Multiroom
Stereo pairing
Battery operation
Good

Great sound experience
The power cable can be removed and is no longer permanently installed
Finally: Siri works much better than with the old HomePods
Beautiful design

Incredibly compact design
Versatile color options
Top-mounted touch screen
Built-in Siri
Minimal compression even at maximum volume
Low latency on Apple AirPlay

Bad

No Bluetooth streaming and no other connectivity options
Ergo: For Apple users only
HomePod or HomePod mini? There are not many differences

Doesn't get very loud
Lacks Bluetooth streaming and other connectivity alternatives
No dedicated control app
Non-removable power cable
Pricey

Rating

Not yet rated

Offers*
Apple retired the original HomePod as early as 2021 and only kept the HomePod mini in its portfolio. Then, in early January of this year, the new second-generation HomePod took over. We will focus on these two smart speakers - the HomePod (2023) and HomePod mini - here, since the first HomePod is mostly only available second-hand.
If you are only looking for a smart speaker that supports Siri, you can also look around at other manufacturers, such as Sonos, Teufel, Bose and Bang & Olufsen. Alternatively, when buying a smart speaker, you can simply look for compatibility with Apple's AirPlay 2 standard to seamlessly send content from the iPad or iPhone to the speaker. In this article, however, we'll focus on Apple's in-house smart speaker.
Apple HomePod (2023): The OG among Siri speakers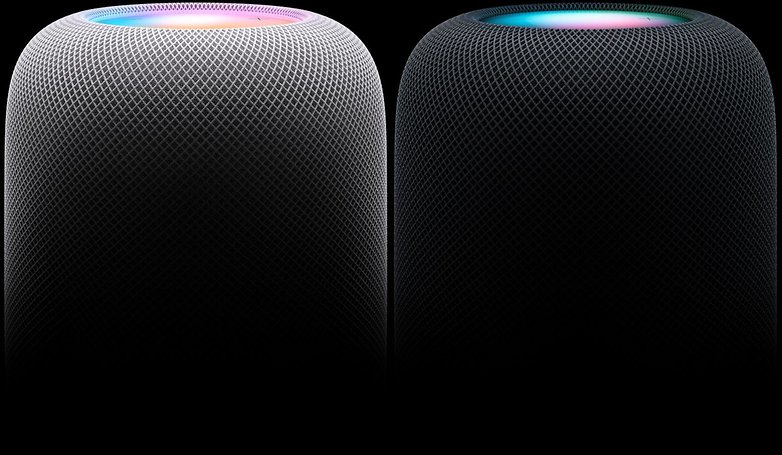 In mid-January 2023, Apple presented the new version of the large HomePod with its second generation. And large it really is, at least in comparison to the "mini": The dimensions are quite bulky with a height of 16.8 centimeters and a diameter of 14.2 centimeters. The weight is also high at 2.3 kilograms, although the device is now 200 grams lighter and four millimeters lower than its predecessor.
However, the weight is not a big deal since Apple's HomePod does not come with a built-in battery anyway. Thus, it is more suitable to function as a bookshelf speaker or as an extension for your home theater setup alone or with a second model as a stereo pair. Sound-wise, the HomePod features a high-excursion woofer and a ring of five horn-loaded tweeters, each with its own amplifier. So, you end up with a total of six drivers, each accompanied by their own amplifiers.
There are also a total of five microphones, four of which are responsible for recording your voice to control Siri. Another is a "low-frequency calibration microphone for automatic bass correction," as Apple stated on a HomePod service page.
Apple wants to improve the sound quality with beam forming as well as computational audio. The HomePod adjusts its sound via room recognition depending on its placement in your home. Thus, the audio quality should be optimal even in corners or on shelves.
The Apple HomePod also connects to other devices via 802.11ac Wi-Fi with MIMO and Bluetooth 5.0. You can play music on the speaker via Apple's HomeKit, AirPlay 2, and the Home app, but it cannot be used as a Bluetooth speaker. You cannot play music by connecting a cable to it, either.
Compared to the original from 2018, Apple has added some features to the new HomePod that you already know from the mini: Among them is the possibility to integrate it into the home theater setup with the Apple TV. The second generation of the HomePod also supports the new smart home standard Matter but has also been given completely new functions. For example, there are now sensors on board for measuring temperature and humidity.
In the spring, Apple will add another function that allows you to react to smoke or carbon monoxide alarms thanks to noise detection if you have installed a corresponding detector. You will then receive the corresponding information on your iPhone.
The HomePod is not quite cheap, which is also offered in the 2023 version for 349 euros. If you are willing to pay this price, you can expect a powerful smart speaker with seamless integration into the Apple universe.
Apple HomePod mini: Screams in color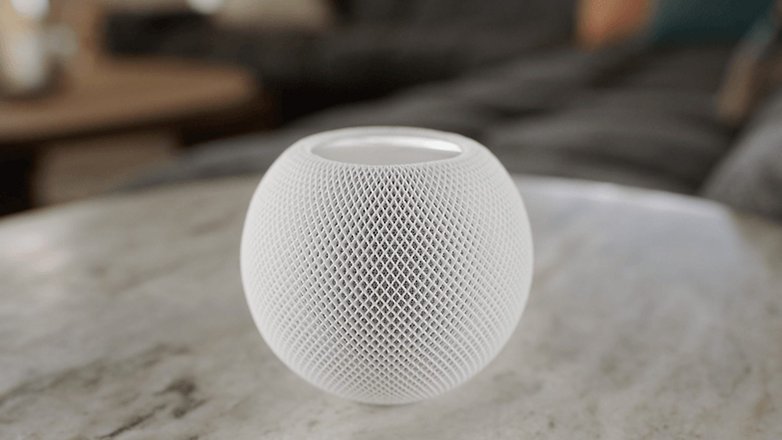 With the HomePod mini, Apple introduced a second smart speaker a few years after the HomePod's debut. The mini model is significantly smaller and lighter with a weight of 345 grams, a height of just under 8.5 centimeters, and a diameter of 9.7 centimeters. There is only room for two passive woofers and one tweeter in the HomePod mini. Apple placed four microphones in the microphone to cater to Siri's voice recognition.
Like the bigger-sized HomePod, the mini model can be used as a stereo pair. It is also compatible with AirPlay 2 and comes in white, yellow, orange, blue, and space gray. Apple has not integrated any technical updates with 802.11n and Bluetooth 5.0 connectivity. Instead, there is an ultra-wideband chip that allows you to track the HomePod in your home via iPhone.
Although the HomePod mini is much more portable, it does not have an internal battery, just like its big brother. So, unless you own a PowerStation, you will have to use the HomePod mini wired in your apartment or house.
Compared to the HomePod, the mini model is also surprisingly affordable. Apple offers a recommended retail price of just $99 for its HomePod mini. Moreover, the small HomePod will still be available in stores in July 2022.
Which HomePod model is the right one for you?
Obviously, the sound in the large HomePod is more powerful. Apart from that, both models are almost identical in their functionality. It is best to find out whether the sound of the little brother is sufficient for you before buying, so you should listen to the sound of the HomePod mini for a test drive before you go to great lengths.
If you don't want to return the device, you can also get a live impression at your local Apple store or electronics retailer. If you are satisfied, you are buying a high-quality and pleasant-sounding small smart speaker with the HomePod mini. For more "bang," get the big HomePod (2023).
The new features for temperature measurement or alarm detection could also tip the scales in terms of a smart home. Matter support, on the other hand, is not, since the standard is supported by default on the large HomePod, but the HomePod mini has already received the HomePod firmware 16.1 and is thus Matter-compatible.
Since several HomePod models can be used at the same time, you can also achieve much better sound quality with a bit of spare change. However, Multiroom support is especially recommended for seamless music enjoyment throughout the home.
Which HomePod would you choose? And are you looking forward to more smart speaker/HomePod articles in the coming weeks? Let us know in the comments!
---
Guide updated in February 2023 after the HomePod mini review. Older comments were kept and may appear out of context.