Run-down: All of Android Oreo's superpowers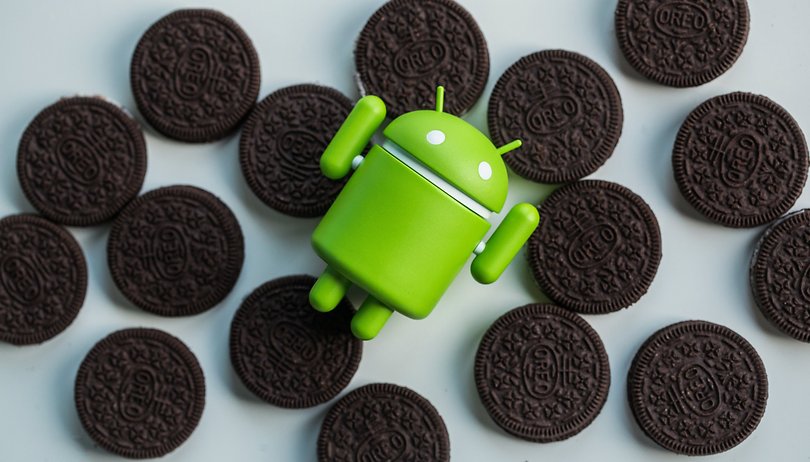 Android Oreo—the newest version of Android, is even smarter, faster, and super powerful. In reccent years, super heroes have reached new levels of popularity, and it's no different in the Android world. With the caped droid appearing all over the Oreo homepage, it's like Android has acquired Superman-like powers with this update. But just what are the superpowers that Android Oreo 8.0 delivers?
We expect Android 8.0 to be the fastest distributed version to all smartphones and tablets. With Project Treble, Google decided to end fragmentation of the operating system itself, i.e. the drivers that control the device's hardware. Google also now facilitates the update tasks of the ROMs producers as well as the manufacturers themselves.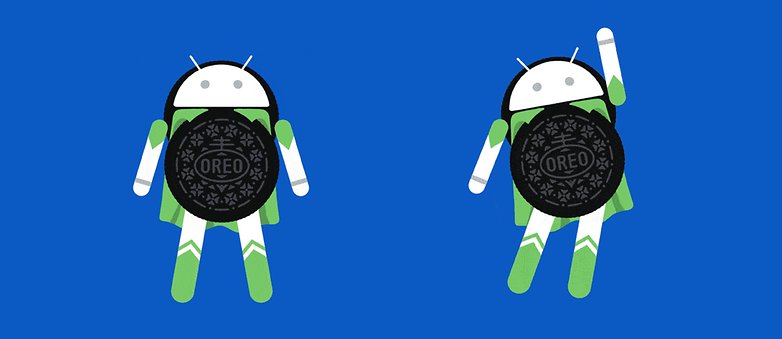 Personally, I hope the Android landscape grows to be packed full of ROMs adopting Android Oreo for better overall usefulness of available devices. In addition to Nexus and Pixel owners, I think everyone will enjoy everything that Android 8.0 Oreo offers. Here's a more or less complete run-down of whats great for users and developers alike.
Faster start-up
Android 8.0 has doubled the booting speed, making restarts a lot less time-consuming and especially handy after updates or phone maintenance.
Password manager for apps
Android now includes a built-in password manager. Based on the same feature in the Chrome browser, this function now works in other appls and is called 'Autofill'. This new feature will suggest a username and password for the current application, then prompts for login.
The evolution of Multi-Window Mode
Building on the Multi-Window Mode we saw introduced in Android 7.0, we now have Picture-in-Picture (PiP). For example, you can continue reading AndroidPIT while you're watching a YouTube video. Or if you're on a video-call, you can look up information in a document without losing your view of the caller.
Directly access an app's internal functions
Using Notification Dots, you can consult an app's latest updates or go directly to the feature that you're looking for without having to navigate through the app's internal menus.
Use apps without even installing them
With Android Instant Apps, you can use an app without having to install it. Developers can provide core functions for use directly from your phone's web browser.
Increased security for Play Store
Thanks to Google Play Protect, smartphones running Android Oreo are more secure. In addition to scanning more than 50,000 apps daily on Play Store, it will also review the apps and data on your device.
More Emojis with an updated design
With the arrival of Android Oreo, a fresh makeover of Emojis can be seen in Google apps and in the Gboard keyboard. The update makes Emojis look flatter, yet more rounded and you'll get access to 60 new Emojis with the update so you have more choices to express your every feeling.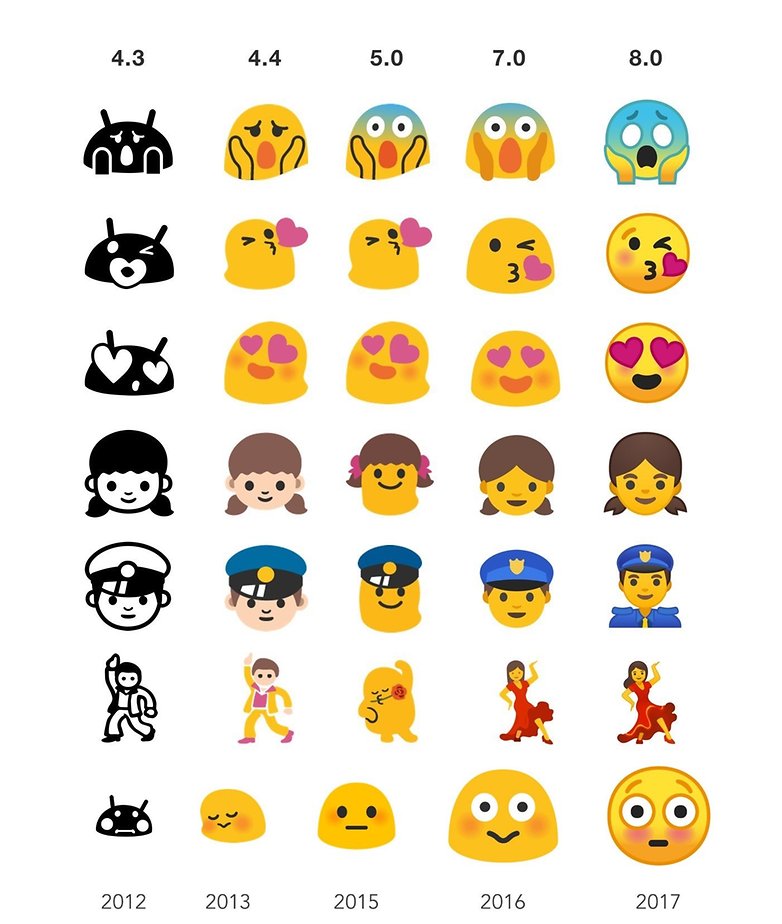 Improved accessibility features
With the 'Accessibility Button', Android Oreo allows you to quickly access apps through the accessibility function in the browser bar, extend its functionality and select the content that you want the device to read to you. With the accessibility services, you can now configure the volume and improve the audio experience for users with limited access using 'accessibility volume'.
More adaptable icons
A new layering standard for adaptive icons comes with Oreo. Developers and manufacturers will be able to easily change the form of these icons, either in the Toolkit, desktop or with a launcher effortlessly. This means more adaptive icons without losing the essence of your device's design.
Improved lock screen information
An improved ambient screen now highlights incoming notifications with a larger font and the name of the application for instant access to the available actions for that notification. This makes access to information from the lock screen quicker without having to wake and unlock the screen. Essentially, it facilitates quick access to your important notifications and consumes less battery.
Better control of background tasks
Android now offers 'background execution limits' and 'background location limits' for better control of how apps are executed, how often apps update location in the background, as well as improving the general performance of the system and battery life.
Brighter, more striking
With 'deep color', Android provides more vibrant colors and more sophisticated gradients to a phone's display. This means apps are able to render images much more easily and in better quality than the original.
More fonts, less space used
Android now provides a bigger collection of font sources to be used by any app. Each app is able to use existing, or new fonts in this shared collection without needing to tap into an app's sources. This makes for smaller app sizes with more sophisticated styles and possibilites.
Better control of APKs and how they are installed
Until now, to install apps that don't come directly from the Google Play Store, you had to grant global permission to install from unknown sources in the settings, then download an APK (Android Application Package). Now, you can individually allow each application that can install new APKs which minimizes the risk of malware sneaking in without your consent to cause trouble.
Hassle-free printing from Android
It just got a lot easier to configure a printer and print directly from your phone or tablet. Android Oreo now includes support for all printers certified by Mopria; meaning essentially all printers sold around the world.
Share files easier
Thanks to 'linkable files', you're able to share files through website links.
Improved audio
Thanks to native support for high quality C and C++ audio, Android devices will have more interesting features and integrate better performance and sound quality. The new VolumeShaper class for example can be used to insert fade-in, fade-out, crossfade and other in-app audio transitions for a more seamless experience.
More colorful notifications
Notifications are possibly where Oreo has made some of the biggest user experience jumps. They're more colorful and even take up less battery. Stills from a new video uploaded from your favorite YouTube channel appear in the notification. Notifications now work on ambient-screen supported devices: An app's icon will show with it's most prominent color.
New notification hierarchy
The order in which notifications are shown has been reworked. By default, they now aren't shown in reverse order of receipt:
First, it shows you the current apps in use, which could be a call, Spotify playback or any playback application via ChromeCast.
Then, you'll see messages that you have received from other people through WhatsApp, Text messages, Twitter, Facebook etc.
Then, it will display the updates, subscriptions and other messages that are generated by applications, according to your preferences.
Further down, you'll see alerts that are automatically generated by the system, such as weather information, traffic information.
Finally, you'll see alerts for app updates or system settings, such as choosing between file transfer mode or the charging only mode when you connect your phone via USB.
Postponing notifications
Android now allows you to postpone notifications for an allotted amount of time. This could be anything from delaying your wake-up alarm for five minutes or reminding you to reply to a message later on by not dismissing a notification by accident.
Improved non-touch navigation
With the arrival of convertible tablets, there's an increasing trend of using Android devices with keyboards, mice or gamepads using Pointer capture. Android Oreo allows you to navigate through an app, game or website with a keyboard's tab key and cursor, a gamepad's directional pad or by directly using the mouse.
Easily adapts to different display sizes
With 'TextView Autosizing' content will easily be reproduced on a vast array of screen sizes with minimal distortion of the text. This means developers can now easily add a more dynamic layout for apps or other media.
Smarter interpretation of selected text
Now your smartphone is now able to understand a text's purpose thanks to the Tooltips. Android's text selection will recognize a postal address and offer to take you to Maps and show the best route, for example. Or it will propose to open your mail app if the selected text is an email address.
Automatically activate your home Wi-Fi
With Wi-Fi Assistant, Android can automatically connect your Wi-Fi to the nearest high-quality network and even secures the connection via VPN.
Redesigned Settings menus
This will likely be the first thing you notice from the start. Not a huge change if you're on a Pixel or Nexus model but other manufacturers might have to reshuffle their menus and design considering some of the more behind-the-scenes changes.

And that's about everything exciting Oreo is offering up to now. What's your favorite Oreo feature?