Xperia 10 V Review: Sony Missed the Mark for a Sub-$500 Phone
With the Xperia 10 V, Sony once again tries to establish a foothold with its 21:9 format in the mid-range market. It is now 2023, where the elongated smartphone has shed even more weight, arrives in a bevy of exciting new colors, and offers stereo speakers in front. However, will Sony manage to outshine Samsung, Xiaomi, and others because of these changes? I reviewed the Xperia 10 Mark V over a few days here at nextpit to find out.
Good
High quality workmanship

Headphone jack and microSD slot

Pleasant 159 g weight

Good battery runtime
Bad
Display only with a 60 Hz refresh rate

Triple camera is disappointing

Video recording at only 1080p

Update warranty is too short
Sony Xperia 10 V: All deals
The Xperia 10 V in a nutshell
With its unconventional 21:9 format, a 3.5mm headphone jack, and a particularly lightweight form factor, the Xperia 10 V fulfilled several requirements. Unfortunately, Sony cannot match the strong competition found in the sub-$500 smartphone market in terms of display or cameras.
Thus, the Xperia 10 V remains a merely interesting mid-range smartphone at first glance. Take a closer look, and you will be able to see more of its flaws, falling short of expectations.
If none of the suggestions in our list of best smartphones for less than $500 appeal to you, you will have to set aside approximately $475 to pick this up on online channels. Do bear in mind that this handset is not officially available in the US, so whatever you find on Amazon and other online channels would be gray imports.
Design
Tipping the scales at a mere 159 grams, Sony's Xperia 10 V is the lightest 5G smartphone with a 5,000 mAh battery. This is made possible by a back that is made from recycled plastic, inserted into a plastic frame together with the display. The dimensions measuring 155 x 68 x 8.3 mm are not exactly compact, but this means there is room for a 3.5 mm headphone jack in the inexpensive Xperia. You also get an IP68 rating for water protection.
---
Pros:
Nice and light.
High-quality workmanship despite being made out of mostly plastic.
3.5 mm headphone jack connection.
Cons:
Plastic back can be rather slippery.
Bezels are quite thick (but there's no notch).
---
I was able to examine the Xperia 10 V together with the Xperia 1 V (review) for the very first time. Both devices were unveiled to the press during a roadshow and since then, one thought had echoed through my head: "The Xperia 10 V is the lightest 5G smartphone with a 5,000 mAh battery". That is indeed so, with a weight of 159 grams, the smartphone is almost as light as my iPhone 13 mini with a case despite having a 6.1-inch screen.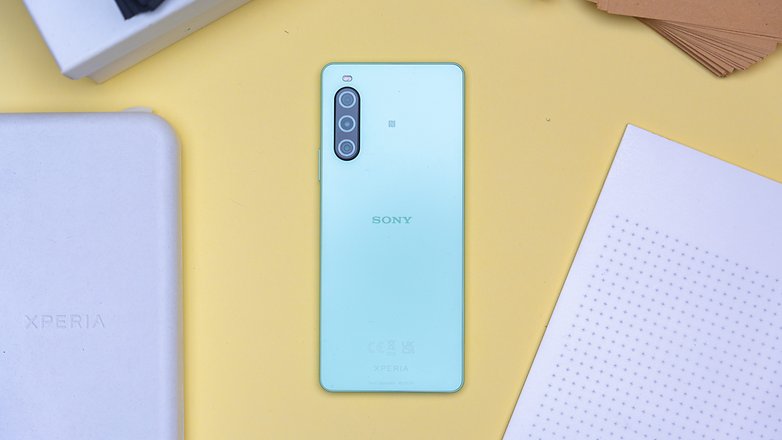 Alongside the plastic construction, however, this results in a rather cheap look as well as touch when you first unbox it. Only when you hold the phone in your hand for a few minutes, press all the buttons, and squeeze it for a bit, do you notice that Sony did not skimp on the build quality. The Xperia 10 V exudes a certain plastic quality that is familiar, reminiscent of the Nintendo Switch.
I particularly liked the 3.5 mm headphone jack that is located on the upper side of the design. I also like the fact that Sony's smartphone offers protection against water and dust according to the IP68 rating.
What is more noticeable in the Xperia 10 V are the rather thick bezels around the display. Unlike the Xperia 1 V, which has deep, dark edges, the Xperia 10 V shines in Goji Black, Elder White, Sage Green, and Lavender. And as every Super Sony fanboy knows: These are also the colors of the Sony WF-C700N in-ear Bluetooth headphones, which I was also able to review the other day.
Display
With a 6.1-inch screen display, the Xperia 10 V is considerably smaller than its bigger brother. However, both displays shine in a 21:9 aspect ratio. While Sony spared no expense in terms of brightness and HDR certification for the OLED panel, the Xperia 10 V disappointed when it came to the refresh rate. You get a 120 Hertz touch sampling rate, and the display itself only works at 60 Hz. That's a real shame!
---
Pros:
Display is bright enough to work under direct sunlight.
FHD+ resolution.
Cons:
60 Hz refresh rate is archaic.
Significantly fewer setting options than in the Xperia 1 V.
---
The display in the Xperia 10 Mark V is the epitome of a double-edged sword. For starters, it offers a very high contrast thanks to OLED technology, impressing me with a rather neutral color reproduction, and thanks to the FHD+ resolution, there were hardly any unrecognizable pixels even when I peered closer.
However, the panel supports a maximum refresh rate of 60 Hz. That is simply insufficient for Android smartphones that cost around $500 in 2023. The higher touch sampling rate of 120 Hz does not help much at all, apart from being a marketing tool.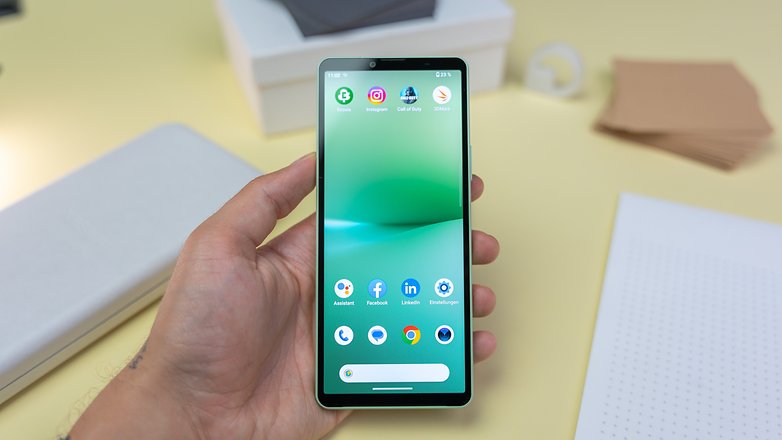 Compared to the Xperia 1 Mark V, the display's settings are also disappointing. You can only switch between "Original Mode" and "Standard Mode" in the Android settings. The original mode is supposed to display colors as neutrally and realistically as possible. In reality, however, it dips the display into a strong green tone. Needless to say, this feature is a letdown when it comes to image editing or color correction.
In addition to having both modes, you have the option to adjust the display's white balance. This works in a much more gradual manner thanks to the RGB slider. Nevertheless, Sony cannot match the strengths of the current flagship model in this department.
What the Xperia 10 V does do better, however, is how one-handed operation becomes a wee bit more pleasant thanks to the smaller 21:9 format display. However, the phone still cannot be operated comfortably with one hand.
You can see that I am a bit disappointed by the Xperia 10 V's display. Sony has a proven track record of having a knack for including high-quality screens in its other phones. It is rather annoying then that the 10 V, which does not come cheap at almost $500, falls so far behind the competition.
Software
Sony shipped its Xperia 10 V with Android 13 right out of the box. From here, you will only receive two more Android updates and three years of security updates. In other words, the manufacturer is far behind the competition. The current mid-range model is also rather annoying with some bloatware.
---
Pros:
Close to stock Android.
Bloatware is optional.
Cons:
Software support is inadequate
---
Since we already mentioned a lot about the operating system in our Android 13 review, I will keep this segment short: Sony relies almost on stock Android for the Xperia 10 V once again. Only at the beginning do you decide whether you would want to install certain suggested apps. I like Sony's opt-in policy far better than other manufacturers who preload apps with wanton abandon on their phones.
Speaking of apps, unfortunately, Sony shipped the Xperia 10 V without the ingenious camera and video apps found in the more expensive models. This is a major omission that is almost on par at fault with the lack of longer-term software support. The Xperia 10 V only gets two more Android versions and three years of security updates. That is simply not enough, both in terms of sustainability and in view of the competition.
Performance
The Xperia 10 V is powered by a Qualcomm Snapdragon 695 SoC that was manufactured using the 8 nm process. Sony mated the mid-range SoC with 6 or 8 GB of RAM and only supplies the smartphone with one storage choice—128 GB. Wireless connectivity include 5G mobile networks, WiFi 6, Bluetooth 5.1, and NFC.
---
Pros:
Expandable memory.
Good performance for mobile gaming.
No overheating problems.
Cons:
No WiFi 6E, no Bluetooth 5.2 support.
Clunky vibration motor.
---
Qualcomm's Snapdragon 695 was introduced at the end of 2021, but it still offers enough performance to handle most mobile games and applications without missing a beat. The Xperia 10 V also keeps a cool head in 3D Mark's stress test benchmark and managed to achieve over 95% performance from the SoC after 20 runs.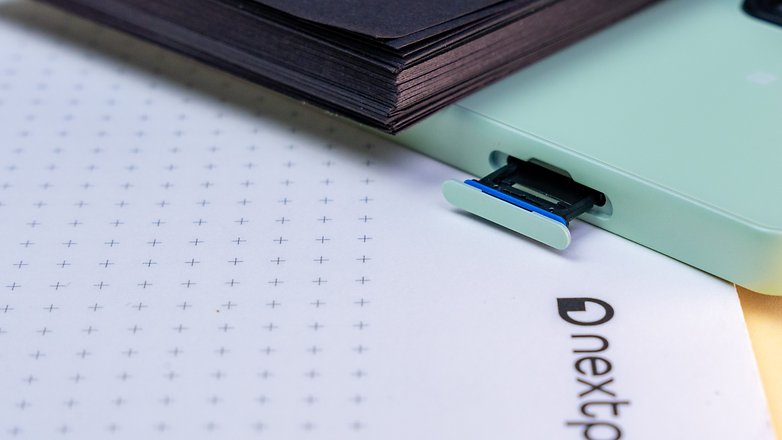 While the performance in mobile games surprised me in the review, I found loading times to be a bit too long. This is especially noticeable when combined with the slow refresh rate. Android 13 felt sluggish on the Xperia 10 V and launching apps took a tad too long for my preference. This is despite the fact that I already shortened the animation time in Android's developer settings. It surely does not feel like a $500 phone...
... just like the installed vibration motor. It is here that I am downright disappointed with Sony, because they have shown just how high-quality Android smartphones feel like in more expensive models.
When typing on the virtual keyboard, for instance, the Xperia 10 V rattled like an old Golf 2 on the highway. The Xperia 10 V also lacked support for the latest Wi-Fi 6E and Bluetooth 5.2 wireless standards. The age of the SoC powering the device is also is also noticeable here.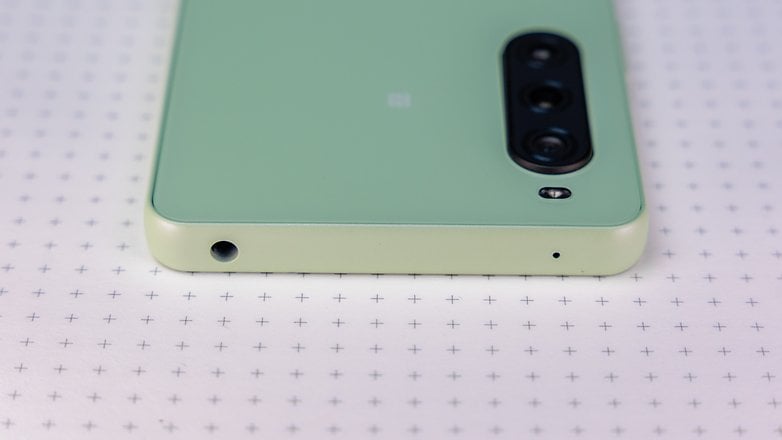 To end on a positive note: Sony also equipped the mid-range model with a microSD card slot. Hence, you can expand the phone's already ample storage by another 128 GB.
Camera
Sony equipped the Xperia 10 V with a triple camera configuration at the back. There is a main camera with a wide-angle lens and a 48 MP sensor. Sony reduced its resolution to 12 MP and thus still surpasses the resolutions of the additional sensors. The Sony smartphone only offers 8 MP resolution for the telephoto and ultra-wide angle lenses, with the same applying to the selfie camera.
---
Pros:
Real telephoto camera with 2x zoom (with certain limitations).
Amazing zoom preview in the camera app.
Main camera has optical image stabilization.
Cons:
Image quality is less impressive overall.
Sony does without its professional camera apps.
Video recordings are only possible in 1080p resolution.
---
If you have read my previous reviews of the Xperia 1 Mark III and Xperia 1 Mark V, as well as my latest commentary on smartphone photography, you would know that I'm a fan of Sony's cameras. Therefore, I am all the more annoyed at how listless Sony's Xperia 10 Mark V delivered in terms of image quality and camera equipment.
The triple camera covers a solid focal length range, but a closer look reveals tiny sensors—1/4.4" in telephoto and 1/4.0" in ultra-wide angle, with 8 MP resolution that is more reminiscent of the entry-level segment.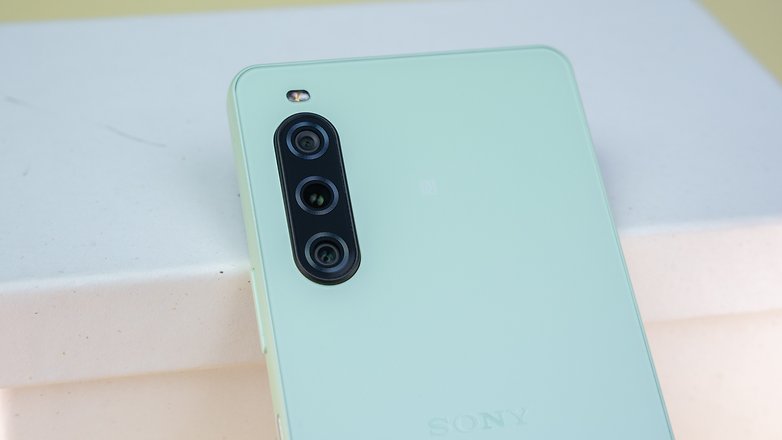 The main camera offers a 48 MP resolution, which is strictly downsized to 12 MP due to pixel-binning without having the option to capture RAW images. With this decision, Sony makes its 2x telephoto camera a gimmick, since 8 MP photos could also be taken from the main camera without suffering from any quality loss. However, let's take a look at the sample photos taken by the Xperia 10 V below.
Assumptions made based on the hardware specifications are confirmed here, unfortunately. Photos taken by the main camera are quite usable. However, the smartphone disappoints in the ultra-wide angle and telephoto departments. Pictures are blurry, lose their brilliance, and above all, show that there are models that do a far better job within the sub-$500 price range. Our current camera blind test for mid-range phones once again illustrate this.
Sony's camera app, which offers an exciting illustration of zoom levels, remains a positive thought in my mind. Sony displays the different magnifications as frames in the picture. This can be quite practical when composing photos. However, Sony also skimmed the cream off the top here: Sony's more expensive models offer professional camera apps with plentiful settings. In comparison, the rudimentary app on this mid-range model simply failed to impress.
Another thing that disappointed me in this $500 phone is how videos can be recorded in only 1080p resolution at 30 fps. What is that supposed to mean? Come on, Sony! This mid-range Sony simply does not offer enough here.
Battery & Charging
The Xperia 10 V has a large battery capacity of 5,000 mAh. Charging is performed via a cable, with no support for wireless charging. Sony did not reveal how many watts the smartphone can handle, but having charging times of over two hours is rather long.
---
Pros:
Large battery with long endurance.
Long battery life according to Sony.
Cons:
No wireless charging.
Quick-charging is not particularly fast.
---
A big focus in Sony's marketing around the Xperia 10 V is the large battery amounting to 5,000 mAh. This places the Xperia in somewhere between the entry-level and mid-range, but the battery runtimes are still very impressive in everyday use.
If you were to keep an eye on the display's power consumption, you can even manage to use it for two days without having to search for a power outlet. Sony also paid attention to the battery life and promised more than 80% battery performance after three years.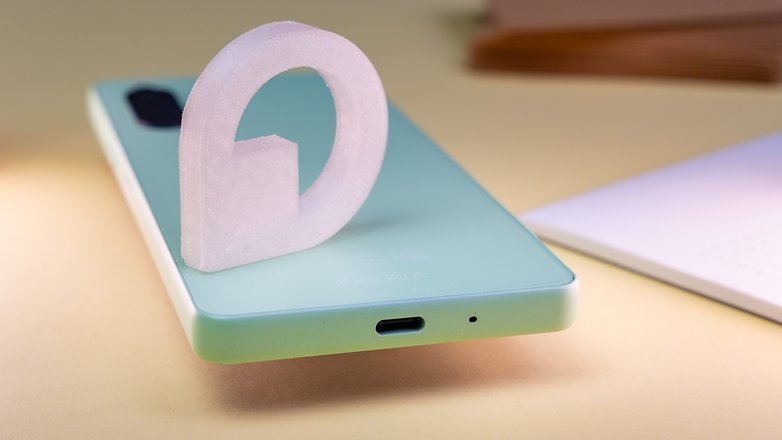 However, this is at the expense of Quick Charging, which Sony did not provide any more details. The phone can be fully charged via USB-PD in just under 2 hours. Once again, the competition offers far faster charging times here. Wireless charging is also already available in this price range, and you will also have to live without it in Sony's mid-range handset.
I ran the PC Mark battery benchmark for my review, but the result of over 26 hours seemed incorrect. I am currently running the test and will update this segment as soon as a valid result shows up.
Final verdict
Looking at the results based on my review, I do not understand why other reviewers give the Xperia 10 V such high scores. Okay, Sony impressed me in terms of build quality and included features like a microSD slot and a 3.5 mm headphone jack untouched. And yes, the Xperia 10 V fills an exciting niche with its lightweight form factor and 21:9 screen format.
However, the Xperia 10 V is disappointing for a phone that resides in the $500 range. That is not my personal opinion, but the result of a quick look at the competition. The triple camera left much to be desired with its tiny sensors, both during the day and at night. The limited video resolution of 1080p is also a relic from older times. The phone looks just as antiquated in terms of quick-charging as well as the display, which has a maximum refresh rate of 60 Hz.
To make matters worse, the Xperia 10 V only gets up to 2 years of Android updates and 3 years of security updates. In comparison, the Galaxy A54 (review) is much cheaper, offers a brilliant 120 Hz display, and receives up to five years of updates. Similar comparisons could be made with the Google Pixel 7a (review), the Nothing Phone (1) (review), or the Xiaomi Redmi Note 12 Pro+ (review ).
What I want to say is this; At $500, the competition is extremely fierce for this smartphone to be recommended as a purchase despite the presence of a 3.5 mm headphone jack and a lightweight form factor. So, if you do not like the design or the idea of the Xperia 10 V, you will be able to find a better and, above all, more sustainable alternative in our list of best phones for less than $600.