Xiaomi Redmi Note 8 Pro review: an all-rounder without compromise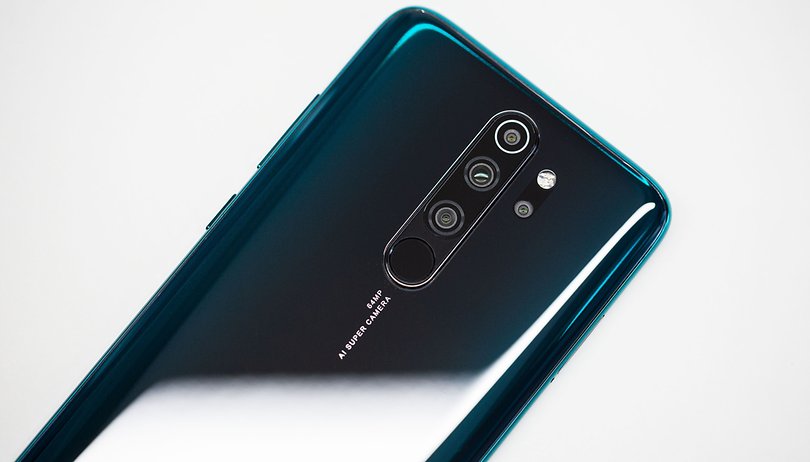 This year Xiaomi is really going to be on the gas again. One of its weapons is the Redmi Note 8 Pro, a smartphone that the manufacturer calls the king among mid-range smartphones. We've been testing the Redmi Note 8 Pro and can now reveal to you if it really lives up to the hype.
Good
Very good battery life

Very good overall package at an attractive price

Macro camera is fun

64 MP camera strong in daylight
Bad
Photo quality decreases in low light conditions

Audio quality only standard
Attractive price tag
Anyone who knows Xiaomi and its strategy knows that the price-to-performance ratio is always in the foreground with this manufacturer. This is also the case with the Redmi Note 8 Pro. The Redmi Note 8 Pro with 6 GB of RAM and 64 GB of internal storage is offered for €249.90 in Europe. For €30 more, you can have double the storage space. Since both variants can be expanded with the help of microSD cards, storage space plays a minor concern.
Xiaomi initially offers the Redmi Note 8 Pro in two color variants, with Forest Green being the most striking. For those who prefer it more discreet, there is the rather classic Mineral Grey. A little later in the year, Xiaomi will add the Redmi Note 8 Pro in Perl White.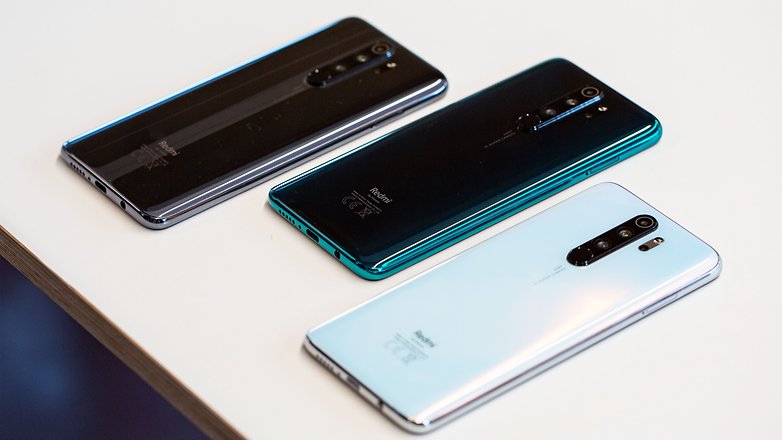 Discreetly chic
Optically, the Xiaomi Redmi Note 8 Pro is a discreet device, except for the forest green color and the size. From a distance and also in your hand, you might think that the Redmi Note 8 Pro costs considerably more. The build quality is on a very high level and conveys a very valuable impression. Only when you take a close look at the frame of the Redmi Note 8 Pro and hold it in your hand will you notice that it is a plastic frame, which Xiaomi makes look metallic through the varnish.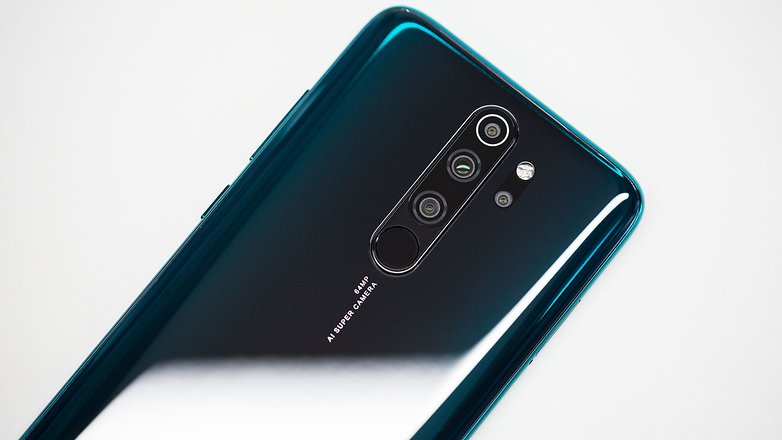 Somewhat disturbing is that Xiaomi placed the small fingerprint sensor very close to the camera lenses and also into the raised clasp. Both of these factors ensure that the camera lenses are regularly smudged. A slightly larger fingerprint sensor, which would not have been placed in the camera hump and a little further in the middle, would have looked better for the Redmi Note 8 Pro.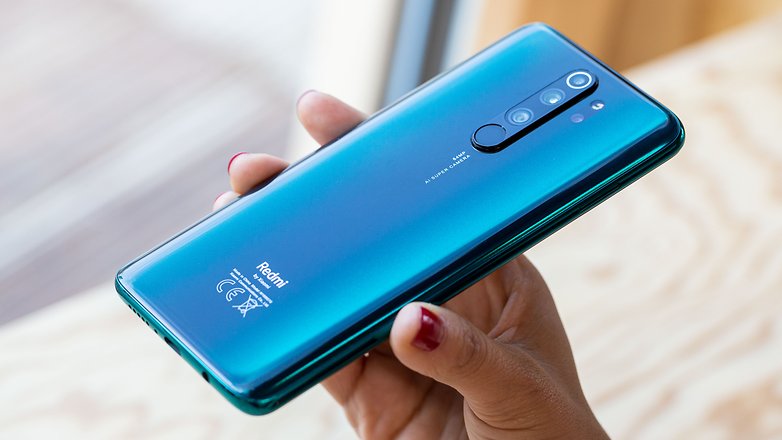 Large display that pleases
The Redmi Note 8 Pro is big because Xiaomi decided to install a 6.54-inch display on the smartphone. For a price of less than 300 euros, you can of course not expect an OLED panel, but the Redmi Note 8 Pro is set on an IPS panel. The format of 19.5:9 with a resolution of Full HD+ (2,340 x 1,080 pixels) is already very good considering the low price. Of course, you can't expect any extravagant front camera accommodation for the price like with the Mi 9T Pro. Instead, so this one has a so-called dewdrop notch.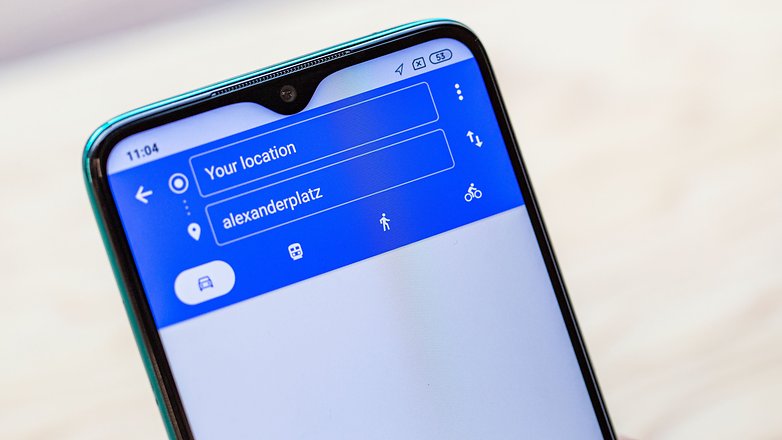 Interestingly is a little additional that many smartphones, whether with or without a notch, have lost: the notification LED. In the notch of the Redmi Note 8 Pro, this little subtle hint for new notifications continues to be present, which will certainly please some.
MIUI you have to like
When it comes to software, the Redmi Note 8 Pro has Xiaomi's own interpretation of Android 9.0 Pie. ... Beginners and long-time users of MIUI will quickly get used to the system, but if you switch from another smartphone manufacturer to Xiaomi, you need some patience and learning ability, because the UI of Xiaomi is very different from those of other manufacturers.
Also, it is confusing that Xiaomi installs many duplicate apps. For example, our European Redmi Note 8 Pro contains almost all Google apps and services, as well as Xiaomi's counterparts. The Xiaomi Browser and the Photos app are the most prominent. At least these apps from the Chinese manufacturer are also good Google alternatives. Other apps like Google Pay or Play Services need to be manually added to the Redmi Note 8 Pro.
In the event that you want to buy a Xiaomi smartphone in the near future, you should look at our tips and tricks for MIUI, which can certainly support you in the first few days.
Overall, the software has not yet arrived in Europe and adapted to the tastes in this region. But most should also be able to get used to MIUI within a reasonable amount of time and then should surely appreciate the features of Xiaomi.
This king has bite
In today's mid-range smartphones, you can almost only find SoCs from Qualcomm, Huawei or Samsung. Only a few manufacturers, including Wiko, use MediaTek processors. Xiaomi now also uses a MediaTek processor for the Redmi Note 8 Pro, namely the Helio G90T. This processor is an Octa-core processor consisting of two ARM Cortex A76 and six ARM Cortex A55. What is unusual is that this smartphone has 6GB of RAM, usually, 4GB of RAM would be in this price range.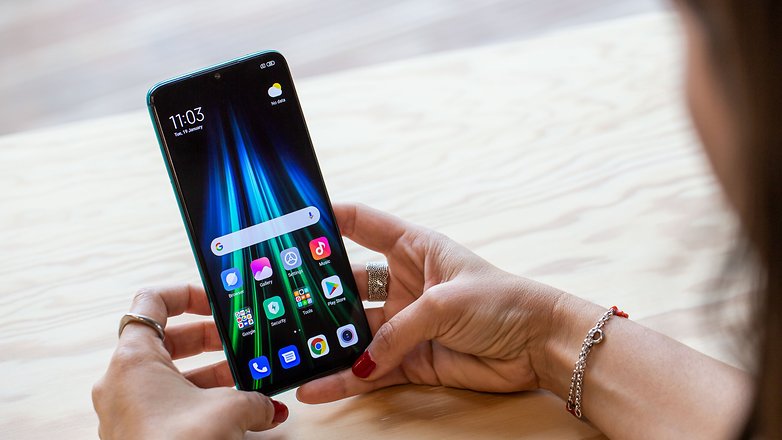 In terms of performance, we can already confirm after the first benchmark test that the Redmi Note 8 Pro deserved the noble title of middle-class king.
Xiaomi Redmi Note 8 Pro benchmark comparison
| | Xiaomi Redmi Note 8 Pro | Wiko View 3 Pro | Motorola One Zoom |
| --- | --- | --- | --- |
| 3DMark Sling Shot Extreme | 2371 | 1159 | 971 |
| 3DMark Sling Shot Volcano | 2019 | 1139 | 1061 |
| 3DMark Sling Shot | 2411 | 1749 | 1113 |
| 3DMark Ice Power Unlimited | 32910 | 22269 | 24158 |
| Geekbench 5 (Single / Multi-Core) | 503 / 1633 | - / - | 505 / 1596 |
| PassMark Memory | 9124 | 10671 | 25873 |
| PassMark Disk | 62884 | 54513 | 65785 |
In everyday life, I have no complaints about the performance, even if you run graphically challenging games, you hardly feel any dropouts or lags.
Xiaomi Redmi Note 8 Pro audio
When it comes to audio quality, the Xiaomi Redmi Note 8 Pro delivers standard sound. While the downward-facing speaker is noisy and can provide entertainment, it provides typical smartphone sound with little bass and noisy trebles at high volumes.
The sound for telephone calls is just as standard. You can clearly hear your conversation partner, just as they can clearly hear you. You can't expect much more but you do not really need more either.
More pixels for more detail?
What's really unusual about the Xiaomi Redmi Note 8 Pro is the camera setup and the main sensor. While most smartphone manufacturers rely on a camera mix of standard, ultrawide and telephoto lenses, Xiaomi combines standard and ultrawide-angle with a macro camera.
Xiaomi chose this combination because the main camera shoots natively with 64 megapixels and thanks to the high number of pixels you can also enlarge image sections, similar to a zoom, without using a dedicated telephoto camera.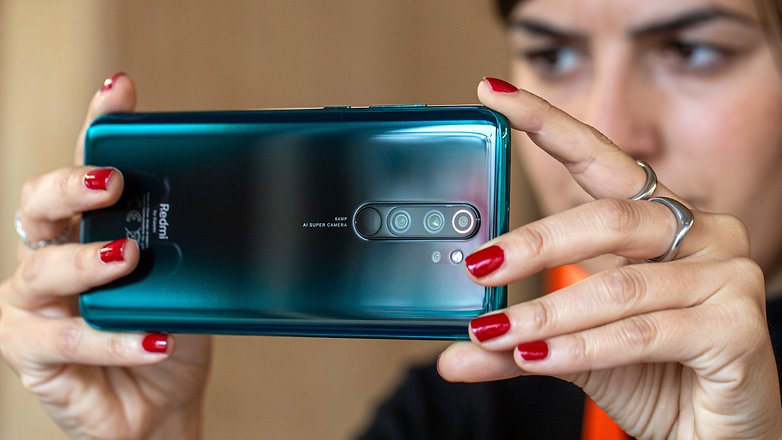 The 64-megapixel sensor should also bring advantages at night. As is now common practice, the resolution of the night mode images shot is reduced by a factor of four, as four pixels are combined to form one pixel on each sensor. This is supposed to lead to a higher light sensitivity in poor lighting conditions.
In good lighting conditions, the Redmi Note 8 Pro produces good results. You always have to keep the price of the smartphone in mind. In this respect, the Redmi Note 8 shoots really good pictures. There are minor problems with high-contrast scenes, where the Redmi Note 8 Pro then emphasizes the bright areas a bit too much so that details can no longer be recognized.
The AI tries to brighten up the dark areas, which works relatively well, but leads to slight noise. Of course, I showed the Redmi Note 8 Pro and the pictures I took to our photo and video expert Stefan and these are his professional impressions:
Stefan Möllenhoff: What can a mid-range camera with 64 megapixels do? Under good lighting conditions, Samsung's Isocell GW1 sensor in the Redmi Note 8 Pro delivers pin-sharp photos with plenty of room for cropping. However, at full resolution viewing, the small 0.8 micron pixels are noticeable: Even in daylight, noise is visible in darker areas of the image, and the details appear muddy.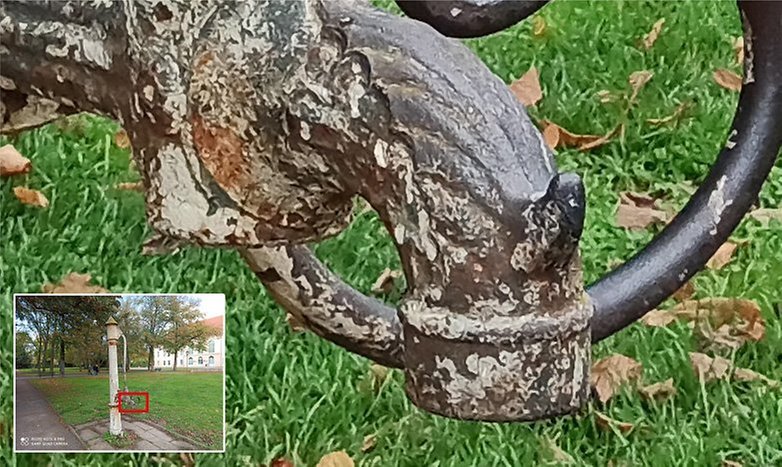 Compared to other smartphones, the HDR mode is quite cautious. This provides for natural-looking pictures, but also for overexposed and underexposed picture areas. With the default settings, the colors are strongly saturated, but there are also more restrained color profiles in the camera. The white balance does a good job, only skin tones look a bit artificial from time to time.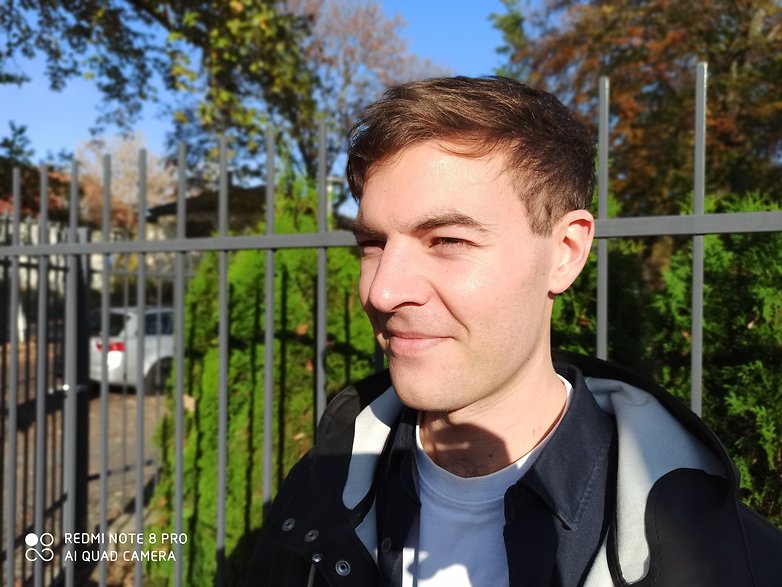 In poor lighting conditions, the Redmi Note 8 Pro combines four pixels on each sensor. The result is 16 million more light-sensitive pixels with an edge length of 1.6 microns. Under moderately good lighting conditions, the photos are thus successful, but the image quality already declines noticeably at the sensitivity of ISO 400, which is typical for interiors. Details appear washed-out and colors look muddier.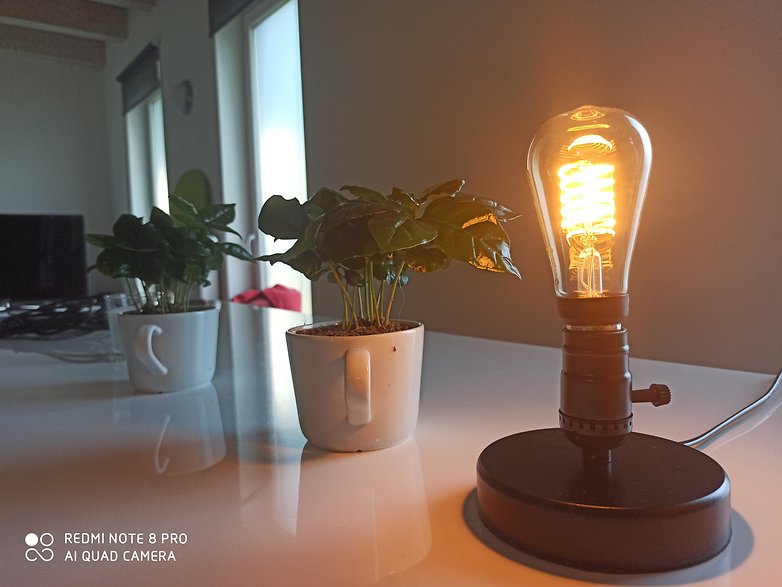 In increasing darkness, the image quality then clearly collapses - even the dedicated night mode only brings noisy mud to the photos in nocturnal street scenes. For this price range, however, this is fine, and the large image angle itself is suitable for creative snapshots.
Finally, there is a dedicated macro camera with two megapixels on board. The results aren't very detailed, but the close-up shots still invite you to play around and Shu has captured some really nice photos. But you need a steady hand and above all a lot of light.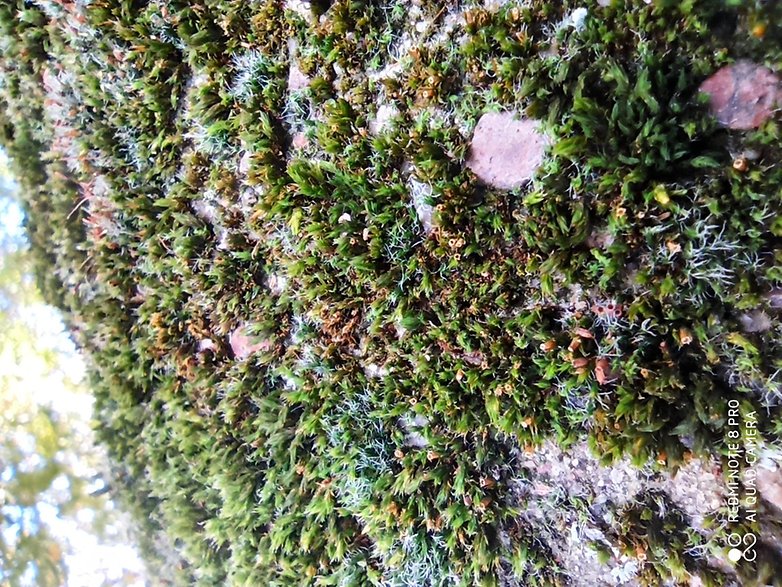 The 64-megapixel main sensor delivers detailed 4K video. If you are moving, you should change the high resolution for Full-HD to activate the electronic image stabilizer. The 8-megapixel ultrawide-angle module films exclusively in Full HD, and the video quality is noticeably lower than that of the main camera, as with the photos.
All photos and videos taken with the Xiaomi Redmi Note 8 Pro can be viewed using the following link in Google Photos. Unfortunately, the images are only stored in 16-megapixel resolutions on the Google servers.
A true endurance runner
The Redmi Note 8 Pro is a very large smartphone, but if you look at the battery capacity, then you also know that a lot of space was taken up by the 4,500 mAh cell inside the smartphone. In our battery benchmark, the Redmi Note 8 Pro with the display set to 50 percent brightness and Bluetooth, Wi-Fi, and inserted SIM card enabled, managed a proud 10 hours and 40 minutes.
In everyday life, the Xiaomi was a good endurance runner. In my hectic editorial routine, the Redmi Note 8 Pro still showed 21 percent remaining at the end of a 14-hour day, even though the display had a screen-on time of 6:50 hours. The full seven hours would have been so easy for the Xiaomi Redmi Note 8 Pro. You can charge the battery with 18 watts quickly.
Xiaomi Redmi Note 8 Pro technical specifications
Final verdict
Xiaomi has put together a complete package with the Redmi Note 8 Pro, which truly is one of the new kings in the middle class. Sure, you can not compare the Note 8 Pro with a Google Pixel 4, a Huawei P30 Pro or Samsung Galaxy S10+, but for the price I can recommend the Xiaomi Redmi Note 8 Pro without doubt,
The only thing that does not suit everyone's taste is MIUI, but you can quickly get used to the software and so this little criticism of mine falls under the category "complaining at the highest level" and so I stand by my purchase recommendation for the Xiaomi Redmi Note 8 Pro. If you are looking for a Swiss Army knife smartphone for under 300 euros, this is the one to get.