Xiaomi 360° Home Security Camera Pro review: Great but not a real bargain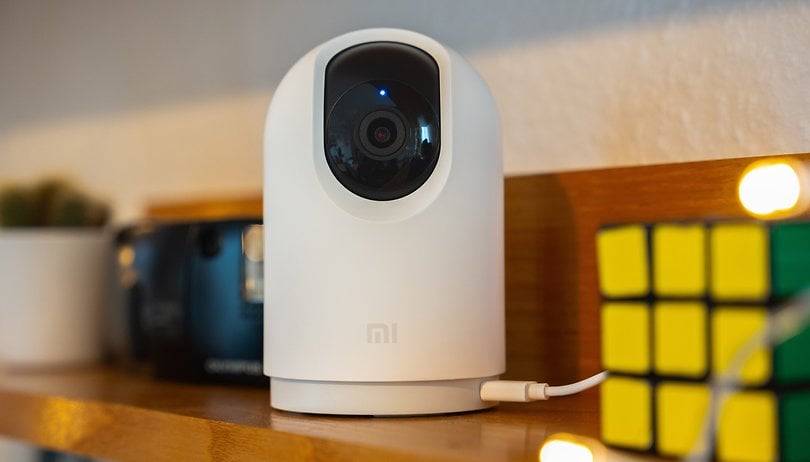 Smart home fans had to wait a long time for this home security camera to arrive at their doorsteps if they are living in parts of Europe or worse, in the US, where there are no official sales channels. The Xiaomi 360° Home Security Camera Pro not only has a lengthy name to roll off your tongue, it also offers features such as PTZ, 2K resolution, and dual-band WiFi. Whether the surveillance camera is known in China as the "Xiaomi Mi 360° Home Security Camera 2K Pro" or not, it has proven to be really capable in everyday use as NextPit found out in this review.
Good
Solid image quality with 2K resolution

Rotate and tilt motor

Clever privacy feature

No subscription required
Bad
Not a bargain at all

No protection against rain or moisture

No optical zoom

Poor 2-way audio
The Xiaomi 360° Home Security Camera Pro in a nutshell
At an MSRP of just under $60, the Xiaomi 360° Home Security Camera Pro is a really good indoor surveillance camera. It offers decent capability with good image quality, an ultra-wide field of view thanks to the 360-degree swivel motor, and a working companion app that includes automated features. The fact that there is no water protection and a less-than-ideal two-way audio performance are the major drawbacks for a device in this price range.
We recommend the 360° Home Security Camera Pro for those who have an affinity for Xiaomi and are looking for an affordable surveillance solution. The camera's prices tend to be discounted when you search online, so keep your eyes peeled wide.
Design & Functionality
You can't design a product much simpler than Xiaomi's 360° Home Security Camera Pro. Basically, the security camera consists of a base on which a cover sits. The cover will rotate 360 degrees around its own axis, alongside camera that can swivel up and down is suspended inside it. The indoor security camera does not offer any form of water protection.
What I liked:
Simple and modern design
Very flexible capability via the pan and tilt motors
Physical view protection when deactivated
What I disliked:
No protection against water or moisture
No optical zoom
In our best list of smart security cameras for both indoors and outdoor categories, Xiaomi's model simply falls under the "indoor" category. This is because you have to live without battery operation as well as protection against water and moisture. However, you can view the camera image remotely without suffering from quality loss.
The Xiaomi 360° Security Camera Pro offers motor-driven pan and tilt. Hence, you will not find the image quality affected negatively. The field of view coverage at maximum would be 360 degrees when panning, while the vertical section also offers excellent performance at 115 degrees. However, you have to rely on a digital zoom when zooming, and this is where the image quality decreases significantly. Thus, the Xiaomi camera is not a real "PTZ" camera per se.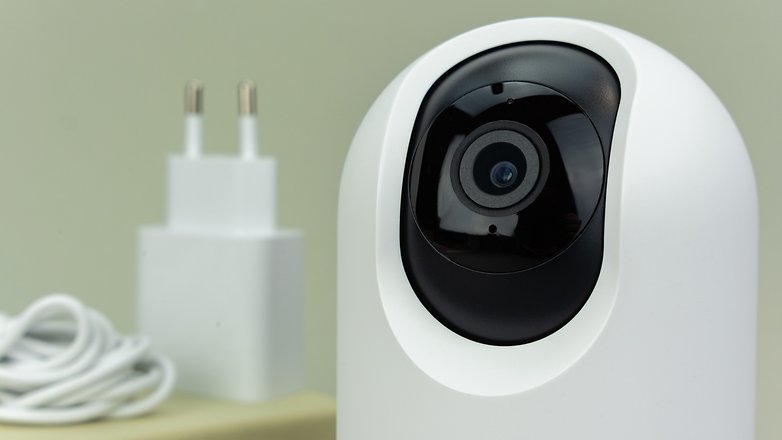 What Xiaomi does solve in a very elegant manner, however, is the integrated privacy screen. When the camera is turned off via the app, the lens retracts into the casing. Thus, you do not have to worry about the camera remaining active when you turn it off in the software. Xiaomi also installed a small LED above the lens to indicate whether it is active or otherwise.
Additionally, the camera gives you voice instructions during setup. For example, I was informed during setup that I had to reset the camera once again via the reset button. Then, a QR code is scanned using the Xiaomi Smart Home app. After entering the security key of your Wi-Fi network, the camera will connect to the Internet. You can name the camera with your preferred title, assign it to a location in your smart home, and voila! You can already see the first live camera image.
App & smart functions
After purchasing the 360° Home Security Camera Pro, the Xiaomi Home app serves as the control center. Be careful: On Android, it is known as "Xiaomi Mi Home", where all settings of the camera can be found, and you can see the live camera image and all recordings from home or when you are outside. Xiaomi regales in its flexibility by recording to SD cards, your NAS, or the cloud. However, the only AI function is the ability to detect cries of a baby.
What I liked:
Compatible with Alexa and Google Assistant
Storage on your NAS if desired
microSD card slot
What I disliked:
Barely any AI features for subject recognition
Cloud recording requires a microSD card
Xiaomi's Home app, which you have to install on your smartphone to use the camera, is something I personally like. It can be used without having to go through a lot of steps, offers practical functions for smart home automation, and completes the already described camera setup within a few minutes.
If you enter the settings of the Xiaomi camera, however, things start to become a bit confusing. Thus, there are several setting options that can be accessed by tapping the live stream. A bar with additional icons is located right underneath. You can access more settings via the kebab menu as represented by three vertical dots, from where you will be able to see other sub-menus and advanced settings.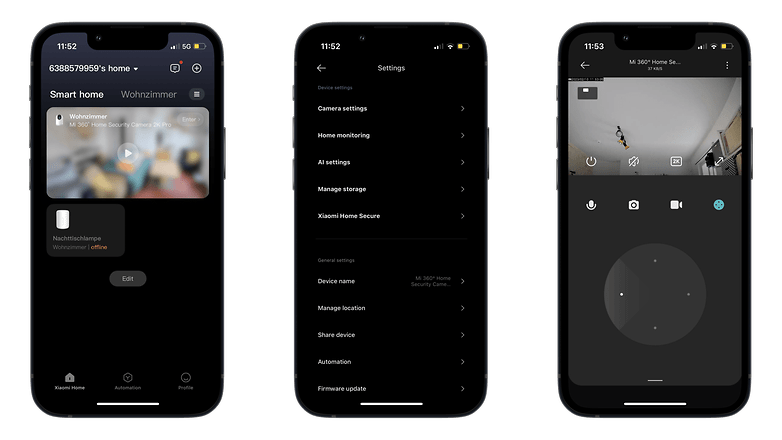 There are also tons of customization options for you to look into if you are curious. For example, you can specify the exact time when you want the camera to get to 'work', so to speak. How about defining how often the camera is allowed to send you notifications? This not only makes the camera very flexible because it adapts to your requirements, but Xiaomi also avoids flooding you with notifications, something that other manufacturers tend to do.
If you really want to be on the safe side, Xiaomi shines with versatile video storage options. If you were to insert a microSD card into the camera, you can store videos on it. If you are afraid that a burglar will rip the camera off the wall (and with that, the microSD card), you can also store the videos on a NAS (Network Attached Storage). If you don't want to go through the trouble of setting up a NAS, you can subscribe to the Xiaomi Home Secure service for between €4.99 and €6.99 each month. There is no pricing available for those living Stateside simply because the camera is not available for sale officially there.
Do take note that Xiaomi has issued an End of Service notice for home surveillance recordings from March 31, 2023 onwards, where it will affect the Mi Home Security Camera 360°1080P and Mi Home Security Camera Basic 1080P. It is conceivable that the Xiaomi Mi 360° Home Security Camera 2K Pro will follow suit not now, but in years to come as the product hits its End-Of-Life cycle.
The subscription provides you with either a seven-day or a 30-day video history. However, you will not have any additional functions for the camera. It is also strange that cloud recording only works when a microSD card has been inserted.
Smart functions
Before we talk about the smart features of the Xiaomi 360° Home Security Camera Pro, here are a few words about the wireless standards. With dual-band WLAN, the security camera not only establishes a particularly secure and powerful connection to your WLAN. If you use other smart home devices from Xiaomi, the camera even turns into a Bluetooth gateway. This means that you can connect the camera to other devices, for example, to use extended functions for smart home automation. This is an advantage that makes sense especially when you consider Xiaomi's expansive ecosystem.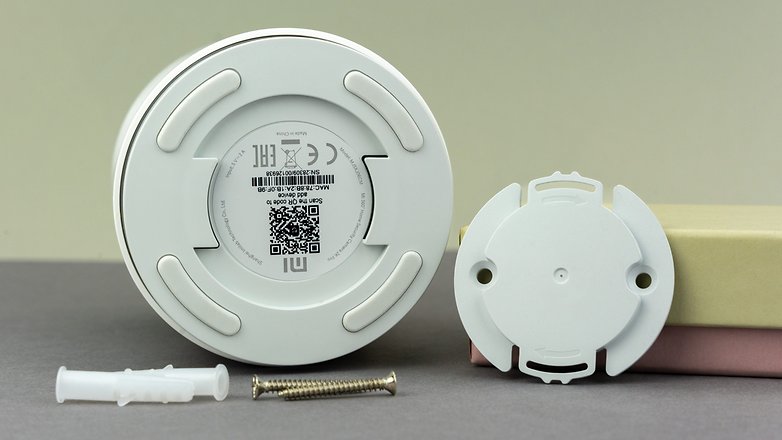 You can then control the Xiaomi camera via Amazon Alexa or Google Assistant. It is not yet clear whether the Matter standard will also encompass security cameras in the future. However, I suspect that you will have to make do without it just like HomeKit. However, Xiaomi fans can connect the camera to thermometers, sensors, doorbells, and other compatible devices.
Back to the smartphone, the camera sends you notifications when certain events are detected. By default, human and motion detection is enabled. You can also be informed about baby cries in the camera's AI settings. Compared to models like the much more expensive eufyCam 3 from Eufy (see review), Xiaomi pretty much lags behind in this department. Other manufacturers can already recognize which person is moving in front of the camera via facial recognition. This is a feature that I would have expected from a Chinese manufacturer (it is just a joke!)
Picture & audio quality
Xiaomi's live feed on the security camera is shown in 2k resolution. Saved recordings, on the other hand, have a resolution of 1,920 × 1,080 pixels. Theoretically, the only advantage is the live image, which can be zoomed up to 6x. Thanks to features like HDR and an infrared night vision mode, its picture quality comes close to other models. However, the quality of the two-way audio is below average.
What I liked:
Convinces during the day with a clear, sharp picture in 2K mode
Sufficiently strong infrared lamps for indoor use
What I disliked:
Two-way audio is barely intelligible
Digital zoom ends up pixelated despite 2K resolution
Video resolution on security cameras are a well-known marketing tool. And so, you don't see a huge difference between 360p and 2K in the small live preview of the Xiaomi security camera. The image with the lower resolution looks much more artificial. 2K is therefore the more natural option - and you can also use it since the video transmission runs stably both in your Wi-Fi network and on the go via mobile data. According to the app, the 2K stream varies between 16 and 250 kilobits per second.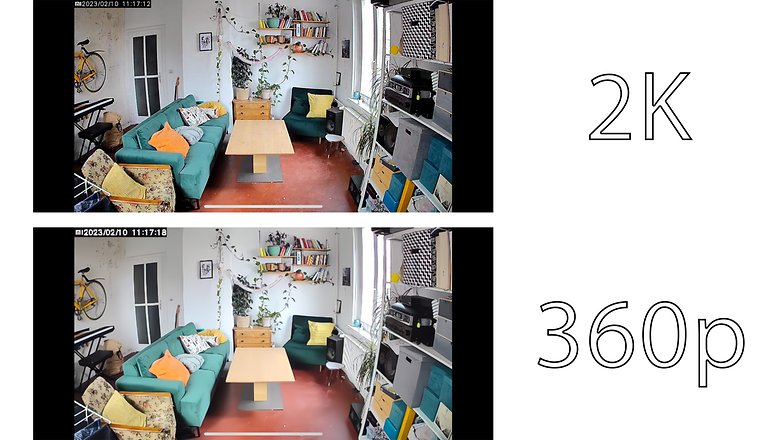 Since Xiaomi relies on a lens with f/1.4 aperture from six lenses and hides an HDR function in the settings, the video recordings are nice, clear, and sharp. You can safely recognize unknown people or the size of a package from the live image. Xiaomi uses the additional resolution as an opportunity to integrate a 6x digital zoom into its camera. This works well enough - but is unusable after two times magnification at most.
At night, the Xiaomi 360° Home Security Camera activates several infrared lamps that are not visible to the naked eye. You can then see a colorless image with some contrast on the smartphone. It is difficult to recognize people or even faces. However, you can at least check whether anything or anyone is moving around in your home or garden. If you are looking for a security camera for the night, you would be better off with floodlight models like the Amazon Ring Spotlight Cam (see review).
Overall, I found the video quality very reasonable at an MSRP of just under $60. After purchasing this, you probably won't take your next family portrait with the Xiaomi camera. Instead, you'll be able to easily and safely identify who's been emptying the piggy bank in your living room when you are not around.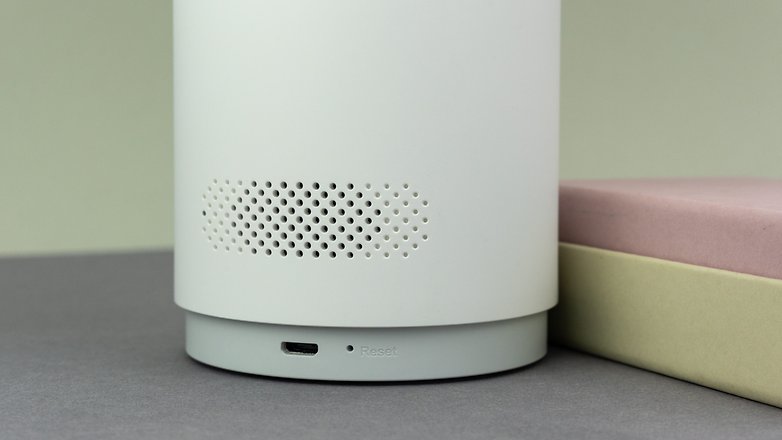 To deter burglars or delivery people, you can find a microphone button in the Xiaomi smart home app. You can use it to play announcements from anywhere via the speaker of the 360° Home Security Camera Pro. Unfortunately, the volume is not only too loud right out of the box, but you cannot lower it in the app. Announcements are therefore very noisy and tend to end up as incomprehensible.
On the other hand, you can listen into a room via integrated microphones. The audio quality is better here and Xiaomi claims to have integrated powerful noise reduction into the camera.
Battery and power supply
The Xiaomi 360° Home Security Camera does not have an integrated battery. The power supply, on the other hand, is connected via a micro USB cable and the included power plug.
What I liked:
USB power supply makes it flexible
What I disliked:
micro USB port is outdated
Not much can be said about the security camera's power supply. No, there is no integrated battery but since the camera is not suitable for outdoor use without water protection in the first place, this is not a big loss. On the other hand, it is practical that a conventional USB port is sufficient as a power source.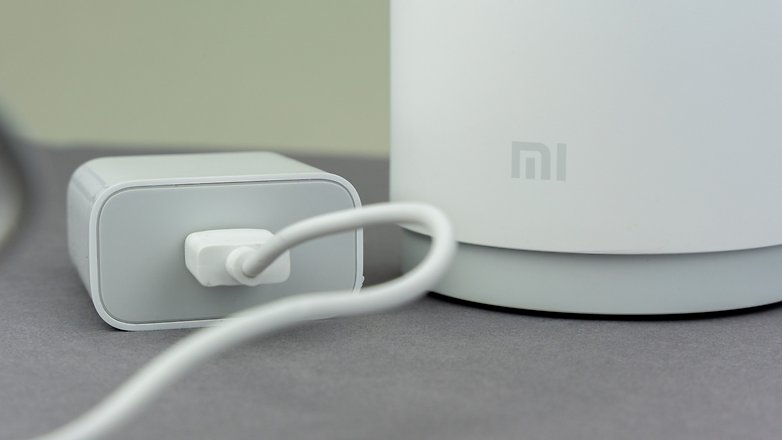 If there is no power outlet available, you can definitely fall back on powerbanks or power stations (see our comparison). If there is a TV or a HiFi system near the camera, their USB ports can also serve as a power source. It is annoying that Xiaomi still relies on micro USB as the connection standard of choice here. Interestingly enough, this confirms that the manufacturer only imports the "Mi 360° Home Security Camera 2K Pro" outside of China to selected countries.
Final verdict
In summary, reviewing the Xiaomi 360° Home Security Camera Pro was almost boring! It performs all of its tasks reliably, offers a perfectly adequate range of functions, and blends in inconspicuously with your smart home. So, if you are looking for a reliable security solution for a particularly large area, the Xiaomi camera is a very good choice.
I have to praise Xiaomi in particular for the fact that a subscription only extends to having cloud storage. What sounds like a bad deal, however, means that all other functions are also possible without a subscription. Those who want to expand their smart home anyway can easily do so without storage on Xiaomi's servers thanks to NAS support.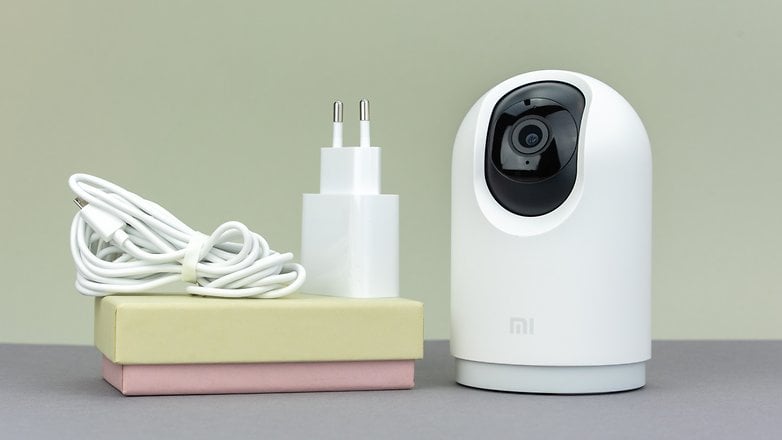 Thanks to the large 360-degree field of view, Xiaomi's camera is also particularly flexible. In large rooms, for example, you can place the camera in the center of the ceiling and keep an eye on all four walls and corners. The video quality is adequate for all purposes. Only the audio quality for announcements via your smartphone is disappointing.
However, there are many competitors in this sub-$60 price range that offer similar features. For example, the TP-Link Tapo C210 (review), which is even cheaper with a cloud storage price of only $34.99 annually (as of February 2023). This shows that Xiaomi cannot offer a bang-for-your-buck experience in the field of smart home monitoring, unlike in the field of fitness trackers and its Xiaomi Band 7 (review).