Xiaomi 13 Ultra Review: What Can It Not Do?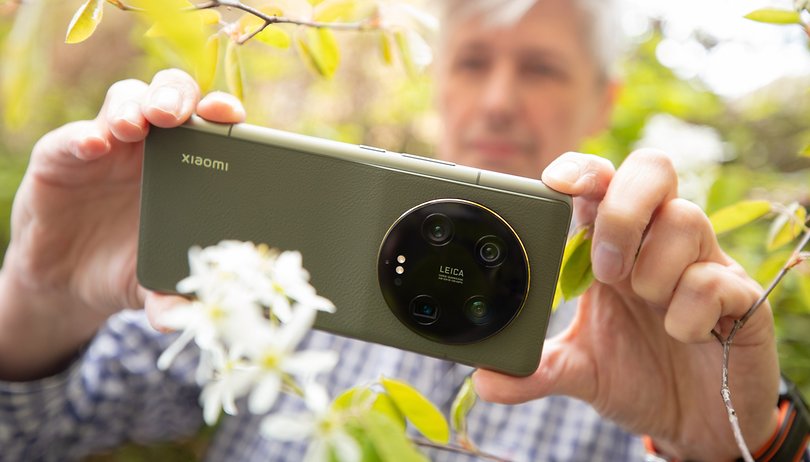 The Xiaomi 13 Ultra was officially unveiled in China as the ultimate flagship camera smartphone, thanks to its partnership with Leica. In fact, this claim could potentially extend to the global stage, assuming it eventually gets a worldwide release. While we still await an official global launch date, here is our detailed review of the Chinese ROM-powered version of the Xiaomi 13 Ultra.
Good
Impressive and versatile camera

Refined yet daring design

Exceptional performance with Snapdragon 8 Gen 2

At last, USB 3.2 connectivity
Bad
Bloatware in MIUI 14

Probably very expensive
Xiaomi 13 Ultra in a nutshell
We are delighted to have the opportunity to review the Xiaomi 13 Ultra in advance. However, we will omit certain test criteria in this review for now, as it is "still" a Chinese model, which differs from the global version in terms of select features. These differences include preinstalled software and supported LTE bands. Regrettably, we have not been informed about the sales launch or the anticipated global price.
The Xiaomi 13 Pro costs €1,299 in Europe with 256 GB of storage (approx. $1400). With that as a reference point, you can expect to add at least another €200 to €400 for the Ultra model, especially since Xiaomi will only launch the 13 Ultra with 512 GB of storage in Europe.
Speaking of which, the Xiaomi 13 Ultra should be available in stores sometime early this summer. Those who are keen on the camera smartphone should not speculate on price drops happening shortly after its release. In all likelihood, there will only be a fairly limited number of units, just like what happened with the Xiaomi 11 Ultra (review).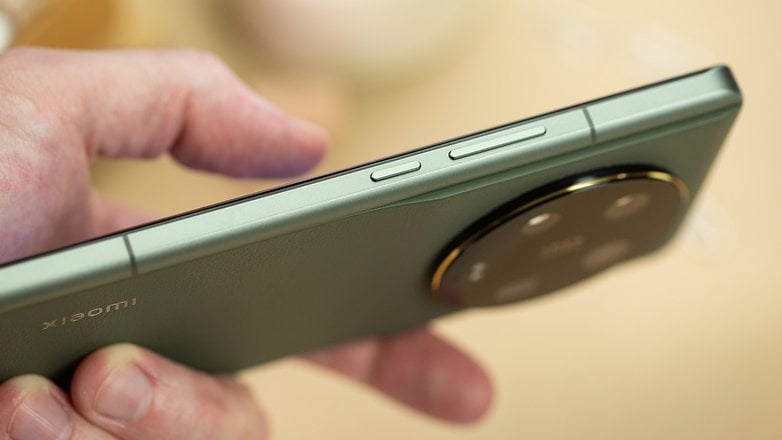 In summary, the Xiaomi 13 Ultra is an all-around excellent smartphone that has not compromised on its choice of built-in technology. There is an excellent 6.73-inch LTPO AMOLED display with a resolution of 3,200 x 1,440 pixels. You will also get to call upon the Snapdragon 8 Gen 2 SoC mated to what is currently most powerful camera system from Xiaomi.
Xiaomi 13 Ultra design and build quality
The Xiaomi 13 Ultra follows the design of the Xiaomi 12S Ultra with the stylized giant lens on the back, but it looks much more grown-up at the same time. The extreme design is and remains a matter of taste. Clearly positive: Despite the huge camera element on top, holding it in the hand is still an ergonomic experience.
---
What I liked:
Striking and bold design.
High-quality materials and great workmanship.
Waterproof and dust resistance (IP68 rating).
What I disliked:
No headphone jack or microSD slot.
---
The Xiaomi 13 Ultra takes after its Chinese-exclusive predecessor 12S Ultra in terms of design. You might not even call the huge, circular element—which stretches over half the back and reminds us of a large lens—a camera bump. It seems to pay homage to a time when you actually still had to lug around lenses this size. Today, there are four cameras stuffed within the black glass element, which we will take a closer look at later.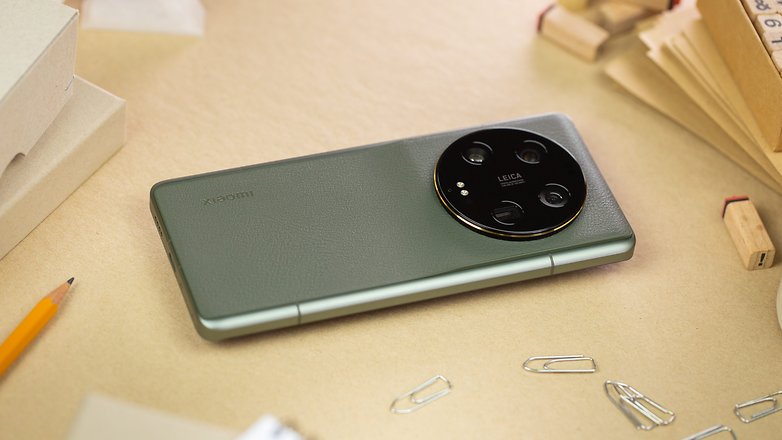 The rest of the back around the camera element is made of Xiaomi's second-generation vegan leather. The grippy material is even supposed to have an antibacterial effect thanks to nano-coating, and it also feels quite high-quality.
The smartphone frame has become wider than the Xiaomi 12S Ultra. In addition, the entire camera element has been positioned a bit lower than before, which means that the Xiaomi 13 Ultra is no longer as top-heavy in the hand as the predecessor.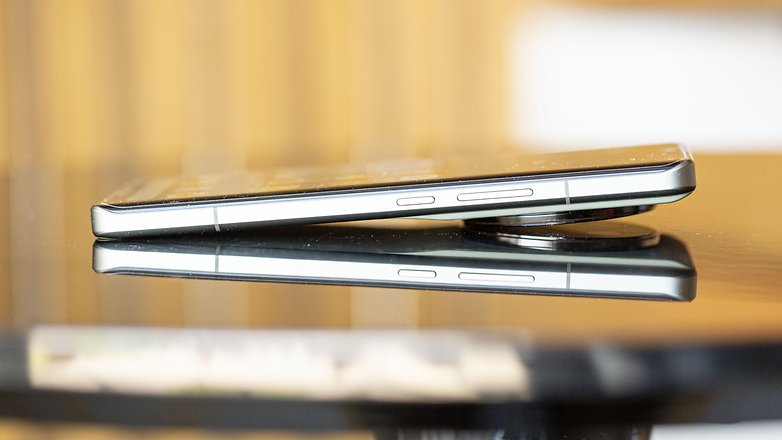 What else? This smartphone is IP68 certified. Gorilla Glass Victus is used in front. There is no longer any available headphone jack, and the dual-SIM slot is really only for SIM cards. With 512 GB of UFS 4.0 storage, you should not miss having a microSD card for storage purposes anyway.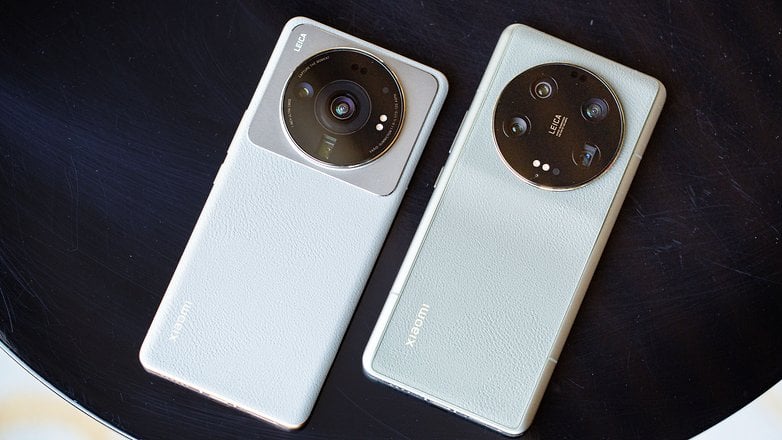 Xiaomi 13 Ultra display
The Xiaomi 13 Ultra has a display on the same level as any other flagship phone. The panel is extremely fast and extremely bright—and it is pure fun with the balanced display. Only the rounded edges on the left and right of the screen are a matter of preference, but you can't please everyone in the first place anyway.
---
What I liked:
Spectacular LTPO display with a variable 1 to 120 Hz refresh rate.
Extremely bright with a maximum brightness of 2,600 nits (typical: up to 1,300 Hz).
What I disliked:
---
The 6.73-inch OLED panel offers a resolution of 1,440 x 3,200 pixels and looks simply stunning. It boots up with some animation that is buttery smooth thanks to the 120 Hz refresh rate panel. The battery also benefits with LTPO 2.0 technology, which dynamically reduces the display refresh rate down to 1 Hz at times it deems appropriate to save power.
Thanks to the 1,920 Hz PWM dimming, the display should always be flicker-free. Speaking of frequencies: The display's sensitivity is capable of hitting 240 Hz.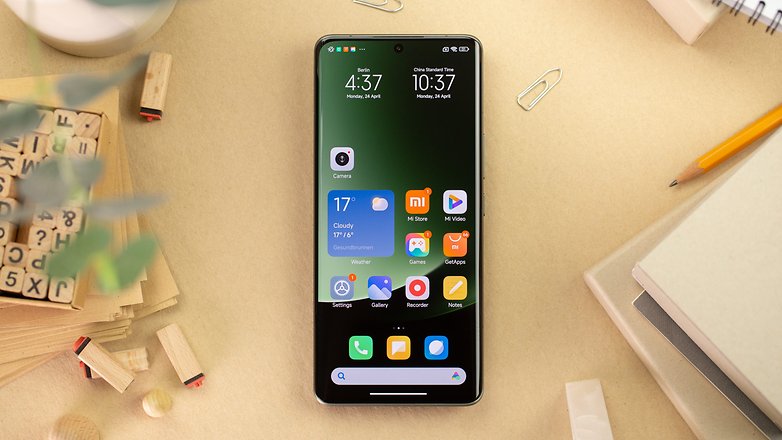 The color reproduction is also successful and convinces with intense, but not disturbingly gaudy colors. The consistency over different ambient light conditions is also pleasing to view here. From a dark room to the blazing sun, the panel is always legible, thanks to a maximum brightness of 1,300 nits. Under direct sunlight, even 2,600 nits are possible.
In the settings, you will find numerous options to adjust the display to your liking, ranging from upscaling video content to the color style and color space used. While this is actually not even worth mentioning, but for the sake of completeness, we should also mention the Always-on Display on offer that provides the Xiaomi 13 Ultra with many themes. This is one feature we can be sure of seeing in the global version.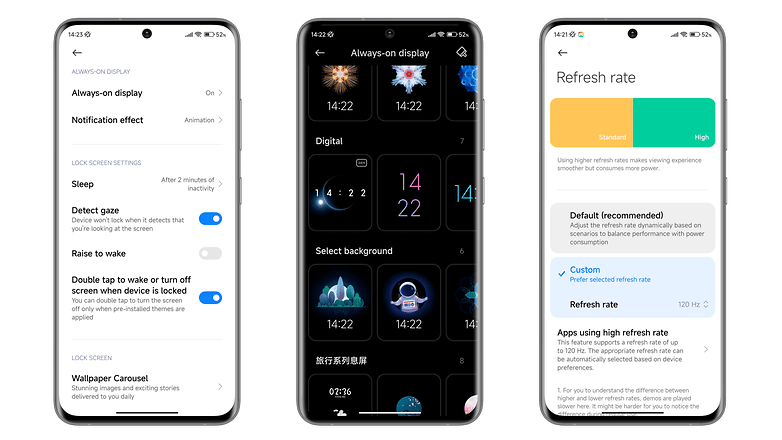 Xiaomi 13 Ultra software
The Xiaomi 13 Ultra runs MIUI 14—that is, Android 13. The update to Android 14 will probably still be named MIUI 14, and chances are it will be available this fall. This is one point that can probably be deemed as the only weakness of the Xiaomi 13 Ultra: The software is simply not quite perfect.
---
What I liked:
Decent update policy.
Many useful assistants.
What I disliked:
Not on par with Samsung's update policy.
Plenty of bloatware (China ROM).
---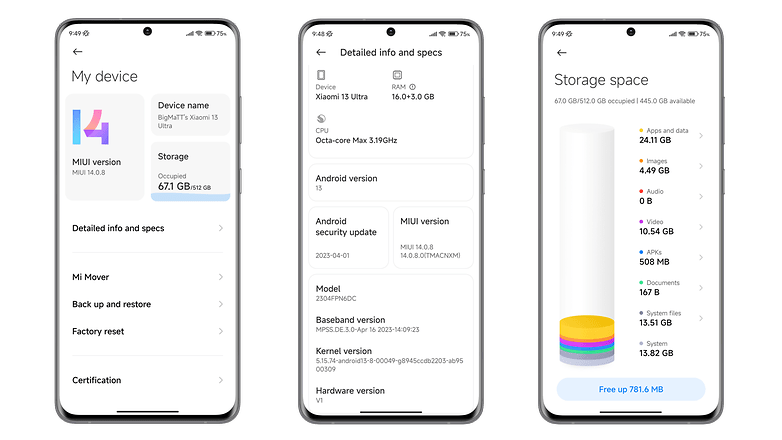 We have already reported in detail about MIUI 14 in connection with our Xiaomi 13 Pro review and Xiaomi 13 review. You can also find our first impressions of MIUI 14 on NextPit. Therefore, since this review unit is powered by the Chinese ROM, I would like to keep the software part really short here and refer you to the previously linked articles for the feature set and countless screenshots.
Here is a tip for those who cannot wait for the global launch and want to purchase an imported device from our partner TradingShenzhen: The app selection is almost unmanageable and notifications flood your handset every single minute. While you can make the necessary adjustments for a more peaceful life, this is something you should take note of.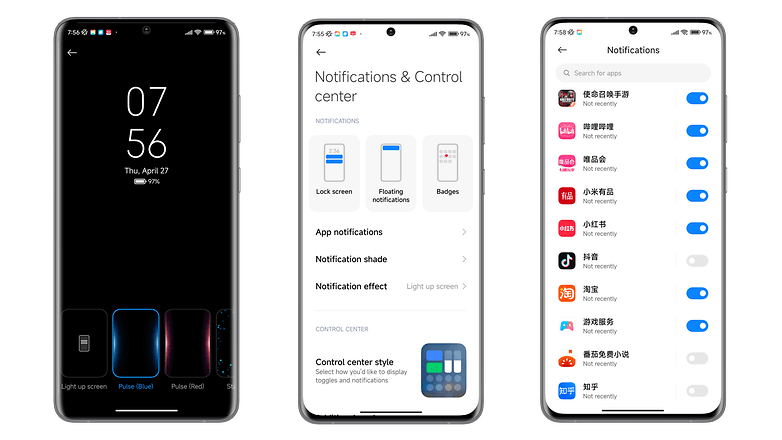 How long the Xiaomi 13 Ultra will get updates is currently unknown—but presumably, Xiaomi will follow in the footsteps of the 13 series here. This probably means three major Android updates and five years of security updates. However, MIUI will probably also include some bloatware in the global Ultra model.
Otherwise, MIUI 14 is basically fun to use. The interface is colorful and offers numerous options for customization. There are small but nice features that make life easier everywhere; such as the ability to extract text from photos. Sure, Apple, Samsung, and other smartphone manufacturers also offer that ability, but Xiaomi has largely kept up with the rest of the industry.
Nevertheless, it is noticeable in a direct comparison that MIUI simply does not have quite the same polish as Android in Samsung or Google, or iOS in its iPhones.
Processor and memory
The Xiaomi 13 Ultra is equipped with the latest Qualcomm Snapdragon 8 Gen 2, 16 GB of RAM, and 512 GB of flash storage in the EU version. The former is LPDDR5X RAM in any case, while the latter sports UFS 4.0. Like the vanilla and Pro models, the Xiaomi 13 Ultra is also convincing in terms of performance.
---
What I liked:
Powerful Qualcomm Snapdragon 8 Gen 2 SoC.
Finally comes with USB 3.2 connectivity.
Does not heat up like other competitors.
What I disliked:
No eSIM.
No 20/28 band supported (China).
---
There is no doubt here that the Xiaomi 13 Ultra offers plenty of performance and, with the Qualcomm Snapdragon 8 Gen 2, is on the same level as practically all other Android flagships in 2023. It was manufactured using the 4 nm process and has an unusual 1+2+2+3 core structure. The octa-core processor is defined in detail by the following cores:
1x Cortex-X3 @ 3.2 GHz
2x Cortex-A715 @ 2.8 GHz
2x Cortex-A710 @ 2.8 GHz
3x Cortex-A510 @ 2 GHz
After reviewing the Vivo X90 Pro+, which also features a "vegan" leather back, I was prepared for the worst in terms of heat build-up. Lo and behold, the Qualcomm processor was kept in check or cooled much better in the Xiaomi 13 Ultra.
Xiaomi's unique cooling system is based on the so-called "Loop LiquidCool" technology. I must say that whatever Xiaomi did, it worked well. After all, Xiaomi also has much more internal space available by increasing the height of the entire camera section.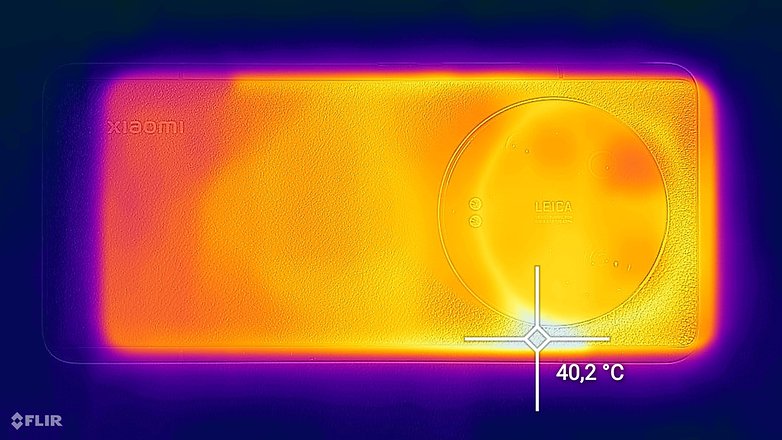 Of course, we also wanted to know just how well the Xiaomi 13 Ultra and the installed Qualcomm processor performed when compared with other competition. Benchmarking tools such as 3D Mark Wild Life Stress Test and Geekbench 5 were able to help us out here.
Xiaomi 13 Ultra
Vivo X90 Pro+
Apple iPhone 14
Samsung Galaxy S23
Snapdragon 8 Gen 2
Snapdragon 8 Gen 2
A15 Bionic
SD 8 Gen 2 "For Galaxy
3D Mark Wild Life
Too powerful
Too powerful
Too powerful
Too powerful
3D Mark Wild Life Stress Test
Best loop: 12,930
Worst loop: 11,684
Best loop: 13,454
Worst loop: 11,214
Best loop: 9,761
Worst loop: 8,321
Best loop: 11,049
Worst loop: 6,169
Geekbench 5
Single: 1,500
Multi: 5,106
Single: 1,430
Multi: 4,423
Single: 1,699
Multi: 4,817
Single: 1,537
Multi: 4,807
Lo and behold, the Xiaomi 13 Ultra seemed to have acquainted itself well here. In the 3D Mark Wild Life Stress Test, it was just behind our top contender, the Vivo X90 Pro+, in the best loop and leaves the overclocked Samsung Galaxy S23 (review) directly behind.
With such results, the question of performance in daily use does not even arise: Of course, there is no game in Google's Play Store that can not take full advantage of the powerful Snapdragon 8 Gen 2 SoC. The apps and pages also work well in daily use without any lag.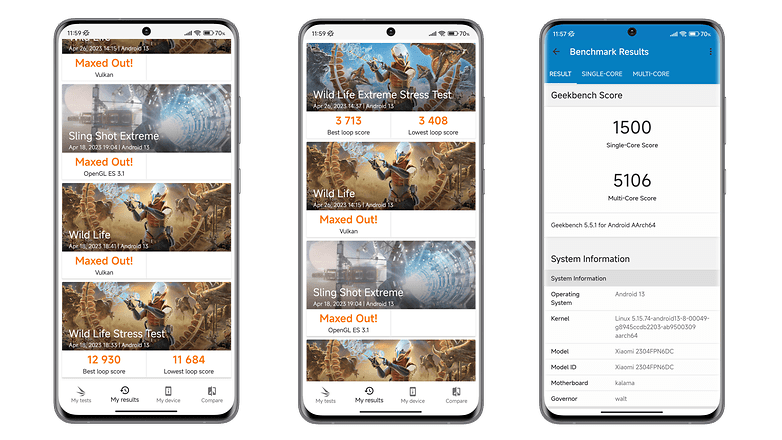 There is also some good news about the USB port. Xiaomi is switching to the USB 3.2 standard, which means data rates of up to 5 GBit/s. This is not only long overdue but also necessary because of the camera. More about that later.
Xiaomi 13 Ultra camera
It is rare that a camera system in a smartphone looked like it was designed on the drawing board—more or less what Sony introduced as a multi-camera collaboration system some time ago.
That is the case in the Xiaomi 13 Ultra: The manufacturer relies on the 1-inch Sony IMX989, which we already know from the Xiaomi 12S Ultra, but this time with a variable aperture. In addition, the 1/2.51-inch IMX858, which impressed my colleague Camila Rinaldi in her review of the Honor Magic 5 Pro, was used three times.
---
What I liked:
Fantastic 1-inch sensor with variable iris aperture.
Three equally capable cameras for ultra-wide, 3x telephoto, and 5x telephoto.
8K video with all cameras, seamless zoom with 4K recording.
What I disliked:
---
Xiaomi has developed the camera of the 13 Ultra in close collaboration with Leica. The lens manufacturer helped with the optics and also with the image processing. You can basically choose between two Leica modes: Leica Authentic and Leica Vibrant. But how does that work in reality?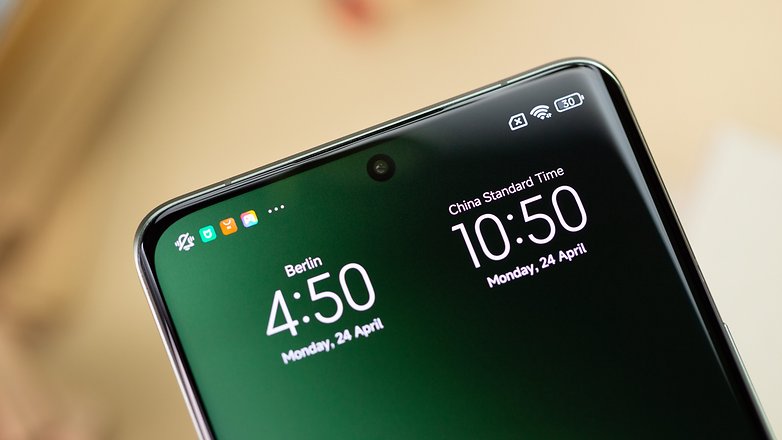 Main camera with variable aperture
Let's begin with the main camera: When it comes to image quality, the 1-inch IMX989 delivers flawlessly. However, anything else would have been a surprise after the performance of the Xiaomi 12S Ultra, which also completely convinced you in our camera blind test at the end of 2022.
The photos in daylight look great and impress with a great dynamic range and crisp sharpness without ever looking over-rendered. Even with strong contrasts, the pictures remain natural and free of HDR artifacts like ghost edges or flat blacks. This is really fun.
The variable aperture also helps here, reliably stopping the lens down to F4.0 in automatic mode to improve imaging performance and increase the depth of field. By the way, you do not have to worry about bokeh effects in portraits—Xiaomi calculates them better via software than it would be optically possible with this small lens.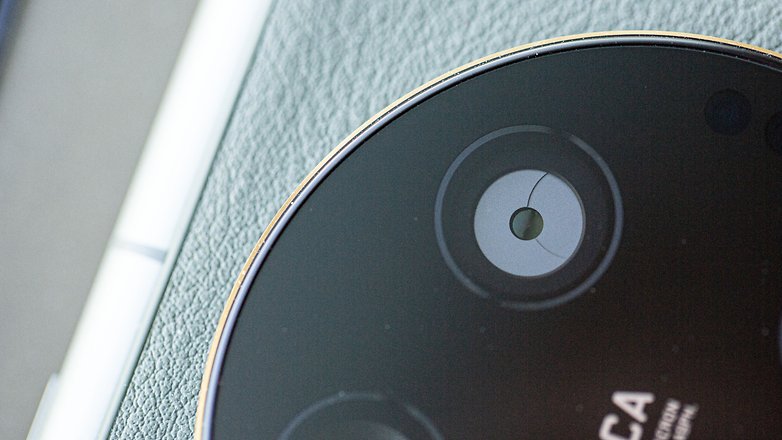 In lower light conditions, Xiaomi then turns up the heat, namely the aperture. At F1.9, a good four times more light reaches the sensor than with F4.0. With the 1-inch sensor and improved algorithms compared to the 12S Ultra, Xiaomi still conjures up impressive results even in very low light conditions that make even the major competitor from South Korea jealous.
Ultra-wide angle and two telephoto lenses: Three IMX858 sensors for one Hallelujah
Compared to the 12S Ultra, Xiaomi doubled the number of telephoto cameras on the 13 Ultra. The two lenses now offer 3x and 5x magnification. With 50 megapixels per sensor, you thus always have a "real resolution" of at least 12 megapixels as a basis for your photos when zooming in whole numbers up to 6x.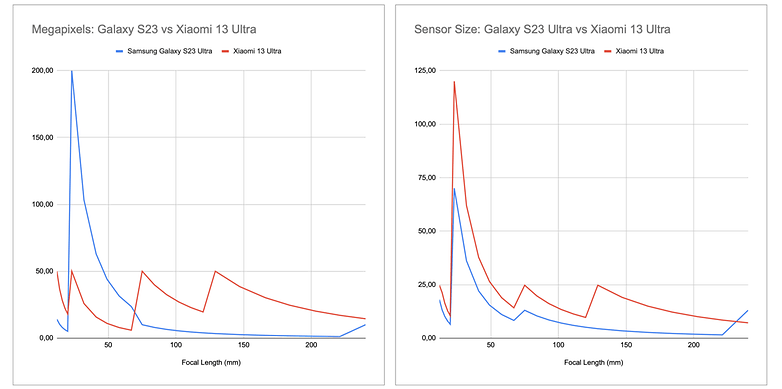 In practice, the flexible telescope system is fun. The installed Sony sensors are decent sized at 1/2.51 inch. During the day, both telephoto cameras deliver colorful and razor-sharp photos that almost perfectly match the results of the main camera in terms of coloring and style.
In low-light conditions, even the 3x lens still does an amazingly good job thanks to the fast F1.8 optics. Whether your subjects are illuminated by tungsten, twilight, or fluorescent lighting: The pictures still turn out very well. But clearly: The darker the scene, the bigger the difference to the main camera. No wonder, the 1-inch sensor offers about four to five times more surface than the IMX858—and also an image stabilizer.
The situation is quite similar with the 5x telephoto. In daylight, the 50-megapixel camera shoots razor-sharp, natural, and precisely exposed photos. The darker it gets, the more the aperture of F3.0 installed here becomes noticeable. Compared to F1.8, F3.0 means 3.5 times less light on the sensor and correspondingly poorer image quality.
Finally, the ultra-wide-angle camera again offers an aperture ratio of F1.8 and thus practically identical image quality to the 3x telephoto. What we like here is the extremely wide angle of view with a 12 mm equivalent focal length, which really deserves the predicate: "panorama suitable".
In low light conditions, the image quality is even a tad better than with the 3x telephoto. The ultra-wide angle is less sensitive to camera shake and thus allows longer shutter speeds—even the optical image stabilizer in the telephoto lenses can't compensate for that.
Xiaomi still has a whole stack of software tricks ready for its various cameras. Of course, the obligatory portrait mode with background blur is on board, which offers various focal lengths with different bokeh effects. In addition, there's a particularly fast sports mode as well as the option to take 14-bit RAW photos ("Ultra-RAW").
Video: 8K across all cameras
Last but not least, there is the video capability. The Xiaomi 13 Ultra can record completely unnecessary 8K resolution across all cameras. But, due to the densely staggered focal lengths and the excellently matched lenses, here's a 4K camera with a truly seamless and virtually lossless 10x zoom. The video quality is excellent and decreases in quality over the different focal lengths and different lighting conditions in a similar way as described above for photography.
In terms of codecs, there's a choice of H.264 or H.265 in 8-bit and 4:2:0 color subsampling—and for demanding users, 10-bit LOG as well as a mode that even lets you set up a multi-camera setup as a director. However, 8-bit video should suffice for at least 99% of the purposes. With the great picture quality, you really have all options for great videos.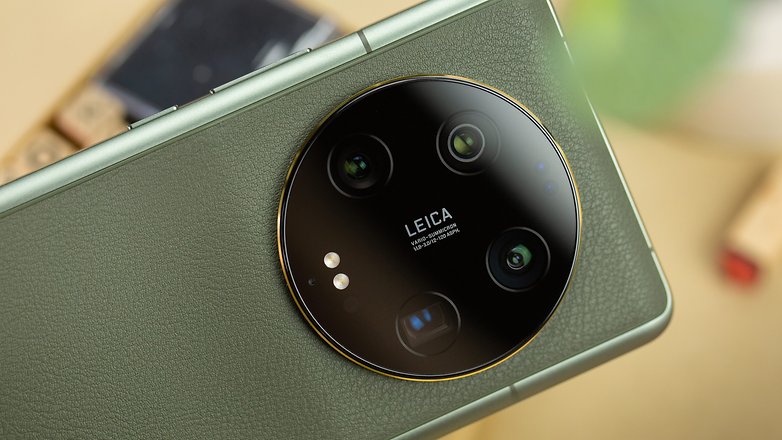 The bottom line is that the Xiaomi 13 Ultra thus offers a camera system that is really like a one-stop shop when it comes to hardware and software, and it is all-around fun. Yes, Samsung remains the zoom leader on paper with the S23 Ultra and 10x optical zoom, but Xiaomi offers a more coherent overall concept and all-around better image quality with a smaller gap in the overall focal length range.
I would like to leave you with a couple of paragraphs concerning the included cameras, of which I cannot say for certain at this point whether it will be a "China only" product or whether it will also be available on a global scale. There is another green case, which, unlike the black case that comes with the kit, allows you to attach a standardized and screw-on 67 mm filter. Actually, this is a moot point, since this functionality could have been offered in the standard case.
Furthermore, there is a push-on and lockable handle. It connects to the Xiaomi 13 Ultra via Bluetooth by permanently pressing the two-stage shutter button. Thus, you can also use the handle as a remote control. When mounted to the smartphone, it facilitates photography with a better grip, offering a practical strap, zoom controls, and a shutter release which focuses when pressed lightly to capture a photo when pressed.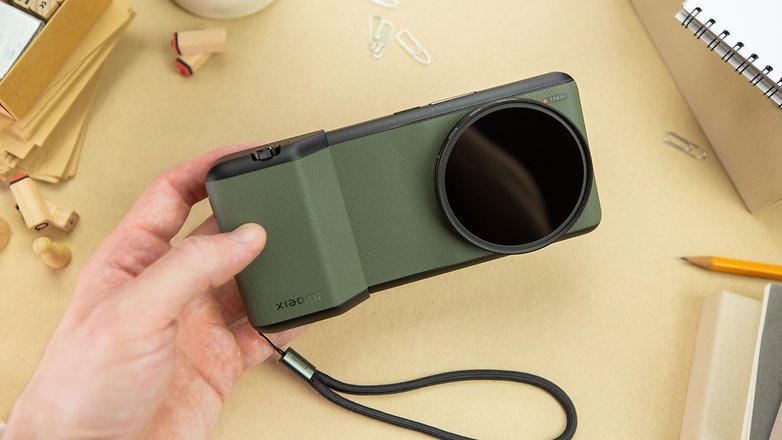 Xiaomi 13 Ultra battery
The Xiaomi 13 Ultra offers a 5000 mAh battery and is thus initially similar to the competition. Charging is also quite fast with 90 W via cable and 50 W wirelessly. We certainly did not expect any less. Of course, you will also get through the day with the Xiaomi 13 Ultra and a full battery charge.
---
What I liked:
5,000 mAh capacity battery.
The battery charges to full in less than 50 minutes.
Quick charging at 90 W.
Wireless charging at 50 W.
What I disliked:
A long battery life is probably not the Xiaomi 13 Ultra's strong point.
Probably doesn't support fast PowerDelivery via USB 3.2 despite PD 3.0/QC 4.0.
---
The Xiaomi 13 Ultra fills up its 5,000 mAh capacity battery at up to 90 W in less than 50 minutes using a specially included Xiaomi charger. After just 5 minutes, it already charges the battery to 26%, and hits 70% after 20 minutes. Wireless charging works at 50 W, and reverse wireless charging is supported as well at 10 W.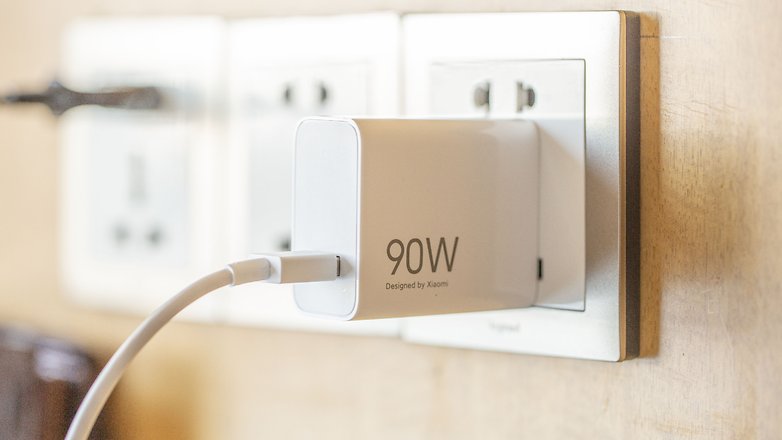 Xiaomi mentioned Power Delivery 3.0 and Quick Charge 4.0 compatibility in its specifications. However, we were not able to perform a 120 W fast charge via a standard PD power supply. However, we would wait for our review of the global Xiaomi 13 Ultra unit to be sure before we can confirm this matter.
The "PC Mark Work 3.0" benchmark test, unfortunately, confirmed our initial feeling of the slightly poor battery runtime. With a display brightness of 200 nits and flight mode turned on, the current Xiaomi flagship managed just 10 hours and 46 minutes to leave us with 20% of battery capacity.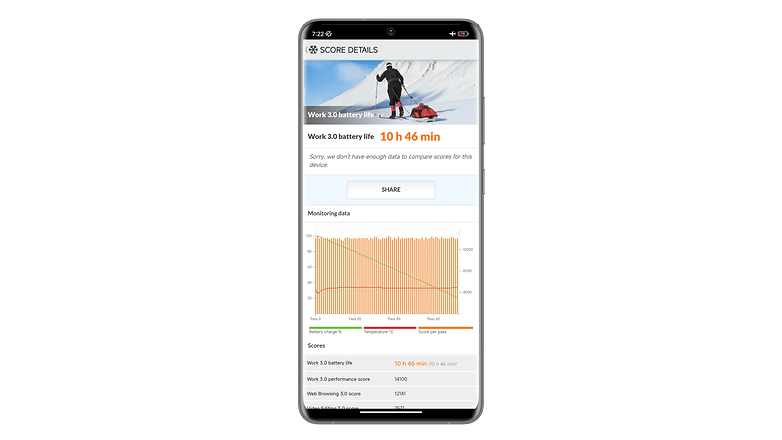 That is already below par for a 5,000 mAh battery. However, I do not dare to make a final judgment here either, since we reviewed a Chinese model and you can tweak its performance a lot more with the right software settings.
Xiaomi 13 Ultra technical specifications
Technical specifications
Product
Image

MSRP
Unknown
Display
6.73" AMOLED (Corning Victus)
3,200 x 1,440 pixels
120 Hz refresh rate (LTPO)
SoC
Qualcomm Snapdragon 8 Gen 2
Working memory
16 GB LPDDR5X RAM
Memory
512 GB UFS 4.0
Expandable memory
-
OS
Android 13 / MIUI14
Camera
Main camera (IMX989): 50 MP, aperture f/1.9 or f/4.0), OIS, 23/46 mm
Ultra-wide angle/macro (IMX858): 50 MP, f/1.8 aperture, 122° FOV, 12 mm
Telephoto (IMX858): 50 MP, f/1.8 aperture, OIS, 3x optical zoom, 75 mm
Periscope (IMX858): 50 MP, f/3.0 aperture, OIS, 5x optical zoom, 10x hybrid, 120/240 mm
optional 67 mm filter ring mount, handgrip with zoom and 2-stop shutter release
Selfie camera
32 MP, f/2.2 aperture, FOV
Battery
5,000 mAh
90 W fast charging, charger included (PD 3.0/QC 4.0)
up to 50 W wireless charging
10 W reverse wireless charging
Connectivity
5G / LTE / Wi-Fi 6E (Wi-Fi 7 ready) /Wi-Fi Direct / Bluetooth 5.3 / NFC
IP certification
IP68
Colors
Black, White, Olive Green
Dimensions and weight
163.18 x 74.64 x 9.06 mm, 227 g
Early Verdict
The Xiaomi 13 Ultra is, of course, a great smartphone. How else can we put it?
It currently has the most powerful processor available for Android smartphones. The battery charges sufficiently fast enough, and the high-resolution display is simply wonderful. The eye-catching design might be a matter of taste, but the materials are high-quality and the build is excellent. The software is not quite on par with the best rivals yet, but Xiaomi has quickly caught up in terms of its update policy.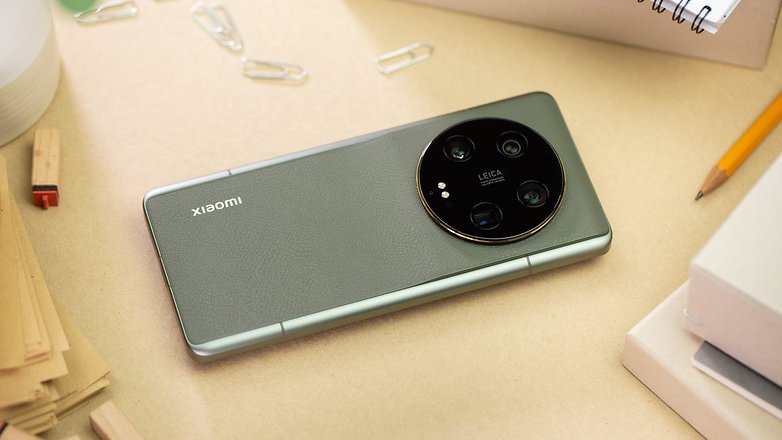 Then there is the camera, which is much more than just a few sensors nailed together without any concern. The camera follows a strict concept and is more sophisticated than in almost any other Android smartphone.
Currently, only the Honor Magic 5 Pro and the iPhone series can keep up, but they both offer less variety—and will also have to take a back seat in terms of picture quality based on our hands-on experience.
Here we are at the end of our detailed review of the Xiaomi 13 Ultra. We are left with the final question of its global price. Our guess? Your favorite NextPit editors will, of course, review the global version just as reliably for you!