How to speed up your Android smartphone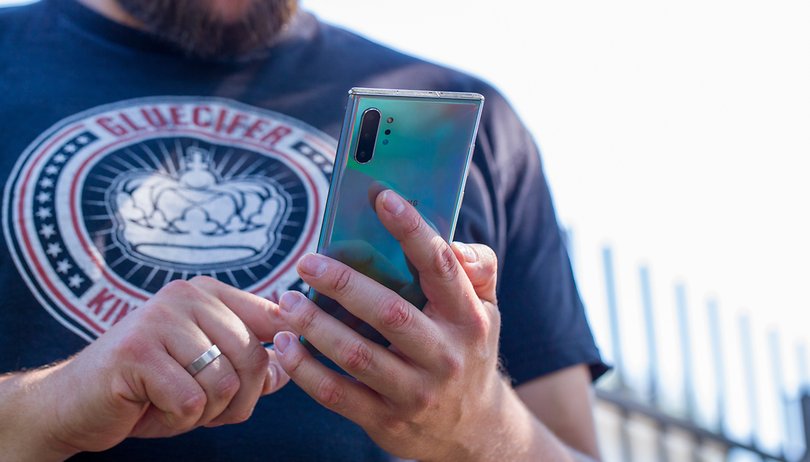 A slow smartphone can be inconvenient and irritating - whether it is a low-end device that was slow when you first bought it, or an older device that has gradually slowed down. However, there are solutions that can help you improve the performance of your phone or tablet. This is why we have compiled a list of tips and tricks, which should give you the desired results!
Jump to section:
1. Identify the problem
The first thing to do is find out what is causing the problem: an app, multiple apps, the system itself? Trepn Profiler by Qualcomm will show you the real-time CPU load for individual cores, an overview of network traffic for both data and Wi-Fi, GPU loads and RAM usage and more.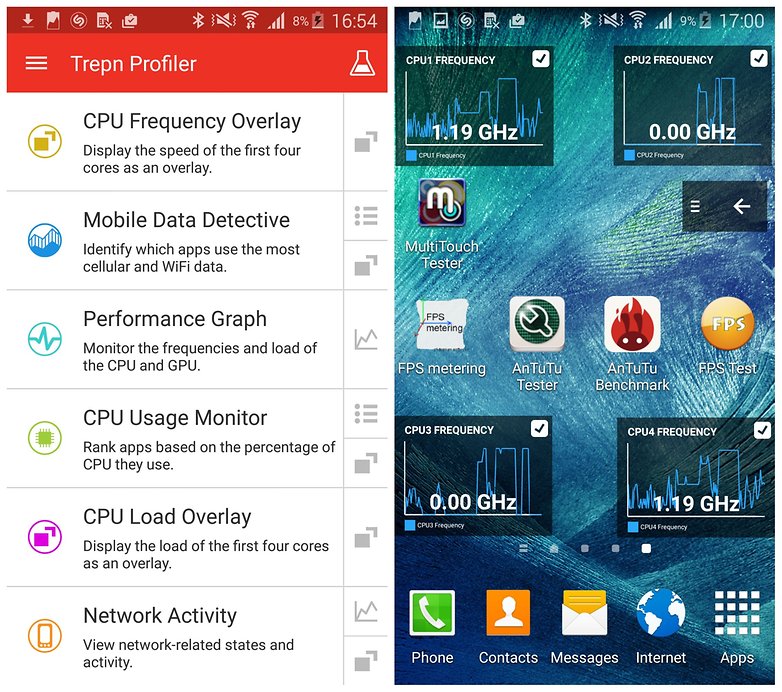 Trepn can also produce app-specific or system-wide profiles and contains various methods for displaying accumulated data. You can save your profiled data for offline viewing and analysis and even have performance overlays on running apps.
Once you've figured out your specific issue, you can move on to the solutions below.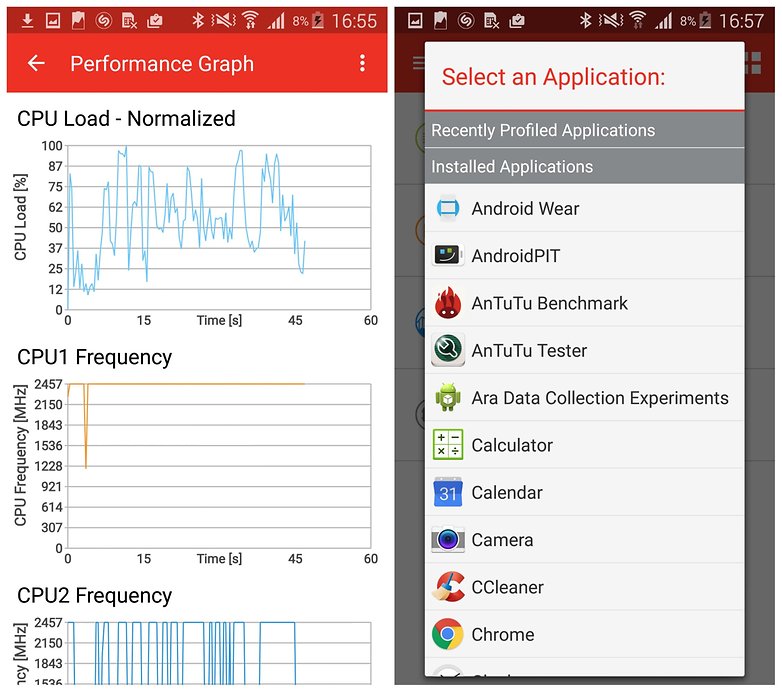 2. Free up some space
All of the photos and videos you have taken plus the apps you have installed can take their toll on your phone. It needs breathing room to run smoothly, and if it's low on storage, it can start to slow down. Thankfully, many Android devices provide options to do so without the need of installing 3rd party apps.
Head to Settings, then Storage (on some phones Storage could be a subdirectory of Device Maintenance or similar). From there you will be able to see how much space is being used and by what files or apps.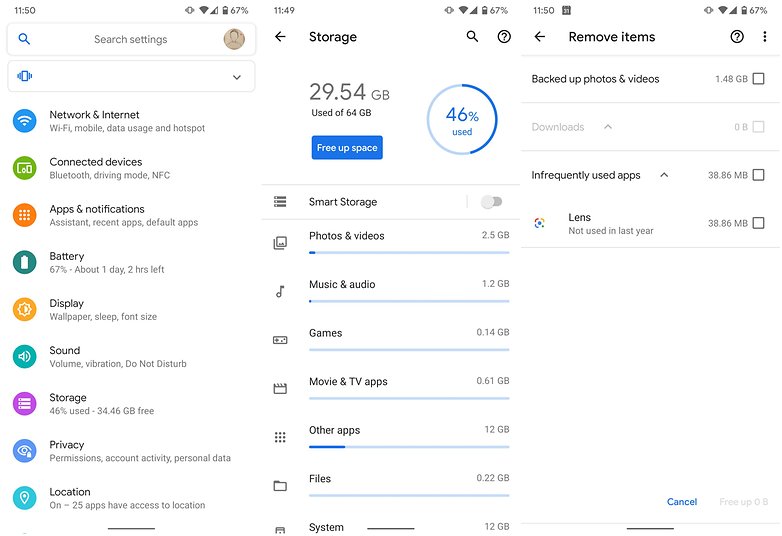 As you can see from the above screenshots, your device should offer a lot of storage management options. We used an HTC in this example, but the same applies to most Android devices. After tapping Free up space you will be able to delete downloaded files you no longer need or uninstall infrequently used apps. On Samsung, for example, you will simply get an option called Clean now, which will clear unnecessary files and app cache.
If your device doesn't clear app cache through its storage management options, you can also do so manually. Many applications that are image-heavy, such as social media networks, your browser, etc. tend to accumulate cache in the hundreds of megabytes or even gigabytes in some cases.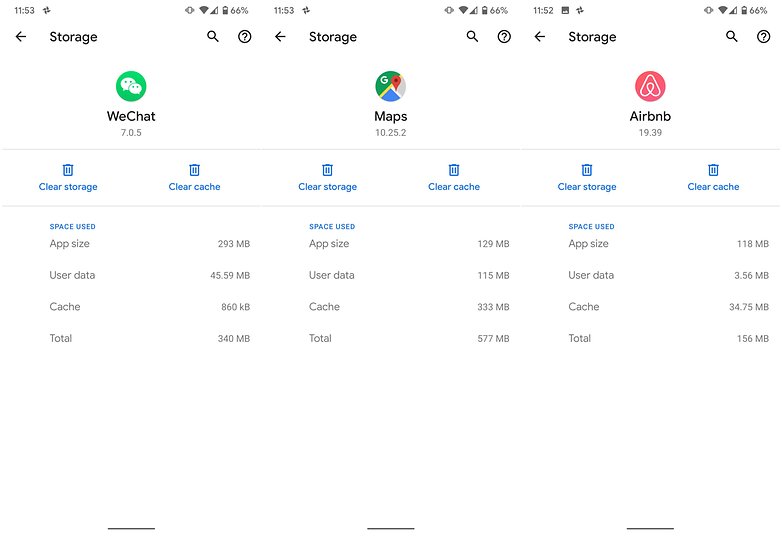 Many of the apps you have installed use data caches in an attempt to speed up operations. This is effective up to a point, but if you are running short of space, it can actually be counter-productive.
Finally, you can free up space by getting rid of preinstalled bloatware. In some cases you will be able to uninstall manufacturer apps completely, in others you can only disable them. Here is a detailed guide on which applications you can get rid of and how:
3. Cut back on the widgets
Although widgets are not all the rage like they were back in the day, many users still enjoy plastering their screens with them. However, while they might be fun or useful, they also take up their fair share of resources.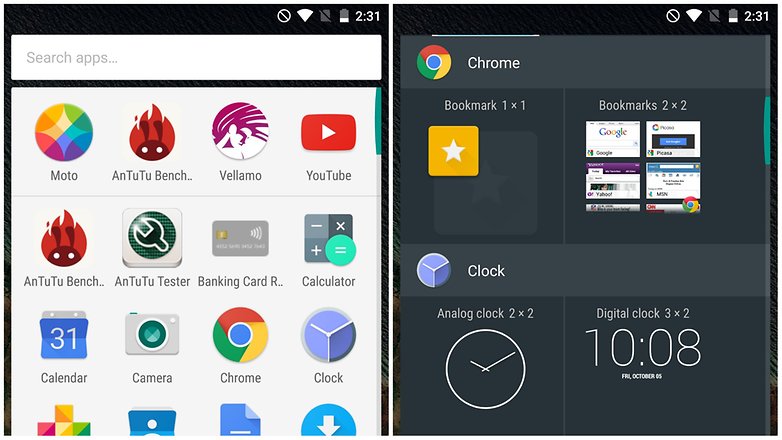 If you have any widgets running that you don't really need, consider disabling them.
There's no harm in having some active, but you will notice an element of slow-down if you have too many running at the same time, so just be a little selective.
4. Disable unnecessary animations and extras
Depending on the launcher you are using, you may find that there are various animations and special effects in place. These may look great, but they can also slow things down.
Check in your launcher's settings to see if there is a way to disable any of these unnecessary extras, and you could earn yourself a speed boost.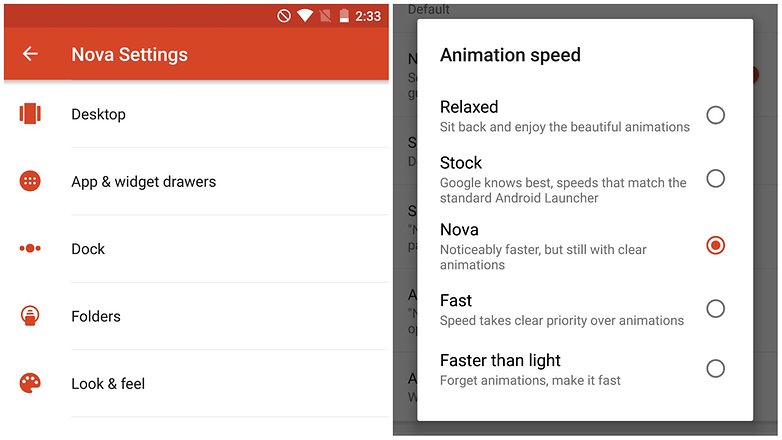 If don't use a launcher or the one of your choice doesn't have animation options, you can also change them by delving into the developer options (you can find out how to enable them here). After enabling developer options you can tweak animations or turn them off completely.
5. Close apps and free up RAM
Multi-tasking several apps makes it easy to switch between different tools, but there can also be an impact on performance. You can quickly close down any apps you are no longer using by calling up the running apps list and then swipe away any apps you want to exit. If you have developer options enabled you can also kill apps or services running in the background. We only recommend this step, if you are an advanced user, however.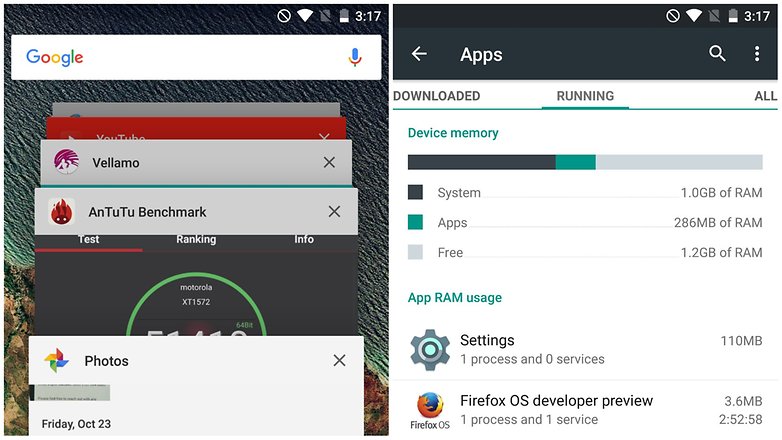 6. Do not install task killers or third party cleaners
Although it might seem like an excellent idea for more inexperienced users, task killers and 3rd party storage management apps usually do more harm than good. Android devices manage their RAM quite efficiently on their own. Besides, if a background application you need is killed, rebooting it takes longer and uses more battery. This can further slow down your device.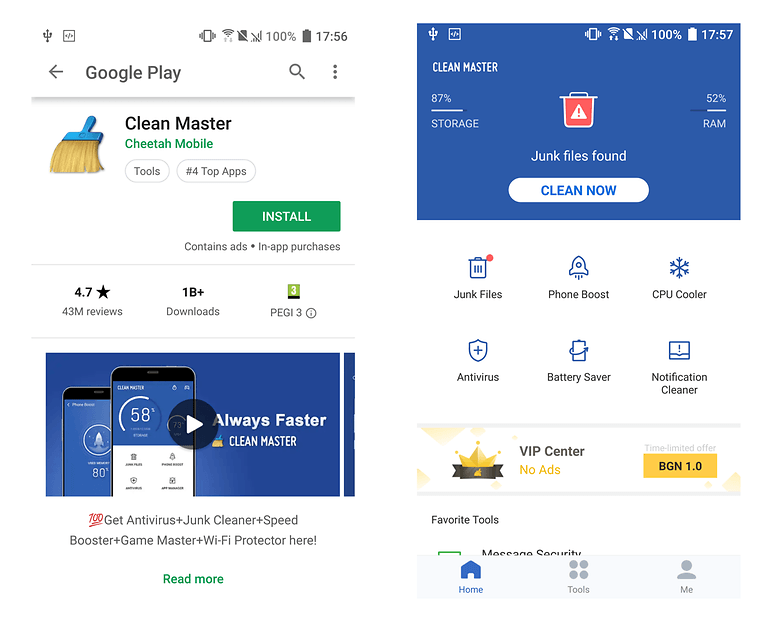 Apps like Cheetah Mobile's Clean Master also clear app cache way too often - slowing down their operation instead of speeding it up. In other cases, apps similar to Clean Master simply don't do much or don't affect performance at all.
Finally, you should be concerned for your privacy and the security of your device when using such third party apps - many of them require extensive permissions and are not exactly careful when handling your data.
7. Restart your device
A quick and simple fix for a slow device is to simply restart it. This can clear out the cache, stop unnecessary tasks from running, and get things running smoothly again.
Just hold down the power button, select the Restart option, and then tap OK to confirm.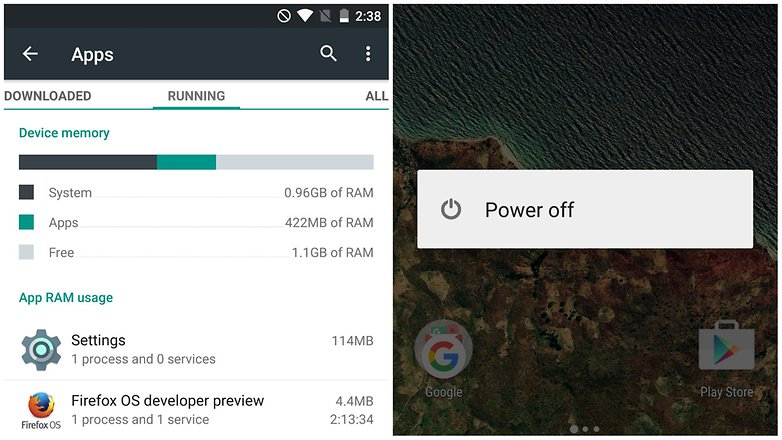 8. Make sure your software is up to date
Do you keep swiping aside that notification to update your software? It only wants the best for you. Software updates are not always about new features, most of the time they also contain bug-fixes and performance enhancements than can significantly speed up your device's operation.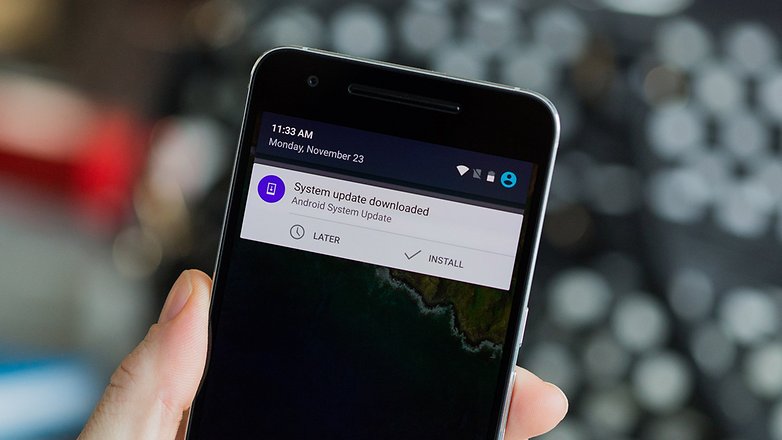 Make sure your software is always on the latest version available. You might not always be ready for a big download but don't put it off forever, either.
9. Dig deeper
You can also keep tabs on the apps that are using lots of battery by going to Settings > Battery.
You can also monitor RAM usage in Settings > Apps (or App Manager, depending on your brand of phone)
There's even more geeky goodies in Process Stats in Developer Options – if you don't have this setting enabled, go to Settings > About Phone and tap Build Number seven times until a notification pops up.
10. Root your phone
For advanced users, the unlocking the developer options is a mere taste of power, the first step on the path to the real arcane arts-rooting the phone.
With a rooted device, you have the freedom to install cleaner ROMs that can run more smoothly than your current setup, and even overclock the processor, cracking the whip on your hardware to make it run faster.
Just keep in mind these methods are not without risk. Rooting your phone is a complex process, and it can void your warranty. A careless user can end up breaking their phone's operating system. But the rewards outweigh the risks for many.
If you feel confident enough to root your phone, we recommend reading through our guide first:
11. Factory Reset
Yes, it's that faithful old last resort that can save the day when all else is lost (and if you're doing this, all else will be lost). A factory reset will restore the phone to the condition the manufacturer shipped it in, which can do wonders to clean up obscure bits of leftover software and buggy code that could be clogging up performance.
Trouble is, of course, that you'll lose all your data. But if you've tried all our other tips and still aren't happy with the speed of your phone, then it could be time for drastic measures.
First of all though, you should do a backup:
Then, follow these instructions to carry out a factory reset:
We hope that you've found these tips useful to getting your device fast and fit again! We've also shared some other great apps for monitoring system performance on Android, apps to give your Android a performance boost and tips to increase available RAM on Android. From what we can see Trepn Profiler deserves a rightful place amongst these other A-listers.
If you're looking for more device-specific speed tips for older devices, check out these solutions:
How to speed up the LG G2
Do you have any tips and techniques you use to speed up your phone? Do you have any apps you use optimize the process? Let us know in the comments!