Ultimate Ears Blast and Megablast: Testing the colorful Alexa speakers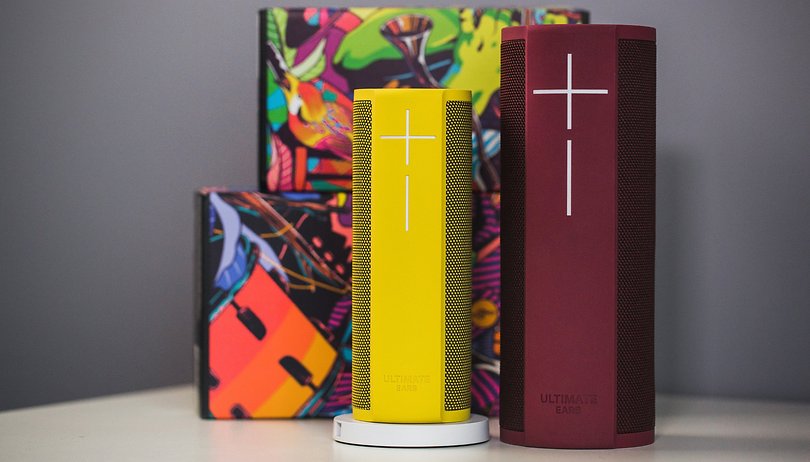 Ultimate Ears Blast and Megablast speakers are loud, smart, and expensive. Taking into account their colorful design, large battery, Wi-Fi, and many more features we discuss whether this combination of features works well in our review.
Good
Good audio quality outdoors

Long battery life

Waterproof
Bad
Audio quality doesn't match the price tag

No party or multi room function

Limited streaming services
Release date and price
Currently, you can buy the speakers in black, white, blue red, green and yellow, at a price of around $270 for the megablast, and $230 for the blast. I had high expectations for these speakers, as they are considerably more costly than the Google Assistant equipped competitors, the JBL Link 10 or the Link 20.
Design and build quality
Similar to the Link series, they are waterproof to IP67 standards, so you can confidently sing in the shower with your favorite music playing, or take it to the pool without worrying about it getting splashed, as the device is well protected with a rubber coating. Don't get too carried away though, they can only be in fully in water for around half an hour, and not at more than 1m.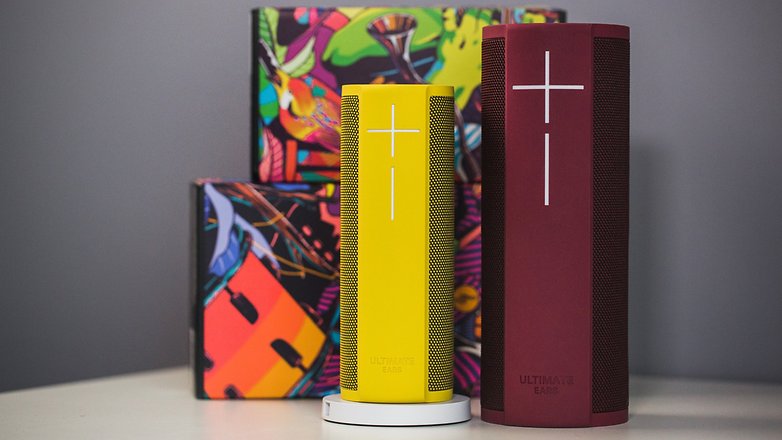 Those over-sized plus and minus icons to adjust the volume are on this device too, the same as on UE's previous model, the boom speakers.To switch the power on, press the LED button located on top, and the new switch next to it shuts down the Alexa microphone while in Wi-Fi mode. If you hold this down for a few moments, Bluetooth pairing will begin.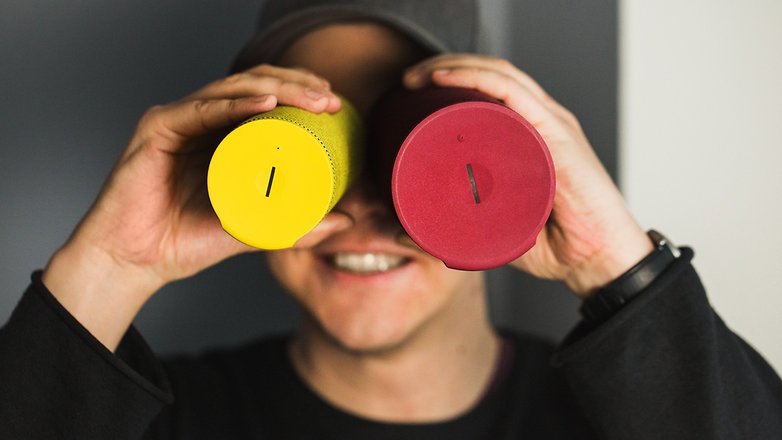 Special features
Equipped with Alexa, these are the perfect speakers for your smart home. However, they depend on a wireless internet connection. You cannot use your phone in Bluetooth mode to connect to them, so therefore you would need a hotspot if you are travelling around.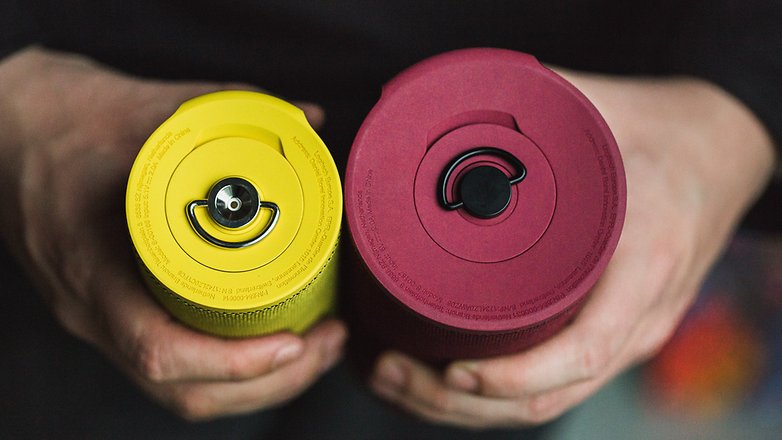 However, since most smartphones consume significantly more power in hotspot mode, the Alexa feature is pretty useless to most of you when you're on the go. When you're in the house though, you can of course enjoy all of the features that Alexa offers.
Software
Unfortunately, the app used to control the speaker can be quite slow on Android, and the initial setup takes slightly longer due to software updates, but you should only expect to wait around fifteen minutes. Why could this be? It turns out that the app was not created following the Android design guidelines, it sometimes does not seem to recognize the "back" button. Maybe Logitech assumes that people who spend almost $300 on a speaker own an iPhone.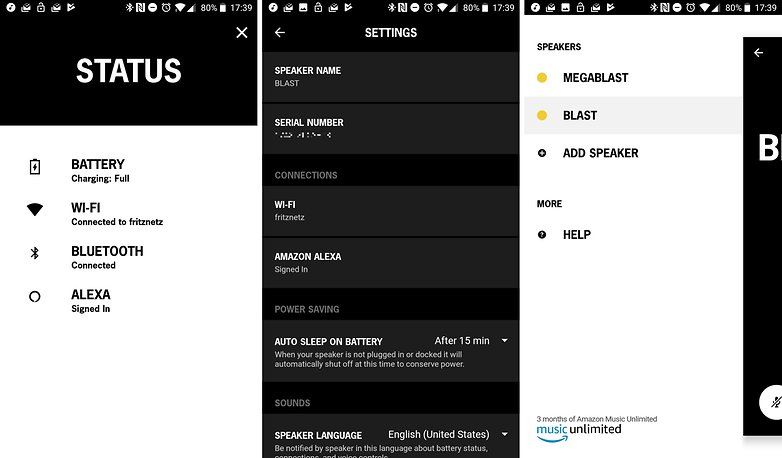 Luckily for Android users, you can uninstall the app once you've set everything up, and use the Alexa app to enable voice commands.You won't need to use the app again unless you change your Wi-Fi password.
If you're looking for a speaker with a party function to allow you to link with other speakers for multi-room playback, then you need to look elsewhere, and Alexa does not offer this feature, either. Do you have a huge music collection that you've been building over the years? Sadly, you won't be able to play it unless it's with your Amazon or Spotify subscription. So unless you're willing to sign up to these music services, I would not recommend this speaker, as the limitations and additional costs will be too much.
Audio
I would use the word average to describe the sound quality. For the price tag, you can get a better sound elsewhere, however, the sound outdoors and at high volume is quite impressive. If you just want to listen to music in your apartment, there are much better options on the market.
Speaker set up: Blast vs Megablast
| | Blast | Megablast |
| --- | --- | --- |
| TWEETER | | 2 x 25 mm active |
| MIDRANGE | 2 x 35 mm active | 2 x 55 mm active |
| BASS | 2 x 81 x 39 mm passive | 2 x 85 x 50 mm passive |
The manufacturer proudly announced that "With a maximum sound pressure level of 93 decibels, the megablast has the highest volume of the Ultimate Ears range and is 40 percent louder than the Ultimate Ears Megaboom". As mentioned previously, the volume outdoors is its only strength worth highlighting. Otherwise, the sound is quite tinny and this can not be improved with any kind of settings in the app.
In the video below, you can see both the Megablast and the JBL in action. Comparing the two, you can see that neither of them sound great, but at least the link costs much less.
Battery
You will be able to keep your music blaring for around 12 hours with the blast speaker, and the Megablasts boasts a 16 hour playback time.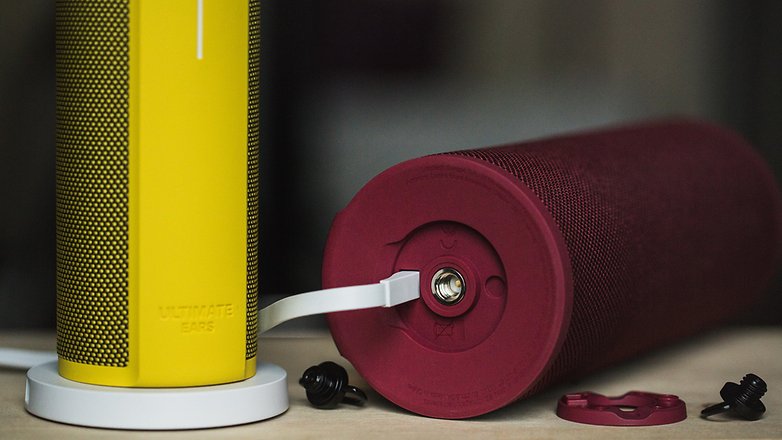 There is a downside though, the best charging station is not included, and you will have to pay an extra $39.99. After replacing the cap with a screw, you will simply be able to place your speaker on top of the charging dock.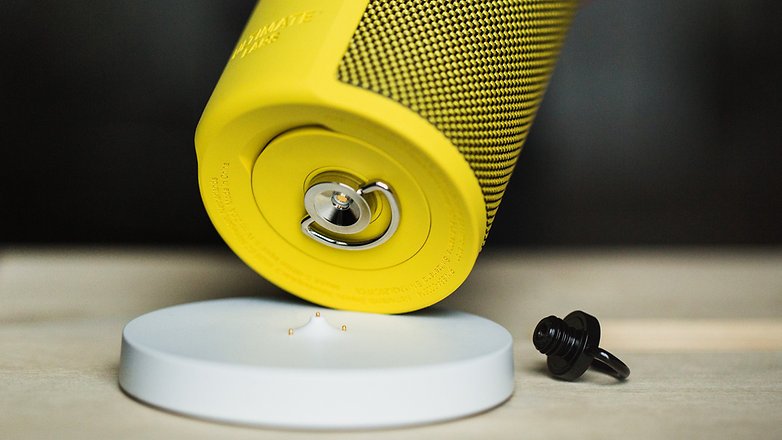 I think the charging station should have been included in the first place and I don't think that's an unreasonable thing to expect considering the price. Having Alexa means that they are permanently switched on, and the voice assistance is not as practical when you have to use the charging cable that comes with the product.
Final verdict
Ultimate Ears certainly aren't delivering much more than the competition. To be fair, the structure of the 360-degree speaker is flawless and they do function well when outdoors, however, the sound isn't outstanding like I'd hoped. If you compare them with the less expensive JBL speakers, you begin to question what UE offers to make it worth paying that extra $100.