Sony Xperia Ear Duo: The unusual AirPod alternative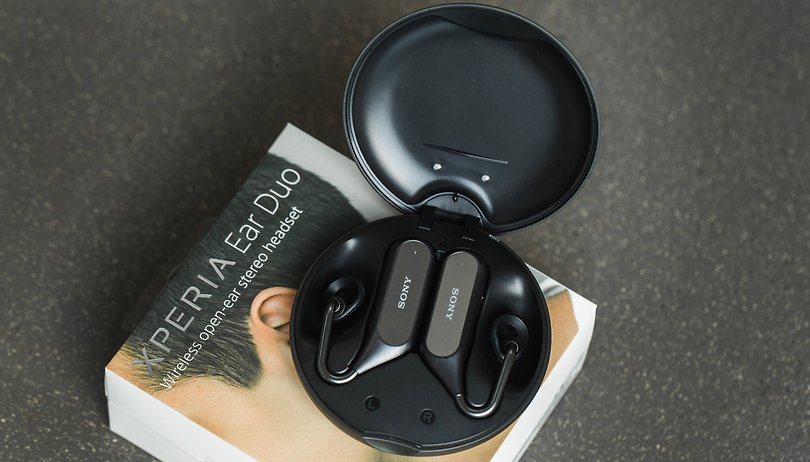 More and more smartphones come without a 3.5 mm headphone jack and manufacturers of audio accessories have adapted to this. Sony's Xperia Ear Duo is a completely wireless headset with a unique design that is practical and safe for everyday use.
Good
Comfortable to wear

Perceptible ambient noise
Bad
Strange design

Cumbersome setup

No bass

Slow touch operation

Not usable for videos
Not exactly cheap
Sony presented the new Xperia Ear Duo at the Mobile World Congress 2018 in Barcelona and now they are finally available to the American market. Sony's recommended retail price for the Xperia Ear Duo is 279 dollars, and the headphones are available in black and gold.
Comfortable despite strange design
If you think Apple's AirPods look funny, you're wrong. When I first saw the Sony Xperia Ear Duo at the Mobile World Congress, I had my doubts about Sony's design department. But after a little fiddling around with the wireless headphones, I was very surprised by how comfortable they were. Since the headphones aren't inserted into your ear canal, and instead lie on top of it, you don't feel like they're pressing into your ears.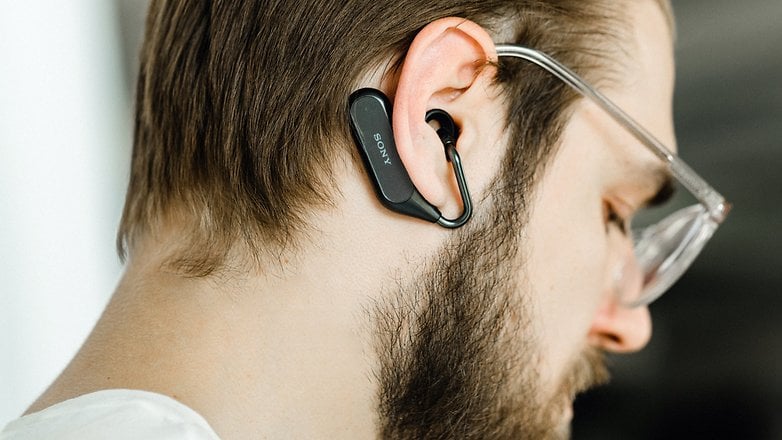 At first you'll have doubts about the Xperia Ear Duo, since at first they look like hearing aids that are worn upside down. They can withstand fast, stomping walks, a fast run down the stairs or even jogging on a treadmill. It turns out that Sony's engineers have done their homework and the Ear Duos stay safely on your ear in every situation .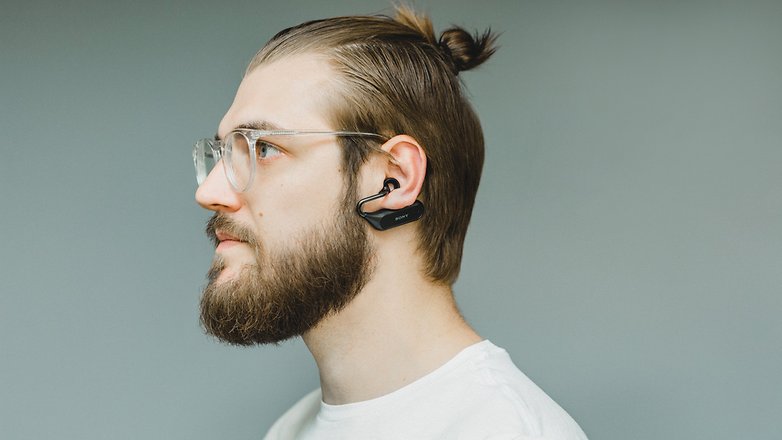 Sony has built a touch field into both ear parts. While four of the five touch commands on the left touchpad come predefined, all five on the right earpiece can be assigned actions. The possible actions are limited and follow the familiar patterns for headphones with touch operation.
You can still control the headphones with the help of head gestures, but you'll look strange when you move your head with a jerk to the right or left or when you do a quick jump to change songs. If you want to stop the assistant from reading out messages you can shake your head. These commands are all very practical if you don't have a free hand, but they can't really be a complete replacement for touch operation in everyday use.
Good software that needs support
The Xperia Ear Duo's app is self-explanatory , but my first tip would be that you put a stop to the otherwise very chatty Sony assistant. If you don't change the settings, you'll be bombarded with the time, weather, messages, and news over and over again. This might be entertaining at first, but after the tenth WhatsApp message in which the assistant tries to put Emojis into words, you'll just want to turn off this feature.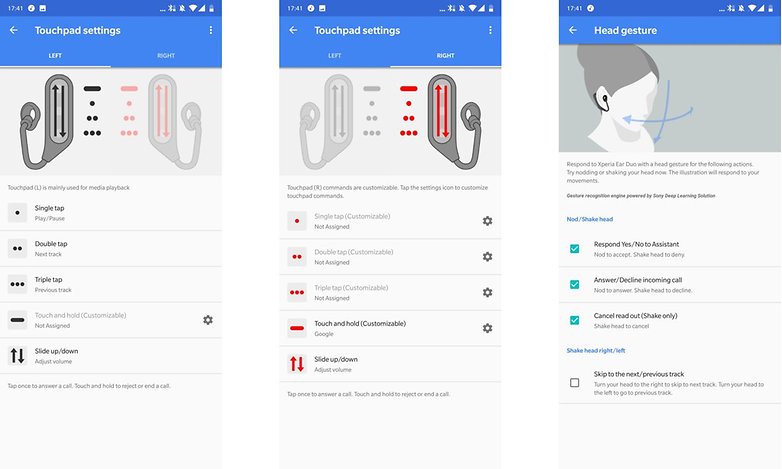 Anytime Talk, but only for Xperia Ear users
In addition to the more or less usable assistant introduced last year, Sony has integrated another function in the app that was updated in time for the sales launch: Group chats. This function is still in its beta phase and will be able to connect up to five Xperia Ear and Ear Duo users via the internet. It's basically a walkie-talkie style voice chat. Just press the talk key in the app and say your voice message, and then it will be transmitted to the participants in the group. Again, you can perform actions with head gestures. In the beta, a previously recorded message can be sent by nodding and shaking your head.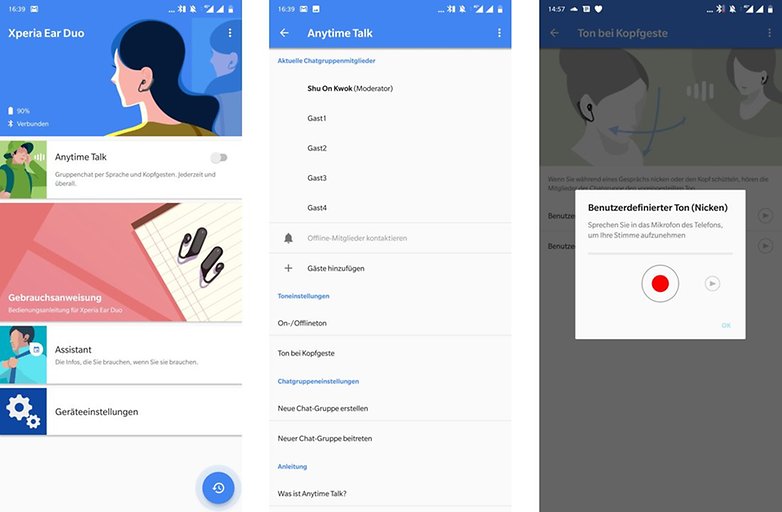 But why is Sony testing this function if it requires an Xperia Ear or Ear Duo hardware for all participants in the group chat? The app is practically only for Sony customers, but I find it hard to imagine that an entire circle of friends will suddenly all buy Sony wireless headphones just to use Anytime Talk.
Audio experience won't shut out outside world
The Xperia Ear Duo is interesting in everyday use, since with this design you're always aware of your surroundings . Up to 50% volume, you'll feel like you can perceive the environment and that the music is just a gentle background. When you crank it up to maximum volume, the music shifts into the foreground, but you won't be sealed off from your environment. If you're cycling or walking in a big city, you can hear the traffic noise and still easily communicate without having to remove the headphones from your ears. This is different in comparison to the Gear Icon X or Apple AirPods, which really keep you blocked off from the outside world.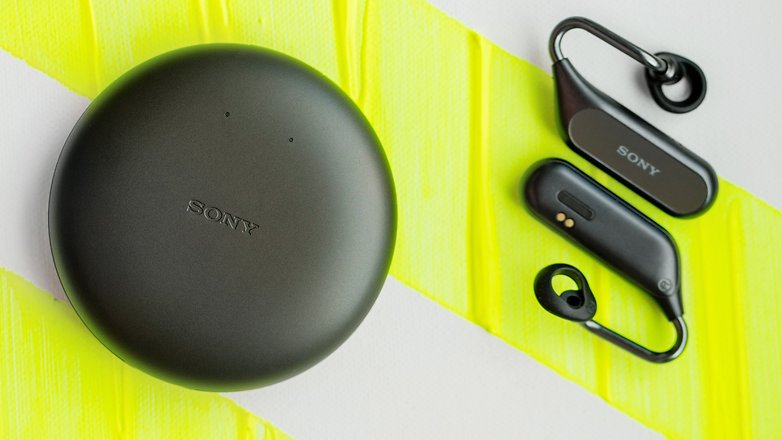 Without bass and with delay
If you like strong bass, you might as well stop reading here. Even when you turn up the bass on your smartphone, you won't really get much in your ear. The Ear Duo simply lacks the resonating body to produce bass. For fans of hi-fi sound, the Xperia Ear Duo can't offer much in this department. Even if you're just the type that likes watching videos on your smartphone, you should stay away from the Ear Duos. The delay is so irritatingly long that after just 5 seconds, I stopped watching videos or playing games with these headphones.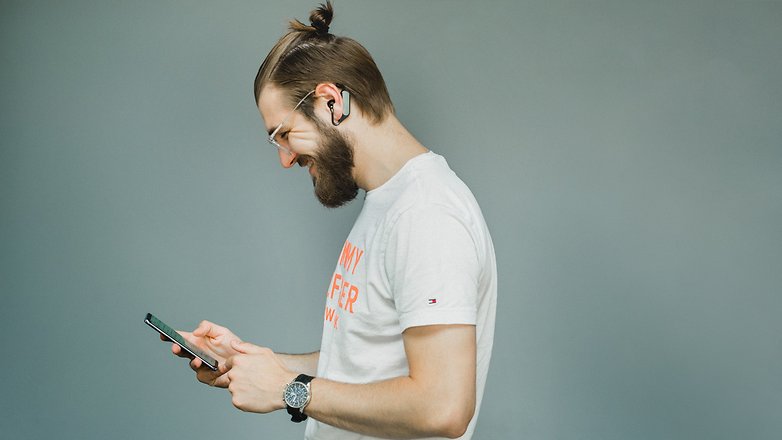 Not a big hit, but recharges quickly
If you have wireless headphones, then of course the battery life is an important purchase criterion. The headset comes with 56 mAh per ear part, so the battery will last for four hours , but then after that there's really nothing left. The good thing is that Sony installed a 740 mAh battery in the transport box, which gives the headphones a running time of one hour after just seven minutes of charging. After 25 minutes of charging, they'll be ready for four hours of use.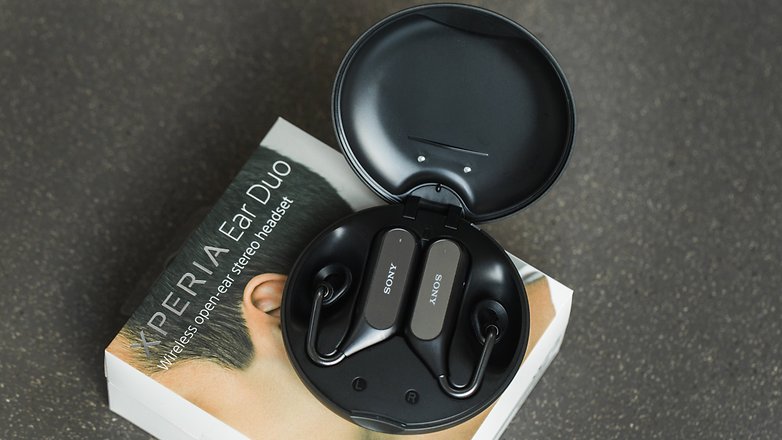 A good idea, but has its shortcomings
The Sony Xperia Ear Duo headphones are unusual, in terms of its design, style and in the way the music reaches your ears. Sony's approach is great for continuous use or for road safety. The open design means that you can always hear ambient noise and remain in contact with your environment. You won't have to keep putting them on and taking them off like you do with some conventional headphones.
All in all, the strength of the Xperia Ear Duo is also its greatest weakness. Headphones are meant to be used for entertainment. People want to enjoy music and videos are meant to grasp you emotionally, but the Xperia Ear Duo can't give you all that. It's a shame...