Sony WF-1000XM5 Hands-on: Sony is Back With a Vengeance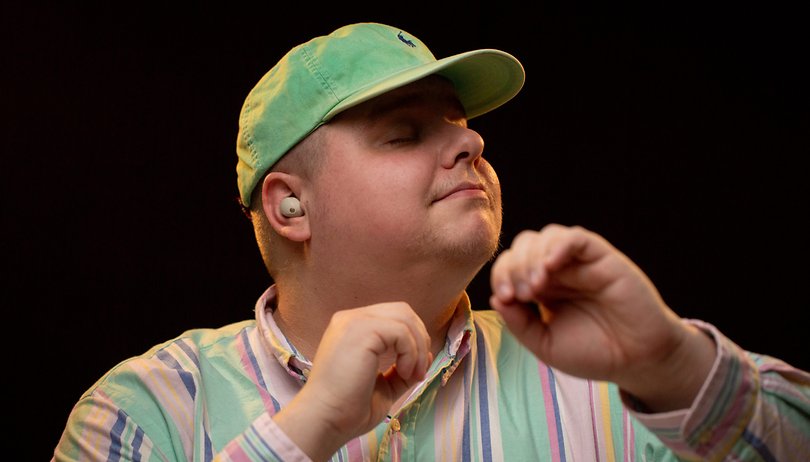 The Sony WF-1000XM5 are the latest active noise-reduction wireless headphones from the Japanese audio specialist. I've had a chance to take them for a spin, and I'd like to give you my first impressions of these top-of-the-range earphones with ANC, sold for $299.
Sony WF-1000XM5 in a nutshell
The Sony WF-1000XM5 are Sony's flagship earphones. They are a pair of in-ear headphones with active noise reduction (ANC). The earphones are available in two colors: black and silver. Priced at $299, they will be available in August 2023.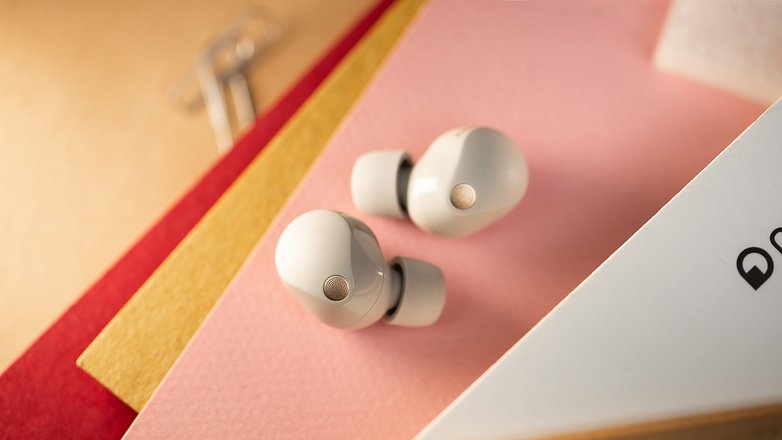 Design
The Sony WF-1000XM5 have a much more minimalist and compact design than their predecessors. We're sticking with a plastic finish, an intra form factor, and IPX4 certification for water resistance.
---
Pros:
Compact and discreet.
Correct fit and comfortable wear.
Wear sensors.
IPX4 certification.
Cons:
The design has less character.
---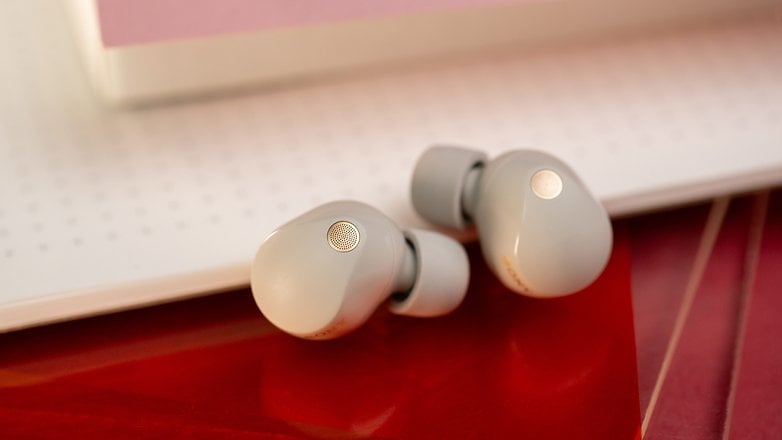 I still have my old Sony WF-1000XM3s and it's pretty crazy to see the progress Sony has made in terms of form factor. The Sony WF-1000XM5 are the manufacturer's most compact high-end headphones.
According to Sony, they are 25% more compact and 20% lighter than the Sony WF-1000XM4. They look like little buds, with a smooth surface on the outside and a matte finish on the inside.
Personally, I think they look a little too much like Samsung Galaxy Buds 2 Pro. I preferred the more complex design of the previous model. But that's purely a personal preference.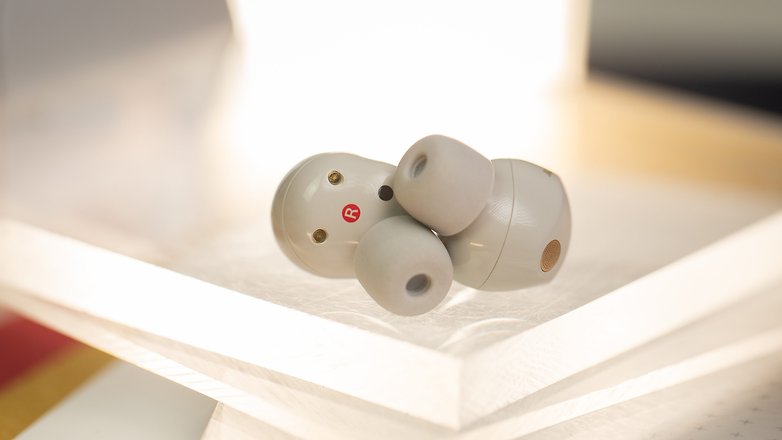 The Sony WF-10000XM5 are IPX4 certified for water and dust resistance. You won't be able to submerge them. But they'll stand up to sweat or rain for sports and/or outdoor use.
The port sensors are a pleasure to use and work well. The recharging case is fairly compact, the lid hinge seems solid and the earphones are held securely inside by magnetic fasteners.
Audio & microphone quality
Sony WF-10000XM5s feature new drivers, the V2 processor, and the QN2e chip for active noise reduction. The LDAC HD audio codec and DSSE Extreme upscaling function are also included.
---
Pros:
LDAC codec.
Balanced audio signature with generous bass and present midrange.
Excellent spatialization.
Effective 360° audio.
Cons:
---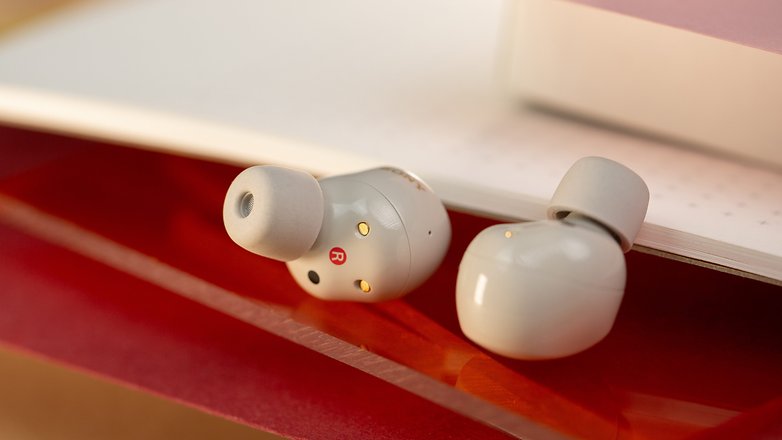 Let's start with the loudspeakers: New Dynamic Driver X drivers, 8.4 mm in diameter. This is larger than the 6 mm drivers on the Sony WF-1000XM4.
Sony also launched its new V2 processor and QN2e chip. These two processors are responsible for managing active noise reduction and technologies such as DSSE Extreme, which upscales your mp3 tracks.
Of course, the Sony WF-1000XM5 also supports Sony's LDAC codec, so you can listen to your tracks in CD quality.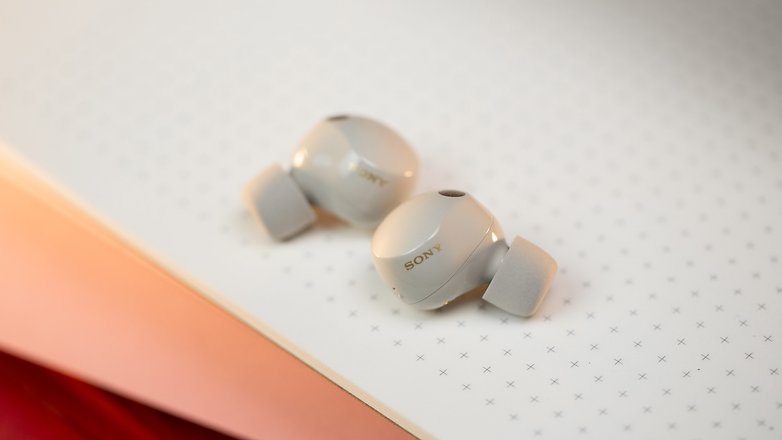 During my very brief hands-on, I really enjoyed rediscovering Sony's W-shaped audio signature. Basically, Sony flatters just about the entire frequency range. Bass is generous but doesn't overwhelm the rest. The mids are well present, without sibilance. And the highs, a little behind the rest, are precise and clean.
This is far from a neutral rendering. But there's a certain balance. In any case, you can adjust the audio rendering via the Sony Headphones Connect application, which features a five-band equalizer.
Active Noise Reduction (ANC)
The Sony WF-1000XM5 features two processors and three microphones in each earpiece to manage active noise reduction. An explosion of technology that enables Sony to retain its title as king of ANC.
---
Pros:
Cons:
---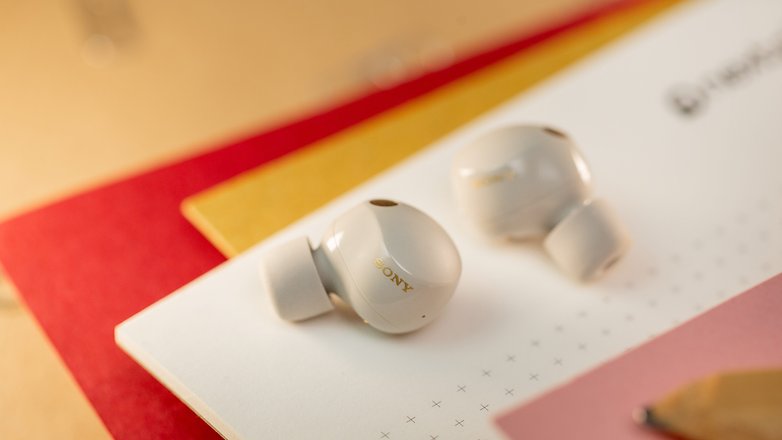 Currently, and in my opinion, it's Apple's AirPods Pro 2 that offer the best active noise reduction. But Sony has literally pulled out all the stops to regain its place at the head of the ANC market.
Each Sony WF-1000XM5 earpiece features three "dual feedback" microphones. These microphones analyze the ambient sounds around you, as well as the sound in your ears. They then adapt the sound you hear to your surroundings, while attenuating ambient noise.
During my brief hands-on, I found noise reduction very effective. Sony had set up installations with circular "roofs" under which you could stand. Encompassing sounds were then broadcast around your head. Most solid-borne noise was attenuated very well, in my opinion.
But I'll have to actually test them, and then compare them with the AirPods Pro 2, to decide whether the Sony WF-1000XM5 are indeed the best wireless headphones for active noise reduction.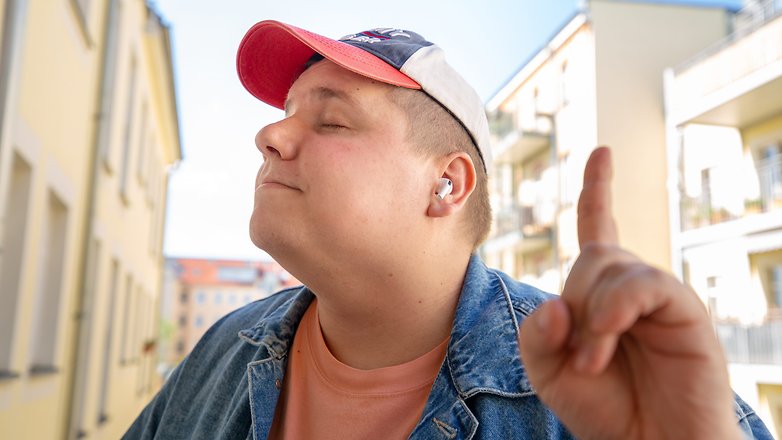 Application & connectivity
The Sony WF-1000XM5 are equipped with a companion application called Sony Headphones Connect. They offer several features such as Bluetooth multipoint, DSSE Extreme, and 360° audio.
---
Pros:
Bluetooth multipoint.
Port detection.
Adaptive noise reduction.
Google Fast Pair and Microsoft Swift Pair.
Spotify Tap.
Cons:
Speak-to-chat is as annoying as ever.
---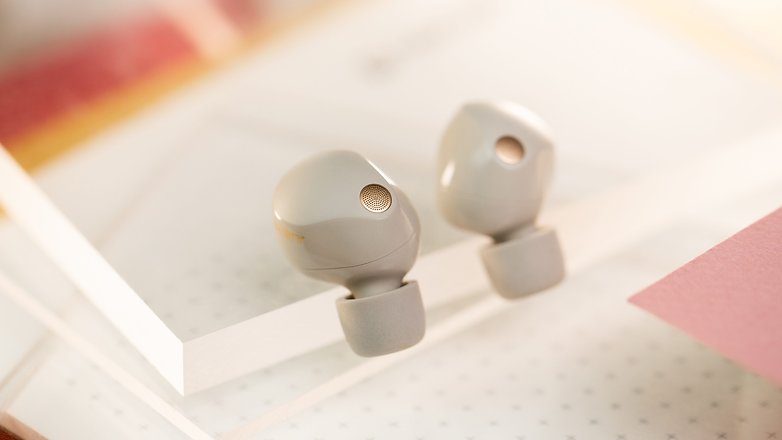 If you're already familiar with Sony Headphones Connect, the app's interface hasn't changed much. It's available for Android and iOS.
You can manage active noise reduction and activate the option to automatically adjust the intensity of ambient noise control according to your environment (office, transport, etc...). The five-band equalizer is as customizable as ever, with a ton of presets to suit your tastes.
The Sony WF-1000XM5 also offers several "comfort" functions, such as multipoint to two devices at the same time, quick pairing via Google Fast Pair and Microsoft Swift Pair, Spotify Tap (to access your tracks and playlists with a tap), and... Speak-to-chat.
Yes, my sworn enemy, this function is still present on the Sony WF-1000XM5. It pauses your playback automatically when you speak. It's a pain in the ass. You have to disable it.
As for the rest, I'll tell you all about it in my full review.
Battery life & recharging
The Sony WF-1000XM5 offer very good battery life on paper, far better than the AirPod Pro 2, for example. And they still offer wireless charging (Qi).
---
Pros:
Excellent battery life on paper.
Wireless charging.
Up to three recharges using the case.
Cons:
---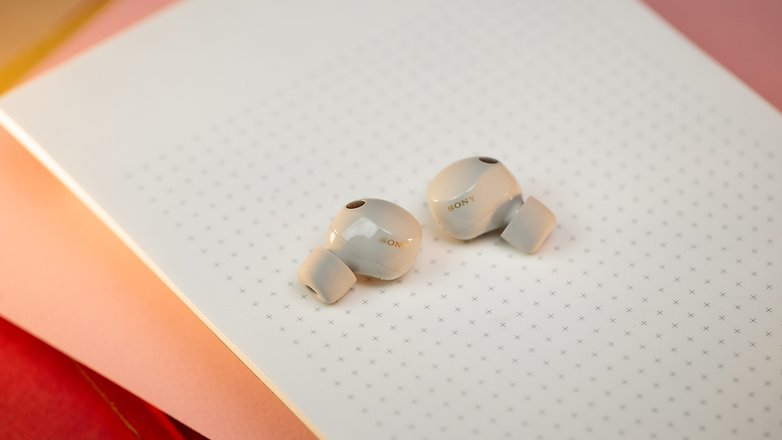 Sony promises a battery life of 8 hours on a single charge and with active noise reduction switched on. Without noise reduction, the Sony WF-1000XM5's autonomy can reach 12 hours.
That's almost twice as long as Apple's AirPods Pro 2, among others. In short, this puts the Sony WF-1000XM5 at the very top of the range.
You can recharge the headphones up to three times using the charging case. With ANC, total battery life (including recharges via the box) is 24 hours. Without ANC, it can reach 36 hours.
According to Sony, three minutes of recharging is enough to get the equivalent of 60 minutes of listening. The box can be recharged wirelessly using the Qi standard.
Unfortunately, I was unable to test the autonomy of the Sony WF-1000XM5. Just note that I used them from 4 pm until the end of the day on the day of the press presentation.
Technical data
Technical data
Product
Image
Design
Format: Intra | port detection | touch controls
Audio
8.4 mm driver | V2 chip | Spatial Audio
Frequency response
Not indicated
ANC

Yes, auto or manual
Dedicated QN2e chip
3 microphones per earphone
Transparency mode

Bluetooth

Bluetooth 5.3

SBC, AAC, and LDAC codecs
Multipoint with 2 devices simultaneously
Autonomy

8h with ANC | 12h without ANC

24h with the box with ANC | 36h with the box without ANC
3 minutes recharging = 60 minutes of listening time

Price
$299
Conclusion
My first impressions of the Sony WF-1000XM5 are very positive. I'm not a big fan of the new, more minimalist design. But it's always a pleasure to rediscover Sony's audio signature and its excellent active noise reduction.
Battery life has also been extensively reworked, and Sony can now claim, on paper, to be one of the best in the business. The Sony WF-1000XM5s are literally jam-packed with features, including multipoint Bluetooth, port detection, adjustable noise reduction, DSSE Extreme,...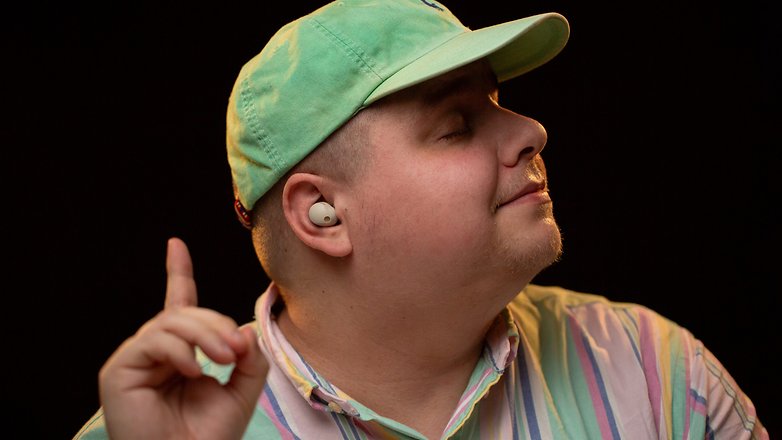 Support for the LDAC codec and these new 8.4 mm drivers should guarantee an excellent listening experience. It's only the microphone quality for calls, a Sony weak point, on which I'll have to make a definitive pronouncement in my full review.
What do you think of the Sony WF-1000XM5? Do you intend to buy these wireless headphones with ANC from Sony? Does the price of $299 seem justified?
To find out more, take a look at our comparison of wireless headphones based on their microphone quality for calls, and our selection of the best Bluetooth headsets with active noise reduction in 2023.