Unlock Hidden Gestures: Double Tap to Master the Galaxy Watch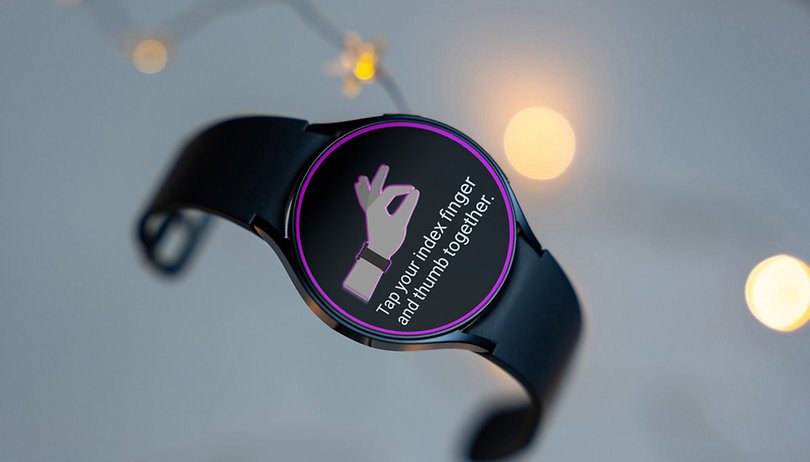 The One UI Watch 5 software update added a host of new features to Samsung Galaxy smartwatches. Among these additions are accessibility controls called Universal Gestures. In this guide, nextpit tells you how to activate this and use the different gestures.
What are Universal Gestures, and why should you use them?
While the new Apple Watch Series 9 and Watch Ultra 2 bring the new Double Tap feature, Samsung smartwatches have long popularized gestures controls. These are further improved in the new One UI Watch 5 software update and are now called Universal Gestures after the update.
As for universal gestures, they remain under the accessibility features. They use built-in sensors on the watch to detect and interpret different motions of the wrist, hand, and fingers, rather than relying on touch inputs for control. Consequently, gestures can be useful in instances where your other hand is occupied.
An alternative for hands-free control is voice control, but the intended functions might be different from Universal Gestures. Regardless, voice command would fit better in speech-to-text input or running a specific task.
How to activate Universal Gestures on Samsung Galaxy Watch
There are two ways Universal Gestures can be enabled on these compatible Samsung smartwatches, and in either case, you can activate them with a custom action like shaking your wrist while your watch is locked or unlocked.
The first way is right through your Galaxy smartwatch. Below is a step-by-step guide.
Unlock your Samsung Galaxy Watch.
Go to Settings and select Accessibility.
Look and choose for Interaction and dexterity.
Tap Universal Gestures, which is off by default.
Toggle on to enable it.

If you prefer setting it up from an Android or Galaxy smartphone where the smartwatch has been paired, the activation process is almost identical to the smartwatch settings. Here's how:
Open the Galaxy Wearable app on your phone.
Tap Watch Settings and select Accessibility.
Choose Interaction and dexterity from the menu.
Now select Universal Gestures and toggle it on.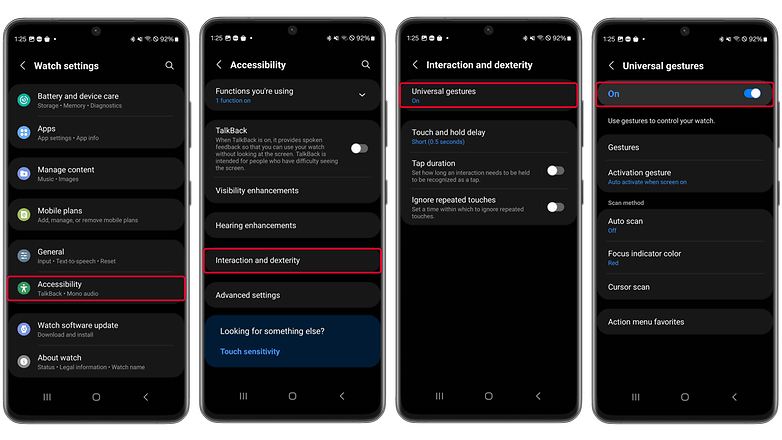 What are the different Universal Gestures and how to use them?
Once you've turned on Universal Gestures from your Galaxy watch or smartphone, you will be presented with an option to go over and learn how to use them. Every time you need to use Universal Gestures, you can perform the selected activation shortcut, but by default, this can be activated by shaking your hand.
Essentially, these motion-based controls can be used when scrolling in an app menu or inside an app where menu items are available. Plus, the current selection is denoted by a highlighter called focus indicator around the menu item, icon, or virtual button, though you get the option to use a cursor.

Below are the different gestures and their preset functions.
Pinch or tap your index and thumb: Moving onto the next menu item or icon when in a menu or app view that is supported.
Double pinch or tap your index and thumb twice: Going back to the previous item or icon.
Clinching or closing your watch hand: Confirming or selecting the highlighted item or button.
Double clinching or closing your watch hand twice: To open "Action menu" shortcuts on Universal Gestures, navigate to these through pinch.
How to customize the Action menu and Universal Gestures
With the Action menu, you have additional shortcuts and controls, such as accessing the quick panel, app drawer, and taking screenshots. It can also be used to scroll any view available. More importantly, the shortcuts with the Action menu are customizable and interchangeable.
In the case of Universal Gestures, there are also options to assign a different trigger or function with each gesture, alongside changing the color of the highlighter. Even adjusting the sensitivity and speed are supported under the scan method.
Which Samsung Galaxy Watch models are compatible with Universal Gestures
Universal Gestures are available with the One UI Watch 5 update, meaning it will support Galaxy Watch 6, Galaxy Watch 5 (review), and Galaxy Watch 4. As for the 2023 Galaxy Watch 6 (review), it already runs on One UI Watch 5 out of the box and doesn't need to be updated to use the feature.
Samsung Galaxy Watch 6
Samsung Galaxy Watch 6 Classic
Samsung Galaxy Watch 5
Samsung Galaxy Watch 5 Pro
Samsung Galaxy Watch 4
Samsung Galaxy Watch 4 Classic
Using Universal Gestures for control may require getting used to. But once you master the actions, they could be a very handy and convenient alternative to touch controls. Meanwhile, do you also use gestures on your smartwatch? What are your favorite actions or shortcuts assigned to them? We would like to know them.