Galaxy Watch 5 Pro review: Is the best Samsung watch good enough for you?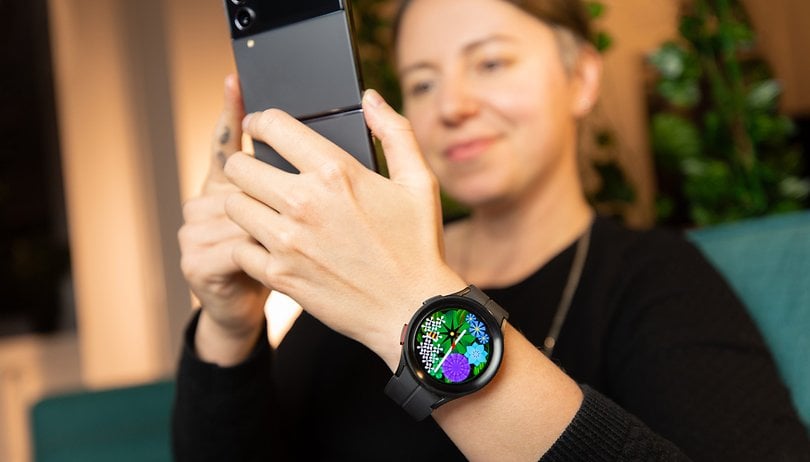 The new Galaxy Watch 5 Pro offers great performance, new features for outdoor athletes at a competitive price. Even though it offers better integration with Samsung's smartphones, the Watch 5 Pro still lags behind sports-only devices with equivalent software-such as smartwatches from Garmin and Fitbit. Check out this Galaxy Watch 5 Pro review to see how Samsung has optimized the experience of its best smartwatch in 2022.
Good
Solid and high-quality build

Seamless integration with Samsung's ecosystem

Turn-by-turn navigation, GPX import/export

Optimized battery life compared to the previous generation
Bad
Full functionality only with Samsung smartphones

Video & Audio Training Courses are still missing
The Samsung Galaxy Watch 5 Pro in a nutshell
The Samsung Galaxy Watch 5 Pro has been available in stores since August 26. The smartwatch arrives in two colors: Black Titanium and Grey Titanium. You can also choose between the standard version and the LTE version with the former costing $449.99 while the latter is a hefty $499.99. You can also configure the Galaxy Watch 5 Pro via Samsung's Bespoke Studio.
Samsung Galaxy Watch 5 Pro design and build quality
The Samsung Galaxy Watch 5 Pro is only available in a 45mm format . Samsung relies on titanium for the case material, and the display glass is made of sapphire, which is almost twice as hard as the display glass of the Watch 4 with a hardness of 29 GPa. The raised screen bezel provides additional protection.
---
What I liked:
Bright and sharp screen even in direct sunlight.
Always on Display (AoD) available.
Built with super tough materials and IP68 certification.
What I disliked:
The D-Buckle Sports Band is not easy to adjust and accumulates dirt easily.
---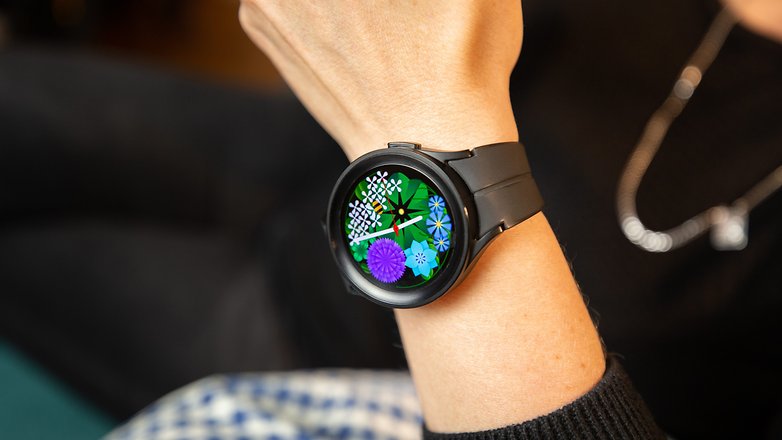 Like last year's generation, the Galaxy Watch 5 series also has two physical buttons on the right side of the case. A model with a rotating bezel is no longer available in 2022 with the discontinuation of the "Classic" line. Instead, all models rely on a virtual bezel: You can perform a circular motion on the touchscreen to quickly scroll through lists-and thanks to the haptic feedback it is easy to notice the screen change.
The model we reviewed came with the new magnetic clasp, which Samsung calls "D-Buckle Sports Band". Although it keeps the watch secure on the wrist, this option did not prove to be comfortable or simple to adjust. It turned out that whenever an adjustment was needed, it was necessary to remove the watch, open the clasp, adjust the band, and attach it to the wrist again. Furthermore, I noticed that this mechanism accumulates more dirt than usual compared to traditional bracelets.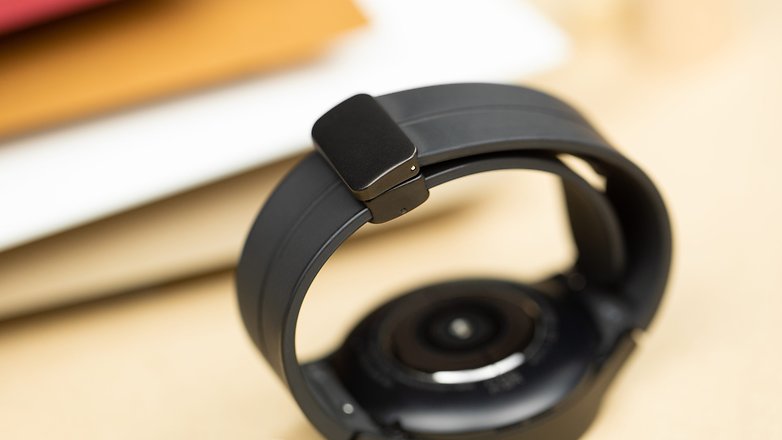 The Galaxy Watch 5 Pro offers a Super AMOLED display that is bright and colorful, and under direct sunlight viewing the content on the screen is really sharp. Samsung also offers a number of interactive watch faces for use with the timepiece.
Overall, the Watch 5 Pro has an appealing design for those looking for a smartphone for outdoor sports, as it is rugged and has a great quality screen. The vibration engine of this model is one of the best I have ever reviewed and that makes the experience much more pleasant.
More than that: even though it is available in the 45mm format only, I have to say that when compared to models like the Garmin Forerunner 255 Music, Amazfit GTR 4, and Huawei Watch GT3 Pro, the Samsung smartwatch remains well within the average in terms of size. The same, however, cannot be said for the Apple Watch Series 8 and Apple Watch SE.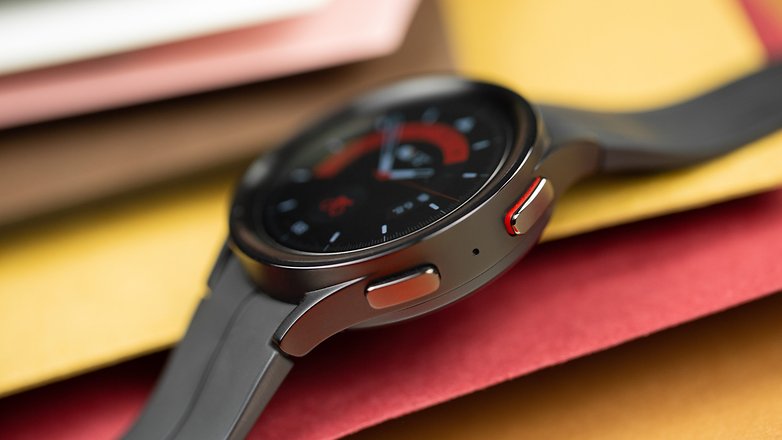 One UI Watch OS
Just like last year, Samsung continues to bet on exclusive software for those who use the Galaxy ecosystem. So if you own a smartphone from the manufacturer, you will be able to take greater advantage of the software. The Galaxy Watch 5 Pro runs the latest version of the One UI Watch 4.5 that is based on Wear OS 3.5, with the Android security patch level from July 2022. In addition to using it with the Galaxy Wearable app, health and wellness statistics are stored in the Samsung Health app (equivalent to Apple Watch's Fitness+).
---
What I liked:
Seamless integration with Samsung's ecosystem.

Great variety of apps.
What I disliked:
Available storage is only 8 GB.
---
The fact that Samsung is a partner in the development of Google's Wear OS software is noticeable given the degree of integration between the smartwatch and smartphone software. This observation was made based on the complications of each watch face to the smoothness of the system. As an Apple Watch user, I can say that the experience is very similar here and we also have a wide range of options here when it comes to third-party apps.
Integration with software like Strava and Komoot is fluid and further improved with the ability to upload files in GPX format - more about that below.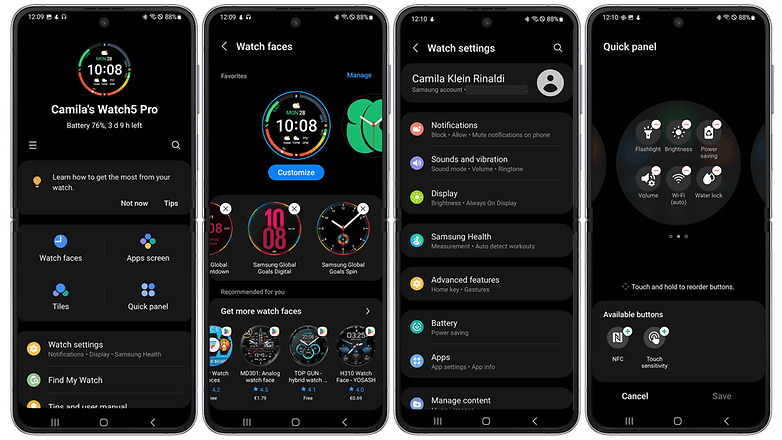 Just like last year's generation, the screens are divided into tiles, with a total of 13 screens that can be modified as you wish. In the app overview, you will find all of the smartwatch's functions, and everything feels very intuitive. There is something important to take note of here: as in the case of Apple, using the Galaxy Watch connected to a Samsung account makes data backup easier.
Also, since the operating system takes up almost half of the 16 GB internal storage, adding music files, pictures or apps would be limited to a mere 8 GB.
Here I am still rambling about the software, it struck me that the Health application has a very intuitive user interface, with very complete sports activities. However, Samsung does not offer an accompanying service for advanced workouts in subscription services such as Fitbit Premium and Apple Fitness+. For this, you will need to use a third-party service.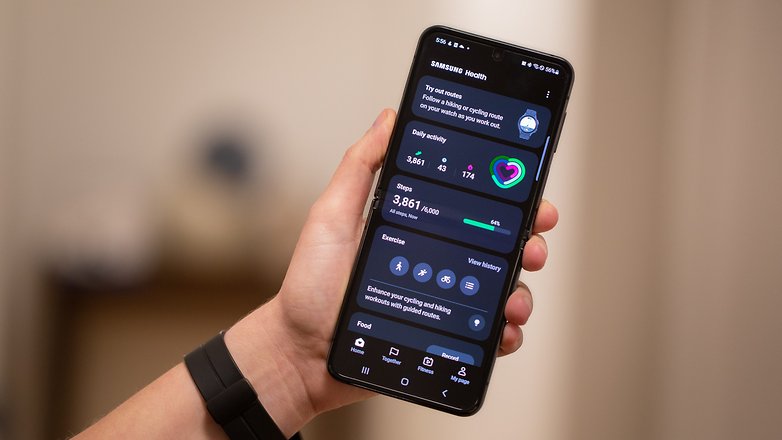 Sensors & Fitness
At the back, the Galaxy Watch 5 Pro features the Bioactive sensor that was already responsible for pulse, oxygen saturation, blood pressure, and body fat composition monitoring in the Watch 4. Here, we will also find an ECG sensor—and it has a skin temperature sensor that can technically measure your temperature, but regulatory approval is still pending.
---
What I liked:
The new tracking and navigation features are quite helpful

.
Workout recognition feature works like a champ.
What I disliked:
Slight inconsistency during workout tracking.
---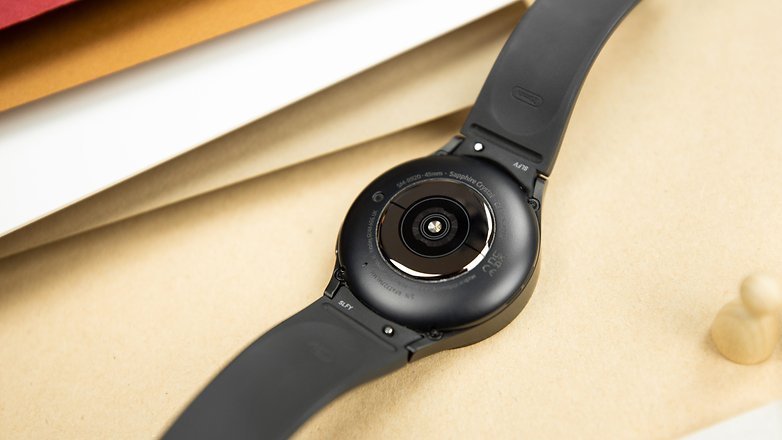 So what's new this year? The Watch 5 series can now estimate how much water you lost through sweating while exercising and offers improved recovery analysis. There's also a new sleep-tracking app that guides you to better sleep habits via step-by-step instructions. However, given the 45mm form factor, sleeping with this smartwatch is not a comfortable experience at all.
The Galaxy Watch 5 Pro has also received some very useful features, like turn-by-turn navigation and the option to import and export routes, both in GPX format. However, this feature is only available for workouts like cycling and hiking. In addition, you can let the watch take you back to the starting point during workouts thanks to the track-back feature.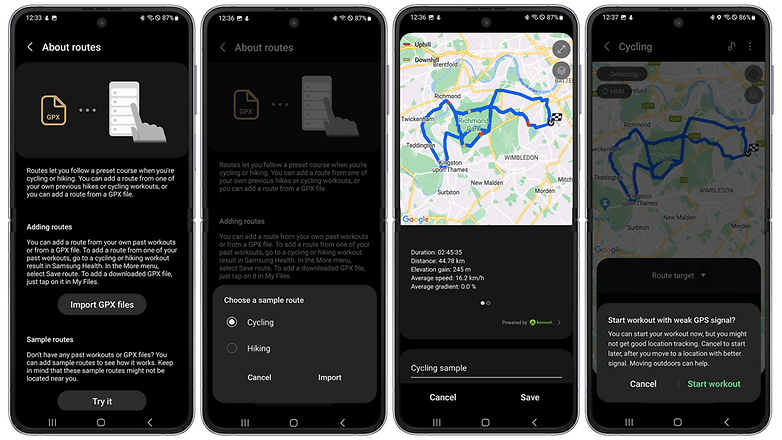 Uploading routes proved to be very easy, however, during the Watch 5 Pro review I did not have the opportunity to test the feature out on a bike tour, only on short walking routes to understand how it works. Therefore, I recommend watching the complete review of the feature on the Desfit YouTube channel to better understand how the function works in practice.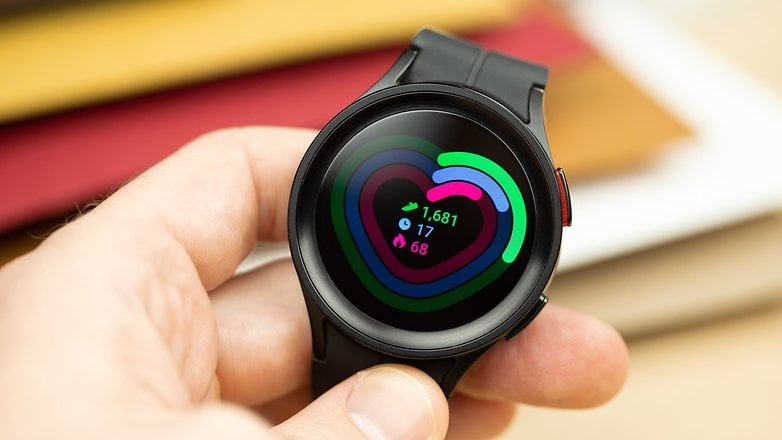 Regarding workouts, something that I really miss in the Apple Watch series and that Samsung does very well is the recognition of pauses during the workout. I consider myself an outdoor enthusiast and usually indulge in my weekly routine in public areas, so there is always a pause at traffic lights or for contemplation whenever I am drinking in the breathtaking view in parks. In order not to impact the data such as training speed, for instance, the Watch 5 Pro quickly recognizes these pauses and deactivates the exercise tracking, turning it back on as soon as it recognizes the return of the movement.
Here, I also noticed that Samsung is always at an advantage when it comes to distance traveled during workouts like walking over Apple. Unlike my colleague Stefan Möllenhoff who is basically an athlete, I do not use external accessories to compare the accuracy of the sensors, but I did use the Apple Watch SE in conjunction with the Galaxy Watch 5 Pro for this review. Regarding the tracking function, I noticed a difference of 400 to 300 meters of distance traveled between one model and another. In relation to heart rate monitoring, the numbers were always very close.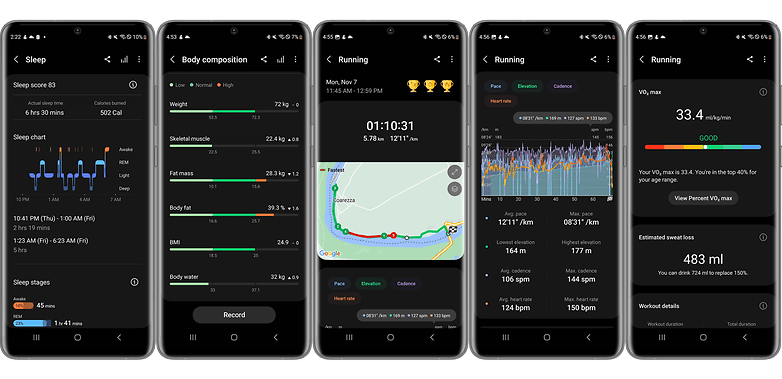 This may be due to a slight inconsistency in the Galaxy Watch 5 Pro GPS, also identified in the extensive test of the Desfit channel, in which different devices were compared making the same route and the Samsung smartwatch showed a deviation more or less, as well as a certain difficulty to return to the correct tracking after this deviation. Nothing serious however, and it should be something that can be fixed via software update.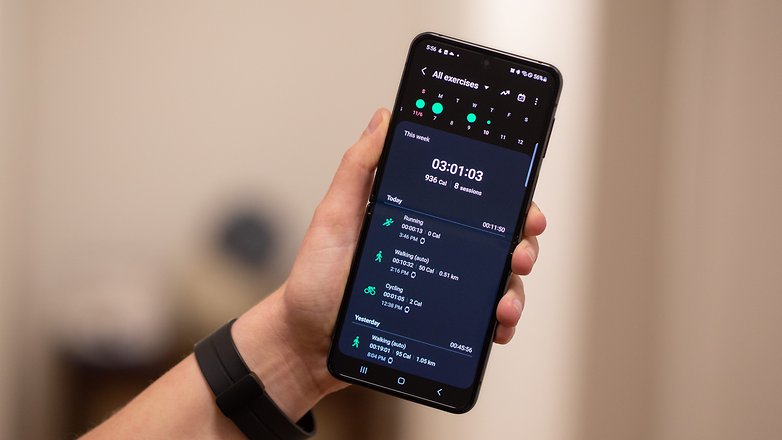 Support for external accessories, especially for Bluetooth chest straps or cadence sensors, is still unavailable in the fifth generation of the Galaxy Watch. Now that is a pity indeed.
In general, having functions such as body composition measurement and blood pressure monitoring are a plus, although Samsung itself warns us to be careful when using and interpreting such data: always under the guidance of health professionals.
Samsung Galaxy Watch 5 Pro battery
The Galaxy Watch 5 Pro had a significant increase in battery capacity compared with the previous generation . The smartwatch has a 590 mAh battery, and it can last even more than 20 hours with continuous GPS tracking. That is not bad for a Galaxy smartwatch, but in comparison to Garmin smartwatches, Samsung still lags behind.
---
What I liked:
About three days of battery life.
Watch only feature can get you 30 days of usage.
Fast charging at 10W.
Power saving mode.
What I disliked:
No power adapter included in the box.
---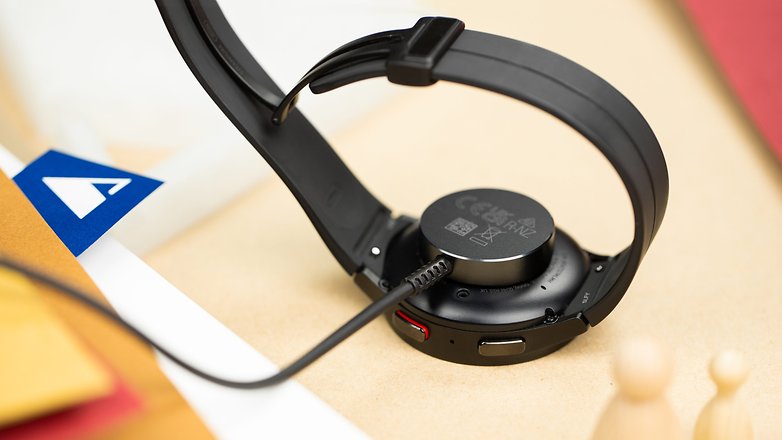 If you use only the watch function of the Galaxy Watch 5 Pro, it is possible to keep the smartwatch on your wrist for up to 30 days before hunting for a power outlet. However, this device is designed to do far more than just show the time. Therefore, it needs to offer at least a full day of use, at the very least when compared to the Apple Watch Series 8.
In this respect, the Watch 5 Pro does not disappoint: with active Bluetooth and GPS enabled, I was able to use Samsung's smartwatch for an entire day without even having to worry about having to use the charger. What's more, during a trip with daily walks, the device needed to be charged after three days of use. In comparison, the Apple Watch SE battery ran out on the second day.
That said, despite carrying the name "Pro" in the name, this model still lags behind devices already reviewed by our team, such as the Amazfit GTR 4 (review) or the Forerunner 255 Music (review) that can achieve up to two weeks of use-with limited smart features.
Last but not least, we have the Power saving mode option which is always very welcome for those times when we can't charge the device, but the charge is at 15% or lower. Here, by the way, although Samsung does not offer a charging adapter in the box. We have a magnetic charger with USB-C output, which makes it very easy to plug the smartwatch into a computer for fast charging at a maximum power of 10W, and the fast charging feature offers up to 45% charge in 30 minutes of charging.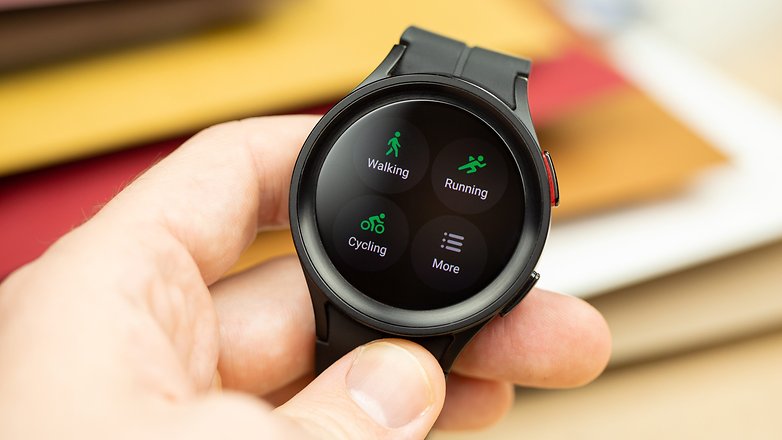 Final verdict
The Galaxy Watch 5 Pro comes in a bulky yet really beautiful chassis and offers attractive innovations, especially in terms of outdoor navigation. The device can be found for $450 and works very well with Samsung's ecosystem. The integration between hardware and software is eye-catching here, so much so that it is very reminiscent of the experience we have today with the Apple Watch and iPhone.
Compared to the previous generation, Samsung has improved the accuracy of the series' sensors, however, it still has inconsistencies, especially regarding GPS accuracy. Turn-by-turn navigation is an excellent addition, however, it can still be optimized with regard to editing errors on the route.
Unlike last year's push, when the series hit the market as the first representing Google's Wear OS, this year Samsung may go further, bringing features that are more attractive to the Galaxy Watch 5 Pro. However, I still miss an advanced service for sports practice tracking in the Health app.
Now there is a question: Is the best Samsung watch good enough for you? I have to concede that this year, Samsung has me convinced. Remember that I used the Galaxy Watch 5 Pro together with the Galaxy Z Flip 4 and the Galaxy S22 Ultra—with all the features enabled!