Samsung's Galaxy Tab S9+ First Pictures Show A New Sensor and Camera Rings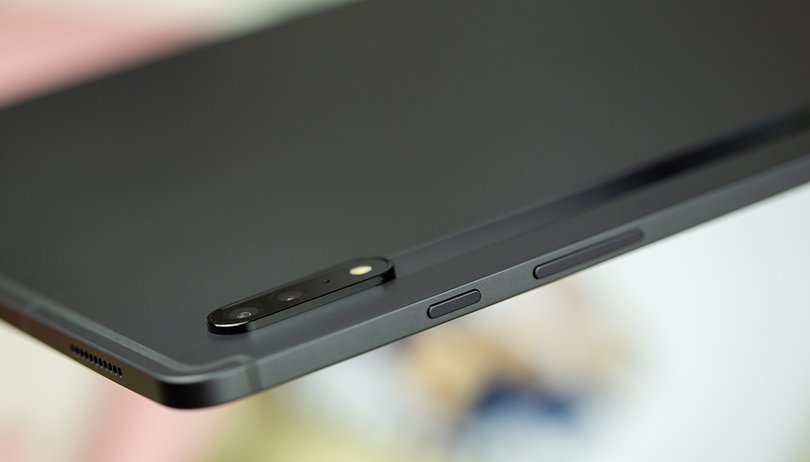 Following the purported overclocked processor and battery capacity of the upcoming Galaxy Tab S9 Ultra, a set of computer-generated pictures of the Tab S9+ model has surfaced recently. Based on the leaked snapshots, the flagship Samsung tablet series could receive a redesigned rear camera and possibly a dual selfie setup.
Renders of the Samsung Galaxy Tab S9+ revealed a minor departure in terms of design compared to the Galaxy Tab S8+ that NextPit reviewed. Most of the changes happened at the back, which still houses the same dual camera module. However, the individual camera with an unknown resolution count is now enclosed in a raised ring that mimics the camera arrays found in the Galaxy S23 and Galaxy A34.
What's new in the Samsung Galaxy Tab S9 Plus
The LED flash and magnetic S Pen dock's positions remained the same and are still located below the camera. If one were to inspect the tablet closely, the latter portion does look a wee bit thicker. The mechanical buttons and quad-speaker location were also retained with the USB-C port flanked by two grills at the bottom.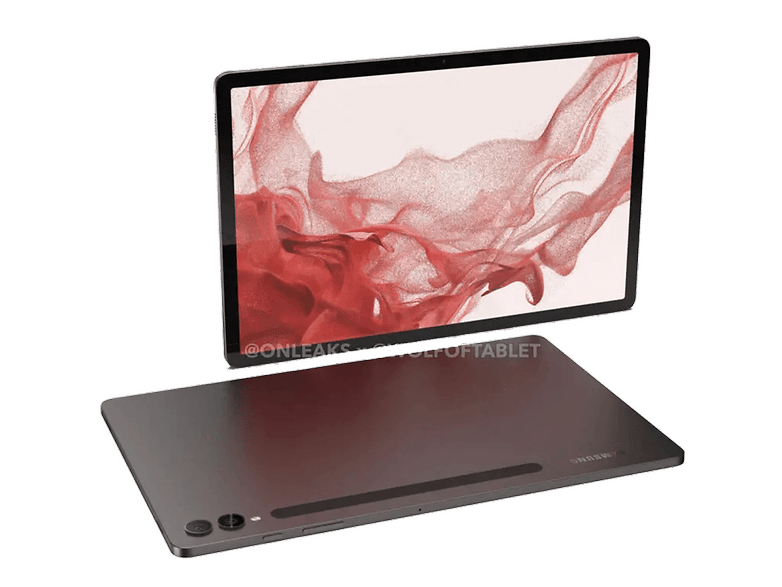 When it comes to the front, there are no visible changes that are easily distinguishable apart from the new sensor's position. Basically, the component may represent a second front-facing camera and will be utilized during video calls in landscape mode, which is similar to the layout of the Apple iPad 10 that Camila reviewed.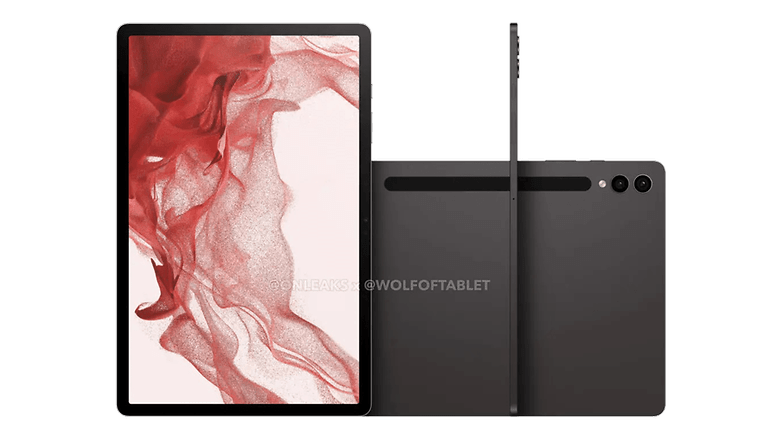 It is expected that the Galaxy Tab S9+ will receive the same 12.4-inch AMOLED panel, although it was not mentioned whether there are other improvements in the pipeline such as a brighter and more efficient output. Similarly, the Galaxy Tab S9 Ultra could also retain the larger 14.6-inch AMOLED display. It remains unknown whether the smaller Galaxy Tab S9 will finally make the switch from LCD to AMOLED this time around.
Possible Samsung Galaxy Tab S9 (Ultra) specifications
The entire Galaxy Tab S9 is rumored to feature an overclocked Snapdragon 8 Gen 2 processor running proceedings from underneath the hood. At the same time, it is also rumored that Samsung will introduce an official water-resistant rating for its tablets, which was previously reserved only for its rugged Galaxy Tab Active range prior.
Samsung's Galaxy Tab S9 lineup could be announced alongside the Galaxy Z Fold 5 and Z Flip 5 in the coming months. Pricing of the Android 13 OS-powered tablets still remains unclear as of time of publishing.
We'd like to know which features or changes do you expect to see in the premium Samsung Galaxy Tab S9 range? Share your thoughts with us in the comments.