Samsung Galaxy Tab S3 review: a near perfect work tool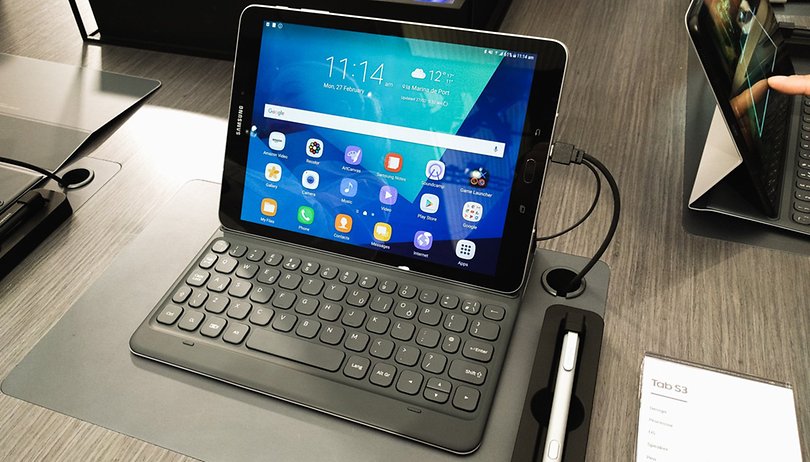 How many devices do you need to write a review? For this one, I only needed one: the Galaxy Tab S3. As you scroll down to continue reading, think about how each of the words in this article was produced using Samsung's native keyboard, and that the only other tools I needed were a support cover and tablet's S-Pen. But aside from being used to write, edit and publish this article, what else can the Galaxy Tab S3 do?
Good
Design

Capactive S-Pen

Independent LTE connection

Security and privacy
Bad
Android apps ecosystem for tablets

No waterproofing

Battery is only satisfactory
Samsung Galaxy Tab S3: All deals
Samsung Galaxy Tab S3 release date and price
The Galaxy Tab S3 is now available for purchase and comes in two variants: either with or without a SIM card slot for independent LTE connection. The prices for the two models range from $599.99 to $769. For the first time ever the capacitive S-Pen is included in the price, but you will need to pay extra for the keyboard. This can be purchased separately for $129.99.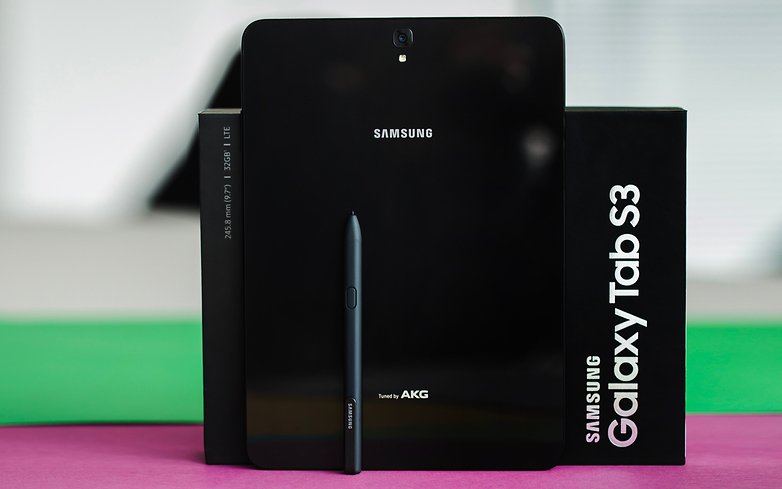 Samsung Galaxy Tab S3 design and build quality
The design of the Galaxy Tab S3 is virtually unchanged compared to the Galaxy Tab S2, measuring in at 9.7-inches. The new tablet continues to stick to the iPad 4:3 ratio format. This proves to be equally practical in landscape-format and portrait-format applications. The frame is made of metal and the rest of the housing is made of glass. It's important to note that the tablet is not waterproof.
It's easy to hold the tablet's 434 grams. However, if you want to use the tablet for reading, you may need to prop it up on your lap or invest in an few accessories to support it, as after all, this is not just an ebook reader. The fact that we can touch the screen while holding Tab S3 adds to the user experience with this device.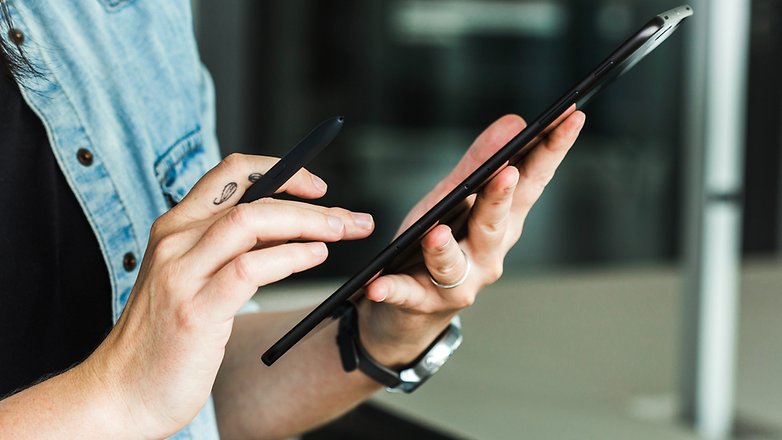 One of the added bonuses to come with the Tab S3 is its S-Pen, though the tablet itself doesn't have a dedicated space to store it like what we saw with the Galaxy Note series. So, if the S-Pen is an indispensable tool for you, you'll have to find a creative way of ensuring you can carry it with you all the time. Putting it into the front pocket on your blazer or shirt is always a great choice. The pen is super light and sturdy, so it shouldn't be a problem.
The home button is still mechanical, not capacitative, and the fingerprint sensor is still located here. On the one hand, you can rely on the biometric security feature, where you definitely are the password, which makes the tablet great for professional use. The tablet is also great at actually recognizing your distinctive features and responds promptly.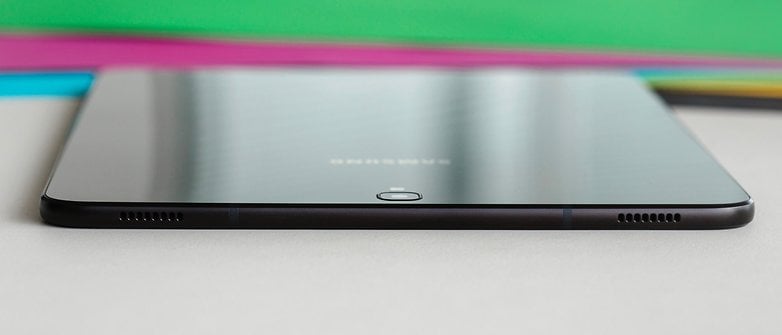 That said, the start button does not offer the best user experience when it comes to the S-Pen; virtual buttons would make much more sense here. Perhaps in the next generation of the series Samsung will opt for virtual buttons, just as we've recently seen with the new Galaxy S8 and Galaxy S8+.

Tab S3 is not water resistant, which is a pretty big downside in my opinion, especially since I would want to carry this device around with me for my work. When I am in meetings or I am at my desk there are always cups of coffee and glasses of water around me. If the worst case scenario were to hit, a high-end tablet could turn into nothing more than a weird paperweight in under a second.
Also, if you are planning to carry your Tab S3 around with you on all your adventures, you'll need to put it inside a backpack or waterproof bag. Thus, Samsung missed out on a great opportunity to offer its customers an almost exclusive feature among the tablets in the market.
Samsung Galaxy Tab S3 display
Samsung's new high-end tablet features a 9.7-inch, high-resolution (2,048 x 1,536 pixels) and 264 ppi display. The Super AMOLED panel offers vibrant colors and great contrast. Although the 4:3 format leaves the movies with those black bars at the top and bottom, using this tablet to watch your favorite shows will not be a problem, but I suggest setting the screen brightness manually and disabling auto brightness.
If you choose to use the S-Pen pen, I recommend disabling the screen sensitivity so that you can rest your hand on the screen without touch being detected. This makes it more comfortable to hold the device with one hand as well as offering you more stability when you're using the tablet.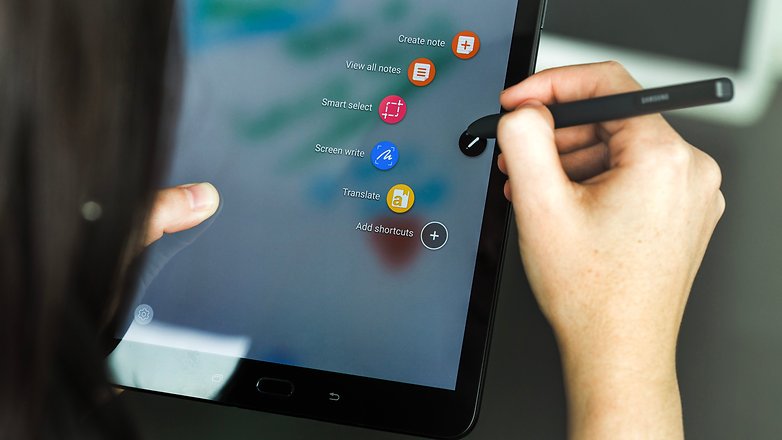 The improved S Pen that comes with the Tab S3 has a super thin tip that can support up to 4,096 levels of pressure sensitivity, and can detect the tilt angle you are using. This allow you to write more accurately or produce more intricate or elaborate designs. During the 10 days I spent using Tab S3, I never experienced any problems with touch recognition either using my hands or the S-Pen.
However, just like on smartphones, using the screen in direct sunlight can cause you a lot of discomfort. Don't get me wrong, you can see clearly see everything on the screen, but doing this over an extended period of time will cause eyestrain and can lead to migraines.
This is where Samsung's blue light filter option comes to the rescue. This is great for using the tablet at night, for work or for reading, as it offers a better visual experience in low light environments and doesn't impact on your ability to sleep.
Samsung Galaxy Tab S3 software
The Samsung Galaxy Tab S3 was released with Android 7.0 Nougat, in conjunction with the Grace UX interface. Android Nougat is also well known for how it can optimize the multi-window feature, which has become native to the operating system. Using Tab S3, I noticed a significant improvement in this function, especially with how easy it was to activate it.
However, this still doesn't come close to the truly intuitive use of the same feature in the Apple iPad Pro. So, instead of just sliding your finger across the screen to get a list of apps you can open in a second window, you'll need to turn on the multitasking button and then choose which apps you want.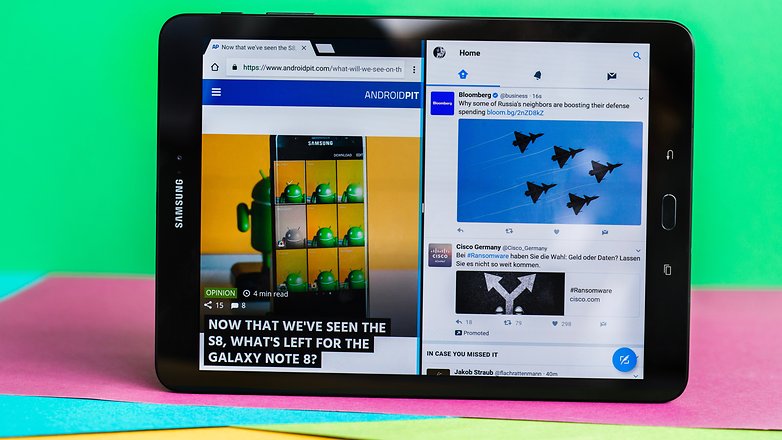 Among the highlights of the software, the Samsung Flow, Samsung Cloud and Secure Folder functions all caught my attention. Samsung Flow is a software that lets you connect the tablet to your smartphone via Bluetooth, and both devices need to have the app installed.
SMS, WhatsApp messages and other smartphone notifications can be seen and accessed with the tablet. This means you won't have to walk around with both your smartphone and your tablet so you don't avoid missing out on something. The main aim here is to give users the chance to continue working on tasks between devices, so you could start reading an AndroidPIT article on your tablet and then pick up where you left off on your Galaxy S7. You could also continue a video call on the tablet that you initially started on your smartphone.
Additionally, by using the same app, you can also connect the Galaxy Tab S3 to your computer running Windows 10 Home / Windows 10 Pro (check this first though) and even log in to the computer using the fingerprint sensor on your tablet. Just as a side note, the synchronization of notifications does have a slight delay.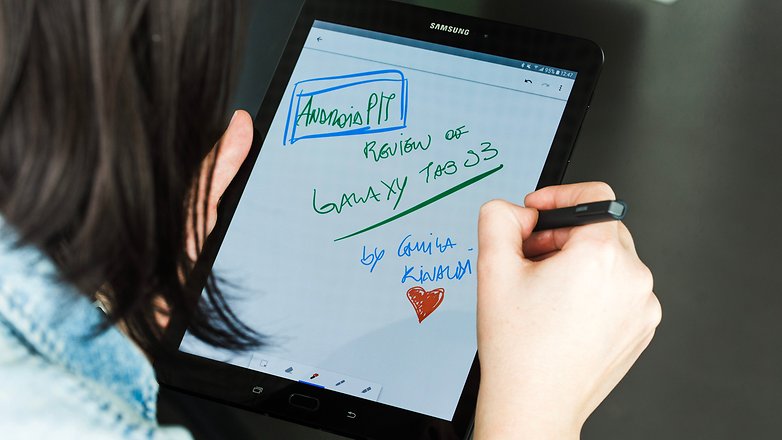 The Samsung Cloud, or just Cloud, is - as the name suggests - Samsung's own cloud service, which stays in the system settings. This is a sort of iCloud, letting you back up data for synchronization, such as contacts, notes, gallery and your calendar.
I have been using Cloud for some time now with the Galaxy S7, and now the recovery service is better than the one offered by Google in terms of its accuracy. I often found I lost data with the Google system, whereas I never had this issue with the Cloud system. At the moment, Samsung offers 15 GB of space.
Lastly, Samsung's Secure Folder, first released on Galaxy Note 7, has been added to the Galaxy S7 variant software with the update for Android Nougat. The feature allows you to create folders that can only be opened using fingerprints saved on the system. This is a feature that offers even more security to use the tablet as a working tool, because we often forget to create multiple users and end up sharing the device for various reasons.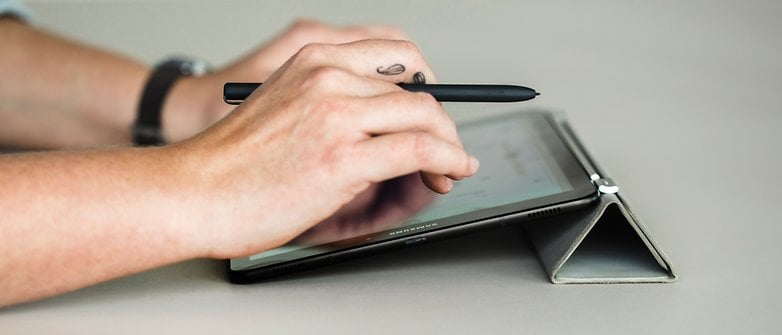 Secure folders are initially only accessible to you and can save application files such as Gallery, Calendar, Camera, Contacts, Email, Internet and My Files. Unfortunately, however, these folders are not synced between Samsung devices with the same function. That is, you can only access photos from your tablet's secure folder on your tablet.
If you use the Microsoft Office suite, you can easily use programs like Excel and PowerPoint, save them to OneDrive, and integrate each application into your Microsoft account. For convenience, I use Google Drive a lot. This is very well integrated into the system on the Tab S3, as is Google Keep, which enables you transform any note into text.
Samsung Galaxy Tab S3 performance
The hardware that has been installed on the Galaxy Tab S3 promises to provide a level of performance akin to that of the Galaxy S7. The former was regarded as an ideal device for gamers, as it supported graphically rich games well and did not heat up to a critical level. The Tab S3 is powered by the Qualcomm Snapdragon 820 quad core processor ticking at 2.15 and 1.6 GHz. As for RAM, the tablet will have 4 GB. The Tab S3 comes with 32 GB of internal storage, which is expandable up to 256 GB via microSD.
As a result, it makes complete sense that Samsung continues to appeal to the gamers out there as the S3 comes with both game mode and Game Explorer pre-installed. These optimizations improve the gaming experience by suppressing notifications, and provide additional features such as screen recording and simultaneous recording with the Selfie Cam. In short, this makes the Tab S3 the ideal "Let's Play" tablet.
For this test, I went for a gaming classic: Asphalt 8 Airborne. With decent graphics and animation, I had a great experience using the Tab S3. There were no crashes or losses of frames, not even a delay - practically everything went well. That said, apps like Instagram and Facebook, whenever activated from the recent apps, were slow to load or would shut down without any warning. The native Samsung browser also froze a few times.
Considering the hardware performance that is usually associated with this operating system, my experience of using a tablet running on Android was well above average. Among devices in the same category, such as Yoga Book or Google Pixel C, the Tab S3 is a bit superior to when it comes to its performance and services.
Samsung Galaxy Tab S3 audio
The Galaxy Tab S3 is one of the first Samsung products to benefit from the company's partnership with AKG. There are four AKG speakers on the tablet, two on the top and two on the bottom.
My first impressions are good, but this is largely thanks to the volume level achievable. After a bit of use, it's not difficult to see that the location of the speakers on tablet compromised the audio quality.
The audio is stereo, but the experience would be much better if the speakers were positioned on the front of the tablet. Also, if you're watching a series on Netflix, a YouTube video or just playing Asphalt 8 (again), the sound will most likely be muffled as your hand will be resting on at least one of the speakers. This won't provide anyone with a fun audiovisual experience.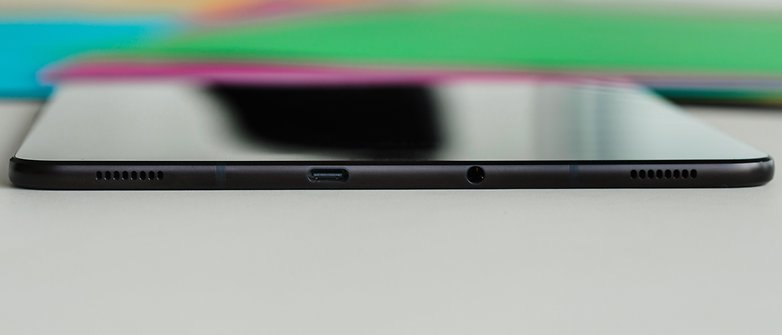 So when you're playing or watching a movie, I advise that you consider using a Bluetooth speaker or headphones for an audio experience that can meet the standards of the tablet's video.
Samsung Galaxy Tab S3 camera
Even if the camera is not one of the main arguments for buying a tablet, Samsung has installed pretty good hardware for the photo enthusiasts out there. At the rear, there is now a 13 MP camera instead of the 8 MP one included in the Tab S2. The shutter comes with aperture of f / 1.9. On the front, we have a 4.7 MP camera, which delivers Full HD quality in video calls via Skype.
Honestly, I do not see Tab S3 as a device for selfies. The rear camera is not at all bad, but it doesn't even come close to the kind of lens you'll find on a smartphone within the same price range.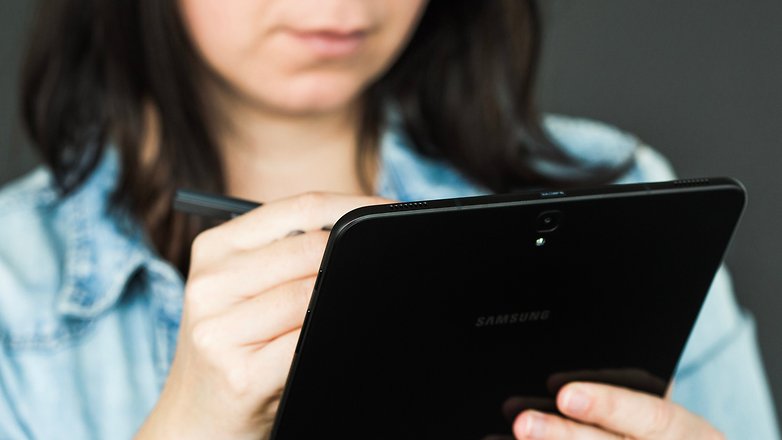 Strangely enough, the Tab S3's rear camera can record videos in 4K and take pictures in 4:3 and 16:9 aspect ratio, among other options. I had the chance to use the camera at a flea market on a sunny Sunday, and if you're planning on using the Tab S3 to take pictures on a trip, the image quality should be quite good. Check out some examples in this gallery of images I created in Google Photos.
Now, if you like using image editors for post-processing images, Tab S3 works very well in conjunction with applications like Dropbox and Snapseed. Using S-Pen, you can access photos from your Cloud account, and then edit and share them on your networks or build your own gallery and broadcast on your smart TV.
Samsung Galaxy Tab S3 battery
The Tab S3 has a 6,000 mAh battery that even with constant use on a daily basis (more than 5 hours of active use). If it is charged between 80 to 100% in the morning is can last until the evening, with about 15 to 20% battery remaining. A battery that was capable of lasting two days would have been a huge advantage, but as it doesn't, its performance is just satisfactory at best.
On the other hand, you can quickly charge the device thanks to adaptive fast charging technology and USB Type-C. The time it took to fully recharge the tablet was on average about 2 hours 30 minutes.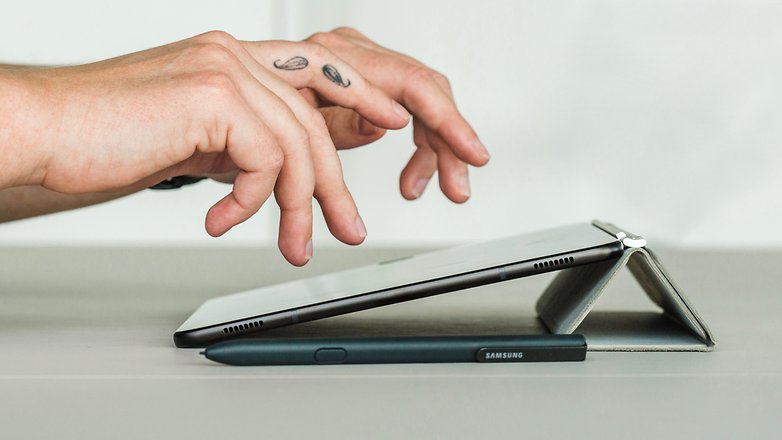 Samsung Galaxy Tab S3 technical specifications
Final verdict
The Samsung Galaxy Tab S3 should not be viewed as a permanent replacement for your laptop or PC, but it has all the makings of a great working tool. When I write at the AndroidPIT Offices, I use a desktop running Windows 10 Pro; at home, I use a MacBook Pro, but I've never thought about replacing any of these devices with a tablet.
However, over the past 10 days or so, I found myself using the Tab S3 in a whole range of different situations, so much so that I had absolutely no problem editing this review using only this tablet. I participated in meetings, edited articles, edited a series of images that I had been keeping in my Dropbox waiting to be published, so the Galaxy Tab S3 is a great tool to tackle your everyday tasks.
A tablet should be a device with its own unique attributes
However, there is still a huge vacuum in the application ecosystem optimized for use on Android tablets. While Google does not encourage the creation and adaptation of software for this type of gadget, the experience with your tablet platform will never be a matched to what you can have if you opt for an iPad. Taking this into consideration, the Galaxy Tab S3 is a near perfect work tool.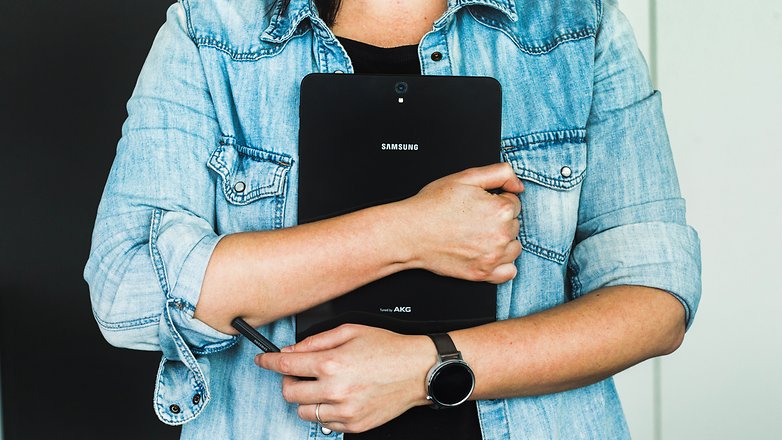 Based on the services offered by the Tizen platform for the SmartWatch Gear S3 and what we have in the new Android Wear 2.0 on the LG Watch Style, for example, Samsung delivers a much better experience with its OS for wearables than Google. So it's inevitable to think that if Tab S3 was to have included Tizen, it would probably be a much better tablet.
Samsung has a share of blame here, as it should also encourage developers to invest in tablet apps, especially to encourage the sale of top-end models such as Tab S3. After all, a tablet should not be a bigger smartphone, but a device with its own attributes, right?