Samsung Galaxy S8 Premium wireless charger: how it will change your life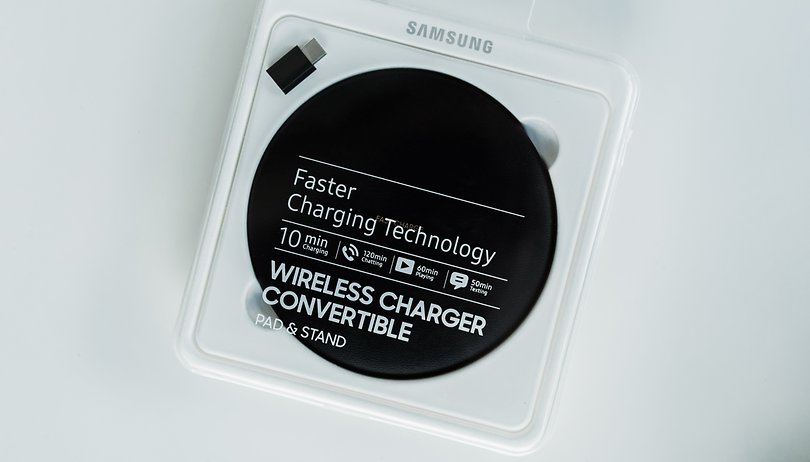 Samsung gave up on increasing the battery power on the Galaxy S8 in order to improve the design of the device. However, it did come up with some solutions to prolong the use time of the S8, and one of these features is support for wireless charging. Last week, I had the chance to test Samsung's new Premium Wireless charger with the Galaxy S8, and I must say, it was a massive boost in terms of the amount of time I was able to use the device.
Good
Practical

Qi Global standard

Smart design
Bad
Poor color options

No cable or charging adapter
Samsung Wireless Charger Convertible release date and price
You can buy the Premium wireless charger from Samsung for $89.99. The device can also be found on other online stores for a bit cheaper.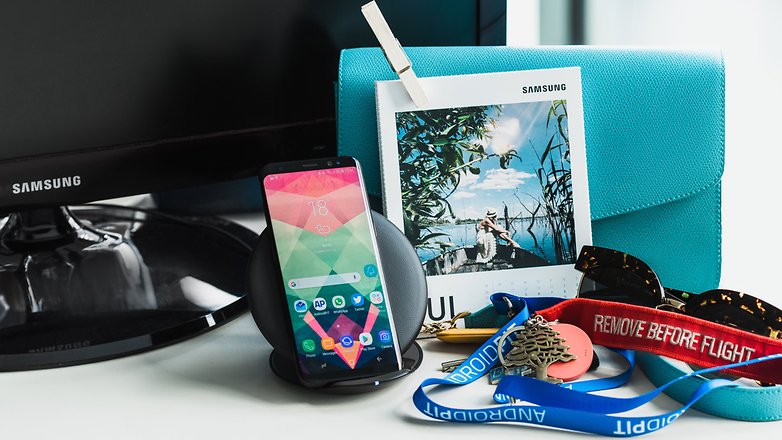 Samsung Wireless Charger Convertible design and build quality
Samsung has offered manufacturer support for its two main wireless chargers since the launch of the Galaxy S6 and Galaxy S6 Edge. Since then, the pad has always been circular, but with the launch of the Galaxy S7, the manufacturer gave users the option of charging their devices in two positions: laying on the pad or standing.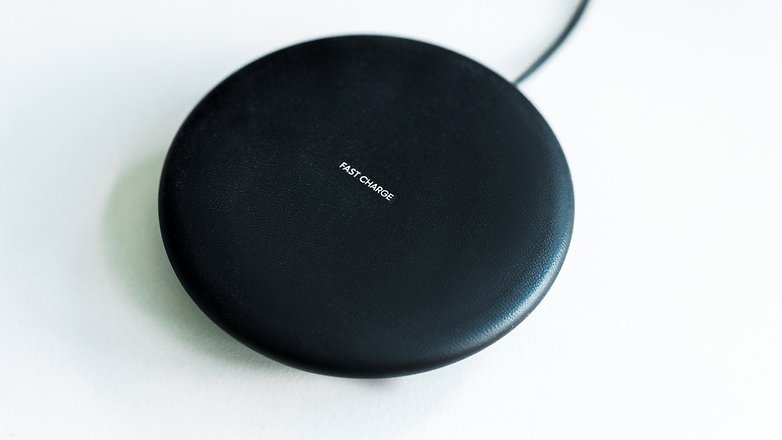 This wireless charger is light, it doesn't take up much space, and it can be used anywhere as long as it has access to a power source. The device itself can't store power, but a battery pack would work.

Keep in mind that Samsung doesn't include the charging cable or AFC (Active Fast Charging) adaptor. This means that you'll have to get some additional compatible accessories yourself. Due to questions regarding the device's guarantee, Samsung forces you to use only those devices that are approved by the company. Plus, remember that non-recommended accessories could also cause performance issues.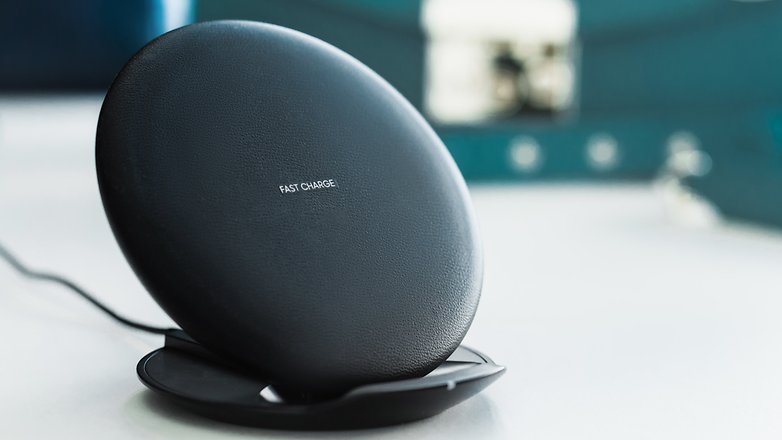 The model only comes in one color, black, and it blended into the decoration of my house and workstation well enough. However, in the future, it would be great if Samsung could offer the device in more colors since it's quite handy to have around and you might want to buy a few and stick them around your home.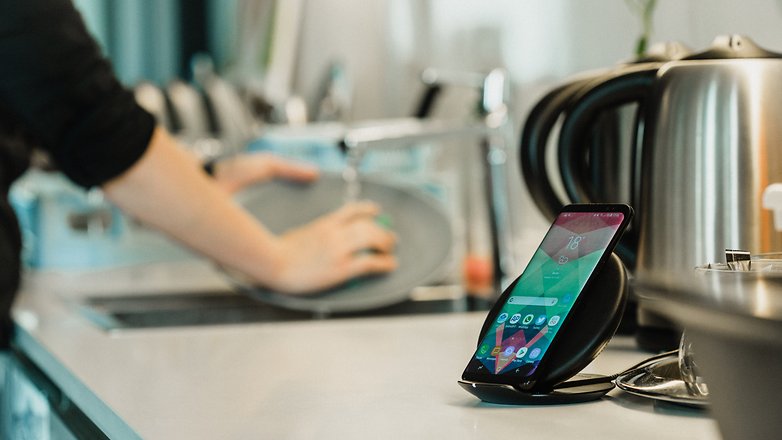 The finish on the Samsung Premium Wireless charger is frosted silicone. The wireless charging surface has three spring-loaded holders in the center, aligned from top to bottom so that you can charge the Galaxy S8 in two different positions: vertical and horizontal.

If you're looking to charge your device while listening to music on your headphones or even taking a call, this charger is perfect. Furthermore, since the wireless charger works as a stand for your device and the screen is facing you, you can stay up to date on your Netflix series while making dinner or take a look at your Facebook newsfeed while it's charging.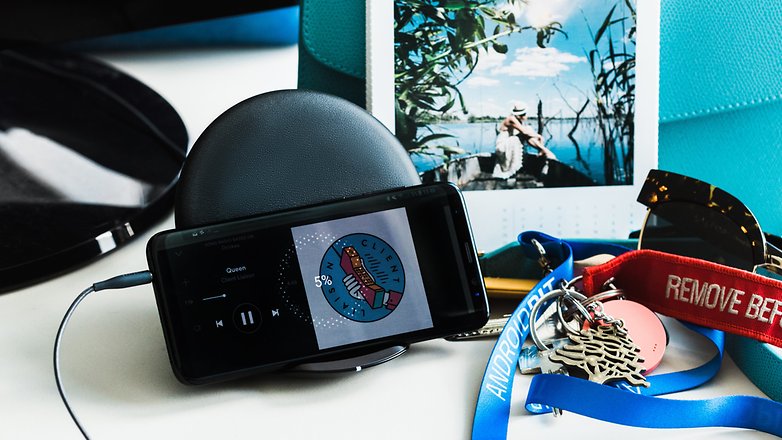 When it's in the stand position, the charger can hold the device either vertically or horizontally. It also has a LED that indicates the wireless charger's status:
Blue > Green > Light blue: connected to a power source
Blue: smartphone is charging
Green: device is fully charged
Flashing blue: device isn't charging correctly for some reason
Disconnected: device is removed from the wireless charger or it's not connected to a power source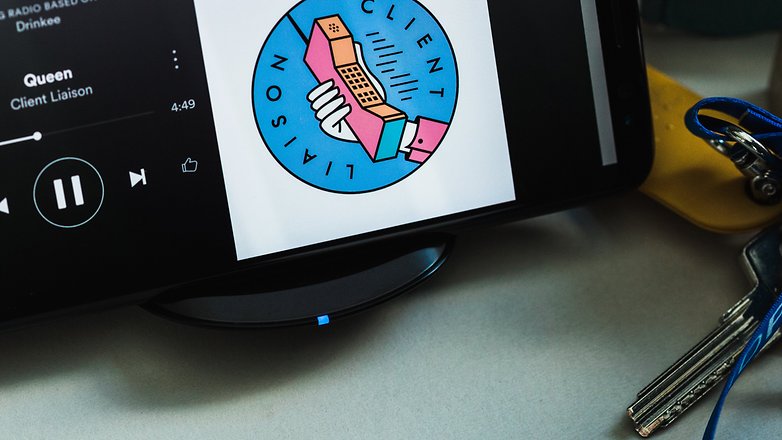 Samsung Wireless Charger Convertible performance
In addition to wirelessly charging the Galaxy S8, or any other model compatible with the Qi standard, this charger also offers quick charge technology. Compared to the last model (EP-PG9201), the current version cuts off an hour of charge time. In other words, it's much more efficient.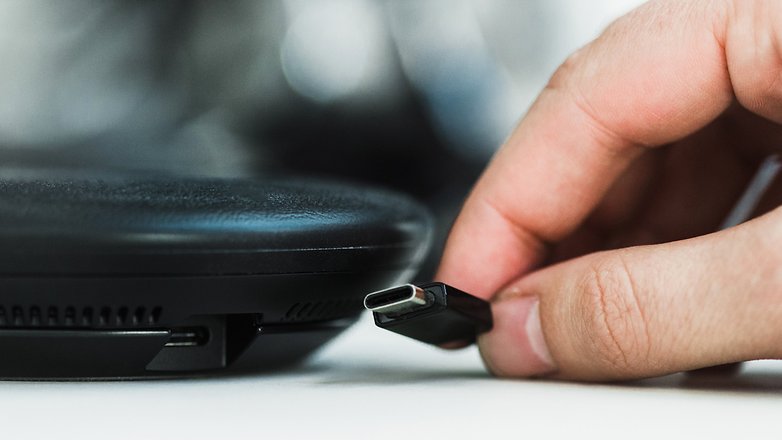 The connection port has also been upgraded from one generation to the next, and now there's a standard USB Type-C port. Plus, as we saw in the Galaxy S8 kit, it comes with a USB Type-C to MiscroUSB 2.0 adaptor. So, if you need to, you can also use a microUSB 2.0 cable, as long as it's approved my Samsung, of course.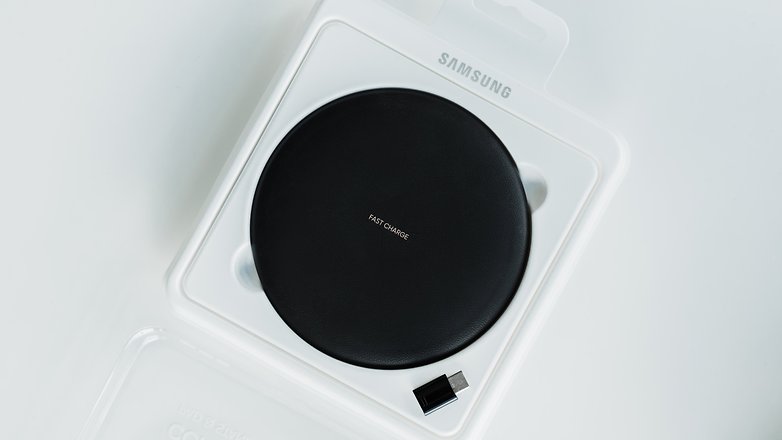 That said, Samsung's new wireless charger is convenient and, above all, offers excellent performance. Naturally, using the cable and AFC adaptor shortens the charging process. Your phone will reach 100% charge about an hour faster than using just wireless charging. However, the experience with Fast Charge Wireless is much nicer, since instead of having to connect cables and outlet adaptors, the pad is always ready. All you need to do is place your device on top of it.

Keep in mind that with Active Fast Charging, the system will recognize the exact moment it should stop charging the device. Over the long run, this will make your battery last longer.

The device also comes with a built-in fan and thanks to this cooling system, the charger never heated up while I was testing it out. The fan will also keep your hardware at a decent temperature. And, in my case, I didn't hear the fan make any noise.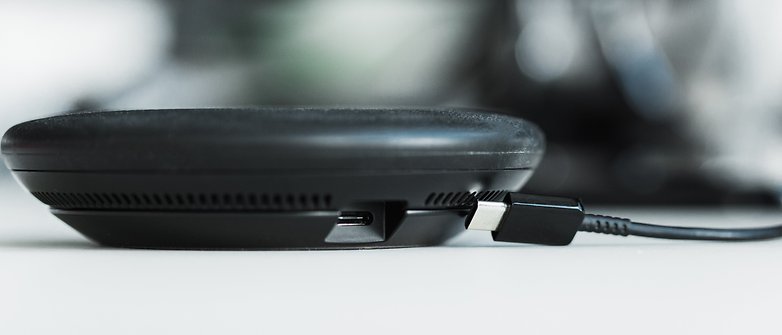 The charging time for the Galaxy S8 (3000 mAh) on the wireless charger with fast charging technology, connected to an outlet with an AFC adaptor and original cables from Samsung, took an average of about 2h and 40 minutes to completely charge the battery (starting anywhere between 0 and 5% battery).

If you use a protective cover on your phone, that could affect the wireless charge time or even make it so it doesn't charge correctly. I'd recommend taking off the cover to make sure you get the best experience. Obviously, the charger you use needs to support quick charge as well (9 V/1.67 A, 9 V/2 A, 12 V/2.1 A).

Officially, Samsung states that only devices in its Galaxy S and Note series are compatible with the Premium Wireless Charger. However, since it uses Qi global standard inductive charging, it could technically be used to charge any device that supports it.
Samsung Wireless Charger Convertible technical specifications
Compability and features
| | |
| --- | --- |
| Color | Black and Tan |
| Compability | Galaxy S8, Galaxy S8+, Galaxy S7, Galaxy S7 Edge, Galaxy note 5, Galaxy S6 Edge Plus |
| Items included | Carregador sem fio conversível, guia de início rápido, conector micro USB |
| Features | Carregamento sem fio, padrão WPC (Qi), fator de forma conversível (apoio e suporte) |
| Dimensions (WxHxD) | 117.4 x 28.6 x 117.4 mm |
| Weight | 227 g |
| Input Voltage (Normal charge max.) | 5V |
| Input Voltage (Fast charge max.) | 9V |
| Input Current (Normal charge max.) | 2A |
| Input Current (Fast charge max.) | 1.67A |
| Output Voltage (Normal charge max.) | 5V |
| Output Voltage (Fast charge max.) | 9V |
| Output Current (Normal charge max.) | 1A |
| Output Current (Fast charge max.) | 1A |
Final verdict
My experience with the Galaxy S8 significantly improved after using the Samsung Premium Wireless Charger. In the past, I would get to work, and my battery would already be at 50% since I always forgot to charge it the night before. By lunchtime, that meant I'd be essentially phoneless. Now, it's pretty much automatic. I put my S8 on the wireless charger as soon as I get in and when the LED turns green, I take it off.
The Samsung Premium Wireless Charger deserves 5 stars.
Nowadays I don't need to charge my smartphone at night, which is great for my health since I always put it on my bedside table. When I get off work, the battery is at 100% because, thanks to its practicality, my desk has been transformed into a phone charging station. Since I never have any free space, the dock has now become my S8's home when I'm not using it.
As for cost/benefit, Samsung's Premium Wireless Charger deserves 5 stars.