How to install Android Nougat on the Samsung Galaxy S5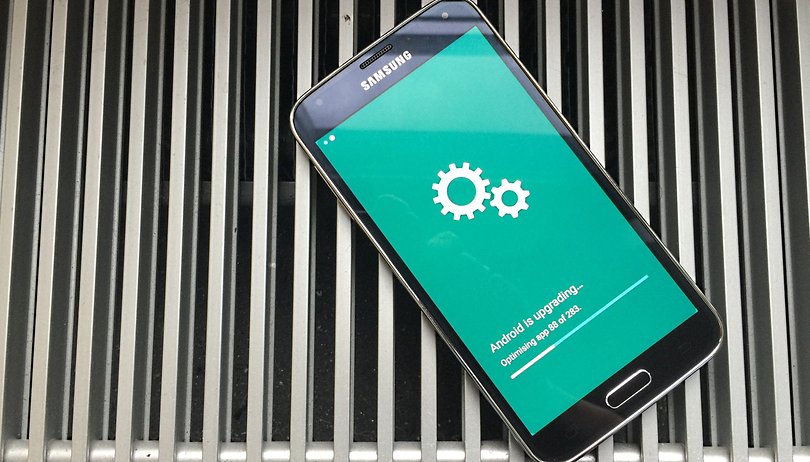 It's highly unlikely that Samsung's 2014 flagship - the Samsung Galaxy S5 - will receive an an update to Android 7.0 Nougat or Android O. If you want anything higher than Android Marshmallow 6.0, you're going to have to take matters into your own hands. We'll give you a step by step guide on how to ensure that you'll get those Nougat features and future updates on your Galaxy S5.
Why should I install Android Nougat on my Galaxy S5?
Samsung has officially stopped providing support for the Galaxy S5. The S5 was introduced in early 2014 and already has 2, soon 3 (the long anticipated Samsung Galaxy S8) successors. If you've already received the last Android 6.0 Marshmallow update, this will sadly be your last. You will no longer receive any software updates from Samsung, which in turn also means that any potential security risks that might arise in the future won't be patched. Its up to you if you choose to manually update your phone - but there are no disadvantages and it's surprisingly easy.
Installing Nougat on the Galaxy S5: first steps
The first thing you need to do is create a backup. In most cases, your contacts will already be synced via your Google account. If you are one of the many WhatsApp users, you can easily back them up in Google Drive (here's a tutorial on how to backup your Galaxy S5). You can either backup your photos onto your computer or secure them via the cloud. If you've configured any apps then you'll have to reconfigure them again later, as the majority of app developers don't use Google's backup feature.
In theory, both WhatsApp and your photos should be unaffected, nevertheless it's always better to be on the safe side and do a proper backup.
Connecting your Galaxy S5 with your PC
Unfortunately, you're going to need a computer that runs Windows to use the tools that we need for this. When we tested this method, we used a Virtualbox running Windows 10 - and everything worked seamlessly. You're going to need both the Samsung Driver for Windows PC and Odin in the Virtualbox. After you've downloaded the Samsung Driver, install it, unpack Odin and start the application.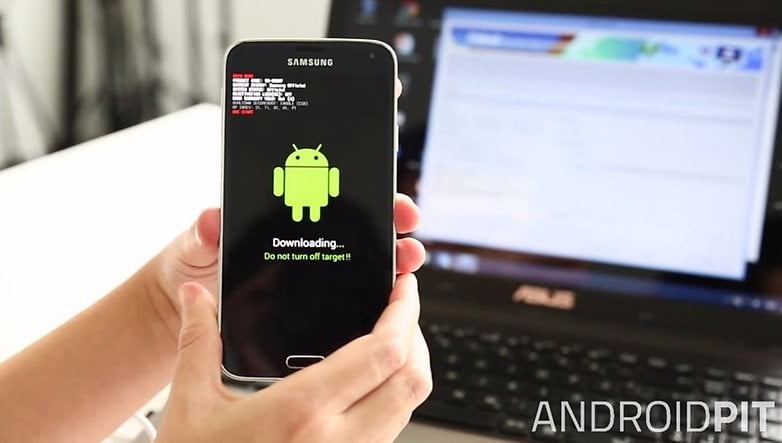 Boot up your Galaxy S5 in Odin mode. To do this, turn it off then press home, power and the lower half of the volume rocker when you switch it back on. Confirm the warning that appears on the screen by pressing volume up. Connect your S5 with your computer and check if they can communicate with each other. To do this, go the Log section in Odin and check if an "Added!!" appears, and check if the device appears in the interface list.
If you do end up having problems with this step, then you might have to switch to the ADB Driver Installer and follow the instructions from there.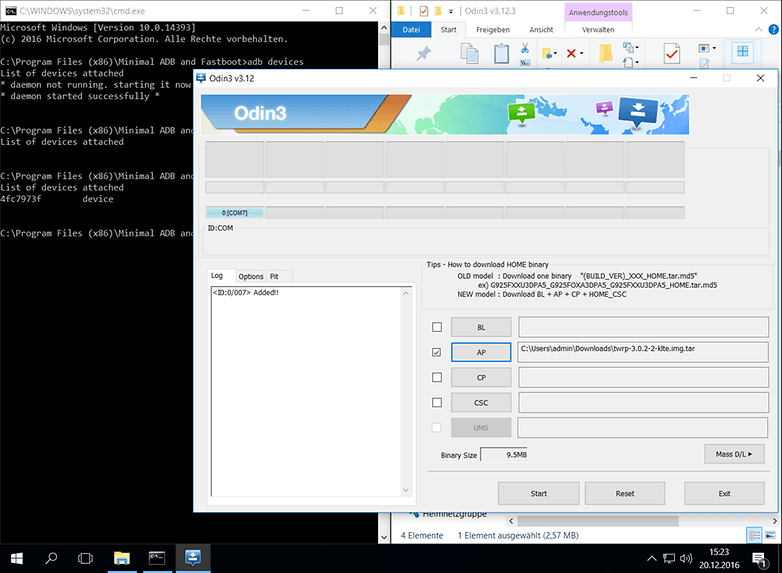 Install the recovery
Now you want to replace the recovery software with the custom recovery software from TeamWin. Custom recovery allows you to interact with the partitions of your smartphone. This is essential for the next steps where we change the Android system and install system apps like the Google Apps.
Download the current .tar file of the TeamWin Recovery Project (TWRP Recovery) for the US Version of the Samsung Galaxy S5 (Note: this is currently not available on the AT&T branded S5 (g900a) ). In Odin, click on AP and select exactly this .tar file from the download directory. Click Start to flash the new recovery.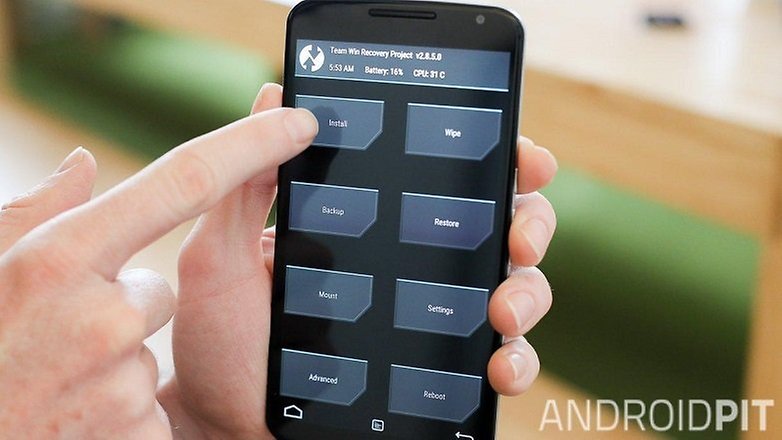 Once the process is complete, you'll have to restart in recovery mode. If you don't do this, the recovery will automatically replace the TWRP recovery that you just flashed on your Galaxy S5. To get into recovery mode, press and hold home and the lower part of the volume rocker. Confirm the initial warning. Go to the Mount section and make sure that you can see the files of the Galaxy S5 on your computer.
Download and install firmware
After installing the custom recovery, we can finally proceed to the main part and install Android Nougat on your Galaxy S5. The appropriate firmware can be found on the download page of Lineage OS (formerly known as CyanogenMod). You'll need to click on the top left hand menu and select the S5 version that applies for you as they differ for each carrier. In the Lineage OS build column, you can get the ZIP files with so-called snapshots of Lineage 13 or Nightly Builds for Lineage 14.1. The former are based on Android 6.0 Marshmallow, so they are less up-to-date and stable. The latter are based on Android 7.1 Nougat and are updated almost daily, though they're not fully developed yet.
For the Play Store and Google services, you'll need another ZIP file with Google Apps. The easiest way to do this is to use Opengapps.org. Download the ARM for your Android version. We recommend the micro package for a nicer looking calendar and Gmail. However, Pico image is also sufficient.
Copy the ZIP files to your Galaxy S5.
Now change to TWRP Recovery on Wipe and then on Advanced Wipe.
Select the Data and System partitions to delete Samsung's Android version of your Galaxy S5.
confirm the changes.
As mentioned earlier, your app settings will be lost but your data and photos will be unaffected as they are located in the internal storage.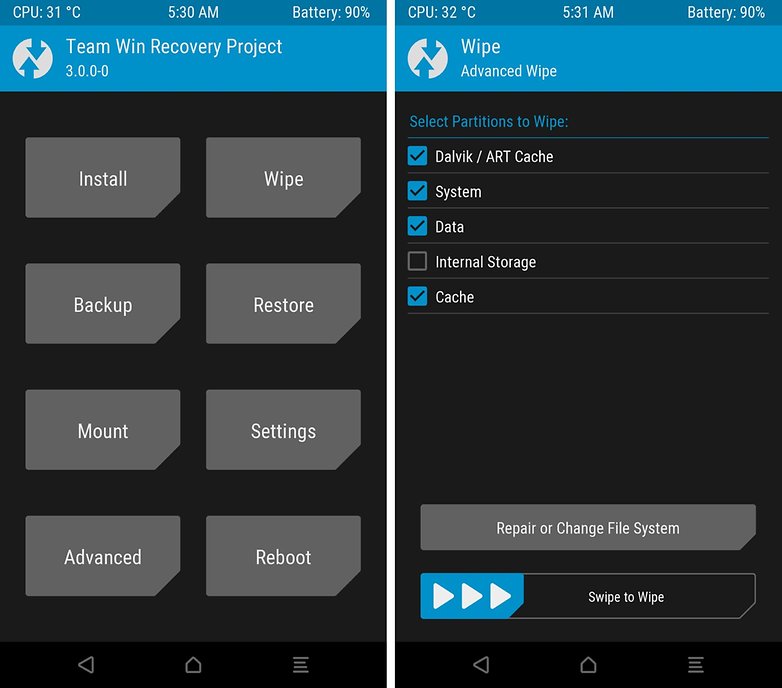 Go to the home screen of TWRP Recovery and tap Install.
Tap Select ZIP, you'll enter in the LineageOS Directory and then select the downloaded file.
By selecting Add more ZIPs, you can and should install the Google Apps. Do not do this later as it will cause conflicts with the authorization management.
Though it is not required, set a check mark for Reboot after installation is complete.
Swipe where prompted to start flashing.
The contents of the ZIP file will now be unpacked in the emptied partition.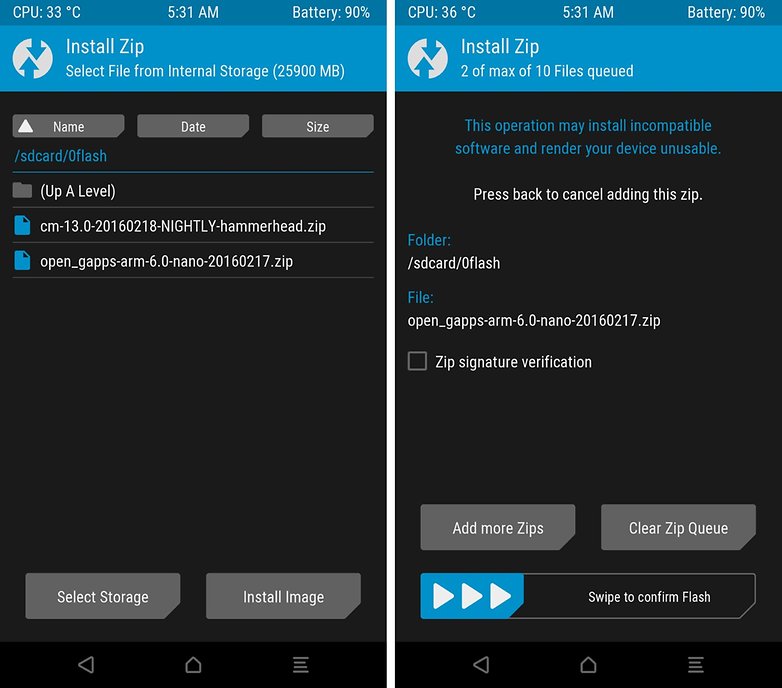 Setting up your device
As you've lost all your app and phone settings, you'll have to repeat the initial setup of your device. You'll be required to log back in with your Google account and re-install the apps that you had previously. On the plus side, you'll be able to enjoy all the updates for your Galaxy S5 long after Samsung has stop delivering them. Future updates will arrive automatically on your phone and don't need this complicated process to install them.
Benefits and features of LineageOS 14.1* on the Galaxy S5
*Disclaimer: When we tested the 14.1 version, it was still known under the name CyanogenMod. Three months have passed since and CyanogenMod has rebranded to LineageOS. Both the version that we tested (CM 14.1) and LineageOS 14.1 are virtually identical.
We didn't encounter any major issues when we tested CyanogenMod 14.1 on the Galaxy S5. Even NFC and the fingerprint sensor worked flawlessly. The only real problem we found was that the camera lost its HDR ability, yet it continued to deliver satisfying results. Check out the gallery of our test shots.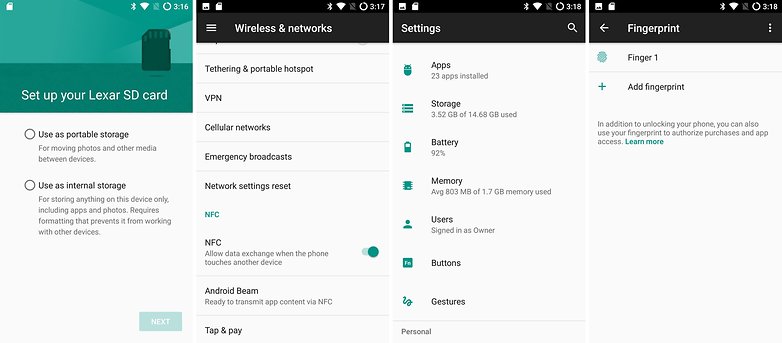 I was surprised that CM 14.1 managed to support all the relevant features of the Galaxy S5. Issues that often came up with camera quality could not be reproduced. I actually like the camera of the S5 more now thanks to the added optimization features and exposure control.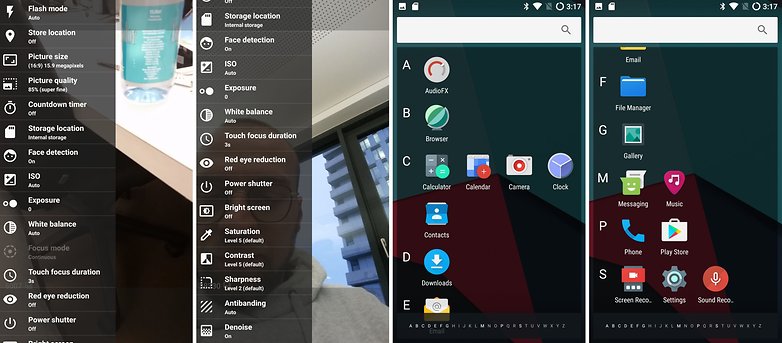 Overall the S5 feels a lot snappier thanks to the new firmware and if you buy a new battery for $15, your phone should last at least another year.