Samsung Galaxy S23: Genuine Accessories Are Key to Fast Charging!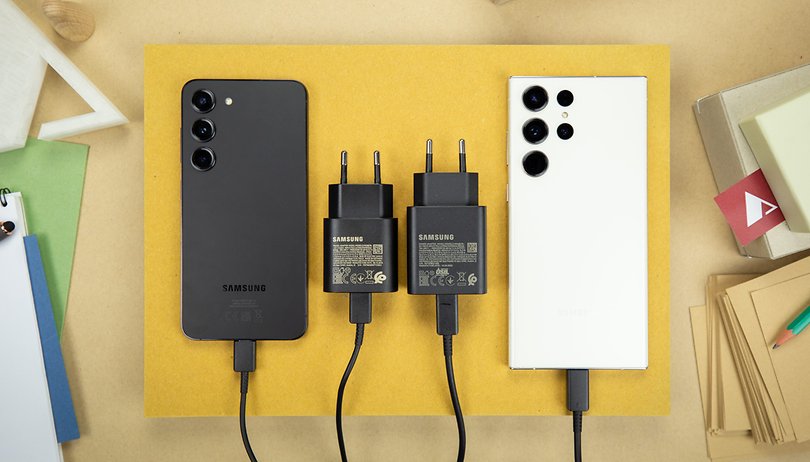 If you recall our in-depth review of Samsung's Galaxy S23, you may have noticed that the flagship takes a significantly long time to charge its 3,900 mAh battery. However, we recently received the original Samsung power adapter at the NextPit editorial office and the results exceeded our expectations.
Samsung Galaxy S23: Not all power supplies are created equal
The Samsung Galaxy S23 was officially presented together with the S23+ and S23 Ultra on February. The Galaxy S23 can definitely be called the base model, which has to make a few concessions to its bigger siblings. Nevertheless, or just because of that, Samsung's flagship was worth four stars in the test. But why not full points? Well, the smartphone has a real handicap in my eyes: the 3,900 mAh battery. Or rather, the maximum speed at which the battery can be charged (25 watts).
For the Samsung Galaxy S23 it was an incredible 1 hour and 55 minutes from 0 to 100 percent battery capacity in my test. Since Samsung does not include a power supply in the box for "environmental reasons" and also withholds it from the test editors, a UGreen Nexode 45W charger was used.
As the model name already indicates, it charges with a maximum of 45 watts in the Power Delivery Standard 3.0. It is explicitly advertised with its "GaN II" chip for fast charging of the Samsung Galaxy S23. A GaN charger uses gallium nitride instead of silicon to reduce heat development during fast charging.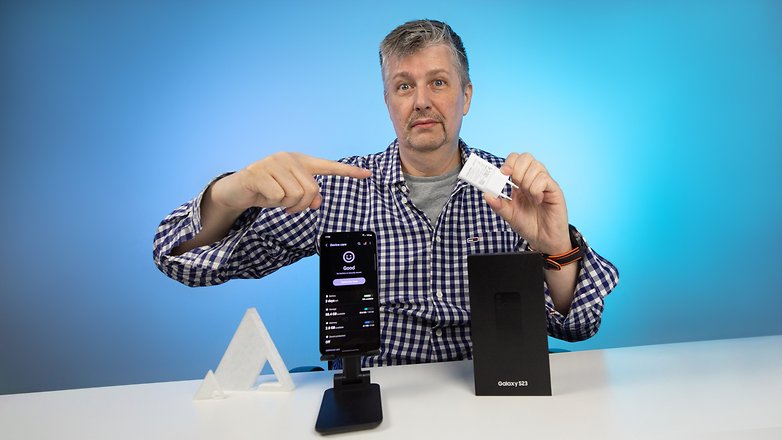 Some of you may have found it surprising that the charging time was so lengthy. To address this, we requested the EP-TA800 power adapter from Samsung. This power adapter is recommended by the manufacturer as an optional accessory.
As the NextPit editorial team also have a Samsung Galaxy S23+ and S23 Ultra, we also obtained the EP-T4510 power adapter. This is because, as we recall, both models (Plus and Ultra) are capable of charging at 45 watts instead of the standard 25 watts. The results did, however, surprise us a little.
Samsung Galaxy S23 fast charging test
| | UGreen Nexode 45W Charger | Samsung EP-TA800 |
| --- | --- | --- |
| After 5 minutes | 3% | 9% |
| After 20 minutes | 14% | 37% |
| After 30 minutes | 21% | 56% |
| After 60 minutes | 44% | 95% |
| Charged to 100 | 1:55 (h:min) | 1:12 (h:min) |
If you want to roughly estimate it, a standard USB PD 3.0 power supply needs almost twice as long. Samsung claims that such a certified power adapter needs the identical charging time. Spurred on by these rates, which make me suspect that Samsung delivers deliberately to earn a bit from the accessories in the end, I grabbed the Samsung Galaxy S23 Ultra and the corresponding original Samsung power adapter today.
In our test of the Samsung Galaxy S23 Ultra, we also used a UGreen charger, specifically the Nexode 140W, as it was available. After 20 minutes, the battery was at just under 50% and it reached 100% in just over an hour. How did the Samsung power adapter perform in comparison?
Samsung Galaxy S23 Ultra quick-charge test
| | Samsung EP-TA800 |
| --- | --- |
| After 5 minutes | 12% |
| After 20 minutes | 40% |
| After 30 minutes | 51% |
| After 60 minutes | 89% |
| Charged to 100 | 1:23 (h:min) |
Here, the original Samsung power supply charges slower than the UGreen charger. Thus, my first suspicion that Samsung intentionally throttles the speed of third-party power supplies is invalid. For me, the issue isn't quite over yet, and I'll use the following week to check out more charging scenarios. At least as long as we still have the Samsung Galaxy S23 trio in the NextPit editorial office.
We wanted to provide you with an update since we greatly value your feedback and opinions, which often lead to actionable outcomes. Your input has not gone unnoticed, and we are always striving to improve based on your suggestions.