Samsung Galaxy S22 Ultra review: Proof-of-concept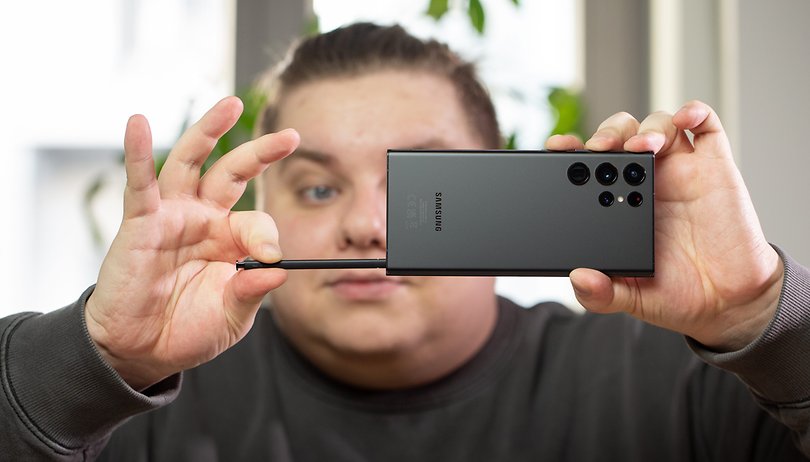 The Samsung Galaxy S22 Ultra is an important smartphone because it announces a big change in Samsung's product strategy. But that also makes it a transitional, middle-of-the-road smartphone that stands on solid ground but innovates very little. In this full review, I give you my final opinion on the Galaxy S22 Ultra from Samsung.
Good
Excellent 120Hz QHD+ display

Very elegant sleek and square design

More consistent S Pen integration

Still the champion when it comes to versatile photos

Unrivalled Android update policy
Bad
Disappointing Exynos 2200 performance

Poor battery life

Fast recharge is not fast enough and the $60 charger is not included

Expensive price

Basic 8 GB RAM/128 GB storage configuration is too limited
Samsung Galaxy S22 Ultra in a nutshell
The Samsung Galaxy S22 Ultra is an important smartphone for Samsung and for consumers alike. It marks both a turning point and completion for the Galaxy S range, at the same time announcing a revival for Samsung and illustrating a product that is now mature.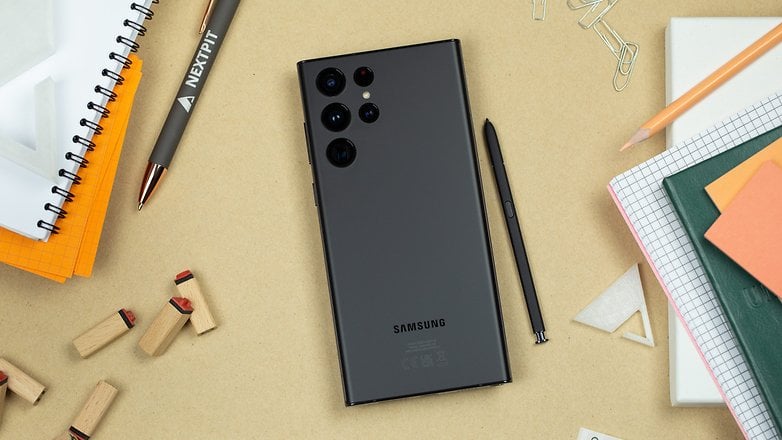 In short, I really like the Samsung Galaxy S22 Ultra, as much as one can like a smartphone that is priced at $1,199 of which you don't have to fork out the money yourself. Obviously, I could just be like iPhone reviewers and say that the Galaxy S22 Ultra is the best smartphone ever made by Samsung this year.
But, I'm not sure that's the case, and while the Galaxy S22 Ultra has reconciled me with the late Note lineup, I feel it's still a middle generation that's supposed to serve as a proof of concept which actually works. Basically, Samsung is testing a few things out without taking too many risks, trying to see if we'll be receptive or not before they hit us with something really wonderful in the future.
Design: A page from the Galaxy Note's book
The Samsung Galaxy S22 Ultra uses the same design language of the Galaxy Note range - sporting straight corners and a curved screen. It also does away with the camera island with the lenses built right into the shell at the back.
---
What I liked:
The monolithic look
Matte coating at the back
Gorilla Glass Victus+ on both the front and back
IP68 certified
Finally, a slot for the S Pen
What I disliked:
Volume and power buttons are placed too high
Lack of one-handed ergonomics
No microSD port
---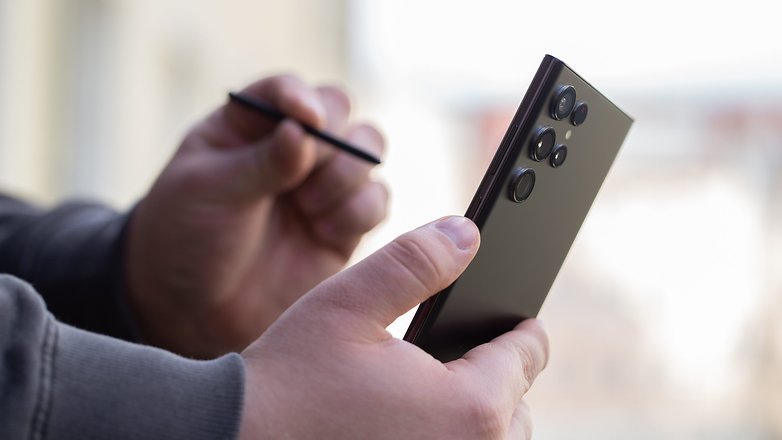 If Din Djarin the Mandalorian were to have a smartphone, it might look like the Samsung Galaxy S22 Ultra. The one-piece design, without any raised camera module and the angular side reminds me of a Beskar ingot. I know, it's strange. Anyway, the design of the Samsung Galaxy S22 Ultra is rather successful in my opinion, even if it feels like Samsung recycled an old design from an aborted Galaxy Note.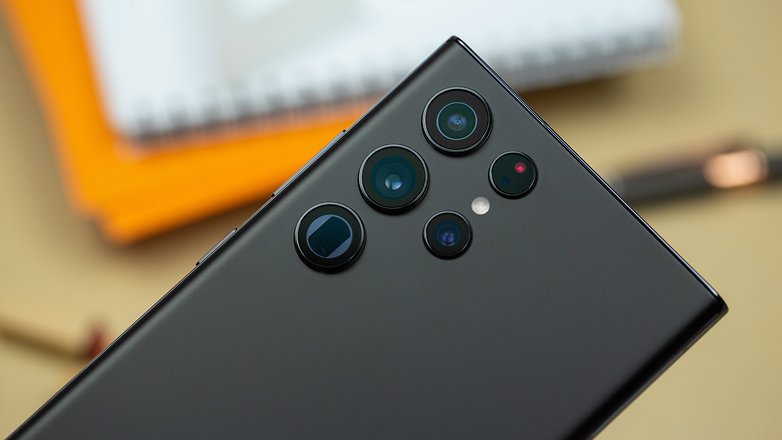 The straight corners of the smartphone and the matte coating on the back allow a good grip. We finally have a slot for the S Pen as well, which should have already been the case last year on the Galaxy S21 Ultra - let's be honest about that. Its placement in the lower left corner is not the most ergonomic for right-handed people, but it's 100 times better than having to carry it separately or in a special case. And the little click that tucks it away carefully or remove it is quite nice in terms of feel.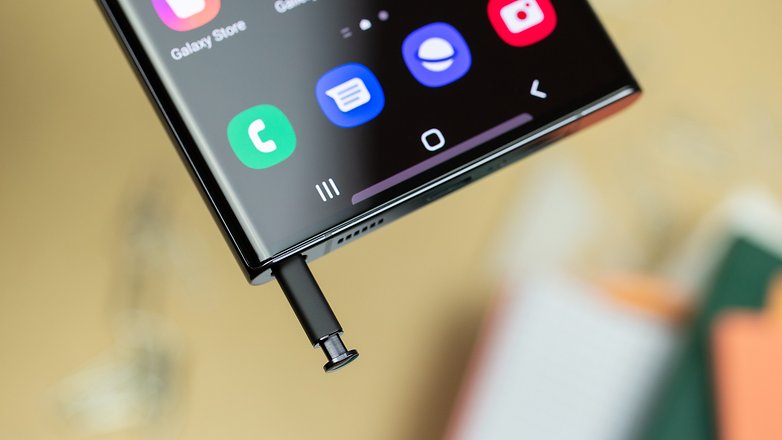 I find that the power and volume buttons are placed a wee bit high. Besides, if you don't like big smartphones, the Galaxy S22 Ultra is your kryptonite (163.3 x 77.9 x 8.9 mm and 228 g). There is no microSD slot for storage expansion though, and neither is there any 3.5mm audio jack.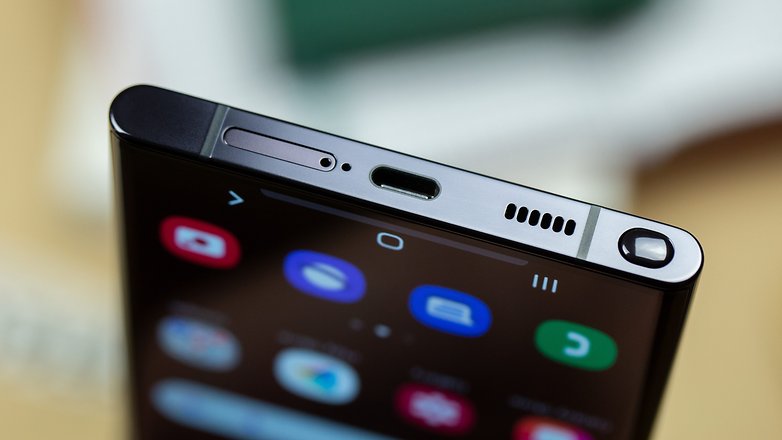 Screen: WQHD+, 120 Hz and 1,000+ nits. What else could you want?
The Samsung Galaxy S22 Ultra packs a 6.8-inch LTPO 2.0 AMOLED display with WQHD+ resolution and a variable refresh rate of 1 to 120 Hz. As always, Samsung saves its best displays for its own smartphones.
---
What I liked:
Very rich colorimetry in vivid mode
Variable 120 Hz refresh rate
Maximum brightness of more than 1,000 nits
What I disliked:
Curved edges is not universally appealing
---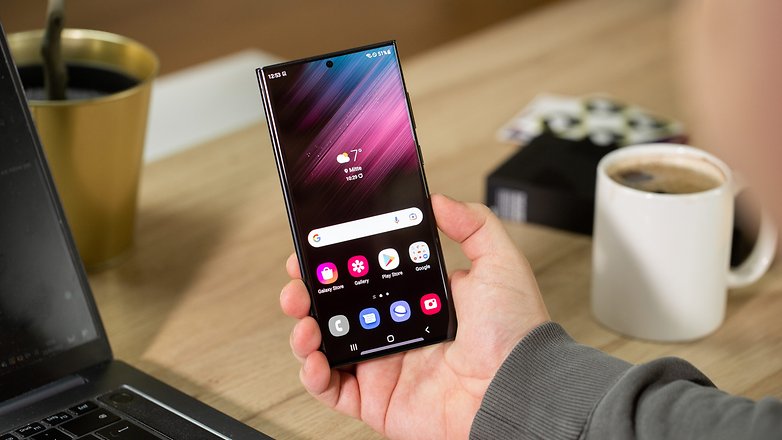 Good news! The screen of the Samsung Galaxy S22 Ultra is flawless to the naked eye. Is there any bad news? You'll have to take my word for it because we're still reworking our screen testing protocol, with a probe and all the software required, but it won't be applied this time around.
I have also noticed that some reviewers and users have experienced display bugs, especially when it comes to full screen content. I personally didn't experience any such problems, but do be aware that they exist, or at least they did when the smartphone was released.
But the size/definition/refresh rate combo is ideal for me and my usage pattern. I didn't really feel any noticeable impact from the adaptive refresh rate that can go down to 1 Hz thanks to LTPO 2.0 technology. The sample rate can be pushed to 240 Hz which is pretty average for an Android flagship in 2022.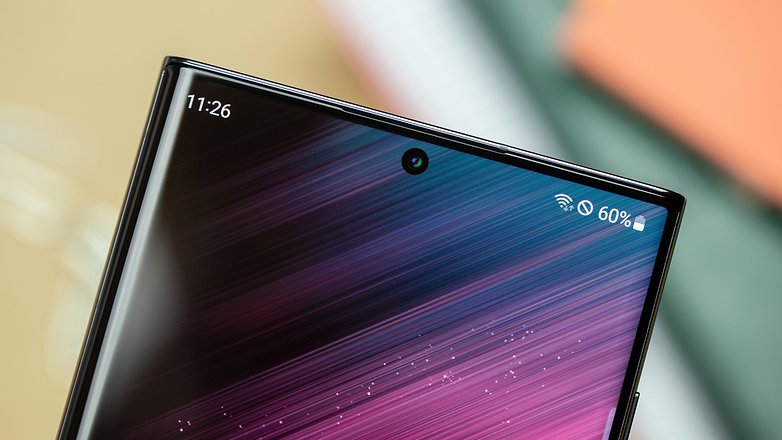 I found the colorimetry to be very rich and especially well-calibrated in QHD+ as well as the brightness that is simply impressive. I don't have any measurements to share with you, but I'm pretty sure we're easily way above 1,000 nits here. The screen of the Galaxy S22 Ultra remains, without any surprise, readable under all circumstances.
On the other hand, the screen has curved edges that won't please everyone and that can hinder the grip. Personally, I've never had a problem with this and I find this choice even beneficial for using the S Pen, especially for note-taking, since the tip doesn't collide with the frame of the smartphone when scribbling.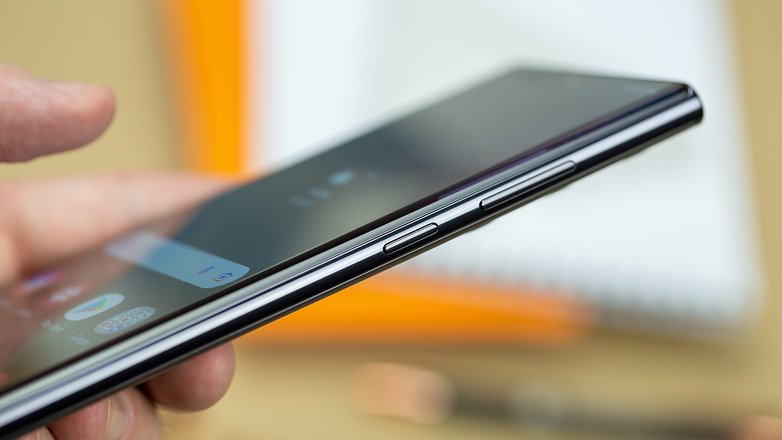 Interface: OneUI 4.1 still as complete as ever, the S Pen is still a niche accessory
The Samsung Galaxy S22 Ultra runs on OneUI 4.1, Samsung's latest software skin that is based on Android 12. The manufacturer has further extended its update policy once again.
---
What I liked:
OneUI 4.1 is feature-rich
4 major versions of Android and 5 years of security updates
Handwritten notes with the S is Pen surprisingly intuitive
What I disliked:
The S Pen works only for specific cases
---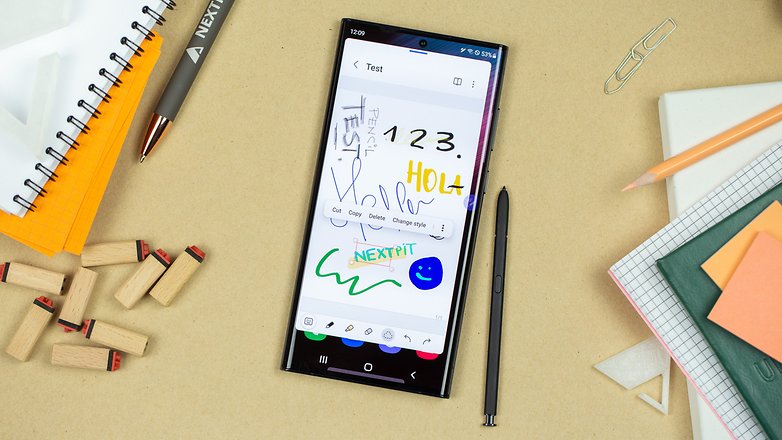 For a more complete review of Samsung's user interface, I suggest you read my OneUI 4 review. The skin includes most of the new features found in Android 12 such as the Privacy Panel or the Dynamic Theme.
Visually, I regret that OneUI is not as customizable as other Android skins. But for the rest, the interface is very good, complete and with very nice features like the sidebar, the intuitive windowed and split-screen mode, or the shortcuts from the lock screen simply by tapping on the clock.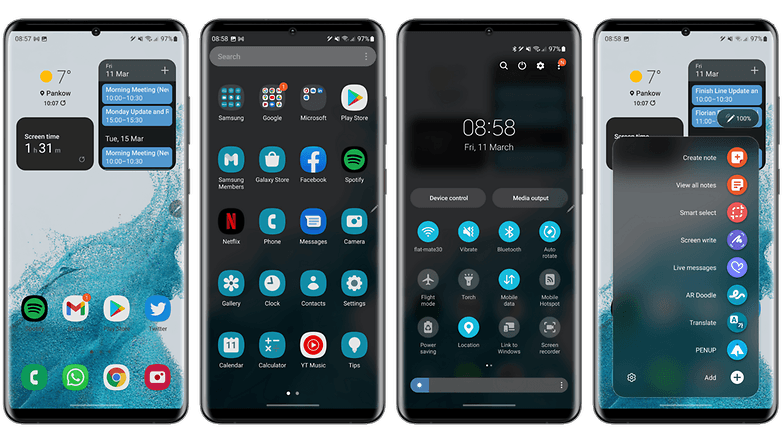 Compared to other Samsung smartphones, the interface of the Galaxy S22 Ultra also integrates the functions related to the S Pen. The difference is really not all that huge. Every time you pull out the stylus, a list of possible shortcuts and compatible applications appears. When you remove it with the lock screen enabled, it's the Samsung Notes application that launches.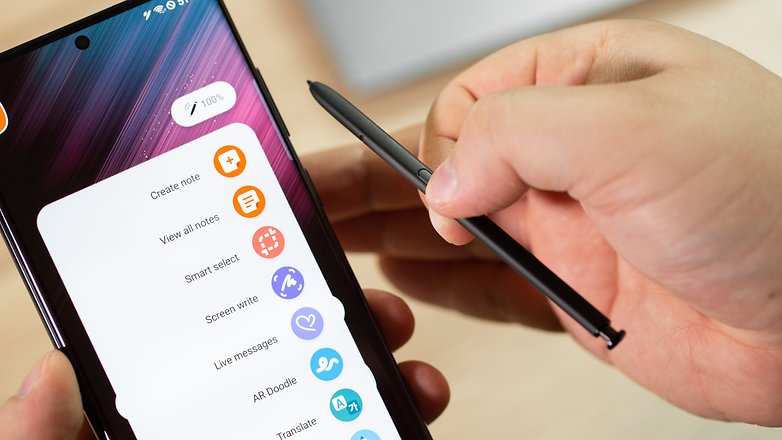 I found the S Pen to be rather handy in certain cases, especially when it comes to taking down handwritten notes. Otherwise, you can totally make do without the stylus. I've never used any of the Air actions, or gestures that are performed in front of the smartphone, for instance. In short, it's a bonus for the user experience if you use it in certain specific situations, but it won't bother you at all the rest of the time if you forget that it is there.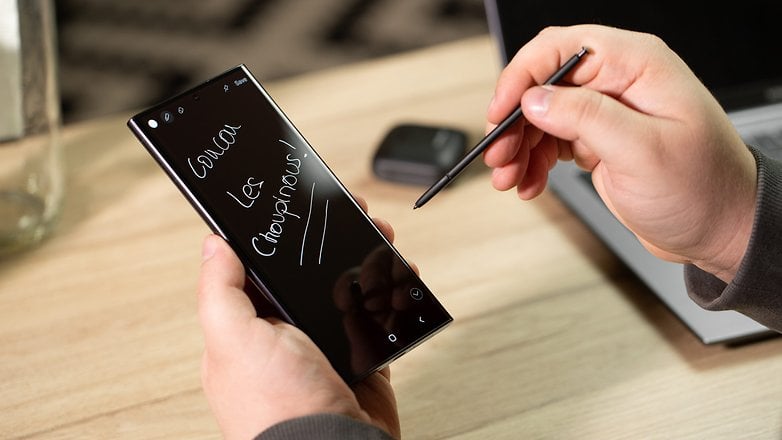 Finally, a word about Samsung's update policy, which has once again been extended. If you buy the S22 Ultra in 2022, you will receive security updates until 2027 and you can even try Android 16 out. It looks like Android-powered Samsungs are finally catching up with what Apple offers on its iPhones, and it's simply unmatched on the Android market.
Performance: The Exynos 2200 is disappointing
The Samsung Galaxy S22 Ultra embeds the Exynos 2200 SoC that was manufactured using the 4 nm process in Europe, equipped with its new Xclipse 920 GPU that was developed by AMD under the RDNA 2 architecture.
---
What I liked:
No overheating issues (thanks to cleverly implemented thermal throttling)
Rather stable performance
What I disliked:
Performance is clearly below the Snapdragon 8 Gen 1
Thermal throttling can be too aggressive
GPU is not very good
---
The Samsung Galaxy S22 Ultra Exynos version is an inferior product to the Samsung Galaxy S22 Ultra that is powered by the Snapdragon chipset. On selected benchmarks, the Galaxy S22 Ultra even performs worse than Android flagships that run on the Snapdragon 888 SoC from last year. This is simply disappointing.
Of course, if you are in the Americas, Asia, or Oceania, you can mostly expect the same performance from all the flagship phones using the Snapdragon 8 Gen 1 processor.
Samsung Galaxy S22 Ultra
Oppo Find X5 Pro
3DMark Wild Life
5682 at 34 FPS
9300 at 55.7 FPS
3DMark Wild Life Stress Test

Best loop: 5741
Worst loop: 3351

Best loop: 9192
Worst loop: 6069

Geekbench 5
So yes, in everyday use, we can run most of the games and the navigation in the user interface is fluid, etc etc. But frankly, it's the minimum for a smartphone sold for $1,199!
If I were to pay a fortune for a smartphone, I want to be able to run CoD Mobile or Genshin Impact at Ultra High resolution and have these games run at 60 FPS constantly without any overheating issues. This is the least that Samsung should offer. It's time to stop segregating the market and stubbornly selling an inferior product to selected regions.
Audio: Dolby Atmos stereo sound in the house
The Samsung Galaxy S22 Ultra is equipped with two stereo speakers that I find to be less powerful than those of the ROG Phone 5 that I normally use. The sound signature did not particularly impress me, either.
The bass is not very present but the mediums (voices, mainly) are very clearly transmitted. There is no crackling to take note of, even when the volume is pushed to the limit. Stereophonic playback is also rather wide with a good spatialization. In short, it has a rather correct sound playback and there is not much else to say about it.
Cameras: Always the champion of versatility
The Samsung Galaxy S22 Ultra has a quadruple camera module at the back with a 108 MP main lens, a 12 MP ultra wide-angle lens and two telephoto lenses dedicated to 3x and 10x zoom of 10 MP each. The selfie camera offers a resolution of 40 MP. Not surprisingly, the photo experience of the Galaxy S22 Ultra is excellent.
---
What I liked:
The amazing daytime photos with the primary lens
The 10x zoom lens is as effective as ever for maximum versatility
The consistent colorimetry between the 4 lenses
Night mode has improved
Portrait photos are amazing
What I disliked:
The ultra wide-angle lens is really poor in low light
The 100x zoom is useless
---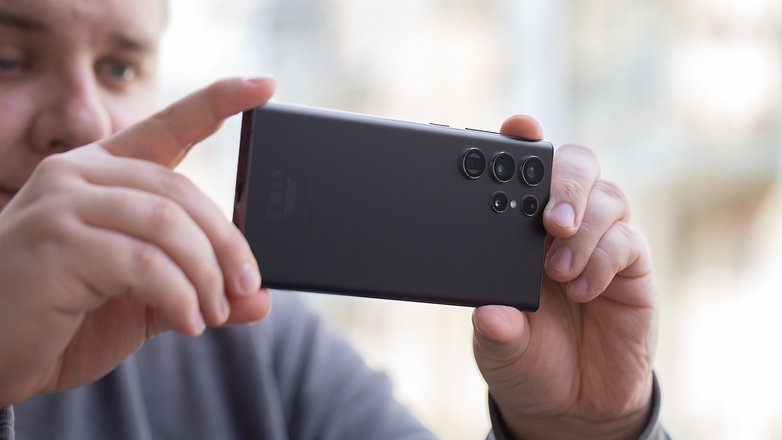 The camera module of the Galaxy S22 Ultra is essentially the same as the one found in the Galaxy S21 Ultra from last year, apart from a few minor details. The telephoto lenses, for example, have identical 10 MP resolution as do the respective apertures of f/2.4 for the 3x and f/4.9 for the 10x. But on the Galaxy S22 Ultra, the sensors of these telephoto lenses are physically smaller, going from 1/3.24 inches to 1/3.52 inches for a pixel size of 1.12 µm vs. 1.22 µm. On paper, this is a downgrade but, strangely, this is not what I felt in use.
Samsung Galaxy S22 Ultra daytime photos
During the day, it is almost impossible to miss a picture with the primary lens. Detail levels, sharpness, dynamic range, everything is well managed and the pictures are sublime. Of course, one could say that they are also aided by Samsung's AI but I find that the processing, especially in terms of colorimetry, remains natural enough or at least, it is not too artificial. The autofocus is extremely responsive and the optical stabilization is effective. We can also note a good colorimetric consistency and in terms of exposure between the wide-angle lens and the ultra-wide angle.
Samsung Galaxy S22 Ultra zoom photos
The 3x and 10x telephoto duo are still very nice to use. The level of detail in 10x is surprisingly good, especially when it comes to displaying textures that we did not see with the main lens, for example. The 10x also performs very well at night, it's really nice to have so much versatility in shooting under almost all circumstances. The 100x zoom is not very usable, so that hasn't changed at all but I was surprised by the quality of the 30x zoom.
Samsung Galaxy S22 Ultra portrait and selfie photos
The Portrait Mode is one of Samsung's strong points and in the Galaxy S22 Ultra, this is no exception. I found the cropping to be always clean as long as you stick to 1x magnification and I was impressed by the quality of my fake selfies (taken with the camera at the back). Even at night, portrait photos look really good. As for the selfie camera, it left me a bit disappointed but the night mode works quite well on it.
Samsung Galaxy S22 Ultra night photos
Low light photography is not a Samsung specialty. On the Galaxy S22 Ultra, I still find the night mode to be counter-intuitive. You have an automatic mode that activates when the light conditions require it and a manual mode, hidden in the "More" menu of the camera app.
For my review, I disabled the automatic night mode and then activated it manually only. And for the time being, I find Samsung to be still as shaky in low light, but the dedicated night mode does its job very well. It effectively cleans up noise, especially the night sky. It also contains flare effects rather well, especially those that emanate from street lamps. In short, when the scene is better lit, the image is cleaner. There is nothing to complain about it except for the white balance which is a little too warm for my taste and therefore pulls a little too much on the yellow tones.
Samsung Galaxy S22 Ultra videos
When it comes to videos, the Samsung Galaxy S22 Ultra is capable of recording in 4K at 60 FPS at the back as well as in selfie mode. With the rear camera module, we can even push to 8K at 30 FPS. Samsung also offers an improved stabilization mode. I let you discover some very short clips to get an idea of the video quality of the Galaxy S22 Ultra.
I used it quite a bit during MWC 2022 and was very pleased with the quality. My colleagues Ben and Camila also found the rendering to be good when I showed them my 'work'.
4K at 60 FPS
4K at 60 FPS with stabilization
Battery life: Hello darkness, my old friend!
The Samsung Galaxy S22 Ultra comes with a 5,000 mAh battery. This model accepts wired charging speeds at 45 watts which remains a laggard in 2022, especially since it does not compensate a rather poor battery life.
---
What I liked:
The 45-watt recharge speed is a wee bit faster than the traditional 25-watt figure
Wireless charging support
Battery manager
What I disliked:
Rather poor battery life, it lasts barely a day in QHD+ and 120 Hz
45W charger not included and is sold for $60
---
Let's not beat around the bush, the battery life seemed too weak to me, as it often does on Samsung smartphones. I may be reproached for setting the screen permanently in QHD+ and an adaptive 120 Hz refresh rate (with automatic brightness enabled). But if I'm paying the full price for my smartphone, and I want to use it to its maximum ability all the time.
With the PC Mark benchmark, the Galaxy S22 Ultra took just over 8.40 hours to fall below 20% remaining battery life. In actual use, on a typical day and with the screen settings mentioned above, I almost never reached 12 hours. During the MWC in Barcelona, I was quite happy to have my external battery with me.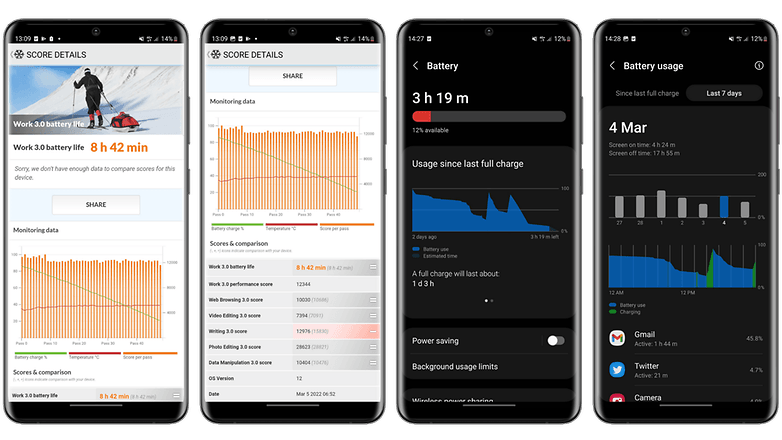 Note that the Samsung Galaxy S22 Ultra offers the best battery utility on Android with many features to preserve your battery life. You know how I feel about this kind of technical compromises at this price point, but I'm sure you can eke out a few extra minutes of battery life this way. I also noticed a slight improvement as the smart battery feature learned of my usage pattern, but this is nothing groundbreaking, either.
But the real problem is how this somewhat poor battery life is not compensated by a really fast recharge speed. 45 watts is better than the 25 watts that Samsung was content with until now. But it's not enough in this day and age. This looks like a choice by the manufacturer to limit the impact of fast charging on the battery, either. But you'll have to explain to me why Samsung doesn't try to push the boundaries of the problem like Oppo or Xiaomi do, for example.
Technical Specifications
Flagship model
Product
Image
Dimensions & Weight
77.9 x 163.3 x 8.9 mm / 229 g
Screen
2X AMOLED / 6.8 inch / QHD+ / 120 Hz refresh rate / 240 Hz touch rate
Memory
8/128 GB / 12/256 GB / 12/512 GB / 12/1 TB / non-expandable
SoC & GPU
US/Global: Snapdragon 8 Gen 1 / 4 nm / Adreno
Europe: Exynos 2200 / 4 nm / Xclipse 920
OS
OneUI 4.1 / Android 12
Camera module

Main wide-angle: 108 MP / f/1.8 aperture / FOV 85° / Dual Pixel AF
Ultra wide-angle: 12 MP / f/2.2 aperture / FOV 120
Telephoto lens 1: 10 MP / f/2.4 aperture / 3x optical zoom
Telephoto lens 2: 10 MP / f/4.9 aperture / 10x optical zoom
Selfie: 40 MP / f/2.2 aperture / 80° FOV

Battery
5,000 mAh
Wired charging: 45 watts
Wireless charging: 15 watts
Reverse wireless charging
IP rating
IP68
Connectivity
5G / LTE / Wifi 6E / Wifi 6 / Bluetooth 5.2 / NFC
Price
$1,199
Conclusion
At the beginning of this review, I explained that the Galaxy S22 Ultra is both the beginning of something new and the culmination of a concept for Samsung.
It starts a renewal of the Galaxy S range which, in my opinion, will see the Ultra model distinguish itself more and more from the other models, even if it means becoming its own range within the range, like the Phone Pro. Samsung will be able to push more innovations and exclusivities on this product, which somehow legitimizes its ultra-premium flagship status.
But the Galaxy S22 Ultra is also a sign of a mature product line, which is starting get a bit stale. Very little has changed in terms of the spec sheet, and even OneUI 4 is a very timid iteration rather than an innovation. The Galaxy S22 Ultra is an intermediate generation of a flagship, a way for Samsung to test the waters, to see if the S Pen really gets you going, to see if you're really fed up with Exynos or if fast charging at less than 60 watts is really a deal-breaker.
Basically, that's how I would sum up my overall impression of this smartphone. Samsung has perfected what it does best: screen quality, design, and photo versatility. It has added the S Pen in a more consistent way to complete the fusion between a Galaxy S and Note that started too timidly last year. And on the rest, the manufacturer did not dare or simply did not want to take any risk.
It really looks like Samsung is waiting for the concept of a Galaxy S/Note to really take off before investing too much in this "new" product category. But then again, charging $1,199 for a beta, and even more so for a limited 8/128 GB starting configuration, doesn't seem to be the best strategy to me.
The Galaxy S22 Ultra is a very good flagship, but I had to put my money on it, I'll wait for next year's S23 Ultra.