Samsung Galaxy S20 Ultra review: perfection exists only on paper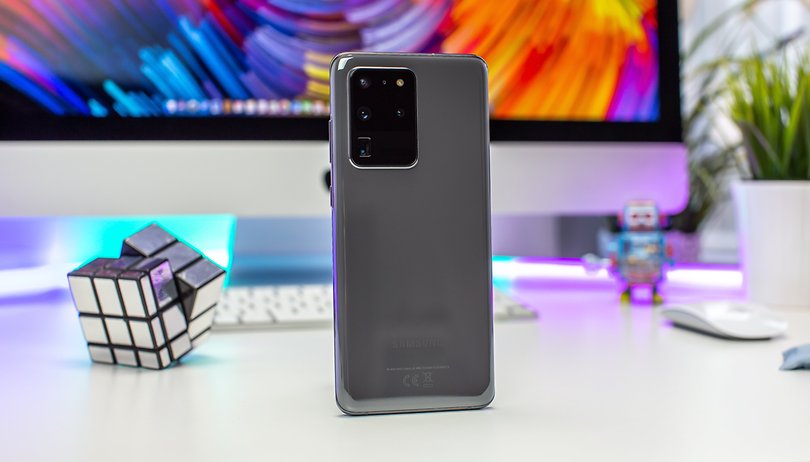 Samsung's new flagship smartphones have arrived. The Galaxy S20 Ultra lives up to its name, at least on paper. In reality, after using for about a week, the true picture is more complicated. There are five cameras with a total of more than 200 megapixels, 8K video recording and as much storage and RAM as a decent desktop computer. But we don't judge smartphones on paper. Here's the real deal.
Good
Beautiful display

Excellent everyday camera

Strong 5x and 10x zoom

Snappy performance
Bad
Huge and cumbersome

Gimmicky Space Zoom

Weak Exynos chip (EU version)

No 120Hz at WQHD+
Samsung Galaxy S20 Ultra: All deals
The $1,400 flagship phone
All models of the Samsung Galaxy S20 are available now in most regions in the world. The Galaxy S20 Ultra starts at $1,399 for the model with 128GB of storage and 12GB of RAM. The top model with 512GB of internal storage and 16GB of RAM can be purchased from Samsung for $1,599.
So, not cheap then. At these prices, Samsung is competing with the likes of the iPhone 11 Pro Max here. Unlike the S20 and S20+, the Samsung Galaxy S20 Ultra is only available as a 5G model. In the box, you get a pair of wired USB-C headphones from AKG and a 25W charger.
The biggest and boldest Samsung Galaxy yet
Samsung's in a bind. On the one hand, Chinese manufacturers are attacking with attractive flagship smartphones at budget prices, greedy for market share. On the other hand, there has been an expensive feature contest with Apple and Huawei for years. This leaves Samsung little room for overly bold design changes to its flagship Galaxy S series smartphones.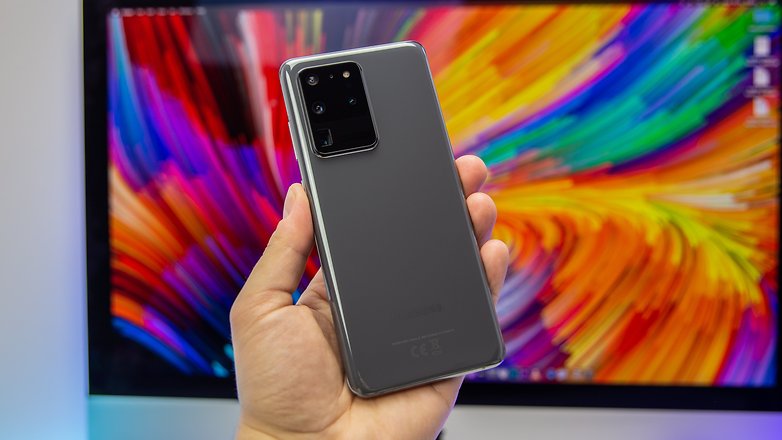 While the South Koreans are already laying the foundation for the foldable future of smartphones with the Galaxy Fold and the upcoming Galaxy Z Flip, the new Galaxy S20 Ultra is rather conservative and stays on the safe side, at least from the outside. But you shouldn't be deceived by the comparatively unexciting design of the Galaxy S20 Ultra. The completely new quad-camera system on the back reveals Samsung's ambitions. Samsung has looking to impress with internal features, rather than external design innovations, this year.
Does anyone still remember when Samsung's Note series stood for "big smartphones" and the S-series for comparatively compact all-rounders? Well, the Galaxy S20 Ultra is larger and heavier than the current largest Note model, and any Note model released to date for that matter.
The specifications of the Samsung Galaxy S20 Ultra are really impressive. The housing design, however, is not. The ceramic case is now yesterday's news. Instead, there is only high gloss Gorilla Glass 6 all around. No special gloss or color effects (unless you count fingerprints, which these cases attract like nothing else). Only Cosmic Grey or Cosmic Black are available as colors for the S20 Ultra, too.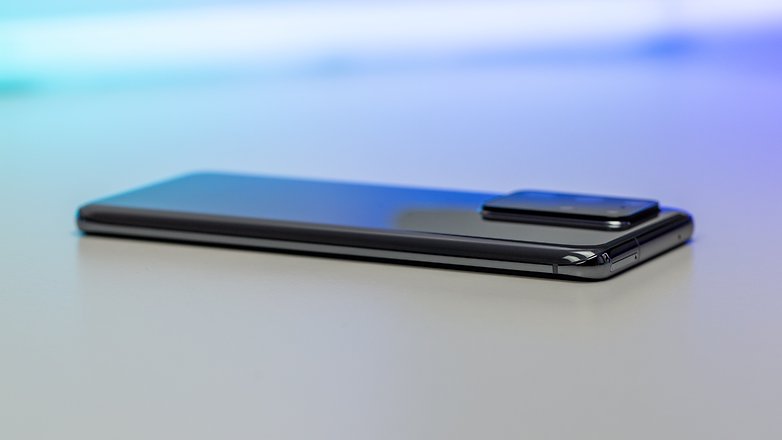 The smaller models are at least additionally offered in Cloud Blue or Cloud Pink. It's a pity, but the camera systems of all S20 models stick out so far that a protective cover is almost obligatory anyway, if only to prevent wobbling on the table. I am also glad that I have not had to take this smartphone out of the house much due to the current situation in Europe. You are not slipping this into your trouser pocket. Not even close!
Samsung still does the best displays
The 6.9-inch Quad HD+ Dynamic AMOLED display of the Galaxy S20 Ultra is impressive with its 511 ppi pixel density and HDR10+ certification. Not surprisingly, after all, Samsung builds some of the best displays in the industry. It's crisply sharp and bright, with rich colors and even thinner bezels at the top and bottom are present compared to its predecessor. But there's no unnecessary and user-unfriendly "waterfall" display as in Huawei's top models, which curves over the entire sides on the left and right of the device. Sure, the display falls a bit to the side, but not too much. There is enough space for well-placed power and volume buttons. Samsung has dialed-back the curve of these display edges significantly for the S20 Ultra, and I for one am glad to see it.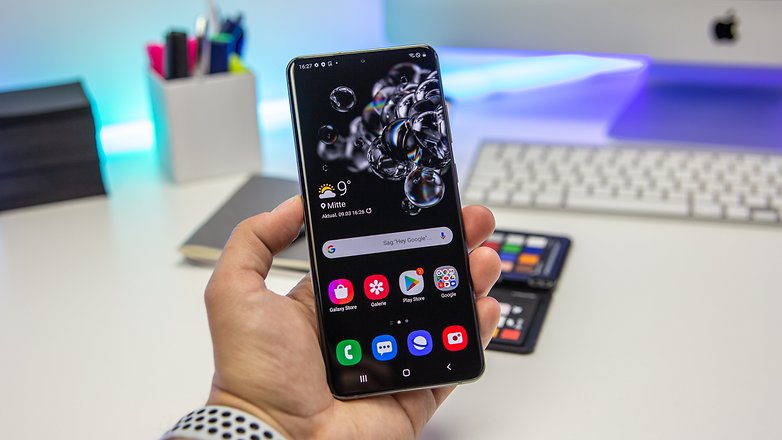 The big new feature of the S20 Ultra's display is its 120Hz refresh rate. We've seen 90Hz slowly coming onto the market for about a year now, but this is the first time we've seen 120Hz from one of the big boys. It's silky smooth, but there is a huge caveat. Out of the box, the S20 Ultra is set at 1080p, 60Hz. The very first thing I did with the phone was to make the switch in the settings. It's then that you realize that Samsung refuses to let users run 120Hz at the WQHD+ resolution at the same time. If you want that smooth 120Hz refresh rate, you have to settle for FHD+. It's a compromise I was happy to make, but now that OPPO lets you have 120Hz at the full resolution on the new Find X2 Pro, I would be surprised if Samsung doesn't release a software update to match. After all, there is no hardware reason not to have it, it must just be to save battery life.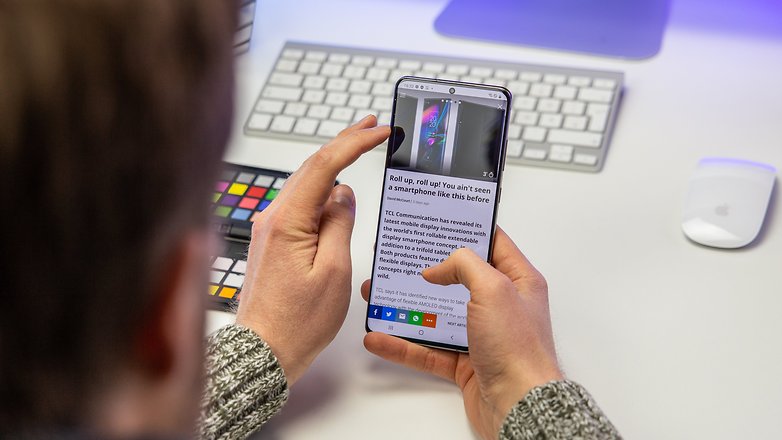 Under the display, there is once again an ultrasonic fingerprint sensor hidden, and a simple but still quite insecure face recognition system via the front camera is also available. The fingerprint sensor is unchanged from last year's S10 lineup. That's not necessarily bad, but don't be expecting an upgrade if you didn't get along with the best of 2019's in-display fingerprint sensors.
Overall, Samsung still makes the best smartphone displays in the world, and the S20 Ultra is probably the best I've ever seen on a device that I have tested.
One UI continues to improve
On the software side, the Samsung Galaxy S20 runs One UI 2.1 based on Android 10. I've never been much of a fan of Samsung's software - blame TouchWiz - but things are certainly looking better these days. The number of features baked in is ridiculous, but this can be both a blessing and a curse. Those who read a lot of me will know I am a Google Pixel fan, almost entirely because of the software, and Samsung is still a long way away from having a clean, quick interface like OnePlus too. That said, I am growing to enjoy One UI more and more with every update.
One cool feature in the S20 Ultra is the ability to pin apps to the massive amount of RAM onboard. In the multi-task menu, you can lock an app so that it is always open in the background. It makes dipping back into your most-used apps even quicker, and you'll still have plenty of RAM left over so you don't notice a dip in performance elsewhere. Cool idea, that's well-executed.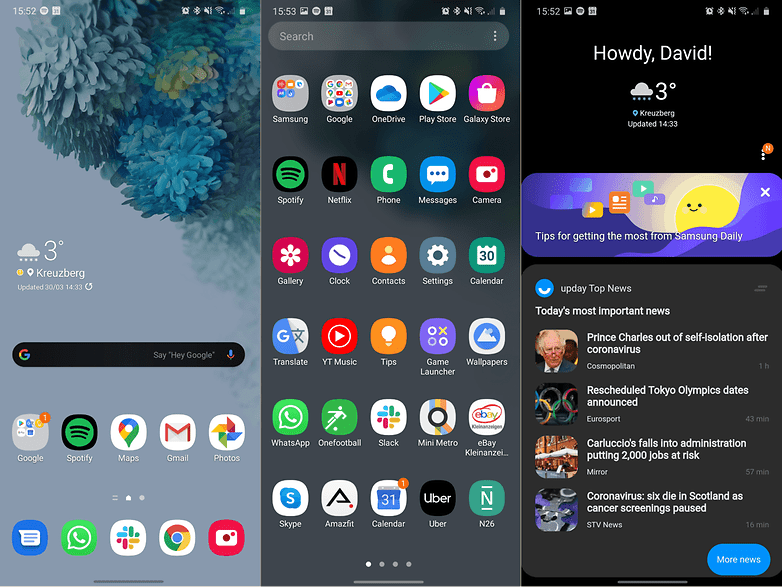 Samsung has an Exynos problem
In terms of performance, Samsung doesn't hold back either and has packed either 12 or 16GB of RAM into the S20 Ultra, depending on whether you choose a model with 128 or 256 or 512GB of storage space, each of which can be expanded by up to 1TB via MicroSD.
In Europe and other selected markets, all S20 models are equipped with Samsung's own Exynos 990. In the USA, Qualcomm's Snapdragon 865 eight-core processor is used. The performance of the cameras in combination with the current Snapdragon 865, or in Europe with the Exynos 990, also demonstrates a very special feature: 8K video recording. The Exynos version I tested though, does have a few problems.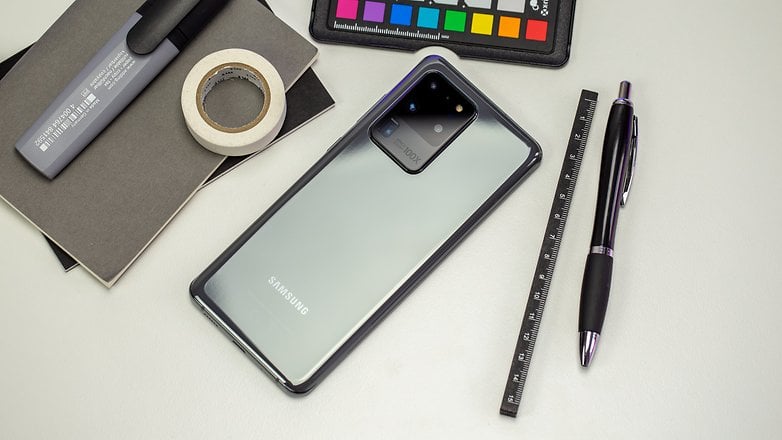 There is no issue with everyday performance on the Galaxy S20 Ultra - everything feels quick and snappy - but there has been some fuss about the performance of Samsung's in-house processor compared to the Snapdragon models. AI performance is one area where you really see a difference between this and the top of the market. When Shu and I ran an AI benchmark test on both the S20 Ultra and the new Huawei P40 Pro, the result was embarrassing for Samsung - 102,935 on the Kirin-powered phone versus 35,485 for the Exynos - and it is scores like this that have lead to the consumer backlash over the decision.
Samsung Galaxy S20 Ultra benchmark tests results:
| | Huawei P40 Pro | OPPO Find X2 Pro | Samsung S20 Ultra |
| --- | --- | --- | --- |
| 3D Mark Sling Shot Extreme ES 3.1 | 6073 | 7814 | 6752 |
| 3D Mark Sling Vulkan | 5427 | 6344 | 5925 |
| 3D Mark Sling Shot ES 3.0 | 3965 | 8890 | 7403 |
| Geekbench 5 (Single / Multi) | 757 / 2986 | 910 / 3295 | 747 / 2690 |
It would also be a crime not to mention that this is a 5G-ready smartphone (mmWave, Sub 6, TDD/FDD). I tested the phone on the O2 network in Berlin, Germany, and there is no access to 5G for me. Others in the UK and the USA have reported remarkable speeds on 5G networks with the S20 Ultra, but for most of the world today, this is a feature from the future still.
The camera-by-numbers approach
Samsung has gone big on the camera this year and there are a lot of numbers to tackle here. With a 108-megapixel main camera and the 48-megapixel telephoto camera with up to 100x hybrid zoom, paired with an ultra-wide-angle camera and a time-of-flight camera christened "DepthVision", Samsung aims to return to the top of the camera rankings once again.
Because of the new SoC and that 8K video recording, you are able to change the picture section afterwards without big quality losses, provided of course the final video is only played in 4K or Full HD anyway. Also, thanks to the "8K Video Snap" function, 33-megapixel photos can be generated from the 8K videos. The Ultra model's selfie camera integrated into the display in the hole punch has a resolution of 40 megapixels. The selfie cameras in the two smaller S20 models, however, only offer a 10-megapixel resolution.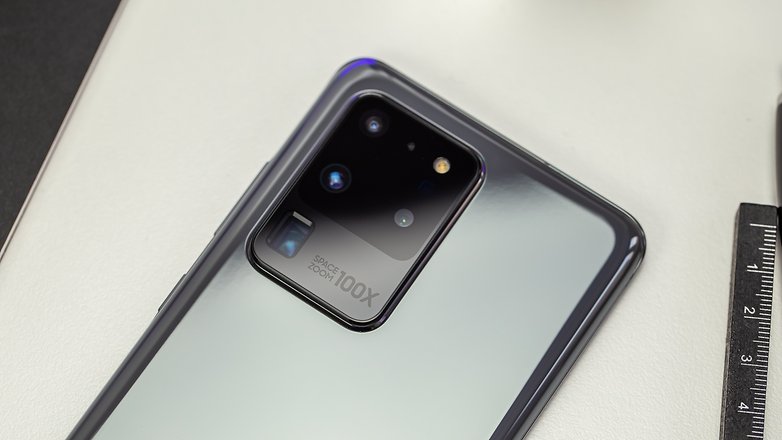 My colleague and camera expert, Stefan, has already conducted a full, in-depth camera review of the Samsung Galaxy S20 Ultra, so I won't step on his toes too much here and will instead direct you to read the professional opinion:
I will add one personal titbit though, and this is something that has been burning inside me for a while. I still get don't get the obsession with insane levels of zoom: 5x can be useful, but even 10x I find pointless in 99 percent of the photos I shoot. The need for 100x is purely for marketing clout, in my opinion, with none of the photos taken being properly usable on social media platforms or even for sharing on WhatsApp with friends.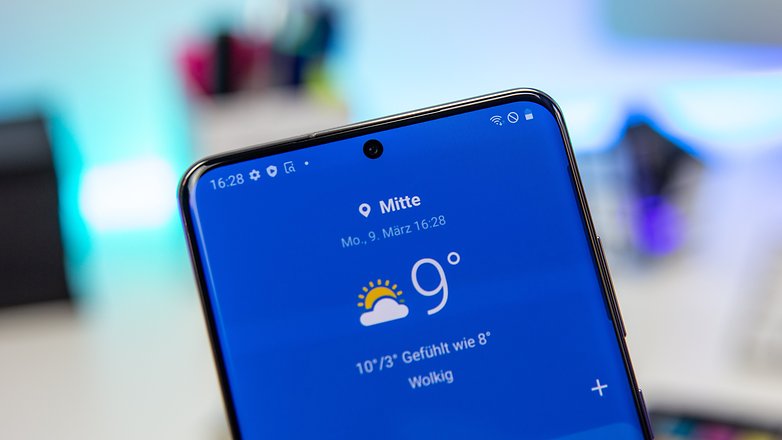 All-day battery life at 120Hz
The Samsung Galaxy S20 Ultra comes with a large 5,000 mAh battery. It also supports wireless charging up to 15W and reverse wireless charging, which Samsung calls Wireless Powershare, to charge your Galaxy Buds+ from the back of the phone, for example. The 25W charger includes in the box took an average of about an hour to charge the phone from 10 percent to 100 percent, which is not bad when you consider is a 5,000 mAh cell.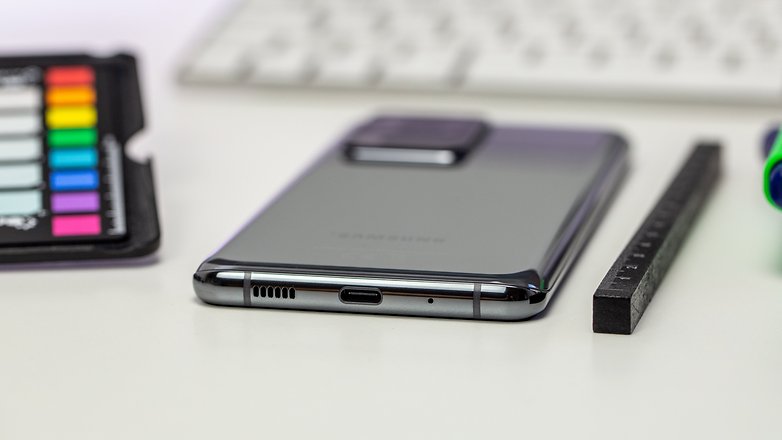 I have to admit I was expecting the battery life to suffer from that huge display running at 120Hz, but I really haven't had any problems. Sure, I have been on lockdown and therefore not been outside of the house much, but I have been trying to burn through the battery and I put my tablet away for a couple of days and switched purely to the S20 Ultra for my evening browsing and entertainment and I was still ending the day with 15 or 20 percent batter with five or six hours of screen-on time. The Samsung flagship can last a full day no matter what you throw at it.
Whether or not it can still hold up with both 120Hz and the WQHD+ resolution both on, I am not able to test. I will keep banging this drum until Samsung lets me try it. The phone costs $1,400, if we want to hammer the battery then let us.
Samsung Galaxy S20 Ultra technical specifications
Final verdict
Our first impression of the Galaxy S20 Ultra was that it was a wolf in sheep's clothing, with no big surprises. Overall, it's a solid package, but there is so much overkill here. Samsung has shoved all of its chips into the middle of the poker table and it's hasn't quite paid off. It feels like a smartphone that has been designed for the marketing team to give it the big licks. Specsheet squabblers are going to love this, but in reality, when you use it as your daily driver, the numbers don't quite translate into real-life benefits. Is it a top-level smartphone for 2020? Sure. Is it a must-have, next-level smartphone at the cutting-edge or the industry, not yet.