Samsung Galaxy S10e review: we could've had it all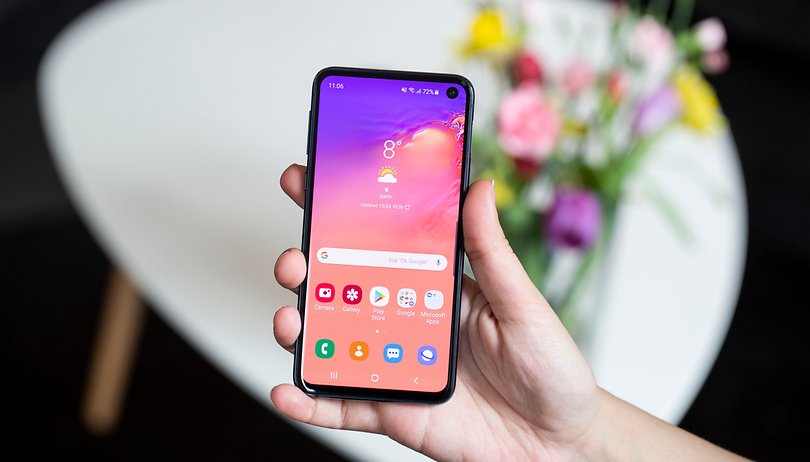 The Galaxy Fold and the S10 Plus might have stolen the show at Unpacked 2019, but there's one other phone you shouldn't overlook. The Samsung Galaxy S10e is the smallest among the new flagship line, but it's by no means the least impressive. With its relatively compact size, terrific specs and powerful performance, it could be the sleeper hit which no one anticipated. However, it's not without its flaws. Let's see how it fared in our full review.
Good
Compact size

Great design and craftsmanship

Top notch performance

Gorgeous selfies

Headphone jack
Bad
Disappointing battery life

Preinstalled Facebook app
Samsung Galaxy S10e: All deals
Most affordable among the Galaxies, but not cheap
The Samsung Galaxy S10e officially launched on March 8th worldwide. There are two possible configurations - 128 GB of internal storage and 6 GB of RAM, or 256 GB of storage combined with 8 GB RAM. The first will set you back $749.99, while the higher specced one will cost you $849.99. Unfortunately, the S10e doesn't have any pre-order bonuses like the S10 and S10 Plus, so don't expect free Galaxy Buds in the box if you are still waiting for your device to arrive.
Nevertheless, Samsung still offers a trade in price reduction for the S10e. A Galaxy S8 in relatively good condition (no cracks, still turns on), for example, will net you $300 off your new smartphone. So will a Pixel 2 or 2XL and a bunch of other phones, including iPhones. You will find the same trade in offer on Samsung's official UK store too. However, it seems that only the lower specced 128GB/6GB configuration of the essential S10 is currently available for £669.00.
The Galaxy S10e is by no means a bargain in either region, but it still offers everything you'd expect from a flagship. In my opinion, it has the best price-performance ratio out of the S10 family.
A pocket-sized companion
Although the Galaxy S10e might not be 'compact' compared to phones from 3-4 years ago, it certainly is in today's market. With its 142.2 x 69.9 x 7.9 mm dimensions, 5.8 inch screen and weight of 150 grams, it's fits comfortably in the hand and in the pocket. I was convinced from the moment I first held the phone in my hands - it's light, yet feels solid.As has become typical, the material of choice for both the front and back of the device is glass (Gorilla Glass 5), surrounded by an aluminum frame.
The Galaxy S10e is available in multiple colors - Prism White, Prism Black, Prism Green, Prism Blue, Canary Yellow and Flamingo Pink. However, at the moment some of them seem to be available only in select regions. For the purpose of this review, I used the Prism Black variant. It might be a tad boring compared to the other more colorful versions but some people will appreciate the simple classic look.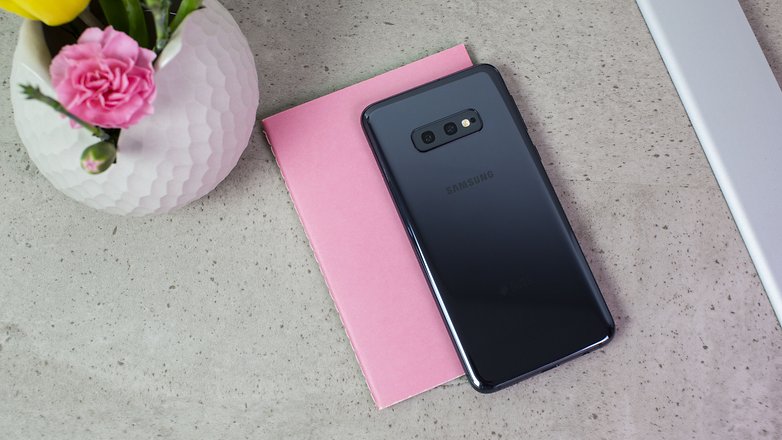 Of course, the overall design is premium and the craftsmanship impeccable, as can be expected from the South Korean manufacturer. The side bezels so slim, they are practically non-existent. Unlike the bigger Galaxy S10 and S10 Plus, however, the display is not curved. This is something I personally appreciate, since I never found it particularly stylish or practical.
The fingerprint scanner is another major difference between the Essential version and the S10 and S10 Plus. On this device, it's located on the right hand side, merged with the power button. It's convenient and easy to use, and unlike the ultra sonic sensor that can be found on the rest of the S10 line, it works without a hitch.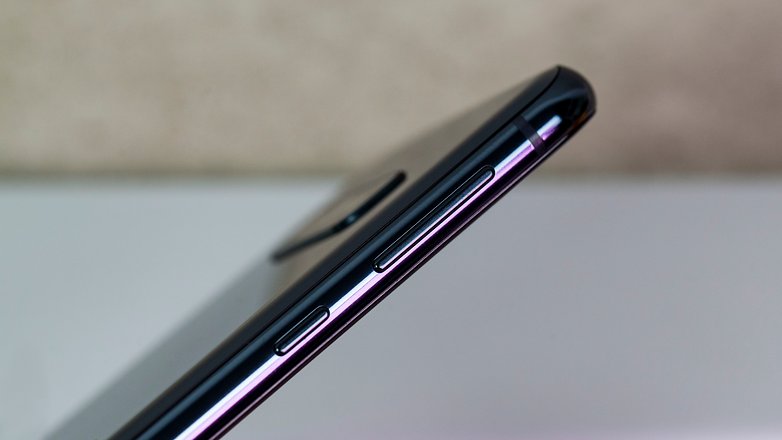 On the front, we find the punch-hole which houses the selfie camera, which is tiny and barely noticeable in every day use. Thanks to its discrete placement, it's also a much better solution than the notch. On the back, the dual camera protrudes from the frame slightly, which can be a drawback for some, but I never found it to be an issue.
Small but striking
In a world where media is increasingly being consumed on smartphones, size matters! However, many are sick of giant phones and that's understandable. The 5.8 inch Dynamic AMOLED display of the Galaxy S10e should therefore be just the right size for many consumers. Not only that - it's stunning. Samsung has always been at the forefront of display tech and the company has once again done an amazing job.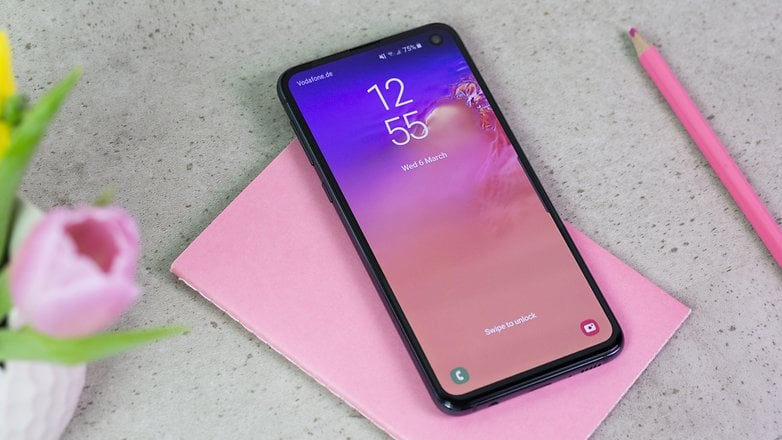 The S10e sports a resolution of 1080 x 2280 pixels and a 19:9 ratio. As expected from an AMOLED display, it has great viewing angles, sharp contrast and great color representation , especially when it comes to black. You can even choose between two screen modes in the settings - Vivid and Natural.
The display can also be easy on the eyes, thanks to the system wide Dark mode implemented on One UI. Although it doesn't work in most third party apps for now, it's still a great addition. It's my preferred mode even during the day.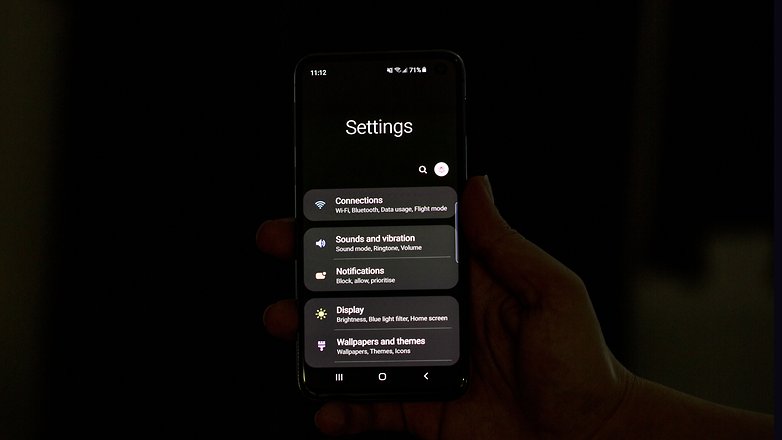 If I have to make one criticism, however, it would be aimed at the resolution and 438 density. Don't get me wrong, they are more than sufficient and my overall impression remains excellent. However, compared to the 522 ppi on the S10 Plus and 550 ppi on the S10, the essential's small screen could have been ever better.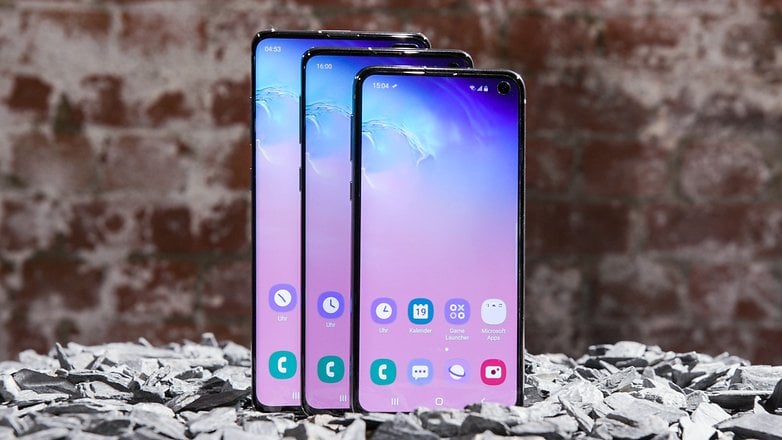 As previously mentioned, the Galaxy S10e doesn't have curved display edges, but interestingly, it still offers Edge gestures and Edge apps. I didn't really find myself using them much, but this could be a point in the device's favor for those who are used to them. One thing that I enjoyed quite a lot, was the edges of the display lighting up when receiving a notification. As the days of the classic LED notification seem to be behind us, this is quite the clever solution.
The front camera is also surrounded by a ring which lights up when facial recognition is in use. It looks cool and even a bit futuristic, but it's also practical because you don't have to guess if the identification is in progress.
No ultrasonic fingerprint sensor needed
Nowadays, all of our important data, including bank accounts, can be found on our phones, which is why we shouldn't take biometric security on these devices for granted.
As soon as the S10 series made its debut, it received criticism for not having 3D facial recognition, which is considered much safer than the 2D alternative. Following this, multiple tech news outlets also demonstrated that both the Galaxy S10 and S10 Plus could be fooled by pictures, videos or even siblings of the phone owner.
I decided to see whether I can replicate their results. However, if you thought this was the fatal flaw of the device, you might be surprised. I tried and tried to unlock the Galaxy S10e with a photo of myself - placing the picture at different angles, zooming in and out, etc. I even left the faster recognition option on, but the phone remained locked. I handed the device to female colleagues to see if the S10 could be fooled by a different person (I don't have siblings to test it with), and had no success there either.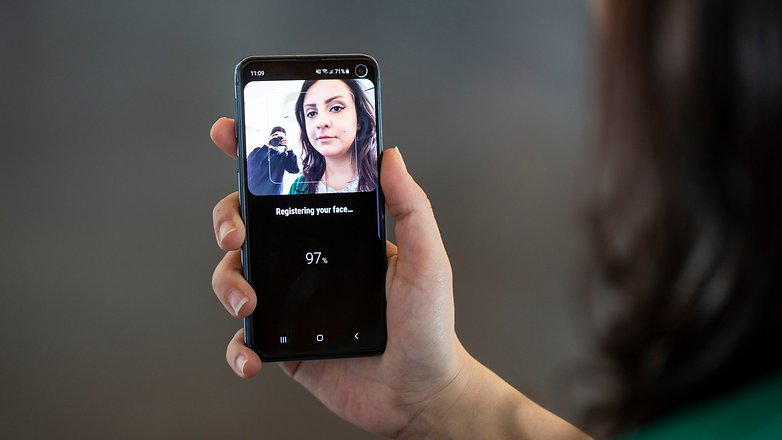 My guess is that the issue is either only found on the S10 and S10 plus, or it has already been fixed - I received multiple software updates since I first got the phone. It's also worth mentioning that Samsung itself warns you that facial recognition is not the safest when setting it up. There's an explicit warning that images of you could be used as to unlock the smartphone, so it shouldn't really come as a shock to anyone if it works occasionally.
With this out of the way, let's talk about the fingerprint sensor. As previously mentioned, it's merged with the power button and can be found on the right hand side. On the Galaxy S10e, I found the placement to be just right and not too high up, but that might not be the case for everyone, depending on hand size.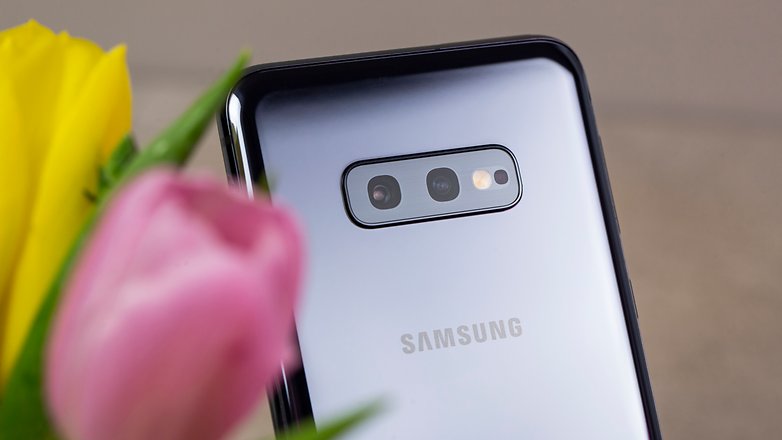 Unlike the ultrasonic in-display sensor found on the S10/S10 Plus, I have never had any issues with it. It's quick and reliable. It even offers fingerprint sensor gestures - by swiping up or down on it, you can open or close the notification panel, which I found quite handy. To enable the gestures on your S10e, go to Settings > Advanced features > Motions and gestures > Finger sensor gestures.
One UI: the better Experience
As expected, the Galaxy S10e comes out of the box with One UI - Samsung's latest interface, and Android 9 Pie. They make quite the pair! Thanks to both, the smartphone is packed full of useful features and options - a system wide Night mode, Digital wellbeing and of course, the new placement of important elements on the bottom and information on the top of the screen. Although the phone is relatively small, the latter came quite in handy, and I'm sure it will be appreciated by users with small hands. If that's not enough, there's even a one handed mode, which you can find in the Advanced features in Settings.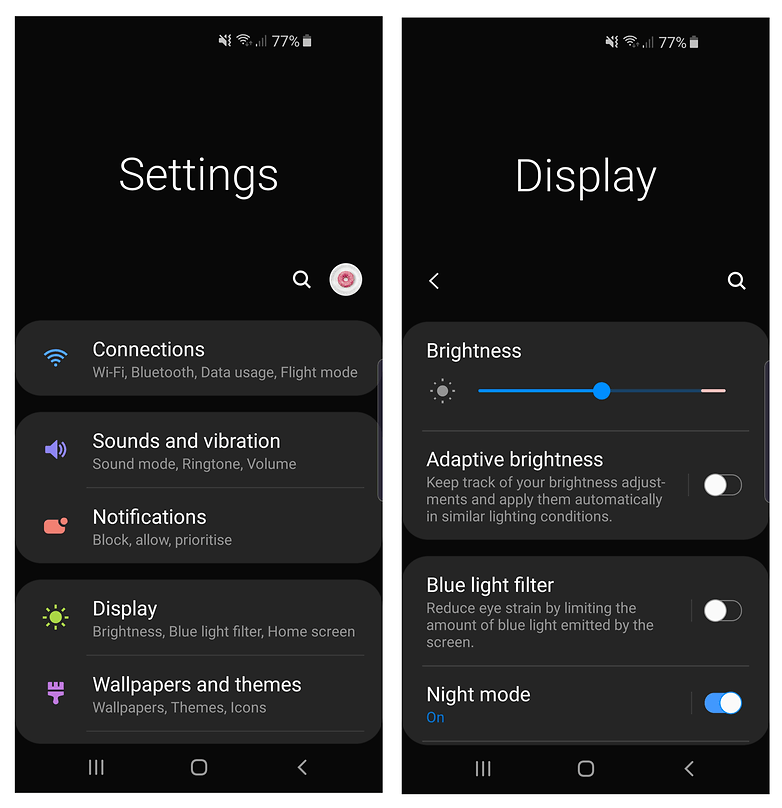 In terms of visuals, I find One UI's minimalist approach toward design aesthetically appealing. The app icons are clean and get the point across immediately. One minor complaint I have is that apps downloaded from Google Play don't get the same style (as they would with an icon pack), just the same shape. This sometimes results in an unpleasant visual clash, but for most users it might be inconsequential.
I also know that horizontal app scrolling has become a Samsung staple, but I sometimes find myself wishing for the option to swap to vertical without having to install a launcher. Multitasking or recent apps also has a new look with horizontal scrolling, which I don't mind.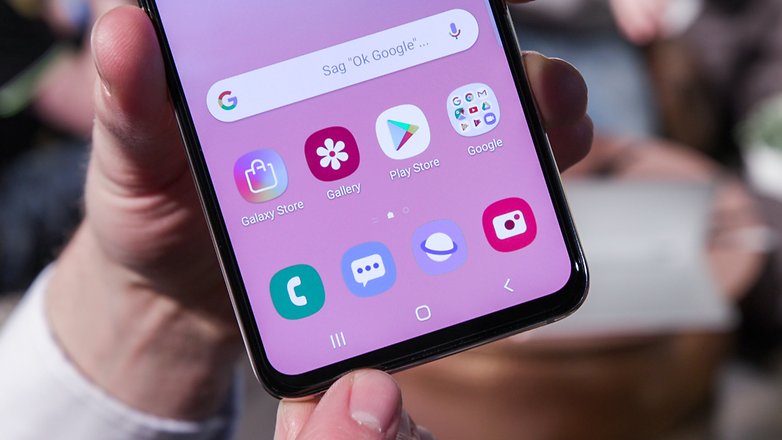 What surprised me, however, is that Bixby and I are becoming friends. The smart assistant recognizes my voice instantly and I've begun using it to set up alarms or asking it for the weather forecast. However, I did take advantage of remapping the Bixby button (now launches the camera app), since I always just use my voice to wake up the assistant.
Overall, Bixby on the Galaxy S10e is performing significantly better than when I had my first experience with it on the Galaxy A9 (2018). I still have to make slight pauses or talk a bit slower than usual when using it, however. Bixby vision, on the other hand, is actually doing its job now. It reliably recognizes a lot of objects and it's useful for scanning barcodes and QR codes.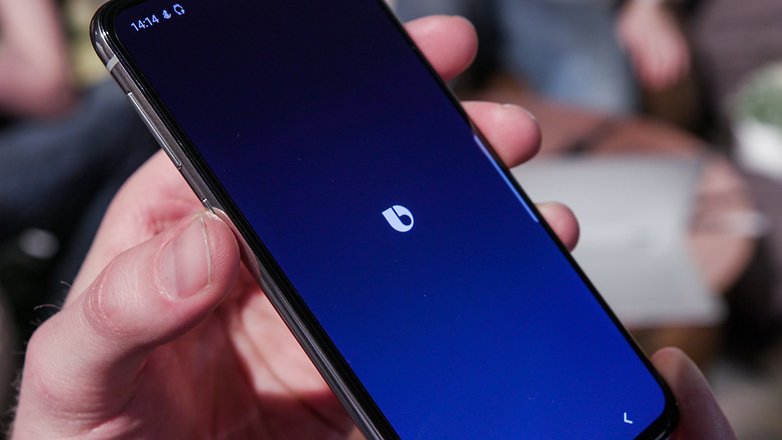 A feature that's rarely mentioned, but which many might enjoy, is Bixby routines. You can set it up so that Dark mode is automatically turned on in the evening, your phone is put to silent when in the office and much more. It's a welcomed addition, in my opinion.
What disappointed me is that the S10e is the latest in a long line of smartphones which come with the Facebook app preinstalled. And no, you can't uninstall it completely, just disable it. For some that might be a minor inconvenience, but considering Facebook's track record with user data, I would have preferred having the option to remove the application completely.
Small in size, big in performance
When it comes to performance, there isn't much to say about the Galaxy S10e, because it's simply excellent. For the purpose of the review, I used the lower specced version with 6 GB of RAM and 128 GB of storage, and the device still performed without a single stutter. My essential S10 is the European version, which means it has the Exynos 9820 Octa chipset, instead of the Snapdragon 855, but I have no complaints.
Although I'm not generally a fan of racing games, I played the famously demanding Asphalt 9 to put the Galaxy S10e to the test. The result? It handled the game with no problems. The visuals were stunning, the controls smooth and the fps was both high and steady. The same goes for PUBG Mobile and all the other games I played.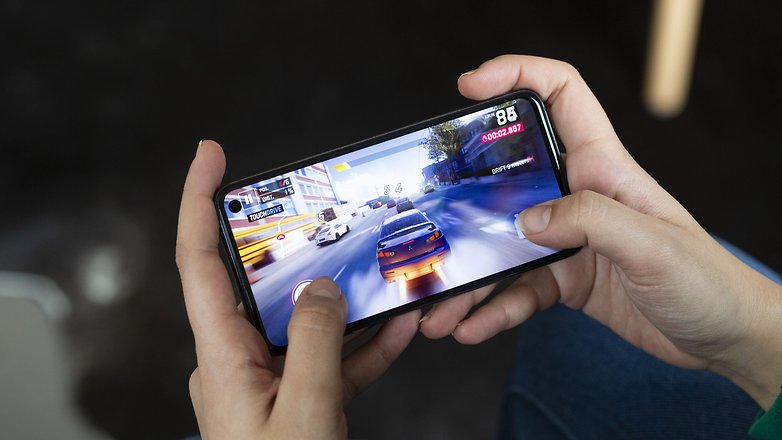 There isn't a single area in which the the S10e left me wanting in terms of performance. It will more than satisfy both regular and demanding users. The compact smartphone can even compete with its big brother the S10 Plus, as you will see from the benchmark comparison below.
Samsung Galaxy S10e benchmarks
| | 3DMark Sling Shot Extreme | 3DMark Sling Shot ES 3.0 | 3D Mark Ice Storm Unlimited ES 2.0 | Geekbench 4 (Single/Multi) | PassMark Memory | PassMark Disk |
| --- | --- | --- | --- | --- | --- | --- |
| Galaxy S10E | 4387 | 3870 | 54986 | 4224/9917 | 19341 | 75600 |
| Galaxy S10 Plus | 4371 | 4503 | 56128 | 4175/10031 | 19777 | 75870 |
Booming audio
Yes, a slim, modern, and IP68 certified smartphone with a headphone jack exists. Take note, Android manufacturers! As a proponent of the headphone jack, I was pleasantly surprised to find it on the Galaxy S10e. Carrying dongles around when you want to charge your phone and listen to music at the same time is not fun. And trust me, it happens - I regularly do both when I'm at the office or on long bus/train trips.
In terms of audio quality, Samsung and AKG have done their job. The AKG headphones included in the box are great - I don't regret not receiving free Galaxy Buds. Even the speakers pack quite a punch, considering the S10e's small frame. The audio is powerful and clear at all times. More importantly, since there is a speaker located on the top, you can hold the phone horizontally and not have to worry about covering the only sound output - very important when playing games like PUBG Mobile.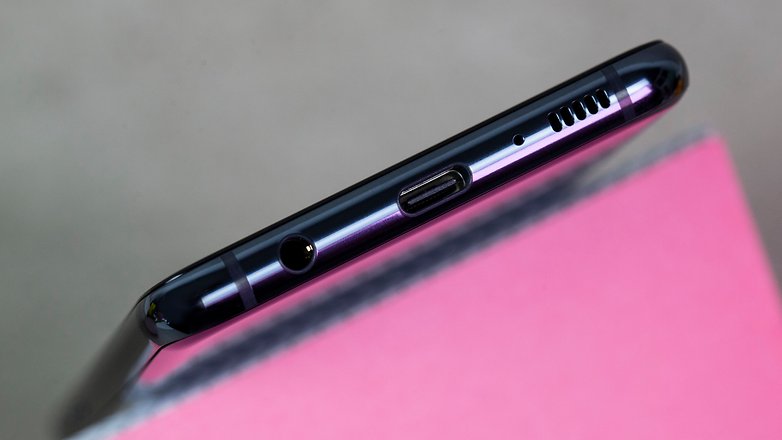 There is one drawback, which I already mentioned in my 48 hours with the Samsung Galaxy S10e article, however. When you turn the volume all the way up (or close to it), the frame of the phone vibrates unpleasantly. Whether that's a minor problem or a major issue depends on how you use the phone. I'm personally not very bothered by it, since I almost always use headphones.
Two cameras are more than enough
The Samsung Galaxy S10e might not have a quad or a penta camera, but quality will always trump quantity. And the mini flagship delivered! It sports a single 10 MP front sensor, while on the back we find a dual camera with a 16 MP ultra wide sensor and a 12 MP wide-angle one. Both met and exceeded my expectations.
When it's sunny, they take great photos that capture everything in stunning detail, with true to life colors. They also do so quickly. You don't have to be a photography pro to capture beautiful shots that will net you a lot of likes on social media! Of course, as the sun went down, so did the photo quality, but not significantly. There is noise in the night/evening pictures, as you will see in some of the shots included in the gallery below, but in my view, they still look quite impressive compared to results I've gotten with previous devices.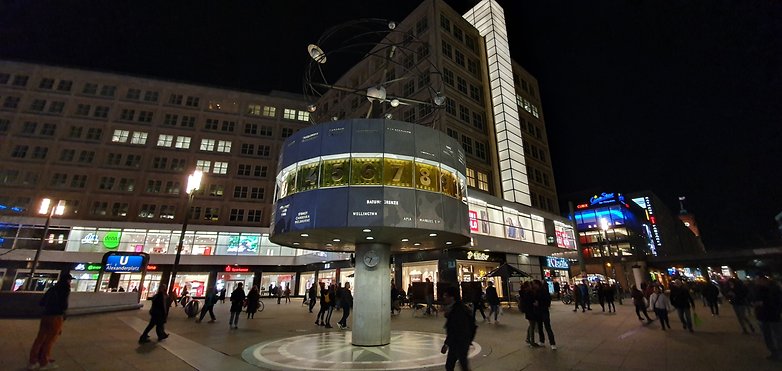 Unlike older Samsung devices, the scene optimizer on the S10e is enabled by default and is included in all modes rather than having its own separate mode. It supports over 30 modes, including Scenery, Stage, Vehicles, Drinks, Flowers, Trees, Greenery, Clouds and more. It made noticeable improvements in some shots, but very slight ones in others. Nevertheless, I'm pleased with its overall performance.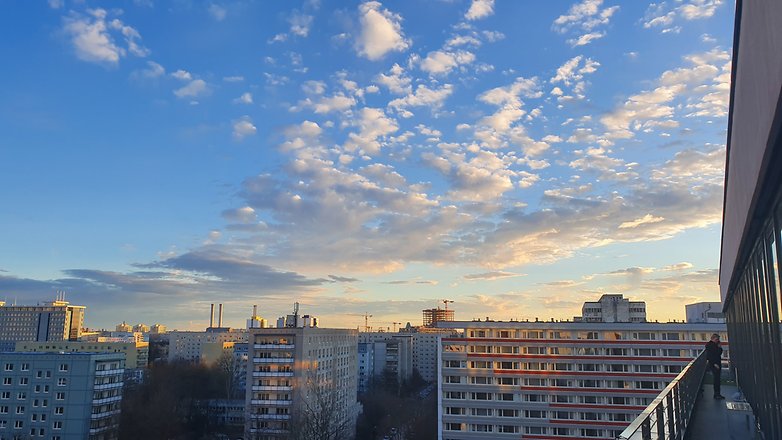 I had mixed results with the Live focus on the rear camera, however. It really depends on the object you are trying to shoot. The black and white live focus effect didn't really work on a flower vase placed on a table. The table always ended up with uneven coloring. The wide angle photos, on the other hand, were almost always impressive, despite slight distortion here and there.
When it comes to the front camera, bokeh effects are where it shines. Despite only having a single wide sensor, it produces amazing results thanks to the NPU, as you can see below. There's even the option to apply a different effect after the photo has already been taken via the Gallery. The available effects are Color Point (which makes the background black and white), Spin, Zoom and Blur.
In terms of the camera app, you won't be left wanting. It has so many features, it's hard to keep track of them all. As previously mentioned, there's even a food mode, although my results with it weren't always the best. If I have to make one complaint, it's that the beauty slider options are not immediately available when shooting selfies, which might irritate users used to tweaking their photos instantly.
Overall, however, I was more than pleased with the results. When looking at my colleague Simone's photos with the S10 Plus, I think its little S10e brother might be quite the rival, despite having fewer sensors on both the front and the back.
The Achilles' heel of the Galaxy S10e
The battery is where the Samsung Galaxy S10e let me down the most. At first I was under the impression that the intense use that came with testing the phone's features was the only reason it drained quickly. However, I decided to experiment and use it relatively lightly throughout the day (as I usually do). The result was around 25 hours from a fully charged battery to shut off. Of those around 4 to 5 hours were dedicated to screen time, with brightness set at 50%. Dark mode was not enabled.
Of course, you can say that this is pretty typical for most current phones, especially those with 3100 mAh battery, but I was expecting more from the S10e. Maybe I was spoiled by the 3800 mAh battery on my previous device. What annoyed me the most, however, was that the phone completely shut off at around 3% battery even though I lowered the brightness and closed all open apps. If you are forgetful and don't charge your phone often, this can be disastrous if it happens when you really need those last couple of minutes of battery life.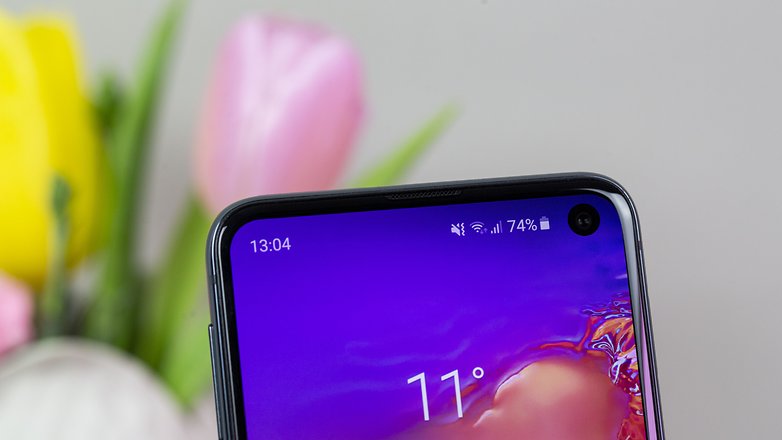 In my view, this is the Essential S10's biggest flaw. If Samsung opted for a bigger battery for this device, it could have been an absolute smash hit, considering the selection of smaller phones on the market is becoming ever more limited. It's a shame.
However, if you don't mind charging your phone almost daily, the S10e offers 15W fast battery charging, as well as 15W fast wireless charging. Something that might surprise you is that the Galaxy S10e also has reverse wireless charging, which can be great for charging Bluetooth headphone and other accessories. However, I wouldn't advise you to charge your friends' phones, because the S10e might leave you high and dry when you need it afterwards.
Samsung Galaxy S10e technical specifications
Almost perfect
The Samsung Galaxy S10e has almost everything you'd want from a current flagship. The Korean manufacturer made few compromises with this device and it shows. It comes in a stylish, but compact package with a vivid display; it packs a powerful punch both in terms of performance and audio, and in most areas it doesn't fall far behind its more expensive counterparts - the Galaxy S10 and S10 Plus.
However, I feel that the mediocre battery life might turn off many potential buyers, which is quite the shame. If there's one phone that could have had it all this year, it was the Galaxy S10e. Nevertheless, I still think it has a lot to offer - it delivers a true flagship experience despite its Essential moniker. If you are tired of giant gimmicky phones and want a powerful but small device, don't look any further that the Samsung Galaxy S10e.