Samsung Galaxy Note 4 review: does this fine phablet still deliver?
Update:

Comprehensive battery analysis added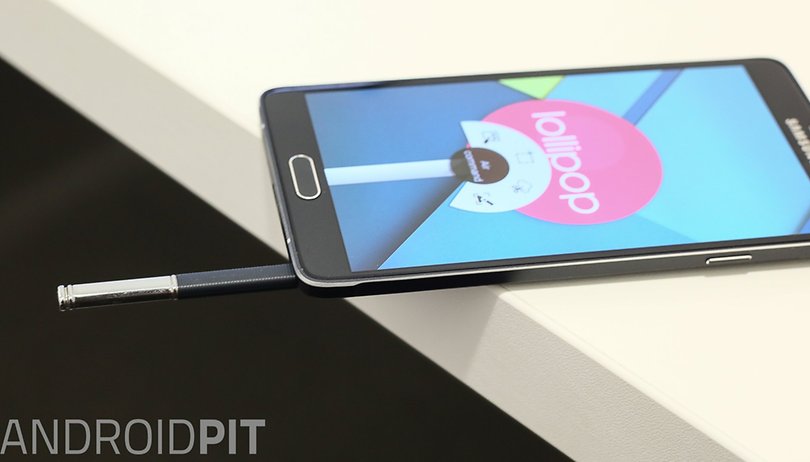 When it first arrived, the Galaxy Note 4 was, without doubt, Samsung's greatest smartphone ever. Since that time several other flagships have appeared on the scene and impressed too – among them the Galaxy S6, and more recently, the Galaxy Note 5. Almost a year later, how does the Note 4 hold up now? Find out in our Samsung Galaxy Note 4 review.
Good
Excellent screen

Long-lasting battery

S Pen stylus and software

Improved user interface

Great camera
Bad
Too large for some people
Samsung Galaxy Note 4: All deals
Samsung Galaxy Note 4 release date and price
The Galaxy Note 4 release date was back in October 2014. Thanks to the arrival of the Samsung Galaxy S6 Edge+ and Galaxy Note 5, the Galaxy Note 4 price has dropped down to around US$540 / £420 – fantastic value for what remains one of the most powerful handsets on the market.
Speaking of markets, the Galaxy Note 4 remains reasonably easy to get hold of in most regions. The Galaxy Note 5, on the other hand, is not currently available in many territories, including Europe, and it's not yet known when (or even if) it will arrive. For this reason, the Galaxy Note 4 could still be a worthwhile purchase in 2015 – it might be the latest Note device available in your country.
Samsung Galaxy Note 4 design and build quality
I've been critical of Samsung's plastic-fantastic material choices in the past, but the Note 4 strikes an excellent balance between metal and plastic. The aluminum trim with flared corners (as we saw introduced on the Galaxy Alpha) finds its true home on the Note 4 – it's much more suited to the larger, premium feel of the device as a whole. The Note 4 a little taller and thicker than the Galaxy Note 3, and minutely heavier.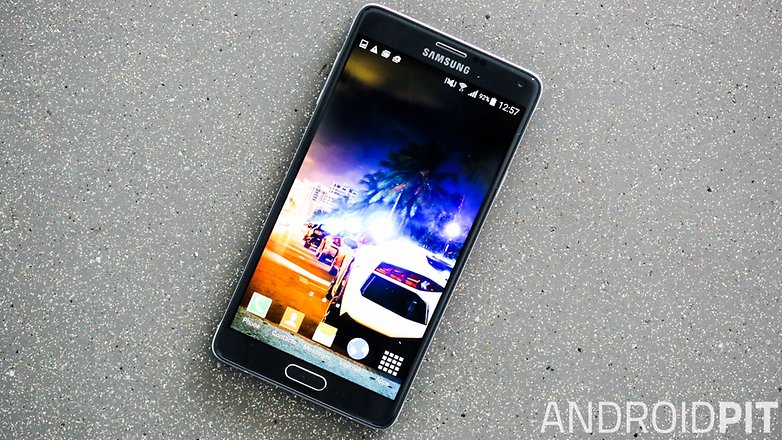 Our Galaxy Note 4 review device has a black metallic trim with beveled silver edges, which give it a sophisticated appearance. The home button also has a silver trim, as does the camera lens, flash and heart-rate sensor on the back. Even the stylus has a silver tip.
When the Galaxy Note 4 first came out, we liked its subdued faux-leather rear – it felt like the best attempt at faux-leather on a smartphone to date. In the wake of the glass rear of the Galaxy Note 5, I confess I still prefer the Note 4's feel. The back of the Note 5 is a terrible fingerprint magnet.
Though the LG G4 embarrassed the Note 4 a fraction with its real leather back, which looks and feels fantastic, the Note 4 still has its charm.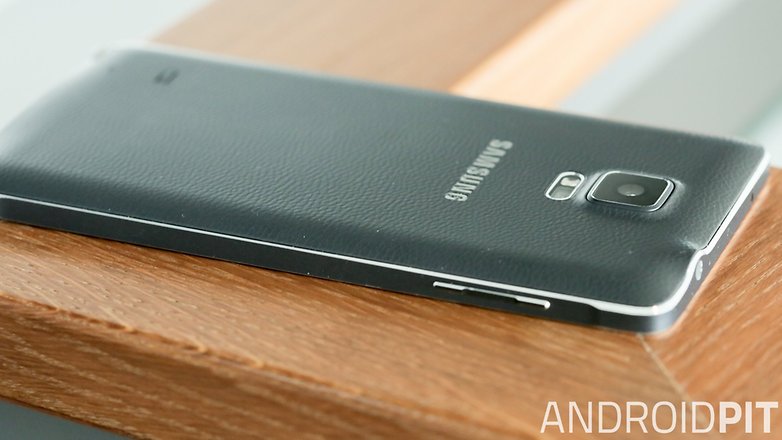 The volume rockers are on the left of the Note 4 and the power button is on the right. Up top is an IR blaster, pinhole mic and the headphone port, which is enclosed by the metal frame. The bottom of the Note 4 features a pair of mics, a USB 2.0 charging port (no more USB 3.0 here) and the S Pen.
The back looks like the Galaxy S5, with square protruding camera lens, heart rate sensor and LED flash, and the speaker grill at the bottom, but not the dimpled plastic shell (thankfully).
Samsung Galaxy Note 4 display
Until the Galaxy S6 came along, the Galaxy Note 4 display was the best we'd seen on any smartphone. I'm not always a fan of the heavy saturation in Samsung displays, but the QHD (2,560 x 1,440 pixel) 5.7-inch AMOLED screen is sufficiently perfect to make a convert out of anyone and you can adjust screen settings to your preference.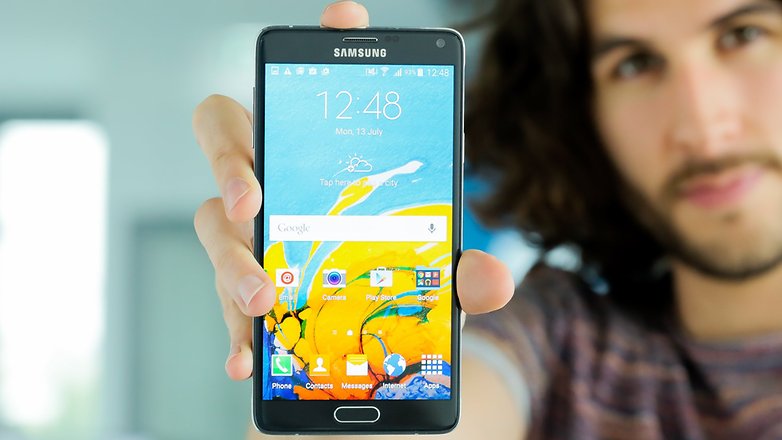 It is incredibly sharp, super bright, has great contrast, rich colors, great viewing angles and an impressive pixel density of 515 ppi. In this area, the Galaxy Note 4 isn't showing its age one bit (not that it's even that old a device, but we all know how fast time passes and technology progresses in the smartphone world).
The Galaxy Note 5's display is almost identical to the Note 4's, which shows how much it's holding its own.
Samsung Galaxy Note 4 special features
The Galaxy Note 4 is all about the S Pen. The main reason to buy a Note has always been the S Pen and as a multi-tasking business tool, the Note 4 is unsurpassed. When the S Pen is removed from its slot the Air Command window is automatically launched, providing shortcuts to Action Memo, Smart Select, Image Clip and Screen Write. (The Air Command window can also be brought up by pressing the small button on the S Pen when it is close to the screen.)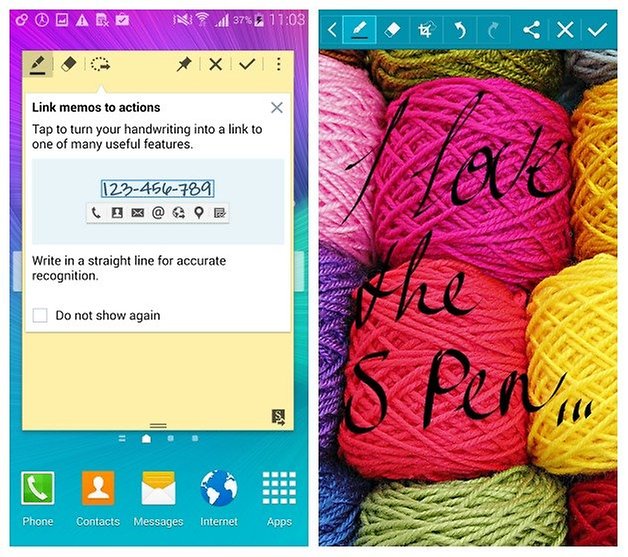 Action Memo launches a small Post-It notepad, which you make notes on. These notes can be linked to actions such as the dialer, contacts, email, browser, maps and more. The handwriting recognition is excellent and you can pin your memo to the home screen just like a sticky note. You even get to choose which physical S Pen tip you want out of the included plastic and rubber options in the box.
Smart Select lets you drag a rectangular window around anything on-screen , then screen-grab it, save it and share it.
Image Clip is a free-form clipping tool which also has options for circular, rectangular and 'magnetic lasso' selections. If you're an avid image editor and sharer then you'll love these tools.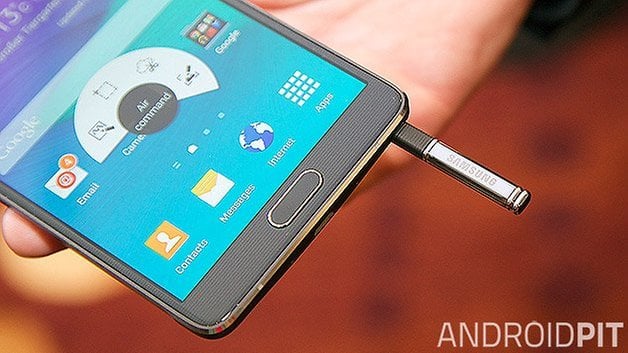 Screen Write lets you make notes on top of the screen you're currently looking at, by taking a screenshot of the page then opening up a doodling toolbar. You can switch between pen tips, thickness and color. The greatly improved S Pen now recognizes speed, pressure and the angle at which the stylus is touching the screen. Writing with the calligraphic tip even gives you variations on the density of the 'ink' based on pressure and speed.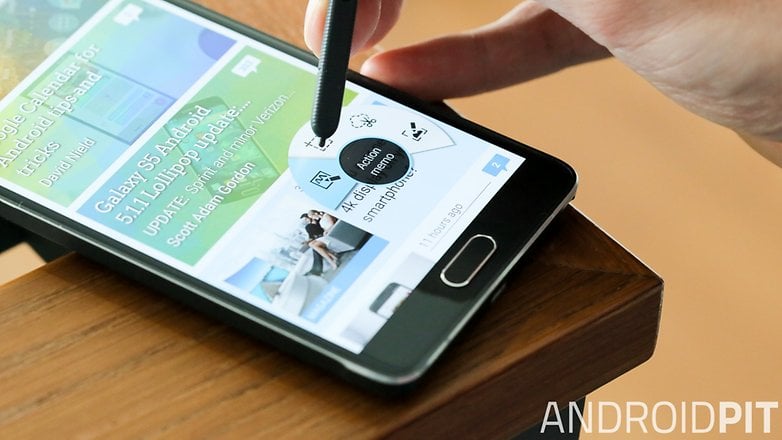 The S Pen can also be used like a PC mouse. If you hover above an on-screen element it will preview it for you (like a mouse-over on your computer). You can also highlight sections of text by pressing the button on the S Pen. A small action menu will appear so you can copy the selection, share it, search for it on the web, look up a particular word in the dictionary or find other instances of it on the page.
The more you use the S Pen you more you realize how indispensable it is. Once you're used to using the stylus, using your finger again feels painfully clumsy and imprecise.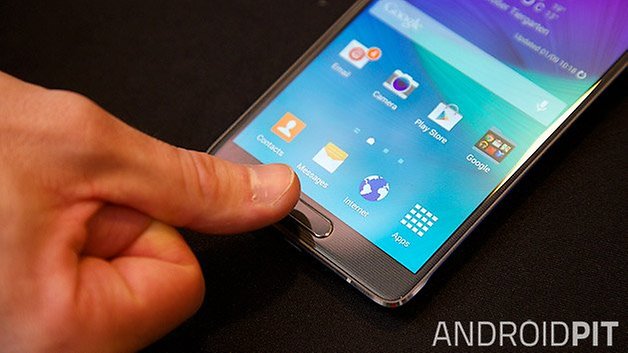 The Note 4 has other special features beyond the stylus too. The oft maligned heart-rate monitor from the Galaxy S5 makes it's perhaps less-than-triumphant return. It works, but it is still a little slow and inaccurate to be truly useful. The finger scanner embedded in the home button also returns, but it has been improved since the S5 and works more accurately than its predecessor.
The Note 4 finger scanner gives you options for security, web sign-in and to verify your Samsung or PayPal accounts. It still doesn't hold a candle to the iPhone Touch ID sensor or the Huawei Ascend Mate 7 scanner, but it's definitely an improvement on the S5, in that it's a viable option for unlocking your phone without losing your mind out of sheer frustration.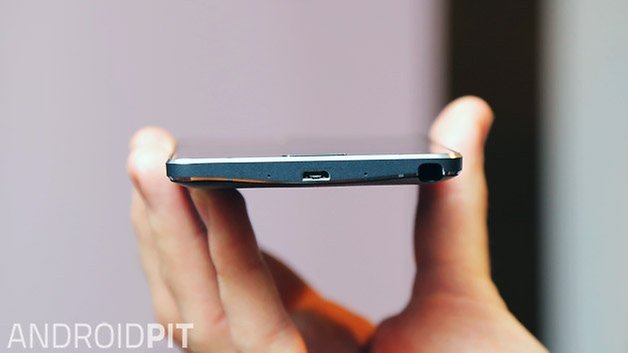 The Note 4 has a total of three microphones, which can be used in unison for noise cancellation (like removing background noise during a call) but also for cleaning up audio recordings. Each mic can pick up different sounds so you can isolate and disable the parts you don't want. It's a nice tool to have and it works reasonably well in practice.
The Galaxy Note 4 remains one of the most feature-filled phones in the world. If you're not the kind of person who's easily overwhelmed by different features and functions, you'll appreciate the cornucopia of gadgetry onboard here.
Samsung Galaxy Note 4 software
The Galaxy Note 4 was launched with Samsung's TouchWiz user interface on top of Android 4.4.4, but has since been updated to Lollipop. The Galaxy Note 4 is not without its share of Lollipop issues, but overall the TouchWiz UI (which is much faster and less bloat-filled than on the S5) works smoothly with Android's latest OS update.
ow to fix Galaxy Note 4 Lollipop issues
The Settings menu has lost the big, irregularly-colored circles and opts instead for a more subdued list or tabulated view, with a dedicated section up top for Quick Settings being the only hint of the previous interface. Sections are now color-coded consistently, which makes a lot more sense.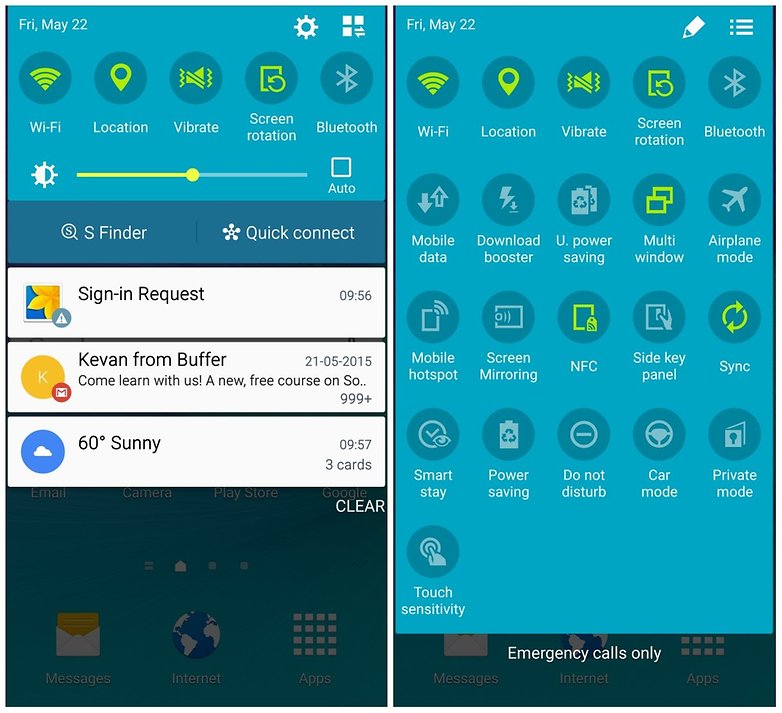 The notifications menu is still a little crowded but the super-flat circular icons for Quick Settings look good and the teal-and-green color scheme is pleasant enough. Samsung has given the Note 4 a white background in the settings menu, which is not the best choice for an AMOLED display, as it benefits from darker colors, but it adds a little freshness to the interface.
The dedicated Flipboard Briefing home screen lives on the far left but it can be easily removed if you're not a fan. Samsung's S Health app gets a central position and can be used to track your exercise, heart rate, step count and other health data. It's great if you're into that kind of thing and your Samsung smartwatch will integrate with it too.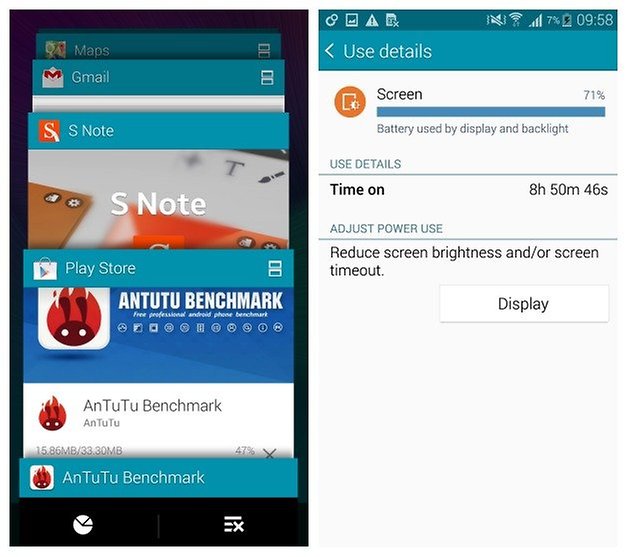 The recent apps menu is a scrolling card stack that was actually on the Galaxy Note 4 since before the Lollipop update – suffice to say it's changed little since the update. A long press on the recent apps button brings up a home screen management screen for wallpaper changes, widget selection and home screen settings. Double pressing the home button brings up S Voice (which is best disabled immediately) and a long press gets you Google Now.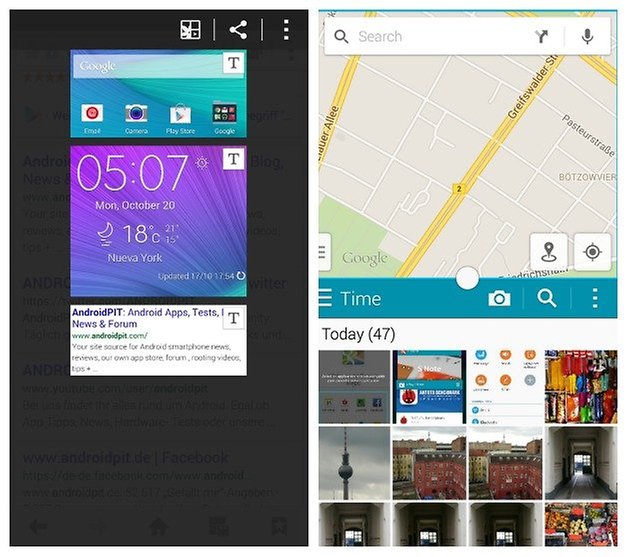 A long press on the back button brings up a quick access app list for floating mini apps that can be moved, resized, or collapsed to floating bubbles if you need to attend to something else. You can also turn supported full screen apps into mini apps just by swiping diagonally from the corner. You can resize the windows, but the proportions are constrained, making this feature a little less useful than it could be.
Multi Window mode lets you stack two small app windows for true multi-tasking. You can now launch Multi Window apps direct from the Recent Apps list. Just look for the Multi Window icon in the top right of the app card. Unfortunately not all apps are supported by Multi Window but your main bases are covered with Google and Samsung apps.
Samsung Galaxy Note 4 performance
The Note 4 specs are excellent, but there are still some tell-tale TouchWiz delays to be noted. As always, Flipboard (and before it, My Magazine) can be painfully slow to launch, and some apps take way longer than they should considering the beastly internals of the Note 4 specs. If you can survive a bit of good old Samsung lag, then the Note 4 will not disappoint when it comes to performance in other quarters.
The quad-core Snapdragon 805 clocked at 2.7 GHz with 3 GB of RAM in our version was powerful at the time and continues to be so today, giving a similar level of performance to the hexa-core Snapdragon 808 (as found in the LG G4) in the AnTuTu benchmarks. There is also an octa-core Exynos 5 (5433) version of the Note 4, which is even more powerful.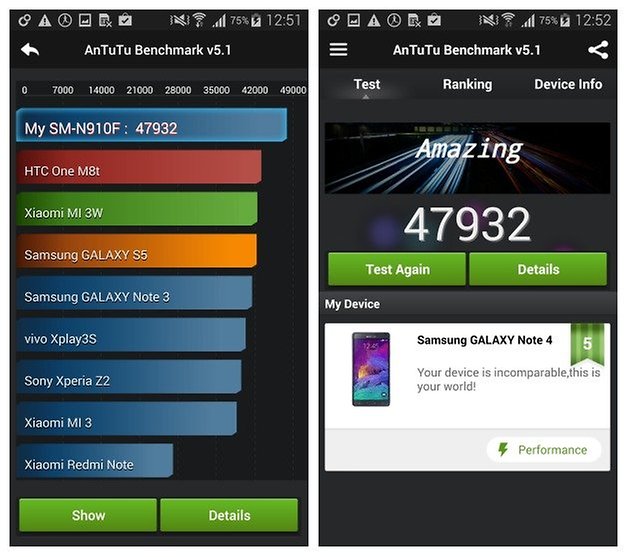 In daily use, you won't notice the Note 4 slowing down, but the powerful processor and RAM really deliver for resource-hungry tasks too. Hi-res games and other tasks that demand a lot from the processor are met with ease, although the Note 4 does have a bit of a tendency to heat up when placed under a lot of stress.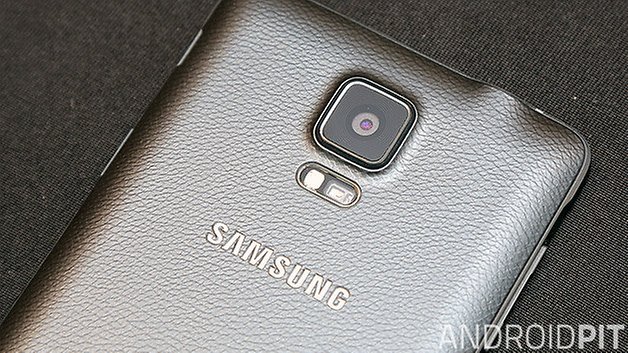 Samsung Galaxy Note 4 camera
The Galaxy Note 4 camera uses optical image stabilization (OIS) in its super-fast 16 MP Sony IMX240 camera, a feature we've been waiting on for quite some time. The camera is typically brilliant. Take a look at the picture gallery to judge the results for yourself.
Macro shots and color reproduction are great. Low-light photography is not perfect, but decent, with OIS really adding to the crispness of shots. Image noise still makes itself felt sometimes, even in interior shots taken during the daytime.
The Note 4 camera has a very light preset mode selection, consisting of just Auto, Rear-cam Selfie, Selective Focus and Panorama. You can download plenty of other modes from within the camera interface, including favorites such as Sports, Sound and Shot and Food Shot for the foodie Instagrammers out there.
You can also use the volume button to take pictures, shoot video or zoom, if that's your thing, but it doesn't work as a shortcut from a screen-off state.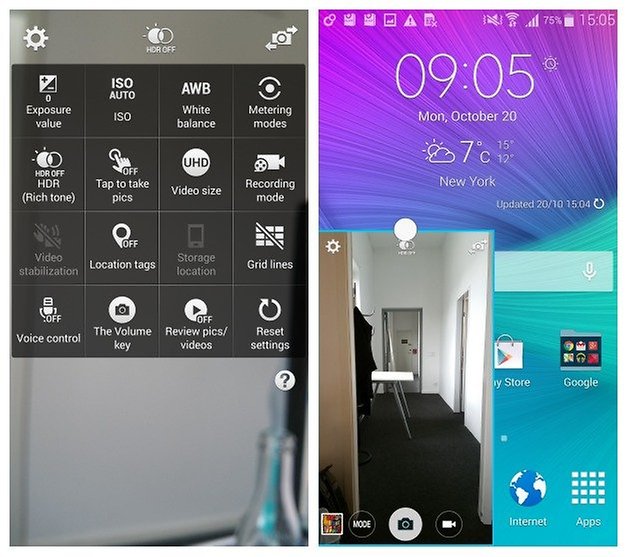 The Note 4 has HDR mode with real-time preview and 4K video recording. Strangely though, image stabilization is not possible when shooting in 4K or WQHD (only at Full HD or below). To shoot photos at 16 MP resolution, you need to be in an 16:9 aspect ratio. If you want 4:3 photos you'll need to drop the resolution back to 12 MP.
You've also got a timer, a range of real-time filters and other settings including voice control, tap-anywhere-to-shoot, slow motion video (down to and eighth of normal speed) and a few manual controls like exposure settings, white balance, ISO (up to 800) and metering modes. Sadly though, even opening the extended settings in the camera app is a pretty slow process.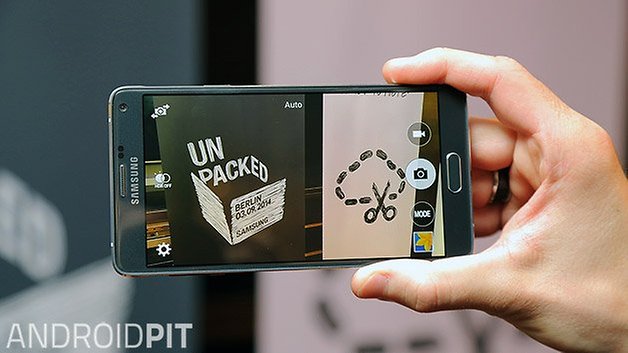 The front-facing camera is a respectable 3.7 MP sensor with a maximum aperture of f/1.9, which will give you better low-light selfies than before. The heart-rate sensor can also be used as a camera shutter button when in Selfie Mode. Sometimes it takes a while to recognize your face though, and the camera app froze a few times while I was switching between front and back facing cameras. The selfie camera is capable of Full HD video too.
Wide Selfie Mode is basically a selfie panorama and it works fine if selfies of you by yourself are not enough. It's a shame the sensor is so close to the camera lens though, as you tend to smudge the lens by accident when going for the sensor. One last cool feature of the Note 4 camera is that you can drag your finger in from the top corner of the viewfinder to make it a floating mini window.
Samsung Galaxy Note 4 battery
The Galaxy Note 4's battery capacity comes in at 3,220 mAh. To evaluate the Galaxy Note 4's battery performance we ran three AnTuTu Benchmarks, a PCMark test, and a real-world test.
A benchmark will automatically put a device through a number of tests to determine how battery life holds up under a number of different scenarios. While these are good for giving an idea of performance, they are still only simulations of real-life use.
AnTuTu battery
We conducted three tests with the AnTuTu app, which monitored the device while it consumed 20 percent of its battery life. The higher the score, the better the device has performed during these tests.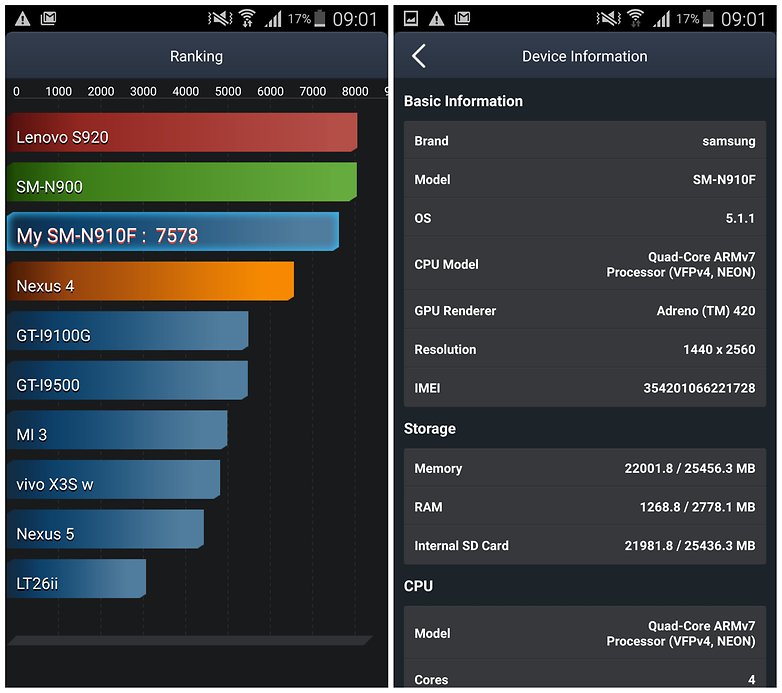 Our three AnTuTu benchmark tests produced the scores 7,578, 7,941 and 47,64. We don't know why the third score was so low, but it isn't strange for results to differ between tests.
With an average of 6,761, the Note 4 scores below the Galaxy Note 5, which averaged 8,663 after three tests, and the Xperia Z3, which has an average of 8,401. That said, the Note 4's battery performance still outperformed many older and newer devices in the tests, and its real world battery life is even more impressive.
Real world
For my own test, I set the Note 4's screen to maximum brightness, with a five-minute timeout. Over the course of three days, I used the Note 4 for emails, gaming, watching videos, taking photos, checking Facebook, as well as using many of the Note 4-specific software features, such as those found in the Air Command menu. Wi-Fi and location were switched on throughout the test.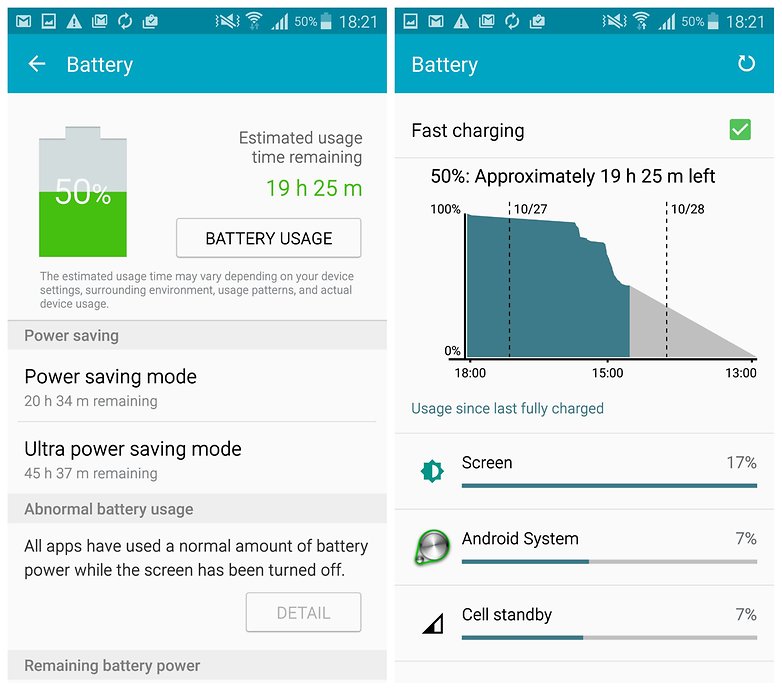 After about 25 hours, the battery was at 50 percent charge. The device was mostly in standby for the first 17 hours or so and syncing just one email account. After this, the battery began to drop more dramatically.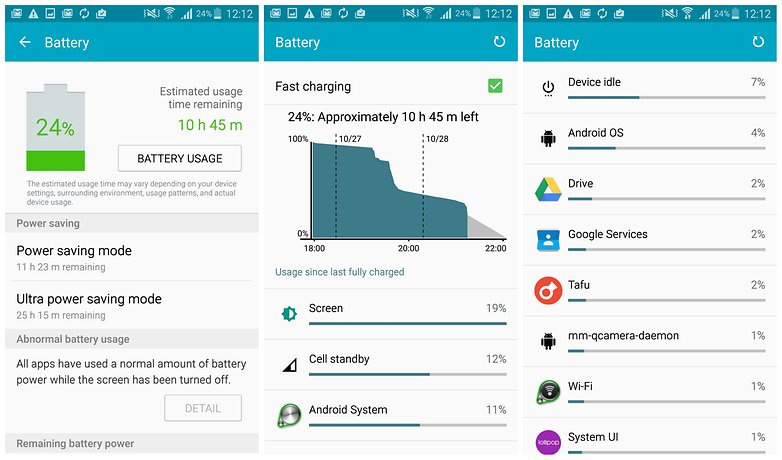 By midday the next day, 33 hours since the full charge, the battery level had dropped by around 26 percent. This was after some gaming and camera activity in addition to more general use. I also added a second email account and Facebook account during this time.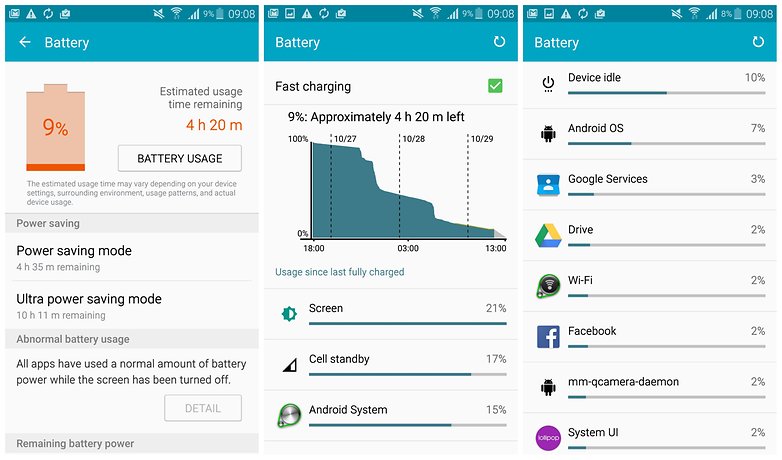 By the next morning, 2.5 days later, the Galaxy Note 4 battery life had dropped to below 10 percent. Though the screen-on time over this 60-hour period was only 2 hours 15 minutes, the display was set to the highest brightness setting, so would have been using maximum power.
These are really quite impressive numbers considering the big QHD display that the Note 4 powers and that the device was syncing multiple accounts. Two-day battery life with regular use is easily achievable, and it's certainly one of the more capable Android phones as far as battery life is concerned.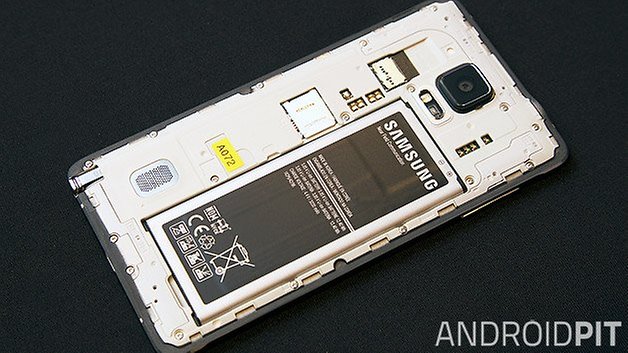 The Note 4 also features the Ultra Power Saving Mode that was introduced on the Galaxy S5, and it is just as impressive as it was then. When the mode is activated, you'll be switched to a simplified grayscale interface with access to limited apps, such as web browsing and texting.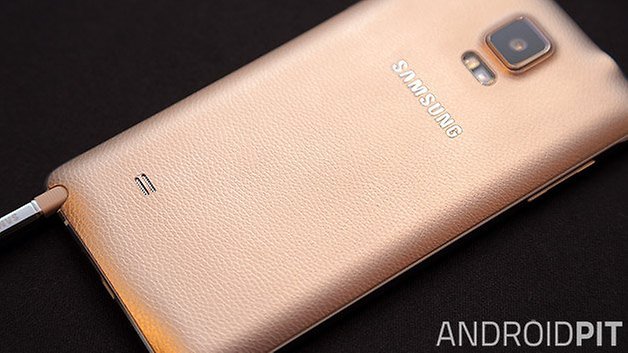 You'll lose Wi-Fi and Bluetooth connectivity as well as mobile data when the display is off, but Ultra Power Saving Mode will get you over a week of battery life if you're desperate. You won't have too much fun with your phone in this state, of course, but it's still an impressive feature, and set a precedent for similar modes in subsequent flagship phones.
The Note 4 also has a regular power-saving mode which limits background data, disables haptic feedback and limits CPU and display performance. These settings are all optional so you can pick and choose the ones you want. Rounding off the features is a quick-charge function that will get you 50 percent battery life in just half an hour using the supplied charger.
Samsung Galaxy Note 4 technical specifications
Final verdict
With the Galaxy Note 4, Samsung produced a winning handset with wide appeal. Everything was streamlined, in terms of design, specs, interface and even bloat and gimmicks. Even today, the specs are rock solid, and the S Pen remains a big selling point. The design perhaps doesn't ooze premium-ness in light of phones that have come since then, but it's also a little cheaper than some flagships.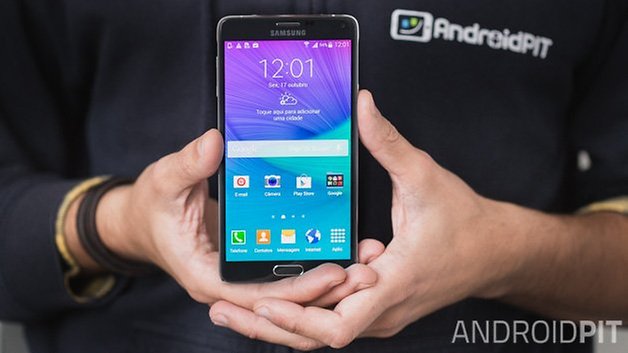 Samsung changed its tack with the Galaxy Note 5. It abandoned the faux-leather rear, along with expandable storage and removable battery along. Moreover, it has not made Note 5 available in the UK. For these reasons, the Galaxy Note 4 is still a solid smartphone choice.
The Note 4 is a big, sensible phone almost bereft of gimmicks, bloat, or useless features or settings. Nearly everything on the Note 4 is essential, and almost everything is done extremely well, leaving nothing but distilled Android excellence that continues to shine.