Hands-on review of the Samsung Galaxy Gear: is it worth the money?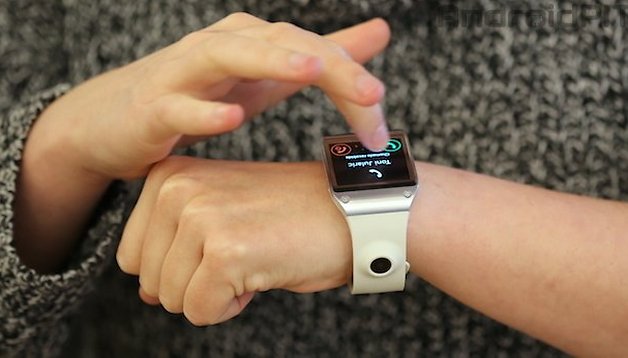 After spending one week with Samsung's smartwatch, the Galaxy Gear, I was able to answer few burning questions spawned by this controversial wearable: is this really one of the newest pieces of technological innovation on the market or is it just another gadget. Not to be a spoiler, but I feel as if smartwatches still have a ways to go. Here's why...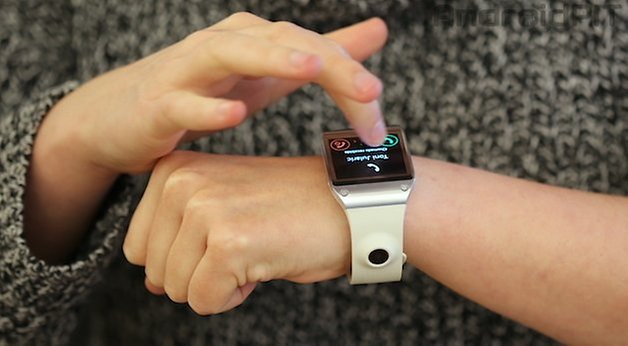 The Samsung Galaxy Gear is the most well-known smartwatch of the moment, especially thanks to a large marketing campaign which must have cost Samsung a pretty penny. It was presented for the first time at this year's Berlin IFA back in September and already the sales and feedback aren't as good as Samsung hoped them to be, though originally they must have thought that in this day and age of smartphones, a smartwatch would be well received. Surely, who wouldn't want a watch with a 1.63-inch touchscreen display?
There is no doubt in my mind that the creation of a smartwatch is a good idea. But the fact of the matter is that Galaxy Gear only works with Samsung devices, making this device less attractive. Here are, in my opinion, the pros and cons for Galaxy Gear.
| PRO | CON |
| --- | --- |
| Elegant design | Heavy material |
| Simplified multimedia reader | Not waterproof |
| Integrated camera | Weak battery |
| Debugging mode | Only compatible with Samsung devices |
| Voice command via S Voice | Expensive |
Design and Creation
When compared to the competition, like Pebble, Samsung finds itself way ahead. In terms of design, it also comes down to a matter of taste, but there is no denying that Samsung really put a lot of effort into choosing only the best and most sturdy materials for their watch. The body is made of a solid metal while the bracelet is constructed of plastic, yet the Gear still has a very nice look to it. The whole thing combined looks quite compact.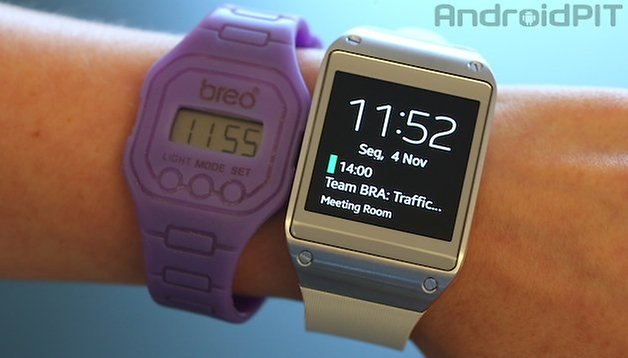 The speaker has been integrated into the buckle, which consequently makes the bracelet of Gear a little cumbersome. I don't have this problem with my normal watch but obviously it doesn't have the same functionality as the smartwatch. That being said, it's astonishing that Gear isn't dust- nor water-resistant, which would have been a nice feature for this expensive apparatus.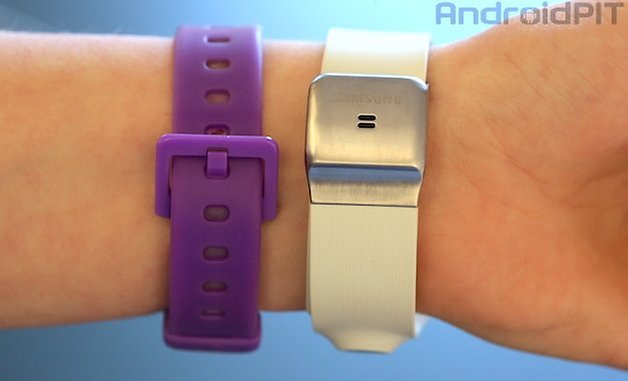 System
While other manufacturers like Sony have created a completely new system specifically for their watches, Samsung's smartwatch employs a modified version of Android 4.2. Among some of its functions, the principal ones are:
Control of the multimedia reader: My 64 GB microSD card is filled completely with music since I'm generally always plugged in with my headphones at all times. When listening to music, the smartwatch really is an asset: you can adjust the volume and change songs without needing to get out your phone. Down the road I can see Samsung incorporating the controls for other devices right from my wrist, like my HiFi or TV.
Notifications: I think that notifications is one of the most controversial points of the Galaxy Gear and this has to do with the applications native to Samsung. Yes, you can read emails, check your Twitter timeline and retweet right from Gear. But to do this, you need to use the applications that are made for the smartwatch. To get access to other networks like Facebook or other IM services like Hangouts, you need to get out your smartphone.
Samsung applications: Seeing as Galaxy Gear is only compatible with devices from Samsung, only the apps native to this manufacturer can work with the smartwatch and use Wi-Fi. Instead of Twitter, you only have a view of your Twitter timeline. Instead of Gmail, the email application from Samsung is used.
Debugging Mode
Samsung knows that Gear wouldn't have a chance at success unless they got developers on board. In contrast to other smartwatches which are currently on the market, you can install application APKs directly onto Gear while in debugging mode. To test this out, I used applications like Nova Launcher, YouTube, Fruit Ninja, Dots and Doodle Jump. The concept behind the smartwatch is to liaise as much functionality to your wrist as possible. So I was pretty happy about this, seeing as I could add many apps and uses to my Galaxy Gear. The only issue here is that you cannot use apps that require Wi-Fi.
The Galaxy Gear system is obviously confronted with quite a few limitations. If you install the YouTube app, you aren't able to watch the videos from Gear's display because you aren't able to use Wi-Fi with the non-Samsung native apps. Opening up the watch for use with other apps which require Wi-Fi and aren't branded by this manufacturer would be a perfect opening for any clever hardware developers out there who wish to improve the watch.
S Voice
Thanks to voice recognition, you can give orders, consult your agenda, dictate and send messages. Calls and SMS can also be sent hinge-free, which is also the case for the Evernote application or registering events and rendezvous into your calendar. However it would have been certainly quite useful to employ S Voice for executing certain voice commands like in the case of the Galaxy Note 3.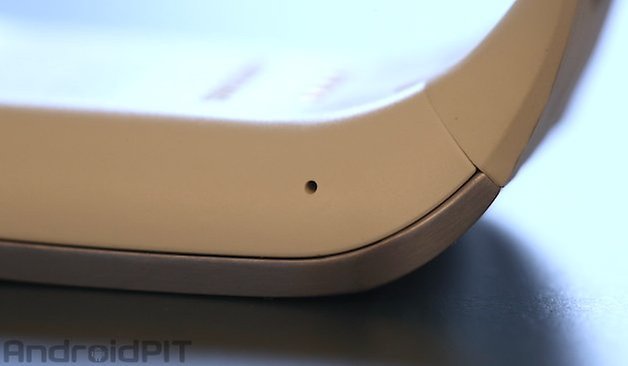 Camera
The camera is the one of the main characteristics of Galaxy Gear and it seems that anyone who comes into contact with the smartwatch is interested in trying out this function, especially to take secret photos and videos à la James Bond. In theory, it's quite fascinating to be able to take videos or short videos from your wrist. Though the quality isn't the best, it suffices for quick snapshots.

In reality, the Galaxy Gear isn't destined for those who have spy intentions in mind. However, the DictionaryCam app allows you to translate in real time thanks to the 1.9 MP lens. So you no longer need to get out your dictionary or your smartphone to understand a foreign word.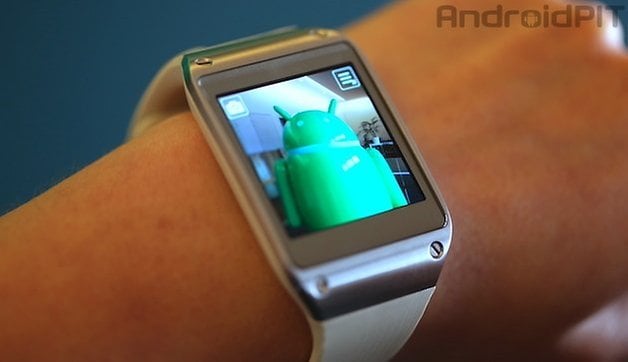 In reality, the Galaxy Gear isn't destined for those who have spy intentions in mind. The DictionaryCam app allows you to translate in real time thanks to the 1.9 MP lens. You no longer need to get out your dictionary or your smartphone to understand a foreign word.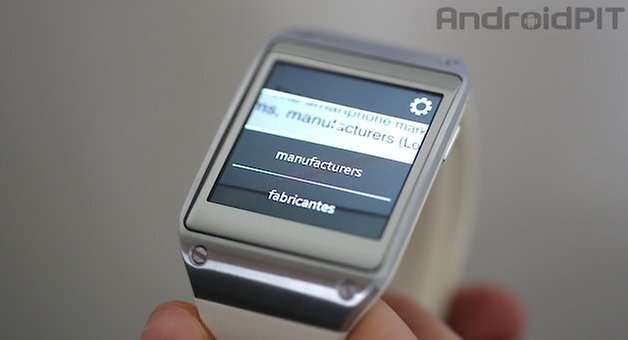 Battery
Like all Samsung smartphones, Galaxy Gear's main fault is its feeble battery. When in use, Galaxy Gear can last up to 12 to 48 hours, but the more the screen is used, obviously, the more it sucks rapidly away at battery life. The watch is delivered with a charger and a dock. Five points connect the CMOS battery and the dock, the latter also being installed with NFC which is required to pair the watch with any Samsung device. You can only pair one at a time and it's a good idea to always have your dock with you just in case Gear disconnects.
Price and Compatibility
The Samsung Galaxy Gear is sold for 297 (as seen in Amazon), which is quite expensive for a 'gadget'. Even though the functions which the smartwatch has to offer are quite innovative, buying the watch should only be done after lengthy deliberation. Don't forget that Gear only works with Samsung devices.
Today only the Note 3 and the Note 10.1 2014 Edition are compatible with the smartwatch and the Android 4.3 software update to the Galaxy S3, Galaxy S4 and Note 2 should see these devices connecting with Gear as well. According to Samsung, five more devices will also support Galaxy Gear in the near future and these are the Galaxy S4 mini, S4 Active, Mega 5.9, Mega 6.3 and Galaxy S4 Zoom.
Tech Specs
| | |
| --- | --- |
| ​Processor | 800 MHz |
| Display | 1.63-inch Super-AMOLED (320 x 320 pixels) |
| Camera | 1.9 MP |
| Video | Codec: H.264, MP4, HD (720p) |
| Connectivity | Bluetooth 4.0, BLE |
| Sensors | Accelorator, Gyroscope |
| RAM | 512 MB |
| Internal storage | 4 GB |
| Battery | 315 mAh |
| Dimensions | 36.8 x 56.6 x 11.1 mm |
| Weight | 73.8 g |
| Operating system | modified version of Android 4.2 |
This is only the beginning
The question is this: am I really ready to buy Galaxy Gear in the version in which it is now available? My answer is yes! Am I ready to pay this price for it? No! New devices almost always appear with a high price along with a lot of unattained potential and Galaxy Gear is no different. For half the price, I wouldn't blink an eye at buying it, but that also means I would also have to get a different smartphone.
It's therefore up to the individual buyer to determine the advantages that a smartwatch would present in terms of functionality. If you are looking for a multi-usage watch which you can use to navigate Google Maps or watch videos on YouTube, all of this on a good battery, then don't buy the Samsung Galaxy Gear. That being said, you won't find anything better on the market, since this ''better'' watch still doesn't exist. For that, you'll have to wait a few years.
What do you think of Galaxy Gear? Have you bought the smartwatch yourself? Are you happy with your purchase?