Samsung Galaxy Buds Pro review: Great sound! Looks good!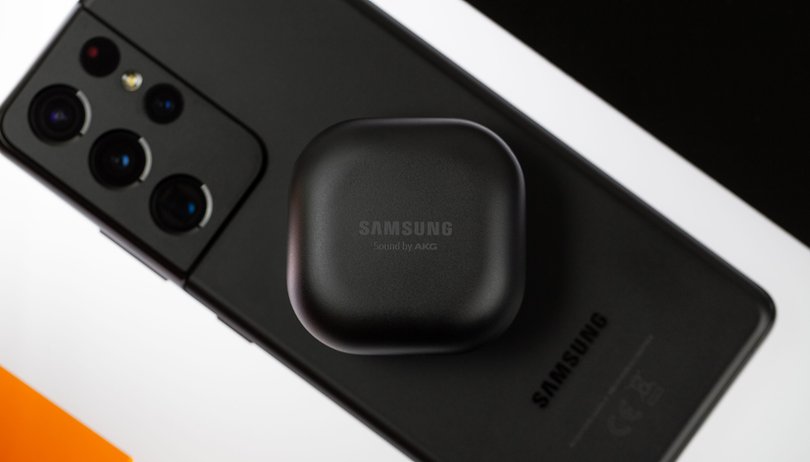 With the Galaxy Buds Pro, the circle is complete. Samsung has effectively created an ecosystem of products that could rival Apple's. This pair of True Wireless Sound earbuds allow several unique functions, including multi-pairing, only when it is used with other Samsung devices. In this review, I will dig further to find out whether you should pay a hefty €230 for this pair of headphones.
Good
Nice, balanced sound

Effective ANC and ambient noise modes

Great deal of features

Good call quality

IPX7 certification
Bad
Many features are Samsung-exclusive

Does not fit well, especially during conversations

Operation can get too complicated
Samsung Galaxy Buds Pro: All deals
A brief summary
In collaboration with AKG, Samsung ensures that the Galaxy Buds Pro delivers high-quality audio performance. ANC and other additional features such as 3D audio also happen to be top notch. It is very rare for headphones/earbuds to fall out of my ear so often during use, unhinging my experience with the Samsung Pro Buds all too often. In addition, the bias that the Galaxy Buds Pro has towards Samsung-branded devices is similar to that of the Apple iPhone ecosystem and other Android manufacturers (OnePlus, Huawei, etc) and at least for me, is a customer-unfriendly move.
Who are the Galaxy Buds Pro suitable for?
As revealed in the introduction, the Galaxy Buds Pro costs a whopping €230. This makes them only €50 cheaper than the AirPods Pro when they were first introduced, and are almost comparable to the Sennheiser Momentum True Wireless 2, which came with a €299 recommended retail price. Samsung is thus positioning the headphones as a cheaper alternative to other established True Wireless Sound earbuds with ANC offerings, similar to what Anker tried and succeeded with the Soundcore Liberty Air 2 Pro that retailed for €130.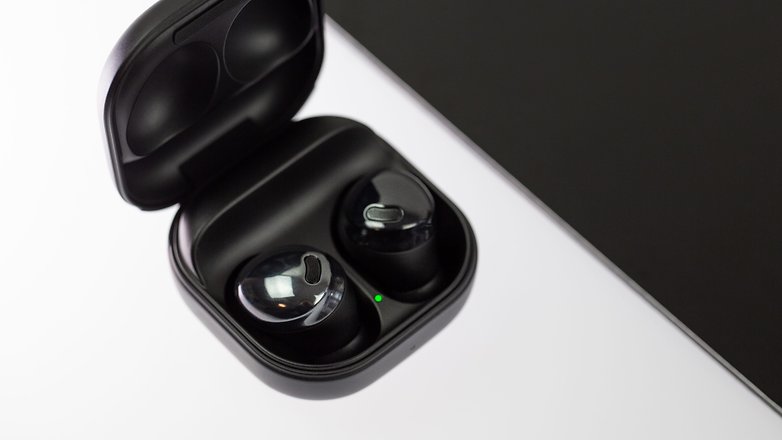 Samsung itself already offers wireless in-ear headphones with ANC capability in the form of the Galaxy Buds Live which Antoine reviewed not too long ago. If you happen to be a staunch Samsung product advocate and already own a Galaxy smartphone or tablet, you can be assured that the Galaxy Buds Pro will be able to deliver very good sound.
Here's what I liked about the Samsung Galaxy Buds Pro
Sound quality
I took delivery of the Galaxy Buds Pro with anticipation based on my review of the Soundcore Liberty Air 2. Armed with a custom equalizer, I thought their sound was good for just below the €130 mark, but the Galaxy Buds Pro clearly outperformed Anker's headphones.
Samsung relies on two drivers in its headphones that pave the way for two-way sound - an 11-millimetre woofer for bass and a 6.5-millimetre driver for the higher frequencies. Unfortunately, Samsung failed to specify the exact frequency range and relies on a rather vague claim that the delivered sound is "thrilling" to the ears.
Of course, it is all about sound where headphones are concerned, but technical data is still a good way to make a comparison between other models. So let us dive straight right in and see how my review playlist performs on this pair of bad boys.
What Samsung tried to describe as "rousing" sound, I could definitely identify with that adjective in the review. The sound delivered in the Galaxy Buds Pro had a very wide range and more importantly, sounded clear. My favourite new song for headphone reviews, Inca Roads by Frank Zappa, sounded excellent with many of its layers nicely separated, while the vocals sounded extremely close in my ear as though I was there live.
The bass performance on songs like "Xanny" by Billie Eilish is not particularly strong by default. Personally, I prefer this setup because I am absolutely not a bass fanatic. Hip-hop tracks like Bbno$'s Nursery are still fun to listen to, though, and you can boost the bass quite a bit via the app's built-in equalizer if you wish.
Overall, though, I think it's the more complex tracks that allow the Galaxy Buds Pro to shine. Here, the earbuds resolve each individual instrument well and do not allow trebles and mids to drown in the booming bass. It is only the earbuds' in-ear positioning that caused me issues, indirectly affecting the overall sound quality, but I'll tell you more about that later.
ANC and ambient sound mode
Personally, I've found the ANC performance on true wireless sound earbuds to be better than over-ear headphones. Passive shielding, along with noise cancellation via anti-noise algorithms, provide you with a similar effect to that of dipping your head in a tub of water when you are right smack in the middle of Berlin city and all its surrounding noise.
Of the Galaxy Buds Pro's available three ANC levels, I mostly used the highest setting while enjoying my music. Of course, if you turn off the music, ambient noise becomes a little more audible. What's nice is this: I didn't hear any background noise or whining, as was the case with the cheaper Soundcore models. At the same time, I did not feel or hear any kind of 'pressure', as is so often the case with ANC.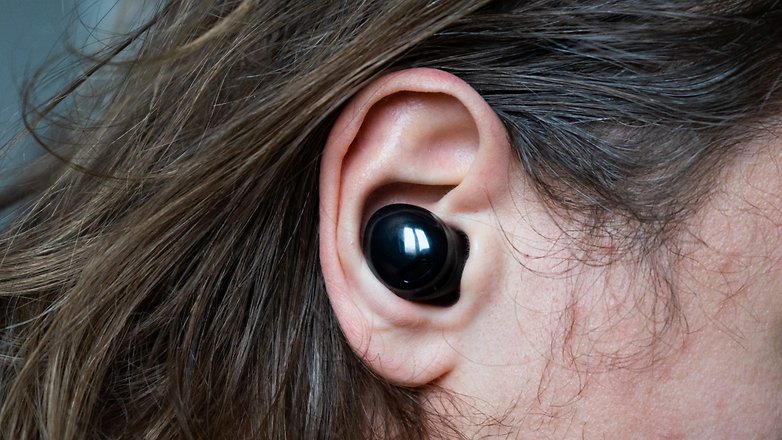 For my 5G test with the Xiaomi Redmi Note 9T, (German) I rode my bike through Berlin in winter with the Galaxy Buds Pro in my ears. Now, before you call the police because what I did was dangerous, let me tell you about the ambient noise mode. This mode will allow you to choose from three different levels of performance as well, allowing the exterior microphones to pick up differing levels of noise. It works extremely well, picking up all the noise from your surroundings if you want to, and almost instantaneously - which is important in order to avoid accidents and untoward incidents.
It took me quite a bit of effort to carry out conversations this way as I was able to hear the person I was talking to very clearly whenever music playback is stopped. The ambient noise mode can be activated if desired by pressing down on the earbuds, where you will then hear everything that goes around you loud and clear while offering an almost a psychedelic experience. It was as if I had snuck in a little MDMA before work, standing in my living room and listening intently to what kind of sounds were audible in my surroundings as I changed into something more comfortable.
Conversation quality
Conversations held while wearing these were crystal clear, as I indulged in my latest 'hobby' during the review: hands-free calls on headphones. The other party sounded natural and clear, and my voice reportedly sounded great via the Galaxy Buds as well. Talking to my dad about the Galaxy S21+, he praised the call quality of the smartphone, indirectly also praising the quality of the Galaxy Buds Pro that were residing in my ear.
Feature set
Ahead of the Unpacked event where Samsung unveiled the Galaxy Buds Pro along with the new Galaxy S21 models, there were already rumors of new features thrown into the mix. Among other things, Samsung is integrating 3D audio into its True Wireless Sound earbuds, which is a feature that Apple recently integrated into the new AirPods Max.
For example, if you're watching a movie on Netflix while wearing them and turn your head, the virtual audio source is controlled by your smartphone. The audio will be automatically redirected, firing from the right side when you turn your head to the left. This works well and makes for a slightly more spacious sound impression. After the initial wow-effect, however, the function becomes unnoticeable and is more of a marketing point. I deactivated it at some point, as the sound bothered me when I put the phone away.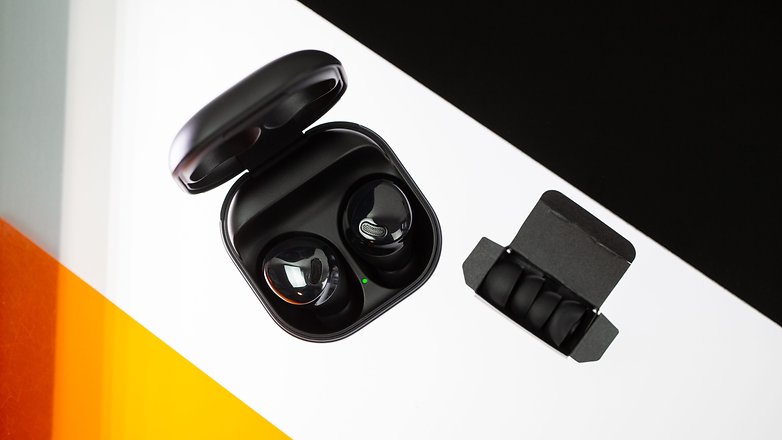 What I found more useful is the automatic voice detection when you begin talking with ANC activated and music playing in the background. Voice recognition is rather reliable and after a few tries, you can confidently walk up to the supermarket checkout and mute the music with a belted "good day". Alternatively, you can hum if that is your preferred modus operandi. For those who are more adventurous, how about singing? That works as well! I turned this feature off after being constantly confronted by my own singing voice while listening to music in the apartment.
I also want to mention the feature that reads out notifications (which I eventually turned off, because of the annoying computer voice) and "Find my Earbuds" (a very handy tool, but works well only with particular devices that carry a UWB chip, otherwise it loses out on accuracy).
I was particularly pleased with Samsung's announcement that the Galaxy Buds Pro now supports multi-pairing. So in principle, it's possible to connect to the notebook and the phone simultaneously, something that I found to be incredibly handy with my Soundcore Life Q30. But based on the way this is executed, I will have to chalk this up as a negative point.
I don't like these
Forced exclusivity
One major drawback: the multi-pairing function is available exclusively only on devices that fall under Samsung's own ecosystem. Sure, I understand the decision to nudge customers in a direction where they would be more prone to using hardware from the same manufacturer, but that should be because of the quality of one's products as opposed to creating a fake sense of exclusivity.
With Apple, I can understand the steps taken in this direction somewhat better because of the iOS, macOS, and iPadOS operating systems, which are extremely well coordinated. So the fact that AirPods work best with the iPhone is somewhat logical. But even though Samsung and their bloated OneUI has a fair number of custom solutions, it is still Android at its core.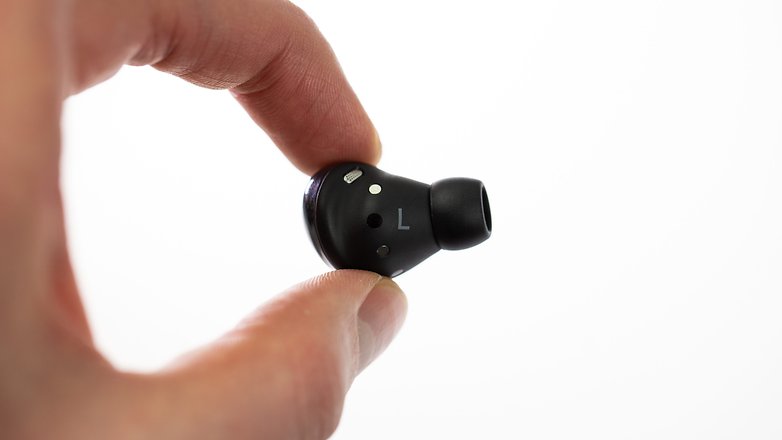 Samsung has even skimped on codecs, preferring to rely on its own Scalable audio codec instead of integrating the widely used AptX. As an alternative, there's only SBC and AAC support, which nearly aren't quite enough considering the amount of money you fork out for it. If you like listening to music via premium services like Amazon Music HD or Tidal, you can potentially expect lower sound quality on non-Samsung headphones.
Thus, the exclusivity that Samsung makes for multi-pairing is an artificial one, and that's just plain annoying! Especially since Samsung's ecosystem in Germany is simply not as extensive as Apple's. Most users own a Samsung phone, in addition to possibly a tablet from the manufacturer. Three Samsung notebooks available here, the Galaxy Book Flex, Galaxy Book S and Galaxy Book Ion, and these are rather niche products and by no means as widespread among Samsung users as Apple's MacBooks.
The hold in the ear
Along with the lack of multi-pairing among a lot of potential users, I also didn't like how the Galaxy Buds Pro were held in place in my ear. Taking a look at the reviews of my colleagues, I can safely deduce that it is not solely the fault of my ears. Perhaps the more daring design of the Buds Pro contributed to this.
The in-ear buds are a cross between the Galaxy Buds Live and the first generation Galaxy Buds, with a silicone tip that fits easily into the ear canal and a housing that fits inside the inner ear. You can't change the size of the housing, of course; and in terms of silicone attachments, Samsung includes a total of three different ones. Small, medium and large – I personally liked the large version the best.
Once you get used to fitting the earbuds in, you'll find a grip you can confidently walk around with over time. After a few days of wearing them, I even dared to bend my head over the dishwater – thanks to the IPX7 certification, they could have even fallen out of my ear without suffering from any kind of damage.
But it is moments such as talking on the phone or eating – anytime your facial muscles and ear move – that you gradually feel the Galaxy Buds Pro begin to slip out. I'm rather unfamiliar with such issues in other in-ear Bluetooth earbuds, as these stick in your ears with the corresponding matching tip while offering significantly more negative pressure.
I'm sure there will be criticism about this drawback in the comments here, as fit and comfort are highly subjective. Have you been able to wear the earbuds while having a different opinion? Let's talk about it in the comments!
Fidgety: Handling, case and headphones
The easy user experience that marketing agencies and manufacturers love to rave about, I would rather describe as fidgety with the Galaxy Buds Pro. I have quite delicate fingers and after having repaired several notebooks and smartphones as an IT supervisor at the University of Bielefeld (shoutout to the alumni!) I would describe myself as one with steady hands and refined motor skills, capable of handling crucial movements without breaking into a sweat. Nevertheless everything about the Galaxy Buds is tiny and precarious to operate.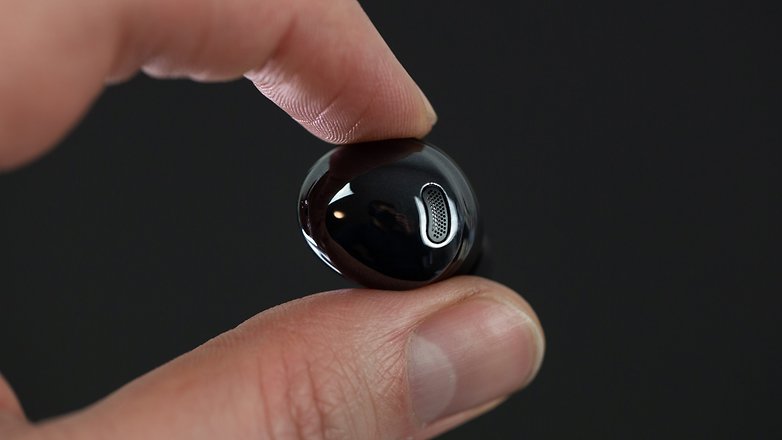 You have to pull the charging case apart using two fingers (good luck if your fingernails are short!), operate the earbuds that sport a 5-cent diameter out of the case, and then make sure that the earbuds don't fall into your palm or even onto the floor when you insert them. Here, alternatives offer significantly more surface area to grasp and, even if it looks a bit unsexy, you'll want a stem l– ike those found on the Apple AirPods.
If the Galaxy Buds Pro were to slip out of your ear a little, you'll always activate some function when you slide them back in due to the touch. This is because when the earbuds are in your ear, there's hardly a square millimeter that isn't touch-sensitive. In order to minimize the amount of frustration that I faced, I have always made the slide back extra slow so that at least only the ANC would turn on/off. Samsung did place a slider to disable touch sensitivity on the app's home page, but considering how that is not too practical in everyday use, it isn't a valid solution either.
What else you should know about the Galaxy Buds Pro
Here are other items to take note of:
Samsung's claimed battery life (with ANC: 5 hrs. earbuds / 18 hrs. total) (without ANC: 8 hrs. earbuds / 28 hrs. total) were realistic in testing
In addition, the Galaxy Buds Pro offer fast charging and wireless charging
Samsung-exclusive gaming mode allows you to reduce audio lag
When recording video, the earbuds double up as a microphone
Colors: Phantom Black (review unit), Phantom Silver, and Phantom Violet
Bixby is the only compatible voice assistant
Can also be used with iPhones, but without the added software features
Final verdict: Goes in the ear, stays (mostly) in the head!
Slowly but surely I'm developing into an earbud junkie who prefers having something on my ears all day. Headphones, anti-noise cancellation, music, phone calls, the list goes on. I've enjoyed wearing the Galaxy Buds Pro while reviewing it, even if I've just criticized the fit (or lack of) in my ears.
This is mainly due to the pretty good sound quality, which fills up my head courtesy of a pair of drivers per ear in a nice, clear, and balanced manner. If you activate active noise cancellation, you will automatically be transported into a realm where the audio is pure, while your favourite artists perform. Intelligent features like 3D audio and voice recognition are not for me, but perhaps others would find those useful.
On the flip side, I would have to rate the Galaxy Buds Pro as being too attached to Samsung's ecosystem of products, in particular, their smartphones. The Scalable codec is superior to AAC and SBC, but it lacks AptX support. While you might not even necessarily notice the differences in sound quality because of the codec in everyday use, making multi-pairing an exclusive feature with Samsung products is a huge mistake. Hah, it could have been so much better if Samsung opted for an open ecosystem compatibility.
The earbuds also stand out because of their IPX7 certification, while the battery life remains moderate. If you are interested, I would personally wait a little longer before making a purchase. If the price drop of the Galaxy Buds Live continues, the Galaxy Buds Pro will be more affordable in a few months' time. If it drops below the €150 mark, then that would definitely be a bargain!