Samsung Galaxy A5 (2017) vs Galaxy J7 (2017): How different are they really?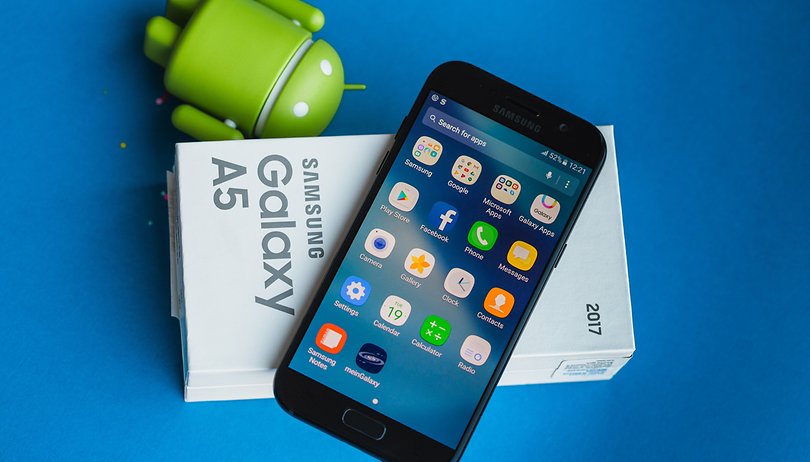 Samsung's strategy isn't always easy to grasp. Although the Galaxy A5 (2017) and the J7 (2017) belong to two different families, they find themselves in competitive situations in many respects. So, what makes them different?
A similar predecessor, but with some subtle differences in design
Things are pretty simple at Samsung: the S range launches a trend that the A and J ranges then follow. Consequently, both the A5 (2017) and J7 (2017) that were launched this year, are based on the Samsung Galaxy S7 design. They indisputably share a common ancestor (visually speaking), but in a more general manner, they follow a guideline found on all Samsung devices up to the Galaxy S8 model, which changed the trend. However, there are some differences between these two devices.
The Galaxy A5 (2017) is a little more elegant and has a better finish than the J7, but the performance of this entry-level smartphone should still be acknowledged, as it's seen an evolution from the previous model. Plastic has made way to metal, a material that the A5 also proudly displays. So, what are the differences? The most obvious is obviously the size. Given the dimensions 152.5 x 74.8, the smartphone is slightly larger than the Galaxy A5, which is 146.1 mm long and 71.4 mm wide. This difference in screen size is very noticeable: the J7 is sized at 5.5 inches and the A5 at 5.2 inches.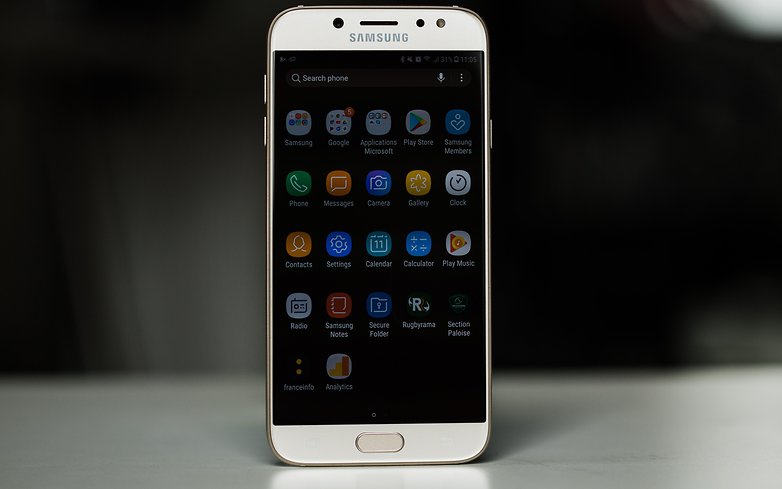 Some of the differences aren't visible at first glance. An example of this is the IP68 certification found on the A5 but not on the J7, which makes the phone vulnerable to water and dust. The microSD card, on the other hand, is available on both models.
A very different level of performance
The Galaxy A5 (2017) is a mid-range level smartphone, whereas the Galaxy J7 (2017) is an entry-level smartphone. This translates into their performance, even if it's not always noticeable. The J7 is powerful enough to give you a satisfying experience for easy operation, in other words browsing, messaging etc. However, if you want to get a little more out of the phone and really experience the graphics at their best, some games will be a problem because the Exynos 7870 octacore processor and the Mali-T830 MP1 graphics chip in particular have trouble keeping up. The US model has a Qualcomm Snapdragon 625, but we tested the Exynos model here. The Galaxy A5 (2017) has a Exynos 7880 processor and a Mali-T830 MP3 GPU (that is to say three times the power than on the J7).
Another big difference (that has to be pointed out) is that the internal memory on the J7 is only 16 GB, while the Galaxy A5 offers twice that. It's worth mentioning as well that if you run out of space on either device, you can insert a microSD card of a maximum 256 GB. The amount of RAM is the same on both models.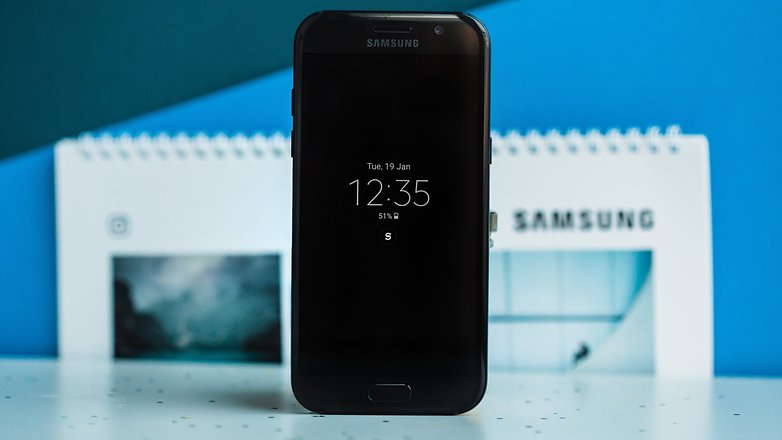 False debate over the software interface
Samsung has upgraded its devices, but performance is only of practical interest in an operating system, and regarding this, the two devices are quite different. The A5 (2017) is outdated, offering Android 6.0.1 by default, but it can of course be updated to Nougat. The J7 (2017) uses Android 7.0 by default. Updates are always a tricky issue, especially when it comes to flagships.
It's important to keep in mind that even though geeks like us care about software versions, many entry-level users don't, they just want a smartphone that can meet their (often simple) needs. They don't care if their device will be using Android P or not, so both devices are suitable. Other users, on the other hand, value the importance of updates (especially for security reasons), but unfortunately Samsung isn't the fastest to offer them. In any case, both devices will be using Android Oreo.
The same strength and effort to provide
The Galaxy A5 (2017) is renowned for its battery life. It is powered by a 3,000 mAh battery and will be able to survive an entire day without charging, thanks to various software configurations. To top it all off, you can recharge it in a very short amount of time: the battery will go from 0 to 100% in 1 hour and 20 minutes. The Galaxy J7 (2017) offers similar specifications, even though it has a bigger battery (3,600 mAh), you should be able to survive the day without too much trouble. The real difference between these two devices is the charging speed: you'll find that charging isn't fast on the J7, not even through the USB Type-C port.
The real difference between these two devices is the charging speed.
In the world of smartphones, where prices skyrocket, it's sometimes possible to find a good camera phone at the right price. While the J7 (2017) and A5 (2017) take decent photos given their range, they're definitely not the phones' strengths. With 13 MP with an aperture of f/1.7 and 16 MP with an aperture of f/1.9, the J7's specs look better on paper. However, it did provide the most mixed performance. In both cases, it's better to take photos in a well-lit environment in order to obtain quality photos.
Pictures taken with the Galaxy A5 (2017)
Samsung Galaxy A5 (2017) vs. Samsung Galaxy J7 (2017) technical specifications
| | Samsung Galaxy A5 (2017) | Samsung Galaxy J7 (2017) |
| --- | --- | --- |
The logic of an illogical price
The Galaxy A5 (2017) is available on Amazon for just $319, while the Galaxy J7 (2017) can be had for $289. That means you can have a mid-range instead of an entry-level smartphone for only $30 more!
In short, if you have the budget and are prepared to opt for a smaller screen, it might be worth your while investing a few extra bucks to get a Galaxy A5 (2017). If you want a Samsung phablet for less than $300, the J7 is a good alternative.
Which of these two devices interests you most?