Samsung Galaxy J7 (2017) price, release date, specs and rumors
Update:

Front and back shown in leaked renders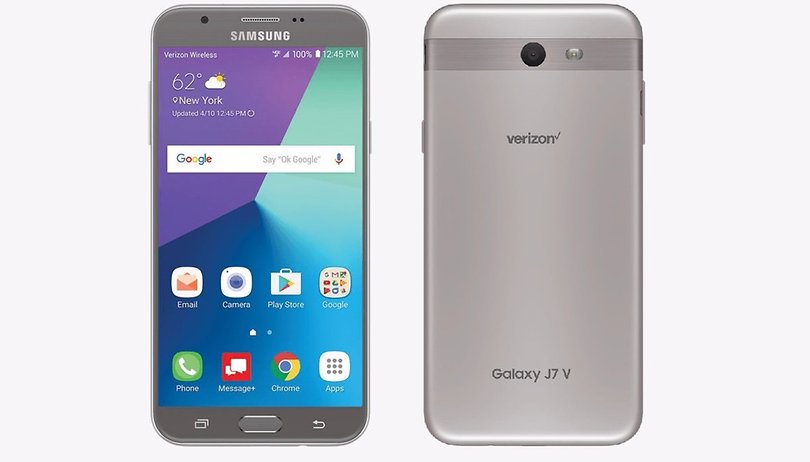 Samsung Galaxy J7 (2017) price and release date
The new Samsung Galaxy J7 was just released on Verizon on March 23. This 2017 model of the J7 is called the Galaxy J7 V (V for Verizon, obviously). It is selling on Verizon's website for $240 now. Sprint is selling the Galaxy J7 (2017) under the name Galaxy J7 Perx. Other carriers are expected to release the J7 (2017) device, as well.
The new Samsung Galaxy J5 (2017) is expected to be released this year as well, after its two prior models were so successful, but no official date has been confirmed.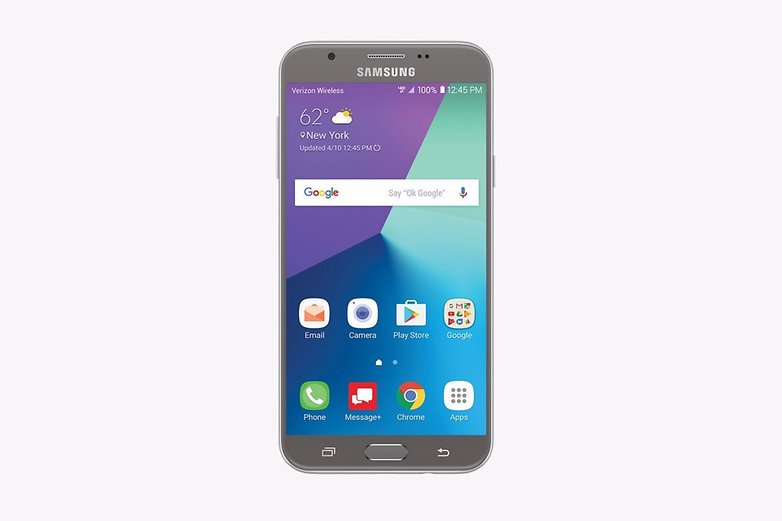 Samsung Galaxy J7 (2017) technical specs
| Samsung Galaxy J7 (2017) | Specs |
| --- | --- |
| Screen size | 5.5 inches |
| Resolution | 1280 x 720, 269 ppi |
| Battery | 3,300 mAh LI-ION |
| Android version | Android Nougat 7.0.1 |
| Internal storage | 16 GB (expandable) |
| RAM | 2 GB |
| Processor | Qualcomm Snapdragon 625 |
| Weight | 5.9 oz |
| Rear camera | 8 MP |
| Front camera | 5 MP |
Above are the specs for the Verizon and Sprint versions of the device.
The J7 (2017) keeps the same 5.5-inch screen size as the 2016 and 2015 versions, but it offers Android 7.0.1 Nougat and an octa-core 2.2 GHz processor, improved from the previous generation's 1.6 GHz. It keeps the same 3,300 mAh battery and 2 GB of RAM as the 2016 version, though.
Interestingly, the rear camera of the J7 (2017) has 8 MP - that's a step backward from the 2016 version's 13 MP. The front camera still has 5 MP though.
Rumored Samsung Galaxy J7 (2017) with better specs
Specs for a Samsung Galaxy J7 (2017) just popped up on the benchmarking website GFXBench, but there's an anomaly. The specs are better than those of the already released Galaxy J7 V (2017). Hopefully, this means that a new variant of the J7 will be made available in some markets, with better specs than those currently available in the US on Verizon and Sprint.
According to this leak, the display remains 5.5 inches, but it has Full HD resolution (1920 x 1080). Also, both the rear and front cameras will have 12 MP and support Full HD video recording. The benchmarking also revealed 2.8 GB of RAM, which is an improvement of almost 1 GB. The processor is Samsung's 1.5 GHz, octa-core Exynos 7870 with a Mali-T830 GPU.
A new Galaxy J5 and J7 specs leak
A new leak from Tweakers.net lists the differences between the 2016 and 2017 Galaxy J5 and J7 models. Both devices will feature Android Nougat, a fingerprint scanner, and will go from having a metal frame to a full metal body. In addition to this, their front and rear cameras will now both have 13 MP.
While the J7 and J5 will keep the same screen sizes, 5.5 and 5.2 inches respectively, the upcoming J7 will have FHD resolution. The J5 will get a 1.6 GHz octa-core processor, up from a quad-core 1.2 GHz, but a 100 mAh reduction in battery capacity. The J7, on the other hand, gets an extra 300 mAh.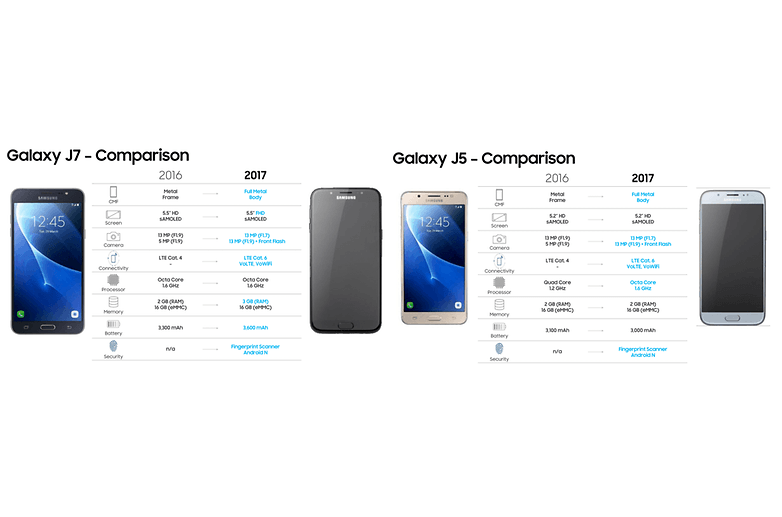 Samsung Galaxy J7 (2017): front and back shown in leaked renders
Renders of a newer version of the Samsung Galaxy J7 (2017) have been leaked again, this time by notorious leaker Roland Quandt.
Samsung Galaxy J7 2017 SM-J730. pic.twitter.com/frh5IRmloB

— Roland Quandt (@rquandt) May 22, 2017
The leaked image resembles that of the previously leaked render of the J5 from WinFuture (below), only this time we can see the back and sides of the J7 as well as the front. The antenna lines on the back have an interesting shape, and the device is shown in four colors: pink, blue, black and gold.
Leaked photos of J5 show new design
The Samsung Galaxy J5 (2017) design, which will mirror the J7, has been leaked in a render posted by WinFuture. A touch more modern and ergonomic, this image shows the J5 with rounder curved corners and some subtle refinements.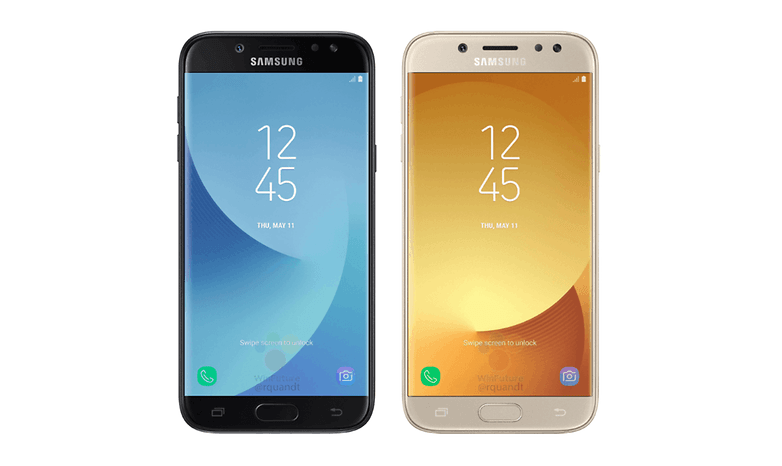 We will update this article as the device becomes available on other carriers, or if we hear more about the version with better specs.