Samsung Galaxy A34 and Galaxy A54: New mid-range phones compared
Samsung recently unveiled its new mid-range smartphones in the form of the Galaxy A54 and Galaxy A34. The South Korean conglomerate presented these two expected models that are supposed to succeed the Galaxy A33 and Galaxy A53. NextPit would like to introduce both models and inform you of the most important similarities and differences, in addition to everything you need to know about the devices, including price and availability.
Samsung's mid-range smartphones normally receive the usual annual makeover in the form of two new models. The review units should arrive in the NextPit editorial office in the next few days when we will examine them in greater detail. Until then, we would like to obtain an overview by comparing the two models based on their technical specifications. Let's go!
Samsung's 2023 Galaxy A range
Product
Image
MSRP
from $430
from $450
Display
6.6", Super AMOLED
6.4", Super AMOLED
FHD+
120 Hz refresh rate
SoC
MediaTek Dimensity 1080
Samsung Exynos 1380
Working memory
6 / 8 GB RAM
Memory
128 / 256 GB
Expandable memory?
Yes, expandable up to 1 TB
OS
One UI 5.1 based on Android 13
Camera
Main camera: 48 MP, f/1.8 aperture, OIS
Ultrawide: 8 MP, f/2.2 aperture
Macro: 5 MP, aperture f/2.4


Main camera: 50 MP, f/1.8 aperture, OIS
Ultrawide: 12 MP, f/2.2 aperture
Macro: 5 MP, f/2.4 aperture


Selfie camera
13 MP, f/2.2 aperture
32 MP, f/2.2 aperture
Battery
5,000 mAh
Wired charging with 25 W

Connectivity
5G / LTE / Wi-Fi 6 / Wi-Fi Direct / Bluetooth 5.2 / NFC
IP certification
IP67
Colors
Awesome Lime, Awesome Graphite, Awesome Violet, Awesome Silver
Awesome Lime, Awesome Graphite, Awesome Violet, Awesome White
Dimensions and weight
6.4 x 3.1 x 0.3 in | 0.43 lb
161.3 x 78.1 x 8.2 mm, approx. 199 g

6.2 x 3 x 0.3 in | 0.44 lb
158.2 x 76.7 x 8.2 mm, approx. 202 g

A quick look at the hardware tells us that the Galaxy A34 and Galaxy A54 share many technical specifications with each other. We will now go through what the two mid-range smartphones have in common and what makes them different point by point. Once we have reviewed both models, we will update this post with much more accurate observations than what is possible based on the specifications alone.
Display and case
A look at the design immediately raises eyebrows: With a screen that measures 6.6" across diagonally, the model with the lower model designation—i.e. the Galaxy A34—is the larger one. The A54 on the other hand offers a 6.4" screen size. Surprisingly, the smaller A54 is also three grams heavier with a thickness of 8.2 mm.
Apart from that, both devices have a wide display bezel at the front, which seems somewhat antiquated to me. The A54 houses the selfie camera in the display, or more precisely, it resides in the punch hole. Samsung relies on a tear-shaped notch in the A34 which we already know based on its predecessors.
A look at the back reveals the redesigned camera section, which is visually closer to the Galaxy S23 series by ditching the camera island. However, IP67 certification is once again identical to the 2022 models.
The display offers FHD+ resolution and 120 Hz refresh for both handsets. In addition, "Vision Booster" is supposed to make the devices adapt faster to changing light conditions.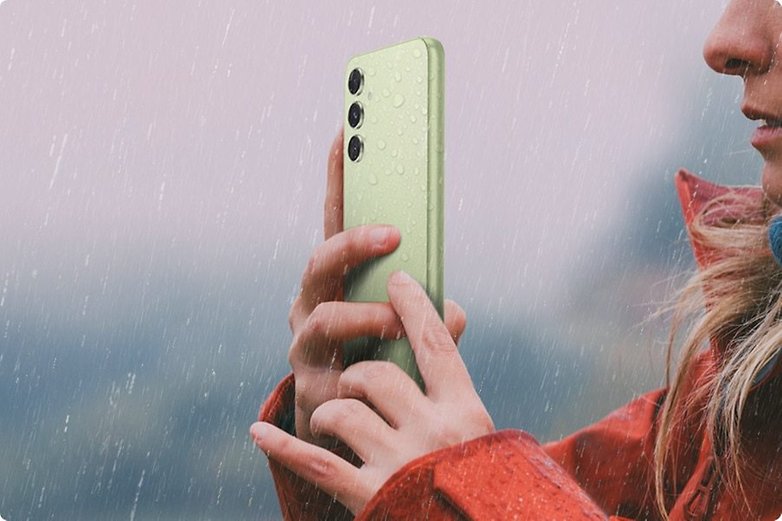 Performance and connectivity
The octa-core SoC in the Galaxy A54 is the recently introduced Exynos 1380, and just like the Exynos 1280, the new SoC is composed of ARM Cortex A78 cores (up to 2.4 GHz) and Cortex A55 cores (up to 2 GHz). However, we found a 2+6 configuration in last year's SoC, while there are now four cores each. However, MediaTek's Dimensity 1080 powers the A34 as assumed in a leak in December.
We will find out how much of a performance boost this will give us in the review. The SoCs are mated to 128 or 256 GB of internal memory with expandable storage via a microSD card. In addition, there is 8 GB of RAM, except for the "small" A34, where the 128 GB model will be paired to 6 GB of RAM. Besides support for Bluetooth 5.2, NFC, and WLAN connectivity, both devices naturally also use the 5G network.
Cameras
One thing that you might want to rejoice in: There is no longer a 2 MP macro camera! Rather, both devices have a 5 MP macro sensor. However, the main camera is more exciting. Samsung offers a 50 MP shooter on the A54, while it has a 48 MP main shooter on the A34. Both main cameras are capable of optical stabilization when snapping photos. The A54 also has a slight lead in the ultrawide angle department (12 MP vs. 8 MP). Finally, the selfie cam of the A34 stands at 12 MP, while Samsung has given the selfie cam of the A54 a 32 MP sensor.
The Nightography technology and improved AI are supposed to improve the results of photos, especially at night. We will tell you how well this actually works in the reviews.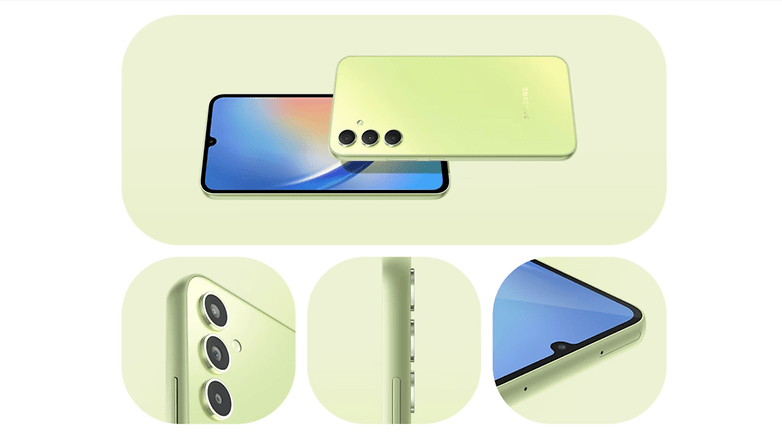 Software
There is nothing new to report from the software department. Why should there be? You still get up to four major Android updates as well as five years of security updates. However, I wonder if the company also talked about "up to" four or five upgrades last year. All fun is shipped with One UI 5.1, which is based on Android 13.
Battery and Quick-Charging
In terms of battery life, there is nothing new to report: Samsung continues to install 5,000 mAh batteries in its mid-range handsets and denies you the charger in the box while charging at a cozy 25 W. Has anything changed in terms of efficiency and thus battery runtime? We'll find out in the detailed review!
Price and availability
Samsung has increased the price a bit compared to last year's devices. The Galaxy A34 is available from €389 (around $420). The Galaxy A54 is available for €489 (around $525). However, Samsung's mid-range handsets are already among the more expensive ones in a very competitive market segment, which does not make it easier for the company to shift units.
Both devices are available in a total of four configurations. We will provide you with more precise information as soon as Samsung communicates it to the world. Here are the variants available from the end of March:
| | | | |
| --- | --- | --- | --- |
| Model | RAM | Memory | MSRP |
| Galaxy A34 5G | 6 GB | 128 GB | €389 / n/a |
| Galaxy A34 5G | 8 GB | 256 GB | €459 / n/a |
| Galaxy A54 5G | 6 GB | 128 GB | €489 / $ 449 |
| Galaxy A54 5G | 8 GB | 256 GB | €539 / ? |
There are four different color options for each model: Samsung offers both the A54 and the A34 in Awesome Lime, Awesome Graphite, and Awesome Violet. In addition, there is an exclusive color: Awesome Silver for the cheaper Galaxy A34, while you can choose Awesome White for the Galaxy A54.
Currently, US pricing is available only for the base A54 model with 6/128 GB at $449.99, similar to the A53's MSRP. At this time, it is unclear whether Samsung will release the A35 in the North America. Keep an eye out for further updates on this matter.
Initial thoughts
I won't fall into the trap of complaining that hardly anything has changed compared to last year. Read Antoine's review of the Galaxy S23 Ultra and you'll know what I mean. Even a slightly improved SoC, fresher software, and an improved camera, especially thanks to AI, can significantly improve the experience without being immediately noticeable on the specifications sheet.
Quite apart from that, I found it to be rather odd that Samsung gave the smaller model larger dimensions and also equipped the A34 in an almost identical manner to the A54. This could mean that the cheaper mid-range model is already completely sufficient for the majority of users out there, and that they do not have to aim for the more expensive model.
We will find out what the two new Samsung smartphones are actually capable of in a detailed review. After that, we can see whether the A34 might even qualify for our best smartphone to buy below $400 category.