Riva Arena Wi-Fi speakers: Special features at a premium price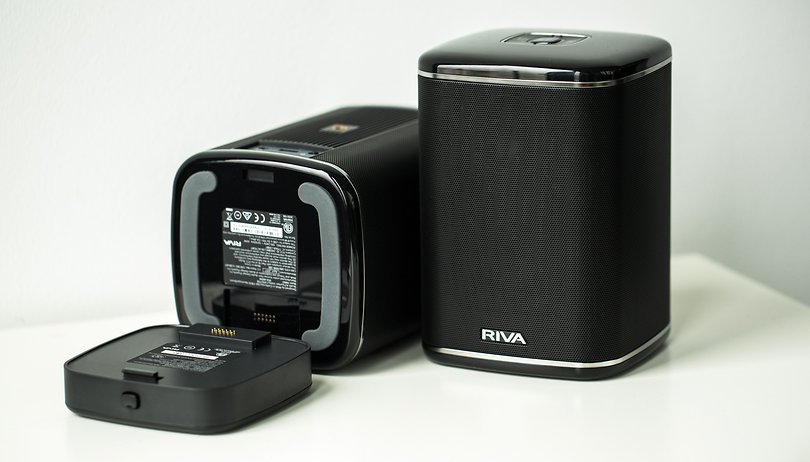 Riva wants a place in the upper echelon of Wi-Fi speakers with a price that is significantly higher than the Sonos Play:1, the presumed head of the class. Riva supplied us with two models of the Riva Arena. These were the smaller models of their new product range. They not only offer a powerful sound, but also some extra features that are lacking from the competition. We'll tell you everything you need to know in our review of the Riva Arena speakers.
Good
Stereo mode

Speakers can be connected together anywhere

Powerful sound

Bluetooth

Auxiliary input

Available battery pack
Price
Riva is selling the small Arena speakers from its WAND (Wireless Audio Network Design) series for 249 dollars. The smaller models each run on 50 watts. The larger speaker is called Festival, offers 200 watts and currently costs 499 dollars. In our review we'll discuss the stereo pair as well as the separately available battery, which costs 99 dollars.
All the devices are also available in white.
A competitive design
Riva Audio's new line of Wi-Fi speakers could compete with both Ultimate Ears and Sonos. Within the same price range, they also offer many comparable premium features. The Arena speakers have a simple design, but are of a high quality and are robust.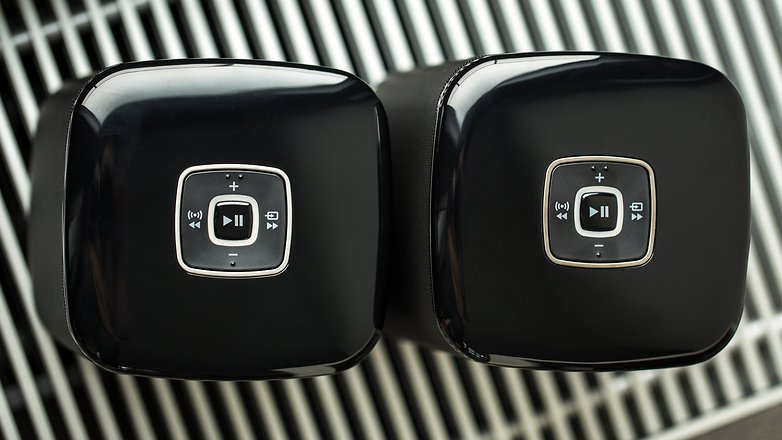 If you don't want to keep the speaker on its rubber base, you can attach it to speaker stands in standard sizes. At around 1.4 kg each and at 127 x 180 x 123 mm, they have the format of a standard surround speaker.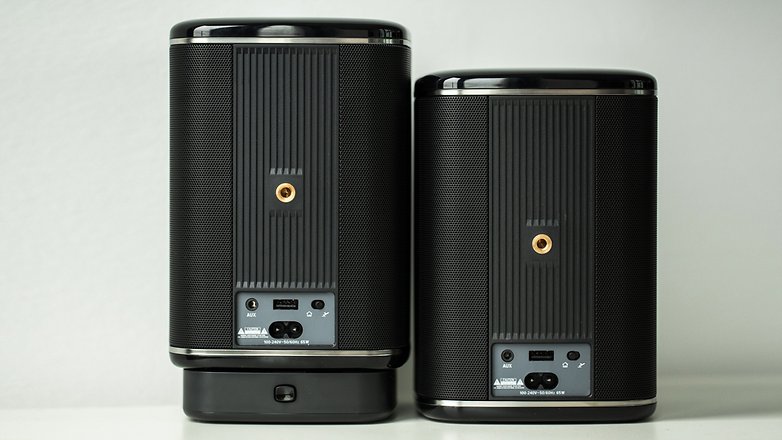 Impressive compatibility
Riva Audio is one of only a few third-party manufacturers that uses the Google Home app. This offers the advantage that you can set up the Arenas without the proprietary app. As with many other manufacturers, you don't have to transfer your Wi-Fi password unencrypted to the speakers.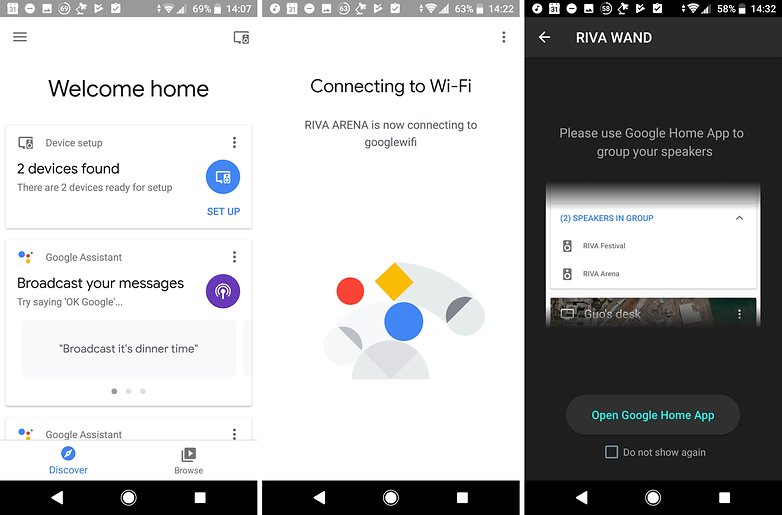 The proprietary app, however, also offers important additional features that can't yet be used in the Google Home app. These include the two-band equalizer for adjusting the high and lows or the stereo mode. With stereo mode you can choose between...
Trillium for advanced stereo sound with just one speaker
Power for increased output level
Left or right for mono operation in the respective channel.
You also have the option to form a stereo pair and define it as a single cast target using device grouping in the Google Home app. In the test setup with Google Wifi, this configuration had impressive sound because there was no audible latency between the speakers. If there is latency in your setup, it can be compensated in the Google Home app.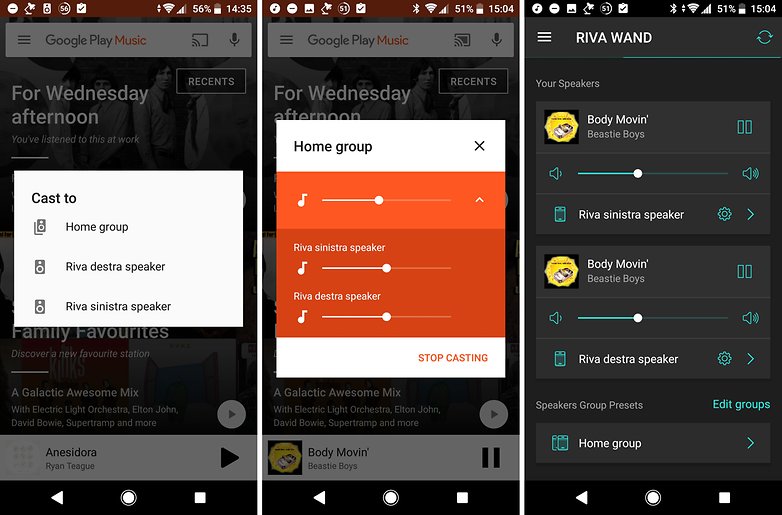 The Riva Arena speakers offer inputs for auxiliary, USB memory and Bluetooth. You can switch between them in the app or by pressing the button on top of the device. How helpful is the multilingual printed manual in the box? It's proven to be of assistance and understandable on several occasions.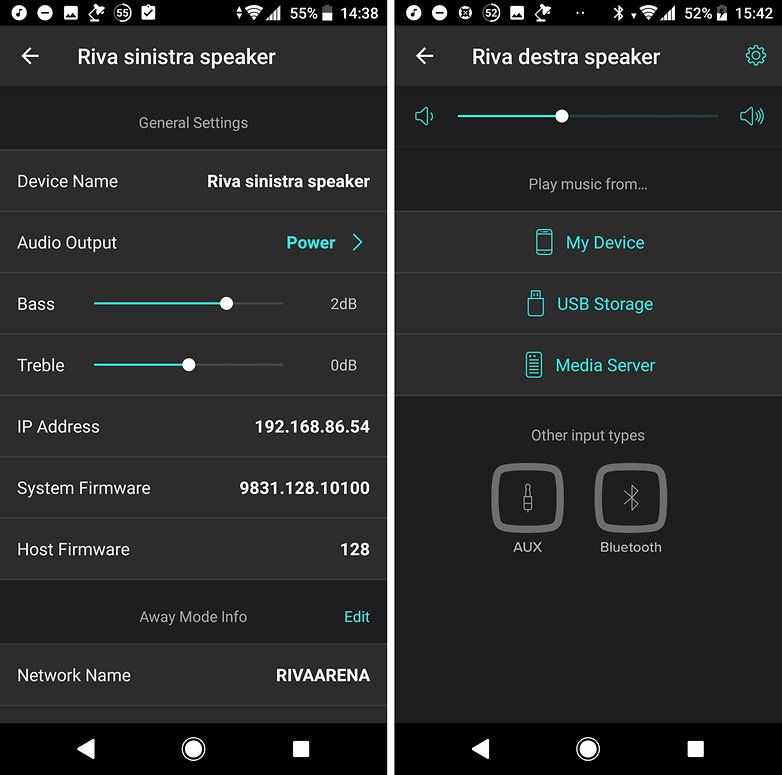 Special features for on the go
You can potentially build a small open-air disco with Riva speakers. You can set one of the Arena or Festival speakers as the main speaker and connect the others via Wi-Fi. The main speaker sets up a Wi-Fi network without an internet connection, and you can connect your smartphone as well.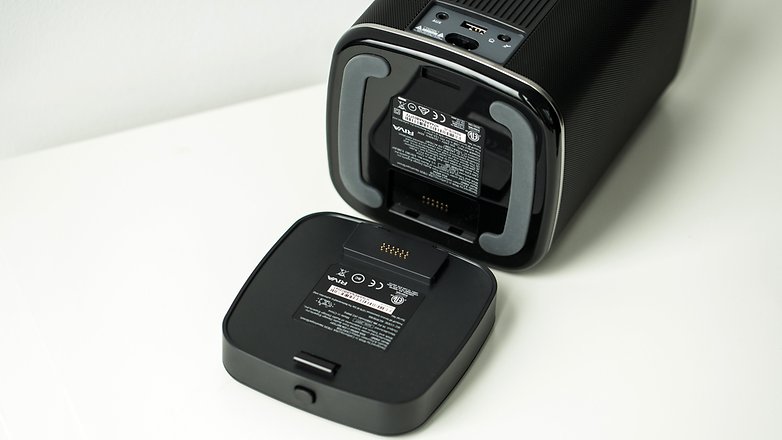 The music played must be transmitted to the speakers via Wi-Fi in the app. Streaming from the internet, for example through Spotify, can be a bit more tricky. In this case, it would be better to use a smartphone as a mobile hotspot instead of as the main speaker. If you additionally give an SSID as well as a password, which the speakers already know, it's quite easy to set up. The speakers will then load their Google Home configuration in no time and will be ready for use in the usual manner.
Audio
I was a little blown away by the power offered by the Arena speakers. Even if the treble isn't as fine and the all-around sound isn't as high-quality as on the Sonos speakers, the stereo sound is quite impressive. The first time I turned up the speakers, I was amazed. There was no clipping, noise or scratching, and the tones remained constant.
I would say the sound produced by Arena speakers is suited for a party, although it's not hi-fi. But then again, it's hard to find hi-fi sound for under 500 dollars.
Optional: Battery pack
Another unusual feature is that Riva offers a battery pack as an accessory for the Wi-Fi speakers. It lasts up to 20 hours at medium value (75 dBa), which is enough to last your next barbecue. Since the stereo mode and the parallel operation of several Arena speakers on the go can be a bit demanding for the software, I wouldn't want to give you any false hope. It is usually only worthwhile to operate a single Arena speaker when you're out and about. And its performance is more than enough to make groups of 15 people have fun dancing.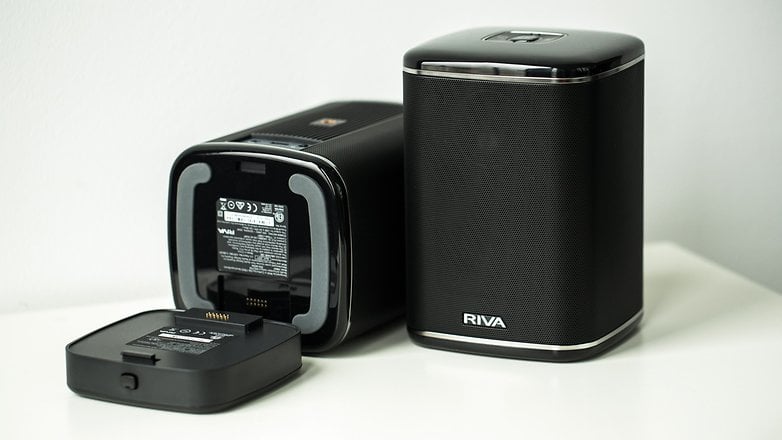 The battery can be attached to the bottom of the Riva Arena speakers. You charge them by plugging the speaker into an outlet at home. The battery cannot be charged independently of the speaker. This will save you some clutter with cables.
Technical specifications
Riva Arena
| | |
| --- | --- |
| Google Cast | yes |
| Google Assistant | no |
| Alexa | no |
| Spotify Connect | yes |
| DLNA | yes |
| AirPlay | yes |
| Bluetooth | yes |
| Stereo sound | yes, with Wi-Fi |
| Battery | available with extra purchase |
| Waterproof | no |
| Aux in | yes |
| Line-out | no |
| Power supply | 50 Watt |
| USB port | yes, file systems unknown, file formats MP3, ALAC, APE, FLAC, FLAC HD, HLS, WMA Streaming, RTSP, PCM/WAV |
Final verdict
Riva Audio provides a solid addition to any Google Cast-based multi-room system with Arena. The option to connect two speakers into a stereo pair makes purchasing a set almost obligatory. Annoyingly, you can get this function with Sonos for over 100 dollars cheaper.
Riva Audio offers the bonus of mobility with the battery, but this makes it cost another 100 dollars. All in all, I see good things with Riva Arena, but I wouldn't buy it unless it costs under 400 dollars for a set of two.