5 reasons to buy the Samsung Galaxy A3 (2017)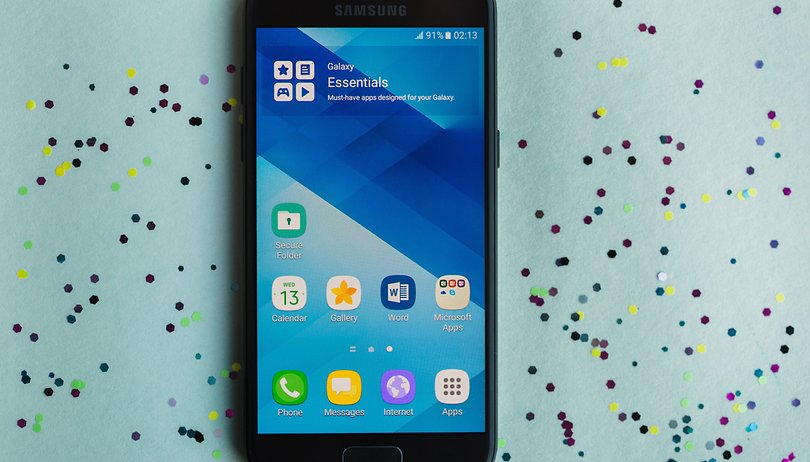 The Samsung Galaxy A3 (2017) is a great mid-range device. Samsung hasn't managed to avoid all faults with this phone but it without a doubt includes a range of functions and features that definitely play in its favor. Here are 5 reasons to opt for the Galaxy A3 (2017).
Before revealing the strengths of this device, it's important to acknowledge its weaknesses. This way you can ensure that, as a potential buyer, your final decision is based on all the facts from both sides of the coin. The phone was released with Android 6.0.1, an Android interface that has now been available for several months. Samsung didn't consider it necessary to install Android Nougat on the device, which reflects the fragmentation problem that affects the various Android versions.
Some also criticize the device's poor internal memory (16 GB), as photography enthusiasts and/or multimedia fans will quickly use up the available space. While it is possible to use a microSD card, we shouldn't place such high expectations on a mid-range device. That said, this sector of the market is evolving and Samsung must move along with it otherwise it will loose out to other manufacturers that are likely to take the lead. One final downside: the price is still quite high, even when you consider all the device's advantages.
1. It's waterproof
The waterproof feature often seems to be reserved for top-range devices, especially at Samsung. Luckily, things have changed this year because Samsung has decided to make its A3 and A5 models waterproof. Both devices have an IP68 certification, just the same as that which was given to their big brother: the Samsung Galaxy S7.
This certification means they are protected against water and dust. Not only can you use your device in the rain but you can submerge it in water up to 1.5 meters deep for a maximum duration of 30 minutes. Sounds too good to be true? We have the proof: the smartphone we tested was submerged under water for several minutes and it's still working now.
2. It's compact in size
This is probably the smartphone's main selling point. While the current trend is for manufacturers to produce devices with larger screens (to such an extent that foldable screen technology is now being developed), some users still remain loyal to screens measuring less than 5 inches. Unfortunately, relatively few manufacturers are producing high-quality devices with a small screen. In the top-range domain, there are hardly any and in the mid-range market, Sony is the only one: Sony Xperia Z5 Compact (former top-range Sony) and Sony Xperia X Compact.
The new Samsung Galaxy A3 has the advantage of being less expensive than the Sony Xperia X Compact and is also waterproof, a concept that Sony abandoned with its X Compact. With a 4.7-inch screen, the A3 2017 will delight all compact screen enthusiasts.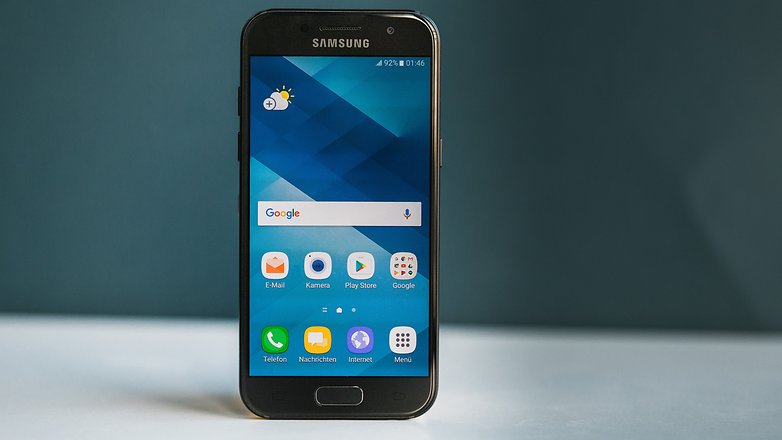 3. It has good battery life
Last year, one of the A3's main strengths was its battery life. This year, again, the phone doesn't let its users down. That said, it's important to point out that Samsung does everything it can to optimize the device: the slight improvements in capacity compared to the previous model (from 2,300 to 2,350 mAh) and the simple HD definition (720 x 1,280) enable these excellent results.
The slight improvements in capacity compared to the previous model and the simple HD definition enable these excellent results.
The battery life obviously depends on how you use your smartphone but if you use your device intensively (videos, chats, games…), you should get at least a day and a half of battery life. You can double your battery life with moderate usage!
4. It comes with a great camera
Generally, mid-range devices don't stand out because of their cameras. Everything taken into consideration, the A3's camera is great. Of course, it doesn't have the same potential the high-end devices have but it still allows you to take high-quality images with the 13-megapixel camera and an f/1.9 aperture.
Sometimes you have to take your time taking a photo in order to get the best lighting but on the whole, the photos are good and details are captured well. When lighting isn't great, the quality is affected but we were satisfied with the results for a camera in this range.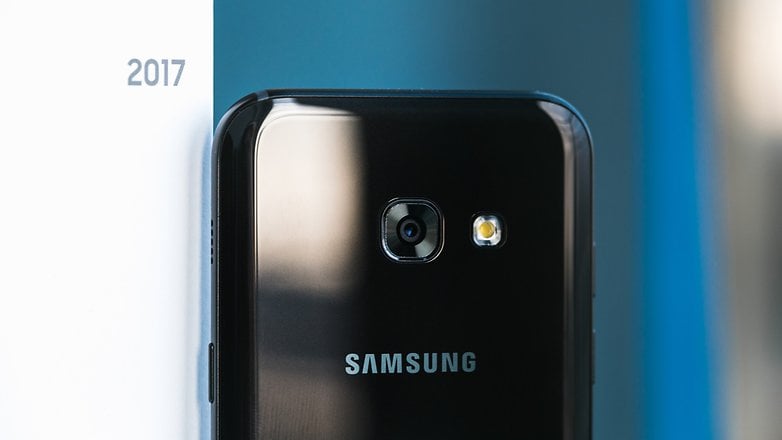 5. Its design and finish is worthy of the Samsung Galaxy S7
The Samsung Galaxy S7 was the design inspiration for the A3 and A5, that much is obvious. The Galaxy S7 is a beautiful smartphone and this new A3 is just as elegant. The finishes are perfect, the handling is excellent, it's a visual delight… The brushed casing is as close to perfection as you can manage - even the camera lens barely protrudes. However, while we're talking about the back of the phone, it's important to point out that it has a glass cover.
On the front, on the Home button, Samsung has placed a fingerprint scanner. On the right-hand side, there is a SIM card and microSD card slot. Samsung is therefore offering us more than ever on a device designed for the mid-range market.
Are you considering buying the Samsung A3 (2017)? Do you think is it still too expensive for a mid-range device? Let us know in the comments below.