Realme GT review: The last of the flagship killers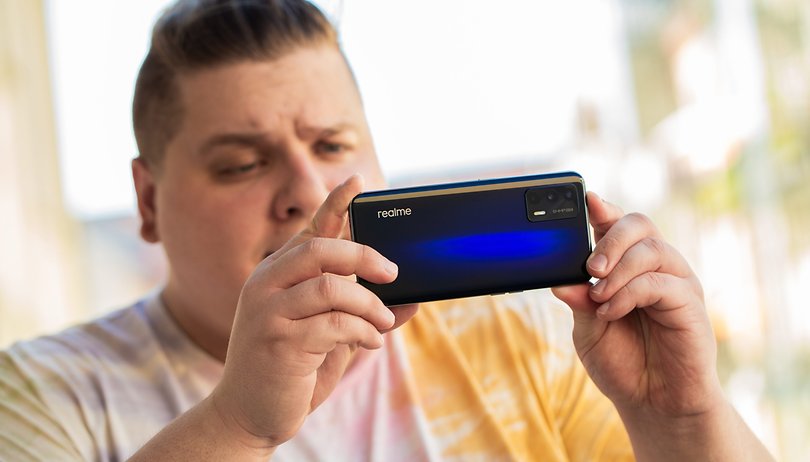 The Realme GT that I reviewed wants to resurrect the concept of the flagship killer by offering high-end hardware specifications such as an AMOLED display with a 120Hz refresh rate, a Snapdragon 888 chipset, and 65 watts fast charging, all for less than $500! Will this unprecedented value-for-money proposition in a high-end smartphone that is released this year 2021 keep all of its promises?
Good
AMOLED display with 120Hz refresh rate and 1000 nits brightness

Powerful Snapdragon 888 chipset

Effective temperature management

SuperDart Charge 65 watts is fast!

3.5mm jack

Charger included in the box

Its price
Bad
Boring design

Camera module is mediocre

No wireless charging support

No IP certification
Realme GT in a nutshell
Realme must have woke up one fine morning in June 2021 and decided to play the role of OnePlus. Here, I am referring to the OnePlus "back in the day", the time when the very idea of a flagship killer still existed. Offering the essentials of a high-end smartphone at a price that defies all conventional thinking. This is an area that Android smartphone manufacturers have not dared venture into for the past couple of years.
But let's come down to earth for a moment. The Realme GT is made official this Tuesday, June 15, 2021, where it will arrive in a couple of configurations at 8 GB RAM/128 GB and 12 GB RAM/256 GB, selling for €449 and €599, respectively. Around $545 and $725. There is an early bird offer for those who would prefer to place a pre-order, which will drive down the prices further to €399 and €499 for each model, respectively. Around $485 and $605.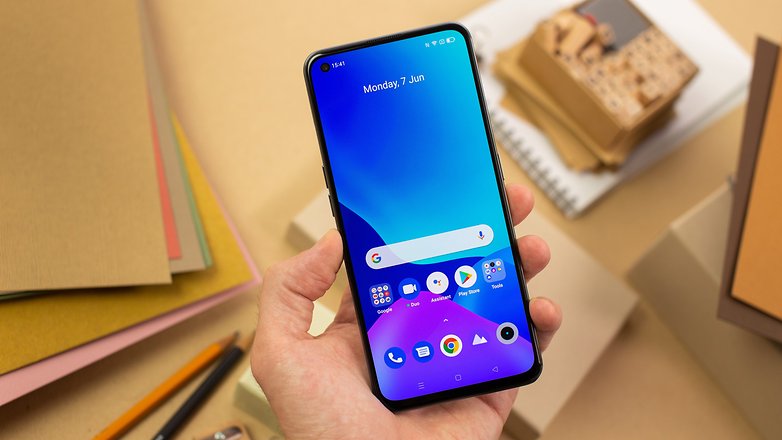 Who can sit at the same table with Realme and claim that they are selling a smartphone with a 120Hz AMOLED display, a Snapdragon 888 chipset, a 64MP triple camera module, armed with a 4,500mAh battery and 65W fast charging, all for less than $500? On paper, the price/performance ratio is totally insane.
Obviously, as we'll see in my review, Realme has had to make the necessary technical compromises in order to offer such an attractive price. However, in my opinion, this setup is currently the most interesting one available in the market.
Design and screen: 120Hz AMOLED panel wrapped in vegan leather
Unfortunately, Realme didn't give us the sublime Racing Yellow color that is covered in vegan leather. My review unit sported the classic glass cover in Dashing Blue. It has an AMOLED display with a refresh rate of 120Hz and a maximum brightness of 1,000 nits.
---
What I liked:
Smooth and bright 120Hz AMOLED display (1,000 nits).
Racing Yellow color.
Lightweight (for a flagship).
3.5 mm jack.
What I disliked:
A boring, conventional design.
---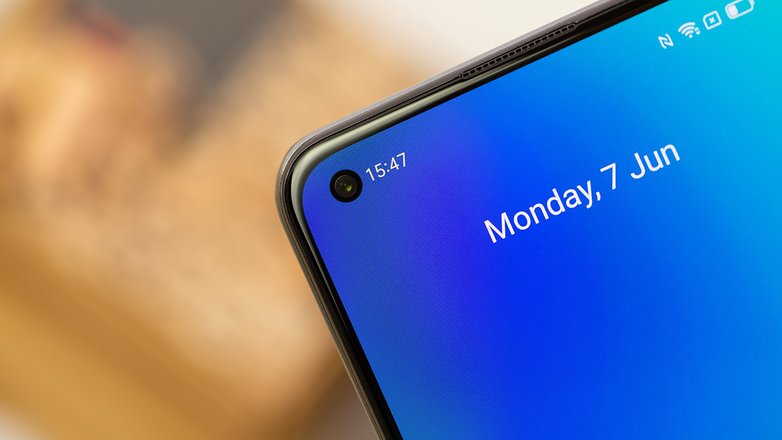 The Realme GT's 6.43-inch AMOLED panel offers a Full HD+ resolution of 2400 x 1080 and a pixel density of 409 dpi. The 120Hz refresh rate might take more effort to discover as it is hidden in the "More" tab of the screen settings, which is a real shame since it is a key selling point.
Apart from that, I found the Realme GT's display to be well-calibrated and it works especially smooth. The sampling rate is also adaptive, locked in at 120Hz for regular use, and can be increased all the way to 360Hz for gaming. This is exactly the same feature that OnePlus offers on its latest flagships.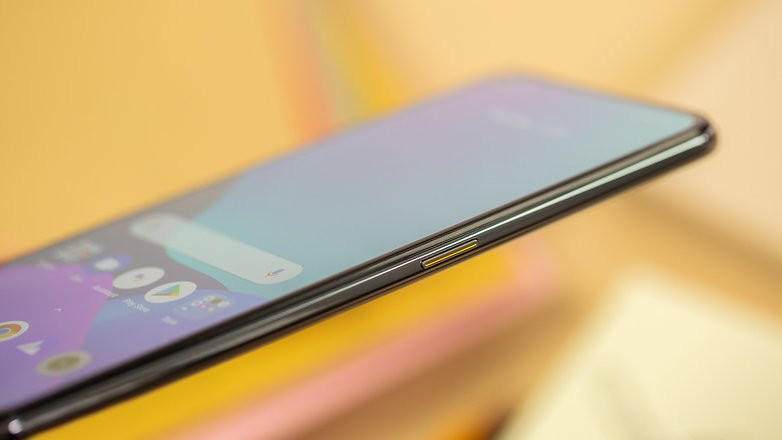 The Realme GT's display is also quite bright at 1,000 nits when it is cranked all the way to maximum brightness. While this is not the highest in the high-end Android market, it is no slouch, either.
As for the design, I wanted to mention it last since it didn't really inspire me. Perhaps I got too excited about the shade of its Racing Yellow. The Dashing Blue variant I reviewed is not bad at all, far from it. However, it's a case of déjà vu.
The camera module also closely resembled everything else that Oppo and OnePlus released in recent times, save for the Oppo Find X3. I welcome the presence of a 3.5 mm jack, while the form factor itself is rather thin and light for a flagship, especially so for a Realme smartphone. Tipping the scales at 186 grams and measuring 8.4 mm thick, this must be a new personal best for Realme.
The design of the Realme GT is very conventional, but if we were to only consider the Racing Yellow version in vegan leather, the value of my judgment loses all of its relevance. As for the display, I really think it ticks all of the right boxes: AMOLED with 120Hz refresh rate, flat screen, high maximum brightness, the list goes on. This is definitely one of the strong points of the Realme GT.
Performance: Has the Snapdragon 888 been finally tamed?
The Realme GT is powered by Qualcomm's high-end Snapdragon 888 SoC, making it Realme's first smartphone to feature this processor.
---
What I liked:
The raw power of the Snapdragon 888 chipset.
Good temperature management.
I didn't like:
---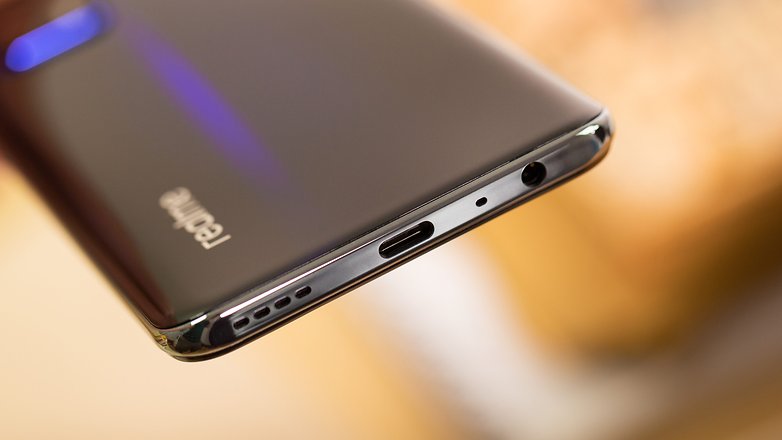 Before I begin, I do feel that it is necessary to remind you that there has been some controversy regarding the performance of the Realme GT, at least for the model released in the Chinese market. The Realme GT was "banned" for three months by AnTuTu from its platform back in March, with AnTuTu accusing Realme of cheating and manipulating the benchmark results being the reason for removing the Realme GT (the Chinese model).
Realme responded by saying that the results "were real and obtained with the updated version" of AnTuTu, which allowed Realme some wiggle room to change the way the Realme GT behaved on its benchmark. If there were no concessions from Realme's side, then the ban would be permanent. Judging by the Realme GT's presence at the top of AnTuTu's current rankings, you would think that the situation has been resolved. Before anyone else points fingers, this is a sin that ALL manufacturers have been guilty of in the past anyway.
Realme GT
Graphics benchmarks

| Benchmarks | Realme GT | Asus Zenfone 8 | OnePlus 9 | Xiaomi Mi 11 |
| --- | --- | --- | --- | --- |
| 3D Mark Wild Life | 5947 | 5753 | 5683 | 5702 |
| 3D Mark Wild Life Stress Test | 5945 | 5825 | 5716 | 5697 |
| Geekbench 5 (Single / Multi) | 1116/3480 | 1124/3738 | 1119/3657 | 1085/3490 |
| PassMark Memory | 25709 | 32247 | 32124 | 26.333 |
| PassMark disk | 107337 | 112318 | 115311 | 120.430 |
In terms of raw performance, the Realme GT does very well. I pit it up some basic or "vanilla" flagships, namely the Asus Zenfone 8, OnePlus 9, and Xiaomi Mi 11 which happen to be more expensive but also lumped under the "affordable" flagship group, as opposed to their Pro or Ultra brethren. When it comes to pure graphics benchmarks (3DMark), the Realme GT has them beat.
But when we talk about performance, we also have to take into account temperature management and thermal throttling, which limits the processor's performance in order to prevent overheating. On this point, Realme placed great emphasis on its cooling system that is based on a stainless steel steam chamber.
According to the manufacturer, the majority of steam chambers in smartphones are made of copper, a material with high heat conduction but is too brittle. Realme claims that this would result in defects, and hence limiting its effectiveness in keeping your smartphone nice and cool. Hence, while the Realme GT's vapor chamber is still made from copper, it is covered with an additional layer of steel. Other key components were also coated with several layers of graphite, which is now quite common.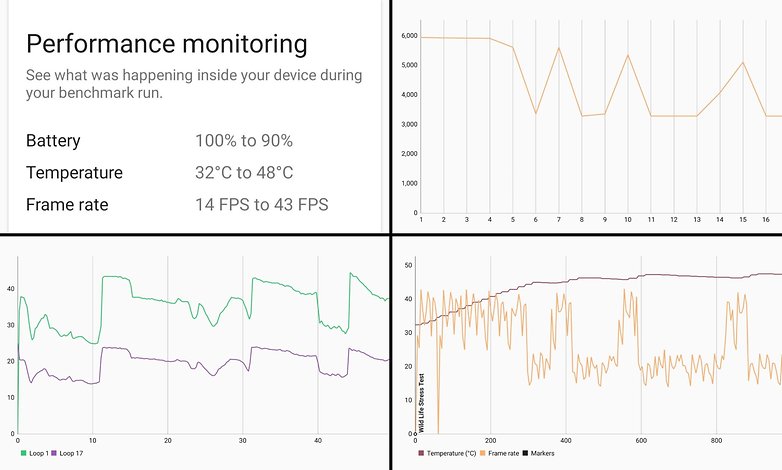 I could not wait to submit the Realme GT to the Wild Life Stress Test which simulates an intense gaming session for 20 minutes. We can see that in the space of 20 minutes, the smartphone went from 32 to 48 °C, which is a rather normal temperature range. We also saw 10% of battery deplete with the framerate oscillating between 14 and 43 FPS then.
What's interesting is that during the first 300 seconds of the test (which amounted to 5 minutes), the Realme GT managed to maintain a constant level of performance even when the temperature soared. It's only upon arrival at the temperature peak that the framerate begins to lose stability. Every 100 seconds, the smartphone seems to slow down before picking up the pace again.
In actual gaming sessions, Call of Duty: Mobile ran smoothly at a near-constant 60 FPS with all of the graphics options set to maximum levels. Even after an hour of play, the smartphone never felt too hot to hold. Of all the smartphones that I've reviewed since the beginning of this year, only "gaming-specific" models have managed this feat.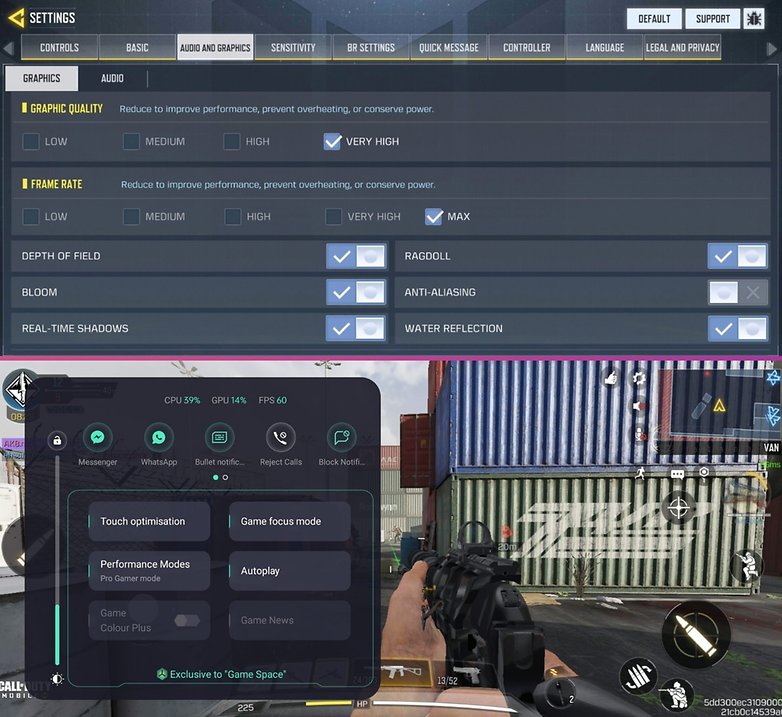 Overall, the Realme GT offers a high-end performance despite its price. The temperature management is also very effective, which is a very good point for the Realme GT here.
Photo: A mid-range module
The Realme GT packs a triple camera module that is spearheaded by a 64 MP wide-angle main lens, coupled with an 8 MP ultra wide-angle and a 2 MP macro sensor, while the front carries a 16 MP wide-angle selfie lens.
---
What I liked:
Captures a good level of detail in wide-angle.
Fairly faithful colors (wide-angle) reproduction despite the white balance being a little cold.
Wide dynamic range.
Night mode works great under certain conditions.
What I did not like:
Plenty of chromatic aberrations in ultra wide-angle.
2 MP macro sensor is virtually useless.
Night mode is usable on all sensors but works decently only in wide angle.
No dedicated telephoto lens with loss of quality when zooming.
---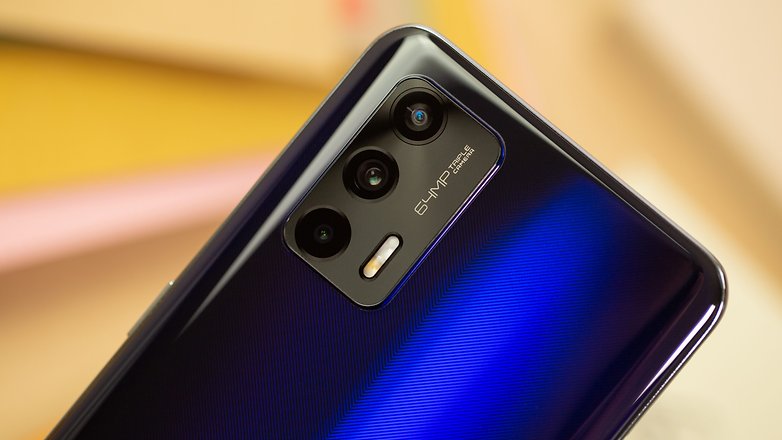 Let's begin with the main lens, since it's the one you will use 99% of the time when you pick up the Realme GT. It's a 64 MP Sony IMX 682 with an f/1.8 aperture and a focal length equivalent to 26 mm.
This is a lens that is commonly found on mid-range smartphones as opposed to high-end flagships. It embeds Sony's quad-pixel bining technology which means shots are captured in 16 MP by default.
During the day and under good lighting conditions, the Realme GT's primary lens does very well.
The white balance is a bit cold as you can see (elements that are supposed to be white are more blue than yellow or warm). I find the colorimetry to be quite faithful, provided that the scene recognition of the famous AI mode is deactivated.
As for the 8 MP ultra wide-angle lens, it offers an aperture of f/2.3 and an FOV of 119°. In some cases, like in the above pictures, I found the rendering to be rather consistent with the main module. However, I did notice some chromatic aberrations several times as seen below, in addition to poorer exposure management.
On the other hand, I found the loss of detail between the wide-angle and ultra wide-angle to be quite limited, with minimal distortion at the edges of the image, which is something positive.
When it comes to zoom, the Realme GT is content with a digital magnification of 2x to 10x. The 64 mm prime lens comes into play here, as the Realme GT does not have a dedicated telephoto lens.
As long as you remain within the confines of 2x magnification, photos are well captured with decent results. You will end up with a good degree of details, without too much noise or excessive smoothing (to reduce the said noise). Anything beyond 2x and things get obviously worse.
At 5x and 10x zoom, you lose sharpness very quickly, with textures getting flattened under the smoothing. I would not go so far as to say that the shots are unusable because it is far from being the case. Thankfully, Realme has limited its maximum magnification to 10x.
At night, I almost always found myself using the dedicated night mode known as Nightscape. Realme seems to have worked on it quite a bit since you can use it on every lens (even the selfie lens!) of the Realme GT, where it also comes with a pro mode.
We have to admit that with the main lens, the Nightscape night mode works quite well. In most scenarios, the scene is well illuminated and becomes more legible. There is adequate digital noise reduction (zoom in on the sky to compare) which unfortunately comes at the cost of aggressive smoothing, making the shots lose their sharpness.
Don't expect to use night mode with any other lens apart from the main sensor. Above, you can view the scene that was captured in ultra wide-angle, where it is totally unusable without night mode. Nightscape limits the damage and makes it at least viewable, albeit sacrificing some detail in the process.
But in wide-angle, I found the results very respectable, especially for a mid-range lens.
---
Overall, I found the Realme GT's camera module to be moderately effective, or rather effective within the confines of its own limitations, - hence rendering it as average. It's nice to be able to take nice shots with the main lens, but that's the bare minimum, whether this is a flagship-killer or not. I regret encountering the few software glitches in the ultra wide-angle and the lack of a dedicated telephoto lens. However, I understand that these compromises had be made in order to maintain the smartphone's competitive price.
Battery life: Modest battery but charges very fast
The Realme GT packs a 4,500mAh battery that accepts SuperDart Charge wired fast charging at 65 watts. The smartphone also offers reverse wireless charging at 2.5 watts.
---
What I liked:
Decent battery life.
Fast wired charging.
What I didn't like:
No wireless charging.
Overly aggressive battery saving modes.
---
The 4,500mAh may seem rather limited for a flagship, but it is still 500 mAh more than the Samsung Galaxy S21, for instance.
Under heavy load that includes a 2-hour outdoor photo test, a 1-hour gaming session, and a 1-hour benchmark session, with the display set at 120Hz refresh rate, I hit the 30% battery life remaining mark at the end of the day - across 14 hours and 40 minutes of use, including 6 hours of screen time.
In a different usage pattern that reflects my typical workday that is punctuated by short video calls, checking messages/Twitter, and listening to music for a long time, the Realme GT lasted for over 16 hours. This is quite a respectable battery life.
As for its charging capability, the Realme GT accepts the 65-watt wired SuperDart Charge that took me a little over half an hour to go from 0 to 100% on average - really impressive stuff! Realme also insists on the reliability of its charging protocol, reassuring us that it has minimal impact on the health of the Realme GT's battery.
The manufacturer thus detailed 5 levels of "intelligent protections" including:
Protection against overcharging
Smart identification that indicates compatibility with the SuperDart Charge
Overload protection at the interface
Overcurrent and overvoltage protection
Built-in fuse in the battery itself
Although not amazing, the Realme GT's battery life falls within expectations for a handset in this price range. The speed of its SuperDart Charge is something that I gladly look forward to. However, some of the battery-saving modes (including aggressively disabling apps in the background) aren't the most effective.
Technical specifications
Realme GT
Technical specifications
Components
Specifications
Processor
Qualcomm Snapdragon 888
Memory

8/128 GB
12/256 GB
LPDDR 5/UFS 3.1

Expandable storage
No
Screen

Amoled 6.43 inch
Full HD+ 1080 x 2400
120 Hz refresh rate
Max brightness 1000 nits

Camera module

64 MP main lens: Sony IMX682 f/1.8 aperture, 26 mm equivalent
Ultra wide-angle 8 MP: f/2.3 aperture, 119° FOV
Macro 2 MP: f/2.4 aperture
16 MP selfie: f/2/5 aperture

Video

4k at 30/60 FPS
1080p at 30/60 FPS
720p 30/60 FPS

Battery

4,500 mAh
SuperDart Charge 65 W
2.5W reverse wireless charging
Charger included

OS
Realme UI 2 based on Android 11
Audio

3.5 mm jack

Connectivity
Wi-Fi 6 / Bluetooth 5.2 / NFC / LTE / 5G / Dual SIM
IP certification
None
Dimensions & Weight

158.5 x 73.3 x 8.4 mm (or 158.5 x 73.3 x 9.1 mm for the vegan leather version)
186 g

Colors
Racing Yellow, Dashing Blue, Dashing Silver
Price
€449 / €599, around $545 and $725
Conclusion
Is the Realme GT a true flagship killer?
If you compare it to a Samsung Galaxy S21 Ultra or a Xiaomi Mi 11 Ultra, then it obviously isn't one. However, if you were to line it up alongside "vanilla" flagships like a OnePlus 9, Xiaomi Mi 11, or Samsung Galaxy S21, the situation makes for a more interesting comparison.
In fact, the Realme GT has similar qualities and flaws that the other "vanilla" high-end smartphones carry save for its significantly more competitive price point, which makes us appreciate those same qualities all the more while being more forgiving of its flaws.
Typically, if I had to buy a new Android smartphone with the best possible performance at the best possible price, I'd pick up the Realme GT in a heartbeat. The only question remains: whether the 1 year of major Android updates and two years of security patches are worth it to you, even at that highly attractive price.