Qualcomm promises even faster 5G with the Snapdragon X75 modem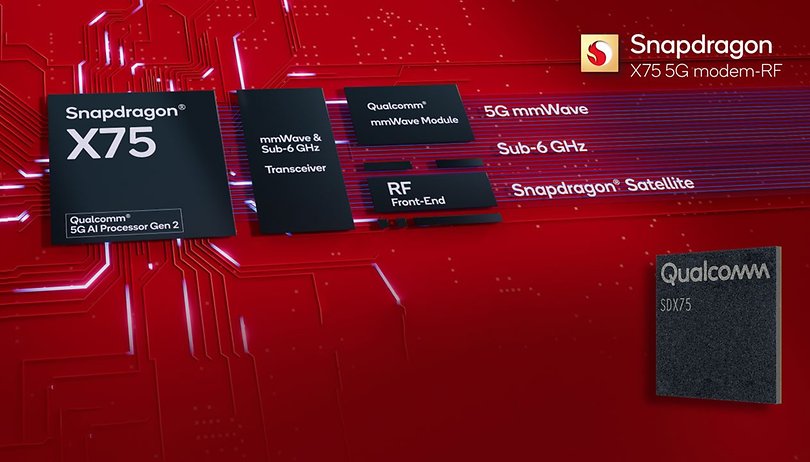 Qualcomm launched its next-generation 5G modems, the Snapdragon X75 and X72. The new components try to keep the company ahead of the competition, offering support for the new 5G Advanced standard with further artificial intelligence features to improve connection speeds, power efficiency, and bandwidth usage.
After a rather lukewarm launch with the Snapdragon X70 modem, which offered the same theoretical speeds as the previous X65 but with a new AI processor, the new X75 brings news on both fronts, with both increased speeds and a 2.5x jump in AI processing, including the first tensor core in a mobile modem.
5G Advanced (please, don't call it "5.5G")
Just like 2G, 3G, and 4G (LTE) had their share of evolutions—e.g. UMTS>HSPA>HSPA+, LTE>LTE+/4G Advanced—, 5G got its own "Advanced" specification, still under development under the 3GPP release 18. Announced by Qualcomm as "5G Advanced-ready", the Snapdragon X75 is the first announced modem to do so, including a second generation AI processor.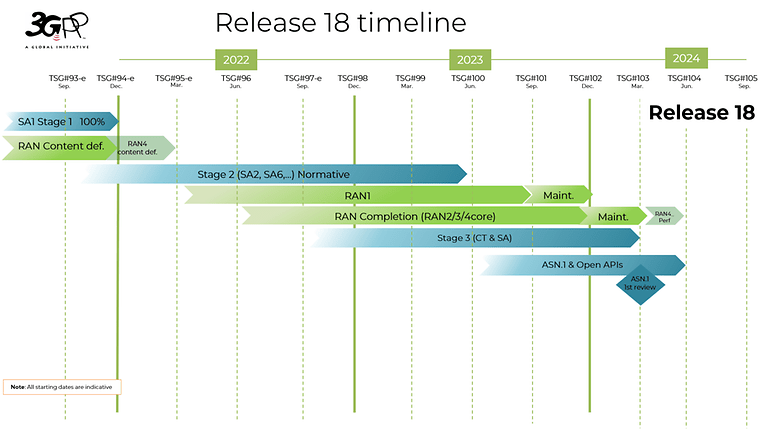 For 5G Advanced, AI acceleration is expected to improve network management and optimize connections in both speed, and most importantly energy efficiency, making better use of multiple antennas available in most advanced devices—including extended reality (XR) applications. One example cited by Qualcomm is an up to 25% improvement in mmWave signal, and even better location tracking for GPS signals.
On the speed front, the Snapdragon X75 promises an improvement of up to 50% uplink speeds, using both multiple links and carrier aggregation features. Download speeds should also be improved, with the first modem to support 5x downlink carrier aggregation in sub-6GHz links, and 10x for mmWave.
Better efficiency
One seemingly (and physically) small change in the X75 modem is the integration of the mmWave and sub-6 transceivers. While in the past they consisted of two different blocks in the modem, the new architecture fuses both, which simplifies not only diagrams, but brings advantages in required area and component costs for manufacturers, and better power usage for consumers.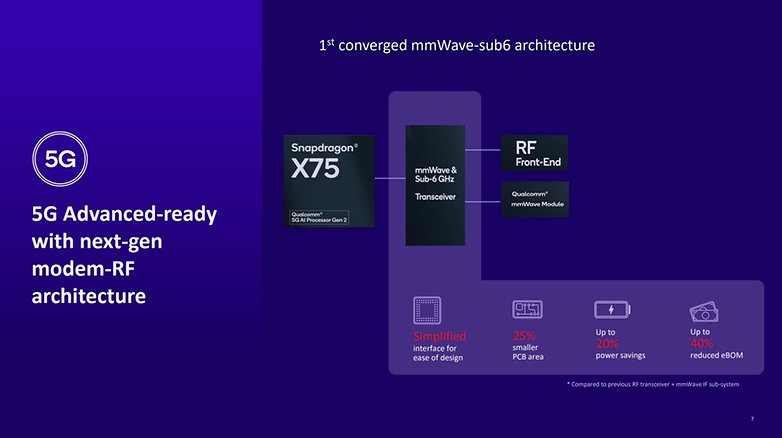 The diagram for the also announced Snapdragon X72 is identical to the one above, offering most of the same advantages in terms of efficiency, but with more modest claims in terms of download/upload speeds and positioned for mainstream devices.
Qualcomm expects the Snapdragon X75 to be available in commercial devices as a stand-alone component in the second half of 2023. We expect to find the same modem block integrated with the next-generation Qualcomm flagship SoC (Snapdragon 8 Gen 3?) at the end of the year.
What about you? Do you think the new modem will be able to keep Qualcomm ahead of Samsung, MediaTek, and perhaps most importantly, Apple's efforts on designing a modem in-house? Do you think we are reaching a point of diminishing returns without a clear killer app for the faster connections? Share your opinion in the comments below!