Poll of the week: Are gaming smartphones useless?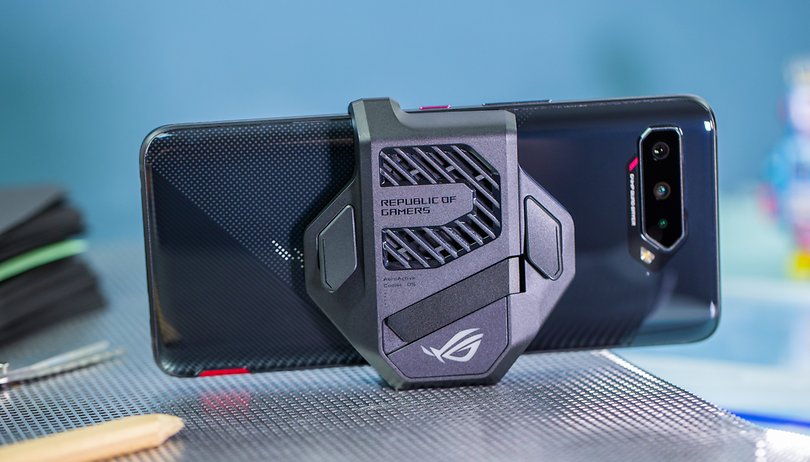 Last week, we asked you, our readers your opinion on gaming smartphones in our 'Poll of the week'. The weekend's done and dusted and it's now time to find the results of the poll. And before I start, I must say that I was somewhat surprised by your responses. Read on to find why!
Unlike the case was with one of our past polls - you know, the one where we discussed between curved and flat screens - where I was convinced that my preference for curved screens was the majority opinion, I firmly believed here that my love of gaming smartphones would be mocked by you guys.
But nay! To my surprise (and great pleasure), the debate/ poll results reveal that we are still undecided on what gaming phones are really here for
Turns out you don't hate gaming smartphones (that much)
In France for example, we are almost 50/50 on the question of the relevance of gaming smartphones. Here, the relative majority (47%) consider that they are useful - as opposed to 41% who find them irrelevant.
In Germany, there are almost as many respondents who find gaming smartphones unnecessary (46%) as people who don't really care (36%). Only 18% voted in favour of gaming smartphones.
But the anomaly are our Brazilian readers 68% of whom find gaming smartphones relevant.
A result much less ambiguous than that of our site COM, whose readers come from the US and India. 36% of them find gaming smartphones useless, 36% think the opposite and 29% of the respondents simply don't care.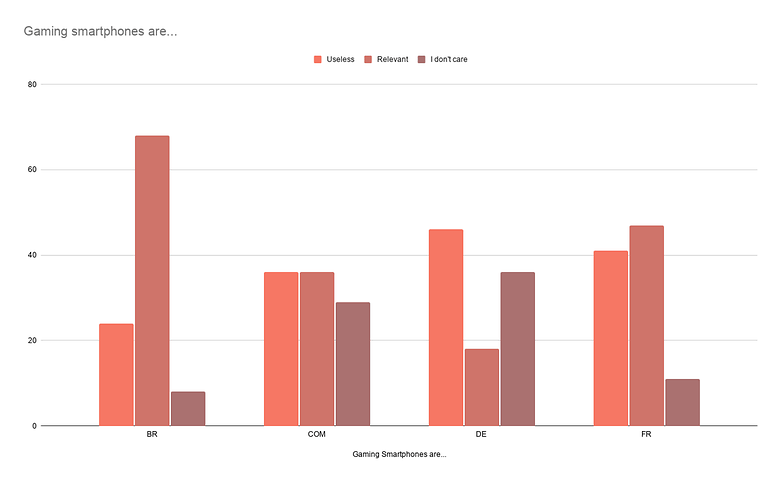 Gaming smartphones aren't more powerful compared to 'normal' flagships
While our audience was somewhat divided on the relevance of gaming phones, one thing they all agreed upon was the fact that about the need for gaming smartphones when "normal" flagships are already powerful enough. Why spend $1000 on a gaming phone when a competing flagship will give you the same hardware, and a much better camera? This argument was accepted by 71% of French readers, 61% of COM readers, 43% in Germany and 38% in Brazil where their excessively high price is an equally important criterion (38%).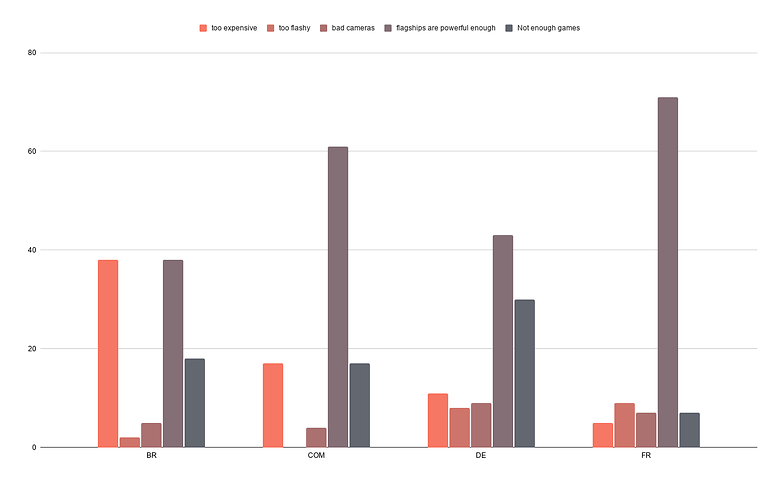 The gaming smartphone is 'more mainstream' than you think
There is no denying the fact that gaming smartphones are as powerful as their gaming-centric cousins. However, this argument comes from folks who just read the tech specs or worse, do not even play graphically demanding games on their $1000 flagships.
For folks who use their phones as their primary gaming device, a very important point distinguishes gaming smartphones from the rest: temperature control. It's shown in almost every test that gaming smartphones do not heat up as much as their flagship brethren. They are therefore less inclined to thermal throttling and can provide high performance at a constant level for a longer time period.
Unsurprisingly, this is the main reason cited in defence of gaming smartphones by 58% of our English readers and 32% (relative majority) of German readers. Brazilian readers are convinced (46%) that performance is real on a gaming smartphone. German readers also have the highest proportion of people for whom the smartphone is the main console (25%).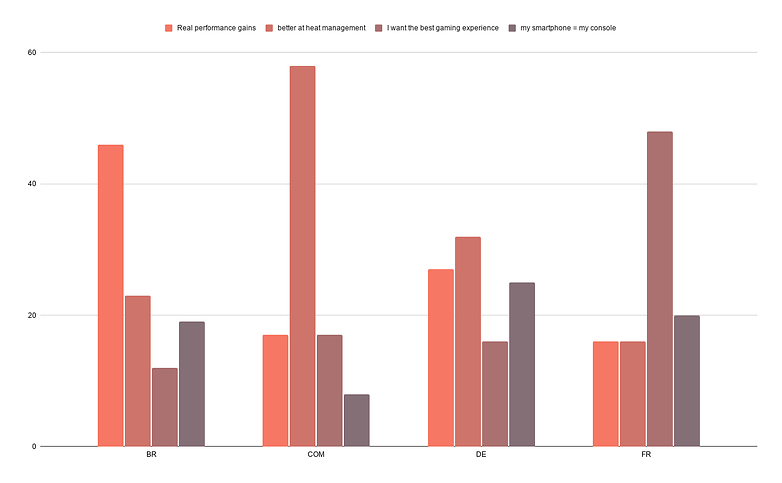 Conclusion
The key takeaway from its poll was that the perceived usefulness of gaming smartphones depends how you use your smartphone. I was really surprised to see that among French readers, 48% said they used gaming more than photos with their smartphone. But we have to put it into perspective all the same. Overall, opinions on the relevance of gaming smartphones are far from clear cut. Except in Brazil, the poll results are more of a 50/50 than a definitive answer.
Personally, I am obviously surprised since I expected a very large defeat of gaming smartphones. There is real work to be done on the side of manufacturers as well as game publishers to give full relevance to a range of products that has effectively found its niche.
We really need to have the impression of having more power in hand than on a normal smartphone. Technomaniacal nitpicking on thermal throttling and temperature control will not be enough. Companies must do more concrete, more visible things (other than flashy designs) to ensure gaming smartphones can be distinguished from flagships.
Thank you again to all of you for participating in this survey, do not hesitate to give me feedback on my analysis of the results or to suggest other subjects that could be the subject of a survey!
---
Original Article
The latest Snapdragon processor, 16 or even 18 GB of RAM, 5000 or 6000 mAh battery and over the top designs –these are the common traits of the so-called gaming smartphones of 2021. Is all this superlative hardware even necessary? Is a gaming smartphone, as powerful as it is, and sold at the price of a classic flagship, (often with a bad camera setup) even relevant?
That's the question we as you in this week's poll. We want to know if this entire category of gaming smartphones is just a passing fad. While I have my strong opinions on this topic, that is beyond the scope of this article. This article is all about you and your opinion.
Are gaming smartphones really useless?
However, I've already demonstrated the usefulness of a "gaming" spec sheet in my reviews, especially when it comes to resistance to overheating and thermal throttling. So no, you don't need a racing beast to play Call of Duty Mobile. But you will get more out of Call of Duty Mobile with a smartphone that can run the game at 120 FPS with max graphics without burning your hands and running out of battery after 2 hours of play.
Anyway, I'd like to know the reasons for your dislike or disinterest in gaming smartphones. Is it a question of price, design, photo performance or simply because this niche does not speak to you at all?
On the other hand, if you are an enlightened and visionary person like me, and understand the value of a gaming smartphone compared to a "normal" smartphone, I would also like to know why.
Thanks in advance to everyone who will participate in the poll. As always, I really invite you to explain your choices and develop your reasoning in the comments. It's the debate that's interesting, more than the statistics. And finally, I wish you all a great weekend while I look forward to seeing you next Monday to discuss the results.