Poll of the week: Do you intend to leave Google Photos?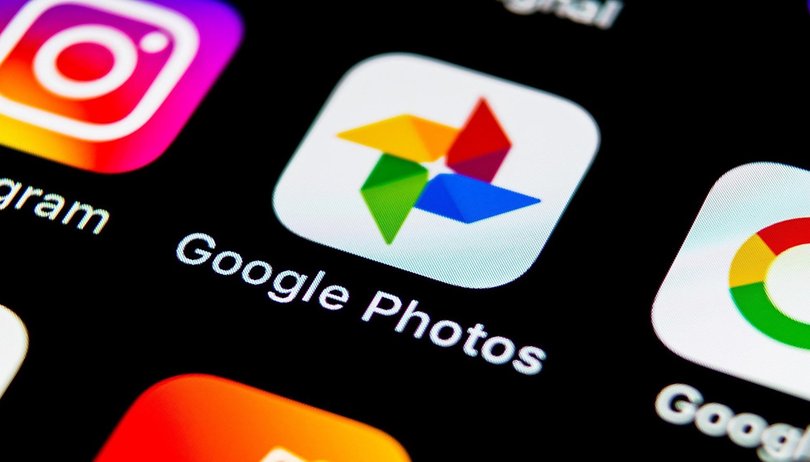 The NextPit Community responded and it seems that the change in Google's storage rules that begins on Tuesday (1st June) should not change the way we capture photos and videos, in addition to how we backup our memories on a digital platform.
From the looks of it, most who use the service would remain with it, taking advantage of the auto-sorting features, mobile app integration, and even the advanced editing tools that remain exclusive to Google One subscribers.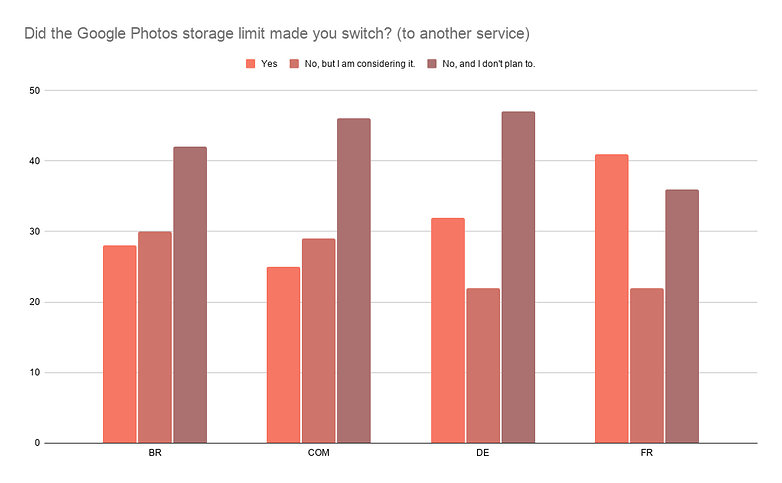 The exception was among French readers, with 41% of responses indicating a switch of photo service, against 36% of participants responding that they do not intend to change services. In the comments section, Alain did mention one name that continually popped up over the past week - Degoo. Degoo allows you to expand your cloud storage capacity by recommending the app to friends or viewing ads.
Switch devices? No way!
For the second question, about purchasing a Google device to take advantage of offers (permanent or temporary) to make space for more photos and videos, the answers remain rather similar in different regions where NextPit readers stay.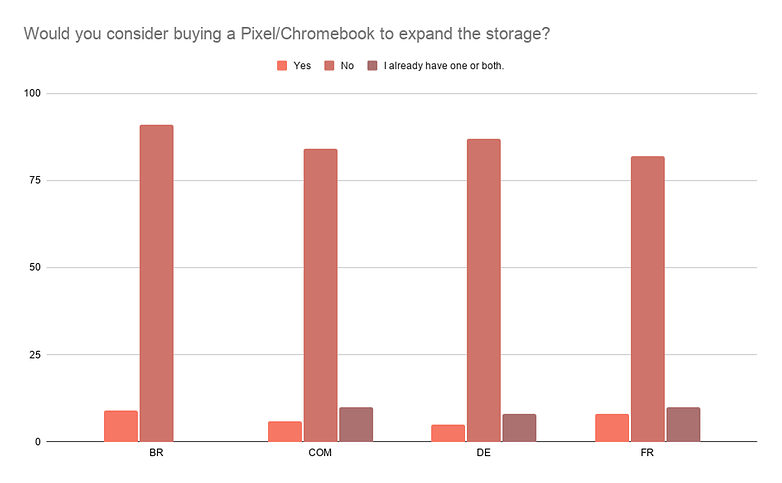 Between 82% and 91% of respondents said they would not consider buying a Chromebook or Pixel phone, compared to 5% to 9% of those who said they would consider purchasing a Google device, which is a smaller percentage than those who said they are existing owners of such devices (as such devices are not officially on sale in Brazil, hence the column remains blank).
A world of options
When we asked which service the NextPit Community intends to use, the multiple choice survey revealed the biggest differences between the regions where the site is published - even though Google Photos received more votes in all of them.
Services from giants Microsoft and Amazon - included in the 365 and Prime subscriptions - ranked third and fourth, respectively, in Germany and France, fourth and fifth on the English-language site, and second and third in Brazil. Brazilian readers were the only ones to declare more than 10% of the vote on the once-popular Flickr (now owned by the SmugMug company).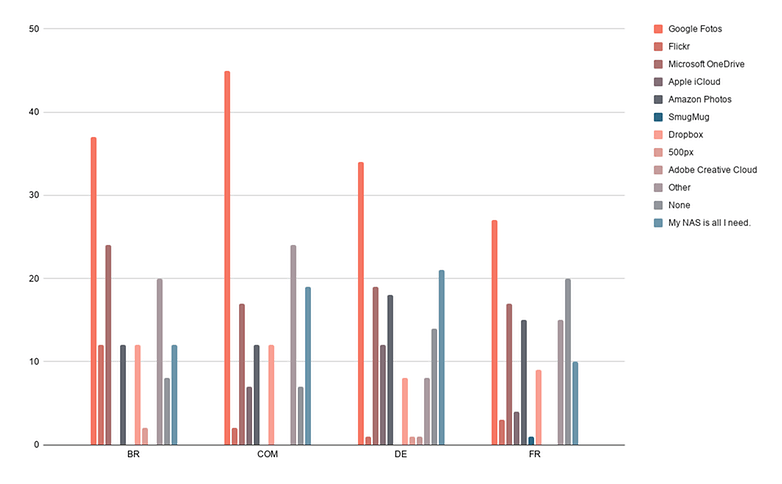 20% of French people - the second answer in the volume of votes - stated that they do not use a photo storage service. Another 15% already answered other, an answer that includes the aforementioned Degoo.
The percentage of "other" responses among the English-speaking community was 20% - the second highest - with no clear clue as to which alternative was picked apart from a comment mentioning the Linux remote synchronization command rsync. rsync is used, for example, to synchronize local changes in directories and files with online services or network storage devices such as NAS.
Despite storing my photos on a NAS, I must confess that I expected a lower volume of votes for the network solution, which was the second most voted in Germany, the third most voted in NextPit.com, and had captured a significant percentage of votes in France (10%) and even Brazil (12%).
The option to save files on the local network has recently become more expensive because of the demand for the Chia cryptocurrency, which brings us to a point that is commonly cited among German readers. This proves that storage has a price, even for the giant Google, in addition to power consumption issues (both for storage and data transmission).
The Google One annual subscription fee for 100 GB is less than 10% of the price of an intermediate smartphone in most countries. For those who are already invested in the Google ecosystem, forking out a little bit more can offer a number of other advantages, in addition, of course, to make Google Photos viable as a business solution and avoid repeating what so many others of its canceled services offered - a point that was cited more than once among our French readers...
Thanks to all readers who participated with their answers, comments, discussions, and brickbats. If you have suggestions for new polls, feel free to share them with us. And have a great week, everyone!
---
Original article:
Next Tuesday (1), Google will end its "promotion" of unlimited free storage for Google Photos users. Although the offer includes some limitations, it was unbeatable compared to other services of sharing and backup of images. But is the space restriction enough to encourage migration to another service? That's what we want to know in this week's poll.
With the change, photos sent from computers or synced through the app on Android or iOS will now count towards the Google profile storage limit - by default 15 GB for new accounts - which is shared between Google Photos, Drive and Gmail.
Importantly, photos and videos uploaded before the date to the service will still not count towards the storage limit, as long as they're in "High Quality" mode (which limits the maximum resolution of files to 16 megapixels for photos and 2 megapixels/Full HD for videos).
Is the Google Photos space limit a reason to switch services?
You can see how much space is currently available on your Google profile by going to the page for " Manage Storage", there the company estimates how long you have before you run out of free space based on your uploaded file history.
In my case, with 17 years of forgotten emails stored away, I apparently only have an extra year of free space ahead of me, just in time to celebrate the account coming of age, time to sign up for the Google One plan, right? Or is it better to consider a change of service?
Remembering that you can still have unlimited storage on the service. Photos and videos synchronized from Pixels phones will continue not counting for the limit of profile space - in the case of Pixel 3 without changing resolution until January 31, 2022.
Another alternative, recalled by the Brazilian member of our community Jairo Rios, is to juggle between different user profiles, but the solution is not so simple for most people, and requires careful management on the mobile.
Would you buy a Google device to expand the space?
In addition to Pixel phones, another way to expand storage in the Google account is to take advantage of the extra space offers, as mentioned by the German reader Thomas, offered to those who buy a Chromebook (a saving of about 30 euros/dollars for a year). But is that a reason to buy a device from the company?
What service do you use or intend to use?
With limited account space, some people may be wondering if it's time to switch photo and video storage services. Google offers a simple way to download the files to your computer, or even transfer the photos and videos to rivals like Flickr or OneDrive.
Which brings us to the last question of the week. Which media storage service do you use or plan to use?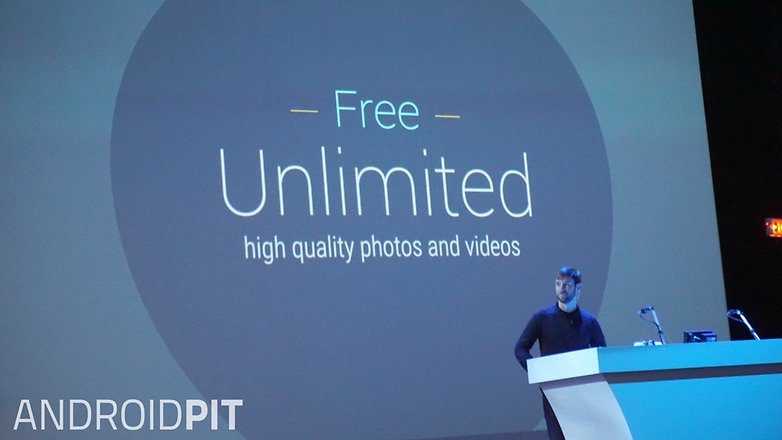 Next Monday (31), we'll be back with an analysis of the responses from the NextPit community around the world. Will the end of the convenience of "unlimited" photos on mobile be an incentive to use a dedicated camera (DSLR, MILC, etc.) more often?
Thanks to everyone who participated in the survey this week. Please take a moment to explain your responses - including tips for syncing and storage, and other hosting services. Oh, and if you have any suggestions for a future poll here at NextPit, just comment.