Poll of the week: How important are megapixels to you?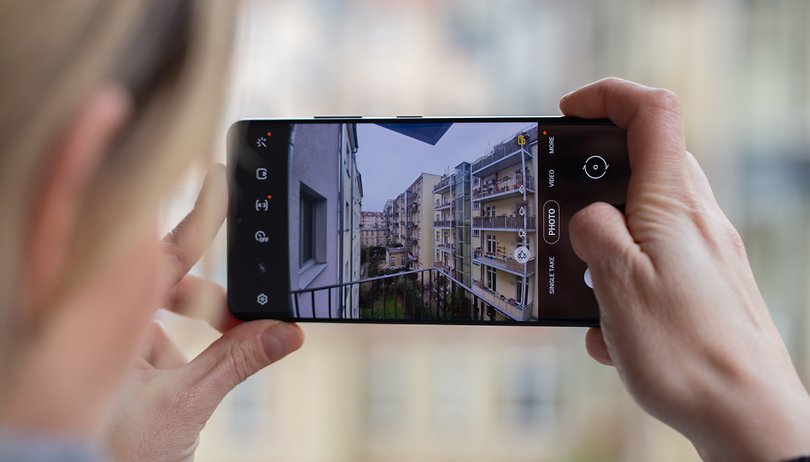 "How important are megapixels to you when buying a phone?" - I asked all four NextPit communities this question last week. Now let's take a look at how readers in the U.S. and the rest of the world answered. The answers are surprisingly diverse!
As in the 2000s with digital cameras, there is currently a megapixel race in smartphones. In my review of the Oppo A54 5G, I was annoyed to find that the manufacturer inflated the phone's images to 108 megapixels. For users, this means significantly larger images and no real quality advantage.

This discovery was the inspiration for my poll last week. I wanted to know if you care about the number of megapixels when buying a phone, and if you think it gives you a real quality advantage in pictures. As usual, I asked the readers of all four NextPit domains; the COM, Brazil, Germany, and France.
Question 1: How important are megapixels when buying a mobile phone?
My first question was "How important are megapixels to you when buying a mobile phone?" and I asked for an opinion scale with five variables. From "not important" to "neutral" to "very important".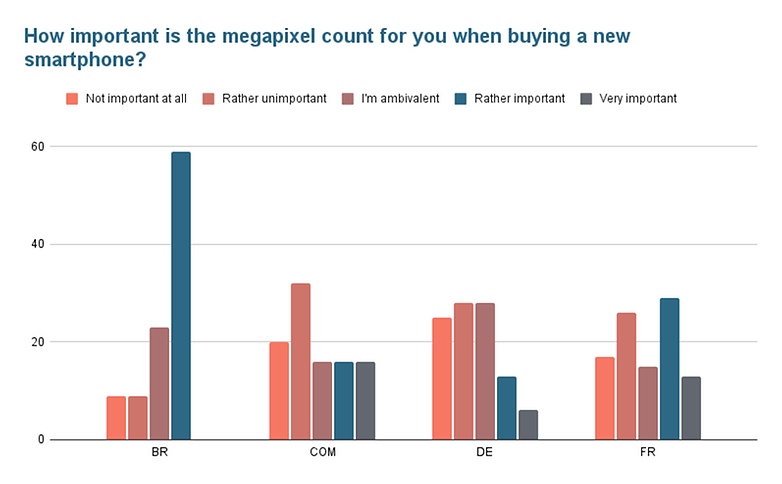 Brazilians attribute the greatest importance to megapixels, compared to the other countries. Although there were no votes for the answer "Very important", there were many people here who at least find megapixels important. In Germany, the answers tend towards "Neutral", "Less important" and "Unimportant".
French readers are quite divided among themselves when it comes to megapixels. Here, the answers fell more heavily on the weakened opinions of "Rather important" and "Rather unimportant". However, there are definitely readers who pay attention to megapixels when buying a camera.
Question 2: Do you think megapixels have a significant impact on image quality?
Based on these impressions, the answers to the second survey are particularly exciting. As a classic "yes-no" question, I wanted to know if you think megapixels have a significant impact on photo quality.
In this question, the NextPit readers were a little more united in the country comparison. Only in the US and India, did the majority vote for the statement that megapixels have a significant influence on the quality of the pictures. This is particularly exciting with regard to Brazil.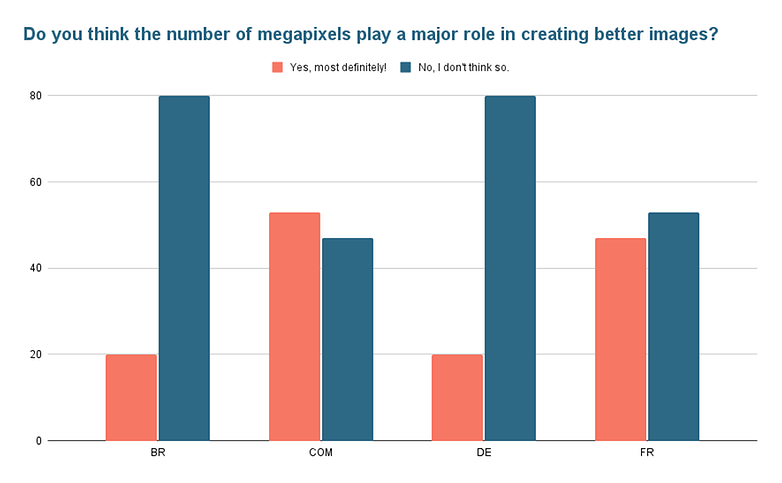 Although readers in Brazil pay the most attention to megapixels when buying a camera, the majority of them do not attribute much importance to this feature. In France, readers were quite unsure, here the answers were almost 50 / 50.
So the question is: How exactly do megapixels influence the quality of pictures, and in which cases is this parameter important? I have written a little commentary on this topic for you!
My assessment: That's how important megapixels are!
The good old race for the most megapixels! As NextPit reader "Jack Black" already pointed out in the comments below my German article, we already know this topic. In the early 2000s, digital camera manufacturers were fighting over who could put the most pixels on the box.
Back then, many photographers and members of photo forums agreed with the statement that "six megapixels are enough". Because at this sensor resolution, compact cameras with rather small sensors should have achieved a good compromise between resolution and pixel size. This rule of thumb seems ridiculous in 2021, when mobile phones with even smaller sensors offer up to 108 megapixels.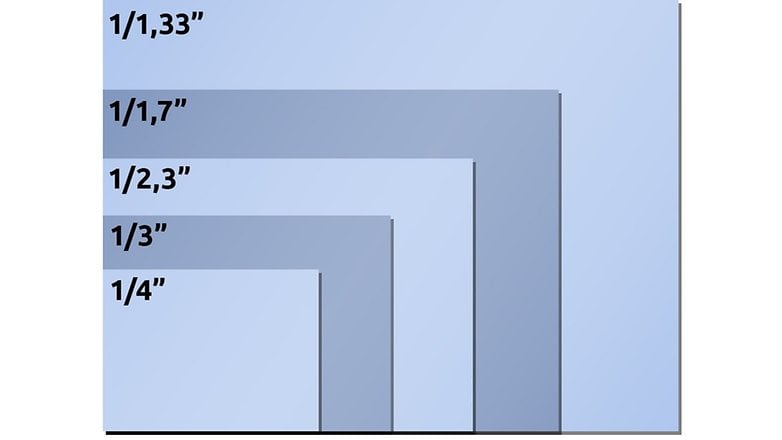 And mobile phone pictures are really impressive! That's partly because of the way phones process that sensor resolution and how the megapixels come about in the first place. Phones with 108 megapixels use pixel binning to combine nine sensor pixels into one pixel, which is supposed to make images sharper while reducing noise.
Furthermore, such sensors work a bit differently, as they group color values differently than "classic" camera sensors. We have written a very detailed article about this:
In fact, most of us only need images with a maximum of just under 8.3 megapixels anyway. Because if you use a 4K monitor or a phone with QHD resolution, you won't get more than 8.3 million pixels without zooming in any way. However, the pixels we see on the screen are not what the algorithms in the phone work with.
The sensor size is especially crucial when we need more megapixels for more information to feed algorithms. Conveniently, this is also a trend that phone manufacturers are currently using to shoot each other into the ground. So if you're into smartphone photography, exciting times are dawning!
And so there's nothing left for me to do, but thank you for voting! See you next Friday, when you will find the next poll on NextPit!
---
This poll results article was adapted as part of the hiring process of a new editor for NextPit.
---
Original text
In this latest poll, we would like to ask about your interest in various smartphone features, seeing modern day devices are so capable. We'll begin with the megapixel count in smartphone cameras, which tend to be breaking new records all the time. How important are megapixels in smartphone cameras to you, and how much do they determine the quality of the photos taken in reality?
A few days before this poll, we published my Oppo A54 5G review. This smartphone boasts of a 48-megapixel main camera which, like many other cameras in smartphones, will add four more pixels together to produce images at a 12 MP resolution. Using the so-called pixel binning technique is not a bad thing in itself, but Oppo has definitely turned the tables with the A54 5G.
That's because in a different photo-taking mode, the Oppo A54 5G will increase the sensor data to a whopping 108 megapixels. Each of these results in a 25 MB file which will definitely fill up the smartphone's paltry 64 GB of internal storage in no time at all, without offering any distinct advantage in image quality. This example shows the trend that "actual" cameras already went through a few years ago.
Megapixels: Important criteria or simply a marketing gimmick?
There is a strong suspicion that Oppo wants to catch up with Xiaomi using this 108-megapixel mode. The Chinese manufacturer introduced the Redmi Note 10 Pro a few months back, a mid-range smartphone that boasts of a 108-megapixel sensor. Cramming in as many pixels as possible on the specifications' sheet could be attractive to smartphone manufacturers at the moment. But do smartphone owners even want that? Let's find out!
Although I want to continue this new series of polls by picking one specific smartphone feature at a particular time and analyze it further, I'm interested in one more topic. Do you guys think that the number of megapixels on a smartphone camera makes a significant impact on the photo quality?
And with these two simple polls, I would like to end this week's latest poll. Would you like to learn a little bit more about photography, and smartphone photography in particular? If so, do head straight to one of the following articles on Nextpit:
Have a great weekend, and thanks for participating! Of course, the comments' section remains open for discussions and questions about smartphone photography throughout this week and beyond!