Poco X5 Pro review: The epitome of mid-range excellence!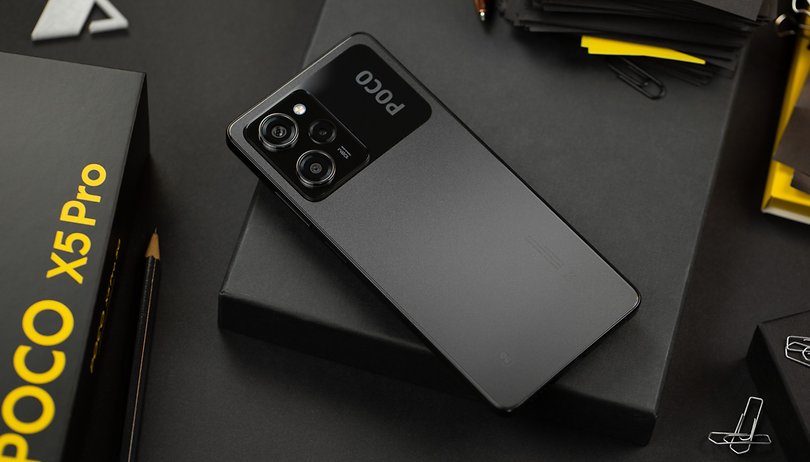 The Poco X5 Pro is Xiaomi's latest attempt to entice us with an affordable and technically competent mid-range smartphone. It is cheap with a current price around $375, but is it also technically capable? Let's find out here and now in the NextPit review.
Good
Nice display with 120 Hz refresh rate

Reasonable performance

Good main camera

Long battery life

Fast quick-charging at 67 watts

Stereo speakers

3.5 mm jack connection

Dolby Vision + Dolby Audio
Bad
No major update compared to the predecessor

No microSD slot

Still comes with Android 12
The Poco X5 Pro 5G in a nutshell
The Poco X5 Pro 5G has been available since February in two storage variants and three color options. The colors yellow, blue, and black are available for you to choose from. The storage options with their respective prices are:
6 GB RAM + 128 GB internal storage: €349.90 (around $375)
8 GB RAM + 256 GB internal storage: €399.90 (around $430)
Please note that the Poco X5 Pro is not officially available in the United States. Therefore, the prices mentioned in this article are listed in Euros as the device is readily available in Europe. However, if you are determined to get your hands on one, it may be possible to purchase it through a marketplace seller at a higher-than-average price.
Xiaomi Poco X5 Pro 5G design and build quality
The Poco X5 Pro 5G is even more compact than the Poco X5 5G despite the identical display size. Visually, Poco remained true to itself here, but designed the Pro with a bit more angles compared to its base model.
---
What I liked:
Good build quality.
Beautiful matte back.
3.5 mm audio jack connection.
What I disliked:
No support for microSD cards.
No IP certification.
Bulky camera bump.
---
If I wanted to find fault with this handset, I would describe the Poco X5 Pro as similarly unspectacular in terms of looks as the Poco X5. However, they are not one hundred percent twins: With dimensions measuring 162.91 x 76.03 x 7.9 mm, the handset has become slimmer and is also lighter at 181 grams. Incidentally, it has also shrunk compared to its predecessor, the Poco X4 Pro.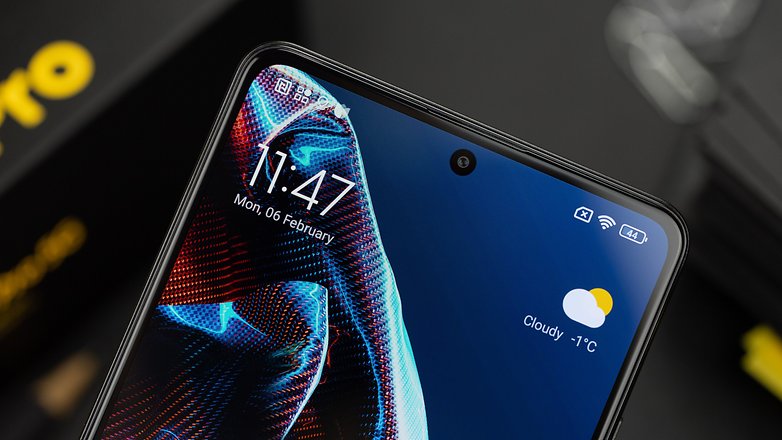 Another difference compared to the Poco X5 is the more angular design, which does drop hints of Apple here. Exactly like the Poco X5 in its review, the Pro model also tilts when you put it on the table due to the raised camera hump. Otherwise, the smartphone feels good to the touch as it sits well in the hand, and made a high-quality impression on me.
Poco sent me the review unit in black, which looked good and prevents any fingerprint collection thanks to the matte surface. Alternatively, you can also pick up the device in yellow or blue hues.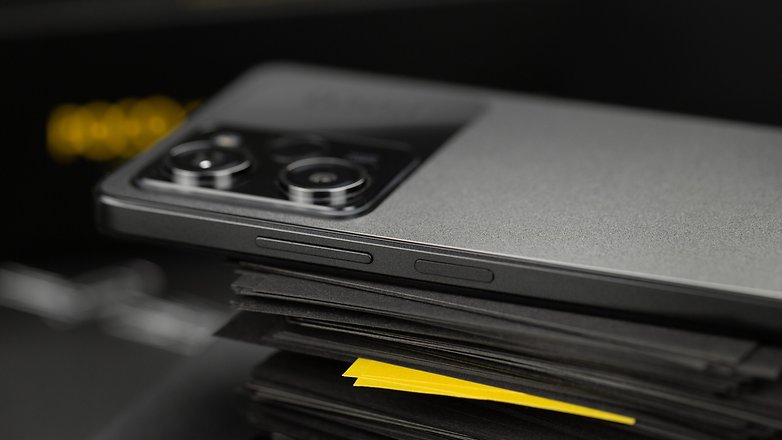 Poco once again combined polycarbonate at the back with glass. In this case, we are looking at Corning's Gorilla Glass 5 in front. A quick look around the device revealed a power button located right below the volume rocker, which also functions as a very precise and responsive fingerprint scanner. The SIM slot at the bottom also accommodates two SIM cards, just like in the Poco X5. We're rather disappointed that it is not a hybrid slot - so the device does not accept any microSD cards.
There is no official IP certification, although there was at least talk of IP53 in the run-up. However, Poco has given the smartphone a 3.5 mm audio jack and stereo sound! This made up for a weakness of the base model, which made the omission of the microSD slot even more annoying for me.
Xiaomi Poco X5 Pro 5G display
The 6.67-inch AMOLED screen carries a resolution of 2400 x 1080 px, a refresh rate of 120 Hz, and a maximum brightness of 900 nits. The Poco X5 is actually brighter in this department!
---
What I liked:
Beautiful AMOLED panel.
120 Hz refresh rate.
Dolby Vision.
What I disliked:
Less bright than its predecessor.
---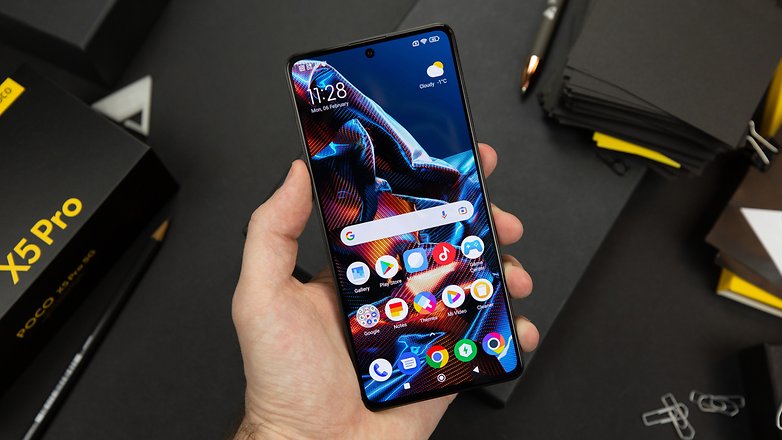 Poco has come up with a "Flow AMOLED DotDisplay" and did mention something about a flexible display. However, the Chinese manufacturer did not offer us a foldable display here, but reduced the thickness of the device using a new construction method. On paper, the panel also offers everything that are expected to be included in this price range: a 120 Hz refresh rate, Full HD+ resolution, Dolby Vision, and HDR10+ support.
The viewing angles are stable, so the colors do not change when you look at it from the side, and I generally like the display a lot. Perhaps the only drawback is that the peak brightness was specified at 900 nits, whereas it is 500 nits in normal use. The Poco X4 Pro is brighter, and even the Poco X5 offers more. However, that is not a major issue because even the pleasant February sun did not cause any serious problems during my review.
Xiaomi Poco X5 Pro 5G software
MIUI 14 sounds great at first, but Poco still only gives us Android 12 with this handset. There is room for improvement in the Android interface also because of the presence of many preinstalled bloatware.
---
What I liked:
Extensive MIUI 14 interface.
Many customization options.
What I disliked:
Only Android 12.
Plenty of bloatware.
Only two years of Android updates.
---
Fans of unwanted pre-installed software will clap their hands enthusiastically at the Poco X5 Pro. Like the X5, Poco has also stuffed the Pro model to the rafters with a slew of unnecessary stuff. That is not really much to raise hue and cry about since you can get rid of ads in MIUI, but it is still annoying. However, I am even more stressed that we now know the first developer preview of Android 14 is now available and this being a brand new smartphone still shipped with Android 12.
At least MIUI 14 is a start, with Poco or Xiaomi being delightfully inconsistent in this department. Personally, I like plain Android skins more, but MIUI has plenty of fans and they should quickly find their way around the Poco X5 Pro. The software is also fast and offers many settings and customization options.
An always-on display is also available, but it is rather "semi-always-on": You always have to click on the turned-off display before it 'wakes up' to show you the time or notifications. As in the Poco X5, I also like the blue illuminated display borders (you can also change the color) of the X5 Pro, which announces incoming notifications.
One more thought concerning software updates: You can expect two years of updates from Xiaomi, which means that the buck stops with Android 14, which was recently made available for the first time. In other words, the Poco X5 Pro is already at the end of the line. Security updates are available for three years. However, Xiaomi, i.e. Poco, still has plenty of room for improvement here.
Xiaomi Poco X5 Pro 5G performance
Poco installed a Snapdragon 778G SoC in the X5 Pro and mated it with 8 GB of RAM and 256 GB of storage. It is a pity that the latter is no longer expandable.
---
What I liked:
Reasonable performance.
No excessive heat development.
Stereo speakers.
5G connectivity.
What I disliked:
---
Poco stuffed the established Snapdragon 778G SoC into the Poco X5 Pro as its 'brain' of choice. It does its job in many devices, such as the Xiaomi 12 Lite (review), without heating up excessively. Does this make it the perfect gaming machine? Well, there is of course a bit of room for improvement when you compare it to the top SoC performers.
But during my review when I fired Genshin Impact up, it was a pleasant gaming experience without having to enable the minimum graphic settings. There were no moments when the game froze or dropped frames, and apps launched quickly. Does no one believe me in this matter? Well then, take a look at the table below. You can see that the Poco X5 Pro beat both the Motorola Edge 30 Neo (review) and the Galaxy A53 (review) in 3D Mark's Wild Life Stress Test.
Poco X5 Pro 5G
Motorola Edge 30 Neo
Samsung Galaxy A53
OnePlus Nord 2
Google Pixel 6a
3D Mark Wild Life
2,457
1,205
2,280
4,175
5,762
3D Mark Wild Life Stress Test

Best loop: 2,459

Worst loop: 2,438

Best Loop: 1,208

Worst loop: 1,109

Best Loop: 2,298
Worst loop: 2293
Best Loop: 4181
Worst Loop: 2515
Best Loop: 4,941
Worst Loop: 2,860
Geekbench 5
Single: 768
Multi: 2,685
Single: 1,208
Multi: 4,310
Single: 1,155
Multi: 3,356
Single: 811
Multi: 2,690
Single: 1,038
Multi: 2,890
The storage is also tried and tested in the form of the 6/128 GB or 8/256 GB combination. Maybe the UFS 2.2 memory is not quite "state of the art" anymore, but remains absolutely legitimate in this price range. However, the sudden microSD allergy of the Poco smartphone range annoyed me. The storage was still expandable in its predecessor.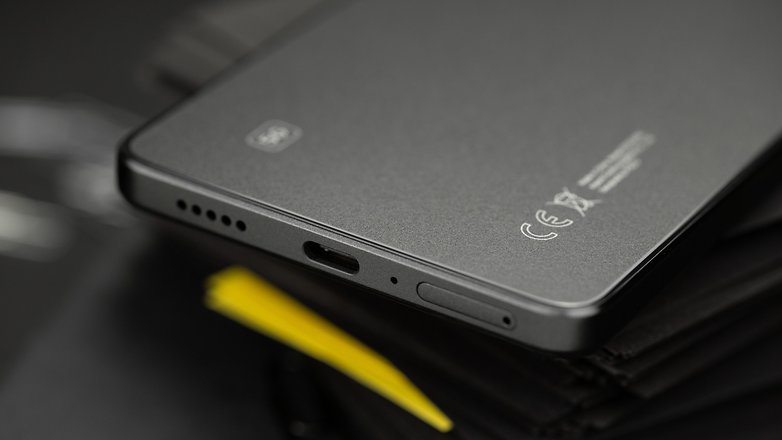 The Poco X5 Pro 5G is also clear-cut in terms of connectivity. "5G" is already in the name after all, with NFC supported in addition to Bluetooth 5.2 and Wi-Fi 6 connectivity. The last two are an update compared to the predecessor and the Poco X5, where Bluetooth 5.1 and Wi-Fi 5 will have to suffice.
It should also be mentioned that Poco gives us stereo sound here. In contrast to the Poco X5, there are two speakers available. They also sound quite decent to my ears, although it gets a bit scratchy when you crank up the volume. Just like Poco got the Dolby Vision stamp for the display, there is Dolby Atmos for the sound.
Camera
As with the X4 Pro, Poco relies on a 108 MP camera that delivers decent performance. In addition, there is an 8 MP ultra-wide angle camera and a 2 MP macro camera. Finally, a decent 16 MP shooter sits in front.
---
What I liked:
Great main camera.
4K videos are possible.
What I disliked:
No real update to the predecessor.
The ultra-wide angle camera is significantly weaker than the main camera.
2 MP macro sensor (this really has to stop).
---
So, let's take a look at what Poco served us for the camera buffet:
108 MP main camera - aperture: f/1.9.
8 MP ultra-wide angle camera - FOV 120°.
2 MP macro camera - aperture: f/2.4.
16 MP front camera - aperture: f/2.4.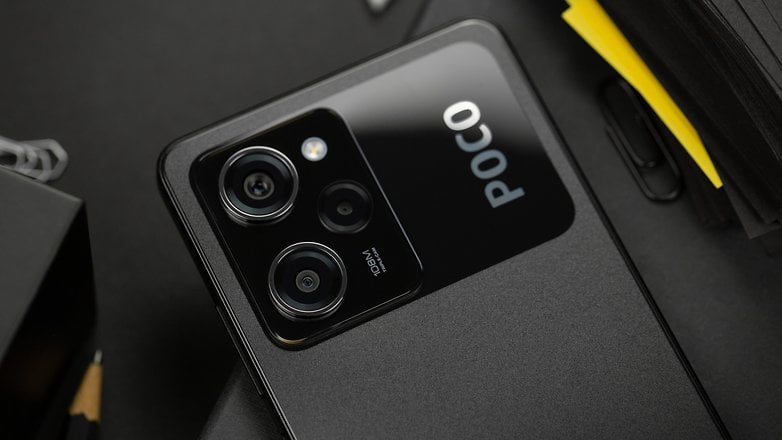 That sounds routine and also appropriate for this price segment of the smartphone market. Nevertheless, whenever I see this 2 MP macro crap crop up, I go crazy. Is this really still a marketing trick that anyone would fall for? Honestly, dear manufacturers: Please leave them out. Nobody really needs them - and you could even save on material costs.
Samsung's 108 MP sensor does its job as routinely as in the predecessor and delivers decent photos, at least under good lighting conditions. Colors are realistic (which changes a bit in HDR mode), and you capture many details with everything looking crisp. The worse the lighting is, the more this superior performance crumbles - which is an obvious point.
At night, your photos will be much noisier, although I was able to take some decent photos in the streets of Dortmund at night, especially with night mode. It adds more details to your pictures, but sometimes also brightens up the scenery too much. Thanks to 9-in-1 pixel binning, you can shoot 12 MP photos. If you like, you can use the 108 MP mode for more detailed pictures. After all, someone has to use up the available memory, right?
I found the ultra-wide angle sensor to be much weaker, but this is not completely out of the blue considering the 8 MP resolution. There is too much noise in less optimal conditions and at night - oh, let's not talk about night shots with this lens. If we can agree that you only use the main camera, you can be pleased with the Poco X5 Pro.
The fact that there is no optical image stabilization and no optical zoom does not change my opinion on the matter. We are playing in the $300 league here, remember! If you want to zoom, you should consider using the 108 MP mode and crop out the desired section.
What else? Oh yes: You can shoot 4K videos with 30 fps. At the very least this is something its predecessor was unable to do. Finally, the front-facing camera is decent but does not really stand out in any way. Portrait photos can be taken with it with the subject looking natural, nicely separated from the background.
The bottom line is, you get a camera array that was almost the same one as in the Poco X4 Pro, but it has not been significantly improved. You definitely get a fair camera performance for the money but if you have the predecessor, you can forget about the upgrade.
Xiaomi Poco X5 Pro 5G battery
The Poco X5 Pro 5G charges at a brisk 67 watts and the battery has the now common capacity in mid-range devices at 5,000 mAh. Thumbs up for this combination.
---
What I liked:
Large battery capacity.
Long battery life.
Fast quick-charging at 67 watts.
Charger is included in the box.
What I disliked:
---
Yeah, I know: Antoine would surely want to frame me for calling 67-watt charging "fast". But a) it is indeed fast compared to the 33 watts on the Poco X5 and b) it is absolutely sufficient for everyday use. After all, you pump 30 percent of juice into the device in just seven minutes and ensures that is enough for ten hours of use under most conditions.
Since I would like to inform you about the battery performance of this device in a more precise manner, I will, of course, provide you with a benchmark test: In the PCMark test at 200 nits brightness and in flight mode, the Poco X5 Pro lasted for 13 hours and 45 minutes. That is very decent and means that you will only have to stalk for a power outlet every other day in normal use.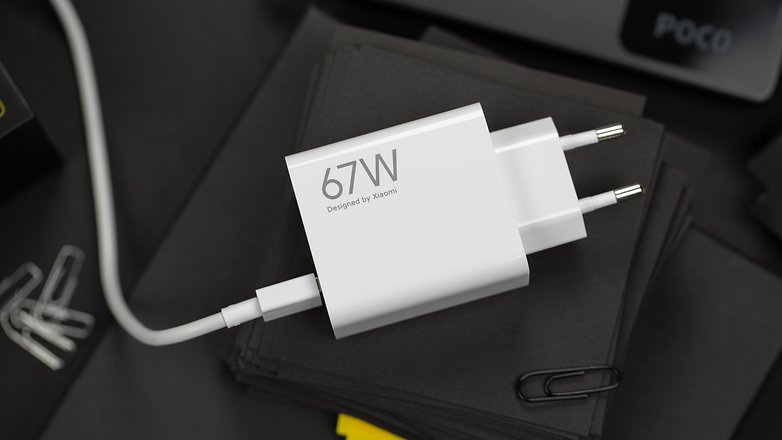 The charger is included, but wireless charging is not. I find that a shame, but it is rather the exception in this price range anyway.
Xiaomi Poco X5 Pro 5G technical specifications
Poco X5 Pro 5G specifications
Device
Image

Display
6.67-inch FHD+ AMOLED DotDisplay, 2,400 x 1,080 pixels,
120 Hz refresh rate, touch sampling rate 240 Hz
Dimensions
162.91 x 76.03 x 7.9 mm
Weight
181 g
SoC
Snapdragon 778G
Memory
6/8 GB RAM
128/256 GB ROM
Expandable memory
-
Software
Android 12 with MIUI 14
SIM
Dual SIM
Main camera
108 MP, (f/1.9 aperture, 1/1.52" sensor size)
Ultra wide-angle camera
8 MP, (f/2.2 aperture, FOV 120 °)
Macro camera
2 MP, (aperture f/2.4)
Selfie
16 MP, (f/2.4 aperture)
Video
4K 3,840 × 2,160 | 30 fps
Audio
Stereo speaker, 3.5 mm jack, Dolby Atmos
Battery
5,000 mAh
Charging via cable
67 watts
Wireless charging (Qi)
-
IP certification
-
Connectivity
Wi-Fi 6, 5G, NFC, Bluetooth 5.2, GPS
Colors
Yellow, Blue, Black
Early Verdict
The Poco X5 Pro is a great mid-range smartphone in the lower price range. The main reason why I "only" gave it four stars is that there are plenty of great smartphones in this price range and I do not see the device on par with the Pixel 6a (review), for instance.
What does that mean for you? Yes, there are better smartphones in this class and yes, the Poco X5 Pro is still a recommended purchase if you are looking for a cheap smartphone. If it is offered for around $320, you can buy it without any hesitation. Of course, you have to accept some compromises, that goes without saying. But you get a nice smartphone with a great display, fast SoC, large, fast-charging battery, stereo sound, 5G, and a good main camera.
On the other hand, the omitted microSD slot annoys me, the camera sensors beyond the 108 MP shooter fall off the cliff, and it only ships with Android 12 right out of the box. If all these do not give you a headache, then the Poco X5 Pro 5G should be on your shortlist. Mid-range smartphones are always compromises in one way or another, and the ones made here should work for many users and offer an all-around suitable experience.