Philips AC3033/10 review: The Premium Air Purifier that Cleans a Room in Just 6 Minutes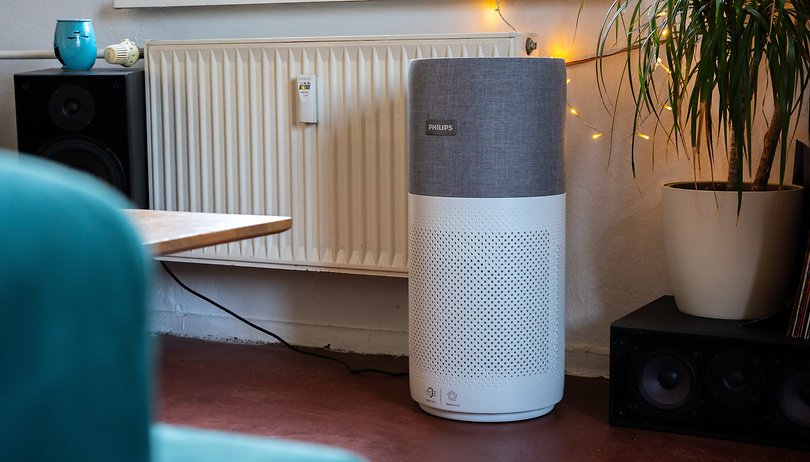 The Philips AC3033/10 can clean the air in a 20 square meter room in a mere six minutes! According to the manufacturer, such a level of performance is sufficient for rooms that measure up to 104 square meters in extended operation, where the HEPA filter removes 99.97 percent of allergens from your air. Sounds impressive, but does the smart home gadget for just under €500 actually help you breathe easier? Let's find out in this NextPit review!
Good
Versatile and very effective filtering performance

High cleaning performance, enough for up to 104 square meters

Sleep mode is quiet enough to nod off in the process

Unobtrusive, modern design
Bad
Operation is not always convincing in everyday use

Too few options in the smart home

Power cable is a bit short and needs to be permanently installed

Cloud connection is not optional
The Philips AC3033/10 in a nutshell
Do take note that this air purifier is not sold in the U.S., which is why we had to resort to the € price tag.
Philips sells its most powerful air purifier of the 3000i series that bears the somewhat cryptic name "AC3033/10". The device was designed for huge rooms with up to 104 square meters in size and manages to clean the air in a 20 square meter room within six minutes. In everyday use, the device's cleaning performance is very convincing, even if professional solutions do better in terms of active killing of bacteria and viruses.
The smart home functionality turned out to be a bit under powered in the review and the companion app should also be improved in future models. If that doesn't bother you and you need such a powerful cleaning performance, we highly recommend the AC3033/10 after enjoying particularly clean air from its efforts.
If you are looking for models with less power, you can also look for cheaper models with similar filter performance at Philips* or browse through our market overview of smart air purifiers.
Design & Set-Up
The Philips AC3033/10 looks like it is compatible with smart homes at first glance. The air purifier has a display and some touch-sensitive buttons on top. Around the case, the air escapes in a tornado-like fashion, which is supposed to reach the whole room. The rest of the case houses a large HEPA air filter and an optical sensor to detect particles in the air. The power cord is permanently installed.
---
What I liked:
Simple and unobtrusive design

.
Excellent distribution of purified air in the room.
Practical display including a color ring to denote air quality.
What I disliked:
Operation via touch input is not particularly intuitive.
The power cord is fixed and not very long.
Only one color variant is available.
---
A friend who visited me during the review duration said the following about the Philips AC3033/10: "It looks a lot like a clichéd smart home!" - and I agree with her. The Philips air purifier seems a bit like an oversized smart speaker. The inconspicuous colors, simple design, and controls on top have the potential to blend into most German homes.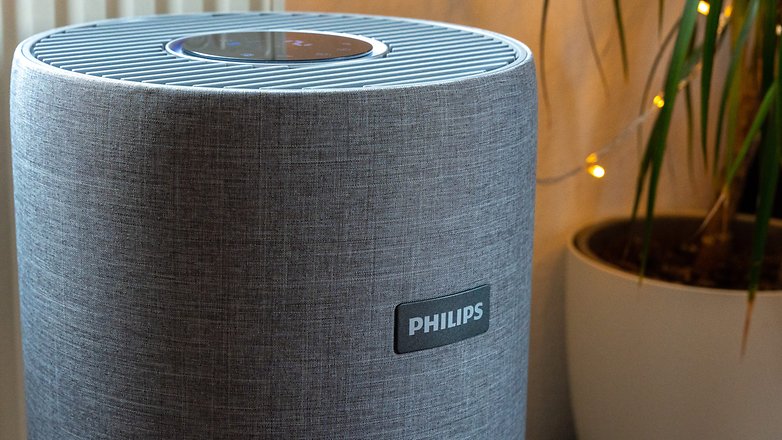 The air purifier needs to be plugged into a power outlet to operate, which brings me to my first point of criticism. I found it a bit annoying that Philips permanently installed the cable and did not resort to a cold-device plug or an external power supply. That solution would have been better compared to a relatively short power cable that measures 1.80 meters. If the cable is damaged, it needs to be repaired by a certified electrician.
The smart air purifier is operated via touch-sensitive buttons on top which are arranged around a display. In reality, I found them to be cumbersome as you never know when they are pressed and with wet fingers, oftentimes incorrect entries are detected. However, I found it to be quite practical that Philips included current information about the air quality available on the device. Alternatively, you can also view this in the Companion app, which I will tell you more about later.
An important task of the design of the Philips AC3033/10 is the distribution of filtered air. It only comes out of the top of the case and cannot be adjusted based on the direction like an air conditioner or a stand fan. Therefore, I was surprised that I could still feel fine air movements even in the corner of the room. Admittedly, the test room of about 20 square meters was also much smaller than the maximum room size stated by Philips.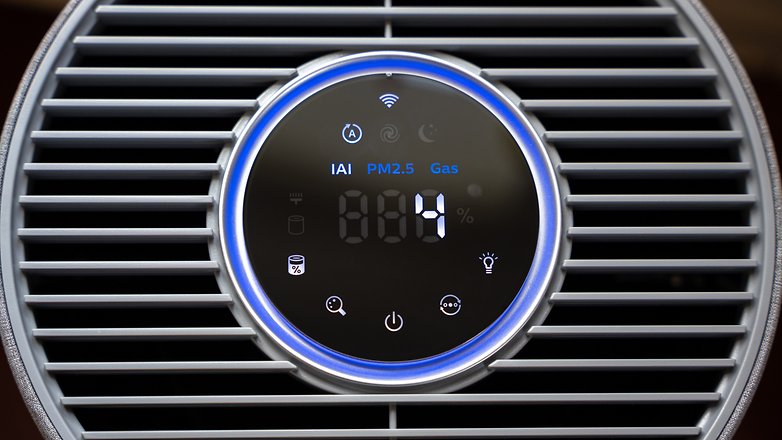 I still found it exciting that a central placement of the AC3033/10 would suffice for my entire apartment. However, this would only make sense if Philips also offers smart sensors for air quality in different rooms. That way, the "smart home device" can only ever check the need for air purification in a single location. In my opinion, this is where Philips' smart home ecosystem did not fulfill its full potential or create a need for people to buy a purifier for each room.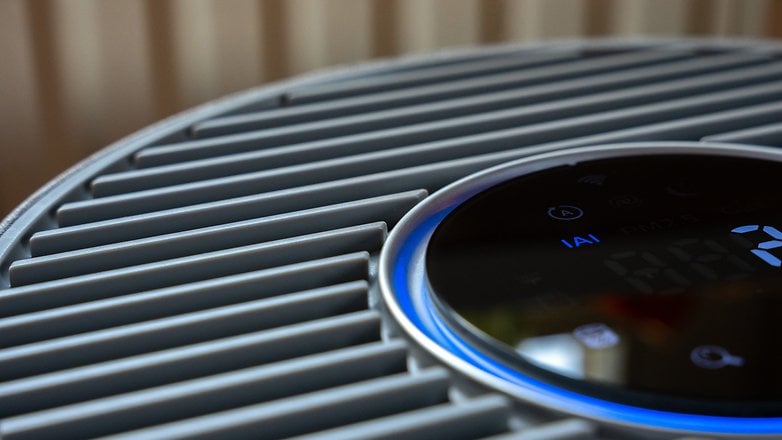 Speaking of cleaning and sensors: Both the filter and the optical sensor for detecting particles in the air need to be cleaned regularly. Philips shows you the status of both in the app. According to the manufacturer, one filter lasts for up to 36 months of use. A new filter costs around €50*.
Filter and cleaning performance
The Philips 3000i series of air purifiers are equipped with HEPA and activated carbon filters that claim to filter up to 99.97 percent of allergens from your indoor air. At the beginning of the pollen season, the AC3033/10 can therefore help allergy sufferers in particular. In addition to pollen, Philips also filters viruses, aerosols, particles of a size of 0.003 micrometers, and harmful gases from the air. Functions for cooling, humidifying, or heating air are missing from the device.
---
What I liked:
High cleaning performance thanks to HEPA and activated carbon filters

.
Pleasant working speed in normal operation.
Noticeable improvement in room air quality and quick detection of pollutants.
What I disliked:
No heating or cooling functions.
No integrated humidifier.
Does not actively kill viruses and bacteria.
---
Before we get to the performance of the Philips AC3300/10, we first need to clarify what exactly the device is capable of. The smart air purifier has a HEPA filter that can filter out minute particles, viruses, and aerosols from the ambient air. For this, the device sucks in the ambient air around the casing, pushes it through the filter, and releases clean air at the top.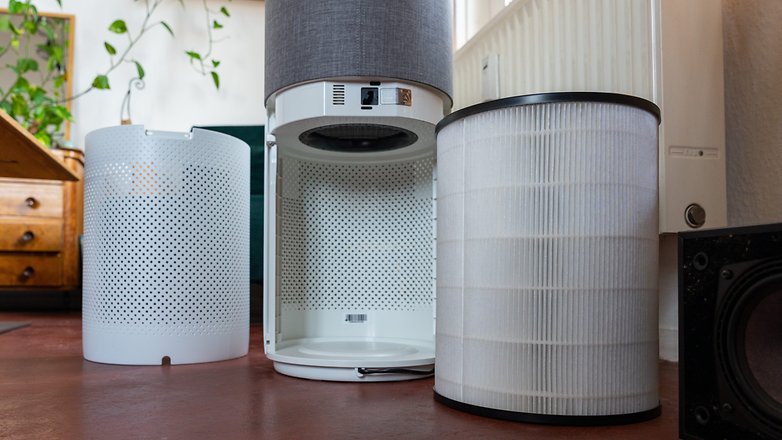 To provide the most powerful filtration possible, Philips combined a HEPA (High-Efficiency Particulate Air/Arrestance) filter, an activated carbon filter, and a pre-filter for coarser contaminants. The manufacturer had the performance certified by the European Centre for Allergy Research Foundation (ECARF). You can read more about it in detail below:
Filter performance
| Filters ... | ... to ... | ... tested by |
| --- | --- | --- |
| ultrafine particles with a size of 0.003 micrometers | 99,97 % | ECARF |
| fine particles with an aerodynamic diameter smaller than 2.5 micrometers (PM 2.5) | 99,97 % | ECARF |
| Bacteria | 99,97 % | ECARF |
| Pollen | 99,97 % | ECARF |
| Dust | 99,97 % | ECARF |
| House dust mite allergens | 99,97 % | ECARF |
| Animal dander | 99,97 % | ECARF |
| Gases | 99,97 % | ECARF |
| Viruses and aerosols (also tested for coronavirus) | 99,9 % | AirMid Healthgroup |
| Allergens | 99,9 % | - |
| Odors | - | - |
| Total concentration of volatile organic compounds (TVOC) | - | - |
The table may be a bit redundant, but the filter performance is nevertheless convincing in theory. Improvement in air quality is also noticeable in reality. Odors, including even cigarette smoke, are filtered out of the room air within minutes. The feeling is a bit like being able to breathe easier - even though the oxygen content of the air has not changed due to closed windows.
It was exciting to see how the AC3033/10 reacted to an open window to the backyard, where garden workers were mowing the lawn. Immediately, the color of the ring on the top changed to red and the air purifier detected an excessive load of allergens. In automatic mode, the device increased the cleaning power significantly until the load of allergens decreased to an acceptable level.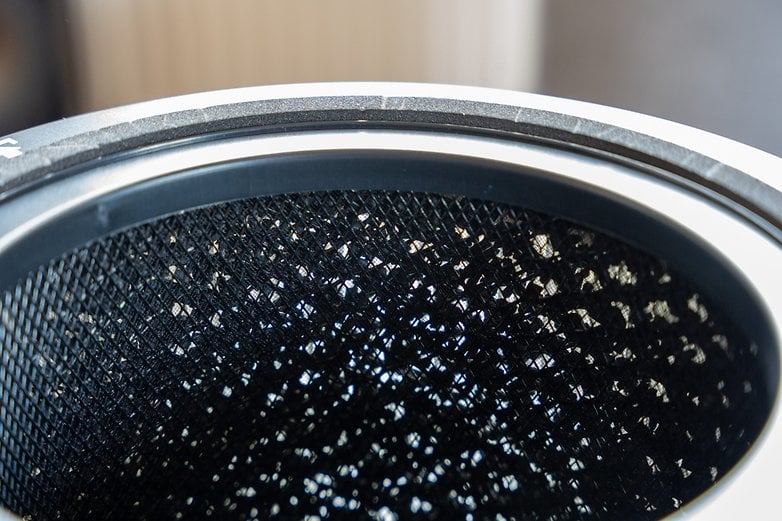 In addition to the values that are directly detected by the device, Philips also pulls in location-based information about the air quality where you live. This allows you to check whether it's a good time to open the windows before you open them. Allergy sufferers can also see whether the type of pollen they are allergic to is currently in circulation.
I found the filter performance very convincing in the review, although the most powerful air purifier from Philips is somewhat considered as "overkill" for my 54 square meter apartment. However, since Philips has cheaper and "less powerful" purifiers with comparable filter performance on offer, you can scale your purchase to the required room and apartment size. I also found it very convenient that the cleaner is ready to use again in just under ten seconds after plugging it into another outlet. This makes it portable enough to be used in several rooms.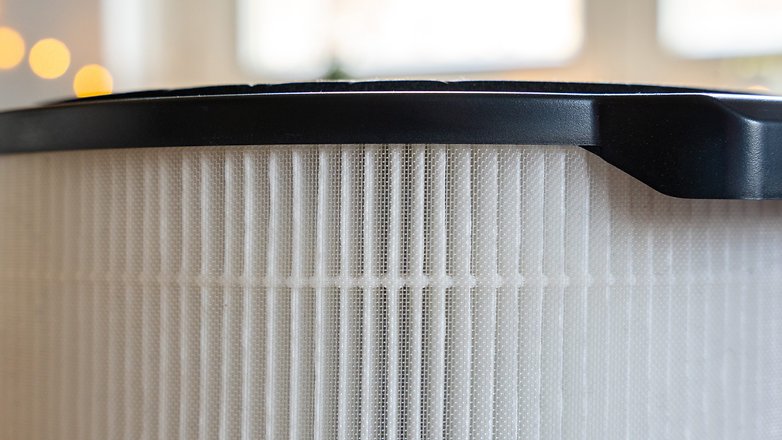 I still have a few criticisms of this device though. First, there are air purifiers that kill captured viruses and bacteria by heating the filter. This does not happen with the Philips AC3033/10. Germs and pathogens, therefore, remain active in the filter for several hours until they die. Furthermore, I would have liked to see at least an air humidification function in a device for improving indoor air, which costs almost €500 according to the MSRP.
Of course, according to the product description, this is not the intended use of the AC3033/10, but I still wanted to mention it for those who might not be aware of such matters.
Smart home functions
The AC3033/10 is a smart air purifier with Wi-Fi connectivity and offers smart home support. If you were to take a closer look, you can control the air purifier via Siri and Alexa by voice. However, the app's options are limited to convenient controls and an increase in information. Philips Clean Home Plus app is not particularly comprehensive in nature.
---
What I liked:
Connection to Siri and Amazon Alexa

.
Control is also possible outside the home thanks to the cloud.
What I disliked:
Very little information from the device can be used for automation.
Companion app is a bit cumbersome.
Cloud connection is not optional.
---
The AC3033/10 can not only be controlled directly on the device but also via a companion app known as "Clean Home+". This is visually appealing at first but remains a bit cumbersome and complicated even after several days of using it. The fact that the app always has to search for the device briefly when it is opened again is also a bit annoying.
Thanks to the connection via the Philips cloud, however, you have the advantage that you can control your room air on the go. This allows you to start the turbo mode a few minutes before you arrive home or you can make sure that your pets have good air quality all day long. Even though these features are handy, Philips smart home gadget remains a bit too dumb in my opinion.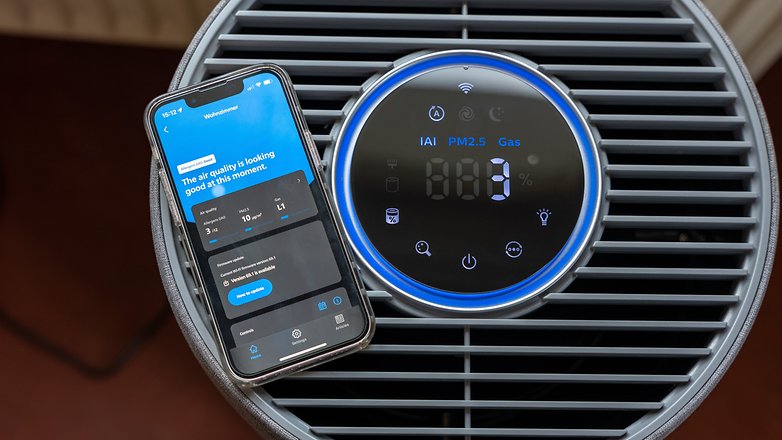 Yes, you can control some functions via Siri and Alexa. For example, you tell your smart speaker that Philips air purifier should start cleaning the air. However, you can't receive short feedback about the pollen load in your living room "smart". That reduces the number of possibilities that the new device brings to your home.
For example, it would be practical to use this information for notifications. Although the Clean Home Plus app regularly informs you when something changes in your indoor air, it would be even more practical to be able to use this information as a trigger for actions in the smart home. Example: Whenever the pollen load exceeds a certain level, a lamp could theoretically be turned on via a smart switch. Since Philips did not release this information for automation, it is not possible.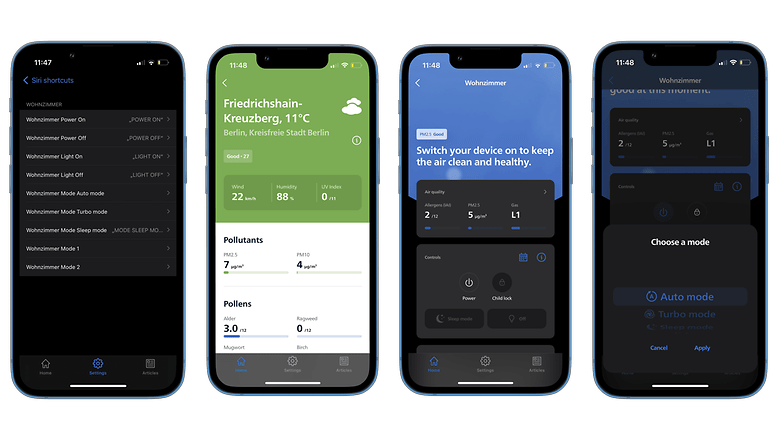 Apple's shortcut app, however, offers a few fine options: If you were to activate "sleep mode" on your iPhone, for example, the air purifier can switch to it and work more quietly. In total, the following commands are available:
Switch on air purifier
Switch off air purifier
Switch on display
Turn off display
Activate Auto Mode
Activate Turbo Mode
Activate sleep mode
Enable fan speed 1
Activate fan speed 2
Of course, the need for advanced features decreases and decreases with the amount of time you want to invest in your smart home. However, you're putting a sensor in your home that provides fascinating data and not being able to use it is really a bit of a shame.
Overall conclusion
To sum up: The Philips AC3033/10 is a particularly powerful air purifier that is especially suitable for large rooms, offices, or for entire apartments. Thereby, the filter of various impurities convinces both in theory and in reality. What is only seen in the technical specifications makes itself felt in everyday life via a noticeable change in air quality.
The combination of pre-filter, Hepa filter, and activated carbon filter even manages to filter food odors and cigarette smoke from the air. At the same time, the smart home gadget permanently monitors pollen levels, fine dust levels, and the presence of harmful gases in the room air. The fact that Philips uses location-based real-time data on the air quality in your place of residence also makes a lot of sense to me.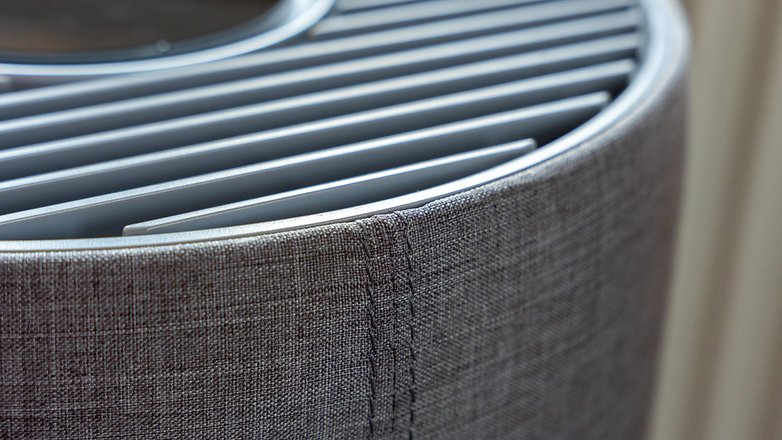 However, I have to note the permanently installed, rather short power cable as a disadvantage. Furthermore, one always has a bit of a feeling when integrating it into the smart home that more could be extracted from the collected data. It was a bit disappointing that a combination of a powerful air purifier and a sensitive sensor can only be switched on and off via voice commands or smart home automation, and only the operating modes can be changed.
Those who also want to humidify their room air or are looking for a climate and heating solution in the same device will also have to settle for an alternative. Nevertheless, Philips AC3033/10 convinces in every respect in the review. If you want to spend €500 on an air purifier, you will get an efficient solution that does not make any unruly noise even when you fall asleep.